To me, the best bit about Christmas is the build-up. I love the excitement in the preparations for the big day more than the day itself. What better way to revel in that fun anticipation than with a denim handmade advent calendar.
We love advent calendars in our home. We don't just have one but at least 3! One for each of my boys. Even though my oldest son is 20 years old he still expects an advent calendar.
Our homemade advent calendars are filled with a daily sweet treat and cheesy Christmas joke. Just so my boys start the day with a smile.
Last year I made a tin can upcycled advent calendar and paper envelope advent calendar the year before.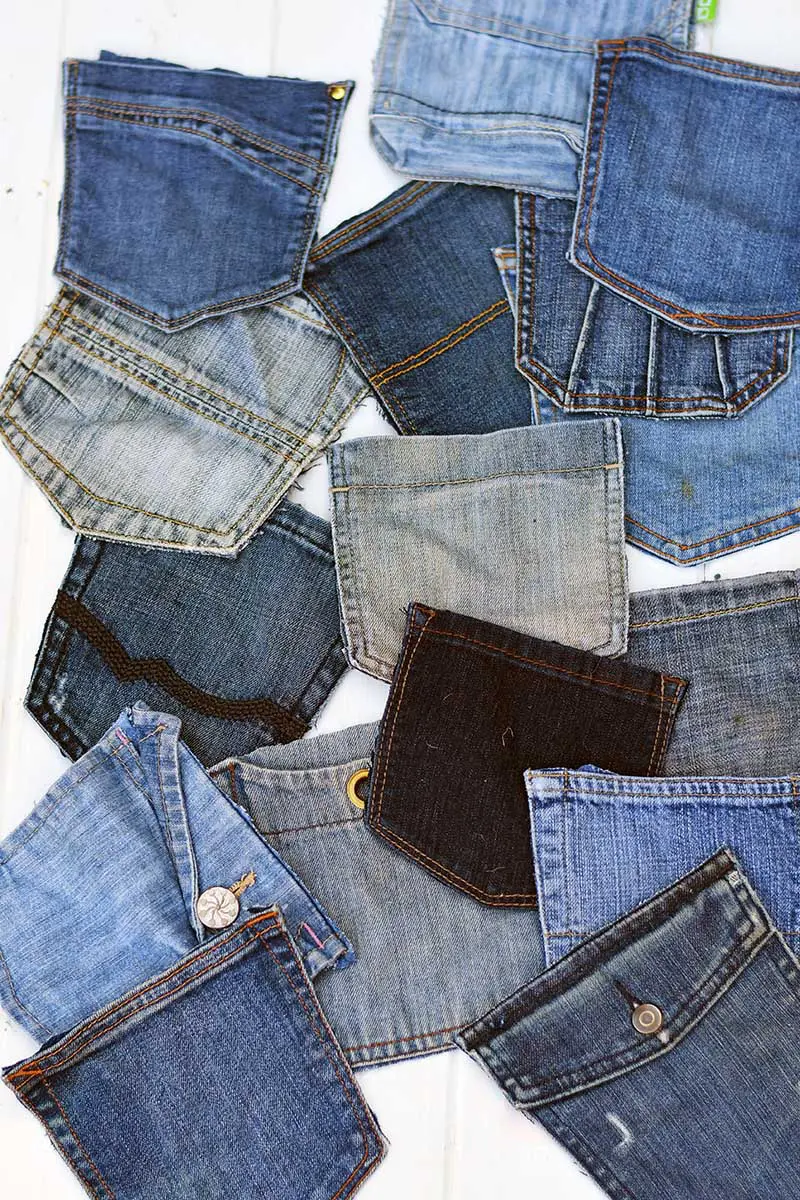 Easy No-Sew Upcycled Denim Handmade Advent Calendar
This year my homemade advent calendar was going to be a fabric one made out of recycled jeans pockets. The idea came from the denim pocket organizer I had made for my son's room.
However, the wall organizer only has 16 pockets I needed to make one with 25 pockets for a denim homemade advent calendar.
Denim can be quiet difficult to sew with, especially the thicker parts like the seams and pockets. Therefore I designed and made a no-sew recycled jeans pocket advent calendar.
Getting the denim advent calendar out year after year. Filling the pockets with treats and jokes will be the start of the Christmas excitement for me. The fact that this handmade calendar is made out of the pockets of the family's old jeans also makes it extra special.
This denim craft featured under the letter A in my A to Z of denim crafts.
We're a participant in the Amazon Services LLC Associates Program, an affiliate advertising program designed to provide a means for us to earn fees by linking to Amazon.com and affiliated sites. As an Amazon Associate, I earn from qualifying purchases.
What you need to make a denim handmade advent calendar
Jeans Pockets – 25 in total. (However, some people only have 24-day advent calendars but that's another debate). That may seem like a lot of pairs of jeans, but if you use the front pockets as well as the back you can get 4 pockets out of one pair.

I have made a lot of denim craft and DIY projects over the last year and have been keeping the pockets to one side just for this project.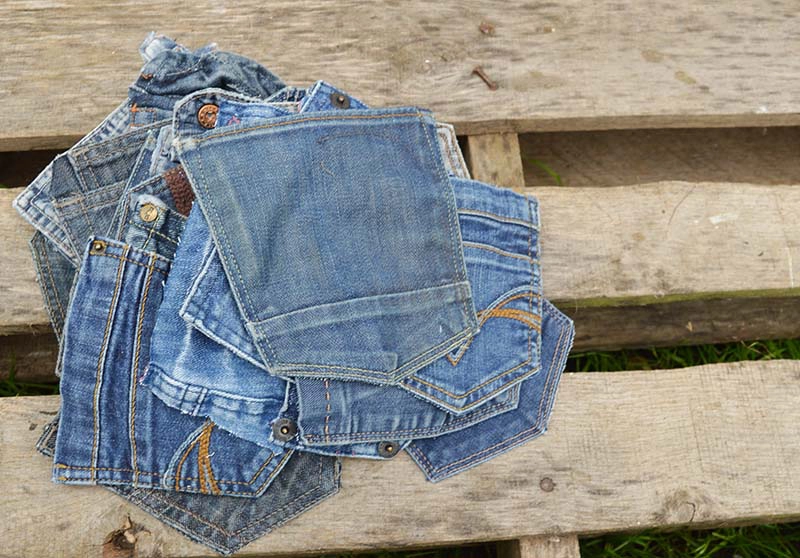 A large piece of backing cloth, such as a drop cloth. I was fortunate in that I had a large old cream curtain in my stash, which was perfect for this upcycle.
Number Stencils – You can use a stenciled ruler or buy sets of number stencils on Amazon. As I stencil on denim a lot I use the "Alphabet Stencil Book" which has several letters and number stencils in different fonts to choose from.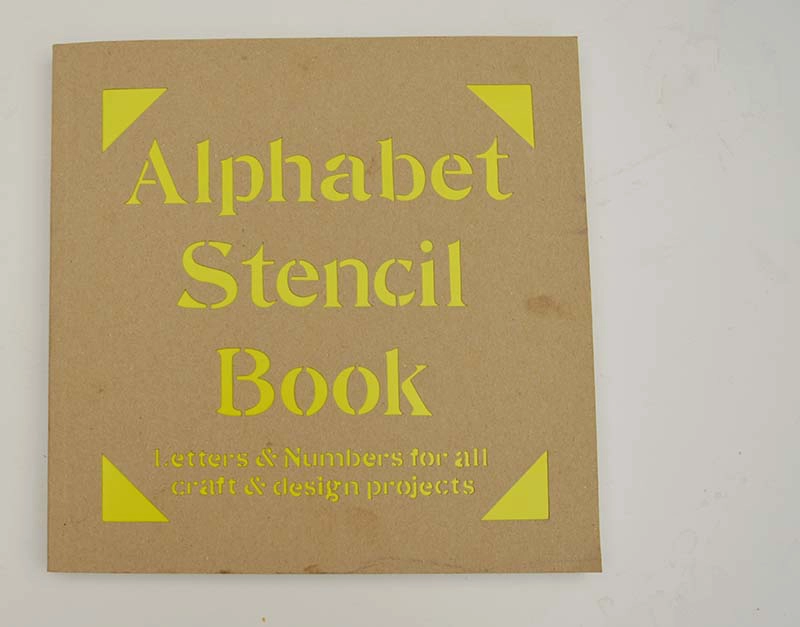 How to make a denim pocket handmade advent calendar
1.. First, lay the jeans pockets on top of your backing cloth (old curtain/drop cloth). You will need to decide how to arrange the advent calendar. I went for a 25 pocket advent calendar in a 5X5 arrangement.

If you have a 24 pocket Christmas advent calendar, you can go for either a 6X4 or 8X3 arrangement.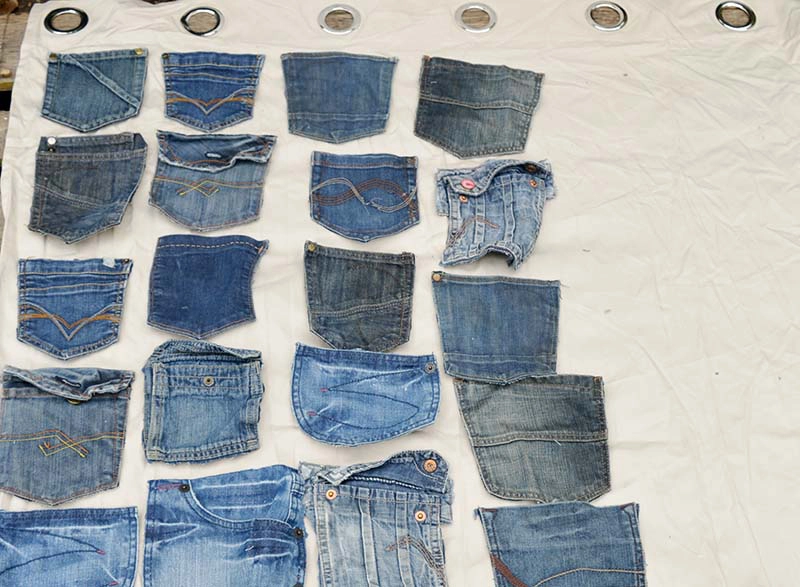 2. Next, when you are sure of your Christmas calendar layout, cut the background cloth to fit. Use a rotary cutter and mat for this and don't forget a 1/2″ seam allowance.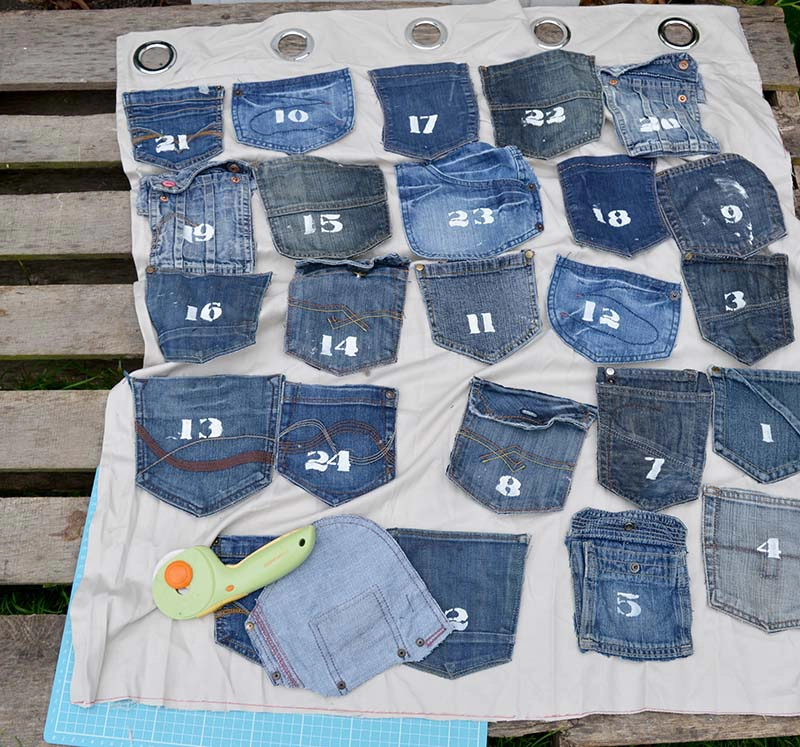 3. Next, hem the exposed edges of your background cloth using an iron and the fusible web.
If you have a sewing machine, you might want to stitch the seams instead.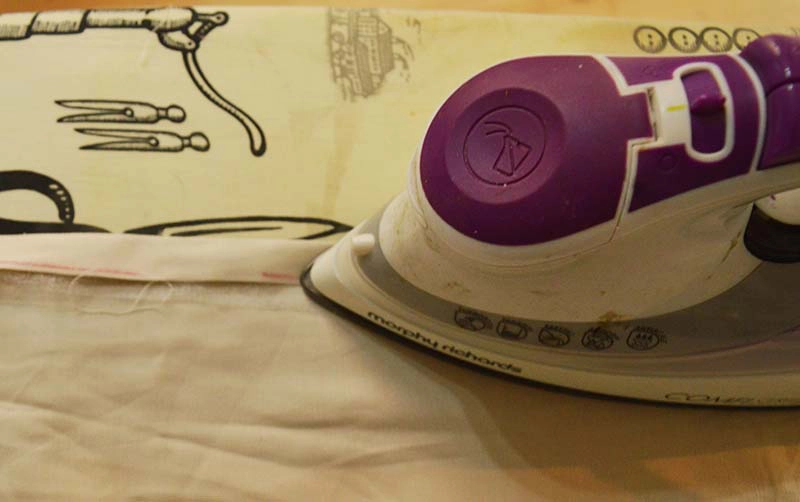 4. Next, paint a number from one to 25 (or 24!) onto each jeans pocket using a stencil and white paint.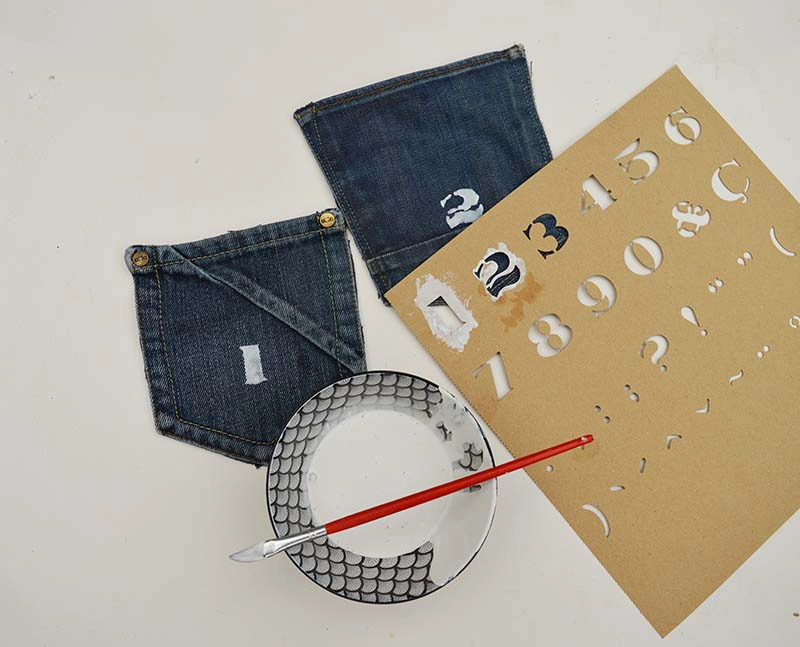 4. Due to its thickness denim can be tricky to sew, especially the pockets. Therefore, I attached the pockets to the backing cloth using fabric glue. To do this first lay your backing cloth onto a foam board or corkboard.

Cover the back of the pocket with fabric glue paying particular attention to the edges. Also, cover the relevant area backing cloth with glue. Press the pocket down onto the cloth.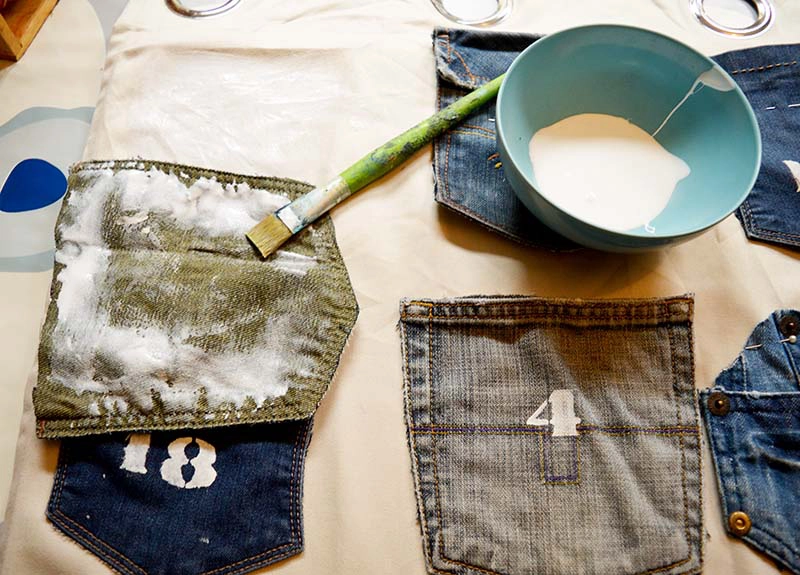 5. Then, using push pins, pin around the edges of the pocket through the denim and backing cloth into the foam board. This is to hold the pocket down whilst the glue dries. Carry on until all the pockets have been stuck down.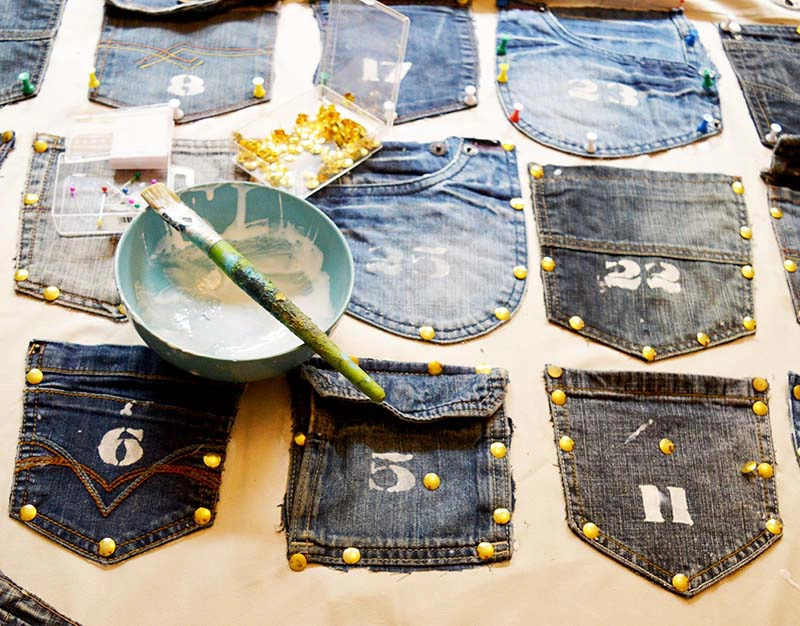 6. Once the fabric glue has dried, remove all the push pins. As I used an old curtain, I had some convenient eyelet holes for hanging the advent calendar. If you, don't have eyelet holes, just make some simple fabric hanging loops for the top of the calendar.
I used a rustic branch to hang the calendar from the wall, resting the ends on some brackets or nails in the wall.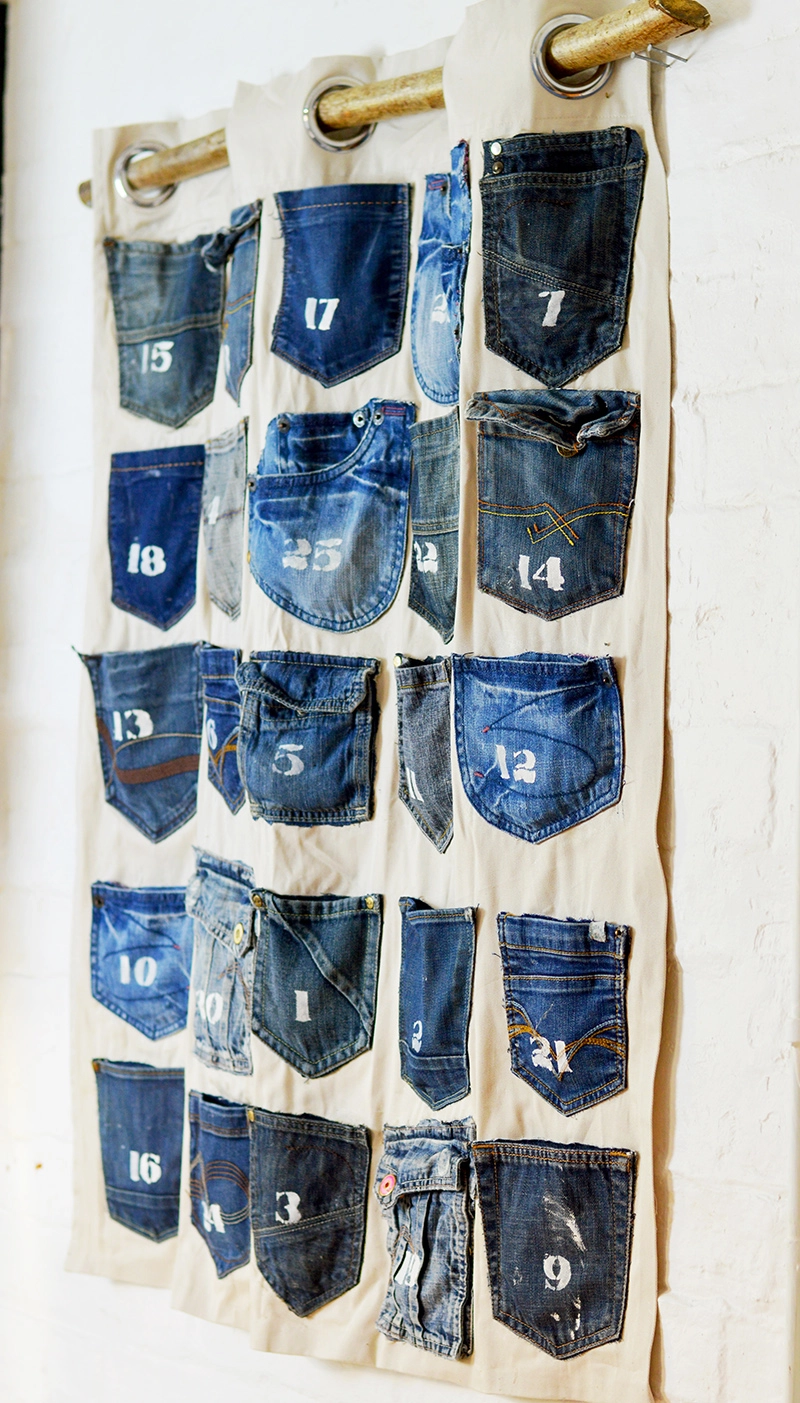 Now all you need to do is to fill the pockets of your handmade advent calendar before deciding where to hang it. I will be filling it with random chocolates and sweats with a daily Christmas themed joke. The Telegraph has a great list of Christmas jokes.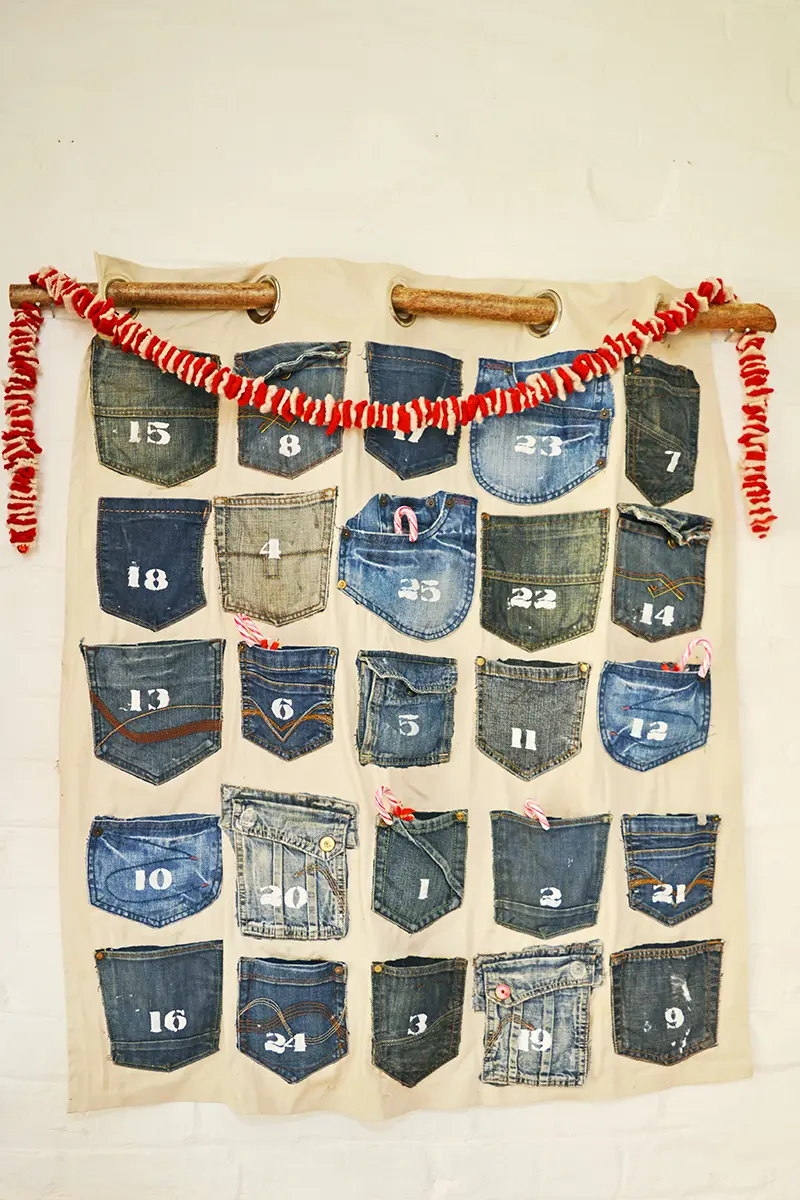 The rustic industrial denim look of the advent calendar will go really well in my youngest sons room so I will probably hang it there this year.
What do you put in your advent calendar?
The felt garland draped over the calendar is made from old sweaters. You can also check out some of my other denim crafts for the home here.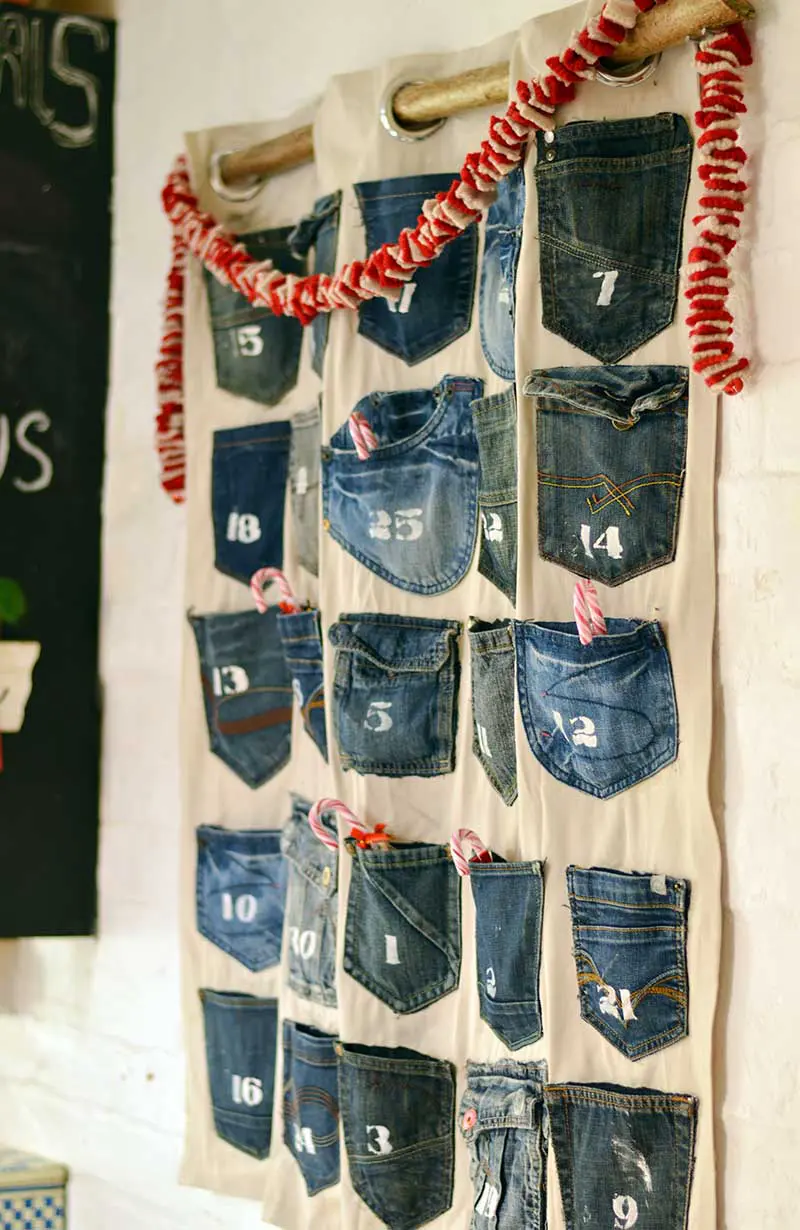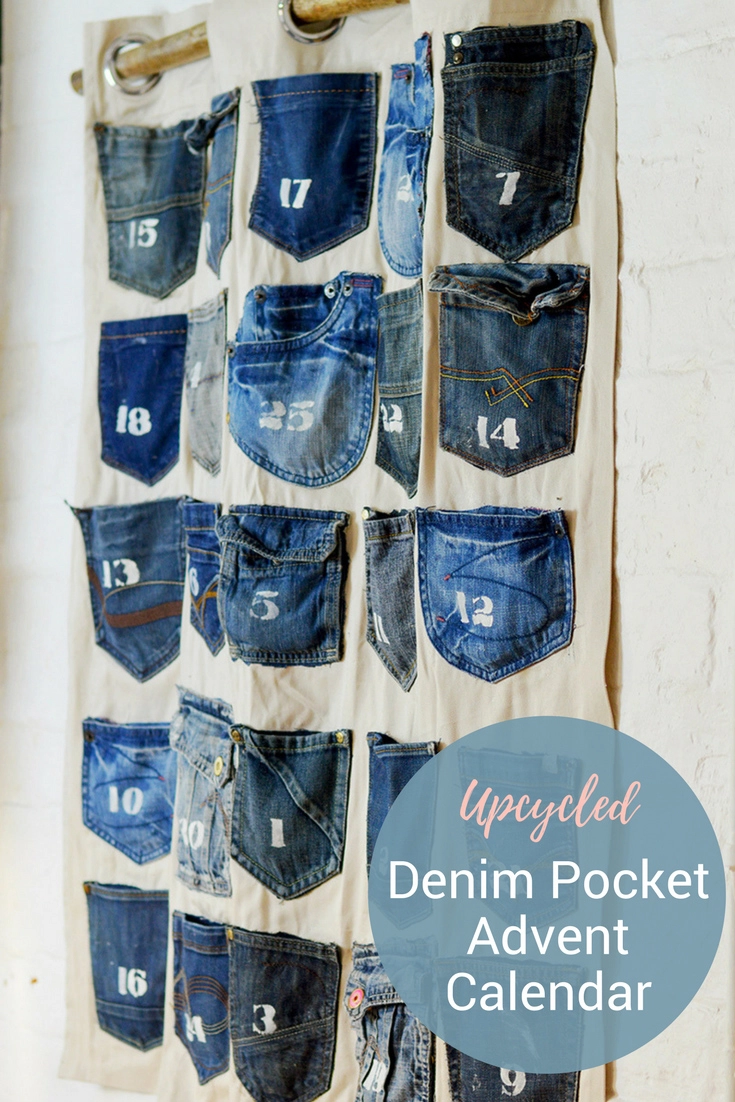 There are a lot more wonderful ideas for homemade advent calendars, many of them made from upcycled materials, like this wonderful repurposed paper bag advent calendar.
If you still happen to have some denim pockets left over after this craft, then you are bound to find something to make from them with this list of jeans pocket upcycles.