How to make personalized map themed heart shaped treat bag.
I love working with maps and personalized crafts, so for Valentine's day, I have made some lovely map hearts treat bags using old maps. These will go with the paper map heart garlands I've also made.
This is a really easy craft where you can make something quite special for your loved one by upcycling maps that have meaning for you.
For example, you could use a map of where you first met, or your favorite city or even a piste map of your favorite ski run.
Upcycled Map Heart Treat Bags
Valentine's day isn't huge in our house, except for the fact that it happens to be my birthday!
We don't do the romantic meal thing as I'm more into celebrating my birthday with friends. However, I do like to give my husband a little sweet treat so he doesn't feel left out on the day.
These map heart treat bags are great fun. Not only does he get a little sweet treat, but a personal reminder of a special place.
What you need to make map heart treat bags
Old maps – I tend to keep maps from holidays, city breaks, etc so luckily have a ready supply. If you don't happen to have any old maps, you can always download some. Pictureboxblue is a great source for free vintage maps. If you don't want to cut up your old maps you can just photocopy them.
Heart template – I used a cookie cutter for this as it's easy to line up exactly where you want on your map.
Pencil, scissors & sewing machine.
Small luggage labels/tags
Sweet treats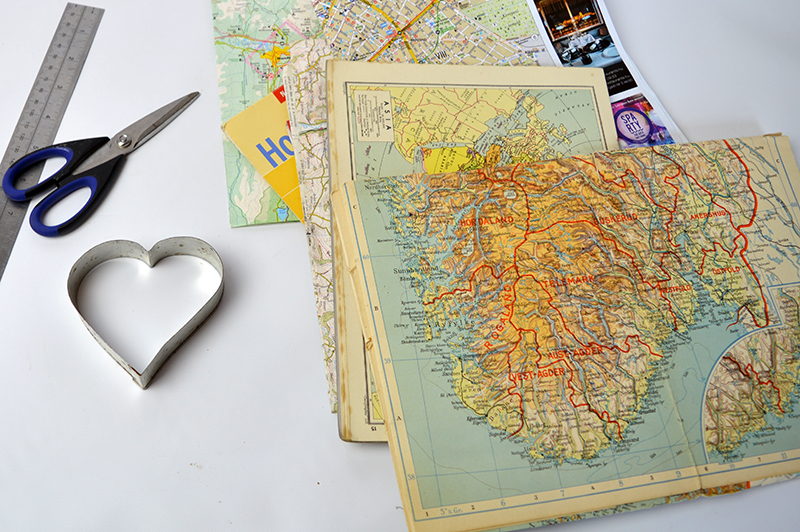 How to make map heart treat bag
1.. The hardest part of this craft is deciding on what maps to use. Once you have made that decision, place the heart-shaped cookie cutter on the part of the map you want to use. Draw around the heart and then cut out the shape.
You will need 2 hearts per treat bag. So you can have 2 different maps per bag, perhaps use a map of where you are from on one side. Then use another of where you met on the other side.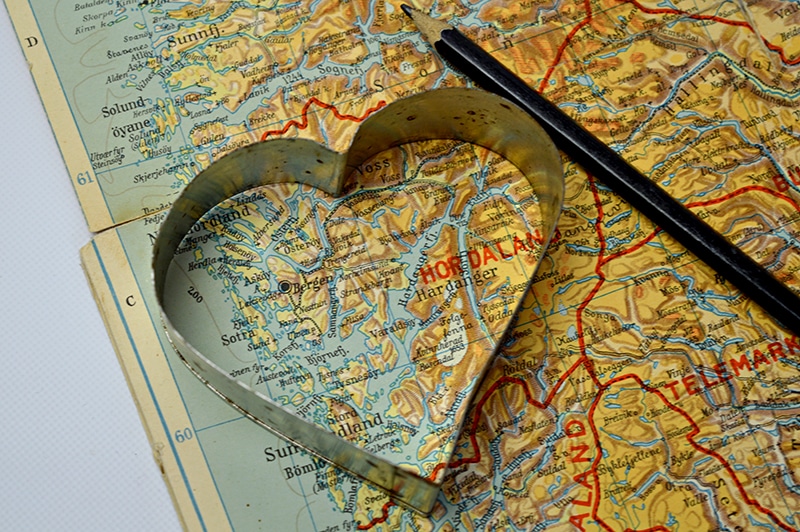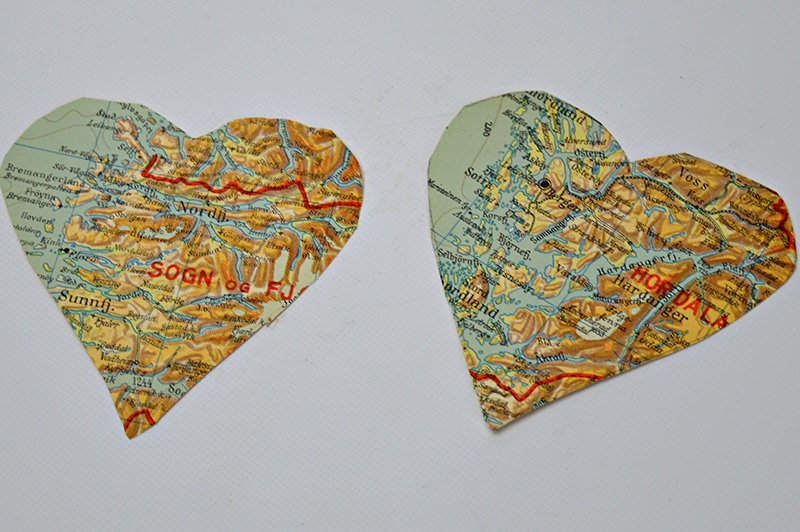 2. Next, pin the hearts wrong sides together. Then using a sewing machine stitch around the edge. Leave a small gap for inserting the treats in. As these hearts were for Valentine's day, I used a red thread.
If you have never tried sewing paper on a sewing machine you should give it ago. It is a lot easier than stitching fabric, I find that paper moves better through the machine.
I've sewn cute paper bunnies for Easter and made a paper bag advent calendar before on a sewing machine.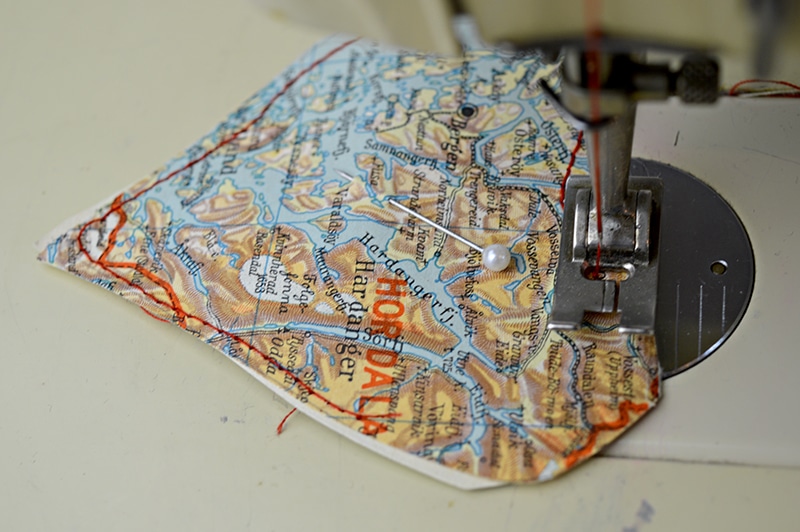 3. Next, write "pull me" onto the small kraft tags and add bakers twine. Insert your sweet treats into the hearts and the the string of the label into the map hearts and then stitch them shut.
I like to put a small chocolate heart or some conversation hearts as treats for my map heart treat bags.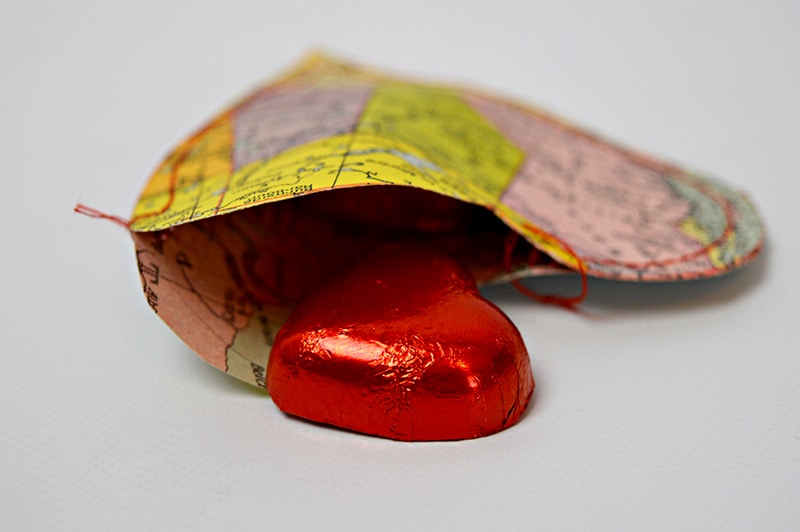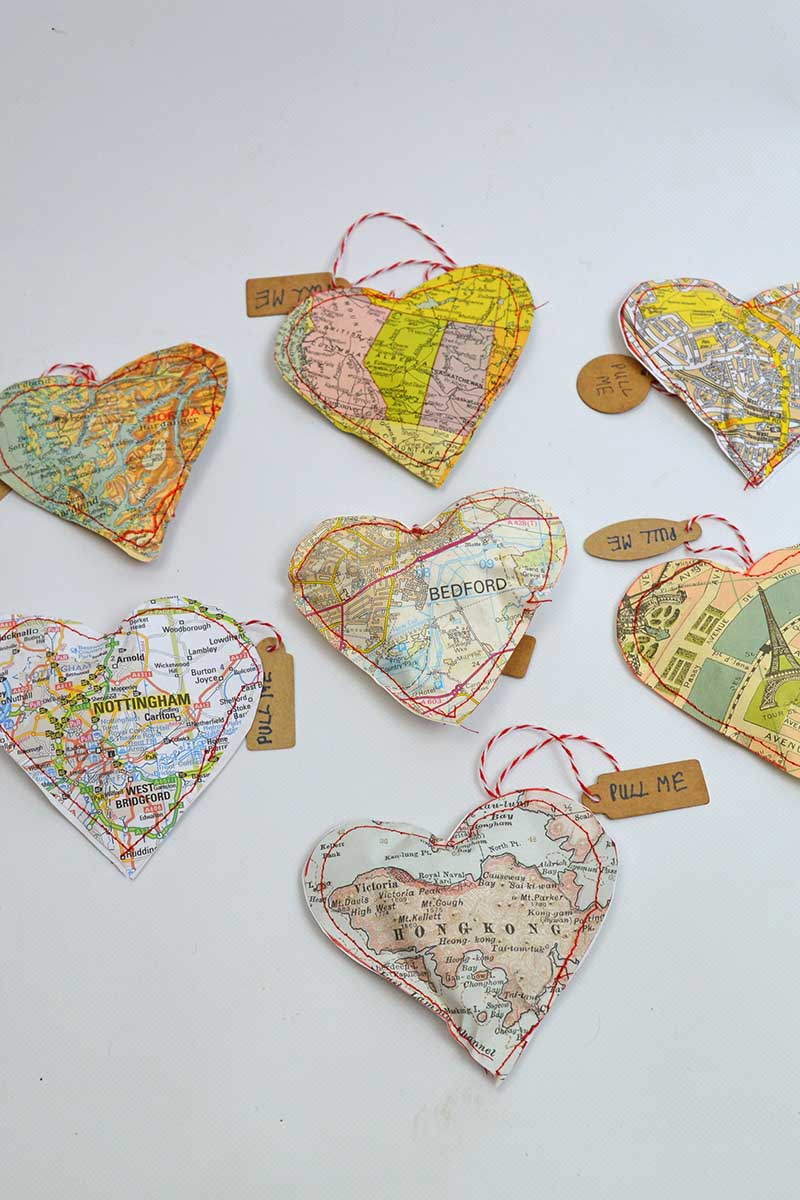 Yes, it's that easy! If you want bigger treats then you can make bigger heart bags.
I had never sewn paper on the sewing machine before, but it was really easy and fun. I'm definitely going to be doing more of that in the future.
If you don't have a sewing machine, I don't know how easy these would be to sew by hand, but you could give it a go!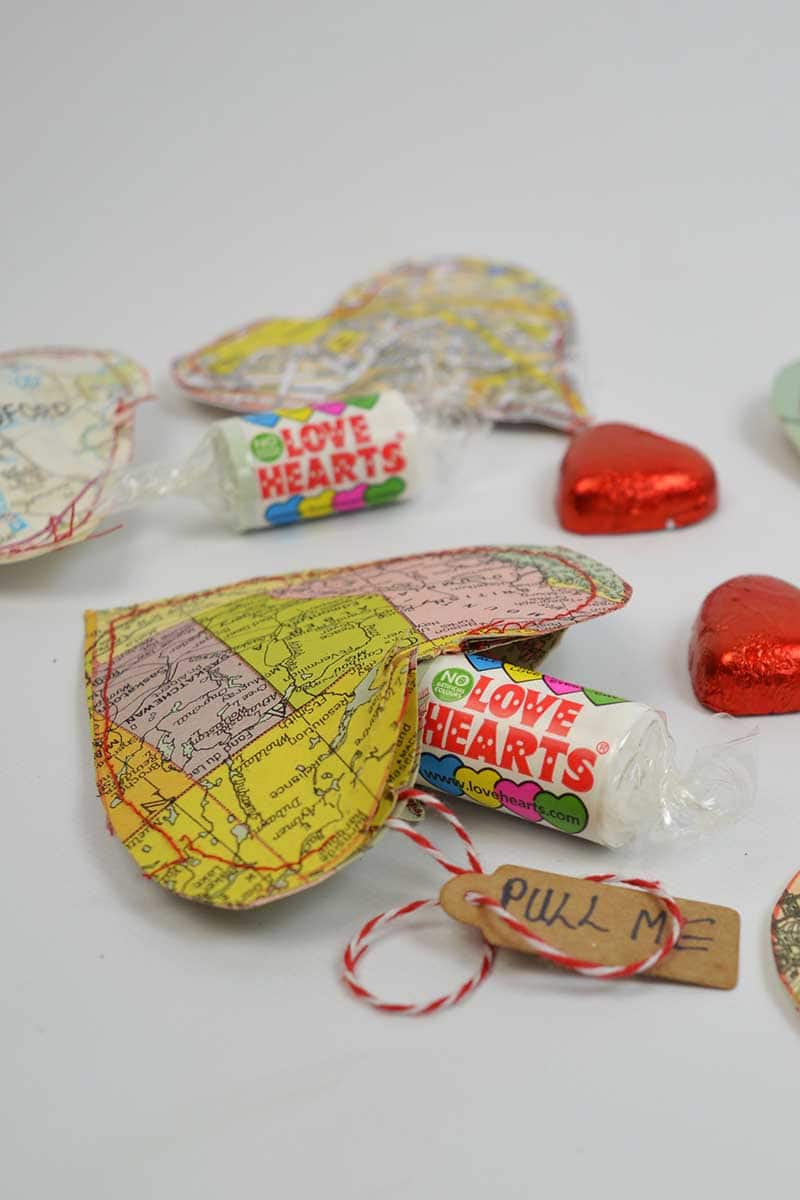 I just hope my husband, gets the significance of the maps I've chosen for the treat bags. Like Nottingham, the only time my husband and I have been to Nottingham was for a party at which we first met.
Bergen and the fjords are where we fantasize about living when things get a bit stressful. It's our happy place.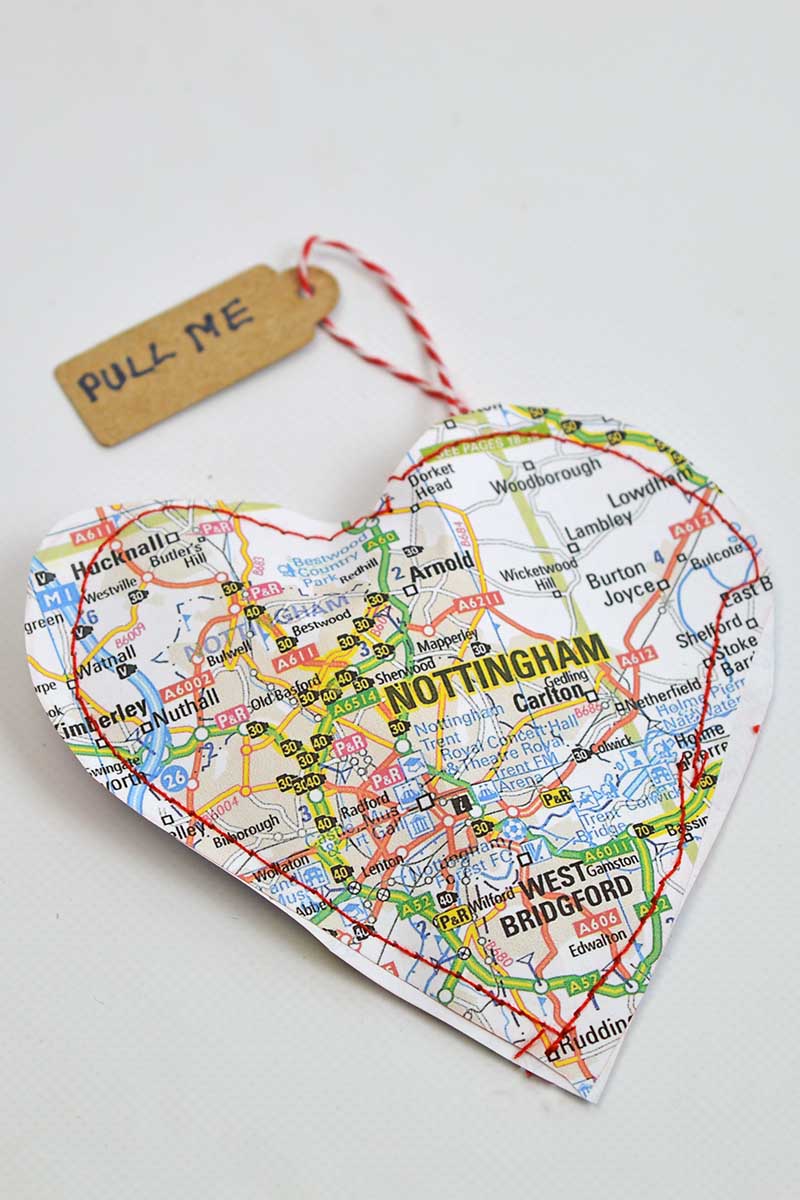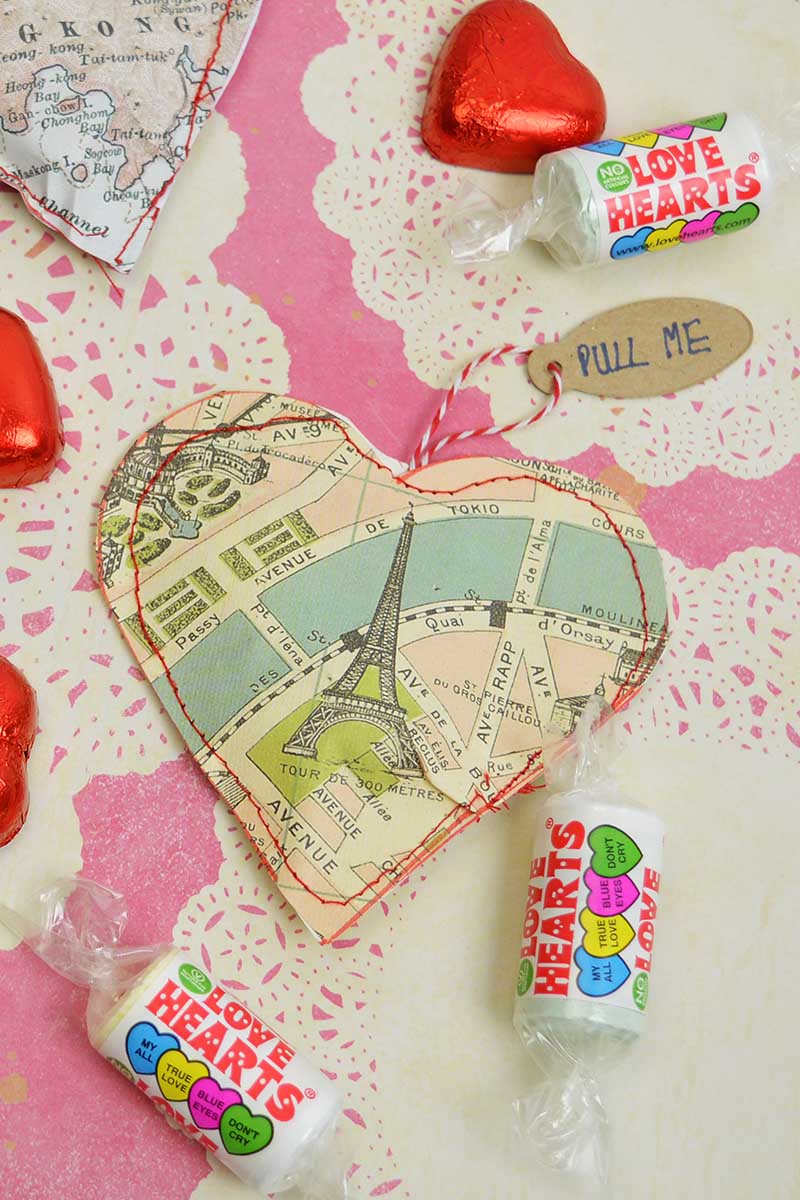 What maps would you choose? Perhaps somewhere romantic like Paris. You can get free vintage maps of Paris here.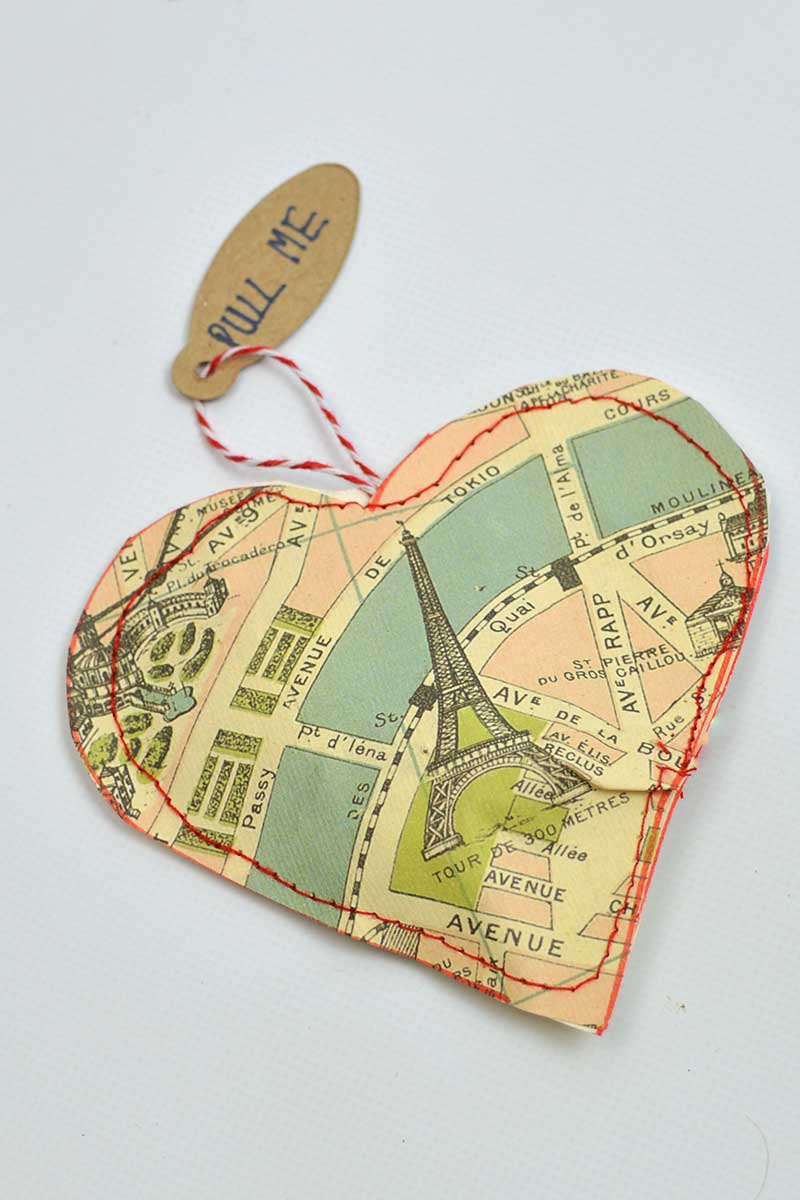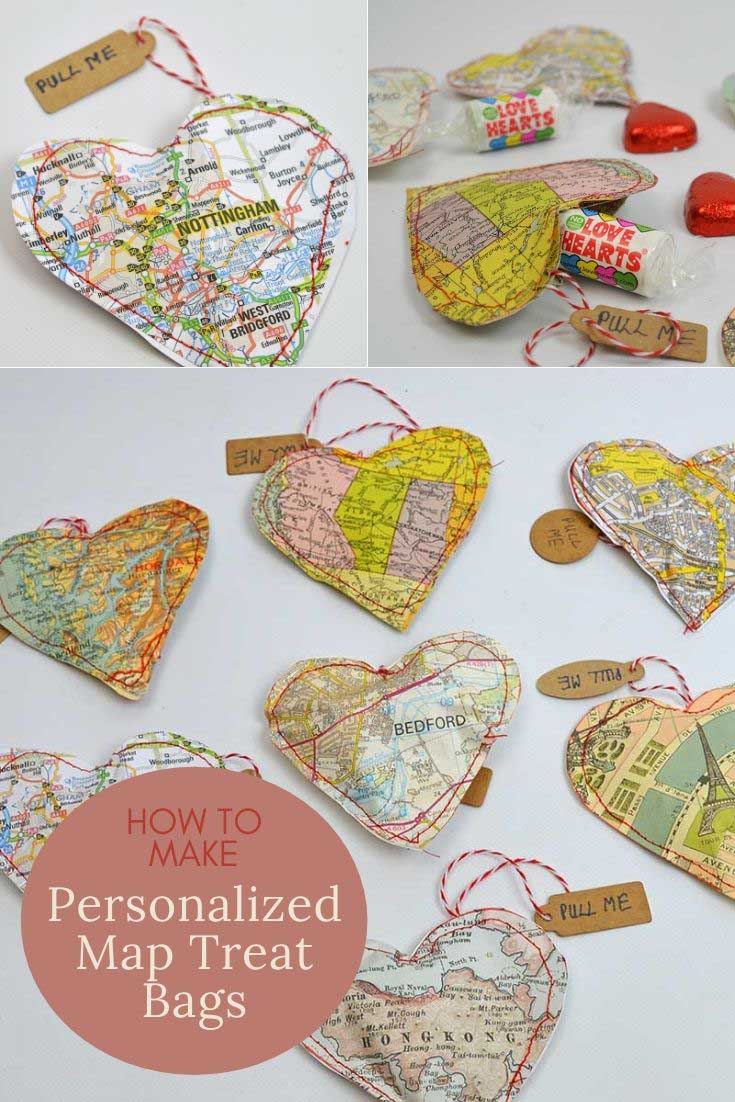 If you are looking for more upcycled map heart ideas for Valentine's, check out these map heart ornament and brooch or this personalized map heart for couples. Or even decoupage a shell with maps for a unique gift idea.
You might want to check out these pinecone flower heart decorations too!
Don't forget to check out my other map upcycles and crafts which includes a free collection of vintage maps for crafting.