Upcycled Copper and Denim Tin Can Craft Caddy
Not having my own studio and having to craft on the dining room table can be a real pain sometimes. Basically because I have to tidy it up and can't just shut the door on it. Sometimes I find it a real faff having to get my stuff in and out of cupboards. Then I thought if I made a good looking craft caddy for my brushes, scissors, pencils & pens not only would it be handy but I wouldn't have to hide them away. I'm really pleased how this craft caddy has turned out and will now be making a cutlery one for when my dining room is a dining room and not a craft room.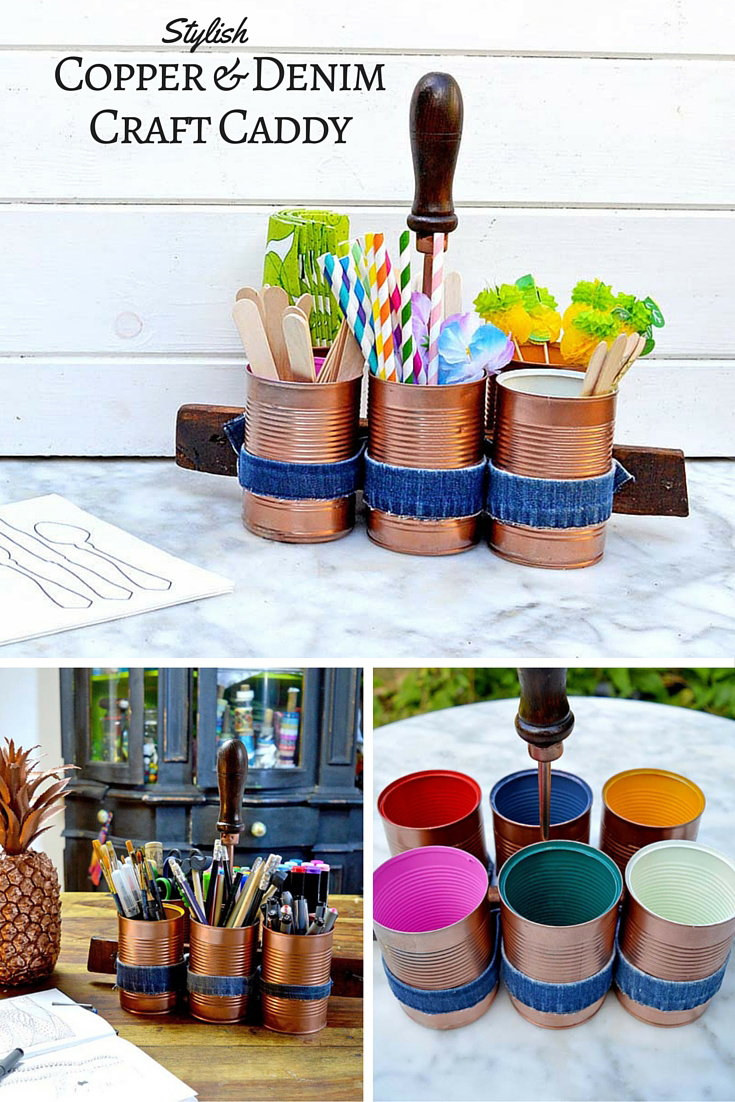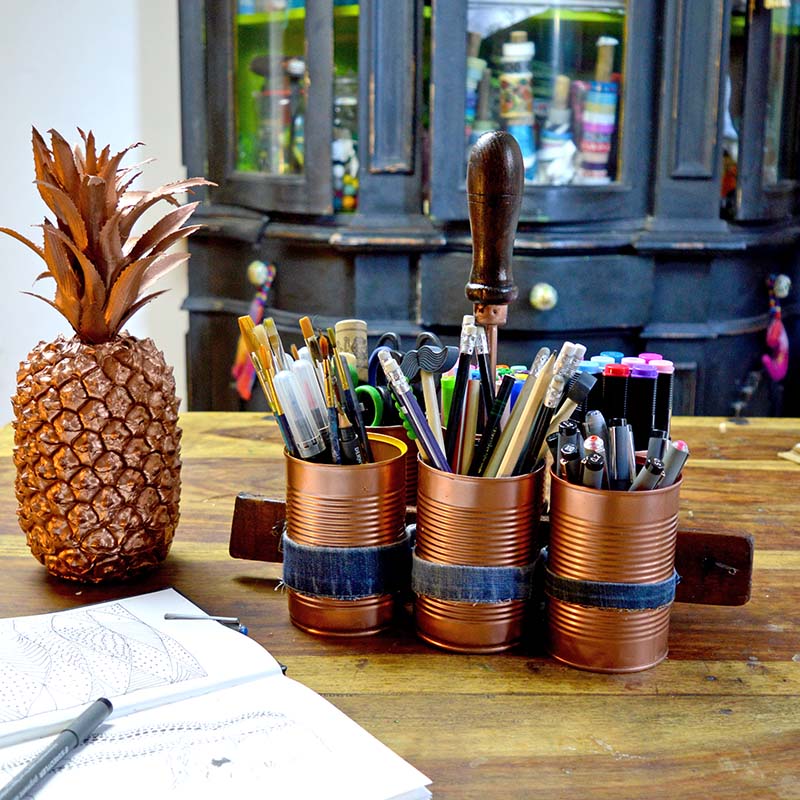 What You Need to Make Your Caddy
As I like to upcycle I made my craft caddy out of stuff I already had. My sister had asked me for a copper pineapple for her birthday !; so I decided to use the copper spray paint left over from that project. Also as I think copper and denim look great together so decided to use some denim as well.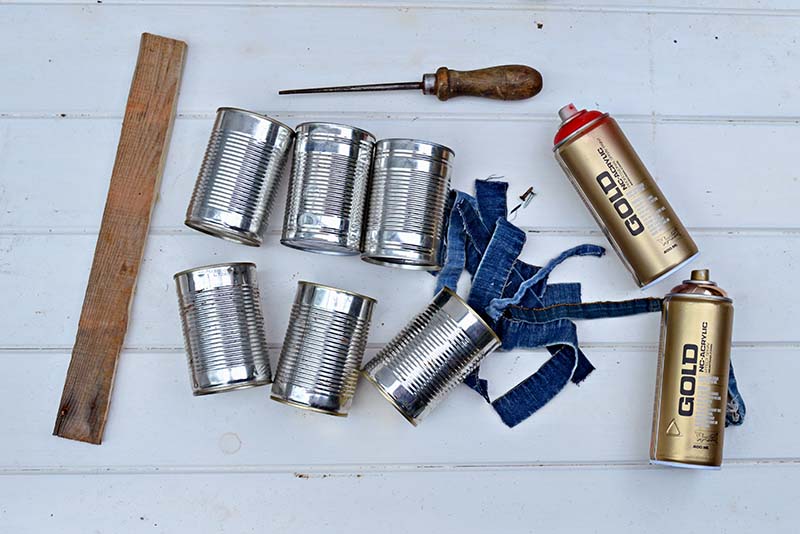 Six tin cans
Strips of denim cut from and hems of old jeans
Old screwdriver for handle (or could use old wooden handled corkscrew)
Piece of old wood such as pallet wood aproximately 35cm x 6cm
8 eyelets and eyelet tool if you don't have one of these then you can just use 8 small washers suitable for 3.5mm screws
8 wood 3.5mm 1/2″ wood screws
Screw driver to use as a screwdriver

Optional
Dark wood stain, olive oil and vinegar
How to make a craft caddy
Firstly prepare your 6 tin cans. Even though I had decided that I was going to have a copper and denim craft caddy I couldn't resist a splash of colour. I just love colourful tin cans. To achieve this I spray painted the inside of every tin can a different colour. I then spray painted the outside of all six cans copper. Once the spray paint was dry I then sprayed the cans inside and out with a protective acrylic varnish.
The next stage I prepared the wooden handle of my craft caddy. I rounded the edges of my pallet wood with a chisel and then sanded it. As I thought dark wood would contrast nicely with the shiny copper colour of the tins I stained the wood. I also stained the handle of the screw driver to match, and sprayed the metal shaft copper. Finally I used a 50/50 mixture of olive oil and vinegar to buff all the wood to a nice sheen. (Wax would also work well)
Then marking the centre of you pallet wood, stick your screwdriver into the top. To do this I twisted the screwdriver while pushing down so that it slowly drilled into the wood. This worked really well, however if you are having problems with this you can always drill as small hole in the top and then glue your screwdriver in the hole.
To secure the tin cans to the handle you will need your denim straps. Cut the hem off old jeans as close to the seam stitching as possible, you will want lengths approximate to the circumference of your tin cans. This will depend on the stretchiness of your denim, to get a tight fit you will need to shorten the length of the strips of denim to compensate for the stretch.
As I have a eyelet tool I put eyelets each end of my denim strips. If you don't have a eyelet tool, you can just make a small hole in the hem for the screws, and use a washer on top of the denim.
Screw one end of each of the six denim straps to the wood. Three on each side, where you want to place your tin cans. (I spray painted my screws copper before starting so they'd match the tins)
Now wrap each denim strap in turn round a copper can and screw in place. You want to ensure a tight fit. Also for the middle can, I shared the same screw for the straps of the cans either side. This ensured that the copper cans sat closer together but is optional.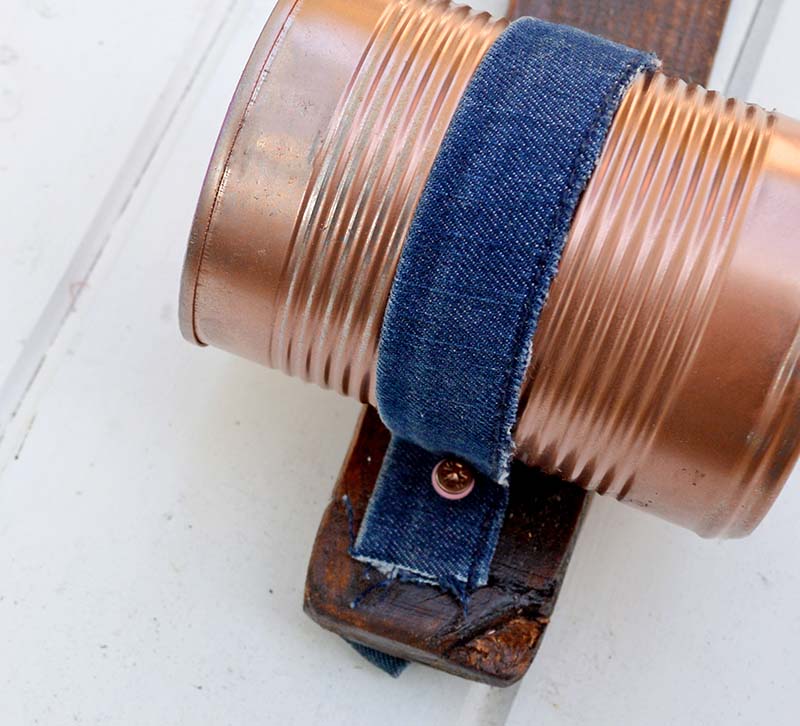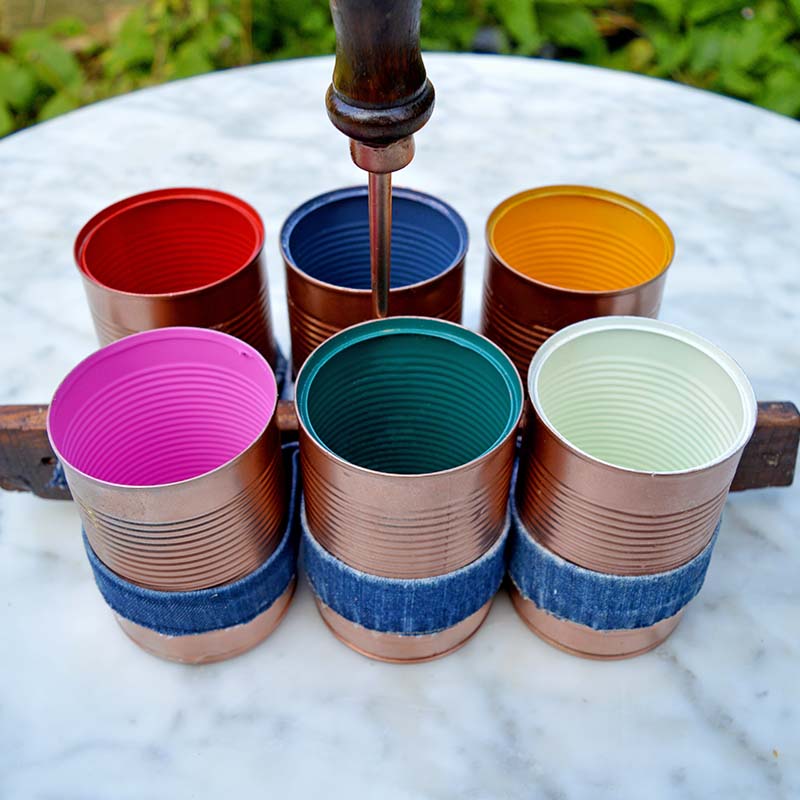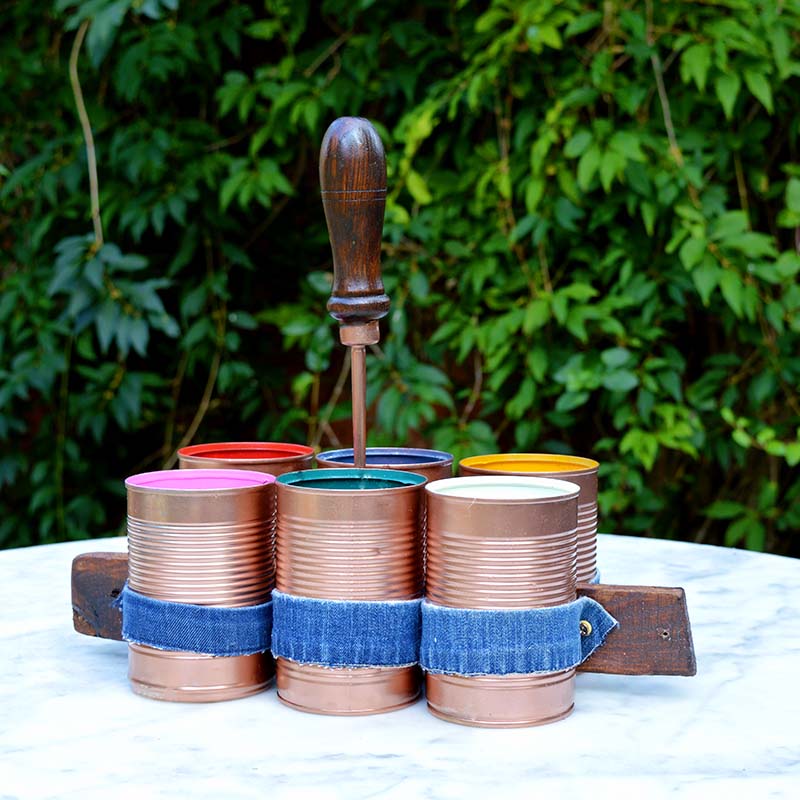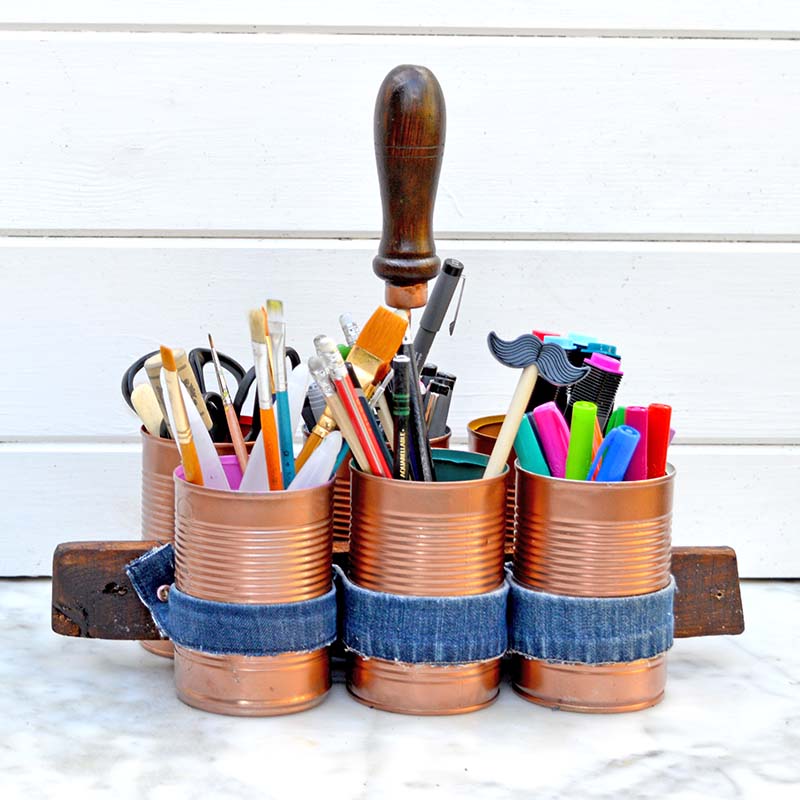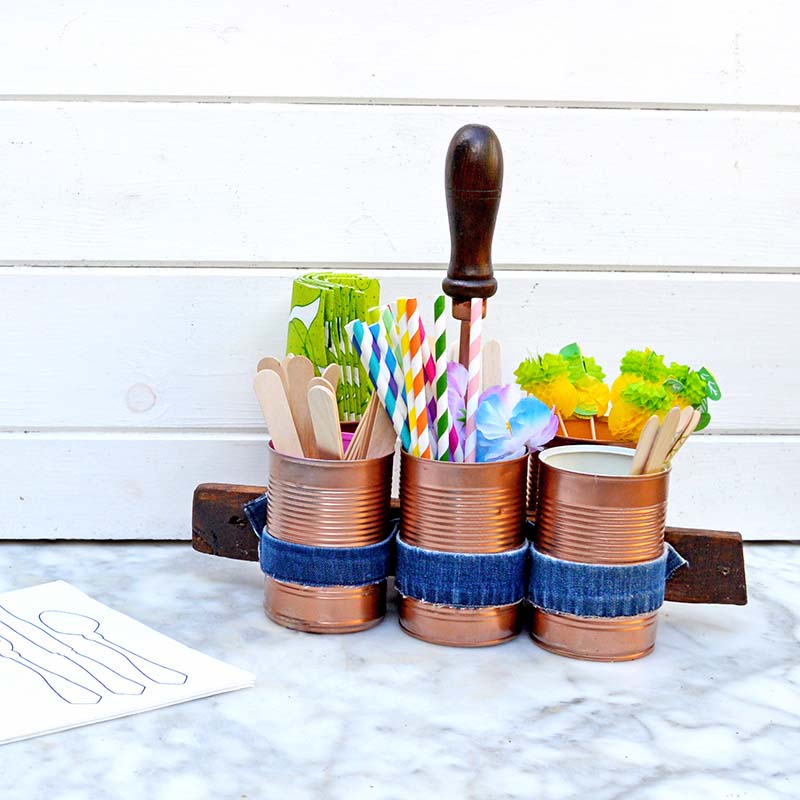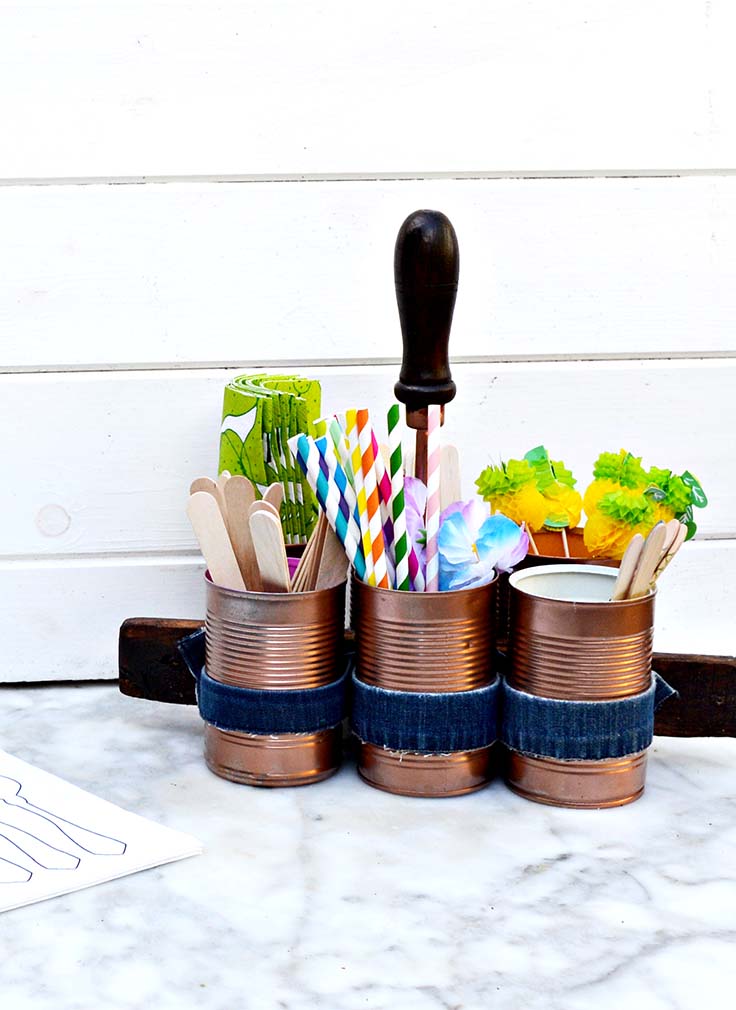 That's it once all the cans are attached your caddy is ready to go. I love the stylish copper and denim look of this craft caddy but with the surprise splash of colour from the insides of the cans. You can also use it as a picnic caddy, or just as a handy portable storage for all those bits a pieces you don't know where to put but want on hand.

If you like my craft/cocktail cupboard in the background of some of the photos you can see it here: Easy craft cupboard transformation.




&nbsp