Supersized cross stitch is easier and much faster compared to conventional cross stitch (some people call it needlepoint). It is basically a cross-stitch using large stitches and small count fabric. I have used this technique to make a fun cross stitch pillow pattern.
This fun cross stitch pillow is a typography pattern. The pattern is for the words "Sit Down" in fun colorful font.
"Sit Down" is a pun and the title of my wedding song, which gives this pillow/cushion extra meaning for me.
"Sit Down" by James may seem an odd choice for your wedding song especially when you are trying to encourage everyone to dance. It is, however, our song, and it takes us back to that fateful student party in Nottingham. Not only did we meet for the first time, but we also danced all night to "Sit Down ". It was May 1991, still the era of mixtapes; the iPod hadn't been invented. "Sit Down" was the anthem of the night, played at least half a dozen times as the party mixtape continually played over and over again on a loop.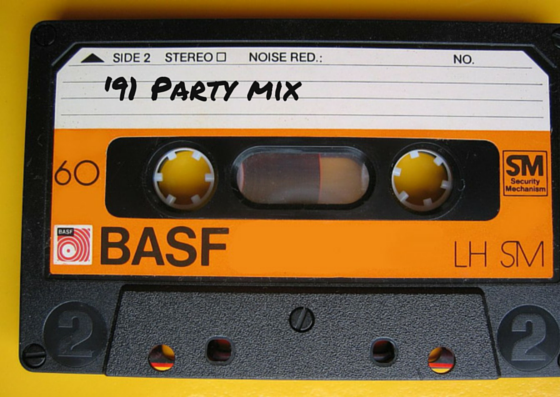 So what better way to immortalize this song than to make it into a pillow/cushion? And that's exactly what I did. I used the song title as a design for a large cross stitch pillow.
This post contains Amazon affiliate links for your convenience. Click here to see my disclosure policy.
What You Need To Make a Large Cross Stitch Pillow
To make the supersized cross stitch cushion I used a 7 count even weave canvas which was 55cm x 55cm. This canvas should give you enough for pattern area of 120 stitches by 120 stitches, with a 5cm border.
For the supersized cross stitches I used Appleton tapestry wool. The chart below shows the exact colors and amount I used (you can, of course, pick your own preferred colors).
I used a size 18 tapestry needle to cross stitch with the wool.
Backing fabric for the pillow/cushion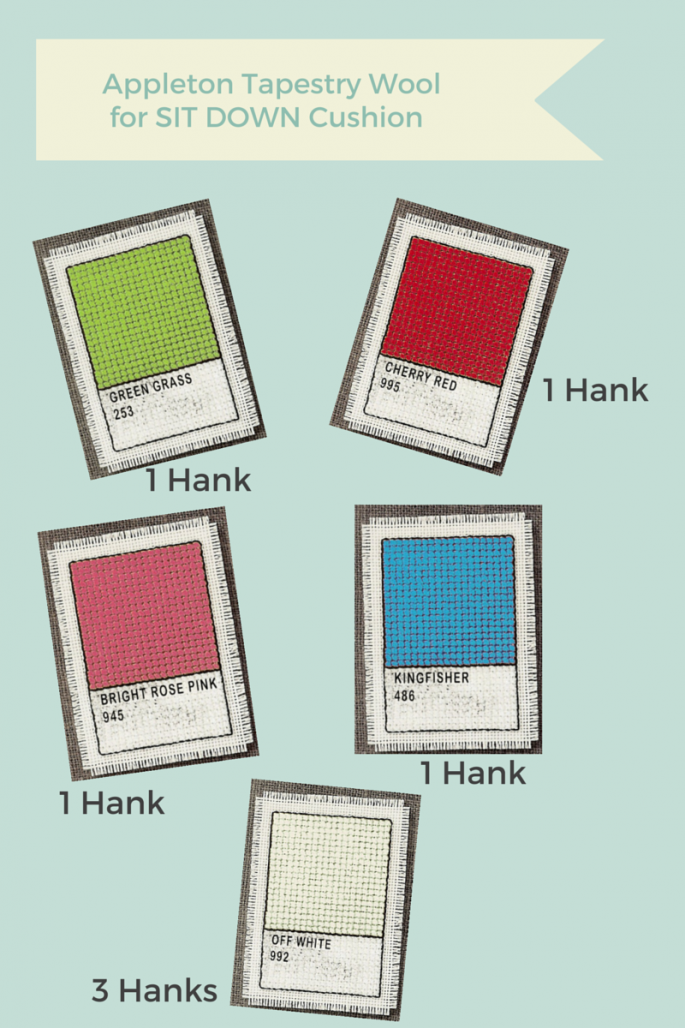 How To Do Large Cross Stitch
1.. First, print out the free cross stitch pattern for the pillow. This pattern is 120 stitches by 120 stitches. On your canvas count out the 120 stitches and with a black pen, draw a square. This will be your stitch area. Make sure you have a border of about 5cm outside of the stitch area. This will help when turning the cross stitch into a pillow/cushion.
The cross stitch pattern is only on the front of the pillow and cushion. A plain fabric is used for the back.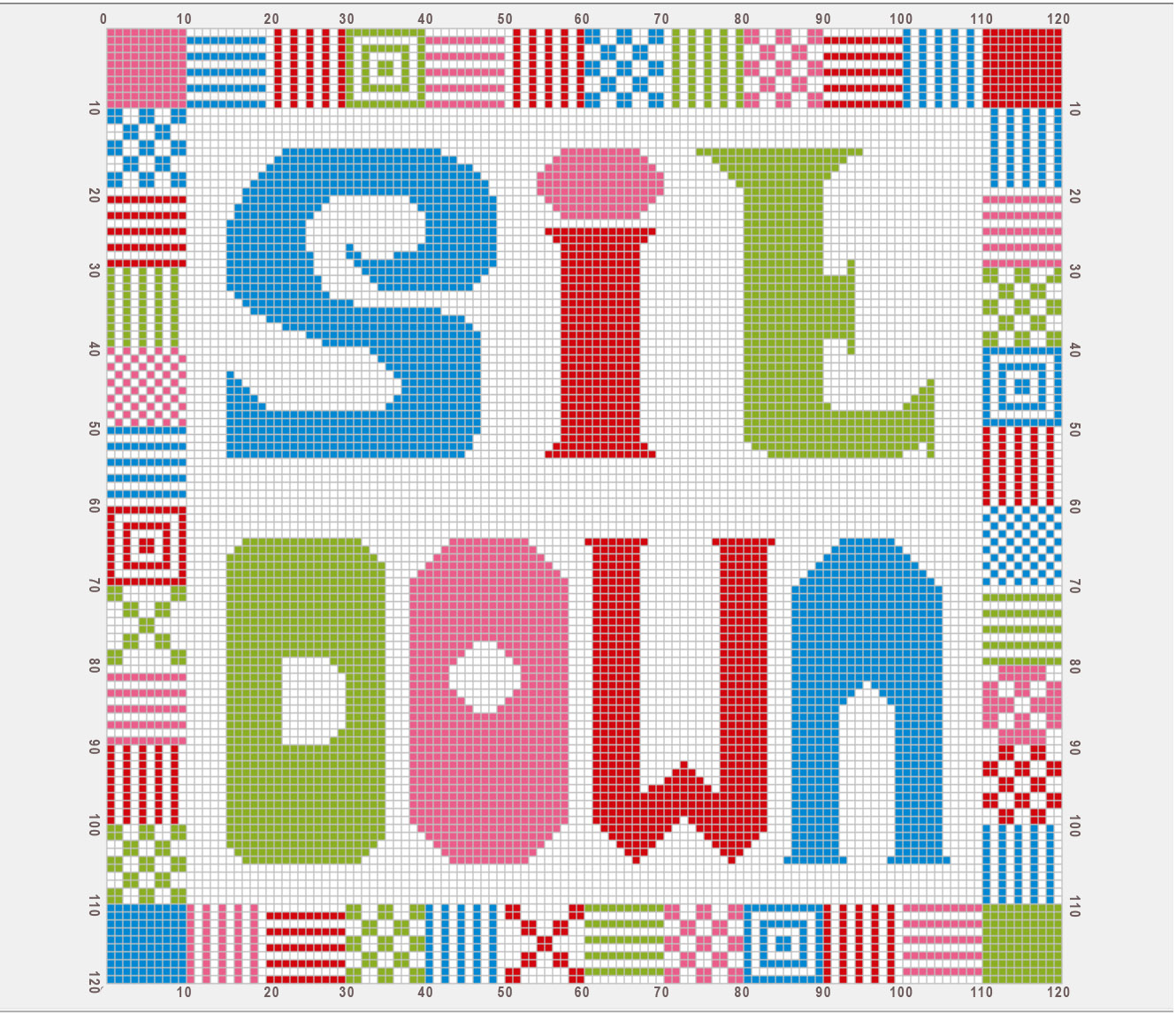 2. A lot of cross stitch patterns recommend that you start in the middle. However, with this pillow I found the pattern easier to start by starting at the edge. Just make sure you count your stitches carefully.
It can seem daunting counting the stitches but with this cross stitch pattern design, the 10×10 square border makes it easier. Also, it is easier to count the stitches when using a large cross stitch on a 7 count fabric as there are fewer stitches per inch.
3. The pillow is made using the basic cross stitch illustrated in the diagram below. Start the pattern in one corner and make sure your stitches all go in the same direction.
So if you start in the top left-hand corner, thread the pink crewel wool onto your needle. Then fill the top 10×10 square with pink cross stitches.
Then when moving to the next border square on the top, which is cream and blue striped. I threaded my needle with the cream wool and stitched all of the 5 cream stripes. I then threaded the needle with blue wool and filled in the 5 blue stripes.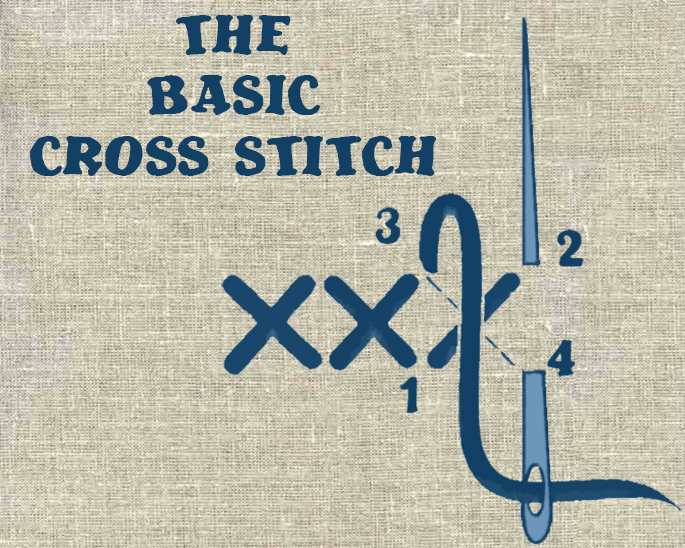 4. Mistakes are bound to happen, it is easy to miss count. Don't despair, simply snip out the wrong stitches from the front of the pattern. It's best to use a stitch unpicker as this will make sure you don't cut the fabric as well when unpicking.
Making up the supersized cross stitch into a cushion
5. When the cross stitch was finished I used some plain material to make a simple envelope at the back of the cushion. If you are not sure how to do this there is a tutorial on craftaholicsanonymous. Or if you prefer you can follow one on youtube like this one below.
Even though I used a large cross stitch pattern this is still what I call a slow craft. It still took me quite a few hours to complete. However, it was a fun craft to do in the evening whilst watching Netflix in the evening. It is a very therapeutic and relaxing craft that doesn't require too much consentration.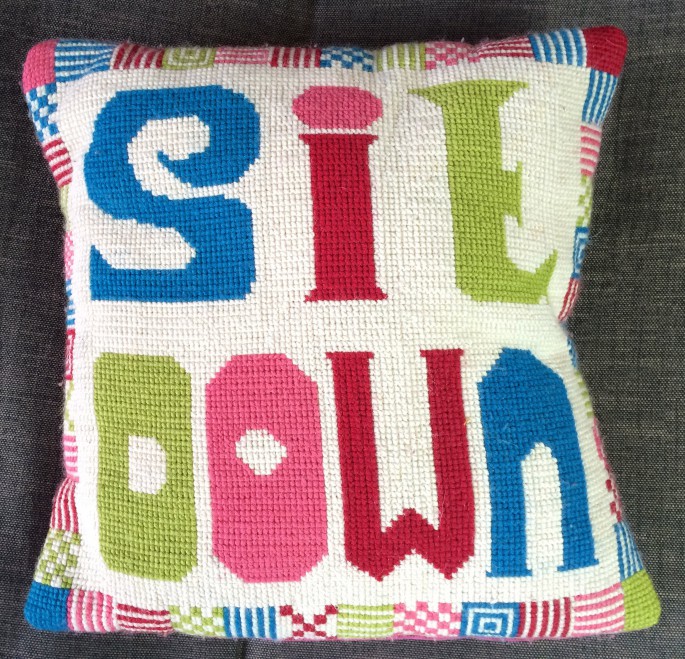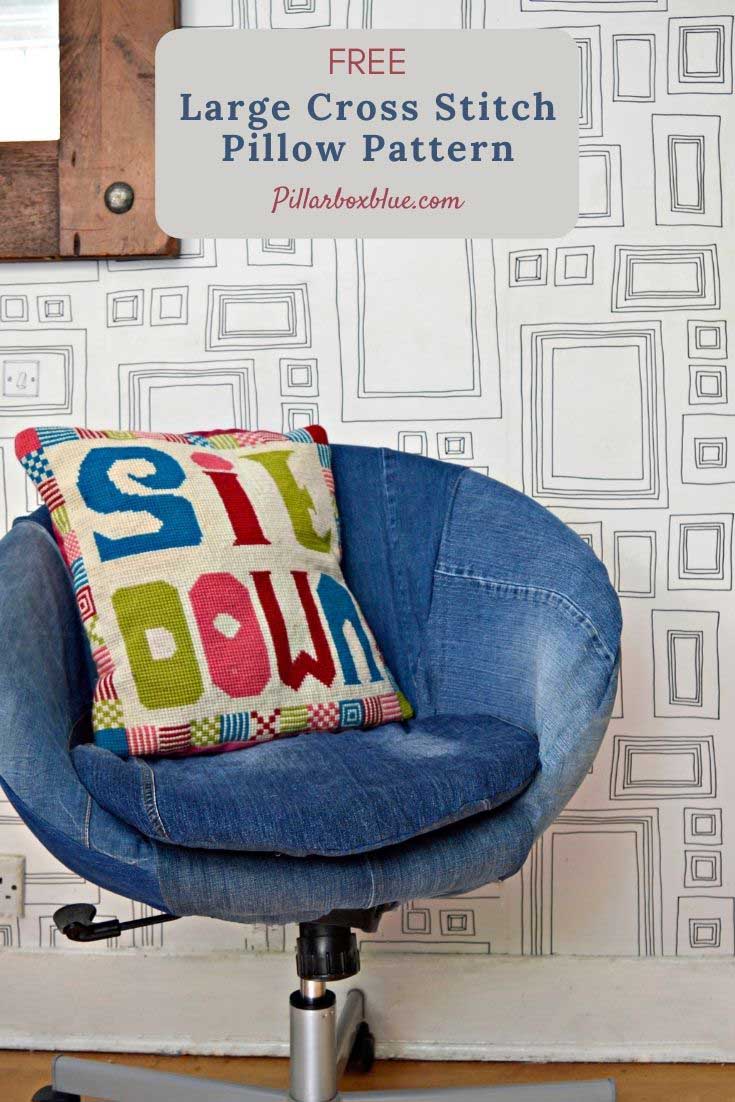 I love my Sit Down pillow, it makes me smile every time it catches my eye on the sofa. I made this quite a few years ago and it is still looks as good as the day I finished it.
If you want to see another one of my free supersized cross stitch patterns then check out the "MIND THE GAP" draught excluder. For another lyrical embroidery check out my DIY coffee pot cozy.
For a much faster but fun Sit Down pillow, check out the Gucci Inspired tiger pillow I made. There are many more unique homemade pillow cover ideas here.