I thought I would share with you my easy no fail recipe for a chocolate chip banana loaf. I have 2 teenage sons and one almost teenage son, who seem to be permanently hungry. When the boys are hungry I know a nice piece of fruit isn't just going to cut it. They want carbs, especially after doing sport. So I often make a banana loaf to help satiate their vast appetites. I also kid myself that as its got fruit in it, banana loaf counts towards one of their five a day.
I hate waste and the great thing about this recipe the riper the banana the better, so no more throwing away over ripe bananas from the fruit bowl. In fact if I've got lots of over ripe bananas, I will freeze them to make a banana loaf another day. The skin goes black in the freezer but the defrosted banana is fine to use in this recipe. Bananas take about an hour to defrost, but if you are in a hurry you can run them under a hot tap to speed up defrosting.

Ingredients for Banana Loaf
How to make the Banana Loaf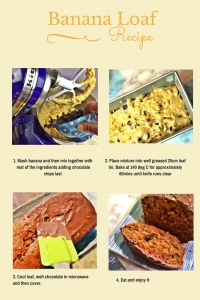 This recipe is so delicious, easy and forgiving. Which is great for me, even though I love cooking I'm not the worlds best baker, as I'm not great at precision which is needed when baking. You could replace the chocolate chips with walnuts or pecans if you want . I use chocolate as not everyone likes nuts, but in my experience everyone likes chocolate. In fact everyone in my family loves chocolate so I also cover my banana loaf with melted chocolate as well.