As Pillarboxblue is full of a wonderful range of upcycling tutorials and there is a comprehensive A to Z list of clever upcycling ideas here. I thought it would be useful to add a post that explains what upcycling actually is and the benefits of upcycling.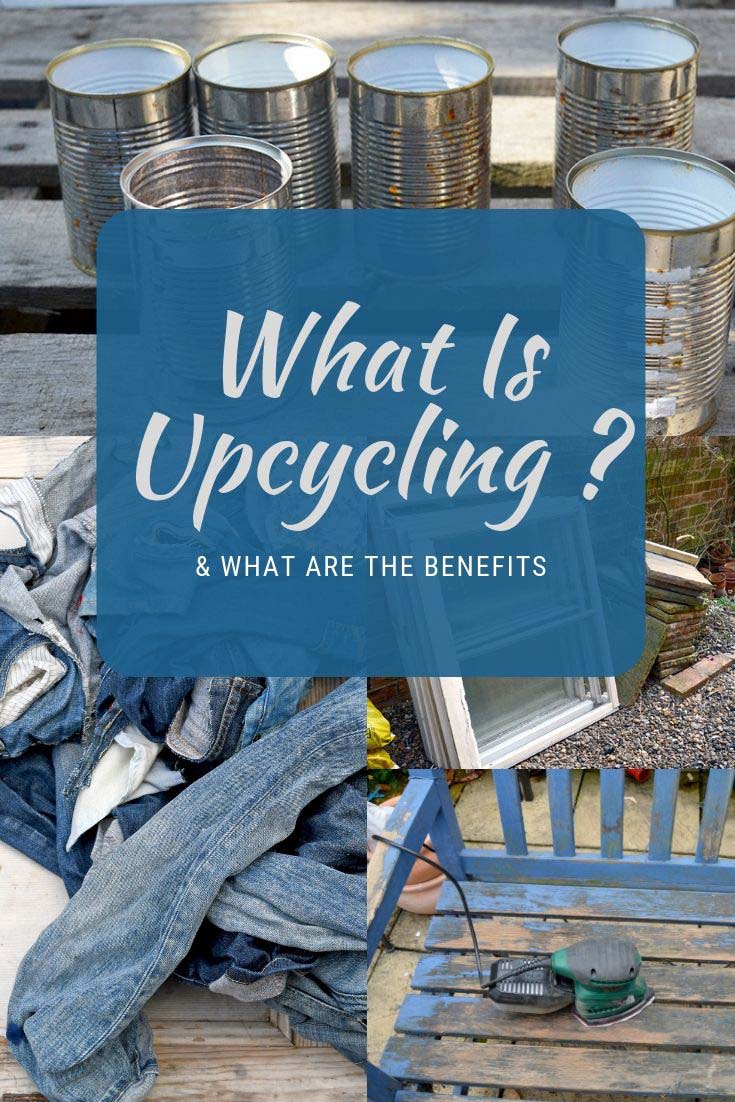 What is Upcycling and The Benefits of Upcycling
Being the creator of a successful upcycling blog I get asked loads of times the question "what is upcycling?". From magazines, other bloggers, brands, friends and even relatives. I think a lot of them already know what upcycling is or have a really good idea but they just want to hear my take on it.
Upcycling is a relatively new word has only been around since the late '90s. In fact, the spell checker on my computer doesn't even recognize the word.
The increasing popularity of upcycling is finally being recognized, Cambridge Dictionary has just voted upcycling as the word of the year 2019.
The Cambridge Dictionary definition of upcycling is, " the activity of making new furniture, objects, etc. out of old or used things or waste material"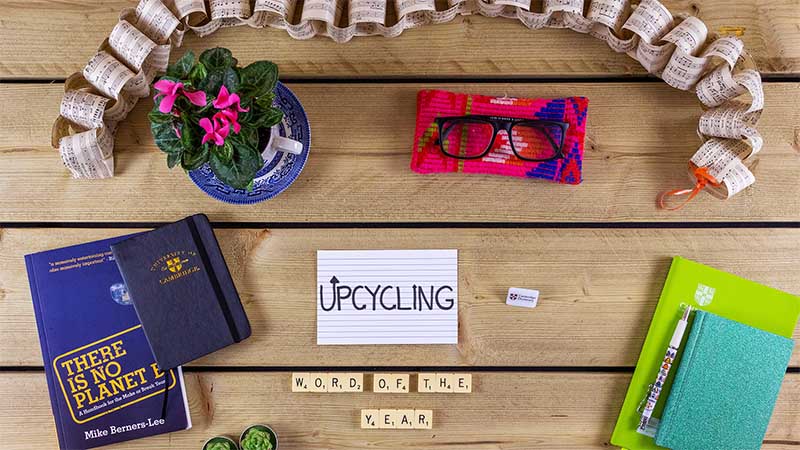 My personal definition is very similar "revamping the unloved and mundane into something much more useful or beautiful and creative".
Upcycling is a great way of personalizing and making unique things to brighten and add interest to your home. Often, we have things in our home that have sentimental value but are a bit tired and dated, they no longer fit in with our decor.
A great way to revamp these objects so that they can be loved once again is by upcycling them. This may involve painting an old piece of furniture or decoupage it with paper or fabric. Upcycling with wallpaper is one of the easiest ways to transform furniture, from tables to old mirrors.
I have written a whole post on how you can upcycle fabrics for your home. These include fabrics from denim, cotton clothing and bedding, sweaters to old leather handbags.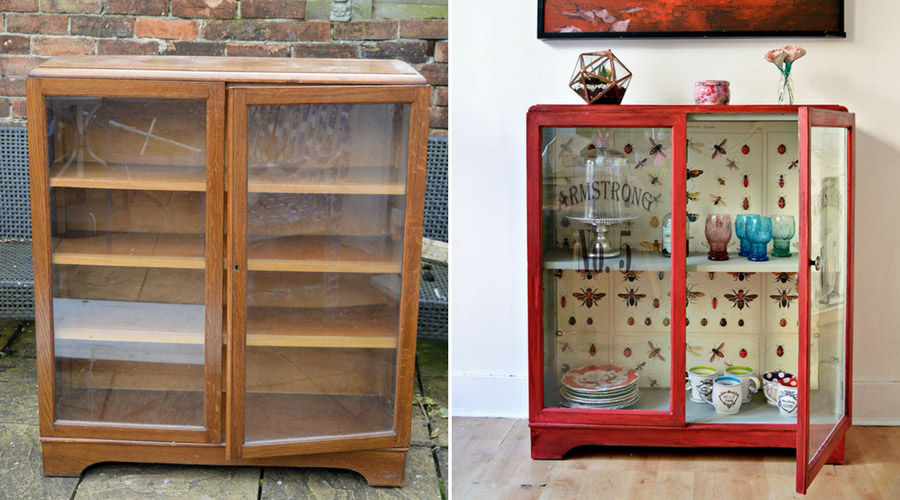 Sometimes upcycling is referred to as revamping, transforming and repurposing. Technically recycling is about converting waste and rubbish into reusable material. However, if that new material is considered to be better than the original then you could call it upcycling.
What Are The Benefits Of Upcycling?
Upcycling brings with it tons of benefits but they generally fall into four main areas.
Environmental
Economical
Uniqueness
Psychological
Environmental & Economical Benefits Of Upcycling
It's not just about transforming the old into something uniquely fresh and exciting. Upcycling is also about thrift. I love working with what others consider rubbish and repurposing it into something beautiful and useful once again.
This thrifting also has positive environmental benefits of repurposing and reusing items, reducing waste to landfills and the unnecessary manufacture of new goods.
Surely, it is much better to upcycle something that already exists than to buy new. Not only is it more affordable but it is environmentally sound.
By upcycling not only do you stop one more thing going to landfill. Think of the environmental footprint you have saved from the cost of manufacturing packaging and transporting something new.
In the case of upcycling " "one man's trash is another man's treasure" is definitely true.
Plastic Bottle Succulents in upcycled glass terrariums.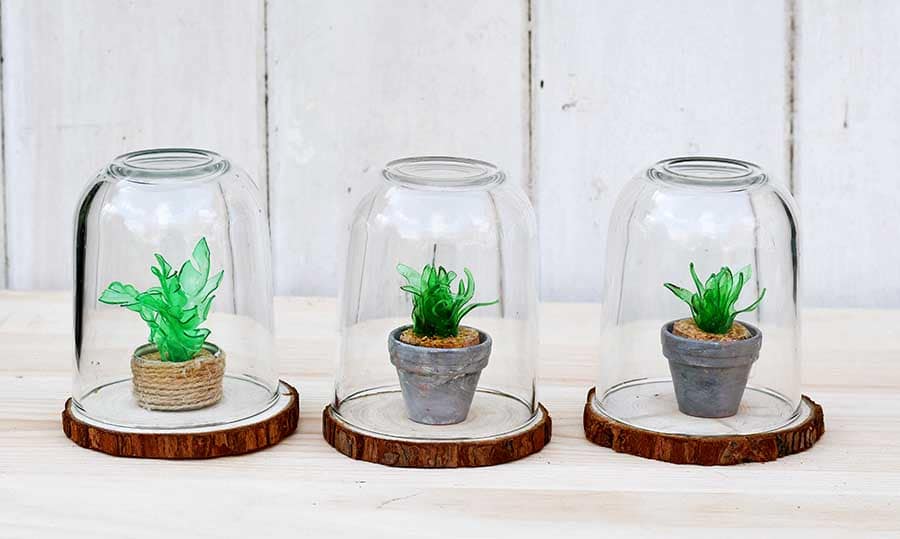 Far too much secondhand (and unsold) clothing ends up in a landfill. It could be repurposed and upcycled into something more useful. "The value of unused clothing in wardrobes has been estimated at around £30 billion. It is also estimated £140 million worth of clothing goes into landfills each year. "
One of my favorite things to craft with is old worn-out denim jeans. I've even upholstered furniture with it. There is even a fun A to Z list of denim tutorials on the site.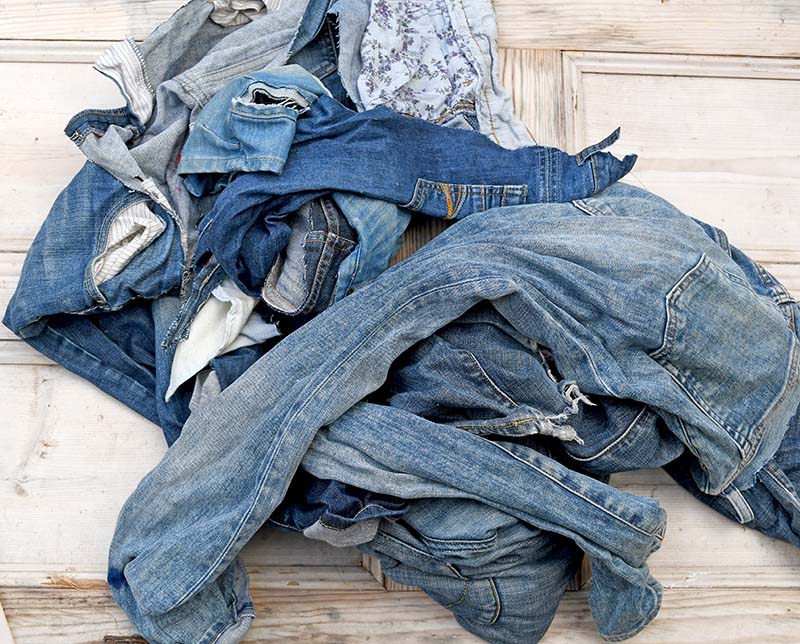 When money is tight instead of buying new why don't you look at what you already have and see if you can transform and revamp it to fit in with your current interior look.
A nice home is important to me, so are holidays. I don't want to spend all my money on my house I want to save some for travels abroad.
By recycling and upcycling I can really cut the cost of decorating my home and still get the look I want.
Felt rug for the home, made from recycled sweaters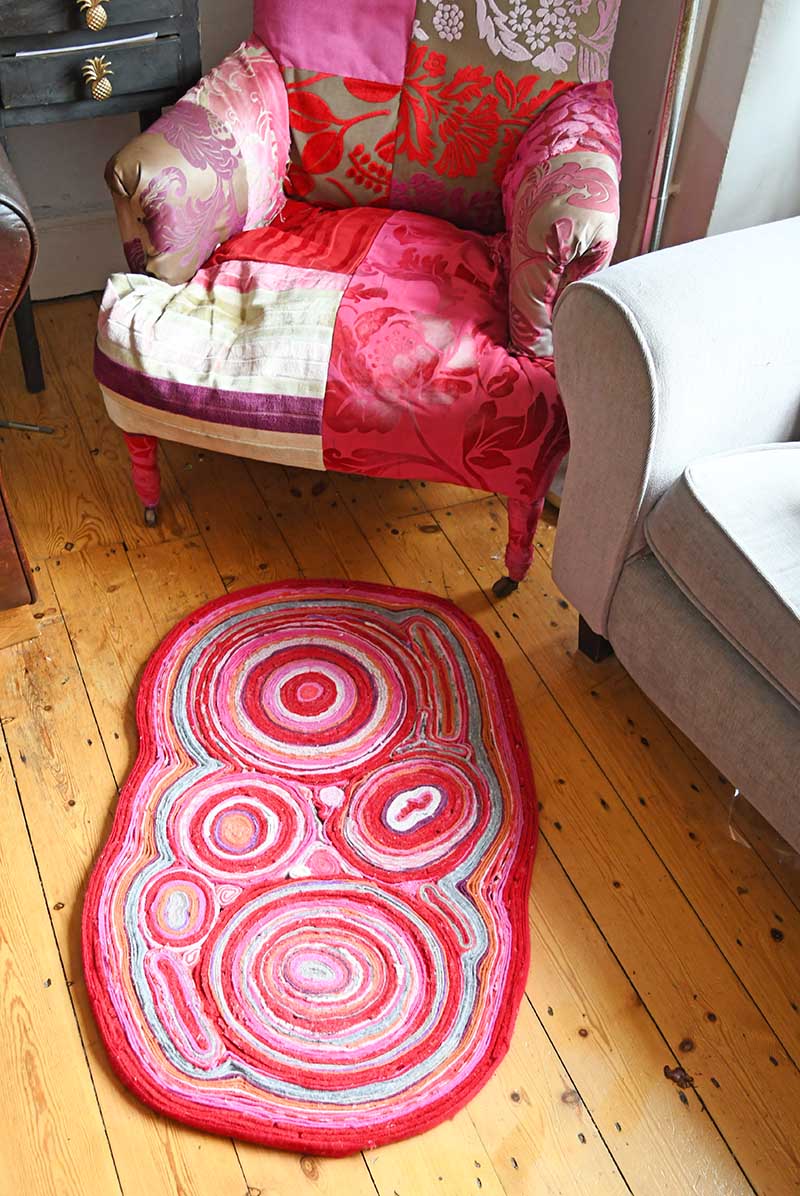 Creating Something Unique With Upcycling
Upcycled pieces tend to be one-off. It is a brilliant way to make your own stamp in your home by creating something unique that no one else has.
Rather than buy something that is mass-produced. Upcycling a piece of furniture enables you to create pieces that reflect your own tastes and personality.
That is why I love to use maps in my crafts and upcycling. Maps are a great way to personalize something and add meaning to it.
I was born and brought up in Hong Kong and my husband's family is from Norway. I have added maps of these places on some of my upcycles. For example, a couple of wooden chairs in the dining room are decoupaged, one with a Norwegian map and the other with a city map of Hong Kong.
Personalized map chairs one with a Norwegian map and the other with a London tube map.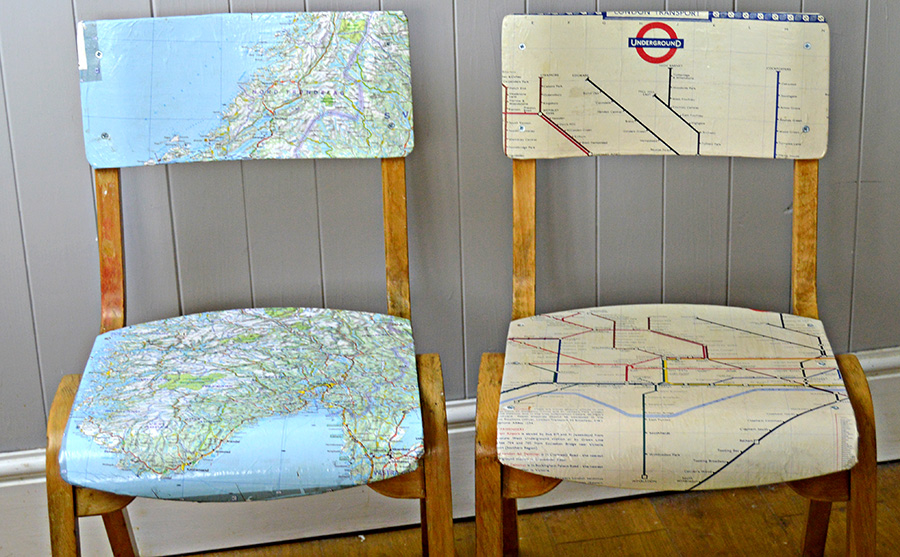 With upcycling, we can indulge our love of nostalgia. How many times do people walk around trendy furniture stores that sell upcycled and retro furniture saying my nan or my mum had one of those. Just look at the trend for 70's sideboards, many of them have been upcycled with just a splash of paint or a wallpapered panel.
The Psychological Benefits of Upcycling
Not many people know this but I trained as a psychologist (Aviation Psychologist). So I often see the world from a psychologist's perspective and can recognize several psychological and well-being benefits to upcycling.
As modern lives become more and more automated and digitalized there is a need to balance this by being creative with our hands. Whether this is through craft, baking, art, DIY or upcycling, we like to make things.
The rewards of upcycling aren't just about producing unique pieces of furniture and accessories for your home. There are also the therapeutic benefits of the actual crafting process. It's very relaxing to use the right side of your brain for a change by indulging in a creative task such as painting an old piece of furniture.
Personally, I find upcycling very relaxing and almost meditative. I can really get lost in my crafting and DIY forgetting about my other worries for a while, whilst emersed in the upcycling task to hand.
Slowing down and taking the time to revamp and upcycle something can not only be very relaxing but also a confidence booster to boot. Just saying "I made that" can make you feel really good and that you have created something new from something old.
Upcycled drawers into a bathroom cabinet.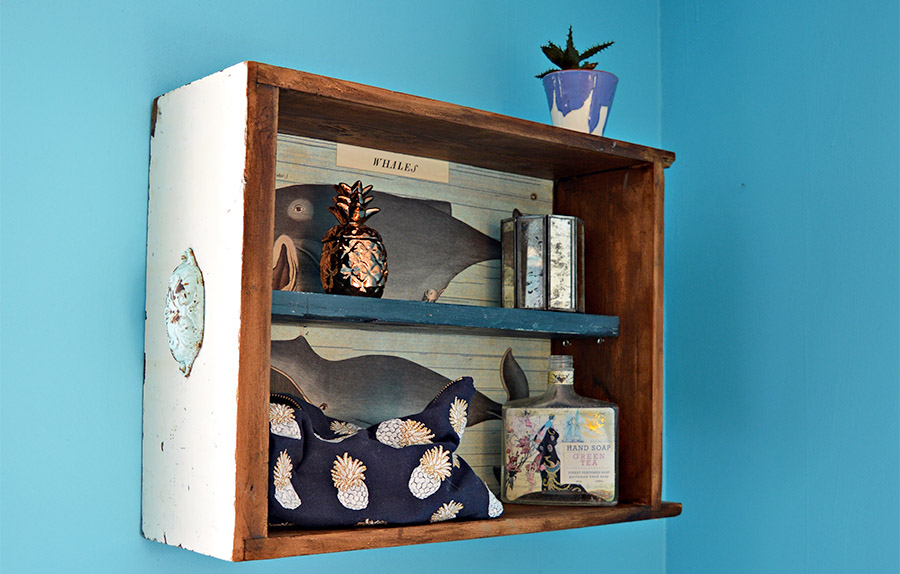 The sense of achievement when you create a brilliant upcycled piece is very uplifting. I have pieces of furniture in my home that I transformed years ago.
When they catch my eye, they still make me smile with pride. I'm definitely more attached to the upcycled furniture in my home than stuff I've bought.
These pieces are like part of the family as they have my personality (not to mention sweat and tears in some cases) in them. I feel pride in having created them.
The Creative Process of Upcycling
The challenge of upcycling really stimulates imagination and creativity. It flows two ways, firstly with the waste to be upcycled and secondly the desired end product.
Firstly, with an old piece of furniture, the challenge will be with how I can upcycle it into a unique and desirable piece that will fit in with my home.
When upcycling you are the designer so you can create the piece to fit your interior décor style.
If you live in a minimalist setting you can strip back old more ornate furniture to its bare components to make it in keeping with a minimalist look.
Whereas if you're more a maximalist you can add color, knobs hooks, etc to make a piece to fit your need and home.
One of my favorite ways to revamp old furniture is with wallpaper.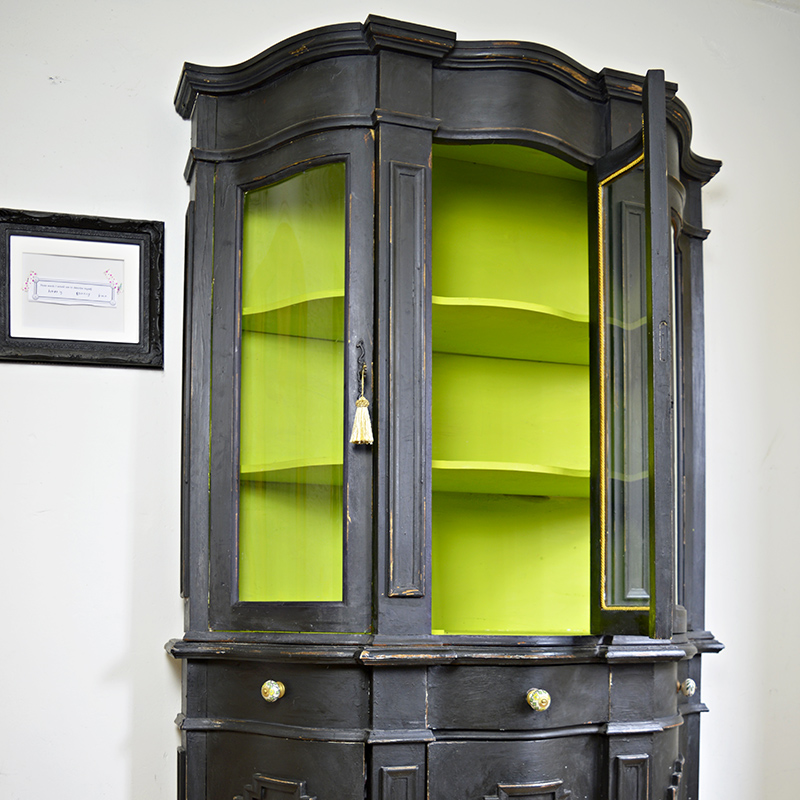 Secondly, creativity can be driven by the end product. For example every year I challenge myself to make a Christmas tree for my home using only waste materials.
With this project, I'm looking for the materials to upcycle rather than using the material as my starting point.
Upcycled wooden Christmas tree with knobs on.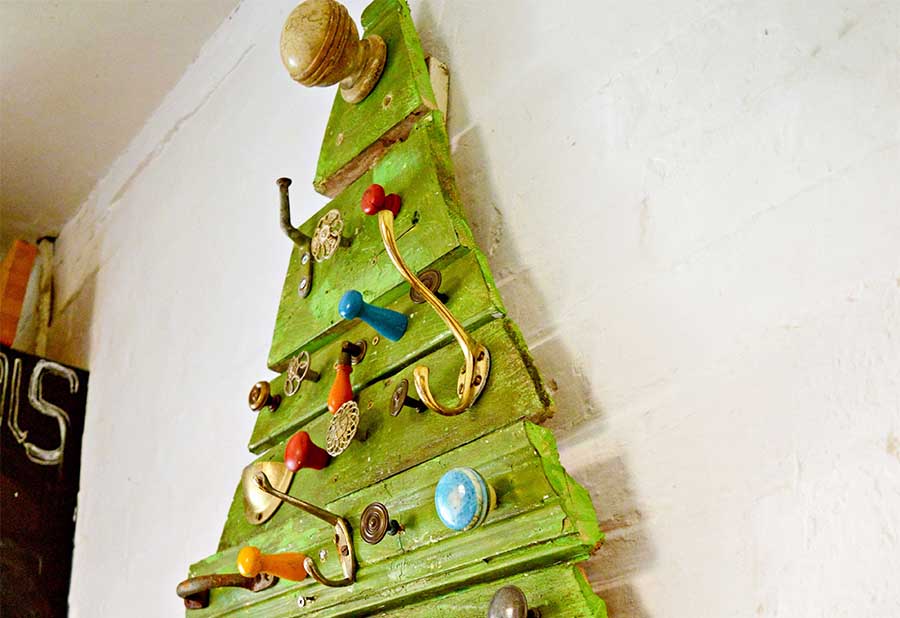 Upcycled lampshades into a rustic Christmas tree.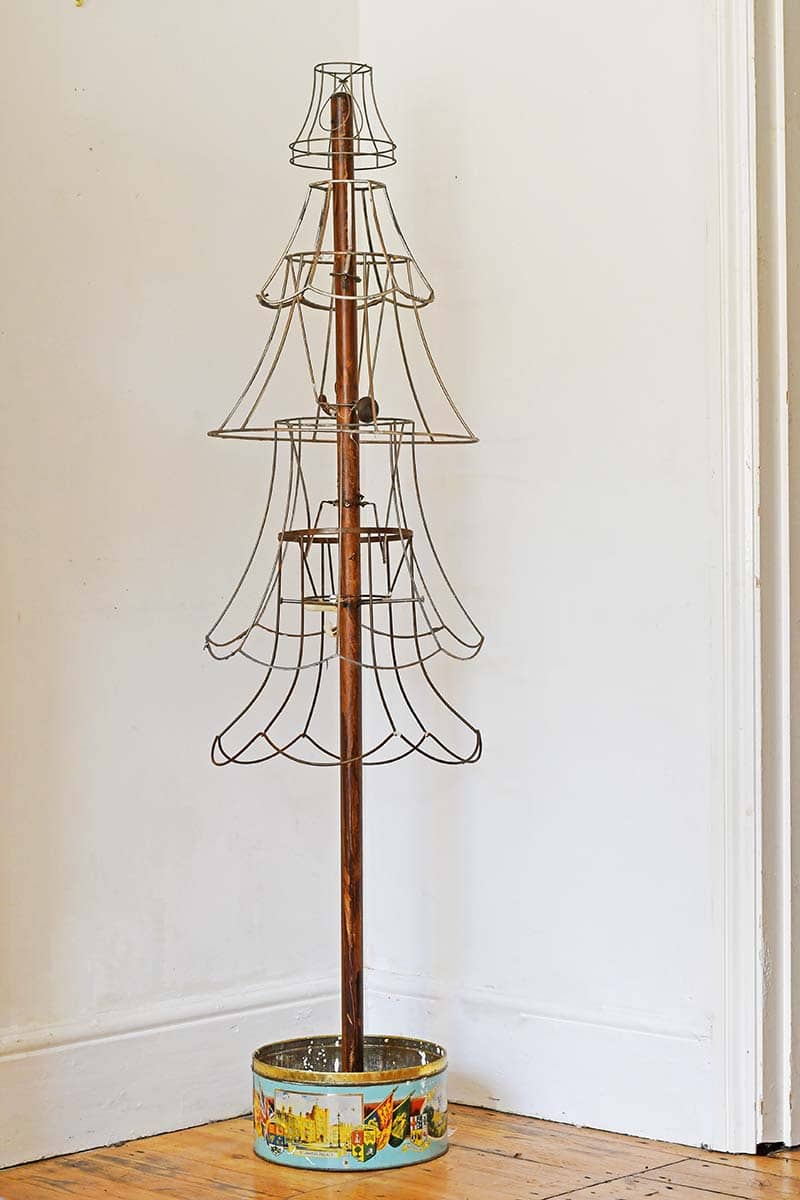 What To Upcycle
Furniture
Old furniture, whether it's updating a piece you already have or buying or picking up something secondhand from Freecycle, an auction, junk or charity shop. Old pieces of furniture are often sturdier and made to a higher standard to the mass-produced pieces today.
Often I see old sofas in my local auction site that when they are stripped back their skeleton is made of solid wood and good strong springs.
Whereas modern mass-produced sofas, when stripped back, are made of poorer materials such as cardboard.
Chalk paint, decoupage, and reupholstery are great ways to transform old pieces of furniture.
Upcycled bench with Marimekko decoupage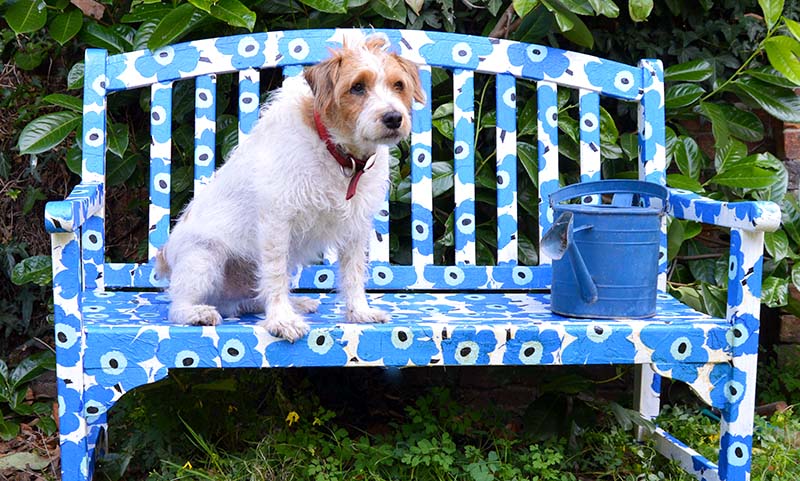 Clothing
Nothing makes me smile more than when a visiting relative brings with them a pile of their old jeans and sweaters (forget the bottle of wine) to upcycle. Denim is such a robust material and comes in lots of lovely shades of indigo. It's such fun to repurpose.
Whether it's to upcycle an old worn chair by reupholstering it in denim, make new pillows, planters or even cute dog toys, no part of a pair of jeans is safe. The seams, hems, pockets and scraps get crafted with.
There are over 40 tutorials of both stitched and non-sewing denim upcycles on Pillarboxblue.
Ideas for upcycling and repurposing denim for the home.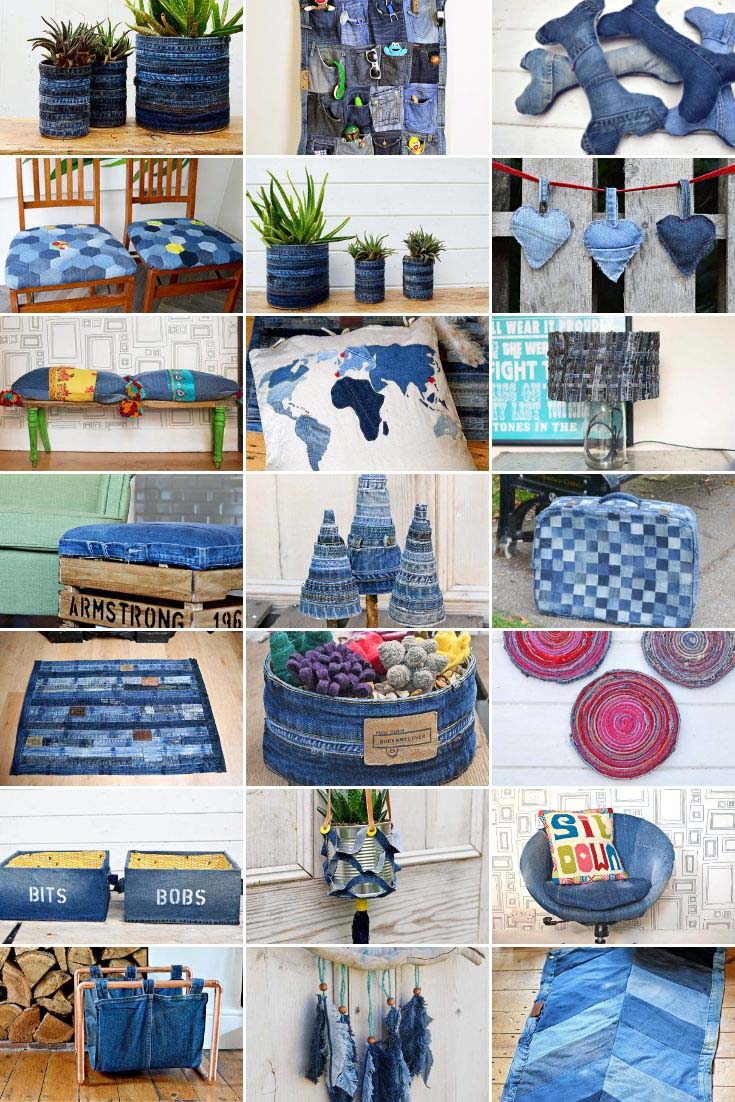 If you felt wool sweaters by shrinking them on a hot wash in the washing machine, you can cut and craft with them and they won't fray. I've made cozy throw blankets, soft knot pillows and even Scandinavian decorations out of old sweaters.
Don't worry if you are not a confident seamstress, there are plenty of things that you can still make from old clothes that are no-sew. That is you can make them without having to use a single stitch.
Old clothing is a great resource for crafting materials, no need to go to the craft store for fabric for your projects. Use your old clothes instead, I've made upcycled denim Christmas decorations from both old jeans and old sweaters. There are many upcycled Christmas ornament ideas here.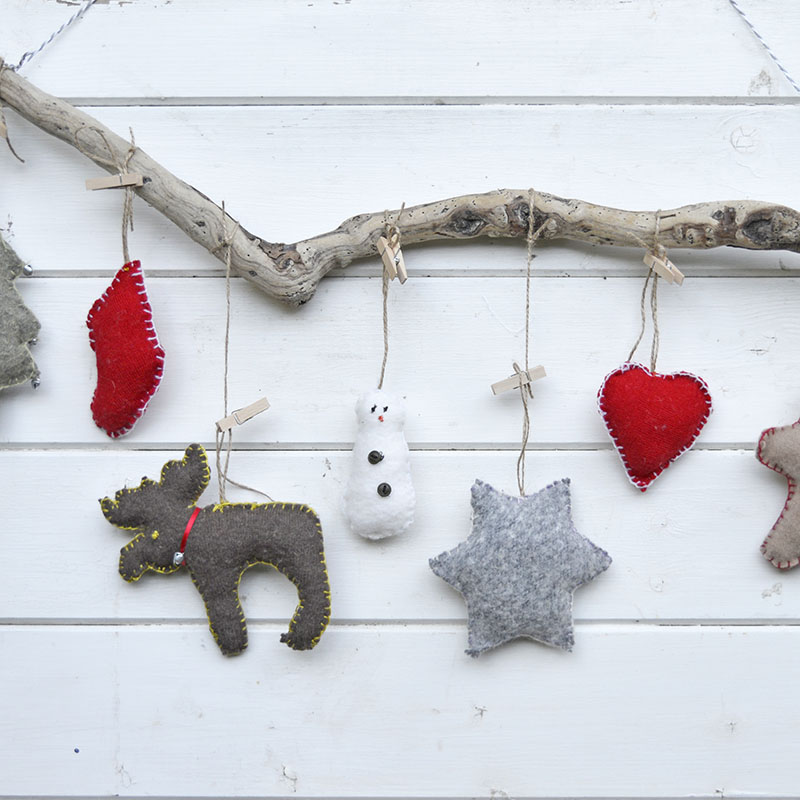 Don't limit yourself to one material at a time. Many of my upcycles combine several different waste materials. Leather, wool and denim look great together.
Upcycled felt succulent garden using old sweaters and jeans.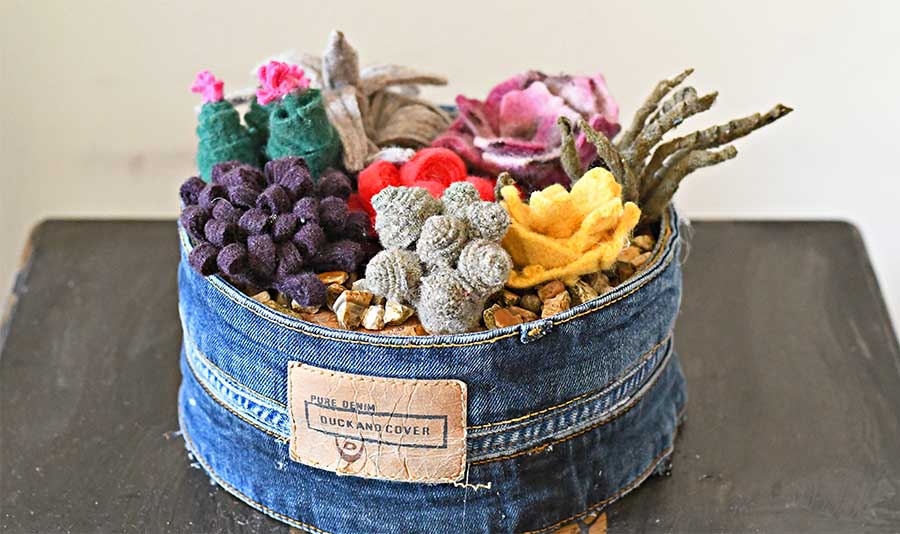 Scrap Wood and Pallets
Walking past a skip (dumpster) and not having a good look in, is not an option for me. I just can't help myself. Often I will find lovely bits of old wood in a skip.
Pieces with character and age that you can't easily buy elsewhere. I've made benches out of old scaffolding boards and broken chairs rescued from a skip.
Repurposed scaffolding board bench, using broken chair legs.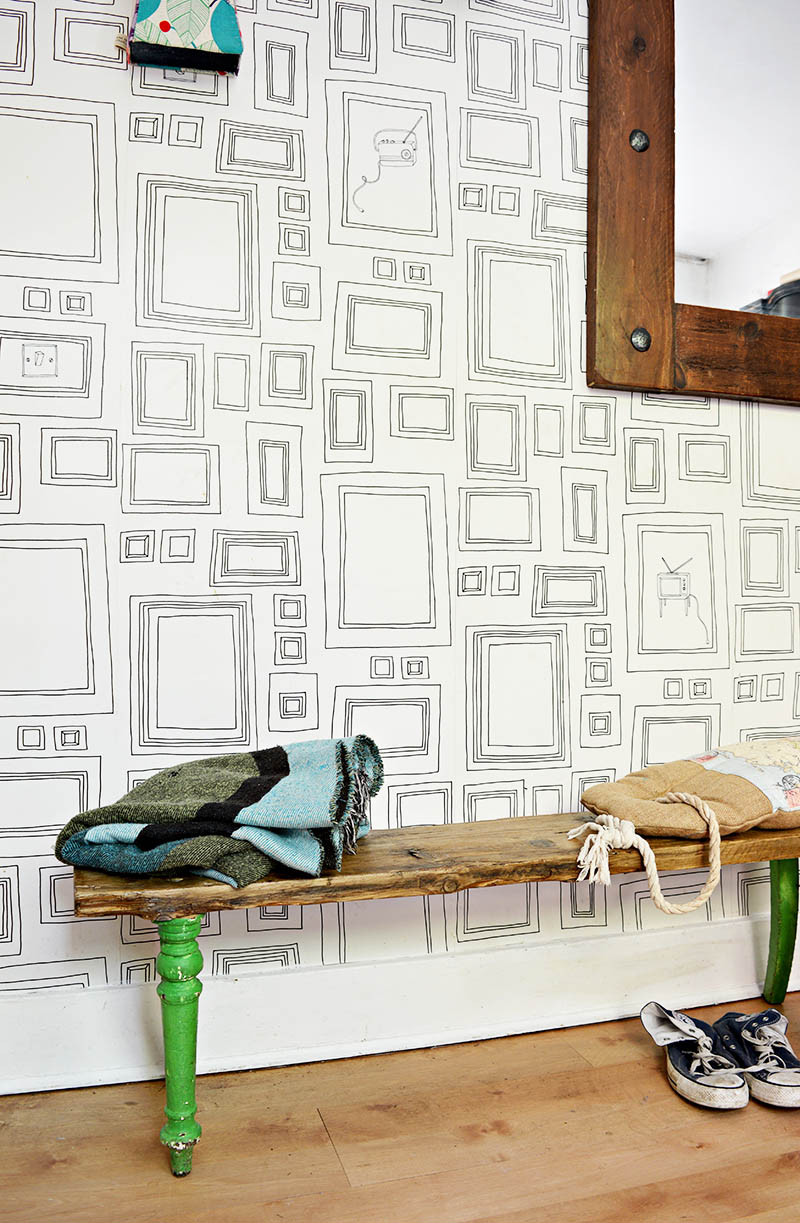 Sometimes these upcycles can be as simple as giving old chairs a coat of paint to give them a fresh new look.
Where there is a skip often there are pallets too. I always ask but have yet been refused a pallet from a builder.
They are normally more than happy for someone else to cart them away. Pinterest and Facebook are full of thousands of ideas for upcycling pallets.
I turned a plain old pallet into a fabulous colorful Moroccan wall planter to brighten up my garden.
A happy hour cocktail window and window herb planter brighten up my backyard. Both were upcycled sash windows rescued from a local skip. There is a great collection of garden upcycles here.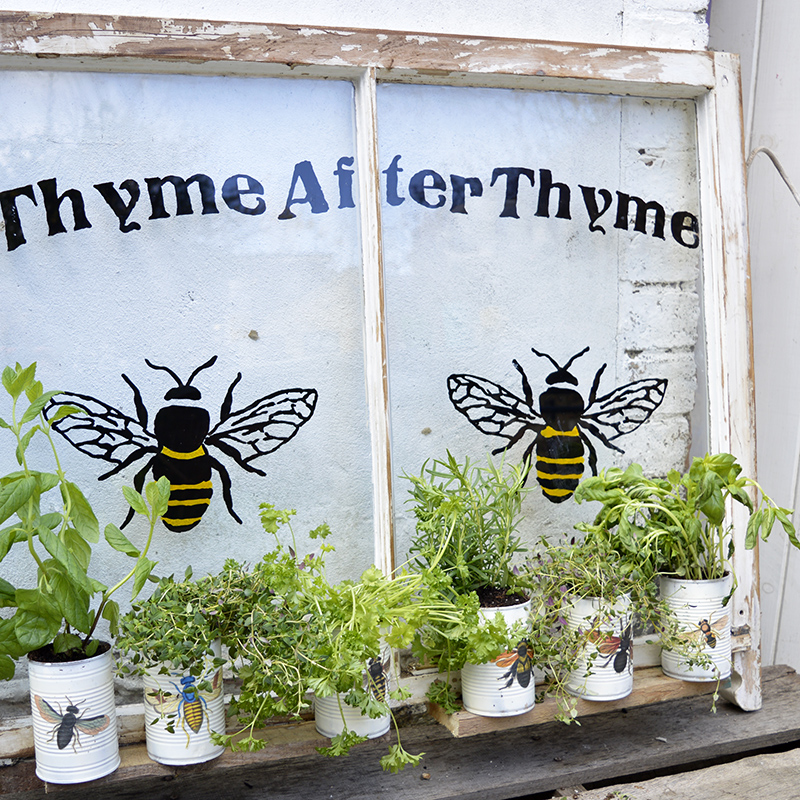 Tin Cans & Plastics
It's amazing what you can upcycle an old tin can into, or plastic bottles and cartons. Most of the planters in my home and garden are upcycled tin cans, whether they are decoupaged, painted or covered in fabric.
Tin cans upcycled into oriental style DIY flower pots.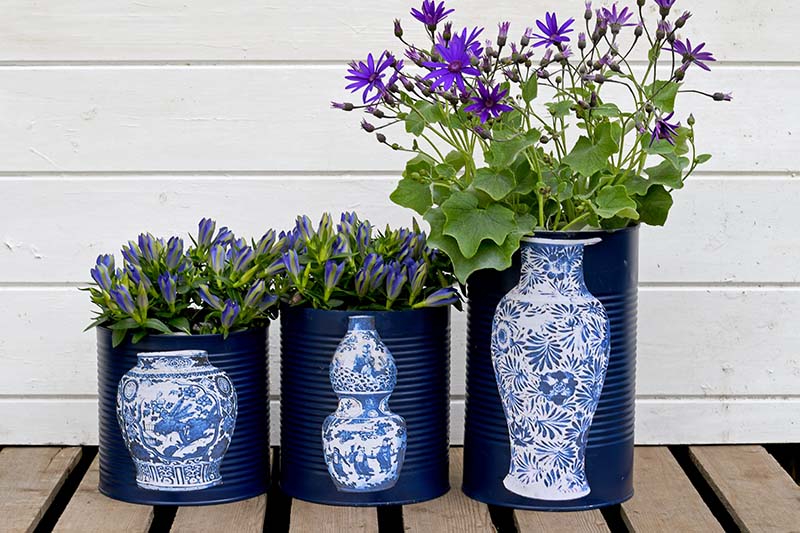 Cardboard & Maps
One side effect of online shopping is the amount of cardboard packaging we acquire. Instead of putting all of it into the recycling bin, I keep some aside for crafts and upcycling. Like with these wonderful cardboard Christmas craft ideas.
Some of the things I've made include decorative birdhouses, Christmas decorations, picture frames and quirky upcycled storage boxes.
Old road maps have to be one of my favorite things to upcycle. Red roads, blue waterways and green spaces all on vintage paper all add to the lovely look of old maps.
Just the right colors to upcycle into map Christmas crackers. Add extra interest and that personal element to an upcycle by using a road map of somewhere special. Decoupage with them, make map lampshades or even decorative ornaments.
Upcycled map floor lamp with denim trim and stand.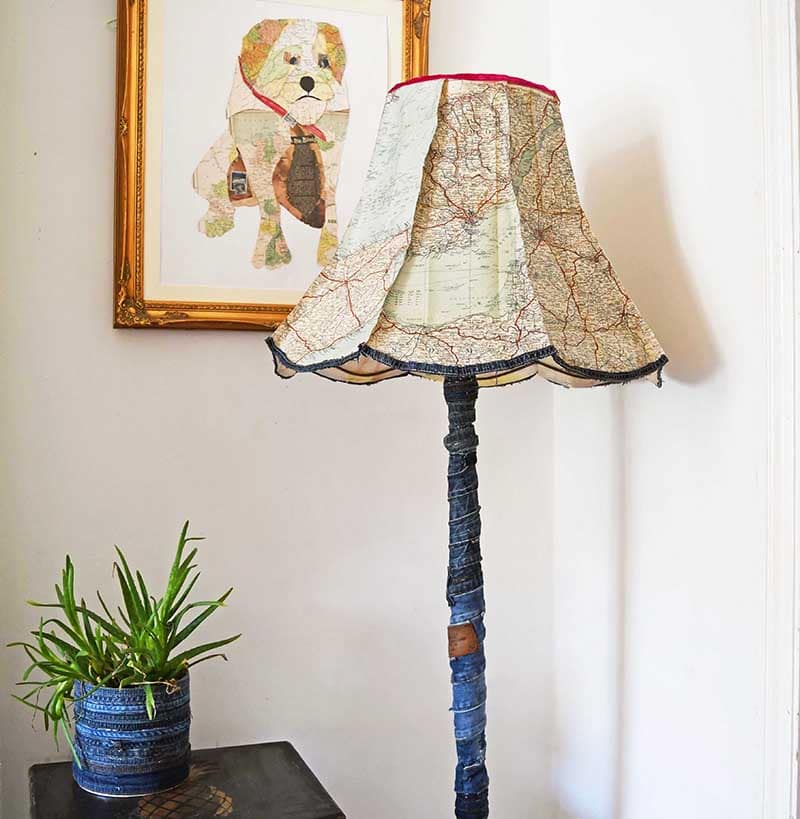 Glass and China
Wine bottles, gin bottles, glass jars, old tiles, broken crockery and cups can all be repurposed into an array of fabulous things.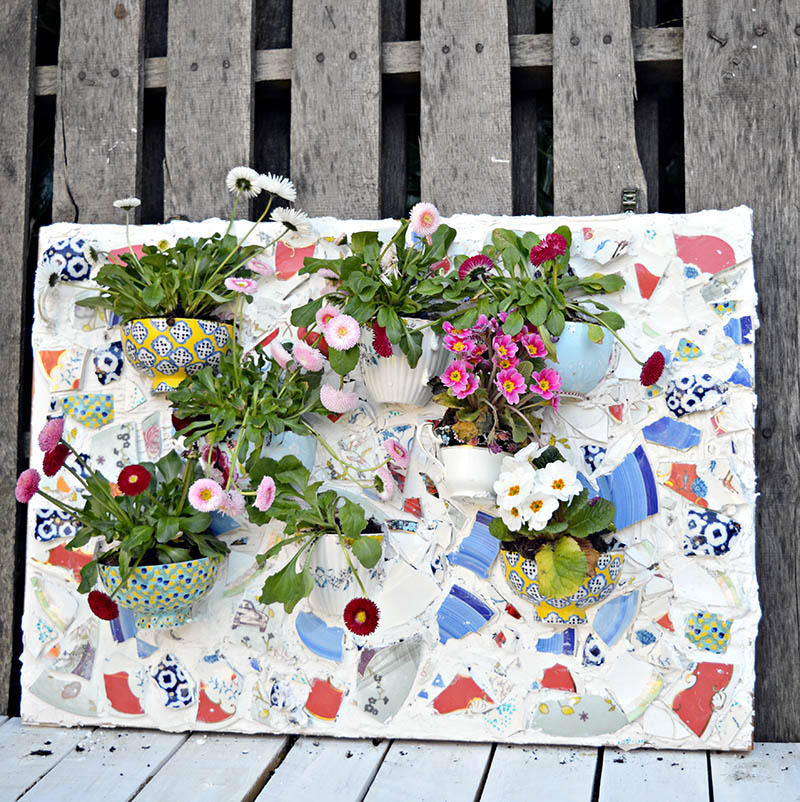 Other bits and pieces
So many other things can be upcycled from old toys, sports equipment, suitcases, old radios, crates, sails, etc.
The list is endless, the BBC TV program "Money For Nothing" always amazes me with its upcycling creativity from other people's rubbish.
Upcycled vintage suitcases with maps for a more updated look.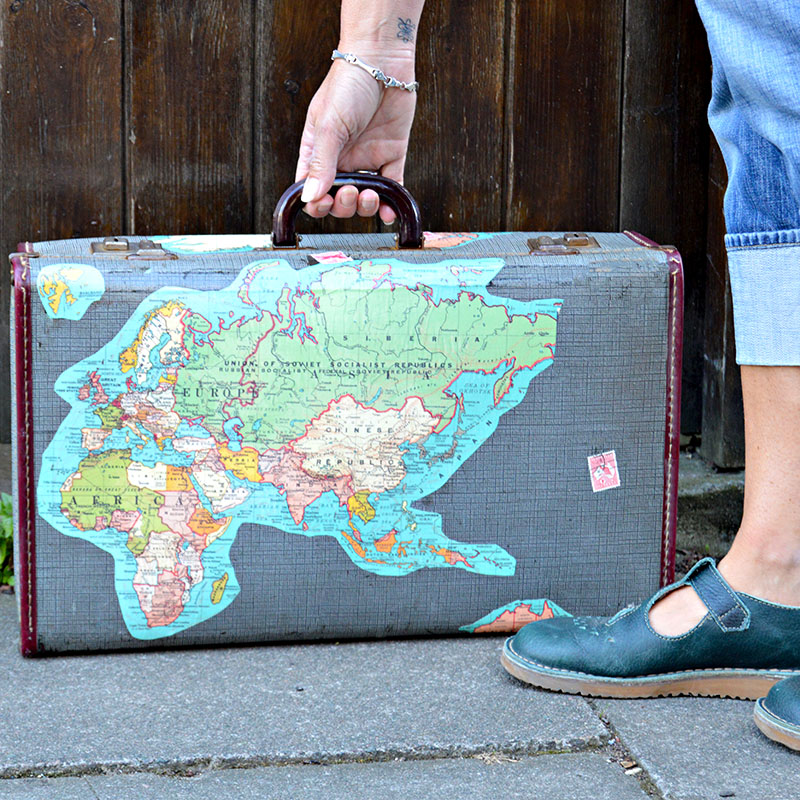 Repurposed denim and crate into a rolling storage ottoman.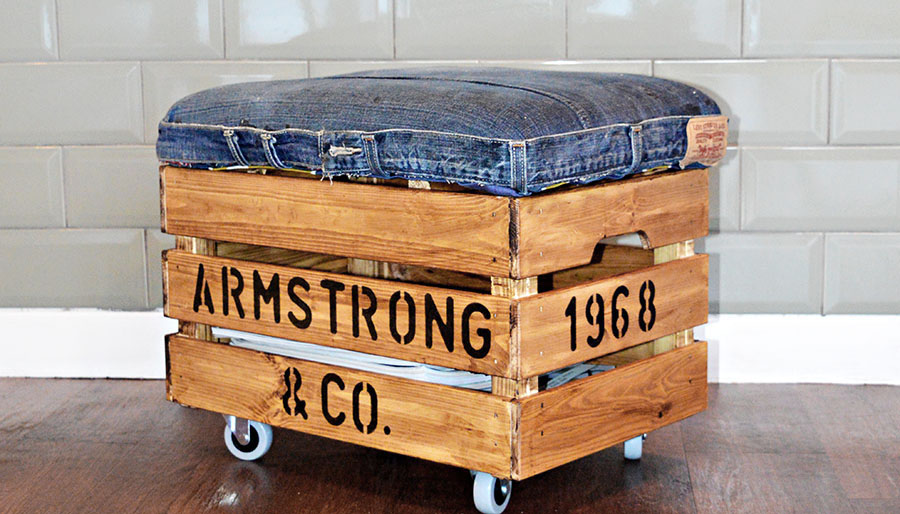 How To Start Upcycling
Our imagination is the best tool when it comes to upcycling. Being able to envisage that transformation. If you are not sure where to start then a bit of browsing on Pinterest is bound to get those creative juices flowing.
On Facebook, individuals get to show off their amazing creations in specialist upcycling groups.
Two of my favorite are Upcycle Sharin' and Upcycled Cloth Collective. Almost every day I come across a post in one of these groups that inspire me and gets those upcycling creative juices flowing.
People say creativity can't be learned. I disagree I think that creativity is a muscle that just needs to be exercised. The more you use that muscle the bigger and stronger it will get.
When I have a bit of creative block (which happens from time to time), I just start by making something small. The act of making seems to just trigger neurons in my brain and the creative ideas flow once more.
Besides all the benefits of upcycling, I listed, in the beginning, one of the best things about it is that there is no right or wrong way.
Only very rarely have I I've made a hash of an upcycle and it hasn't quite gone to plan. But as I tend to be using waste materials it doesn't matter.
Most of the interior touches in my home are my upcycled creations. They are unique, personal, often a bit quirky and best of all I love them because I made them.
I can't wait to start my next upcycling project!