Inside: A step-by-step tutorial on how easy it is to make denim feathers from scraps and then how to hang these feathers as lovely Boho wall art.
I got the idea for this denim feather wall decor over the summer whilst making denim tassels. It wasn't a great leap to work out how to make denim feathers from old jeans. The principle was the same as the tassels, fraying scraps of old denim. I just had a few details to work out, like the feather spine and shape.
You can make indigo or white feather from one piece of denim scrap. The colour depends on how you lay the template onto the scrap fabric.
Like with the tassels, this was an excellent craft for those of us who find they have fidgety fingers when watching TV.
I made these feathers whilst getting stuck into the brilliant Netflix series Ozark. That's probably why I made loads of the feathers and made them into a wall hanging.
As well as making a feather wall decor, you can use individual denim feathers to make earrings, bag charms, and gift toppers.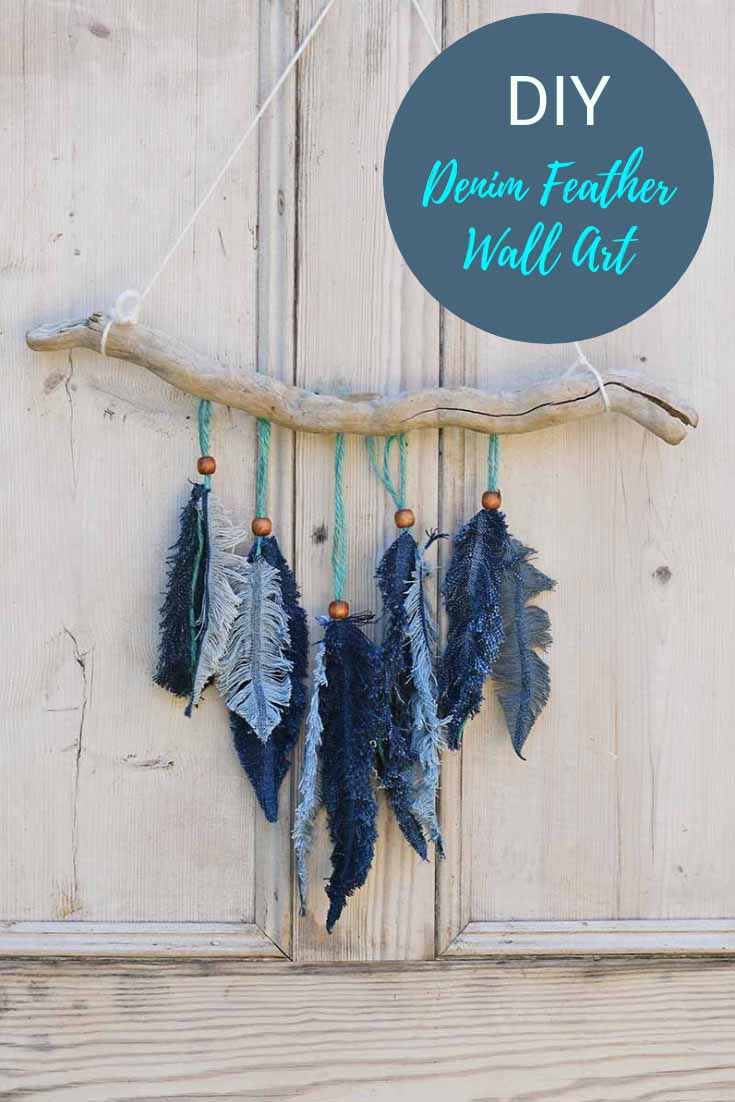 These denim feathers are featured under the letter F in the A to Z of denim upcycles.
This post contains Amazon affiliate links for your convenience. Click here to see my disclosure policy.
What You Need To Make Denim Feathers
Denim scraps – The scrap pieces will need to be as big as you want your feathers. You will also need denim with no seams or embellishments, just plain bits of jeans fabric.
Twine – I love Nutscene twine which comes in lots of lovely colours.
Stick and drawing pins to hang the denim feathers from.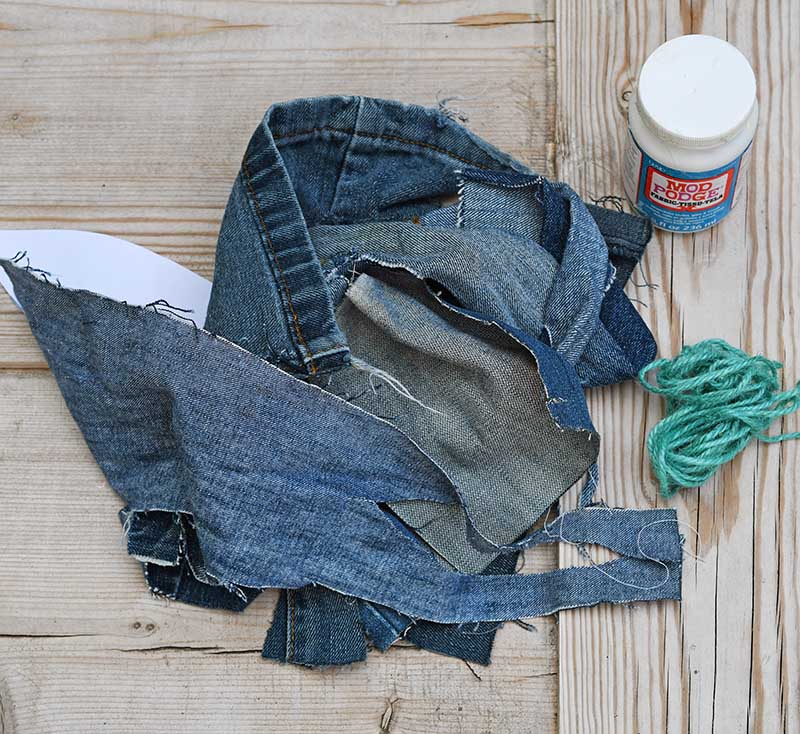 How To Make A Denim Feather Wall Decor
1.. The first thing to do is to cut out a feather shape from your scrap of denim. If you are not confident about doing this freehand, you can download my feather template and use this to draw around before cutting out the feather shape.
Make sure that the template lies in the same direction as the weave of the denim. The way you lie the feather template on the denim will depend on what colour feather you will make. Denim is made up of a weave of blue and white threads.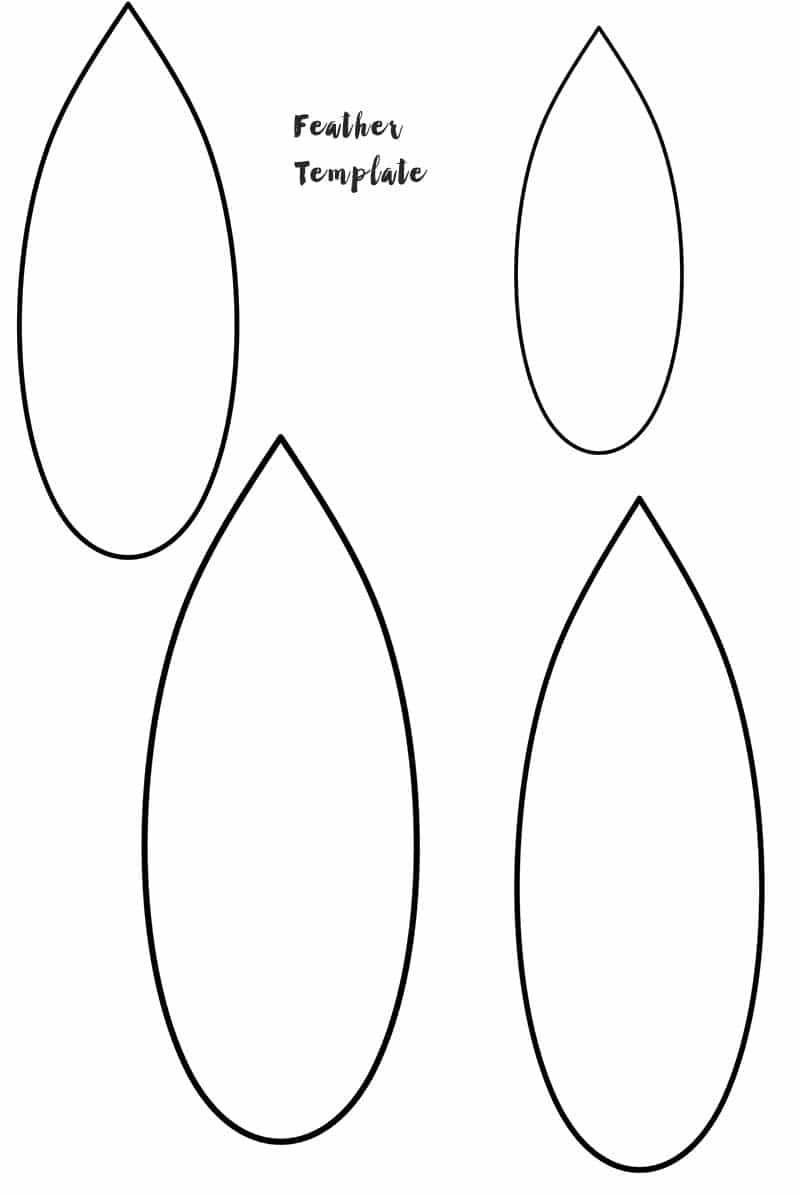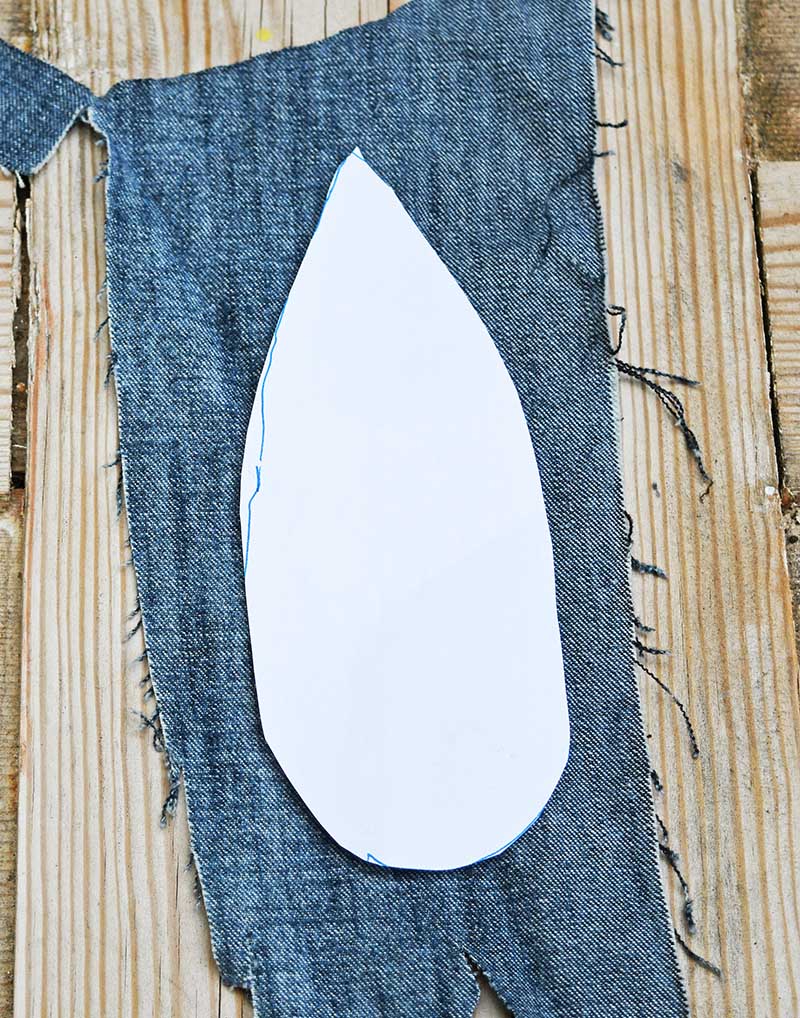 2. Cut a piece of twine a couple of inches longer than the denim feather shape.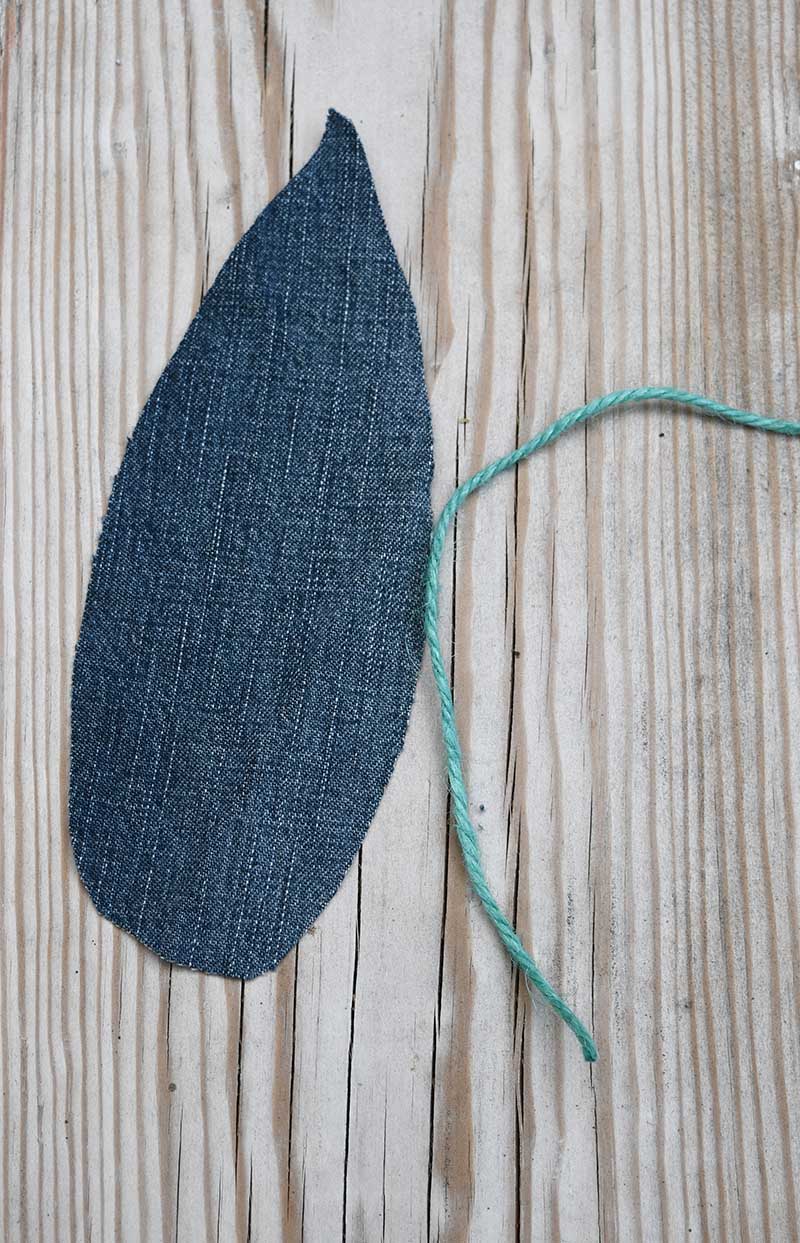 3. Cover the twine in fabric glue and stick it to the centre of the denim feather shape. This will create a spine for the feather.
You can stitch the twine in place if you prefer that to glue. However, the glue is better as it also stiffens the twine which helps the denim feather hold its shape.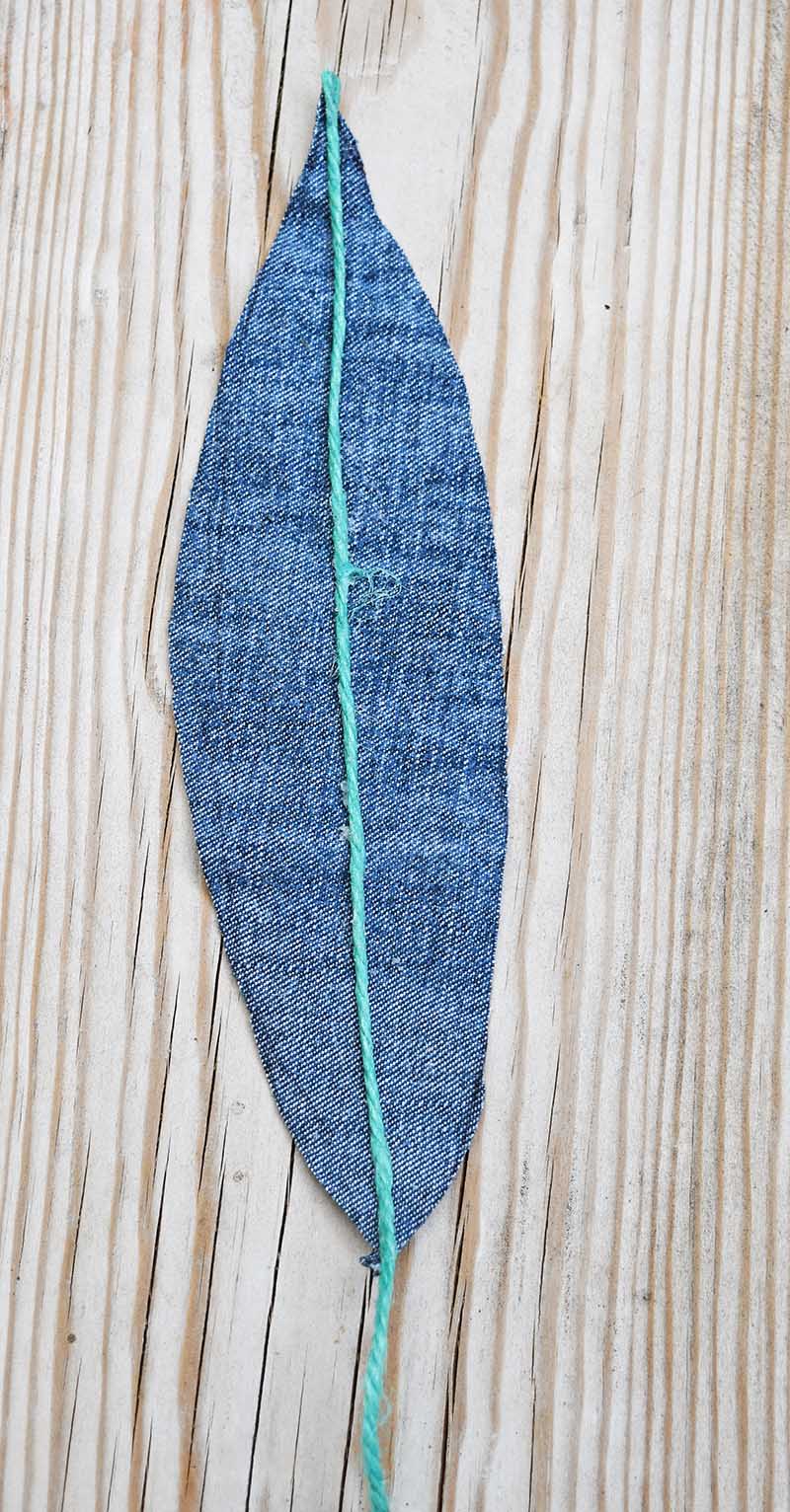 4. To make the feathers, fray the denim by pulling out the threads. Denim is frayed by removing the threads of one colour.
Therefore, removing the white threads will end up with blue feathers. If you remove the blue threads, you will have white feathers.
Cut the feather shape long, with grain for one colour and cut across the grain for the other.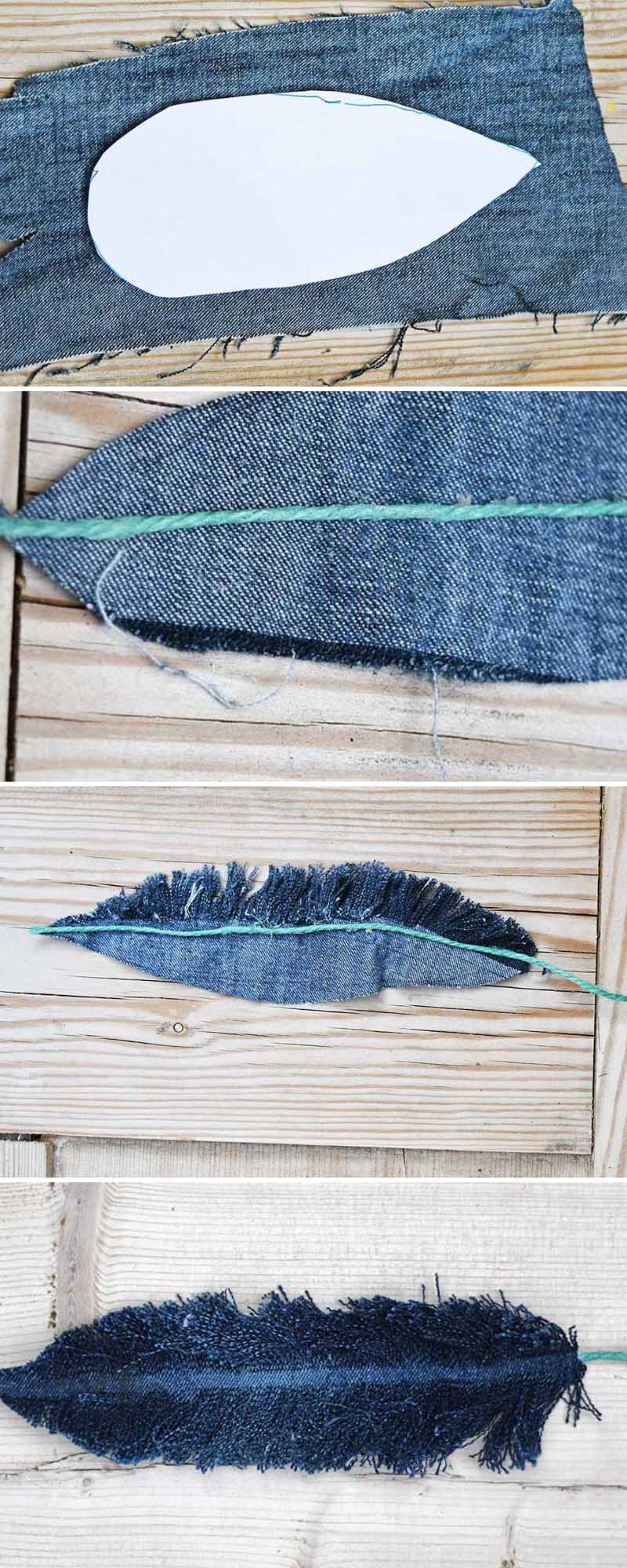 Making The Denim Feather Wall Decor
5. I used this same method to make several white and blue feathers in various sizes.
To make the denim feather wall decor, I first threaded the twine of a blue feather and a white feather through the same wooden bead.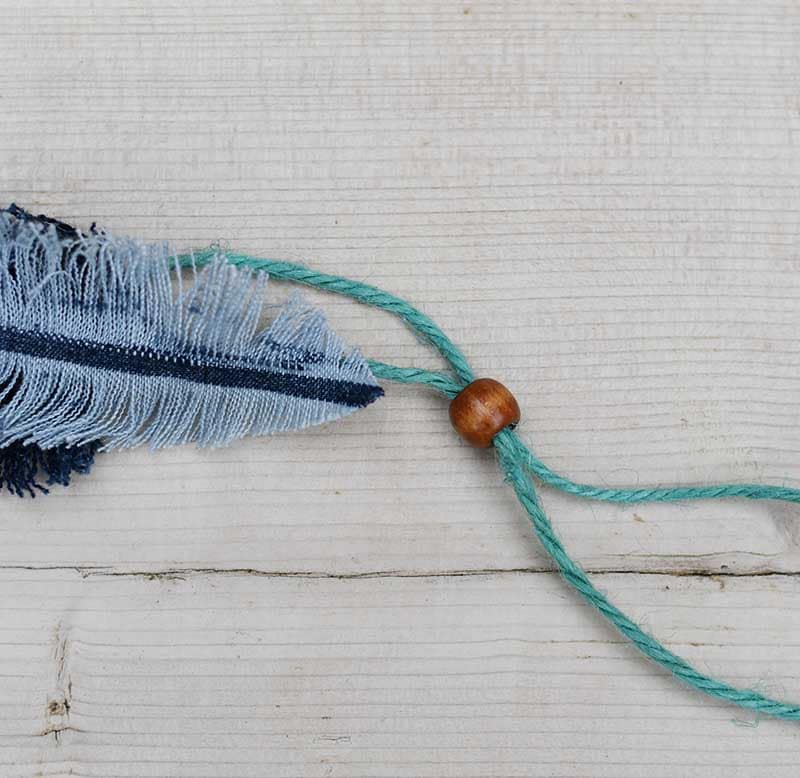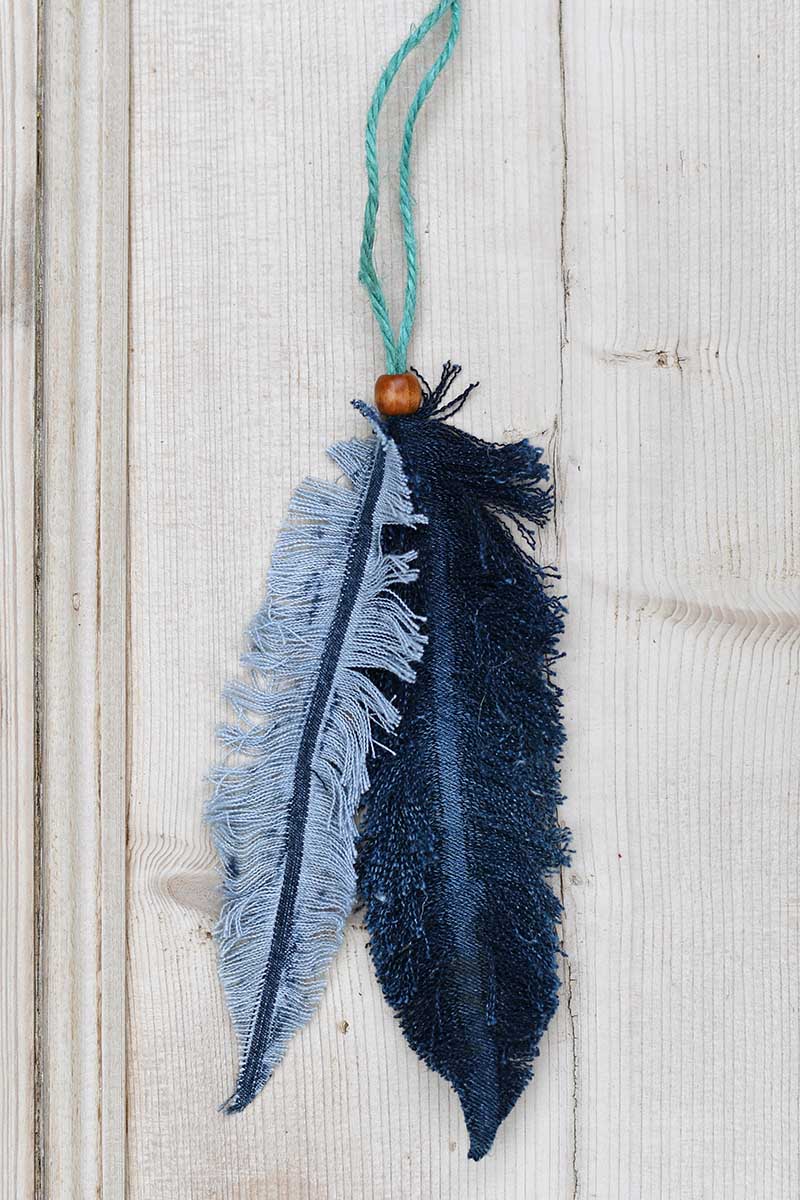 6. Finally, the pairs of repurposed denim feathers were hung from a wooden stick. They were attached to the stick with a drawing pin at the back.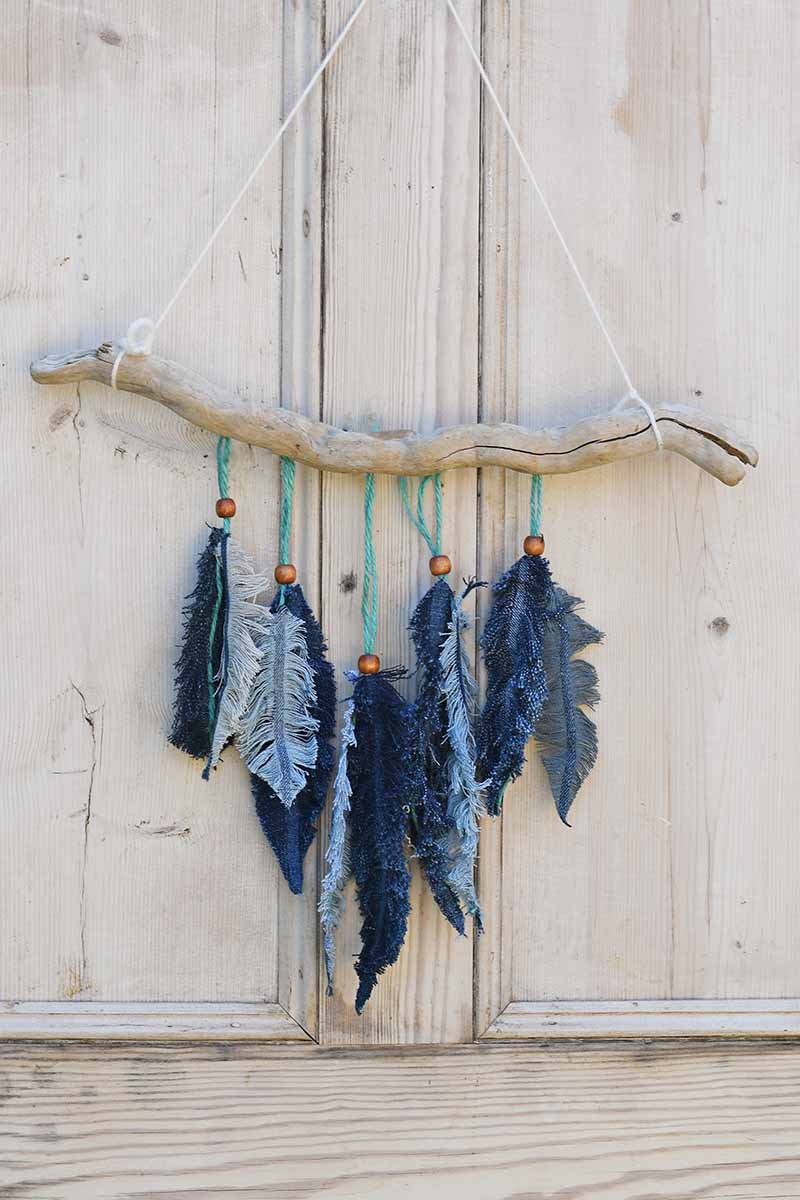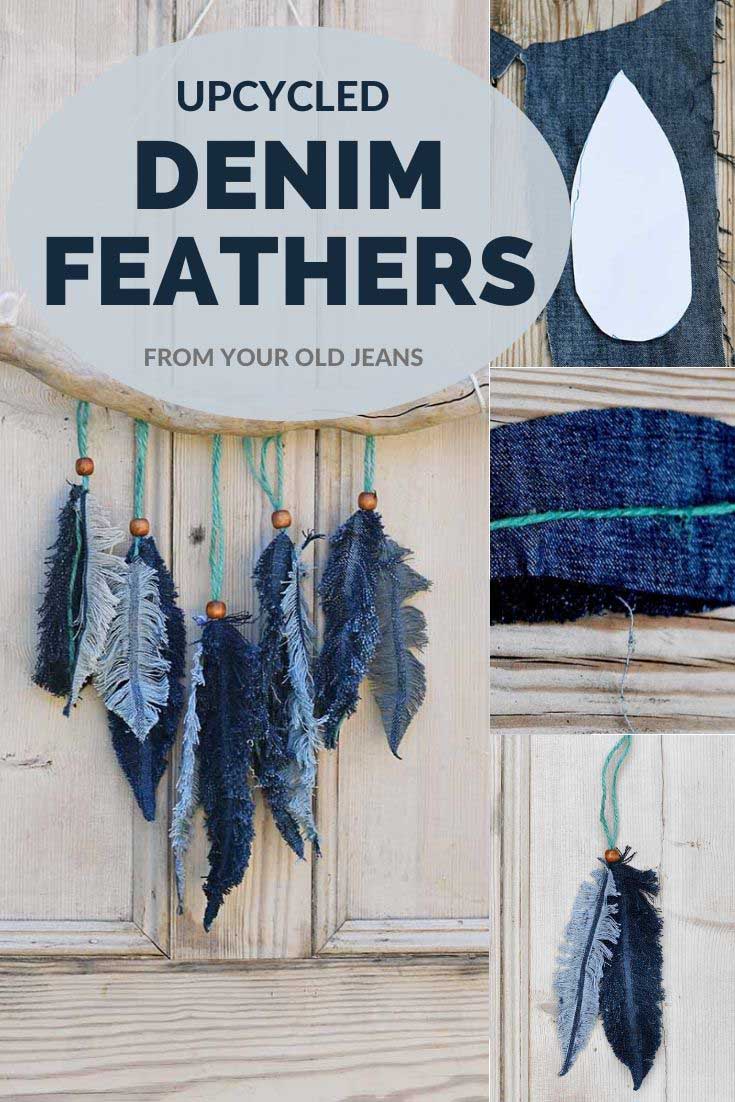 I love how the denim feathers have turned out. You can make a collection of feathers in different shades of indigo using denim scraps from other pairs of jeans.
I think these denim feathers would also look great on a cushion or simply hung in glass frames.
Denim isn't the only fabric you can use to make faux feathers. I have used tartan and plaid fabric to make DIY feathers. These tartan/plaid feathers look fabulous as they have colour and pattern.
I've also made paper feathers out of old maps and made them into a gorgeous paper angel wings decor to hang above my bed.
I love to use old branches for my wall hangings and have used them with this paper Mache watercolour heart decoration.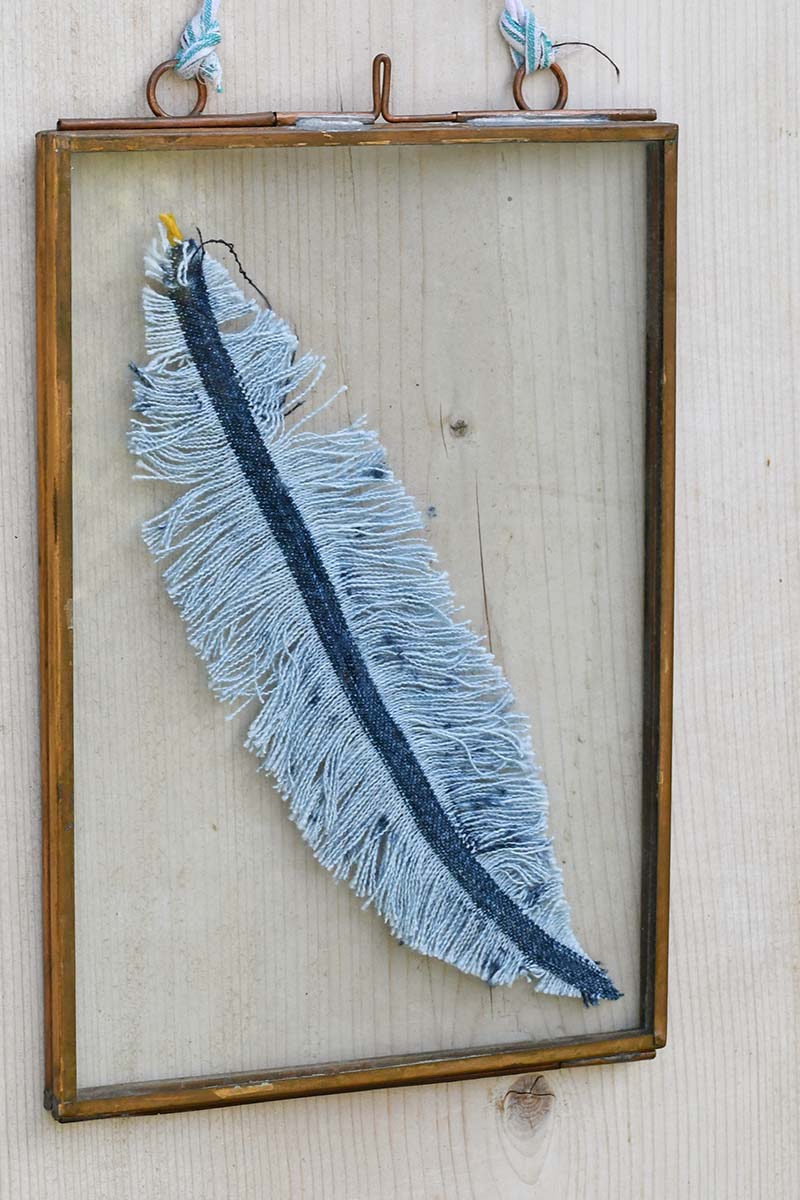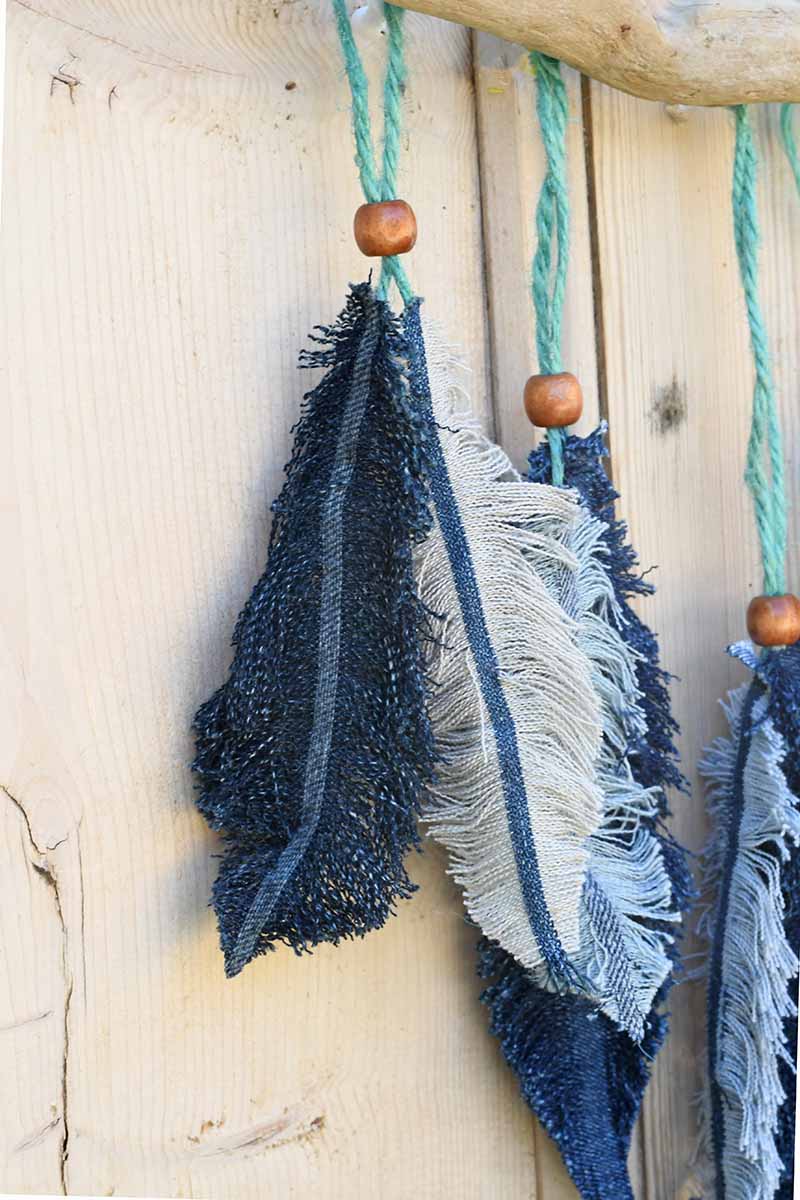 Yield: Denim feathers
Denim Feather Wall Hanging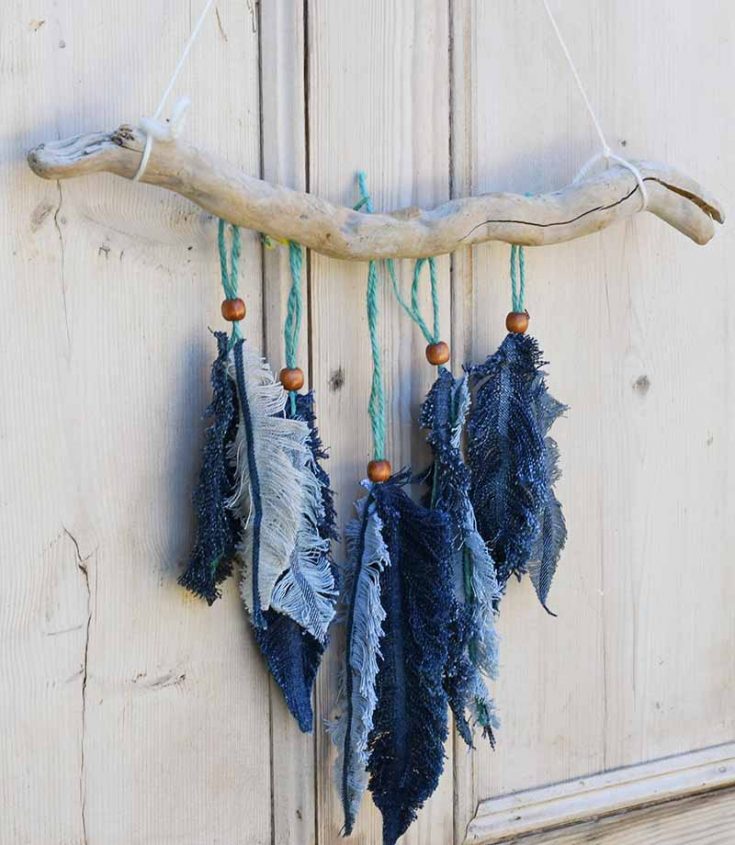 These gorgeous denim feathers are so simple to make and require no sewing.
Materials
Scraps of old jeans
Branch or driftwood
Twine and wooden beads
Fabric glue
Instructions
Using a template cut out a leaf shape from a scrap of denim
Cut a length of twine and stick to the center of the leaf shape
Starting with one side of the leaf pull the cross threads out one by one to fray the denim
Repeat on the other side of the leaf
Make several feathers, thread wooden beads on to the twine.
Hang from a branch
Notes
The colour of the feather will depend on which way you cut the denim. Pulling white threads out will result in blue feathers. Pulling blue threads will result in white feathers.
Recommended Products
As an Amazon Associate and member of other affiliate programs, I earn from qualifying purchases.
If you like this, you may want to check out some other denim upcycles on Pillarboxblue. Such as the boho jeans pillow, upcycled denim gift tag, and a fantastic denim rug. And many other things you can make from the rest of an old pair of jeans, such as these cool denim bow decorations.
If you are looking for some other feather wall decor, check out these beautiful free vintage illustrations of feathers.
Flowers are a fun thing also to make out of denim. I've made two types of denim flowers, roses and thistles, from repurposed jeans. Other fun nature-themed denim crafts include this faux moth taxidermy.
I even have ideas for denim Christmas decorations