11 Clever And Unique Ways To Make a Blue Jean Rug
One of the best things about denim besides the wonderful shades of indigo is that it is hard wearing. This makes it a great fabric to repurpose into a blue jean rug.
There is more than one way to make a blue jean rug. I have rounded up some of the cleverest and unique ways to make an upcycled denim rug. Some involve sewing, others are a no sewing option. There are rug tutorials that use the entire jeans some just the waistbands or legs.
If like me you keep your family's old jeans to repurpose and recycle I'm sure you will find a denim area rug tutorial that's just right for you.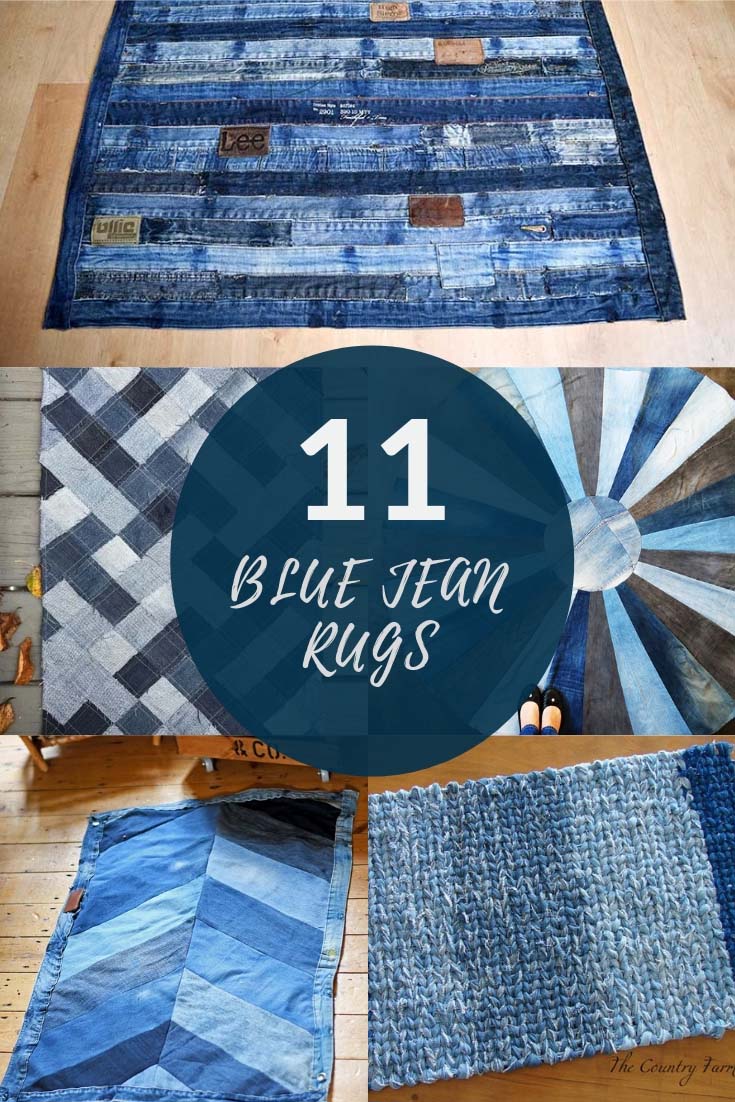 We are a participant in the Amazon Services LLC Associates Program, an affiliate advertising program designed to provide a means for us to earn fees by linking to Amazon.com and affiliated sites. As an Amazon Associate, I earn from qualifying purchases.
The blue jean rug tutorials
1. Waistband denim rug – Pillarboxblue
Sewing denim can be difficult especially with the thick parts such as the seams and waistbands. This tutorial gets around this by showing you how to make a no-sew blue jean rug.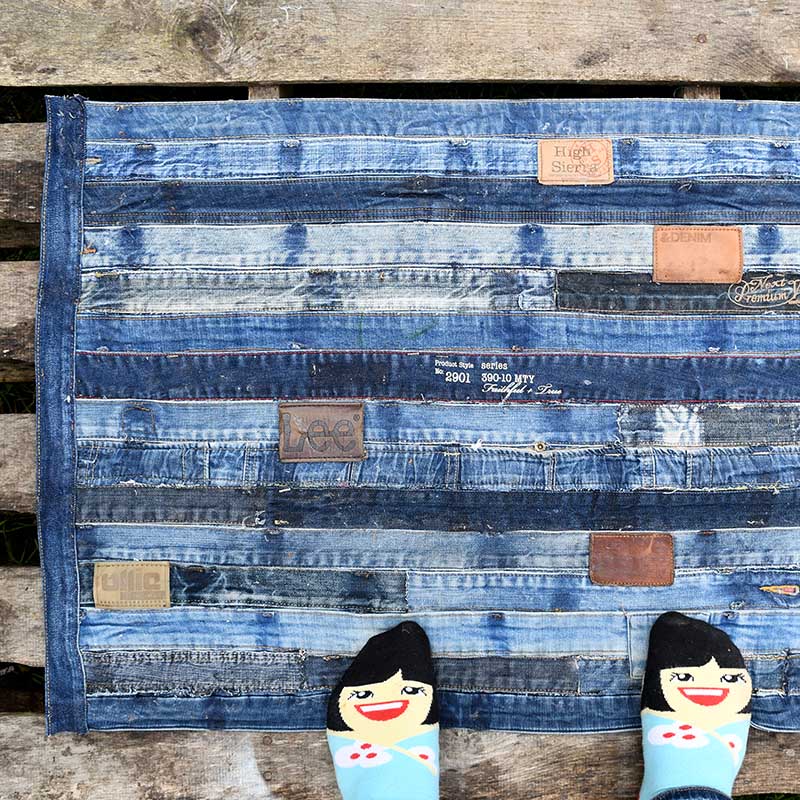 2. Blue jean woven rug – liljanlumo.blogspot.co.uk
This beautiful rug involves making denim yarn from the legs of jeans and then weaving it.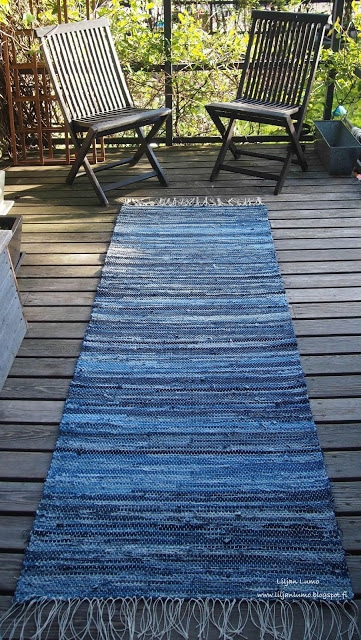 3. Sewn denim rug – A Beautiful Mess
The hexagons give this jeans rug a beautiful shape. I've used denim hexagons before to make denim patchwork chair but I think I'll try a rug next time.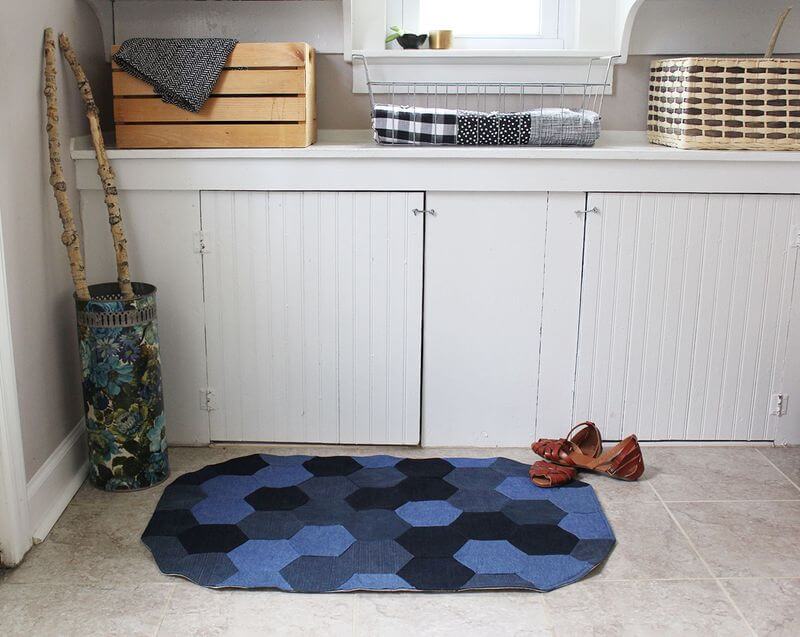 4. Large round blue jean rug- ohohblog.
I love the shape of this gorgeous denim rug. It looks like a large ray of indigo sunshine!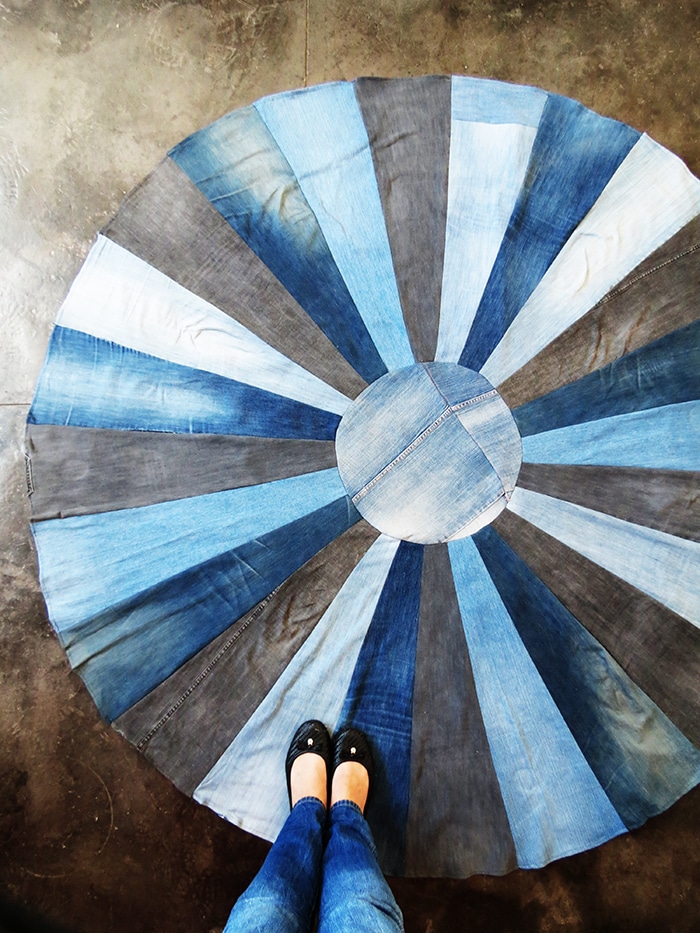 5. Giant braided denim rug – notjustahousewife
This large braided jeans rug was definitely a labour of love. It may have taken a long time to make but it was relatively easy to do.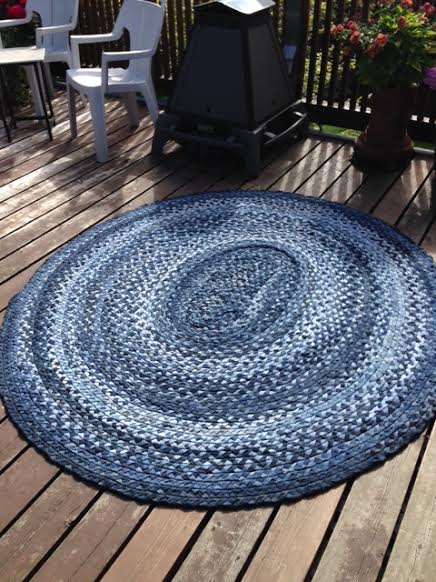 6. Woven denim mat – Thecountryfarmhome
Another woven denim rug, but this one is slightly different with very good instructions.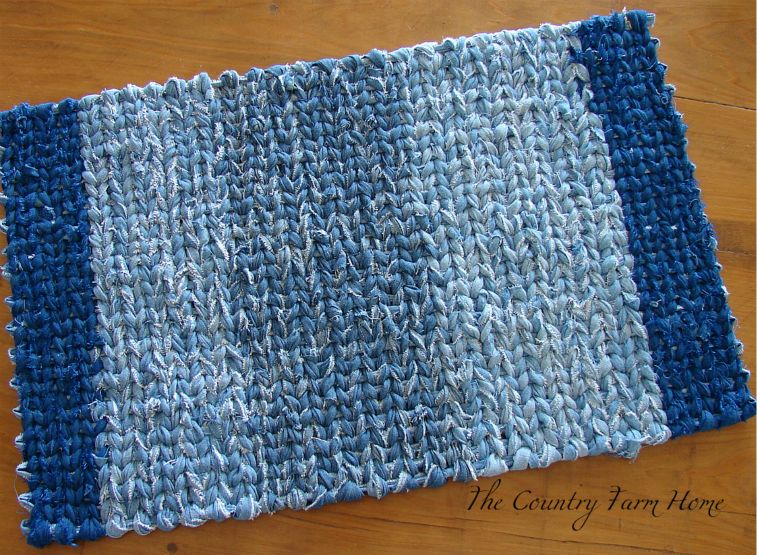 7. Crochet jeans rug – juststringingalong
Turn all your old jeans into yarn and then simply crochet your rug.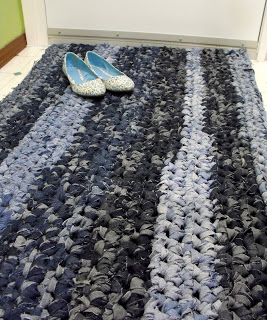 8. Denim rag rug – communingwithfabric
This is an unusual way to make a rag rug but the look is very effective.
9. Traditional denim rag rug – craftypantsmcgeeii
A denim rag rug made the traditional way. Great project for using up denim scraps from other projects.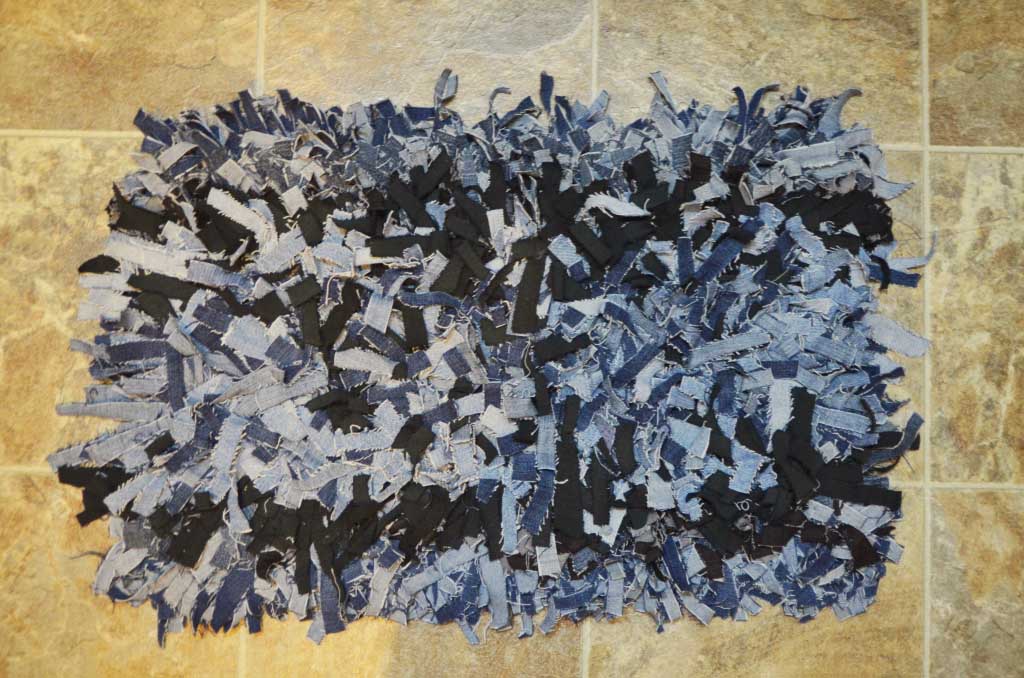 10. Woven diagonal blue jean rug – Feltmagnet
I love the diamond checkerboard effect of this blue jean rug.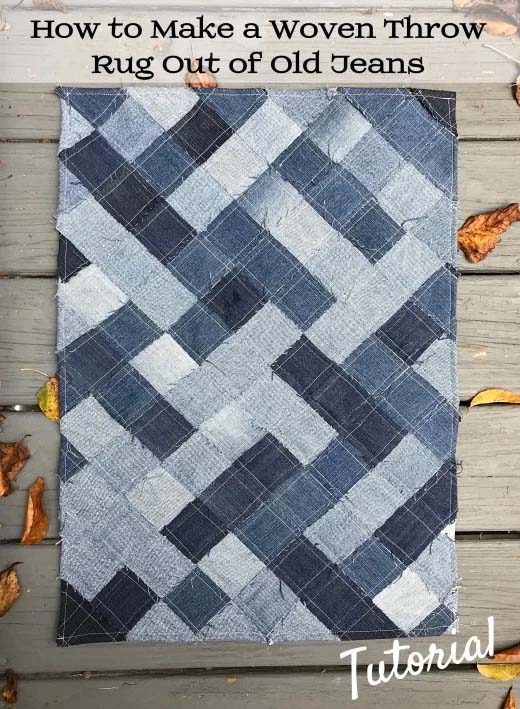 11. Handmade Chevron Rug -Pillarboxblue
This lovely handmade rug shows all the different shades of indigo you get with denim. The tutorial is very straight forward, with step by step photos.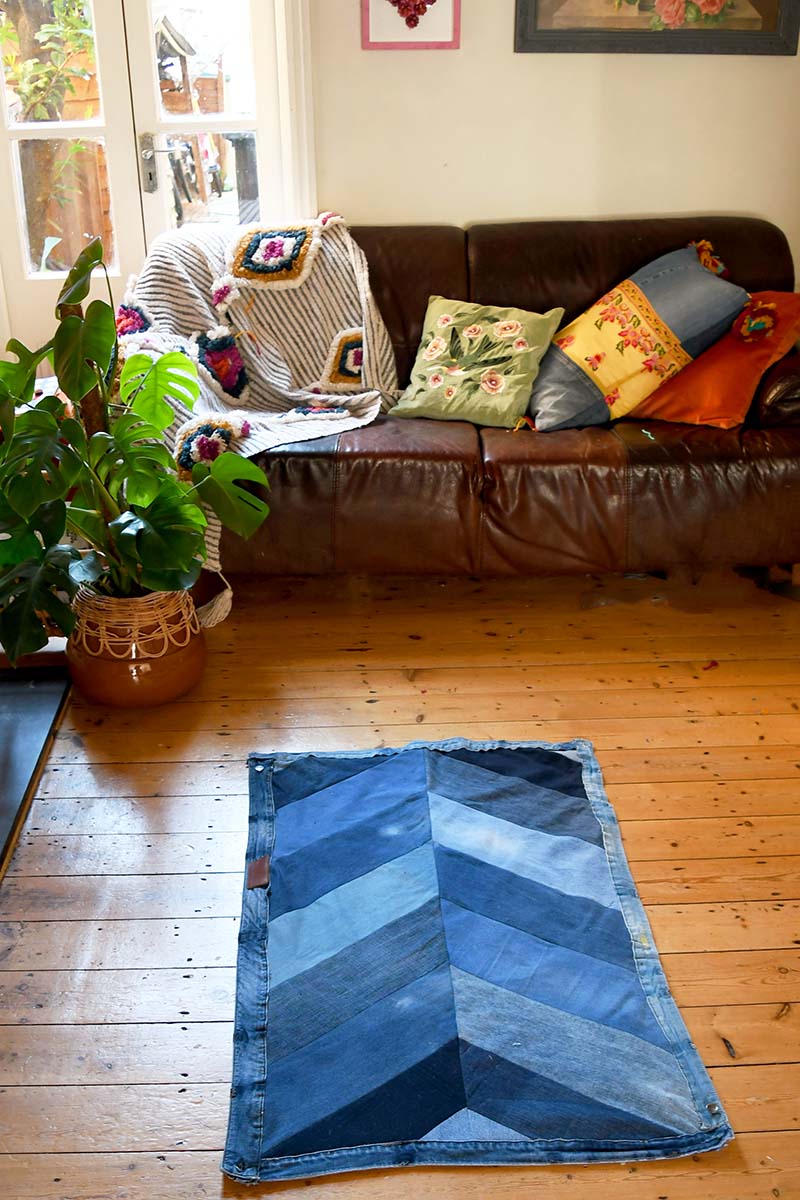 Recently I have made some gorgeous upcycled fabric placemats using denim and felt scraps. These placemats could easily be made into rugs by adding to them.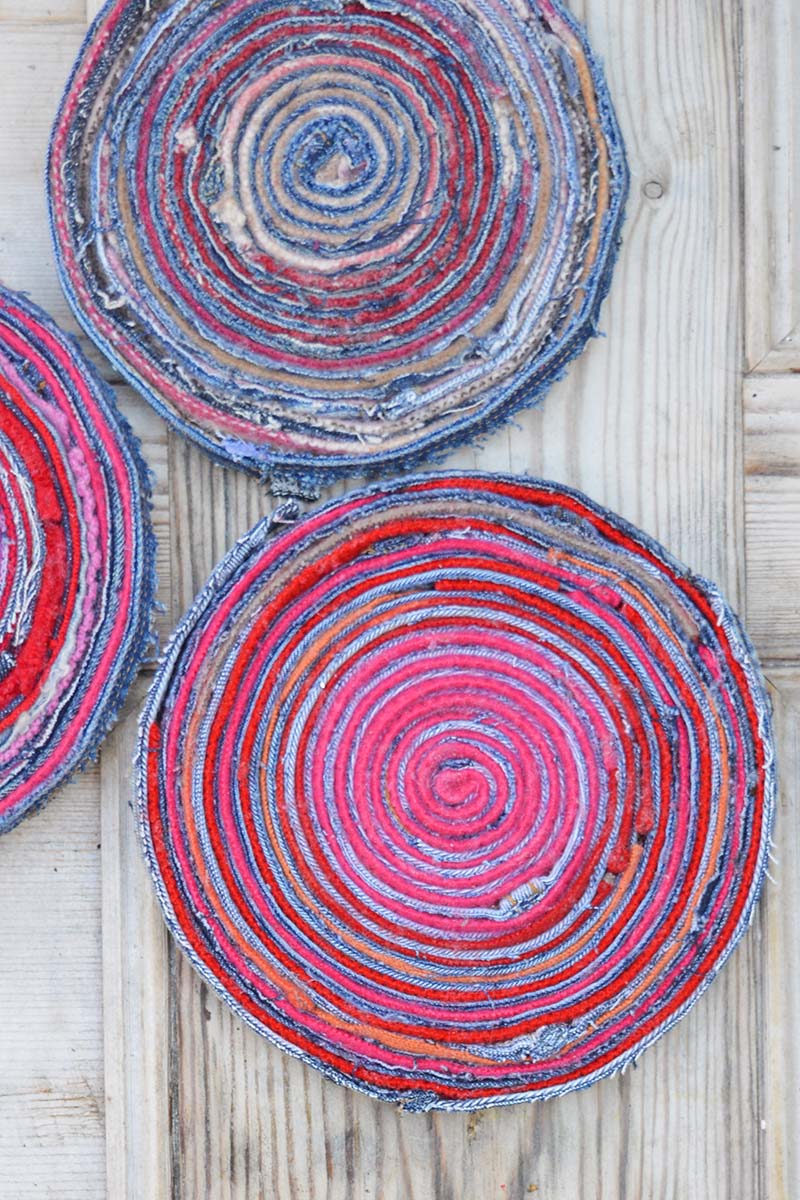 I have also made a beautiful felt rug out of recycled sweaters my mum gave me. The denim rugs are lovely, but I have to admit the sweater rug is more colourful and softer underfoot.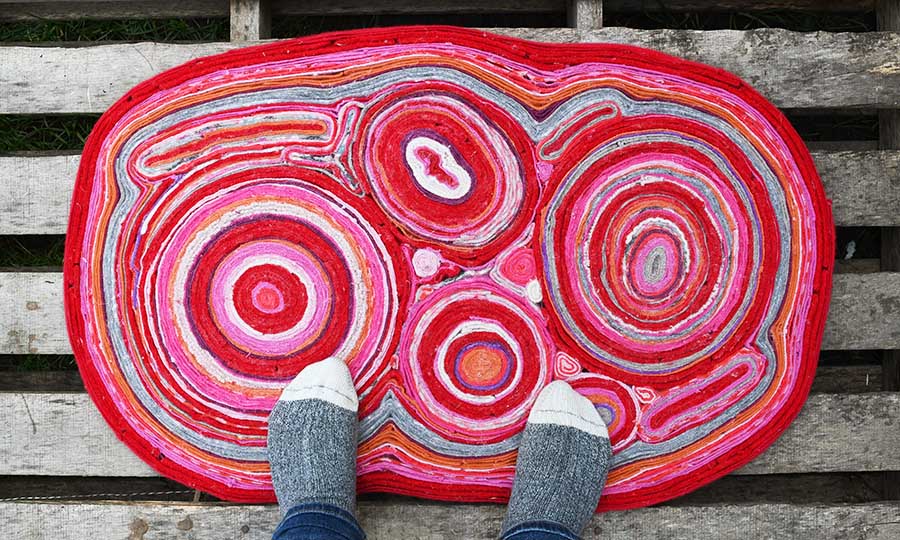 There are so many other ways you can repurpose jeans in your home decor. Don't forget to check out my denim page.