One of the best things about denim besides the wonderful shades of indigo is that it is hard-wearing. This makes it a great fabric to repurpose into a blue jean rug.
Making rugs out of old denim is one of my favourite ways to upcycle fabrics.
There is more than one way to make a blue jean rug. I have rounded up some of the cleverest and unique ways to make an upcycled denim rug.
Some involve sewing, others are a denim no-sew upcycle. There are rug tutorials that use the entire jeans, some just the waistbands, legs, or even just the seams.
16 Clever And Unique Ways To Make a Blue Jean Rug
If like me you keep your family's old jeans to repurpose and recycle I'm sure you will find a denim area rug tutorial that's just right for you.
If you are using the legs of old jeans to make your upcycled denim rug, then you'll just need a few pairs of jeans.
However, if making a rug from the waistbands and seams only, that is going to require a lot more pairs. There is even a tutorial that uses the pockets from old jeans which will require a lot of old pairs.
The last two tutorials for denim rugs (numbers 13 and 14 in this list) show how to make denim yarn from the legs of old jeans.
There is a clever way to cut up jeans to make long continuous strips of fabric yarn. Both these posts have great step-by-step tutorials that show you how to do this.
I have two denim rugs in my home the jeans waistband one and the chevron denim rug. They both look great on my wooden floors and I'm really happy with them.
I'm currently in the process of making one of the woven rugs below to add to my collection.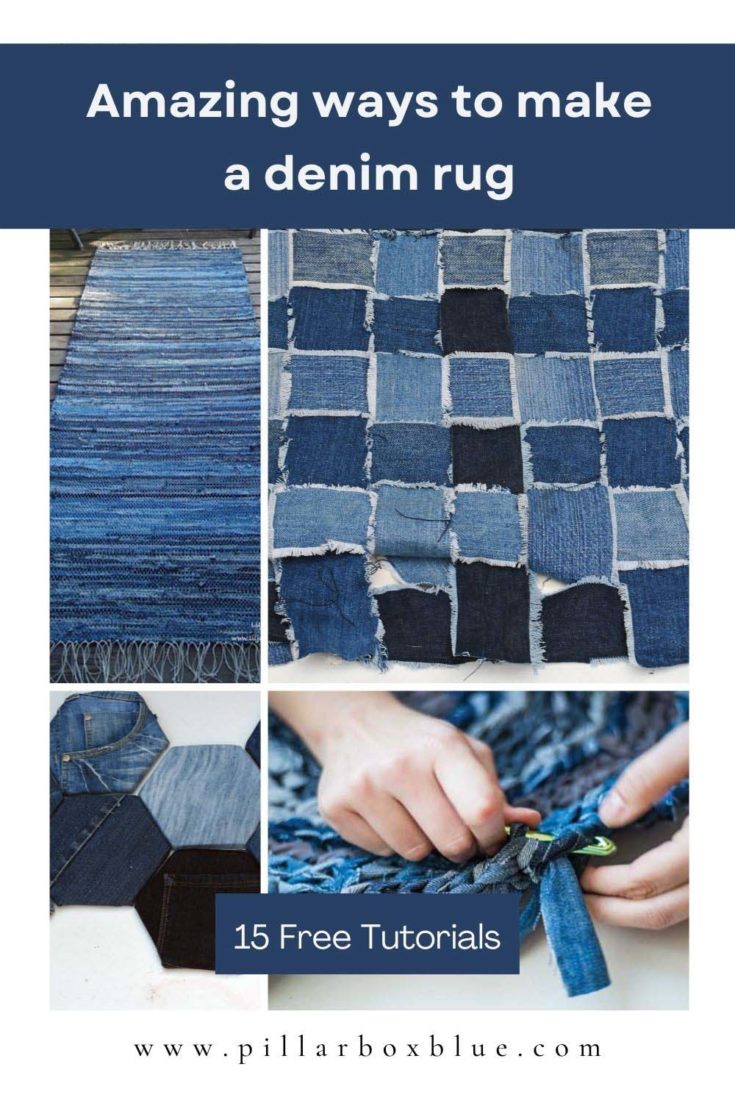 The Denim Rug Tutorials
Sewing denim can be difficult, especially with the thick parts such as the seams and waistbands. This tutorial gets around this by showing you how to make a no-sew blue jean rug.
This denim rug also happens to be an IKEA hack. It is one of my favourite things I've made from old jeans and looks great on my wooden floors in the lounge.
I've also used denim waistbands before to make a planter for a repurposed felt succulent garden.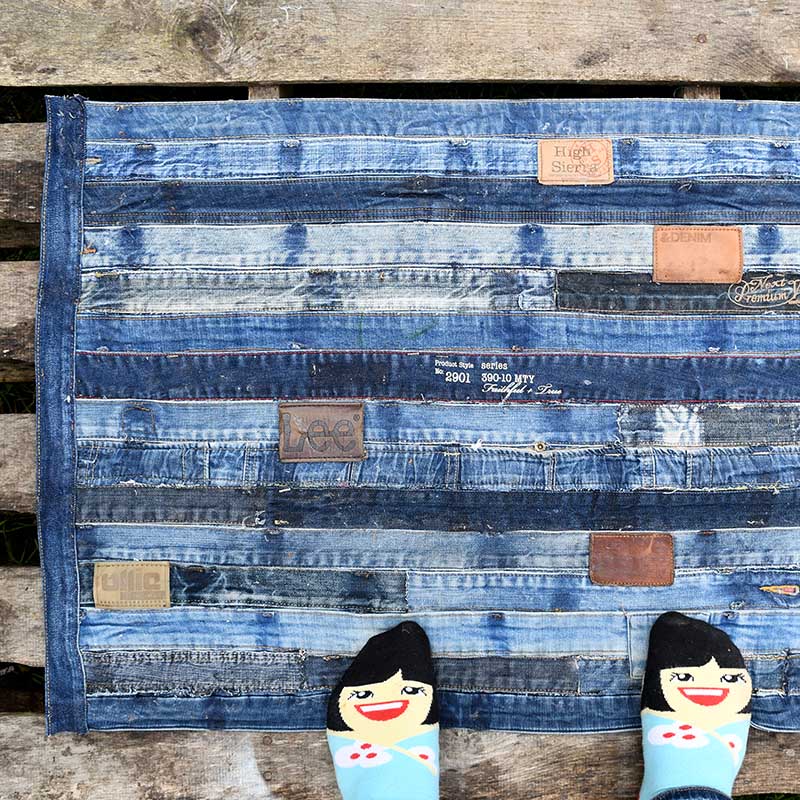 This beautiful rug involves making denim yarn from the legs of jeans and then weaving it. This denim rug would look great in a hallway.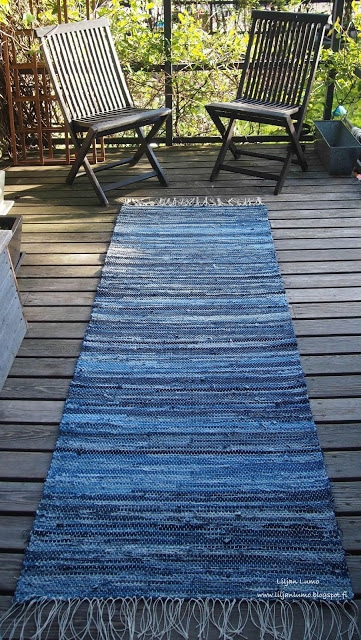 The hexagons give this jeans rug a beautiful shape. I've used denim hexagons before to make denim patchwork chairs but I think I'll try a rug next time.
I think hexagons are a lovely way to showcase the different shades of denim. I used this same pattern effect when making an upcycled denim fabric pinboard.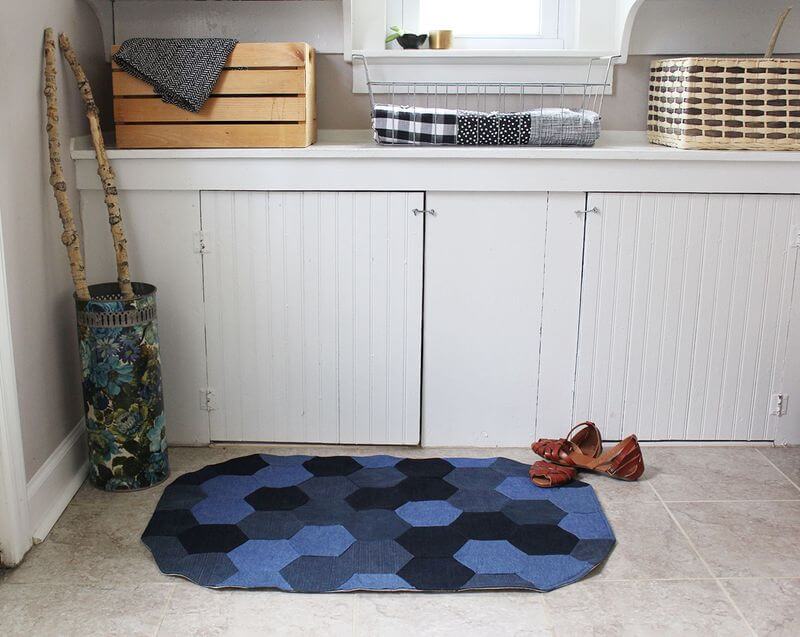 I love the shape of this gorgeous denim rug. It looks like a large ray of indigo sunshine! This rug is made mainly with the legs of old jeans. I would estimate about six pairs were used for this blue jean rug upcycle.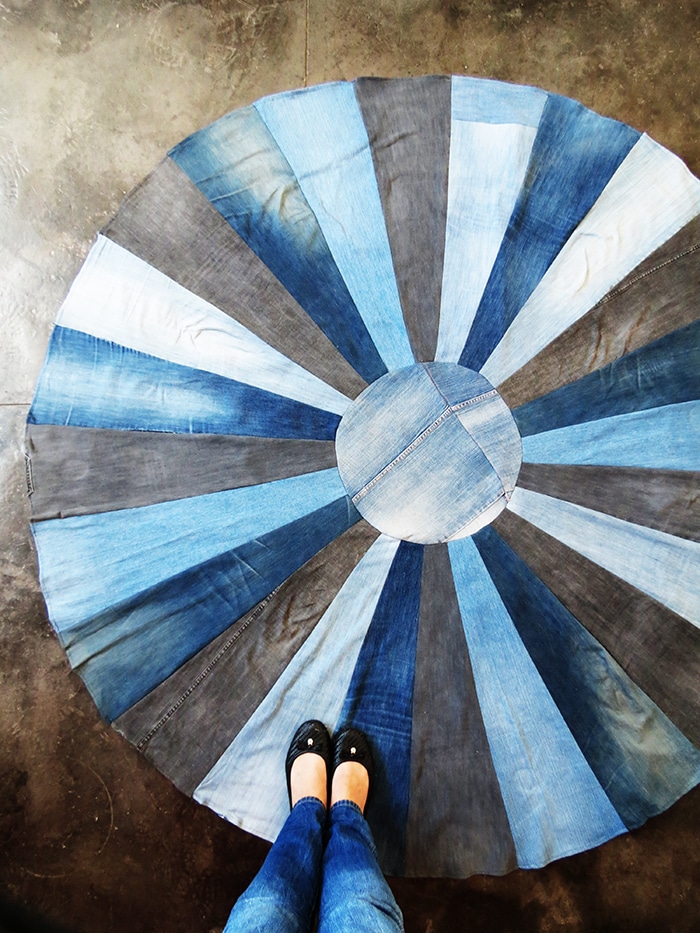 This large braided jeans rug was definitely a labour of love. It may have taken a long time to make but it was relatively easy to do. The circular pattern is lovely.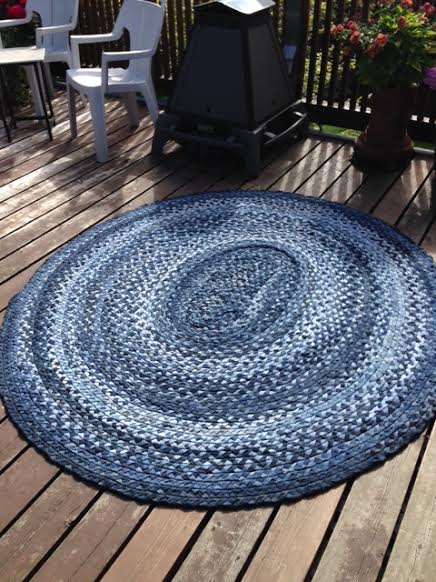 Another woven denim rug, but this one is slightly different with very good instructions.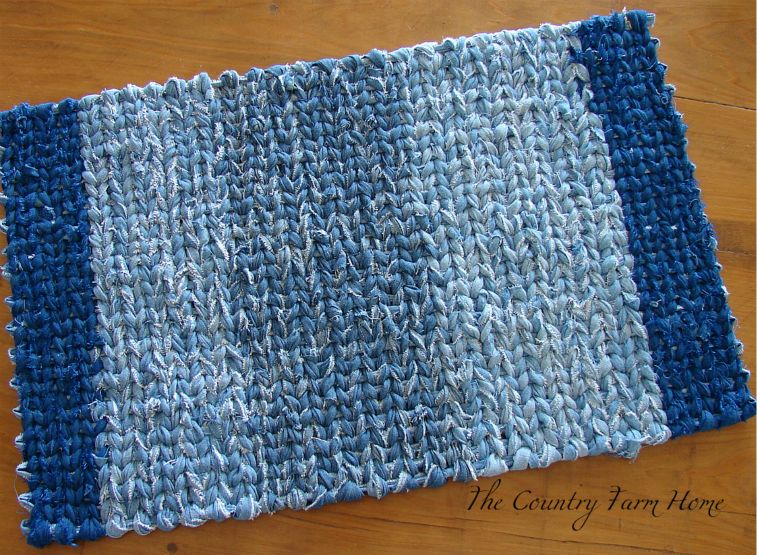 Turn all your old jeans into yarn and then simply crochet your rug. You will need an extra-large crochet hook though.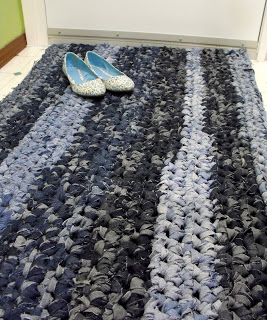 This is an unusual way to make a rag rug but the look is very effective.
A denim rag rug made the traditional way. Great project for using up denim scraps from other projects.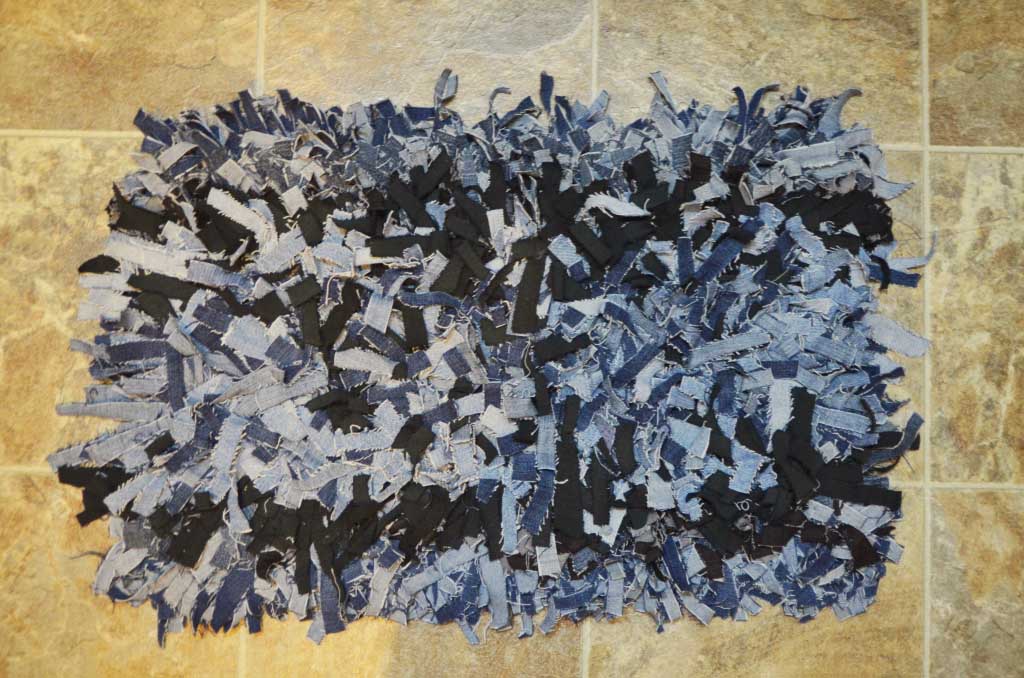 I love the diamond checkerboard effect of this blue jean rug.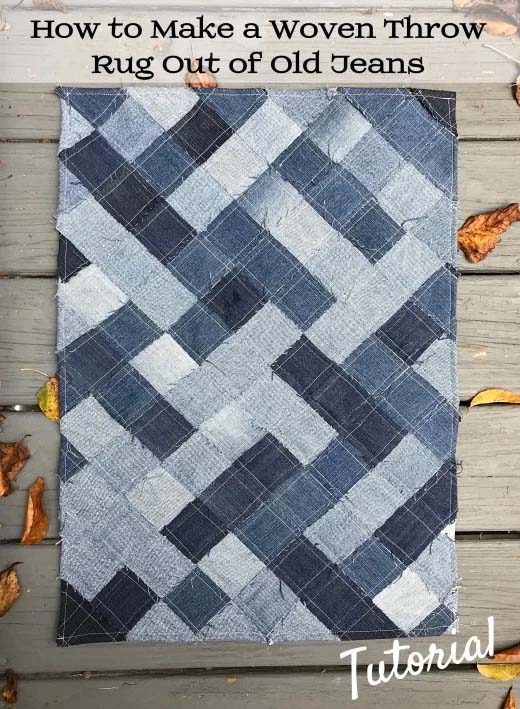 This lovely handmade rug shows all the different shades of indigo you get with denim. The tutorial is very straightforward, with step-by-step photos.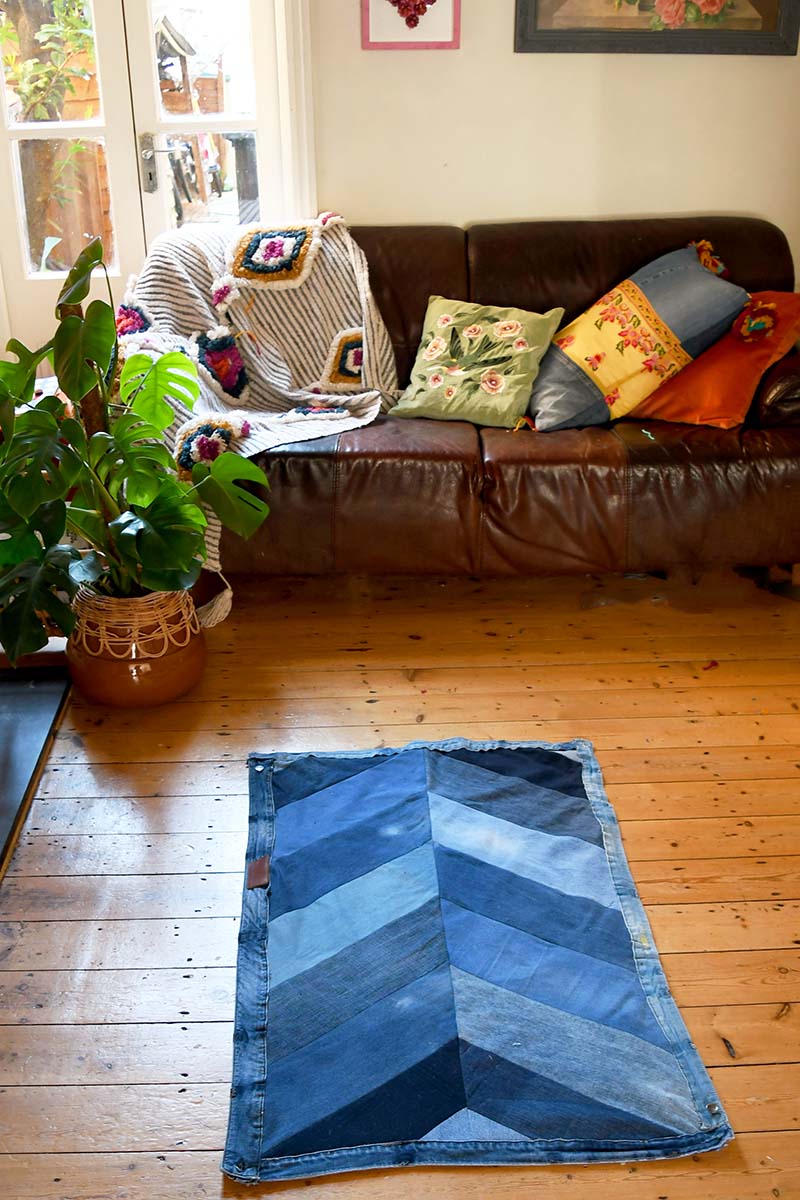 You will need a lot of denim seams from old jeans to make this gorgeous woven jeans rug. It is estimated the seams from 50 pairs of jeans were used to make this rug.
I've used the seams of old jeans to make a denim tabletop lampshade before, you don't need quite as many seams for this project.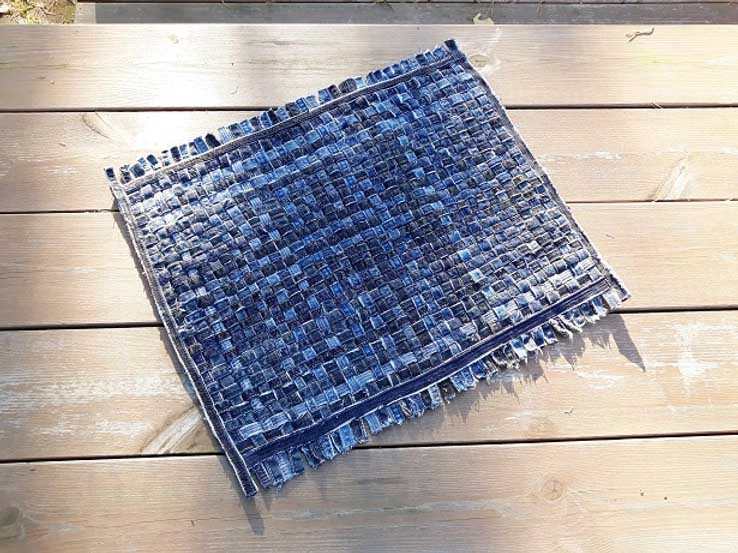 This gorgeous denim rug is made by cutting the legs of old jeans into fabric strips. These strips of denim are then rolled and crotched together with colourful yarn to make the rug.
This method is very similar to the way recycled cotton rag rugs are made. The yarn adds another dimension to the rug, by adding some lovely colours.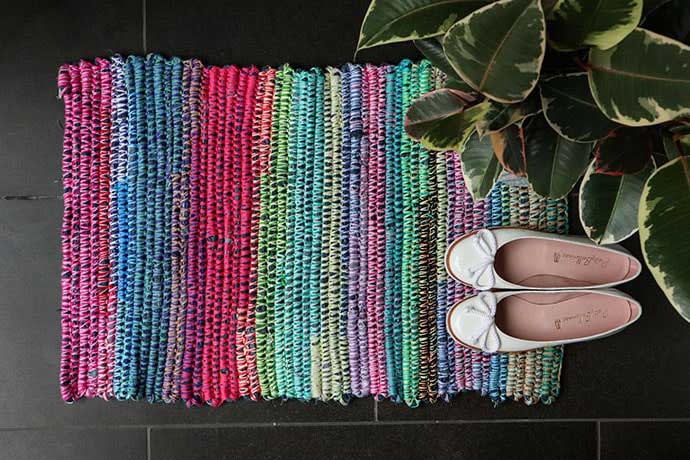 Another great tutorial that shows you how to easily transform old jeans into denim yarn. It is very similar to the way that you transform t-shirt yarn.
Then by using a large hook this denim yarn is crocheted into a large jeans rug. By using denim from different pairs of jeans in different shades of indigo patterns can be created.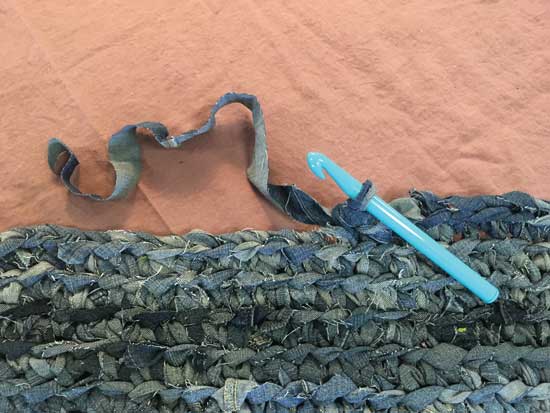 Vicky has very cleverly used the pockets of old jeans to make this unique denim door mat. I also love the way the mat has been trimmed with jeans waistband.
This is an easy-to-follow step-by-step tutorial with lots of photos.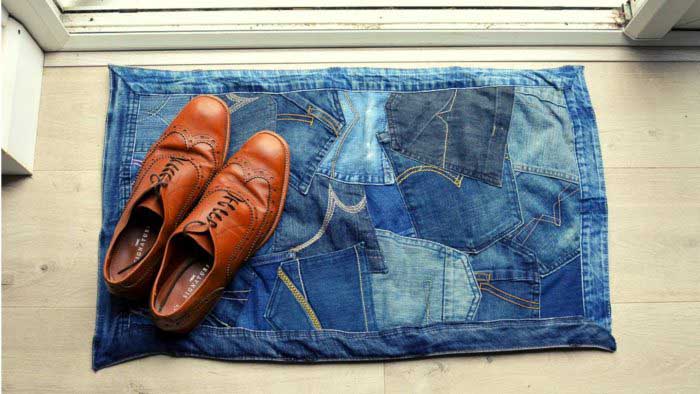 This has to be the easiest denim rug to make. There is no sewing, glue or complicated crochet stitches involved. Just weaving and wrapping denim yarn around rope. Anyone could make this rug.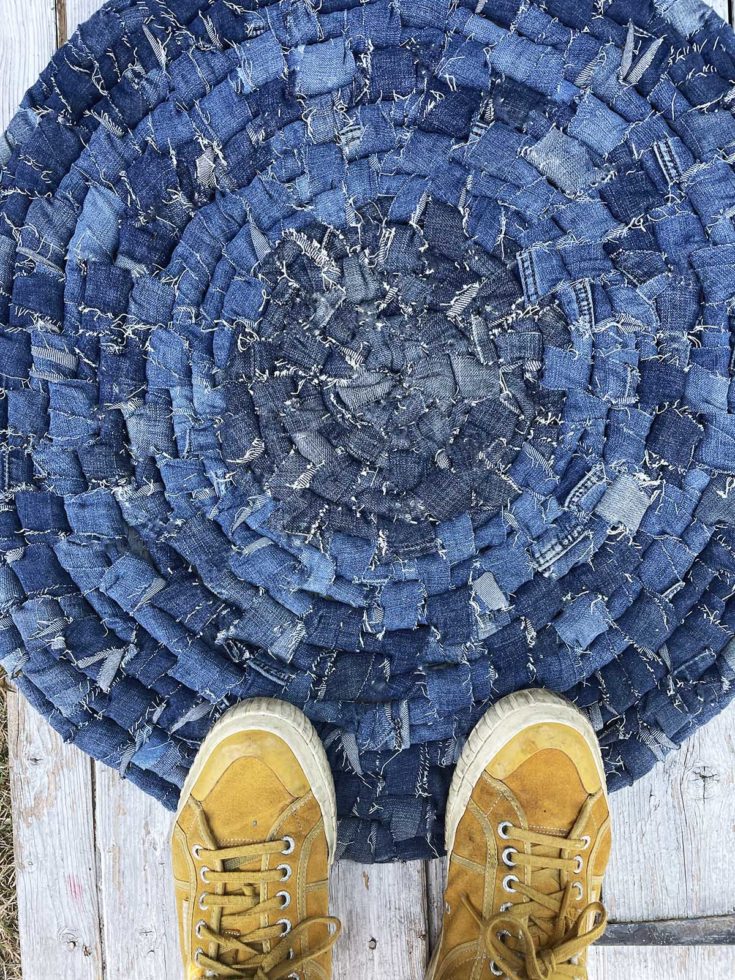 Recently I have made some gorgeous upcycled fabric placemats using denim and felt scraps. These placemats could easily be made into rugs by adding to them.
Even the hexagon denim placemats I made could also be upscaled into a fabulous rug. Also, the woven denim coasters could be upscaled to rugs, but that would require the seams from lots and lots of pairs of jeans.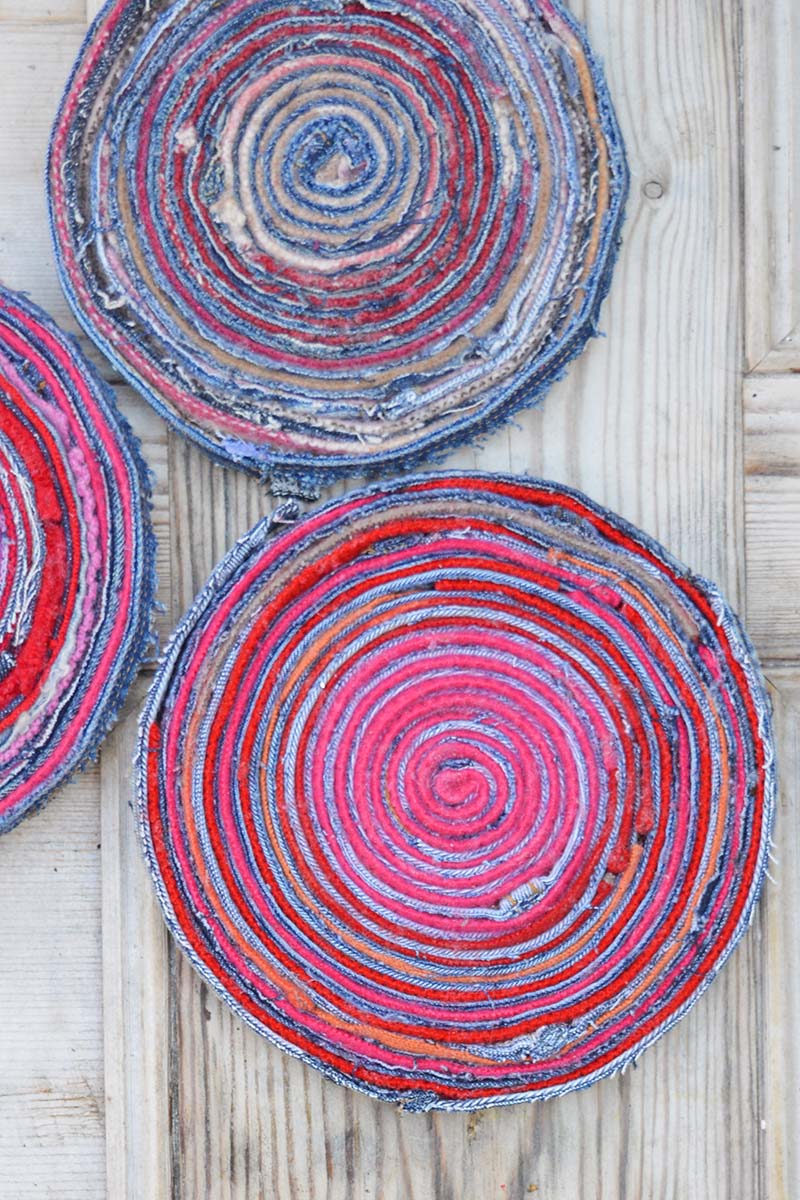 I have also made a beautiful felt rug out of recycled sweaters my mum gave me. The denim rugs are lovely, but I have to admit the sweater rug is more colourful and softer underfoot.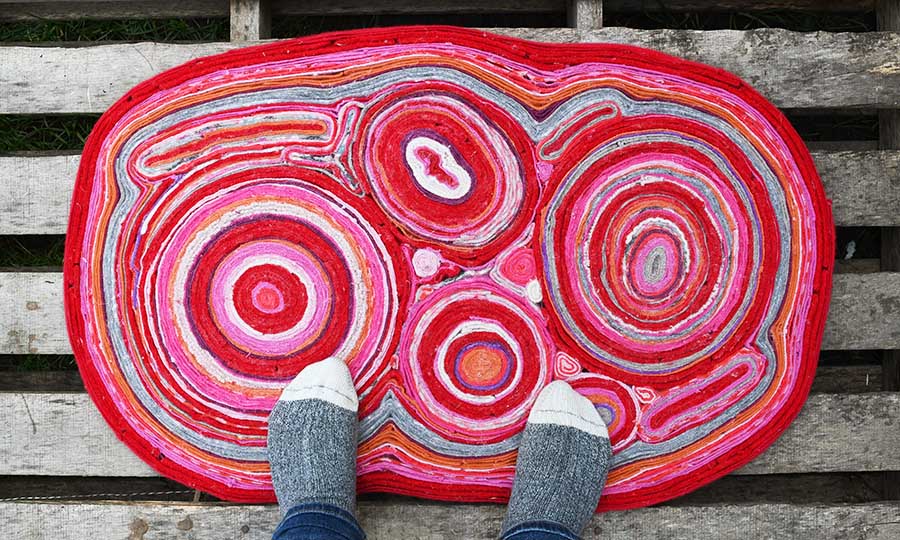 There are so many other ways you can repurpose jeans in your home decor. Denim is a great fabric to upholster furniture with. Don't forget to check out my denim page.
These denim rugs featured in the alphabet of denim upcycles under the letter R.