Everyone loves to decorate their home for Christmas and if you can do it one a budget that's even better. Here is the collection of the many Christmas-related crafts, DIYs and upcycles on Pillarboxblue.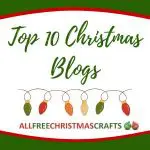 Handmade, Upcycled and Repurposed Christmas Crafts
Not only are many of the Christmas ideas here made from upcycled and repurposed material but they are also personalized. You will notice that I have used some of my favourite materials to repurpose with these Christmas ideas, denim and maps.
There are other recurring themes such as Christmas trees, advent calendars, and angels. Every year I make my family a new Christmas advent calendar out of repurposed materials, such as tin cans, denim, or craft paper.
I also love to make an alternative Christmas tree for the wall. I'm fond of flat Christmas trees that you can hang on the wall but still decorate as they don't take up too much room. (I live in a narrow Victorian house)
Hopefully, you will find a Christmas craft to inspire you in the collection below. Whether it be an advent calendar, a tree or ornament, or even a homemade gift idea.