I have to confess that this is a bit of a cheat. I learned how to upcycle wooden chairs by watching my craft buddy Leonie do hers.
In my defense, I was with Leonie when she bought the chairs. In fact, I even bought them for her (Leonie's like the Queen in that she doesn't carry cash!).
Also, as I did see the transformation first hand I think that gets me off the hook a bit. I did help her with the painting.
Leonie doesn't have a blog and really doesn't do social media. She has nowhere to share her fabulous thrift store upcycle. Therefore, I'm really doing a friend a favor, by showing off her drab to fab upcycle.
I could have pretended that it was my upcycle. You wouldn't have known any better, but Leonie reads my blog.
Fabulous Colourful Ikea Upcycled Chairs
It turns out that these wooden chairs we upcycled were in fact old IKEA chairs. So this is not just any old chair upcycle but an IKEA hack too.
The chairs were picked up for a bargain at a local jumble trail. Jumble trails are a British equivalent to garage sales. They tend to be organized in neighbour hoods so that everyone has their jumble sale at on the same day at the same time.
The idea is you walk around your neighborhood from one sale to the next. As well as being great for spotting bargains, it's a great way to meet the neighbors.
These chairs must have been the bargain of the month, they were bought for only £10 for all six. For my US readers, that's about $2 a chair BARGAIN!.

There wasn't much wrong with the chairs. They were just some old IKEA dining chairs. Structurally they were sound but rather drab with lots of scratches and marks.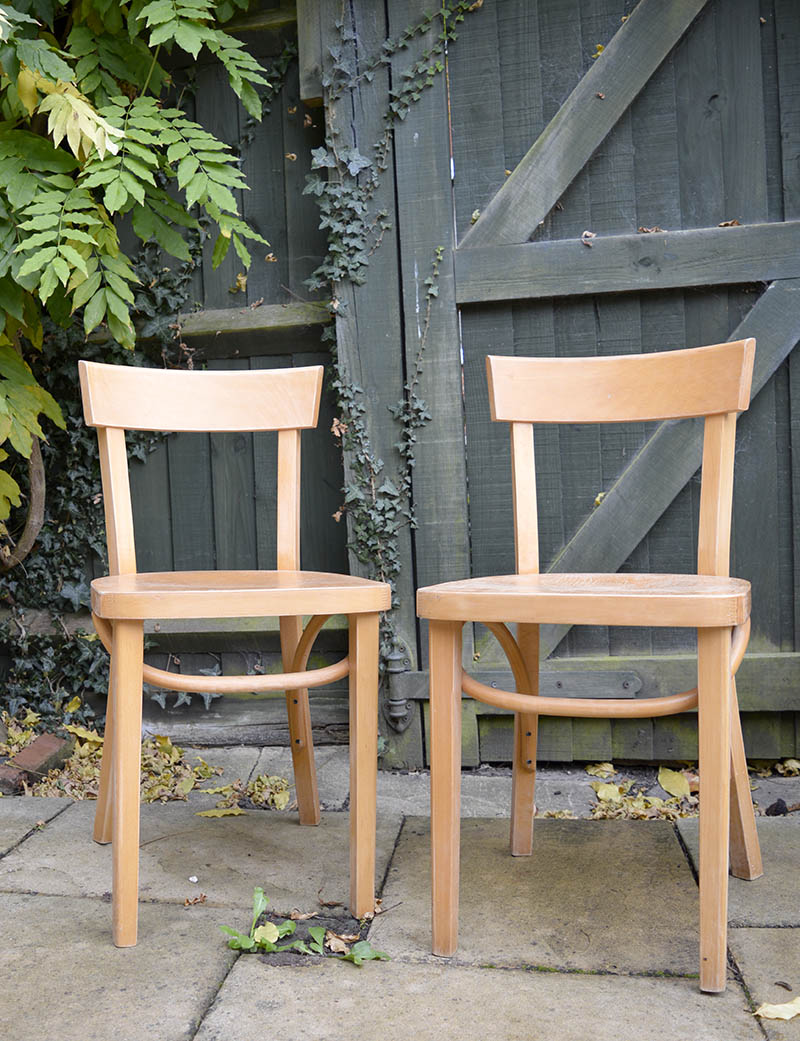 We are a participant in the Amazon Services LLC Associates Program, an affiliate advertising program designed to provide a means for us to earn fees by linking to Amazon.com and affiliated sites. As an Amazon Associate, I earn from qualifying purchases.
What You Need To Upcycle Wooden Chairs
Rowan Big Wool for cushion pads in black, blue, green and pink.
Round seat pad inners
1.. First, the chairs were washed down with soapy water to get rid of any dust and grime.
2. The beauty of chalk paint is that you don't need to do much prep before painting. Once dried the chairs were painted with the chalk paint.
As the chairs were being painted a lighter color 2 coats of paint were applied. After the paint had dried a finishing wax was rubbed onto the chalk paint to seal it and protect the chairs.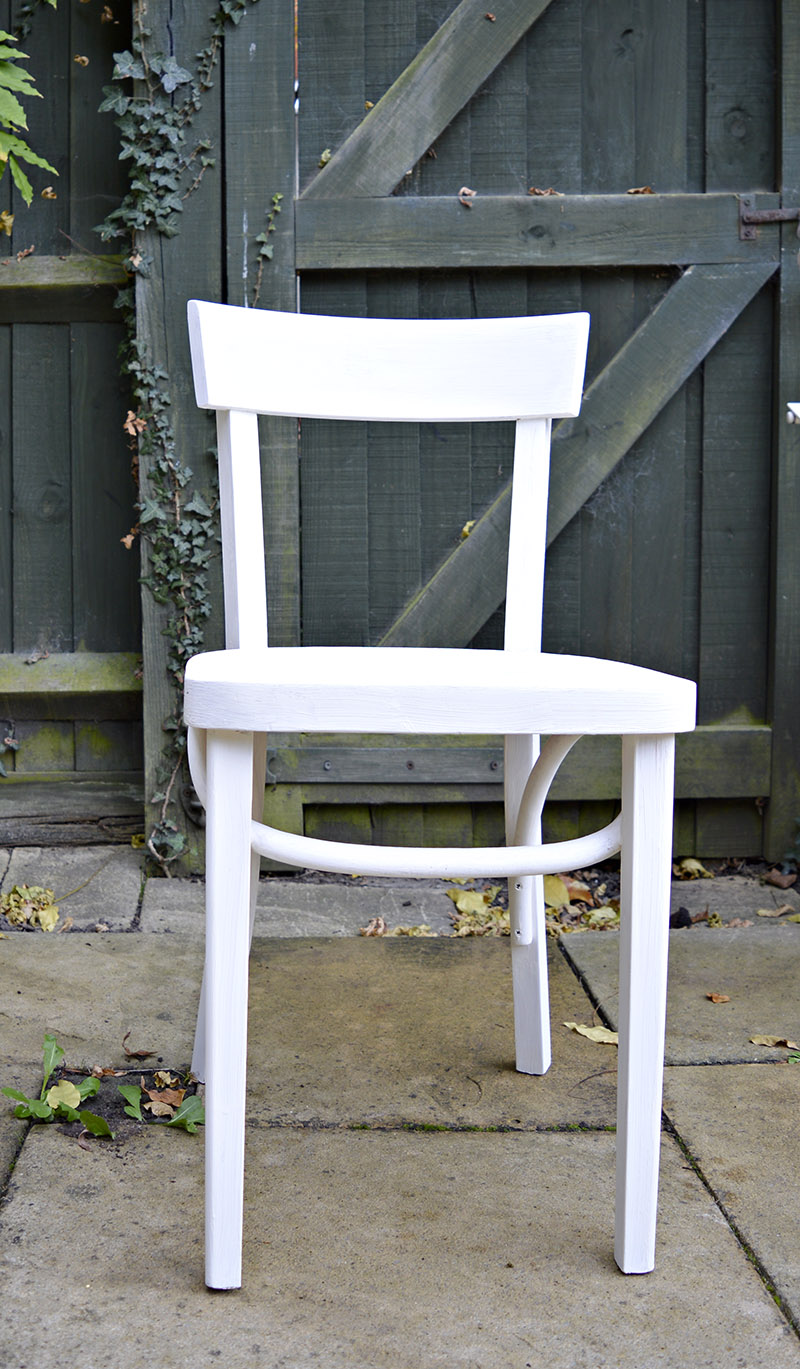 3. The cushion pads were the real show-stoppers of this upcycle. They are actually very simple to make, they are just basically one giant round granny square. Even if you are a beginner crocheter, I'd give this project ago as it is a very simple pattern to follow with no complicated stitches.
Rowan big wool was used in a combination of colors; black, blue, grey, green, and pink. If you look closely every cushion is different in the way the colors are combined.

If you can crochet, then these cushion covers will not take long to make. Most good crocheters can make them without a pattern but if you are a beginner you should be able to find a pattern on Ravelery.com.

There is a free pattern on Ravelry for this round cushion using Rowan big wool. You will need to join Ravelry to access the free pattern but it is free to join.

The colorful seat pads really pop against the white chairs and I love how everyone is different. They also add a bit of comfort to the upcycled wooden chairs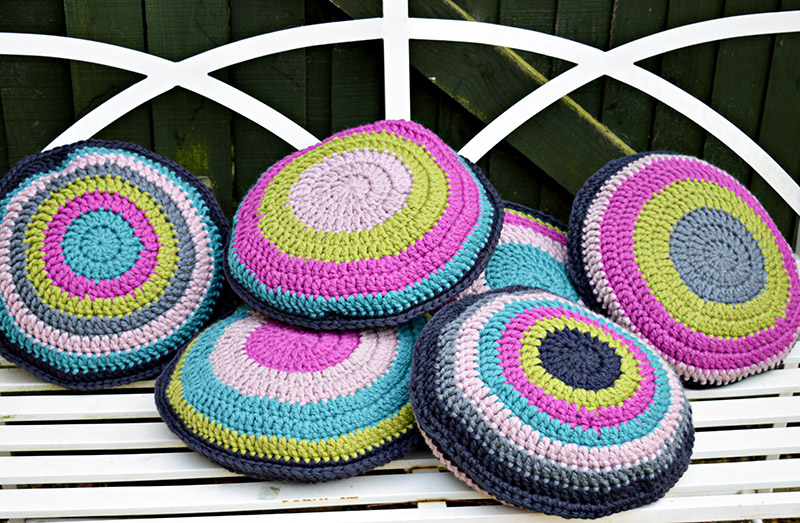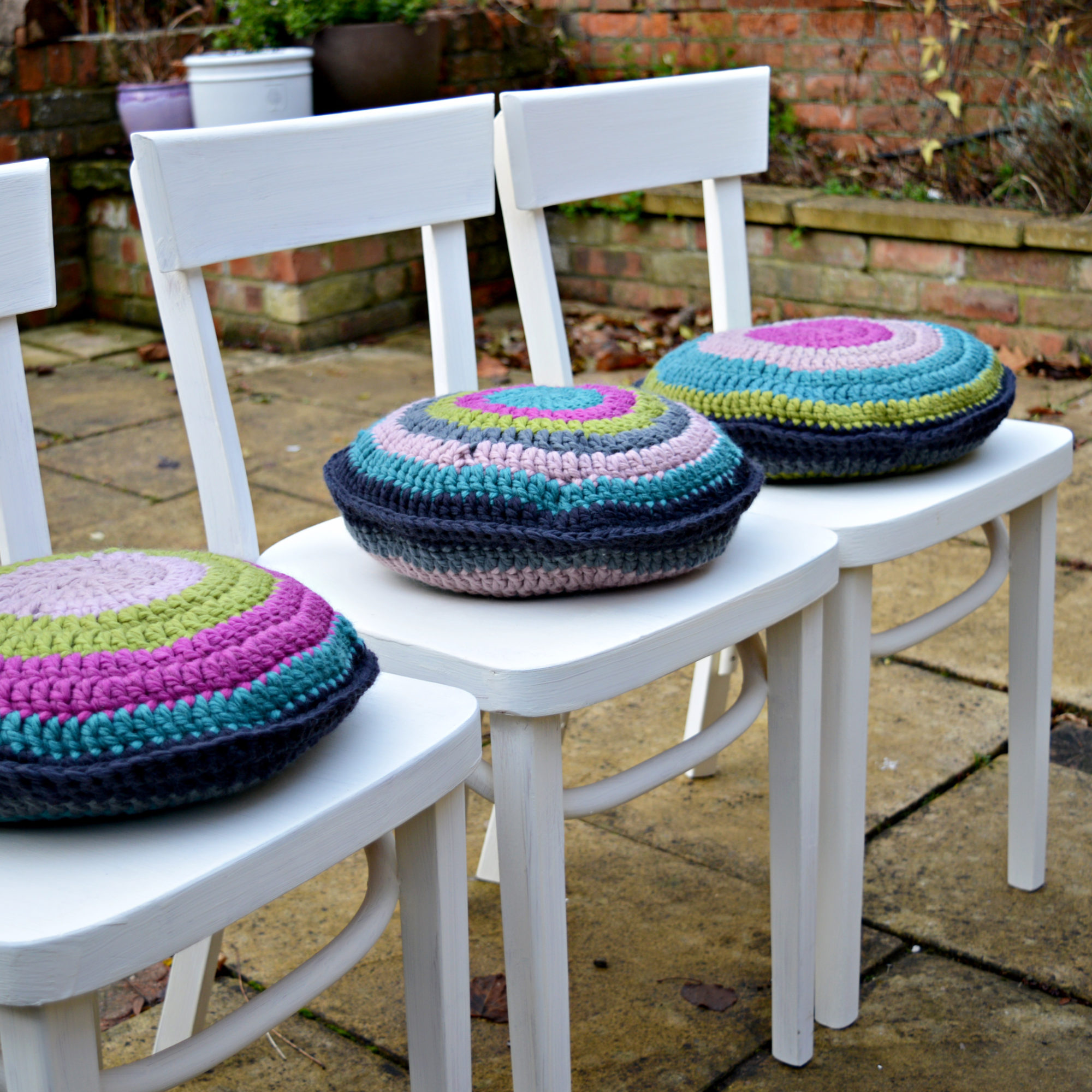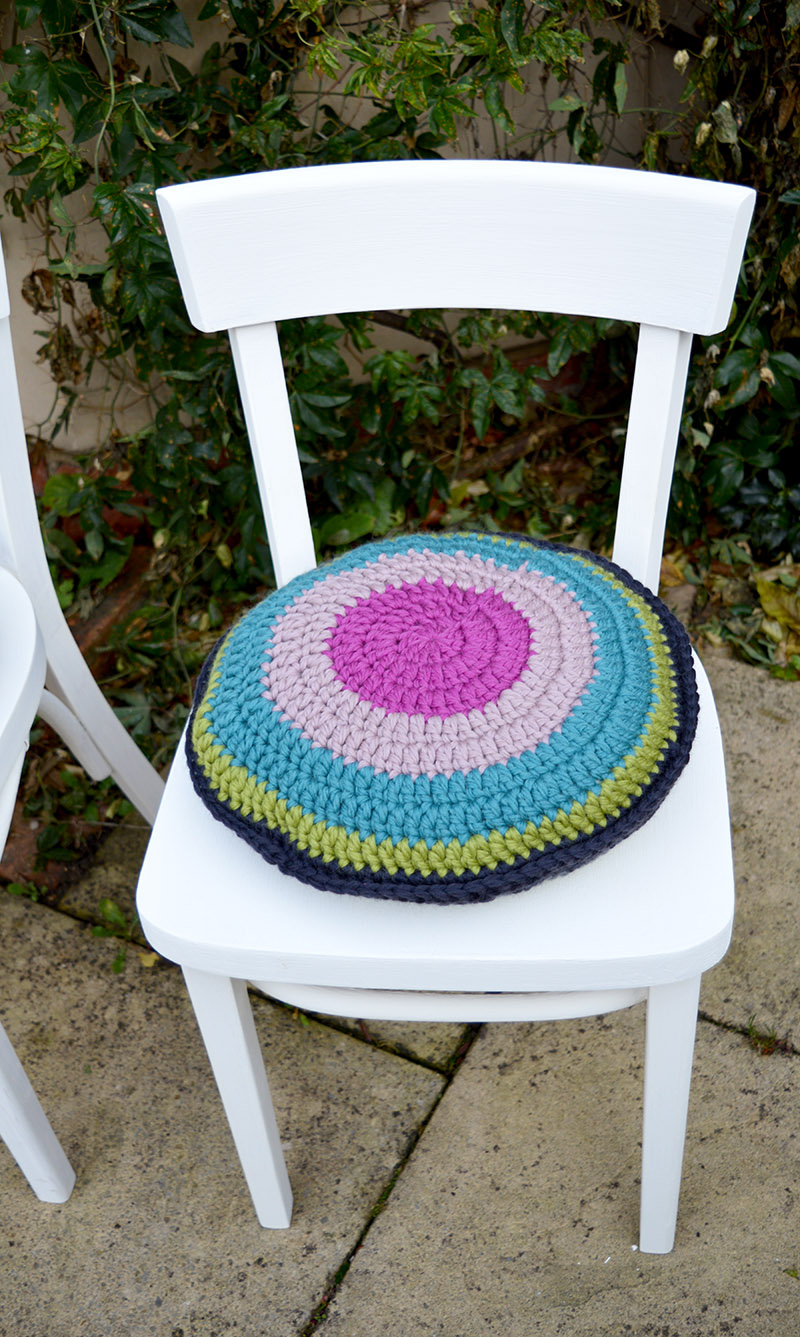 Roll on a few weeks after our chair purchase, I visited Leonie's house for a party. When I walked into the dining room, the first thing I noticed (besides the delicious food on the table), was her fabulous upcycled chairs.
Those rather drab Ikea chairs had been transformed into fresh bright chairs with funky seat pads.

The crochet seat pads were what really transformed the upcycled chairs and gave them personality. Especially as every cushion was slightly different. Not only that but after sitting on them for the evening I can confirm that they were very comfy too.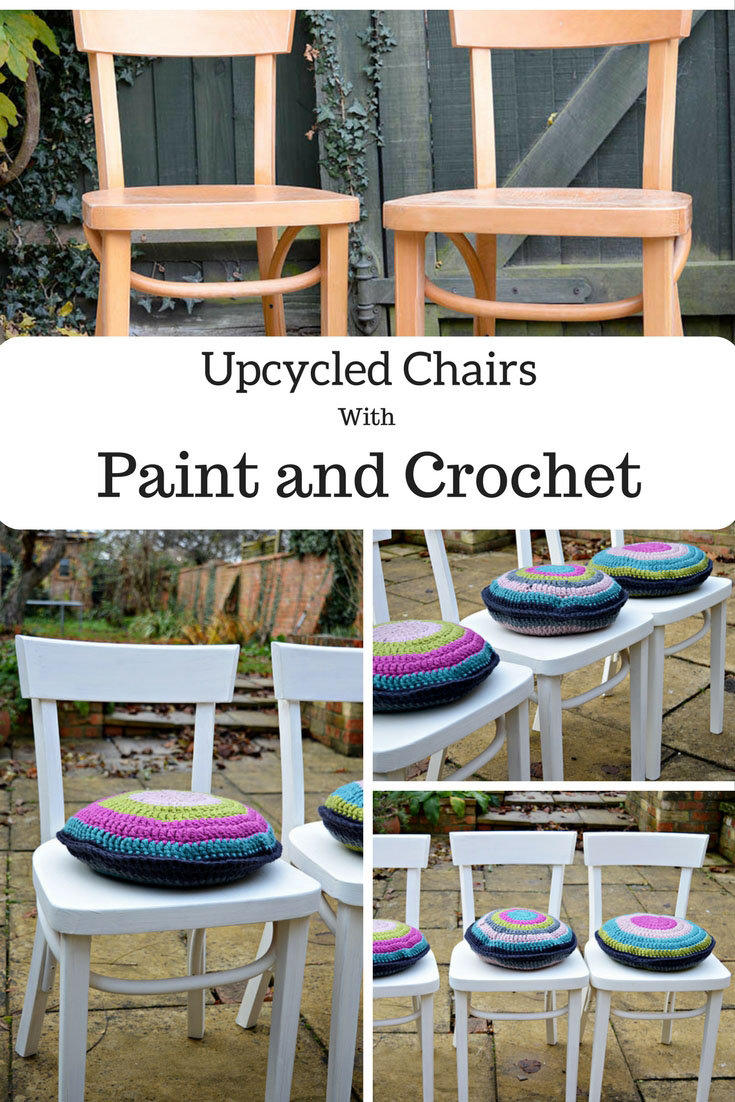 This tutorial on how to upcycle wooden chairs featured under the letter C in the A to Z of upcycled crafts.
I have another wooden chair upcycle on Pillarboxblue with my personalized map chairs. There is also a tutorial on how to upcycle an IKEA office chair in denim.


For more fabulous DIY furniture ideas visit the DIYideacenter.