Fabulous Colourful Ikea Upcycled Chairs
Thrift store challenge upcycled chairs: For this month's challenge a set of bargain Ikea chairs picked up at a local jumble sale have been given a fabulous, fresh colourful makeover.
The Rules:
Upcycle an item(s) from a thrift store, resale store, or garage sale into a new piece of decor.
There's no monthly theme.
There's no budget to stick to.
Meet the Hosts
Amanda | The Kolb Corner Maureen | Red Cottage Chronicles Kim | Made in a Day
Dru | Polka Dot Poplars Erlene | My Pinterventures Colleen | Life on Kaydeross Creek Pili | Sweet Things
Shirley | Intelligent Domestications Debra | Shoppe No. 5 Marie | DIY Adulation
Chelsea | The Johnsons Plus Dog Jes | My DIY Envy Lindsay | Crazy Organized
Molly | Just a Little Creativity Ashley | 3 Little Greenwoods Kimm | Reinvented Michelle | Our Crafty Mom
Jeannee | Shepherds and Chardonnay Sue | A Purdy Little House Sara | Twelve on Main
Claire | Pillar Box Blue Chelc | Inside the Fox Den Kim | Farmhouse Made Victoria | Dazzle While Frazzled
Sherry | Savvy Apron Jennifer and Vicki | 2 Bees in a Pod Lora | Craftivity Designs
Medina | Grillo Designs Denise | My Thrifty House Toni | Small Home Soul Ann | Duct Tape & Denim
Make sure you follow our board on Pinterest for more upcycled decor inspiration!
---


This post contains amazon affiliate links for your convenience. Click here to see my disclosure policy.



I have to confess that this is a bit of a cheat as it wasn't my upcycle but my craft buddy Leonie's.

In my defense, I was with Leonie when she bought the chairs. In fact, I even bought them for her (Leonie's like the Queen in that she doesn't carry cash!).

Also as I did see the transformation first hand I think that gets me off the hook a bit.

Leonie doesn't have a blog and really doesn't do social media so has nowhere to share her fabulous thrift store upcycle. Therefore, I'm really doing a friend a favour here by showing off her drab to fab upcycle.

I could have pretended that it was my upcycle and you wouldn't have known any better, but Leonie reads my blog.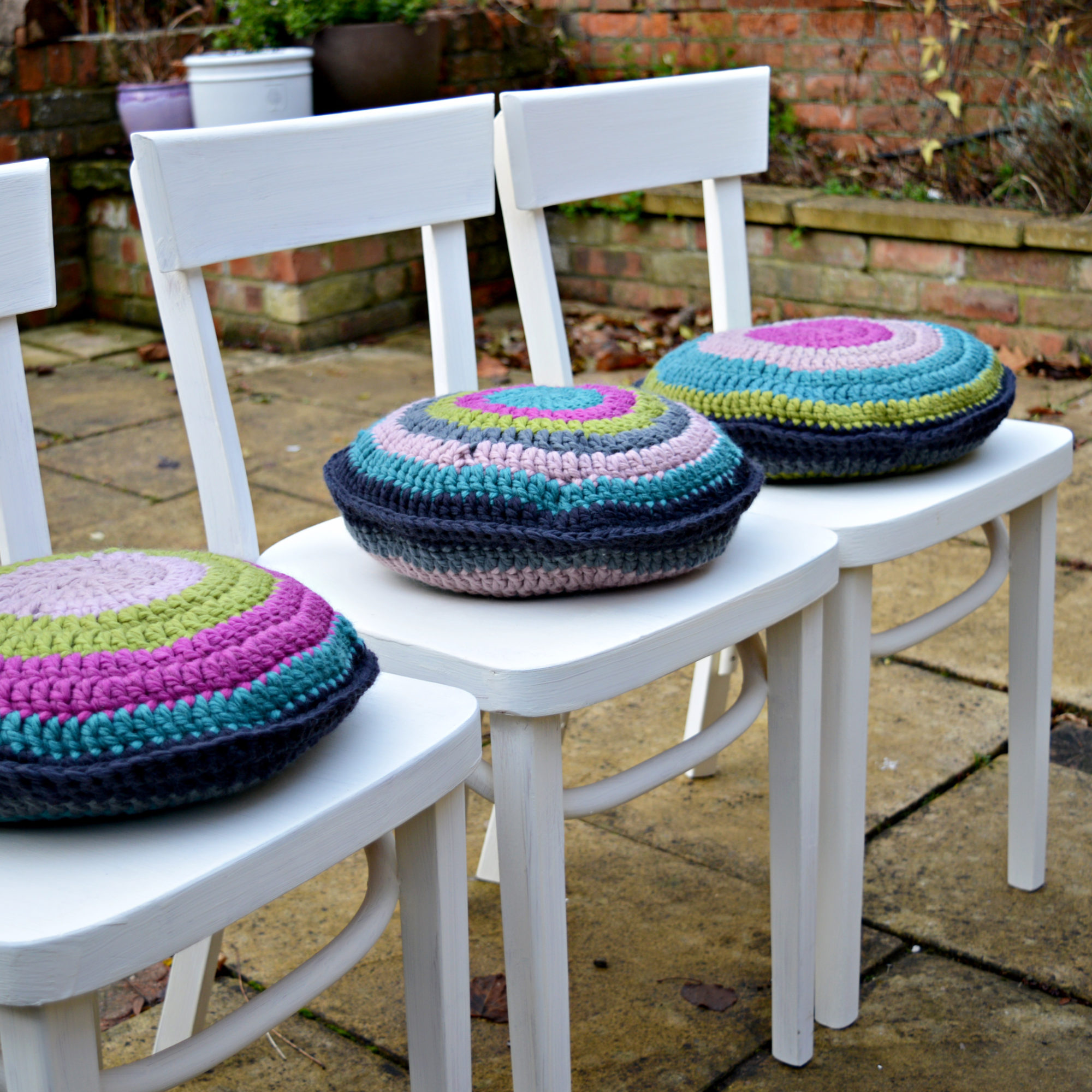 The Upcycled Chairs
These chairs must have been the bargain of the month, they were bought on a local jumble trail (kind of like a yard sale), only £10 for all six. For my US readers, that's about $2 a chair BARGAIN!.

There wasn't much wrong with the chairs. They were just some old IKEA dining chairs. Structurally they were sound but rather drab with lots of scratches and marks.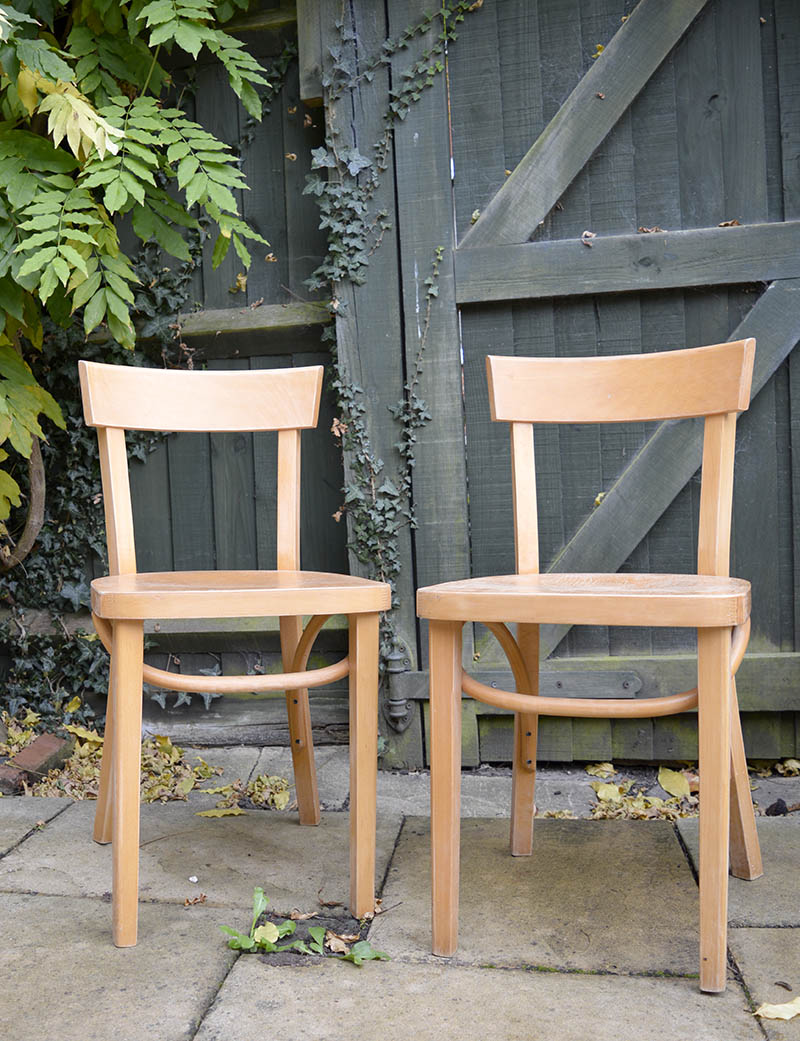 Roll on a few weeks after our chair purchase, I visited Leonie's house for a party. The first thing I noticed when I walked into the dining room (well besides the food on the table), was her fabulous upcycled chairs. Those rather drab Ikea chairs had been transformed into fresh bright chairs with funky seat pads.

The crochet seat pads were what really transformed the upcycled chairs and gave them personality. Especially as every cushion was slightly different. Not only that but after sitting on them for the evening I can confirm that they were very comfy too.

DIY Upcycled Chairs
What Was Used to Upcycle the Chairs
Rowan Big Wool for cushion pads in black, blue, green and pink.
Round seat pad inners
The Upcycled Chairs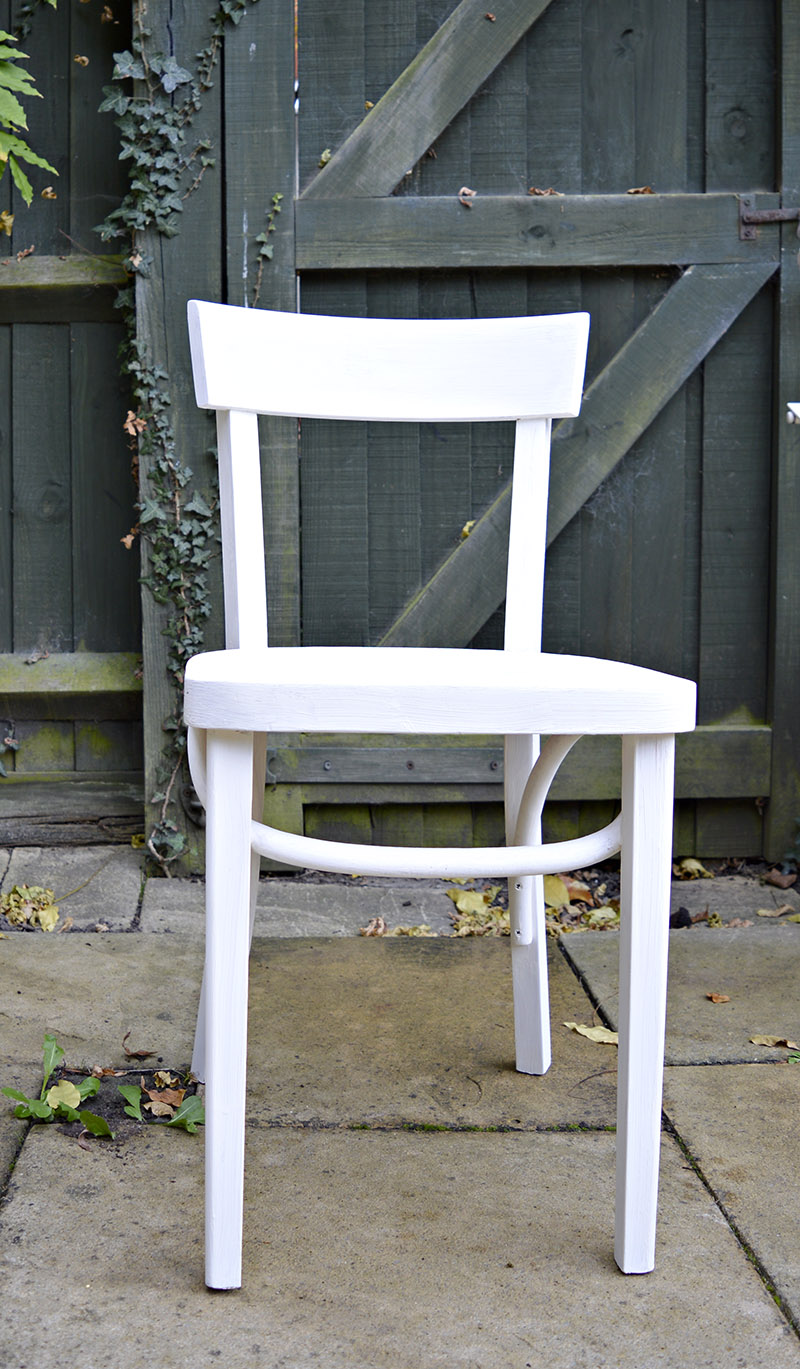 The beauty of chalk paint is that you don't need to do much prep before painting. The chairs were just given a good wash. Once dried they were painted with the chalk paint. As the chairs were being painted a lighter colour 2 coats of paint were applied.

After the paint had dried a finishing wax was rubbed onto the chalk paint to seal it and protect the chairs.


The Upcycled Chairs Cushion Pads
The cushion pads were the real show-stoppers of this upcycle. I was impressed, even when Leonie confessed to me that she didn't crochet them herself! A local crafter made them for her (Cottage Gems) for a very reasonable price.

The cushions pads are actually very simple to make, they are just basically one giant round granny square. Rowan big wool was used in a combination of colours; black, blue, grey, green and pink. If you look closely every cushion is different in the way the colours are combined.

If you can crochet, then these cushion covers will not take long to make. Most good crocheters can make them without a pattern but if you are a beginner you should be able to find a pattern on Ravelery.com.

There is a free pattern on Ravelry for this round cushion using Rowan big wool.

You will need to join Ravelry to access the free pattern but it is free to join.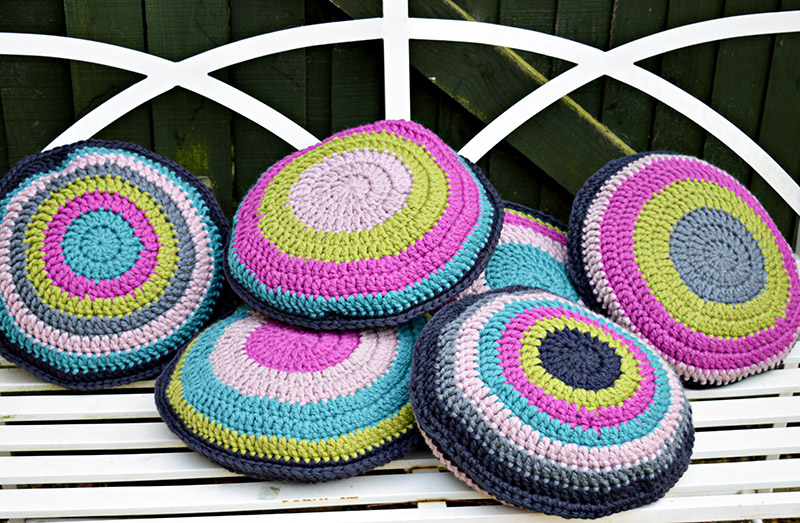 The colourful seat pads really pop against the white chairs and I love how every one is different.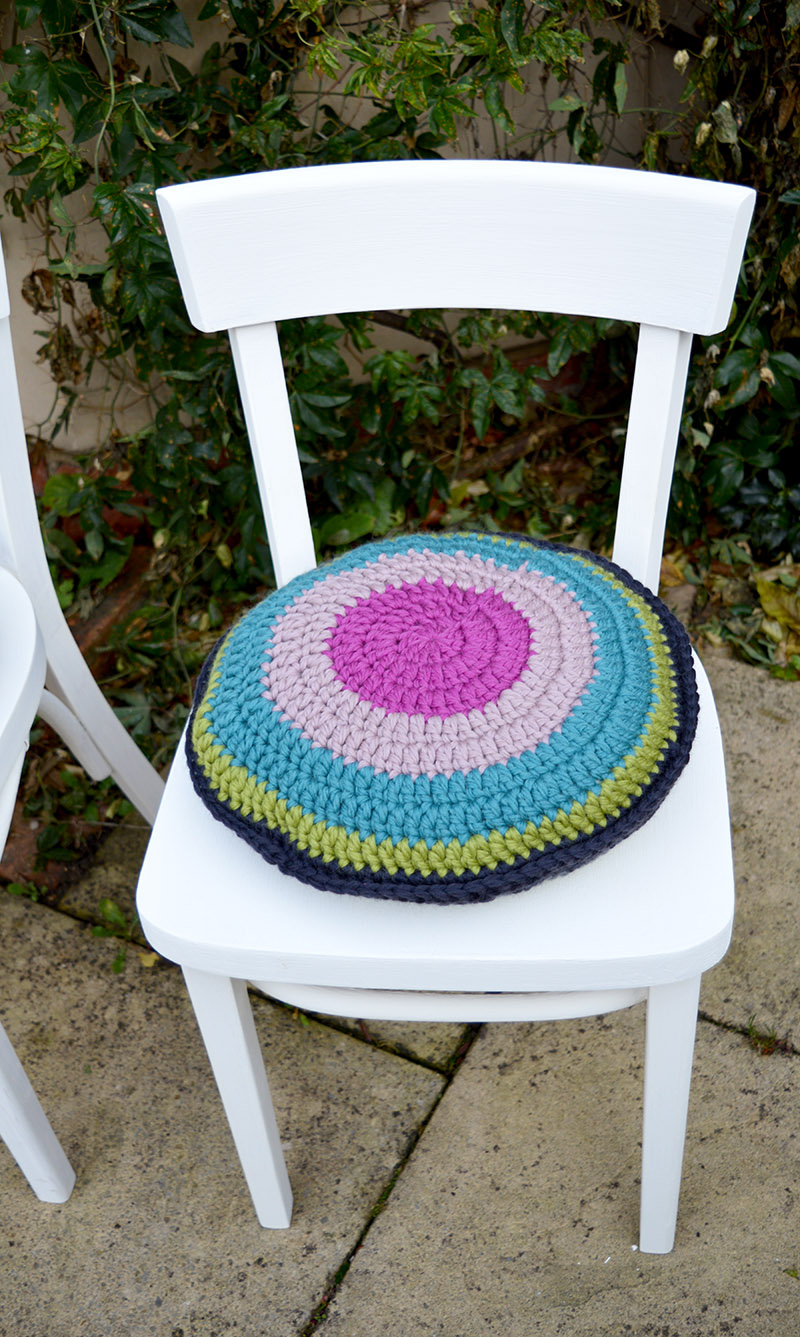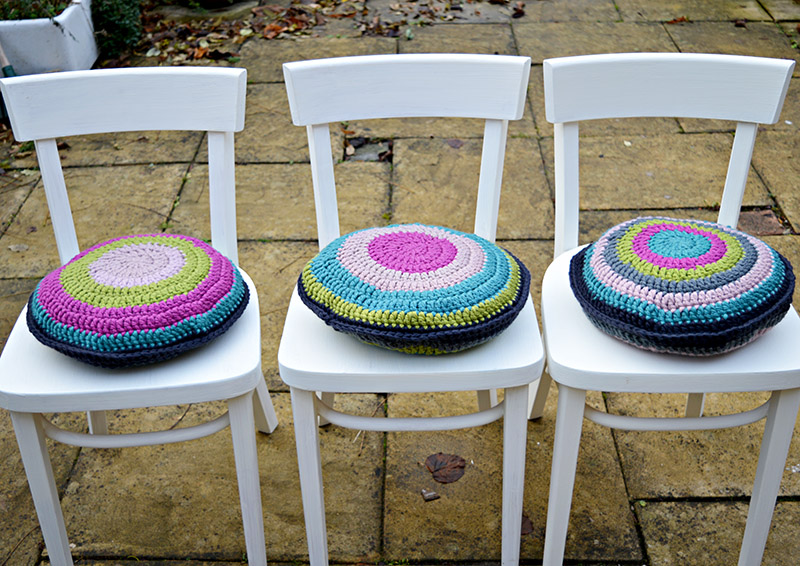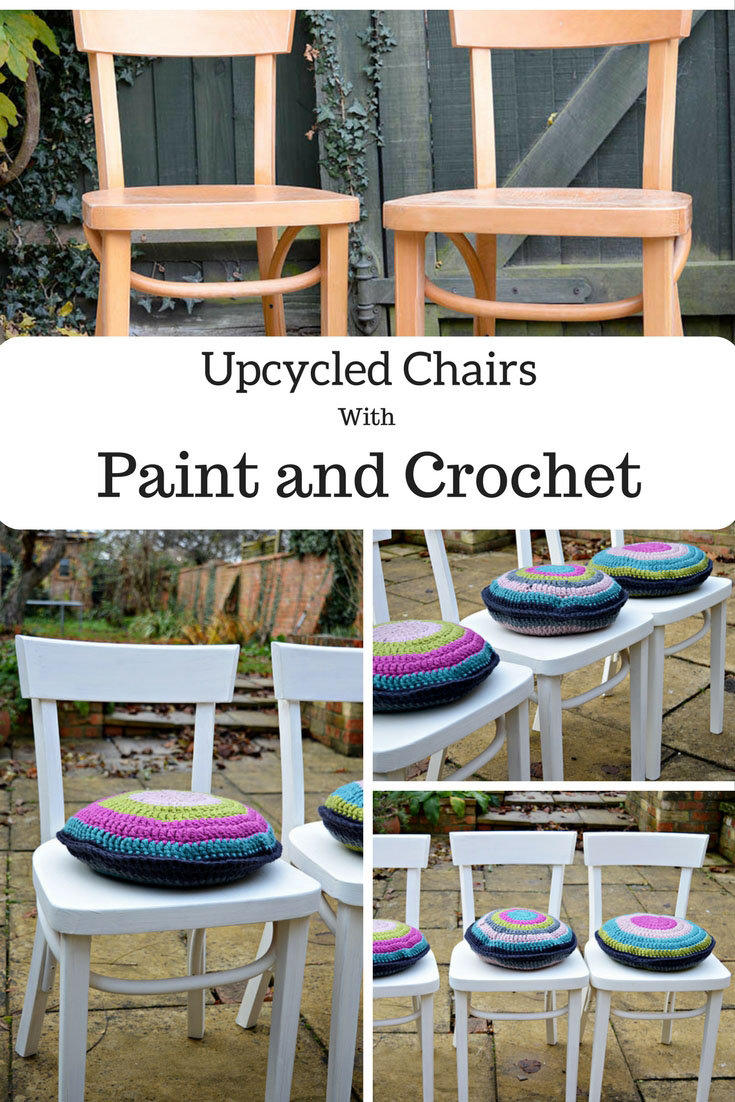 This is not Leonie's first Pillarboxblue feature you should check out her popular Ikea Map table hack.


For more fabulous DIY furniture ideas visit the DIYideacenter.



And now for more thrifty goodness!
Check out what my fellow upcyclers created below!