Do you have a dog? And do you like to spoil it with dog toys? Well, have you ever thought of making your own handmade dog toys?
Apparently us Brits as well as being tea drinkers we love our dogs too!
I'm not fussed about tea (more of a coffee lover), but I do have a dog. In fact, most of my friends and family own dogs too. We love to fuss over them with treats and toys.
This denim dog toy tutorial featured under the letter D in the A to Z of denim upcycles.
Upcycle Your Jeans Into The Cutest Dog Toys.
Our Dog pack..
My craft club friend Wendy's dog Lottie's (of giant wall art fame) loves to destroy her dog toys. They don't last five minutes and Wendy is fed up with constantly buying new ones.
Lottie is not the only craft club dog, there's my dog Toby a Foxy Russell (Jack Russell, Fox Terrier cross). Toby's the old man of the pack, we're not quite sure how old Toby actually is as he was a rescue dog, but think he's about 14 years old now.
Then there's Buster another Jack Russell with a Napoleon complex. I couldn't make just one toy for Lottie. I had to make a pile of handmade dog toys for them all.
Lottie is not interested in the supposedly indestructible heavy-duty rubber dog toys. She likes the soft plush ones that squeak. I suggested making our own handmade dog toys. Not only would we save a bit of money but they may last a little longer.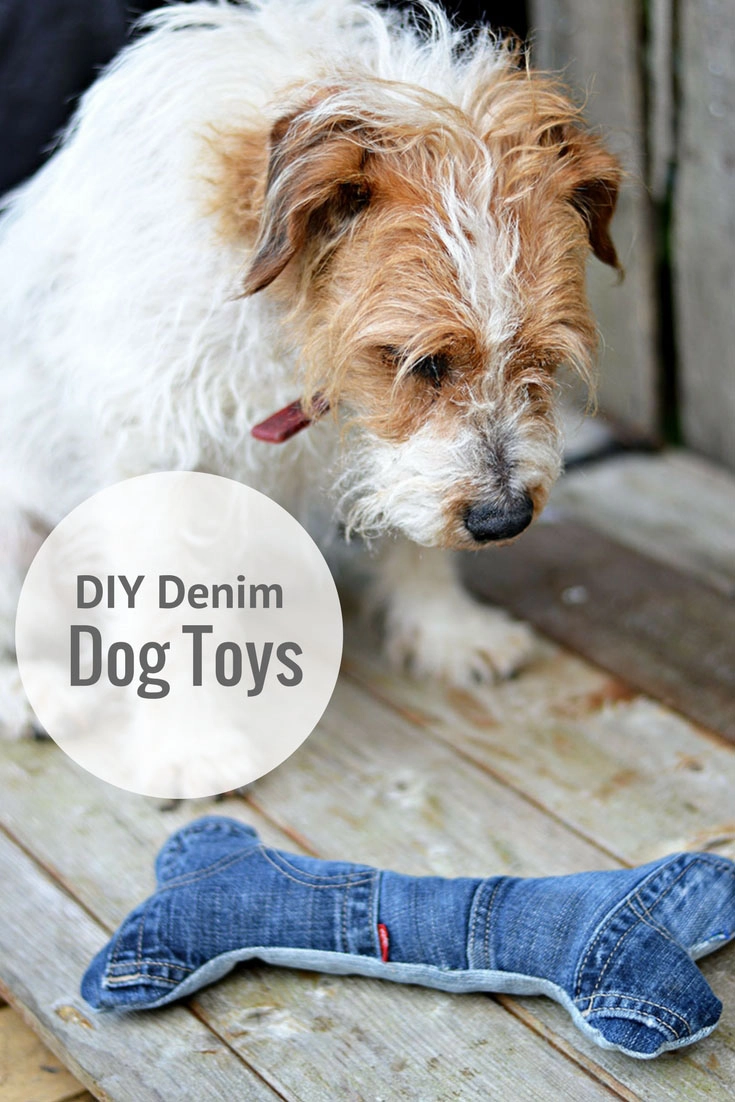 Why Denim Dog Toys?..
I never throw away old jeans. I even save all the scraps from previous craft projects. Most of the time I find a use for every part of a pair of jeans.
A couple of weeks ago I made some lovely denim hearts out of scraps. I've made rugs out of the waistbands, and even lampshades out of the seams.
Since denim is such a robust fabric and as I have lots of it I decided to make my handmade dog toys out of denim.
These dog toys also come with the squeak. However, if squeaky dog toys drive you mad you can leave that bit out.
Luckily these dog toys were really simple to make, therefore, I make a load of them really quickly.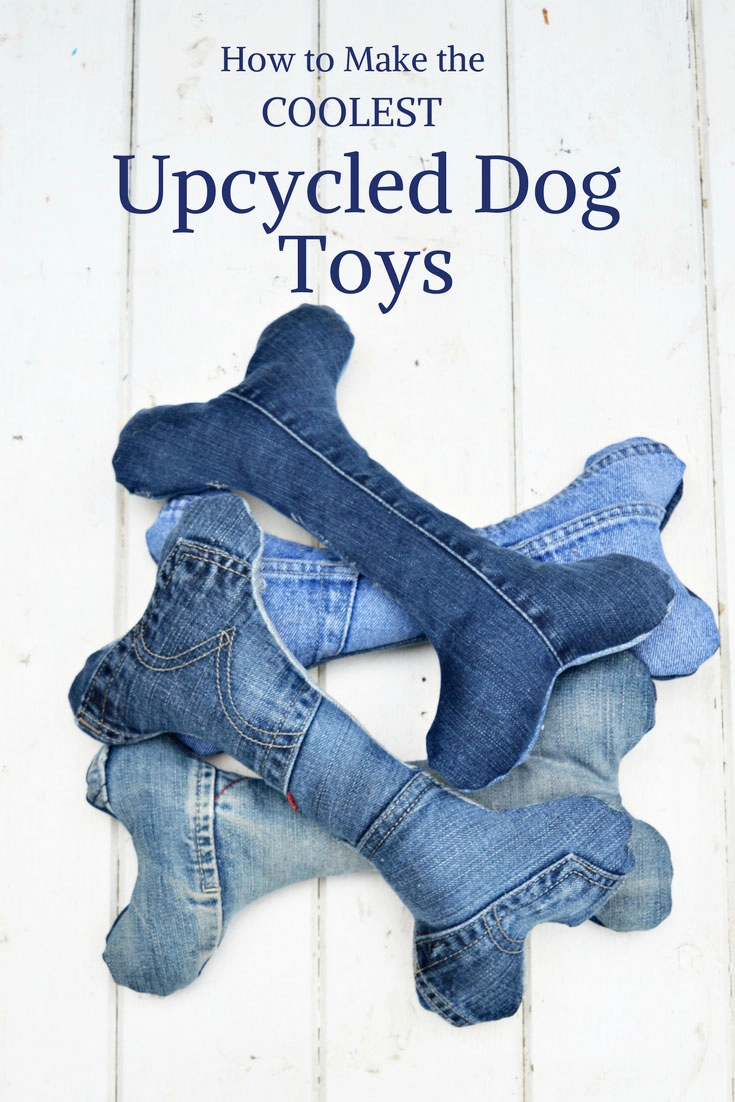 By the way, these handmade dog toys aren't just for Jack Russells but can be enjoyed by any breed of dog. I'm going to give one to the cute Beagle (Millie) round the corner.
This post contains Amazon affiliate links for your convenience. Click here to see my disclosure policy.
What you need to make denim handmade dog toys
Old jeans, or denim scraps. Any part of the jean will do. It's great if you can get some denim seams on to the dog toys. To achieve a two-tone effect I used denim from more than one pair of jeans. I'm sure the dogs didn't appreciate this aesthetic but I did!
Fiber fill– I, fortunately, had a load of natural wool fiberfill that had been used as insulation for a fresh food delivery. However, you can use any fiberfill that is child-friendly. (If it's child-friendly it should be dog-friendly).
Needle and thread – I used a sewing machine to make my dog toys, but they are very easy to sew by hand.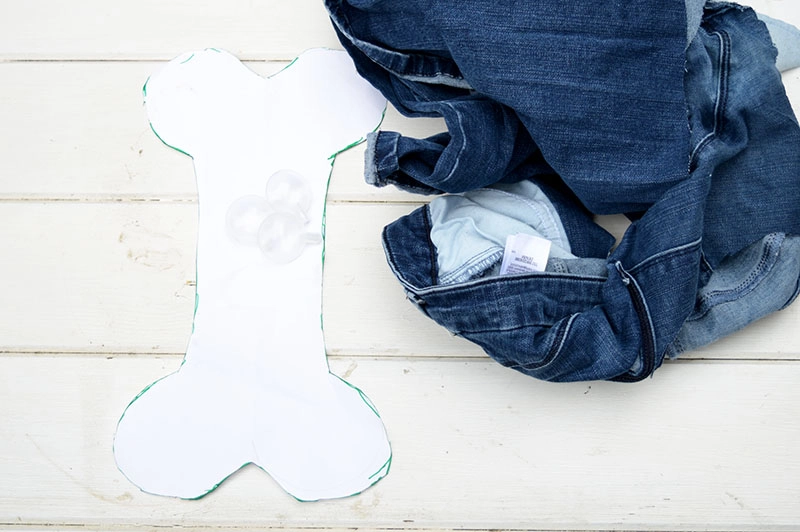 How to Make Handmade Dog Toys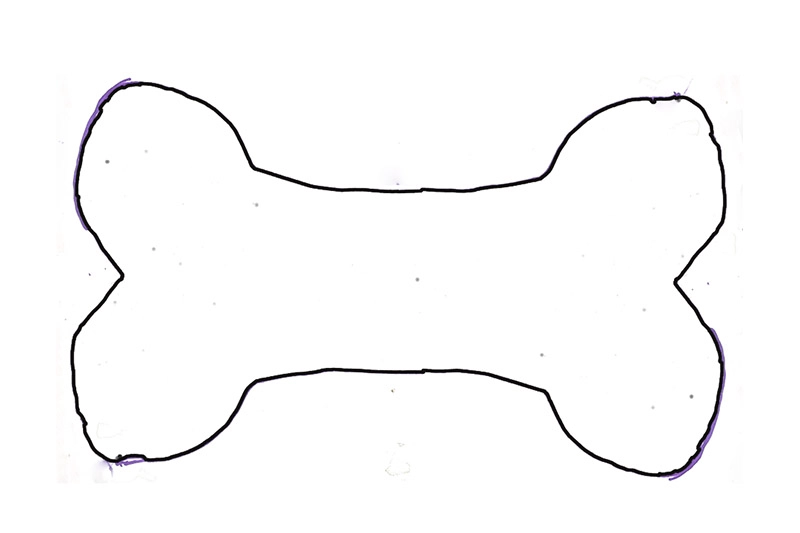 2. Then lay the dog bone template on the wrong side of your denim scrap and draw round it.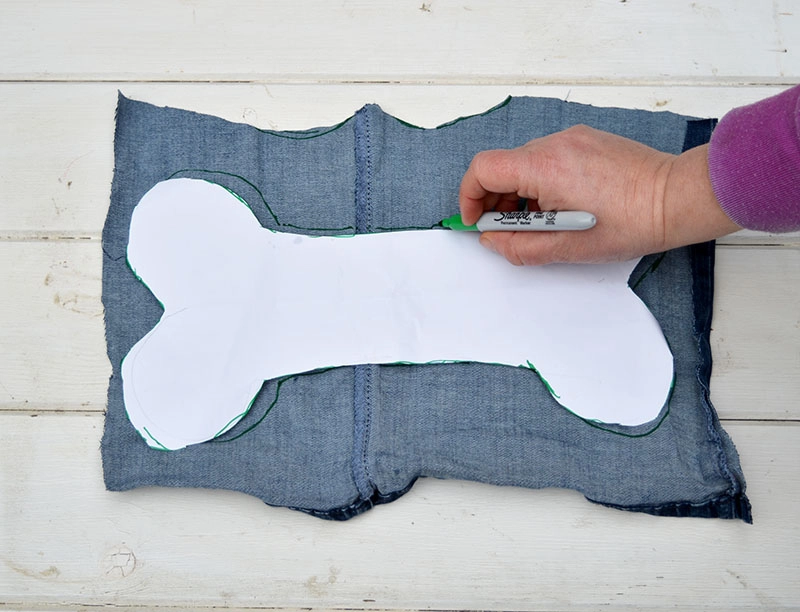 3. Using scissors cut out the dog bone shape. Make sure you have 2 dog bone shapes for each toy. I used two contrasting denim shades for each dog toy.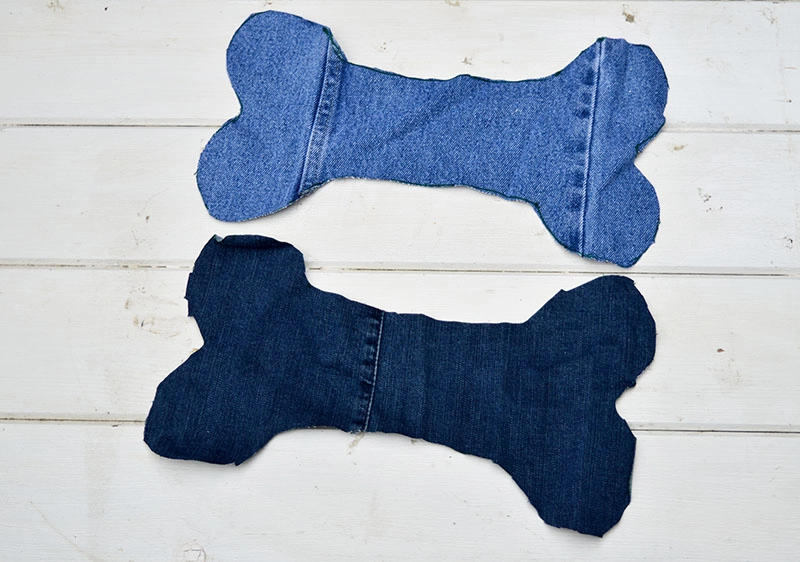 4. Then pin the denim bones right sides together and sew them either by hand or on a machine. Remember to leave a small opening and a 5mm approx margin.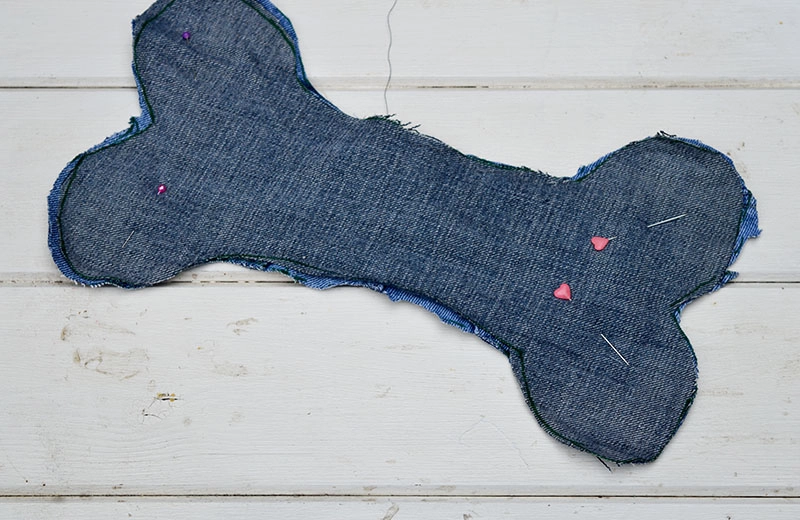 5. Next, by using the small opening turn the denim dog toy the right side out.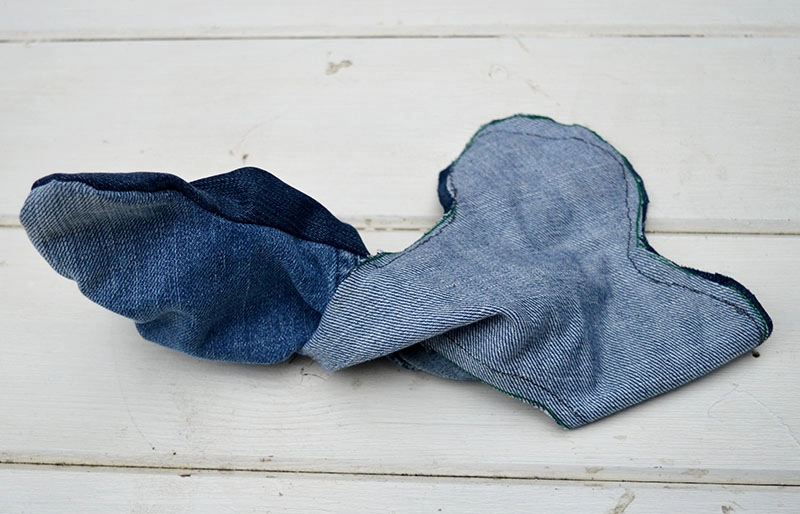 6. Finally, stuff your denim dog bone with the fiber and don't forget to put in your squeaker before sewing up the opening.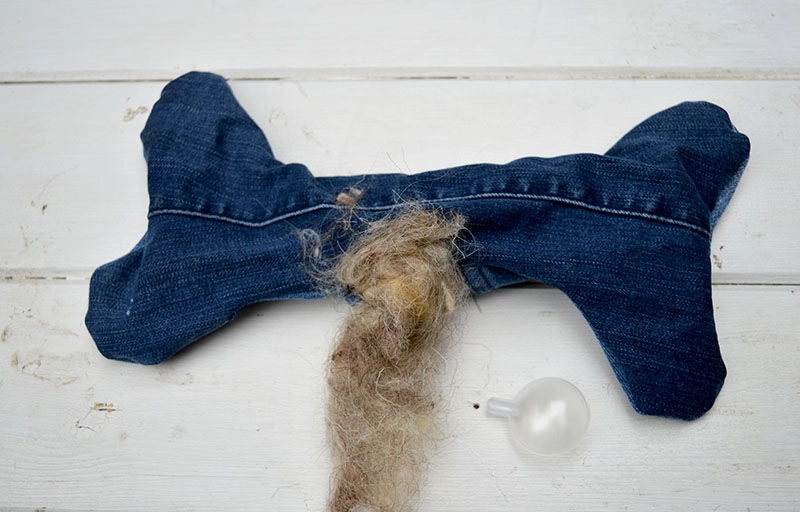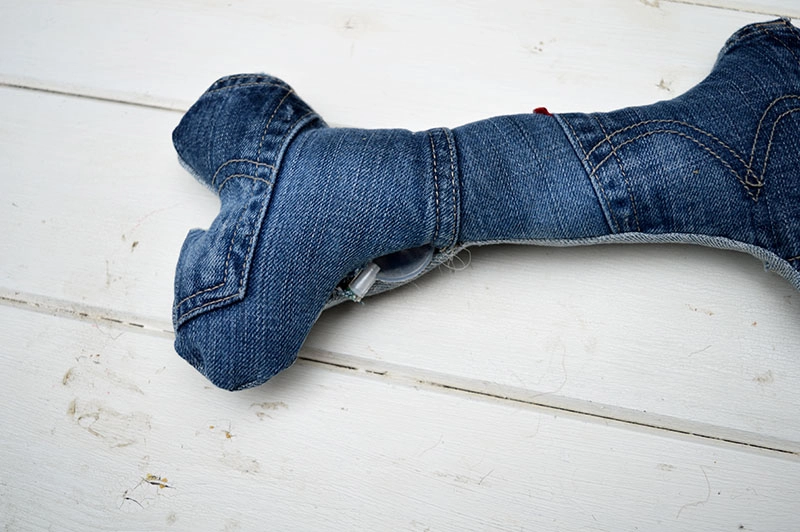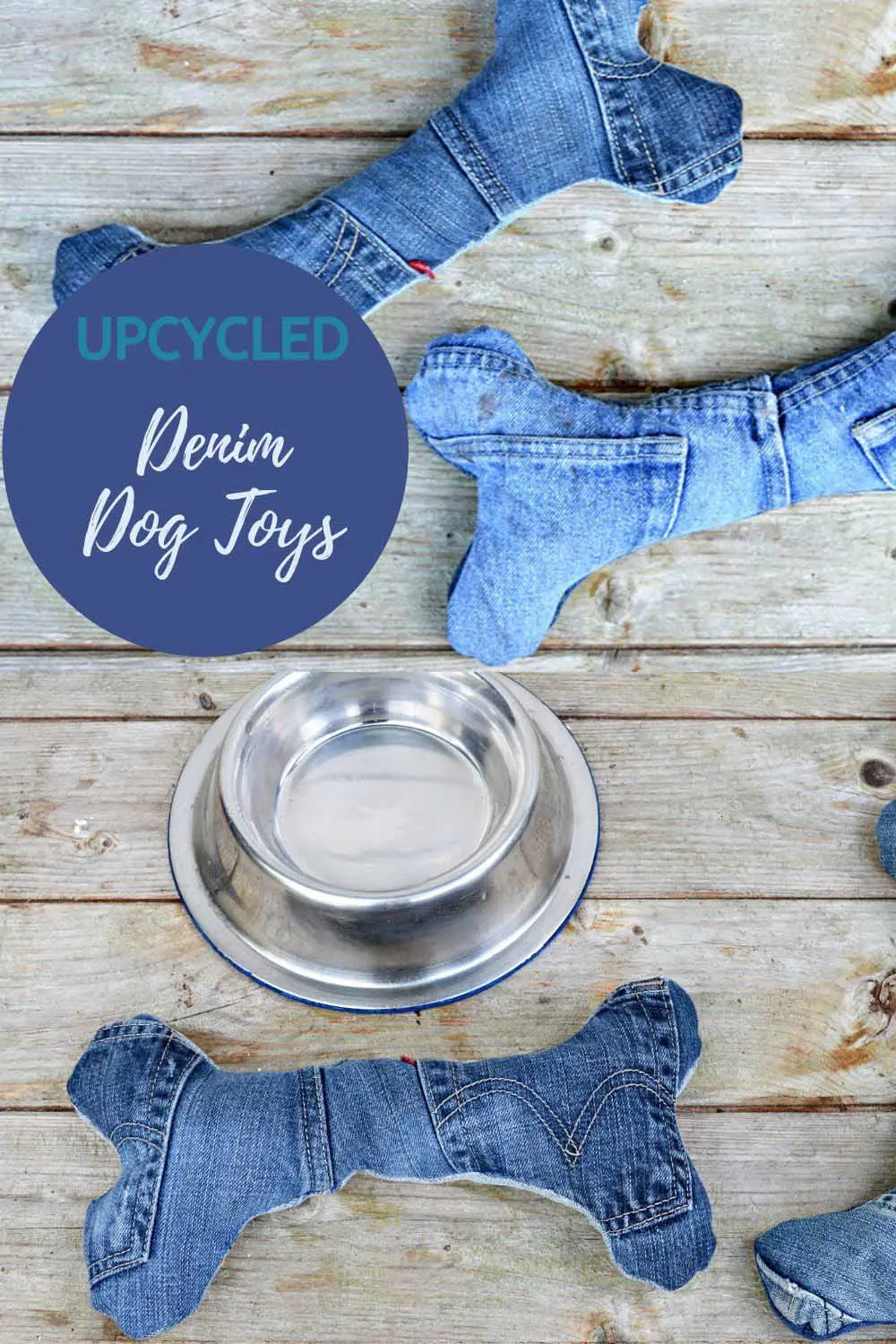 These denim dog toys are a bargain. The only cost is for the squeak inside!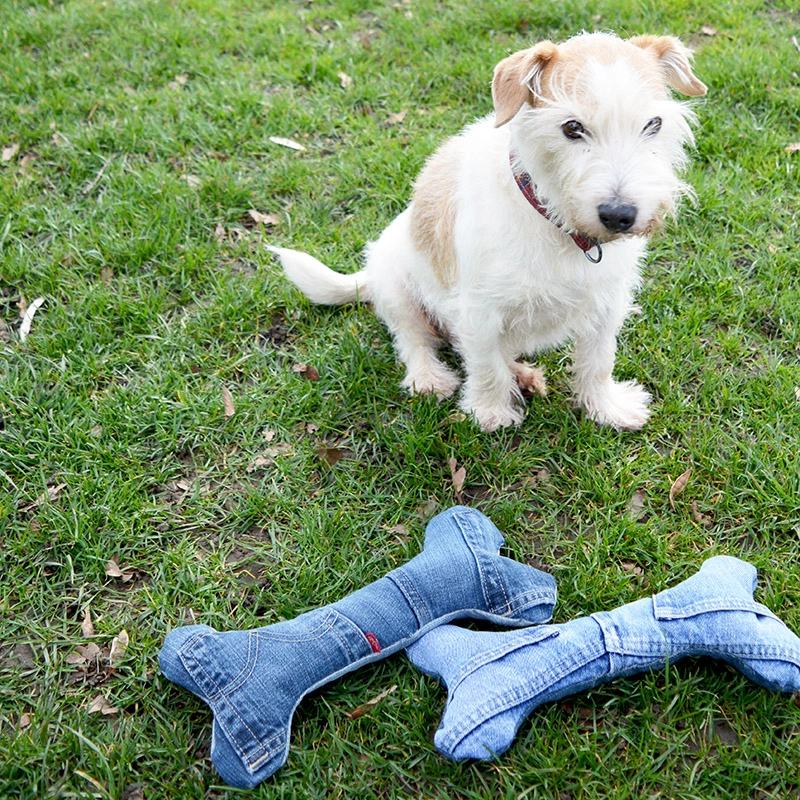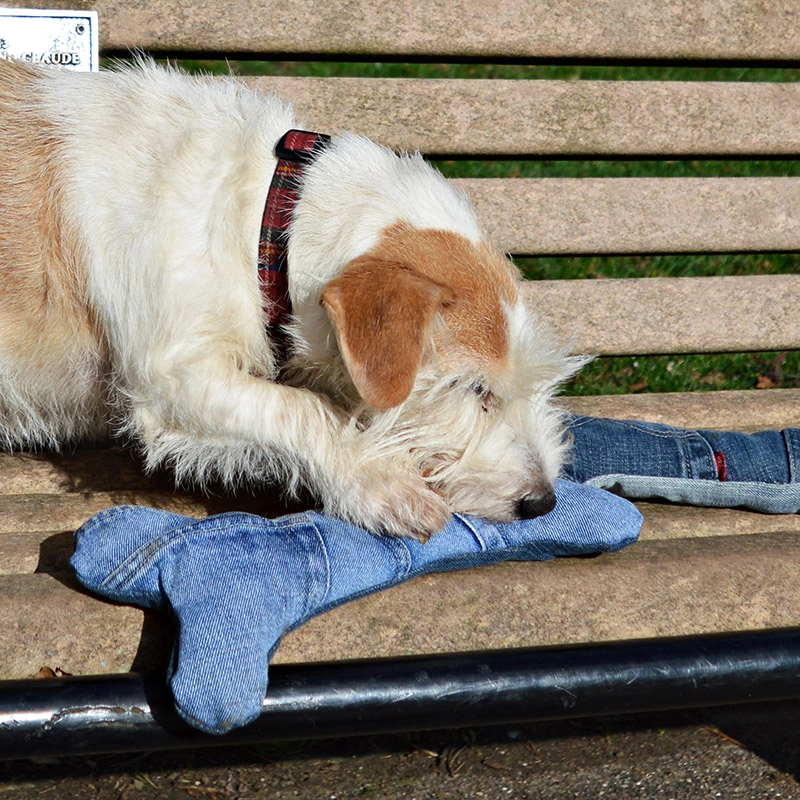 Personally, I think these denim handmade dog toys are the coolest ones in town. Whether or not the dogs think that I'm not sure. I know many dog lovers though that would love to receive one of these denim bones as a gift.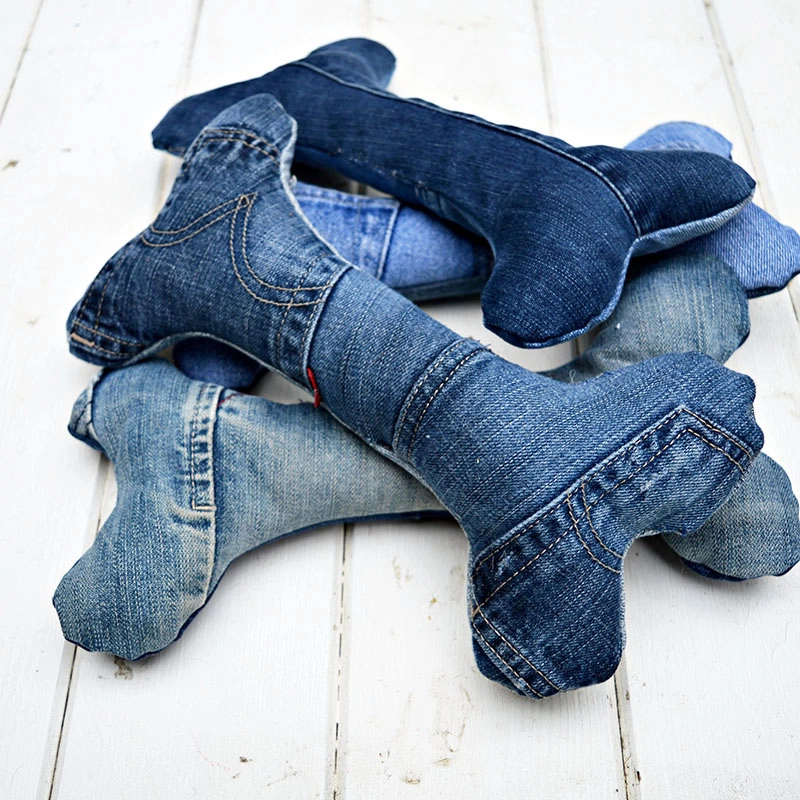 Top tip: I if you use the pocket bit of your old jeans when making your dog toys, you can then hide a treat inside the pocket. This gives the handmade dog toys an extra fun element as the dog tries to work the treat out of the pocket.
If you are looking for more ideas for denim dog accessories and toys I've curated a collection of ideas.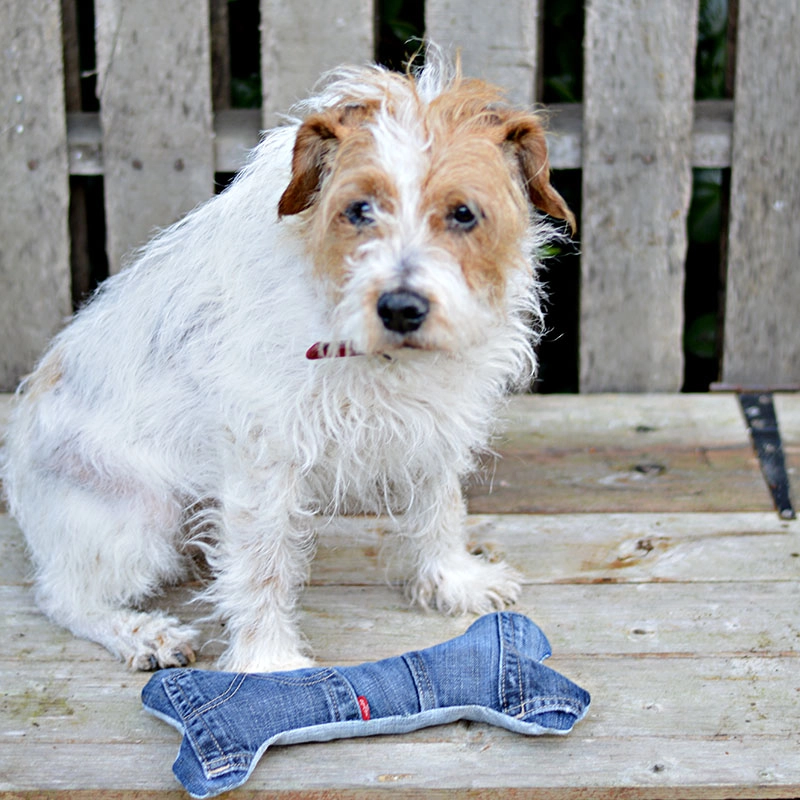 Yield: Denim Dog Toy
Cool Handmade Denim Dog Toys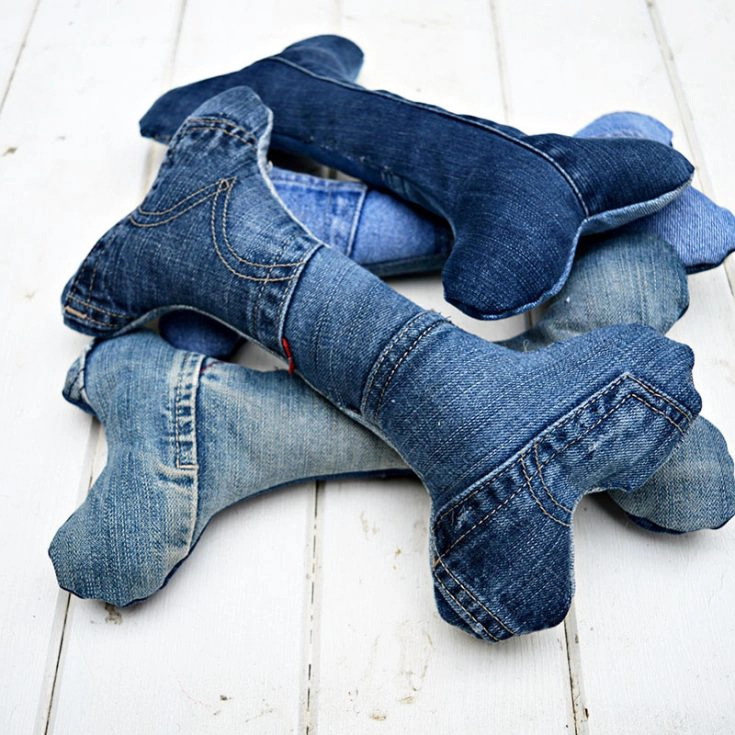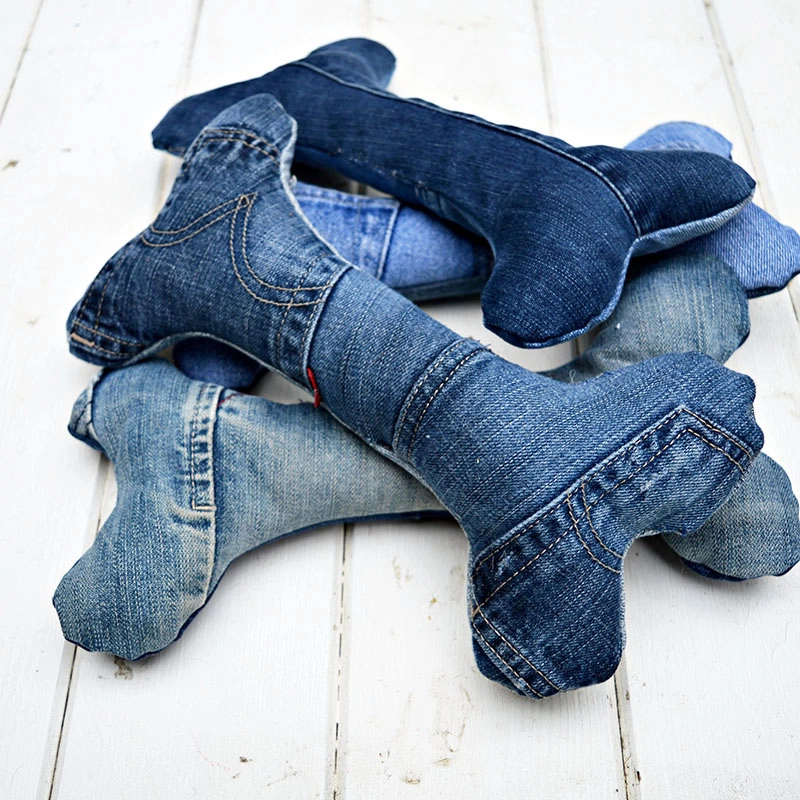 Materials
Old jeans
Fiberfil
Dog toy squeak
Tools
Scissors
Needle and thread
Instructions
Download and cut out the dog bone template from the blog. Or draw your own.
Draw around the template on to jeans
Cut out two dog bone shapes
Pin the denim dog bones pieces wrong sides together
Sew leaving a gap for stuffing and dog squeak.
Turn right side out, stuff and then stitch to close.
Recommended Products
As an Amazon Associate and member of other affiliate programs, I earn from qualifying purchases.
For more sewn dog accessories visit allfreesewing.com
If you love to craft with denim I have made a lot of wonderful things out of old jeans, you can check them all out here. They include tutorials for fun things like these denim bow ties.