Velcro Chalkboard Frame Photo Wall Display
What makes this chalkboard frame fantastic is it's few extra features. The photos are easily changed and moved around the board as they are attached using little velcro sticky dots. Also, fun cheeky tags and frames can be easily be written in chalk on the chalkboard frame.
In the past when I've put family photo's in an album, I've found they soon get forgotten about. It's even worse with digital photos that seem to get lost on the computer never to be viewed again.
After a couple of big family holidays, I made big framed photo collages of them to display in the hallway.
Everyone enjoys looking at these photos and they spark happy holiday memories. However, the photos are a bit dated now and need to be easily changed.
Disclaimer: I promise that no original artwork was harmed in the making of this chalkboard frame. The picture used was a print. If it was an original painting, I would have sold it at auction and would currently be drinking Champagne contemplating my retirement 🙂 .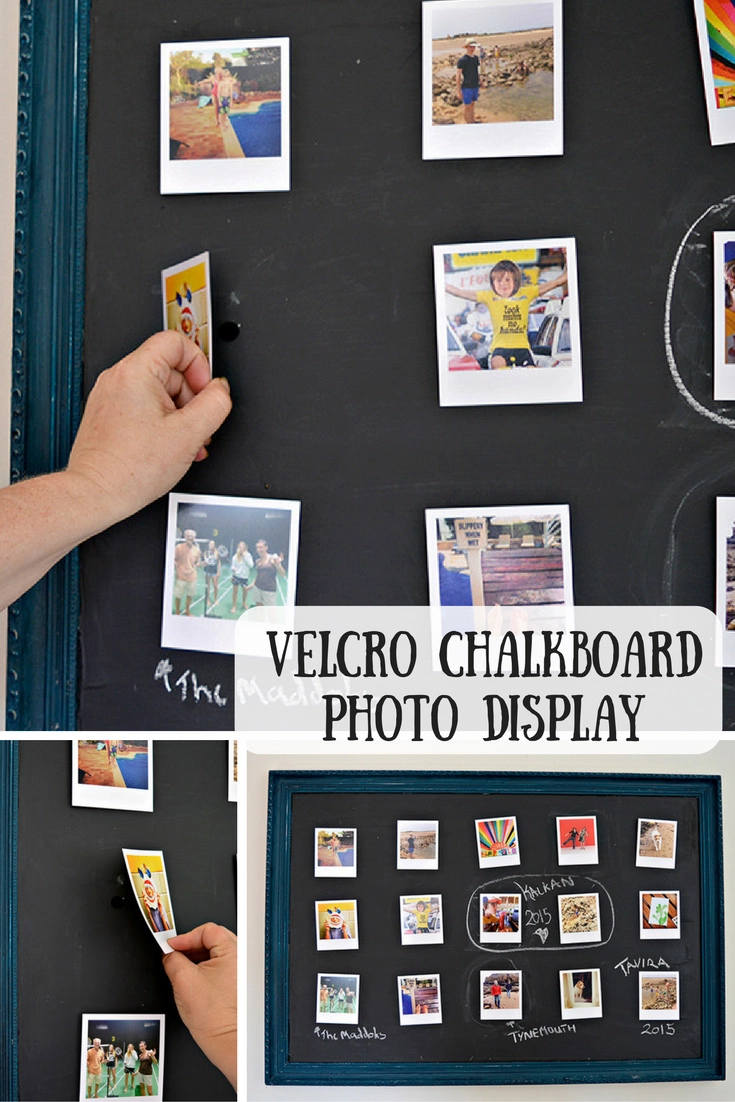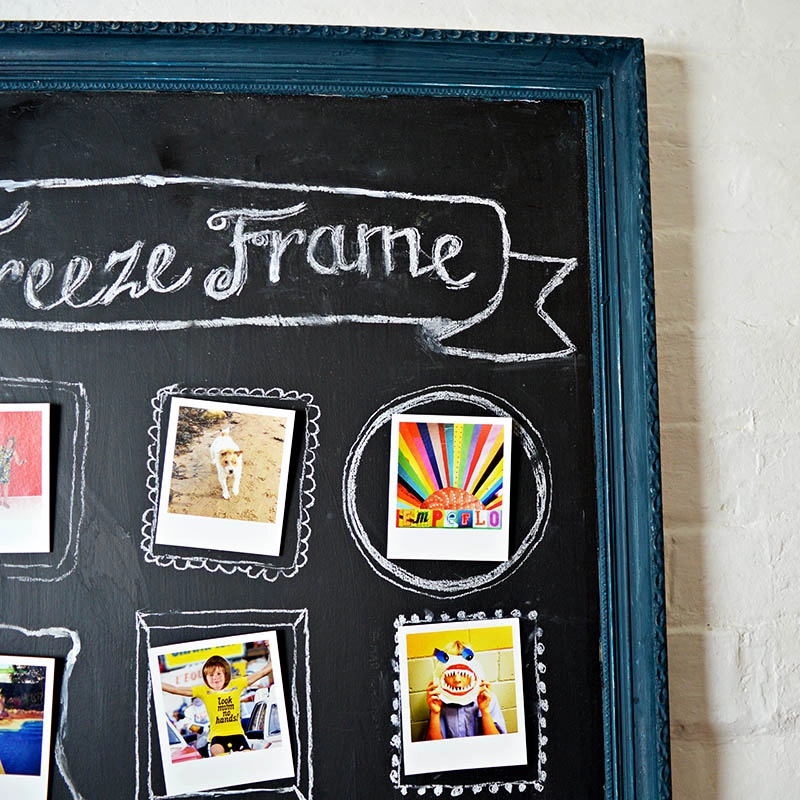 This post contains Amazon affiliate links for your convenience. Click here to see my disclosure policy.
Chalkboard frame special features
There is no glass on this chalkboard frame, so it's much easier to change and update the photos. I've used little velcro stickers so it's easy to stick the photo's to the board and move them around. As the velcro stickers are evenly spaced, it still looks kind of neat and orderly.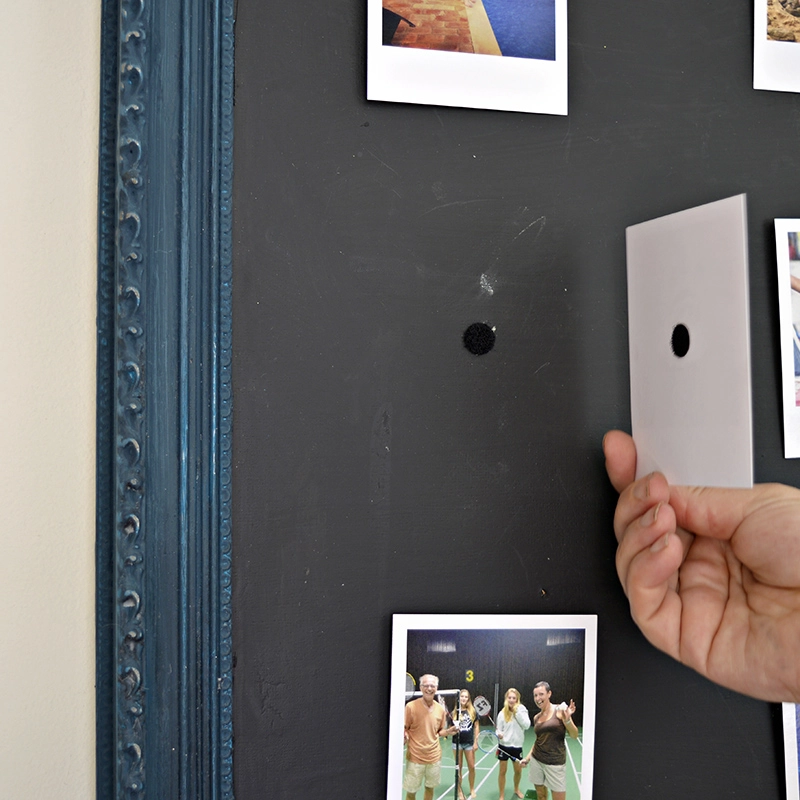 This chalkboard frame is a lot more fun as the kids can easily write little messages and tags on the board. Now every so often I send the best pictures from my phone to get printed and stick them to the board. I have found a great place that prints retro polaroid style photos which add to the fun look of the chalkboard frame.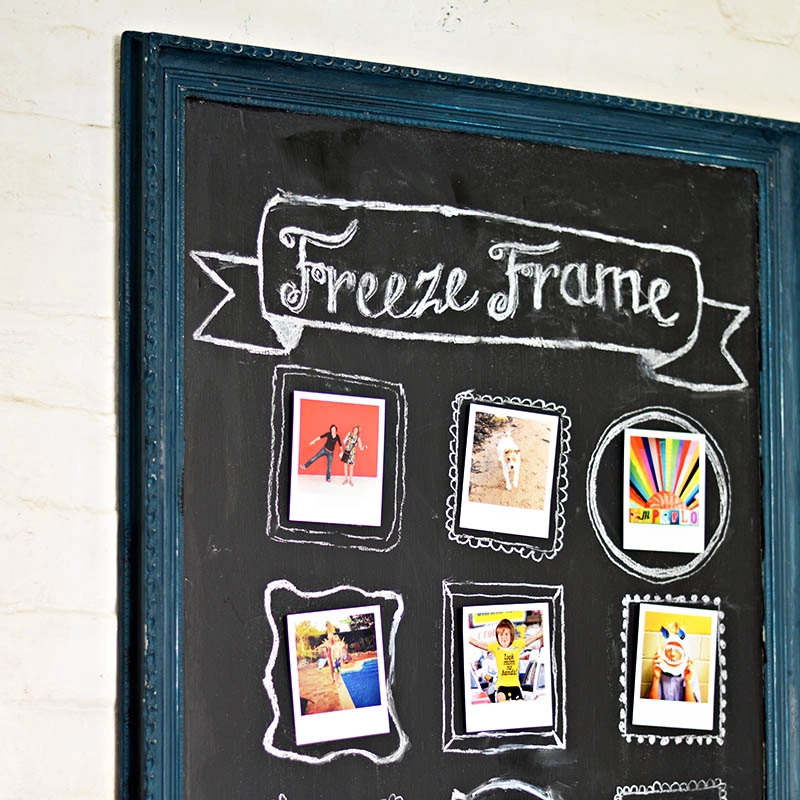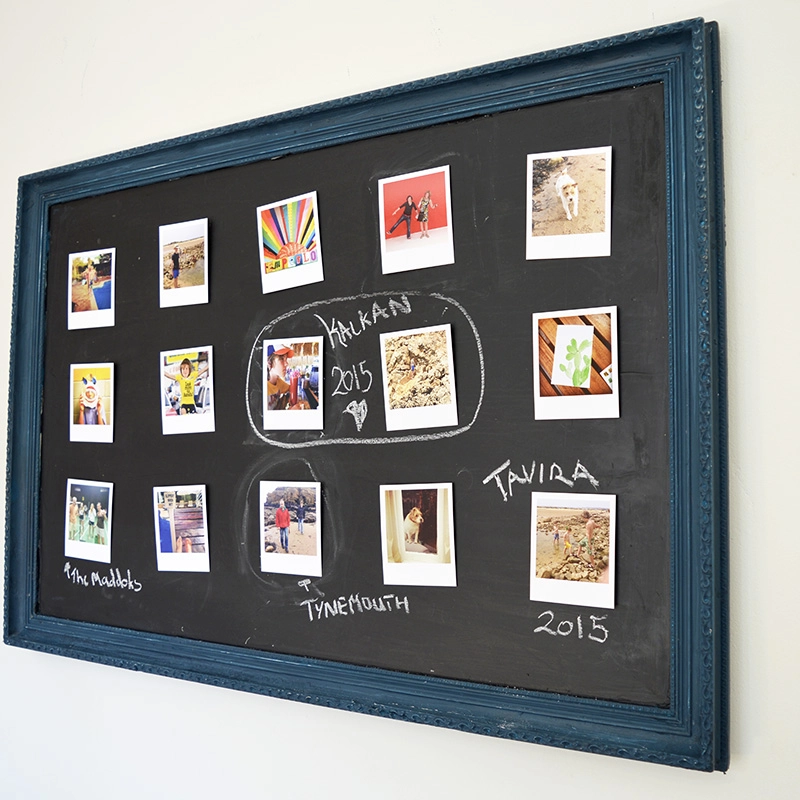 What you need to make an upcycled chalkboard frame
Large Old Picture frame – I picked mine up for almost nothing at my local junk shop. I got it cheaply as the picture was a bit old and naff, but that didn't matter as I wanted the frame not the picture.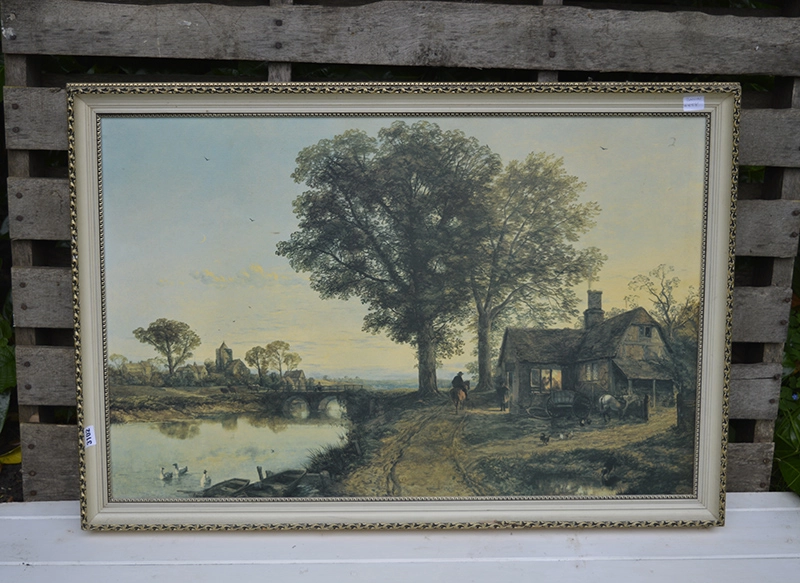 Paint of choice for your frame and antiquing wax.
Masking Tape
Chalkboard paint
Velcro sticky dots

Photos – In the UK I use Photobox to print my instagram style photos but in the US I beleive Snapfish also do square prints.
How I upcycled my chalkboard frame
Firstly I masked off the frame with tape and paint straight over the top of the picture with chalkboard paint. Give it at least 2 coats.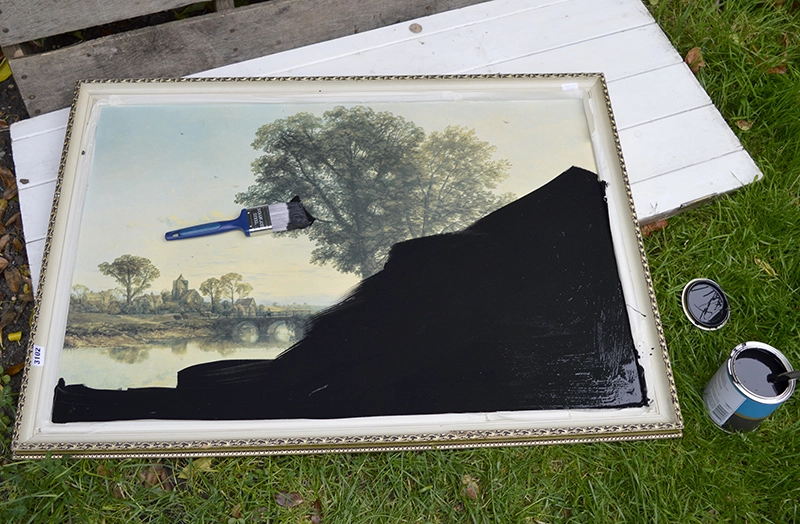 Next I cover up the chalkboard painted picture with paper and paint the frame. If you follow my blog you will have probably noticed that there is a bit of a colour theme going on, I do like a bit of blue. So naturally, I decided to paint my frame blue.

Initially, I sprayed the frame turquoise blue. However I wasn't too keen on the finish, it was too bright and shiny even for me. So as I had some leftover Annie Sloan chalk paint in Napoleonic Blue, I painted over the turquoise with this. I then covered the frame in antiquing wax and sanded the edges so that some of the turquoise would show through. I ended up with a sort of blue shabby chic effect which I'm really happy with.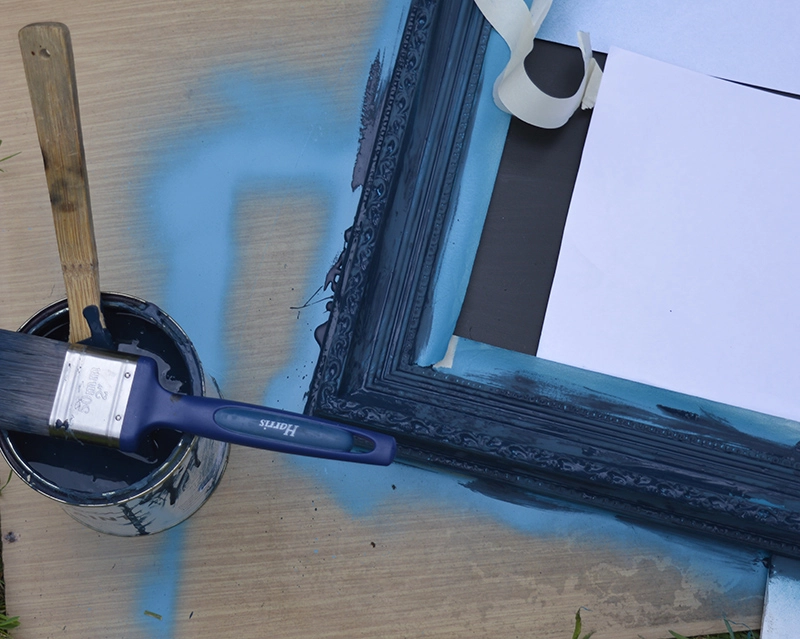 Once the chalkboard frame is dry, lay your photos on to the frame to work out how many you want to display. Then using a ruler mark them out evenly. Stick a velcro dot on the chalkboard frame for every photograph you want to display. Stick a velcro dot on the back of each photo.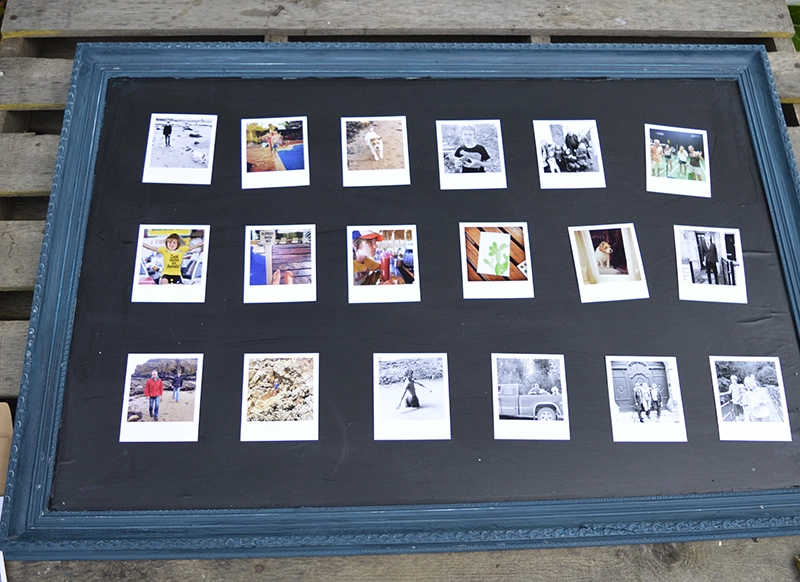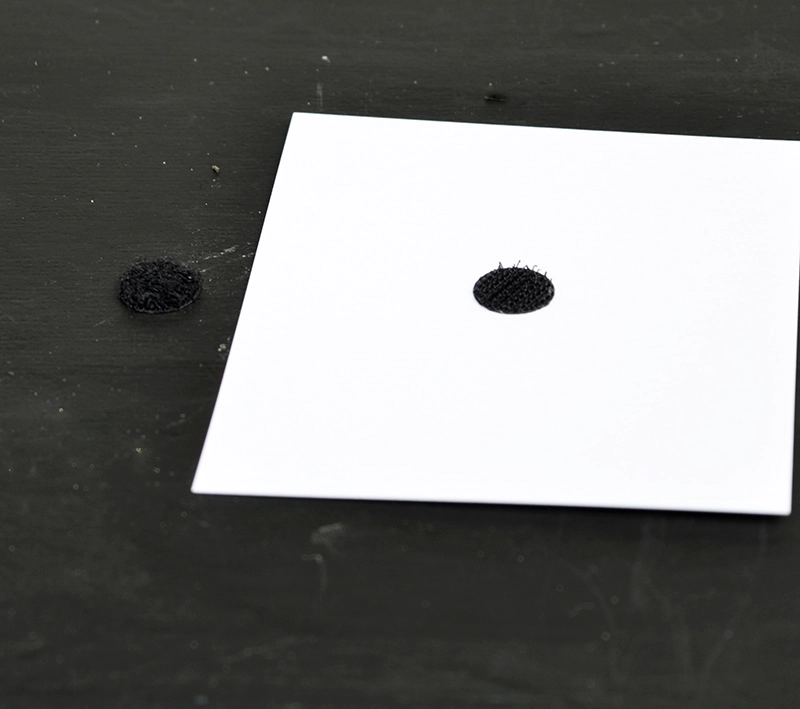 Finally place your photo's on the frame. You'll love the fact that you can move them around so easily and can write tags on the chalkboard.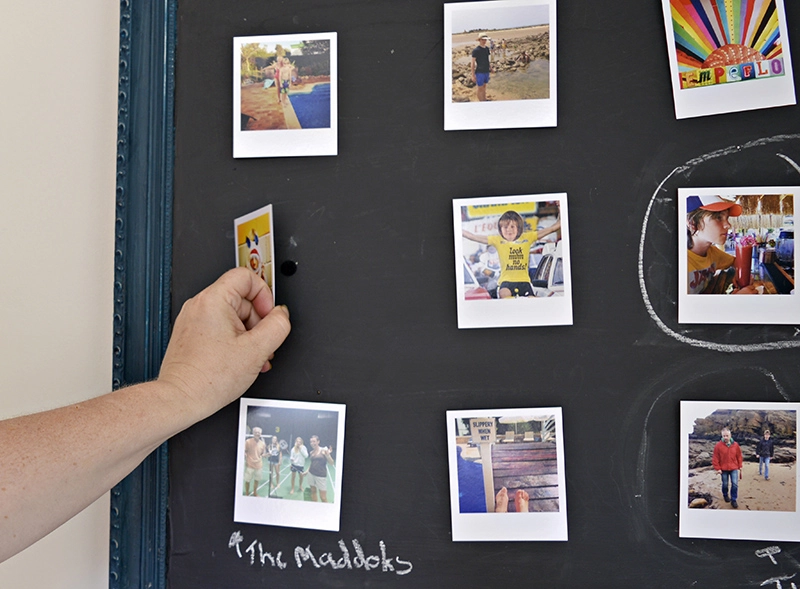 I'm off on my holidays soon so will be printing some of the photos I take on my phone to update my chalkboard frame. The board has definately added a bit of fun to my hallway, my teenage boys love moving the photos around and writing their own hashtags on the board.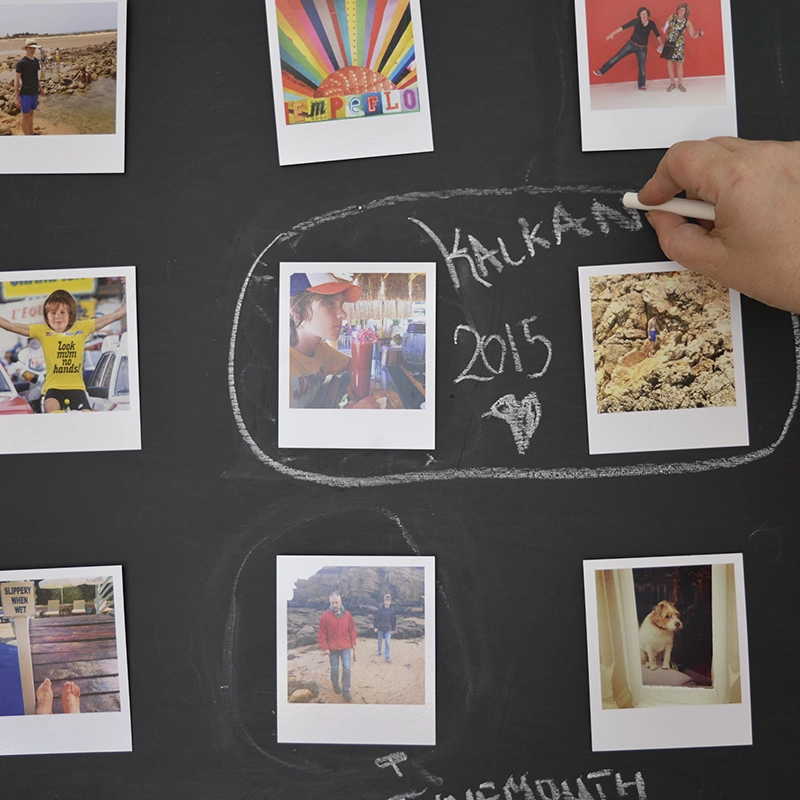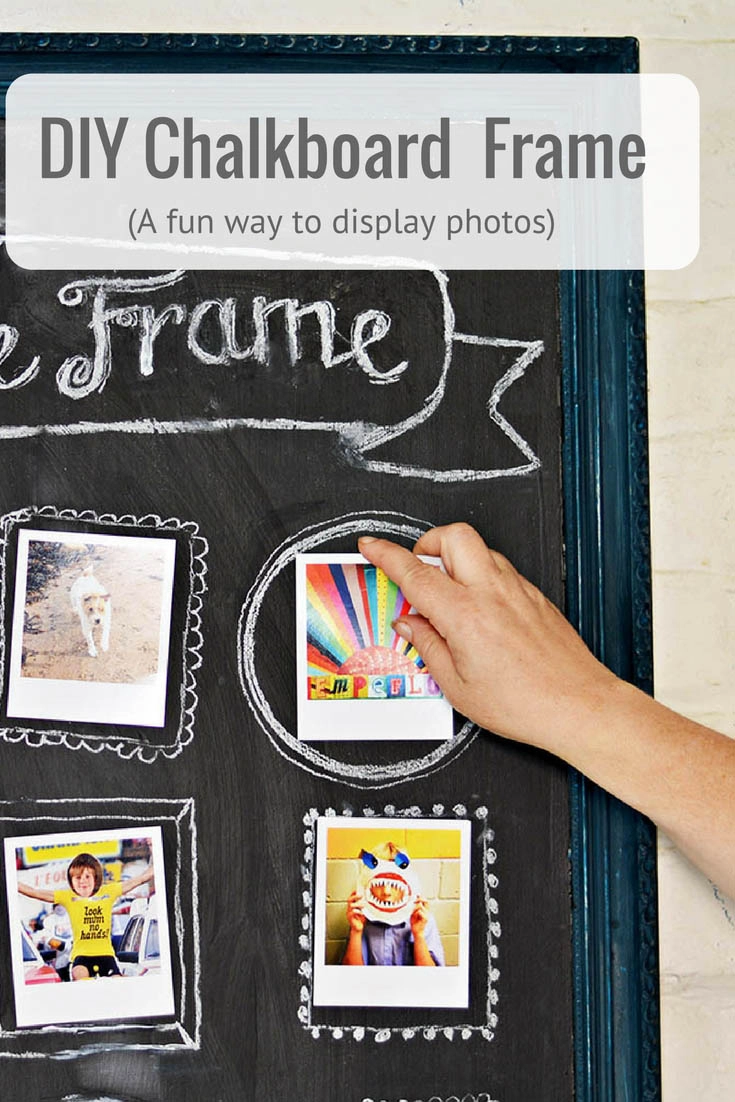 You can also make upcycled picture frames with shoebox lids. Check out all my ucpcycled DIY picture frame ideas here.