DIY Jewelry – Make an Upcycled Denim and Silk Scarf Necklace
I have a confession to make this DIY jewelry craft idea is not my own, but one that my mum showed me. My mum loves to wear bright and colourful clothes, she doesn't do anything neutral. She has loads of old silky scarves which she upcycles into gorgeous colourful necklaces to match her outfits.
I did, however, add my own touch to this craft by adding upcycled denim beads. I'm constantly trying to find new uses for old denim. Denim upcycling is one of my crafting obsessions, you should check out my upcycled denim Pinterest board.
The necklaces make a lovely gift and can be personalized by using an old scarf or blouse of the recipient. Personally I more of a bracelet person than necklaces, so I use the same technique to make bright colorful bracelets to match my outfits.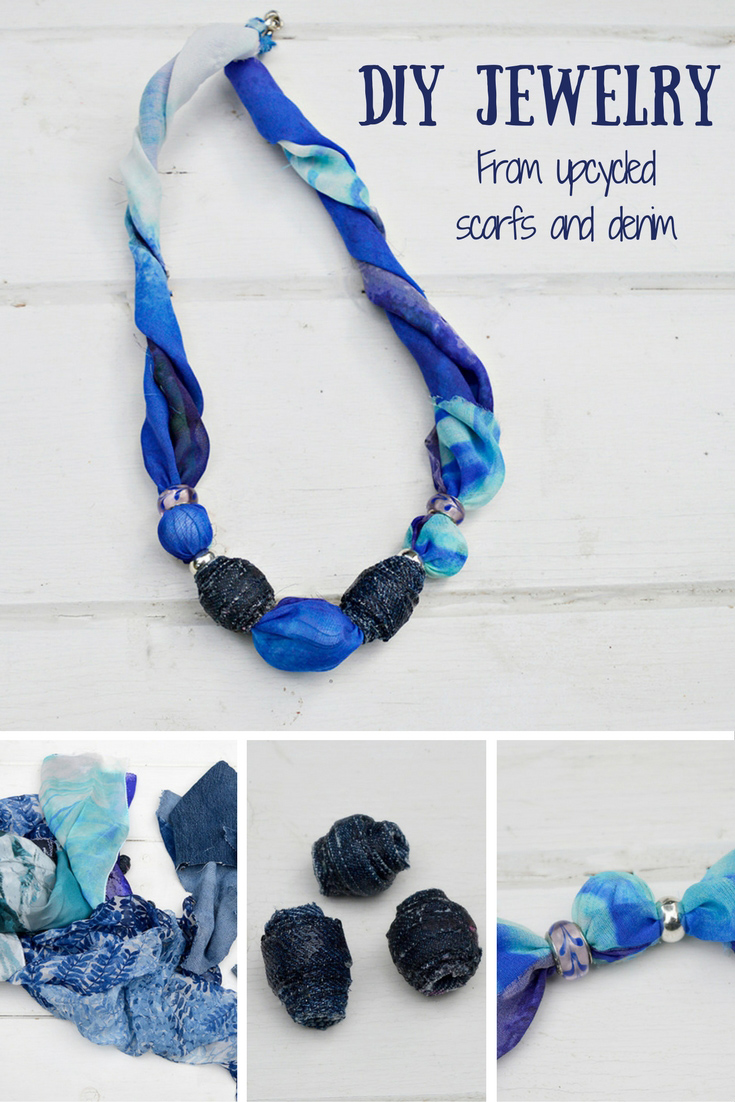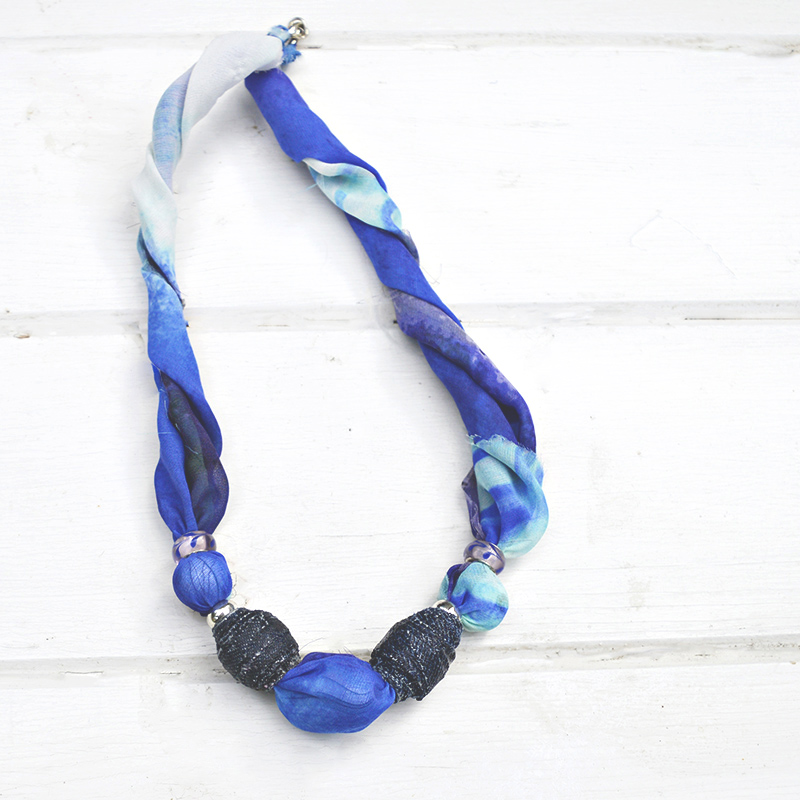 This post contains Amazon affiliate links for your convenience. Click here to see my disclosure policy.
What you need for your DIY Jewelry
Old silk scarf or blouse. You can use synthetic material as long as it has a fine and smooth silky feel to it.
Old beads, wooden ones, or ones from old necklaces. Don't worry about how they look some of the less pretty ones will be hidden by the scarf.
Embroidery thread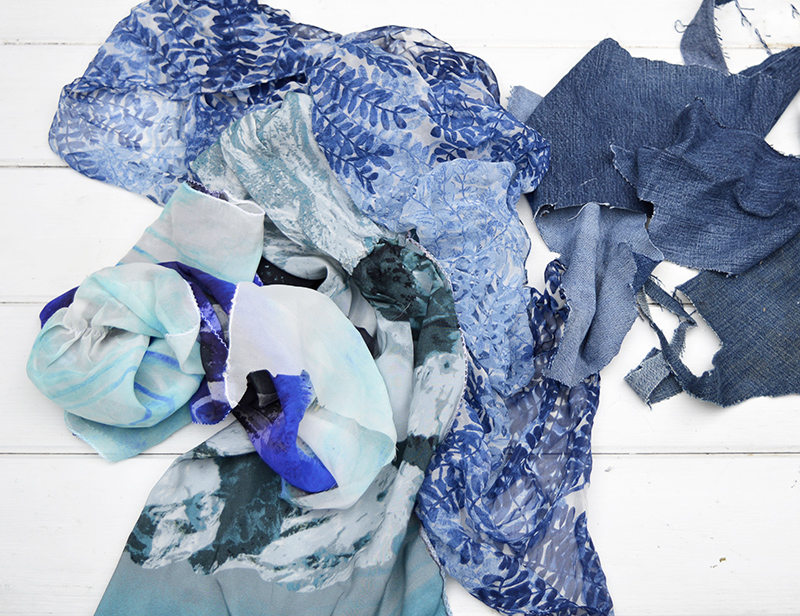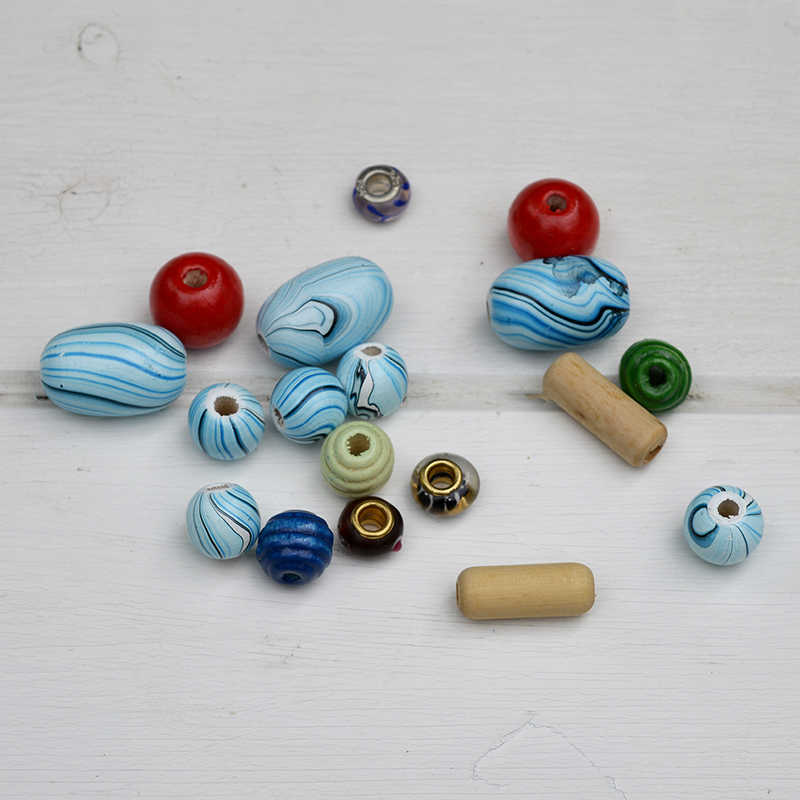 If making the denim beads you will also need the following.
Scraps of denim from old jeans
Cardboard
Pencil
How to Make Denim Beads
The way you make denim beads is pretty much the same way as you make paper beads.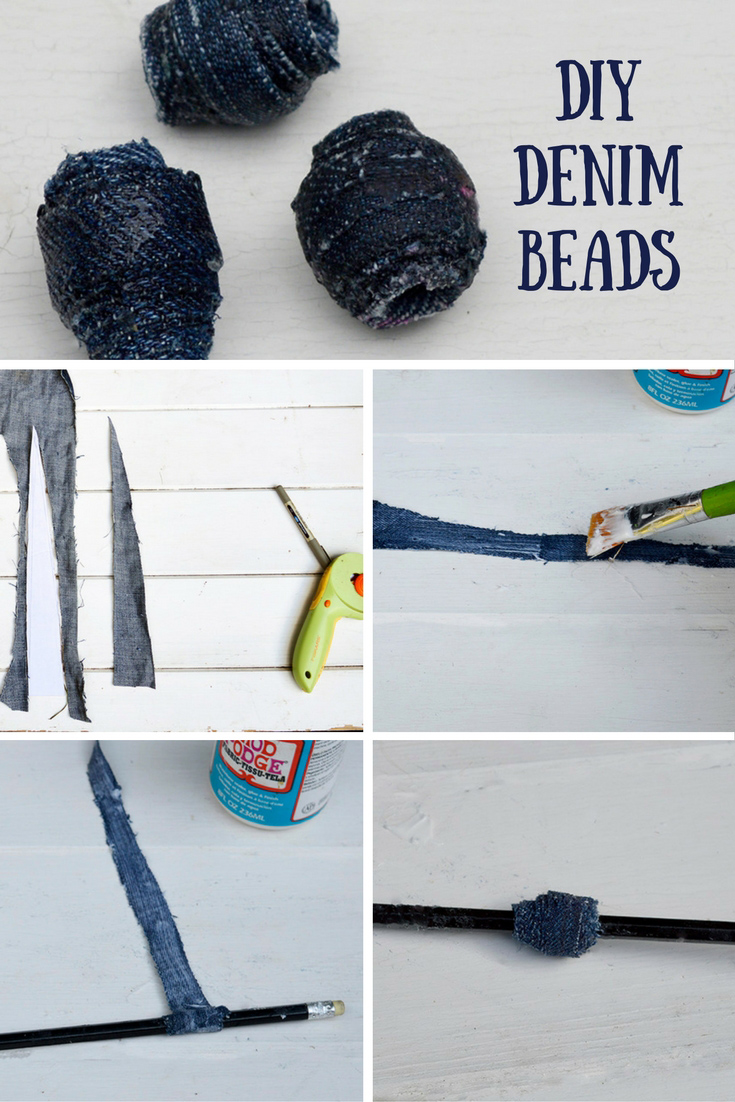 Firstly you need to make a cardboard template to ensure that your denim strips are all the same shape and colour. This cardboard template is a very tall triangle. When making this template, you need to bear in mind that the width of the base of the triangle will be the width of your beads and the length will determine how fat they are.
Secondly with your template cut out strips of denim using a rotary cutter and board.
Paste the right side of the strip of denim with fabric mod podge.
Starting with the fat end of your denim strip, wind it around a pencil. Make sure the glue side is facing up. The denim fabric should stick to itself as you wind around the pencil. When finished remove the pencil before the glue dries or you might find it gets stuck.
I used a pencil as I needed a big hole for my beads, to thread fabric through. If making denim beads for other crafts or DIY jewelry and you want a smaller hole then use a wooden skewer instead.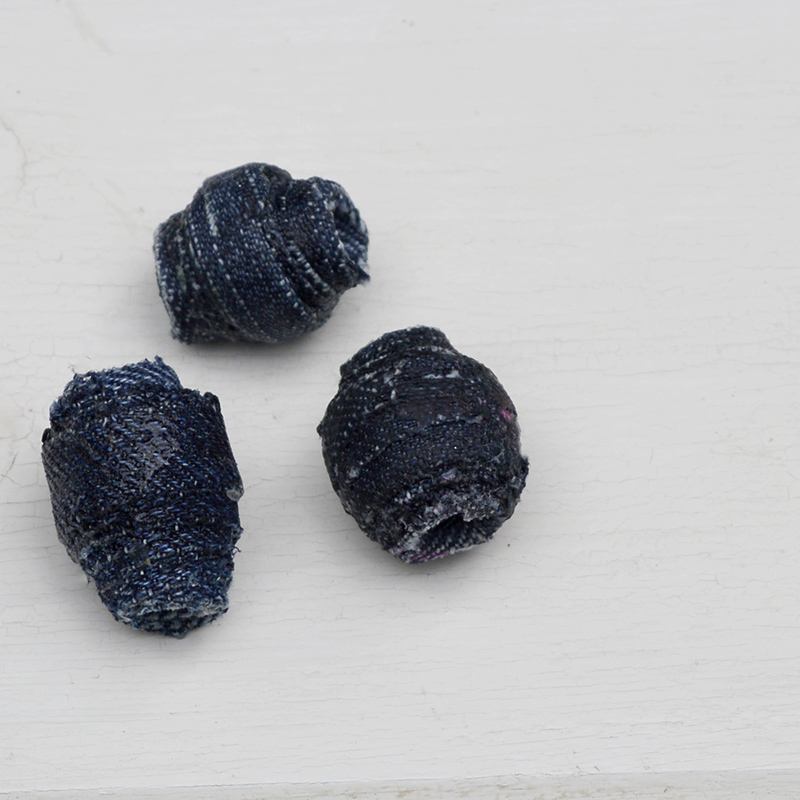 DIY Jewelry: how to make your upcycled necklace/bracelet
Decide whether you're making a necklace or a bracelet and cut your fabric to the appropriate length. You want a strip approximately 3-4 inches wide. It's best to overestimate the length of fabric you need, as you can always shorten it later.
Thread some embroidery thread onto the darning needle and thread this through the end of your fabric strip. This will make it much easier to thread the fabric through the beads as you can use the needle to pull it through.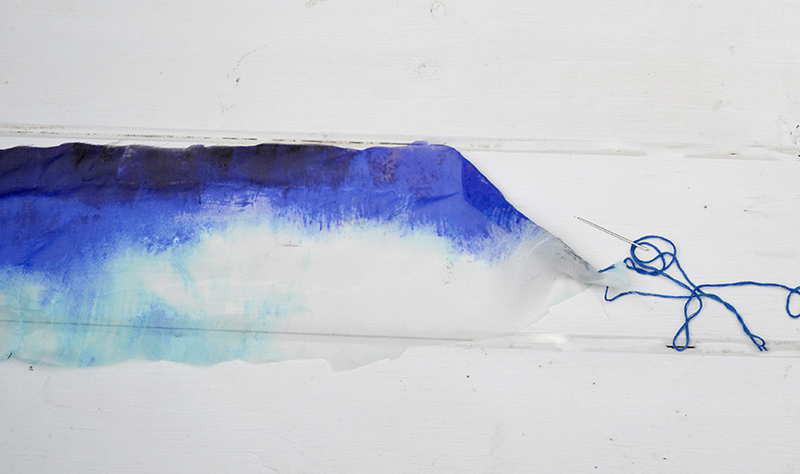 Think about how you want your DIY jewelry design, I threaded the fabric through one bead and then wrapped the fabric around the next bead. The fabric than when through the following bead, twisting and pulling the fabric tight as I went.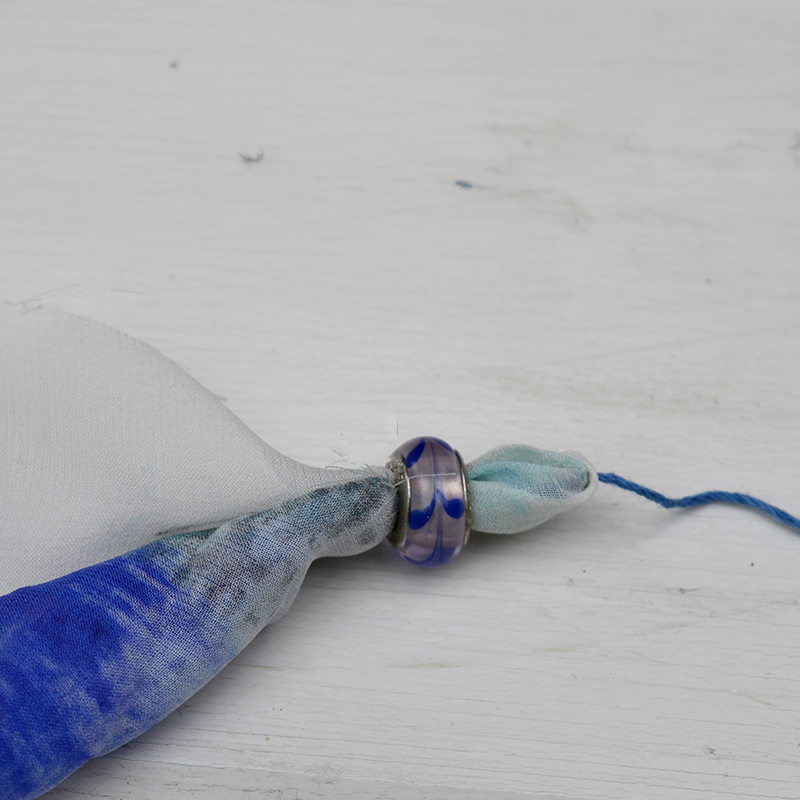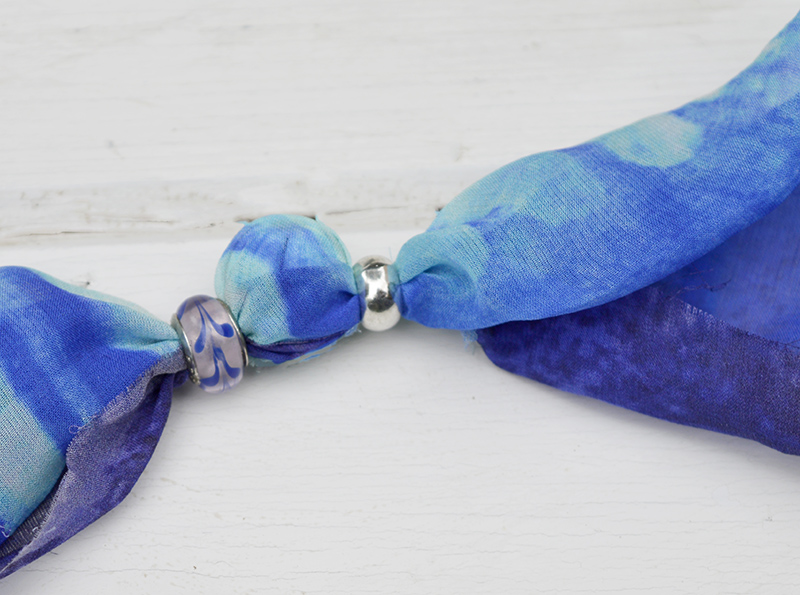 Wrapping the silk fabric round beads is what makes this DIY jewelry unique, and shows off your scarf design. I used a mixture of wooden beads and denim beads, I had the denim beads on show and wrapped the wooden beads in the silk fabric.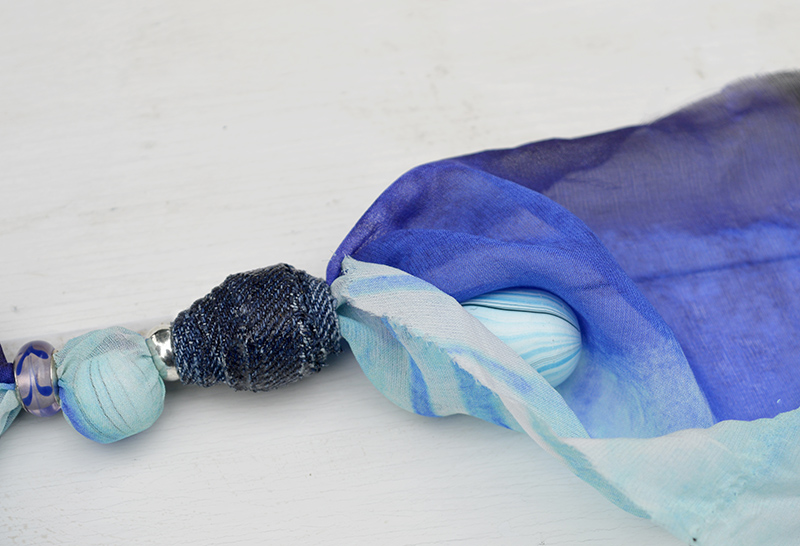 To finish off your necklace/bracelet wrap embroidery thread around both ends of the silk fabric and sew on the jewelry clasp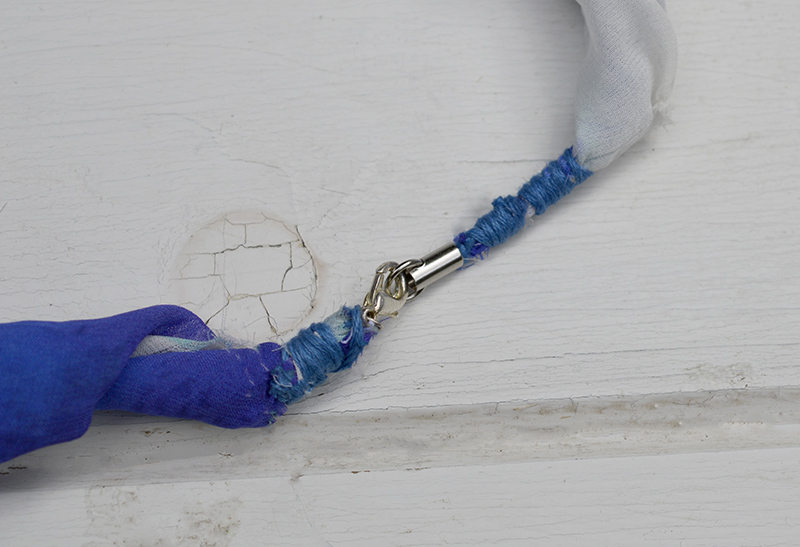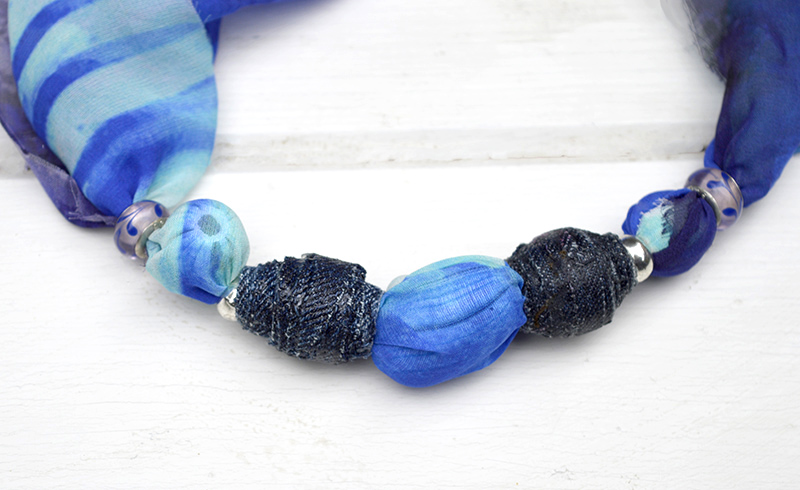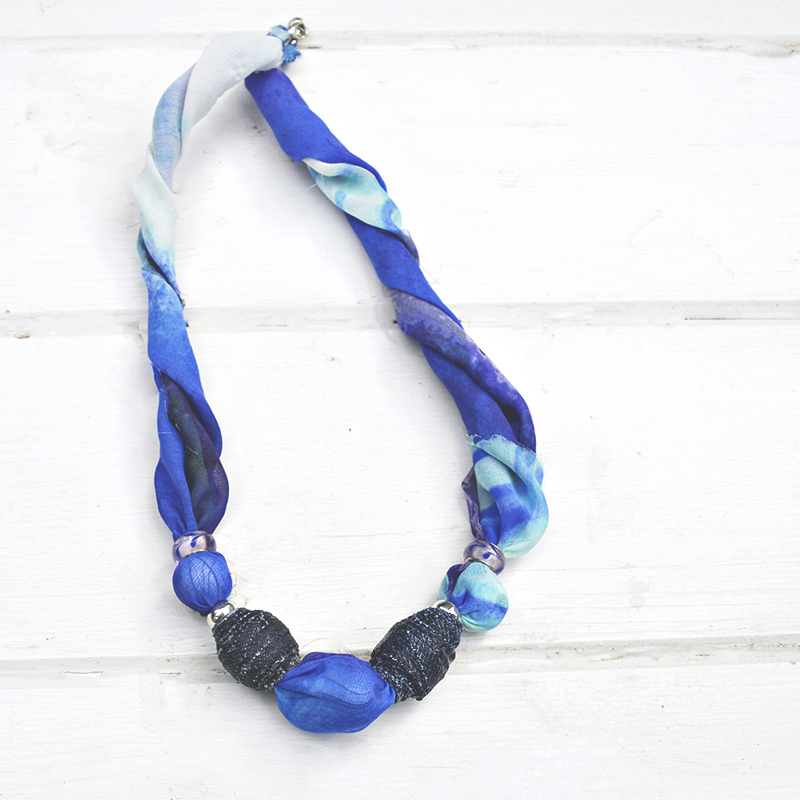 The denim beads are of course optional, you may want to make your DIY Jewelry with beads you already have rather than making some more. It really is simple, and a great way to upcycle favourite old silk shirts and scarves and give them a second lease of life.
If you liked this craft then you will probably like my homemade scallop trinket dishes.
For another handmade necklace check out this world map necklace.