Learn how to create an upcycled DIY Scarf Necklace with this easy tutorial. Add a unique, personal touch to your accessory collection!
Welcome to a fun and easy guide on crafting an upcycled beaded necklace using nothing more than a scarf. This ingenious DIY jewellery idea is not originally mine – it's my mum's brilliant brainchild. Always the colour enthusiast, she loves adorning herself in vibrant hues, with no neutrality in sight. And her silky scarves are reborn once they've served their purpose as these delightful, matching necklaces.
Of course, I couldn't resist putting my spin on this craft – and that's where upcycled denim beads come in. As an avid crafter, I always search for fresh ways to repurpose old denim, making this project a perfect blend of my love for upcycling and jewellery.
This scarf necklace isn't just beautiful – it's a thoughtful gift, especially when personalized with a recipient's old scarf or blouse. And while I lean more towards bracelets, the same technique works perfectly well for crafting vibrant bracelets to complement my outfits. So why not give it a go?
I also have a tutorial for a denim bracelet that you might want to check out.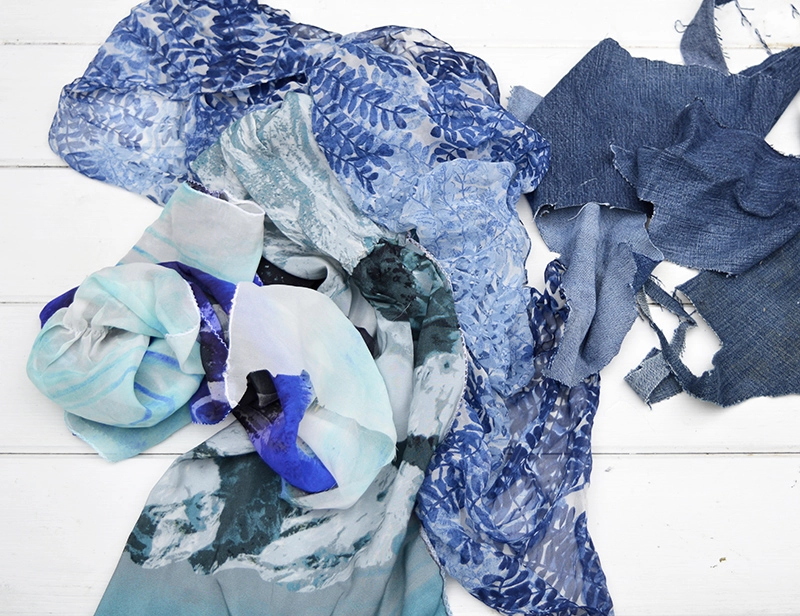 We're a participant in the Amazon Services LLC Associates Program, an affiliate advertising program designed to provide a means for us to earn fees by linking to Amazon.com and affiliated sites. As an Amazon Associate, I earn from qualifying purchases.
How To Make A Necklace With Scarf and Denim Beads
What you need for upcycled DIY Jewelry
Old silk scarf or blouse. You can use synthetic material with a fine and smooth silky feel.
Old beads, wooden ones, or ones from old necklaces. Don't worry about how they look; some of the less pretty ones will be hidden by the scarf.
Embroidery thread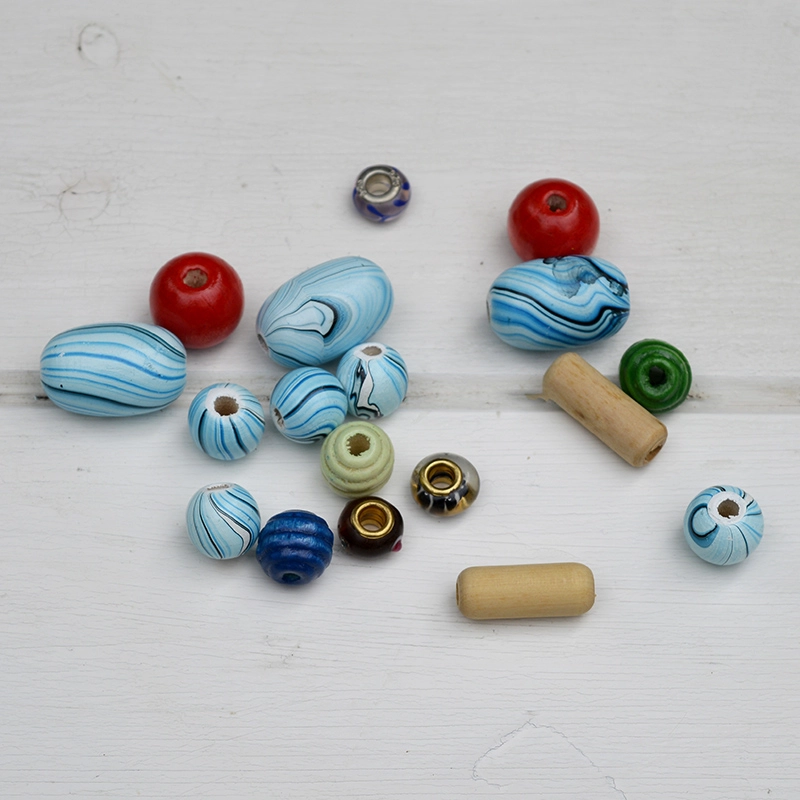 If making the denim beads, you will also need the following.
Scraps of denim from old jeans
Cardboard
Pencil
How to Make Denim Beads
You make denim beads pretty much the same as you make paper beads.
Step 1: Make a cardboard template so that the denim beads are the same size and shape. On cardboard, draw a very tall thin triangle.
When making this template, remember that the triangle's base will be the width of your beads, and the length will determine how fat they are. I drew a triangle template about 2 cm wide at the bottom and 30 cm long.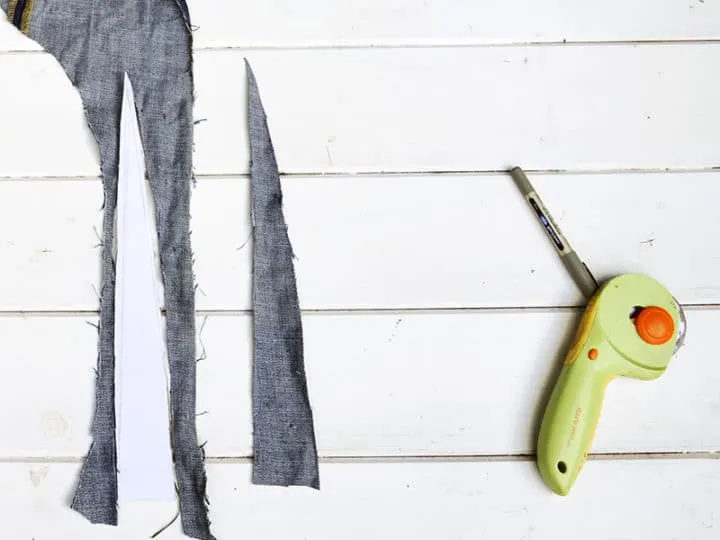 Step 2: Next, with the triangle template, cut out strips of denim using a rotary cutter and board. Then paste the right side of the denim with fabric Mod Podge.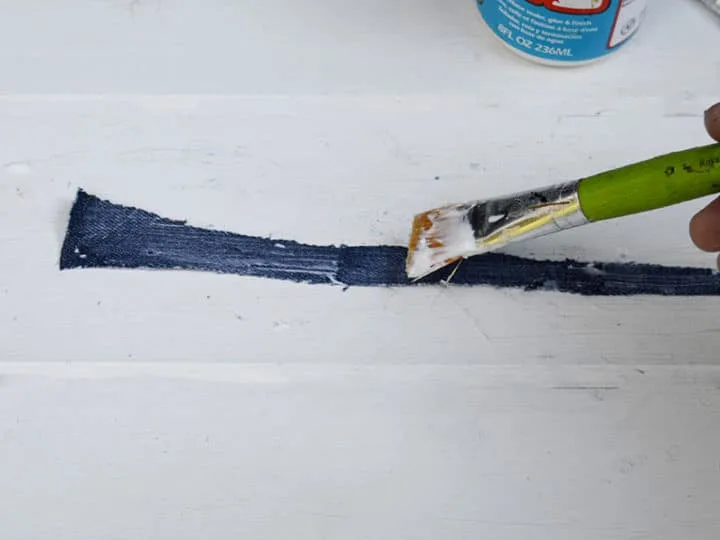 Step 3: Starting with the fat end of your denim strip, wind it around a pencil. Make sure the glue side is facing up. The denim fabric should stick to itself as you wind around the pencil. When finished, remove the pencil before the glue dries, or you might find it gets stuck.
I used a pencil as I needed a big hole for my beads to thread fabric through. If you make denim beads for other crafts or DIY jewellery and want a smaller hole, use a wooden skewer instead. But when using the beads to make a necklace with a scarf, you need large holes.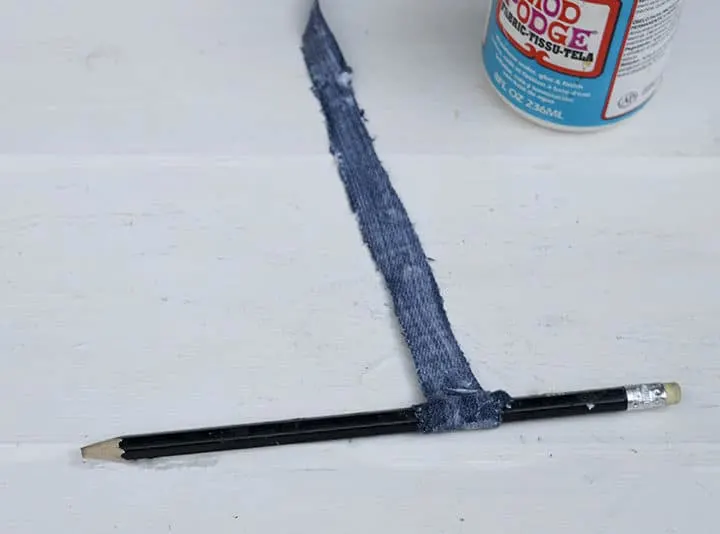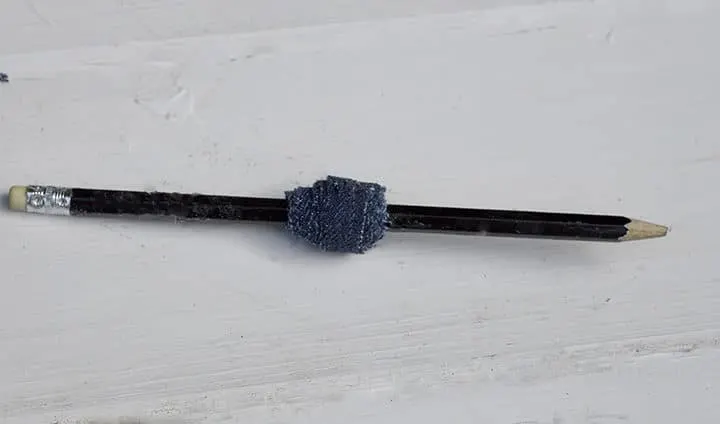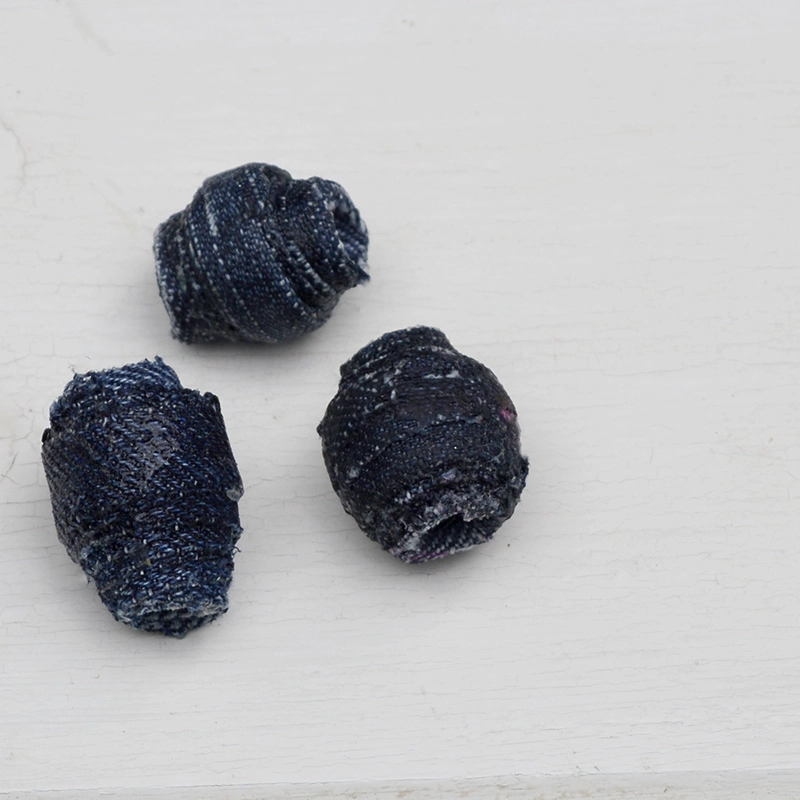 How To Make The Beaded Scarf Necklace
Step 1: Decide the size of the beaded scarf necklace and cut the scarf to that length. The strip of the scarf will only be about 8-10 cm (3-4 inches) wide. It is best to overestimate the length of scarf fabric needed. The necklace can always be shortened at the end.
Step 2: Next, thread some embroidery onto the darning needle and thread this through the end of your fabric strip. This will make threading the fabric through the beads much easier, as you can use the needle to pull it through.
Step 3: Then, think about how you want the scarf necklace to look and decide what order to thread your beads. I threaded the fabric through one bead and then wrapped the fabric around the next bead.
The fabric then went through the next bead. Twist and pull the scarf fabric tight as you add each additional bead.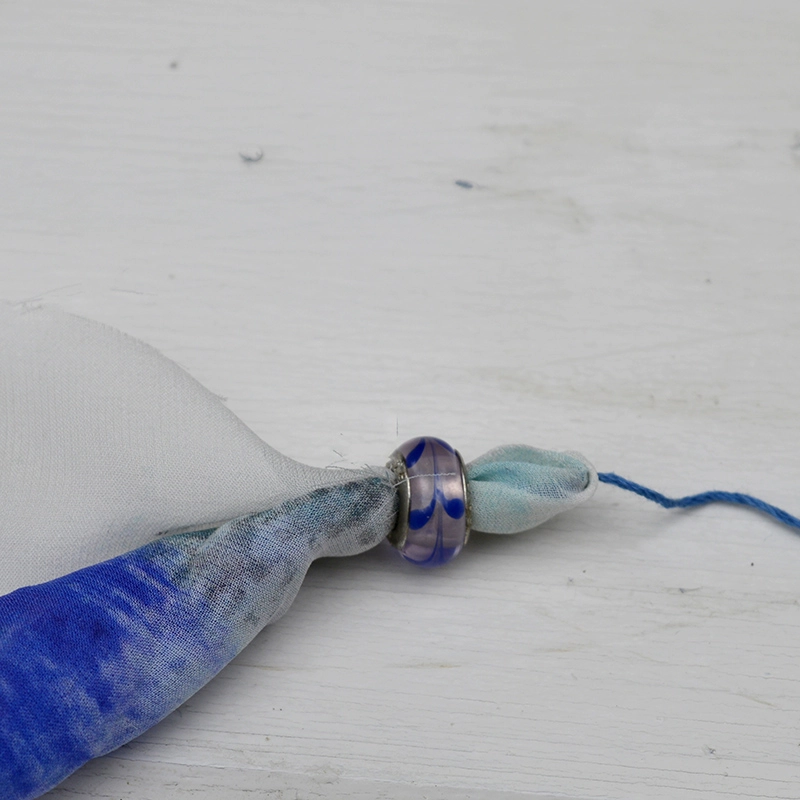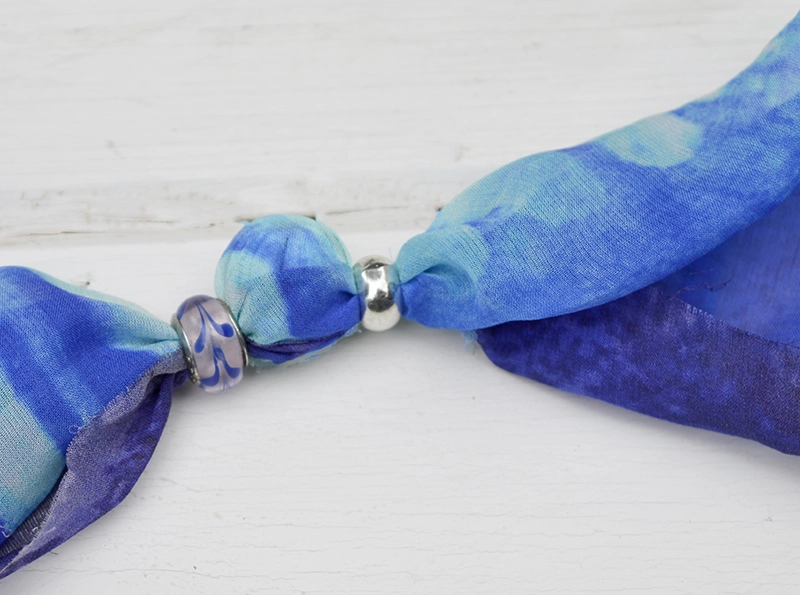 Step 4: Wrapping the silk fabric with round beads makes this scarf necklace unique. It shows off your scarf design.
I used a mixture of wooden beads and denim beads. I had the denim beads on show, and wrapped the wooden beads in the silk fabric.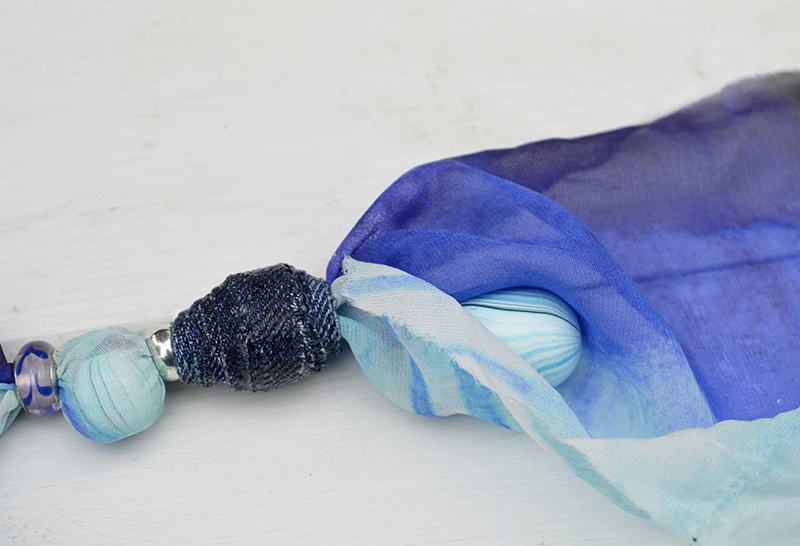 Step 5: To finish off your necklace/bracelet, wrap embroidery thread around both ends of the silk fabric and sew on the jewellery clasp.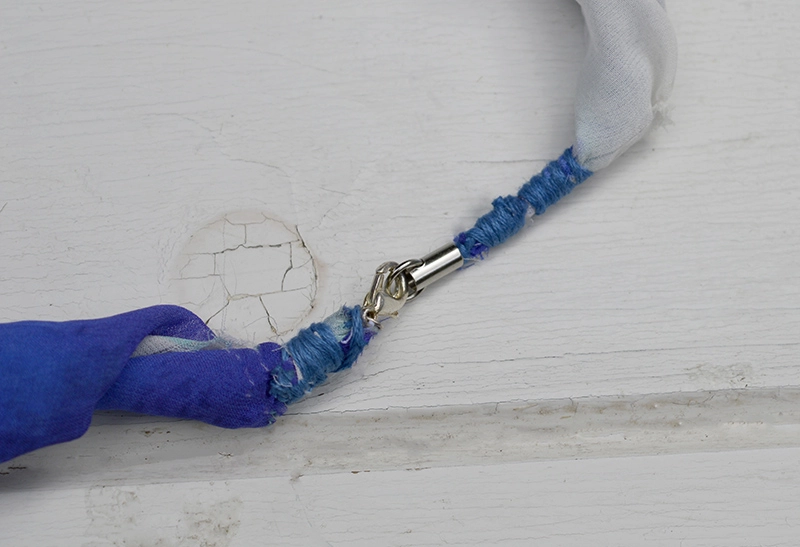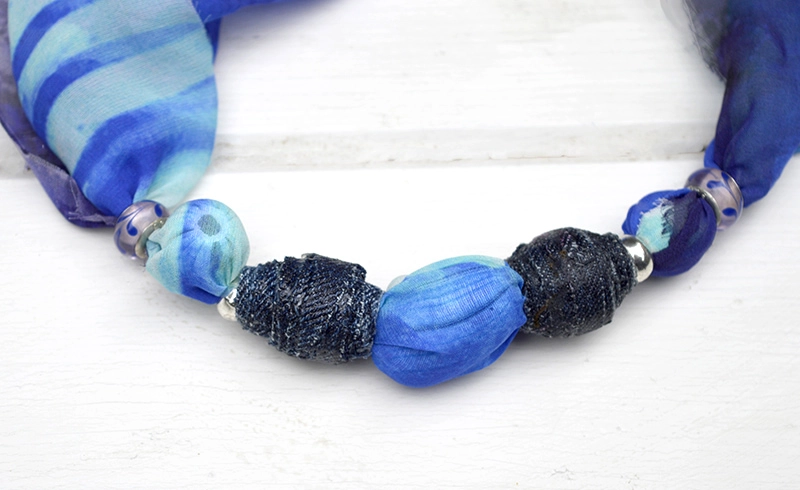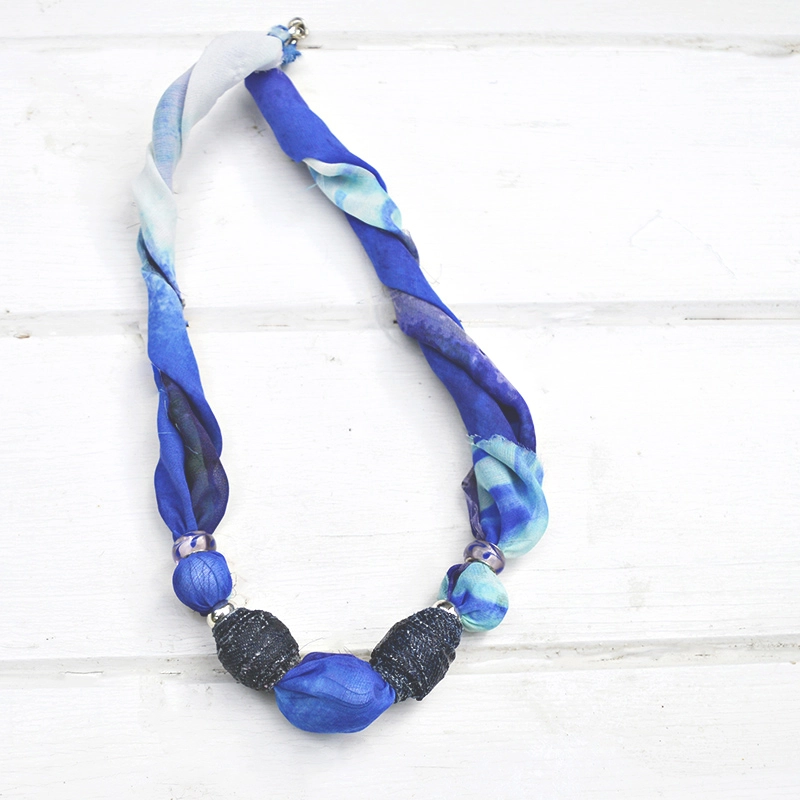 The denim beads are optional; you may want to make your necklace with a scarf using beads you already have rather than making some more.
It is simple and a great way to upcycle your favourite old silk shirts and scarves and give them a second lease of life.
If you liked this craft, you will probably like my homemade scallop trinket dishes and these other cool scrap fabric crafts. Plus, other handmade denim jewellery, such as earrings and bracelets.
For another handmade necklace, check out this world map necklace.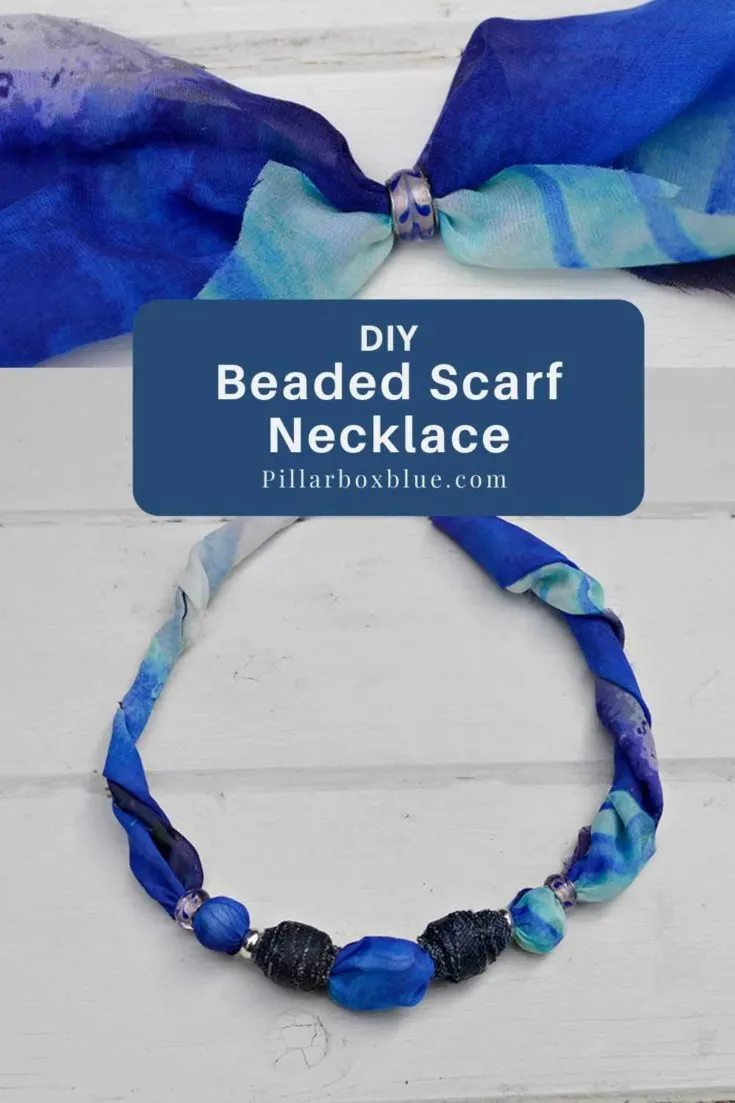 Yield: Denim Beaded Scarf Necklace
How To Make A Bead Scarf Necklace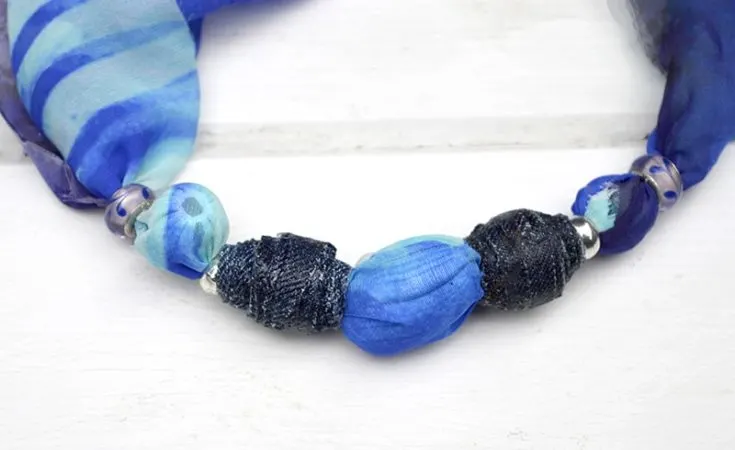 Use old silk scarfs and beads to make a gorgeous beaded scarf necklace. You can even make your own beads out of denim to use for this gorgeous piece of unique DIY jewelry.
Materials
Silk or nylon scarf material
Scraps of denim
Wooden beads
Fabric Mod Podge
Cardboard
Jewelry Clasp
Tools
Rotary cutter and mat
Pencil
Darning needle and embroidery thread
Instructions
First, make some denim beads for the beaded silk scarf necklace. Make a template out of cardboard of a long triangle approximately 2cm wide and 30 cm long.
Use this template and a rotary cutter to cut out long triangular denim strips.
Paste the front of the denim strips with the Fabric Mod Podge
Then wrap the denim around a pencil to make a bead with a large hole.
Next, remove the denim bead from the pencil before the glue dries and it sticks to it.
Then cut the silk scarf into a strip about 10cm wide and 50cm long.
Attach embroidery thread to one end of the silk scarf and thread it through a denim bead. Move the bead until it reaches the center of the scarf.
Then wrap the scarf around a wooden bead before threading through another denim bead. Twist and pull the fabric tight as you go.
Carry on until you have enough beads on your scarf necklace.
Finish off by stitching the jewelry clasps to the ends of the scarf material.