Funky Colourful DIY "MIND THE GAP" Draught Excluder
The price I pay for living in an old victorian house is the draughtiness, the doors and windows are so old they don't quite fit as snuggly as they should. To keep the cold at bay I make draught excluders. I have made a funky colourful draught excluder stitched on one side with some playful typography "Mind The Gap" and backed in denim.

I love using puns and words with personal significance with my DIY crafts. I made a "Sit Down" cushion, not only is Sit Down by James our wedding song but it's an apt phrase for a cushion. "Mind the Gap" is an audible and visual warning you will hear all the time on the London Underground and I thought this would be great for a draught excluder. Also it would compliment the Tube Map chair I made last summer.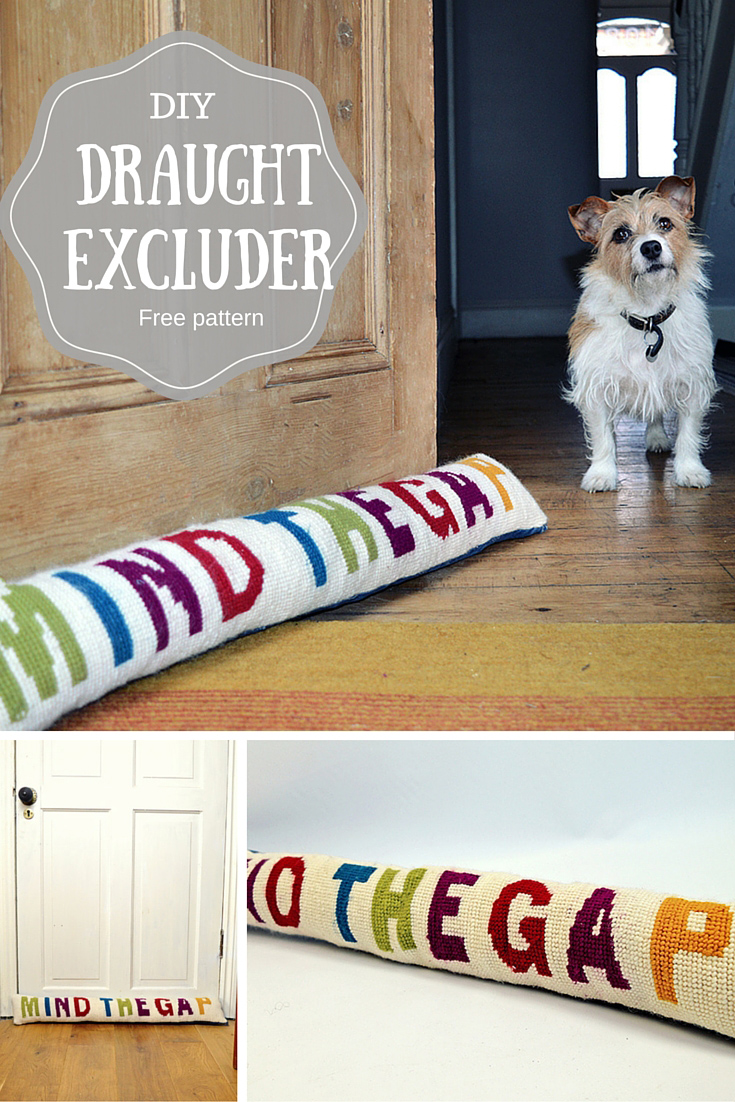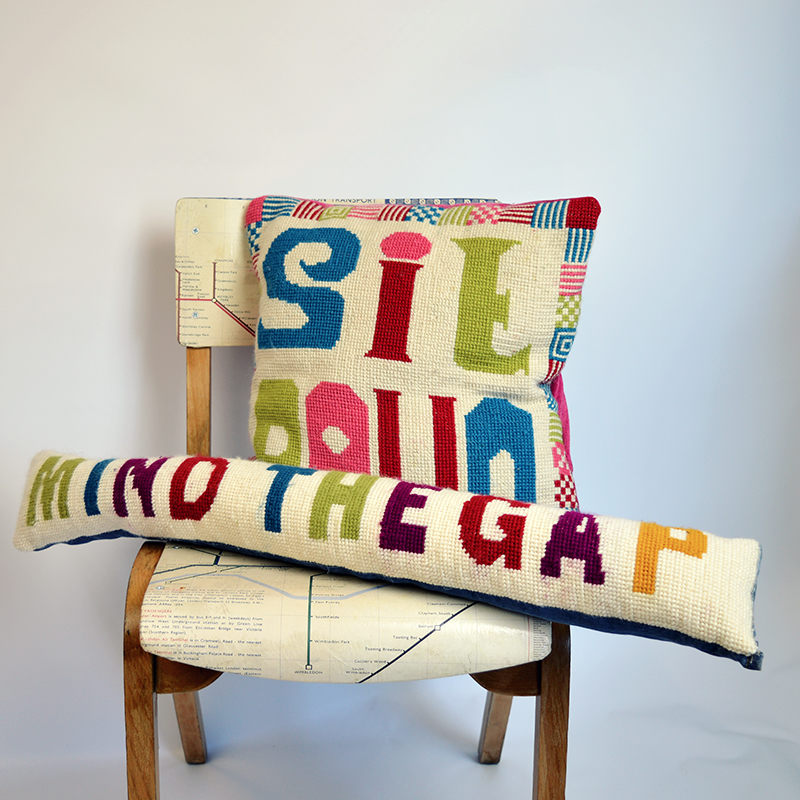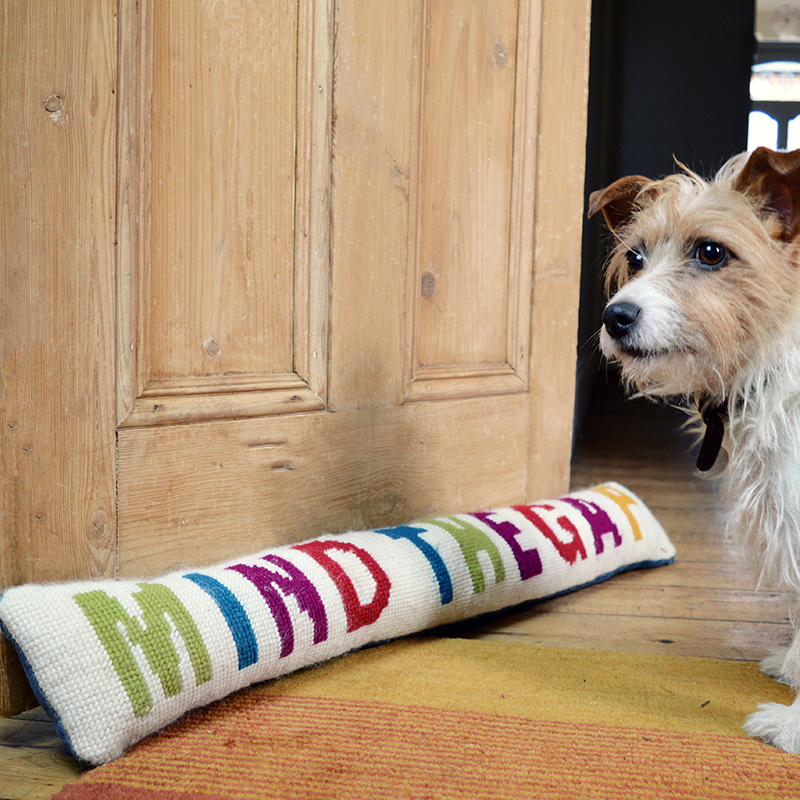 Now you maybe thinking that cross stitch takes too long and is too much of a faff for a draught excluder, however I used supersized and half stitch cross stitch for this project. Not only did this make it super easy, it really speeded things up.

"Mind the Gap" Cross stitched draught excluder
What you need
Downloaded "MIND THE GAP" cross stitch pattern :MIND THE GAP STITCH PATTERN
Cross stitch canvas 7-8 hpi (holes per inch) 80cm x 15cm approx. I used as Zwiegart Aida canvas.
DK (Worsted) weight wool in desired colours. I used approximately a 100g of wool in total for this project.
Tapestry needle, scissors & pen.

Print out your pattern and transfer or copy it to your canvas. Doing this saves a lot of time as you don't have to keep counting stitches to work out where you are. Using your DK wool stitch the pattern with a simple half stitch, make sure that all your stitches go the same way.
How to turn your cross stitch into a draught excluder
What you need:
Leg of an adult jean or a piece of fabric 80cm by 15cm
Pins, needle thread, sewing machine (can be done by hand if you don't have one
Old pillow filling or fiber stuffing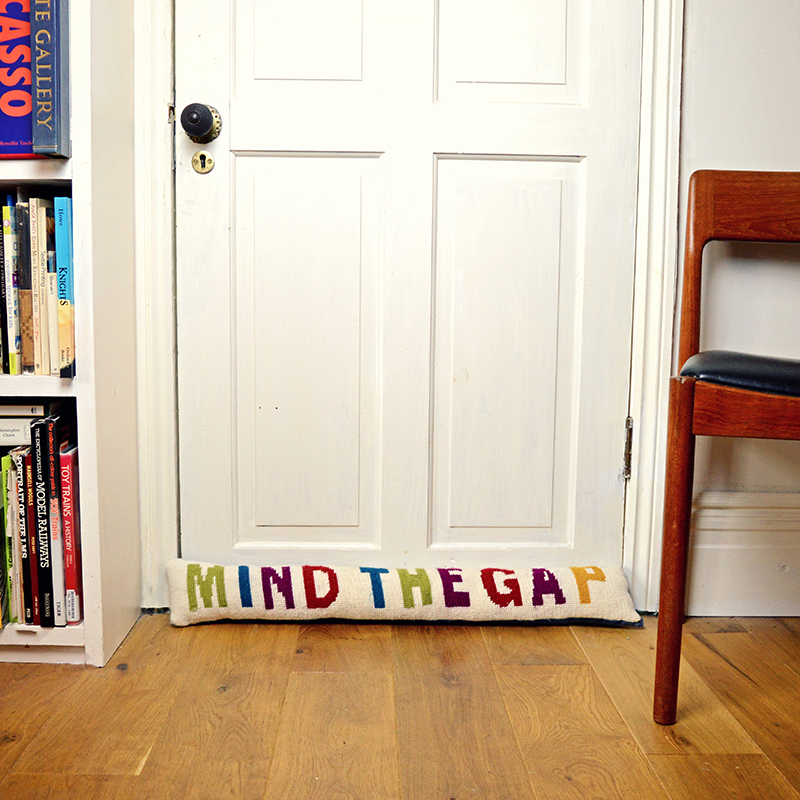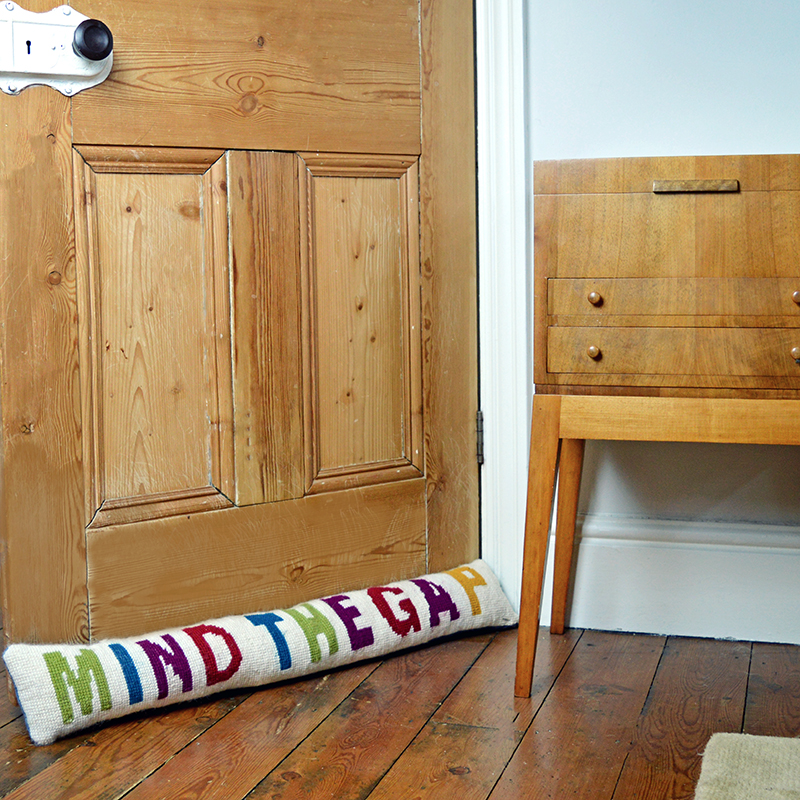 Not only are the doors draughty in my house, but I still have the original sash windows which though lovely don't stop the wind. I therefore make smaller draught excluders for these too. These I fill with rice, or lentils to provide a bit of weight which also stops the windows rattling in the wind.


This post contains amazon affiliate links for your convenience. Click here to see my disclosure policy.