This is a tutorial on how to make a washi tape holder. I say washi tape, but the same craft storage design can be used for ribbon or twine.
Most of my craft supplies are stored in one fancy craft cupboard, I upcycled myself. It has glass doors at the front. I thought it would be nice if I made a holder for all my fancy washi tape. I wanted a design that showed off all the tape patterns.
This DIY washi tape holder was very easy to make. It cost almost nothing, as I used repurposed materials. I love to repurpose and upcycle whenever I can, especially when finding storage solutions for my craft supplies.
What Is Washi Tape
You might be wondering what exactly washi tape is. You might have already seen the tape in stationary and craft stores, not realising, it was called washi tape.
Washi tape originates from Japan. It's a decorative adhesive tape made with traditional Japanese Washi paper.
Washi paper is made by hand, using traditional methods and using local shrubs. It is used in many traditional Japanese arts. The tape is a pretty green product, as it's made of highly renewable resources and is biodegradable.
However, I have to admit, it's not just the green credentials that attract me to washi tape. But it's the range of colours and patterns that it comes in. In fact, I have a bit of a washi tape shopping habit. Every time I go into a fancy stationery shop and I see some cool washi tape, I can't help buying a roll.
As well as the huge range of designs the tape comes in, it also comes in a range of widths. I use the tape for crafting, it's great to decorate with.
I make handmade cards and gift tags with washi tape. I've also used it to decorate the back of a wooden kitchen chair. I've even seen many IKEA Bekvam stools transformed with cool colourful patterned washi tape.
We're a participant in the Amazon Services LLC Associates Program, an affiliate advertising program designed to provide a means for us to earn fees by linking to Amazon.com and affiliated sites. As an Amazon Associate, I earn from qualifying purchases.
What you need
An old broom handle approximately 120cm in length. Any old wooden pole will do, you could use an old curtain pole or parasol stand as long as the diameter of the pole is small enough to fit a roll of washi tape. If you don't happen to have an old broom lying around, it is easy to buy wooden rods from your local DIY store.
A piece of wood, could be from a pallet or scrap skirting. The piece I used was 10cm x 30cm x 1cm.
Drill
5 wood screws 2cm long
Tape and newspaper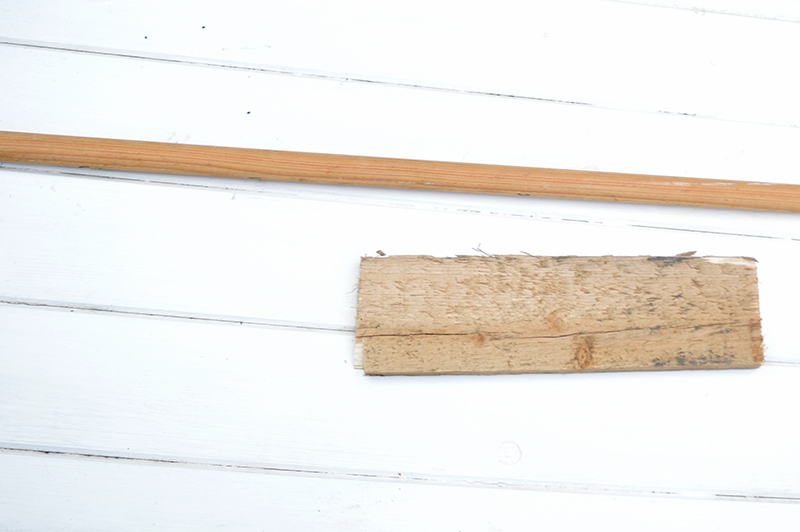 How To Make A DIY Washi Tape Holder
Step 1: First, cut the broom handle (wooden pole) into five lengths. Three longer lengths are approximately 25cm in length. The other 2 lengths should be slightly shorter at 20cm.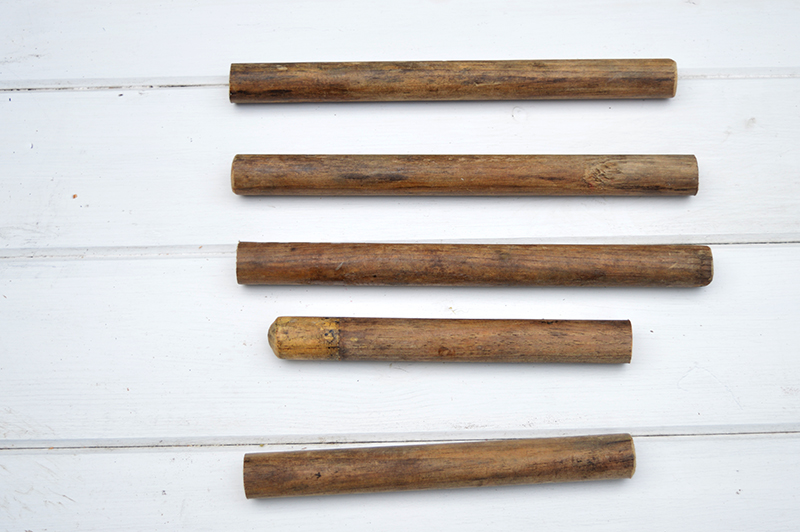 Step 2: Next, sand and smooth off the base piece of wood. Then drill, five holes into it, 3 holes at the back and 2 at the front, evenly spaced. Then place the wood screws through the base, so that they stick up through the drilled holes (see picture below)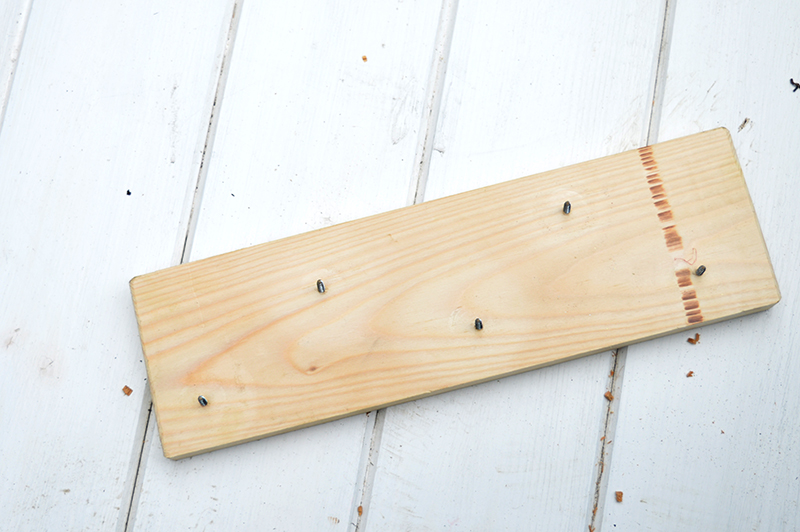 Step3: Next, drill a small hole into the base of each wooden pole length. This is so that you can screw the poles into the wooden base.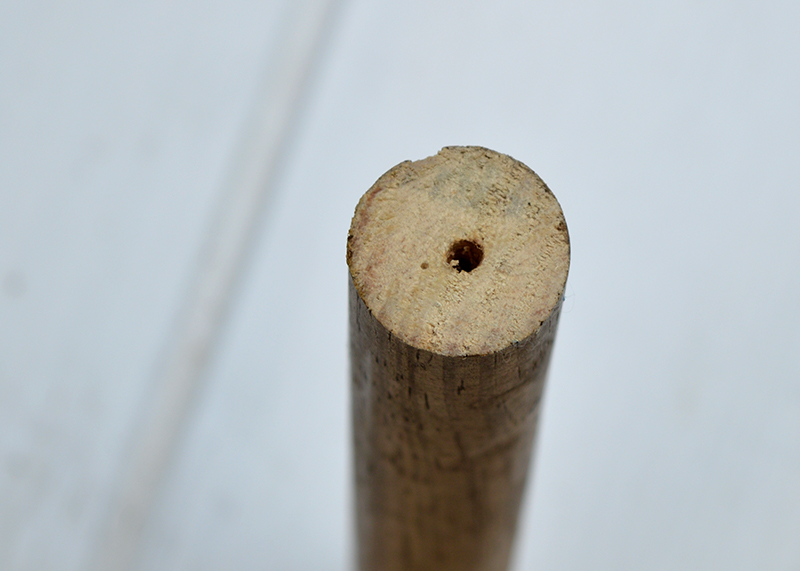 Step 4: Before putting the DIY washi tape holder together, I decorated the wood. First, I stained the base and poles with a dark wood stain. Then, I painted the top tips of the poles with copper spray paint. I also painted the edges of the base with copper paint.
This is so it would match the cool denim and copper craft caddy I had already made for my craft cupboard out of old tin cans.
When all the paint had dried, I simply screwed the wooden poles into the base.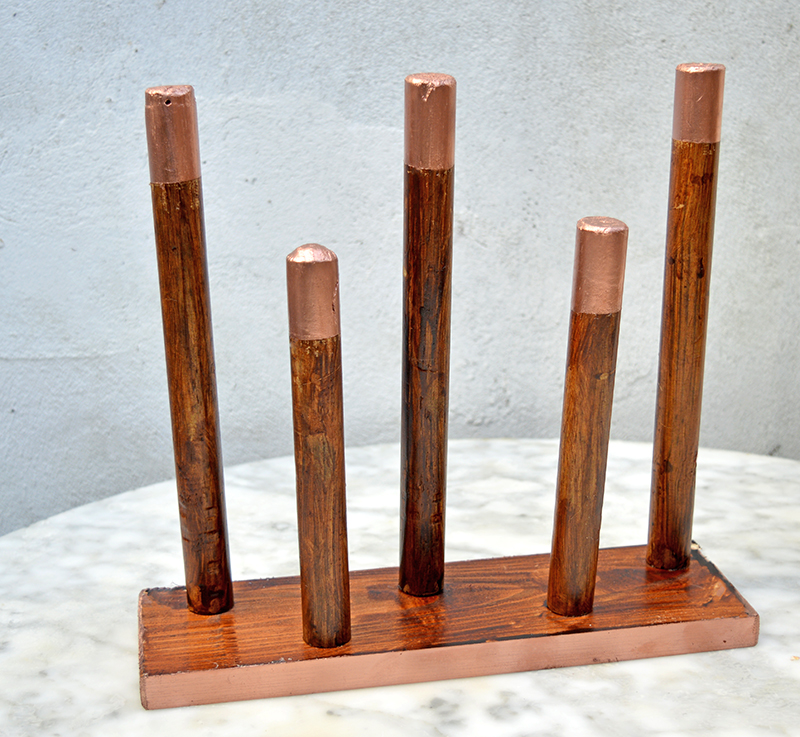 All that is left to do is to add the washi tape to the poles. I love storing washi tape this way as it makes it so easy to see all the patterns and designs at once.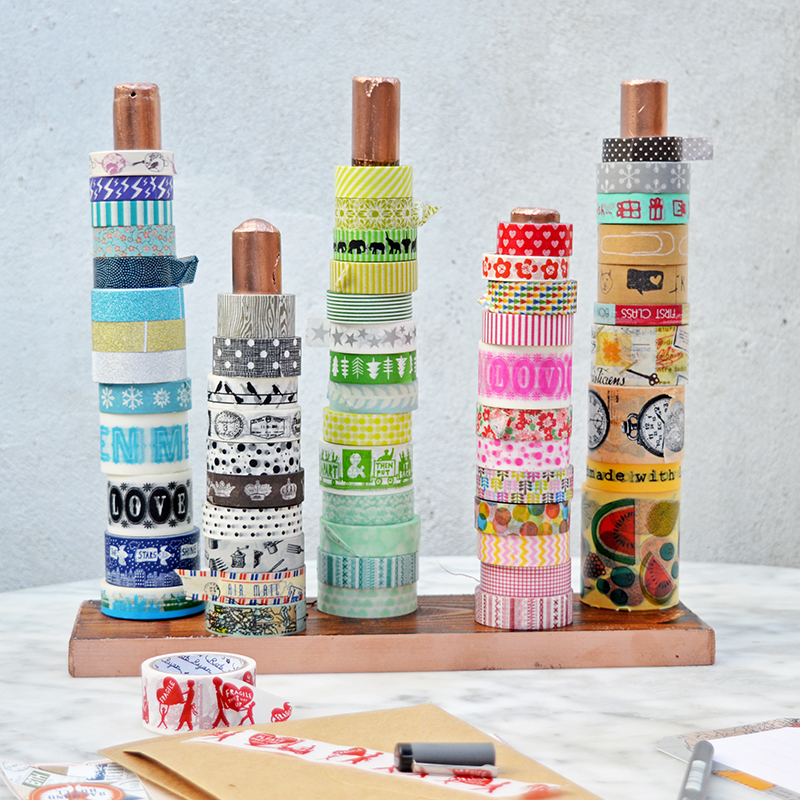 As I mentioned, this holder could be used for twine instead of washi tape, or both. I will be making another one soon, as well as collecting washi tape, I'm also partial to colourful twines. They are all part of what I consider crafting essentials.