If there is one thing I would love to do in my home, is to install a new kitchen. It's also probably the most expensive home improvement too! With 2 boys currently at University and one more to go, there isn't the budget for it at the moment. So in the meantime I went for a kitchen update I could afford and that was painted worktops.
It's not that I didn't like my wooden kitchen countertops, but after 20 years of heavy use, they weren't looking good. Especially around the sink, the wood was full of black stains that no amount of sanding would remove.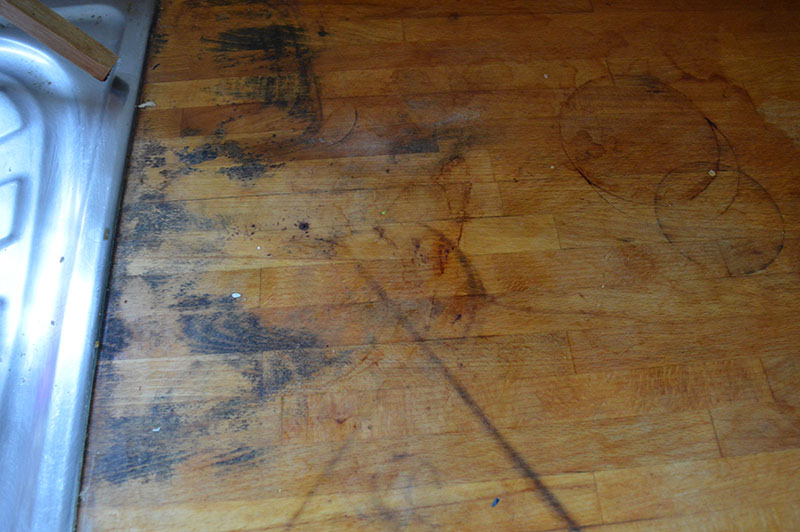 It was actually my sister Tasha, that suggested that I paint my kitchen worktops. She had done it a couple of years ago and was really pleased with the results. In fact, she painted her wooden kitchen floors and countertops with the same paint.
Using Floor Paint For My Kitchen Painted Worktops
I'd never thought of using floor paint before for painted worktops. However, the floor paint idea sounded like a good one, as floor paint has to be hardwearing and you would want hard-wearing paint for painted kitchen worktops.

I'm really pleased with the newly painted worktops. The kitchen looks fresher and brighter. It will make do for a couple more years before I can eventually afford a new one. My son, Elliot, did comment that he thought it looked a bit Greek with the bright blue worktops against the white brickwork.
We are a participant in the Amazon Services LLC Associates Program, an affiliate advertising program designed to provide a means for us to earn fees by linking to Amazon.com and affiliated sites. As an Amazon Associate, I earn from qualifying purchases.
What I used for my kitchen painted worktops
Floor paint – Since discovering Lakeland Eco Paints several years ago, I won't use any other paints around the house if I can help it. The paints are organic, odorless, and VCO-free. They don't give off any fumes. I know you can buy them in Europe but I'm not sure about the US. The paints are food safe too!

My sister used Farrow & Ball floor paint. I'm sure you could use any wood floor paint.
Clear food-safe nontoxic varnish – Lakeland also makes that too!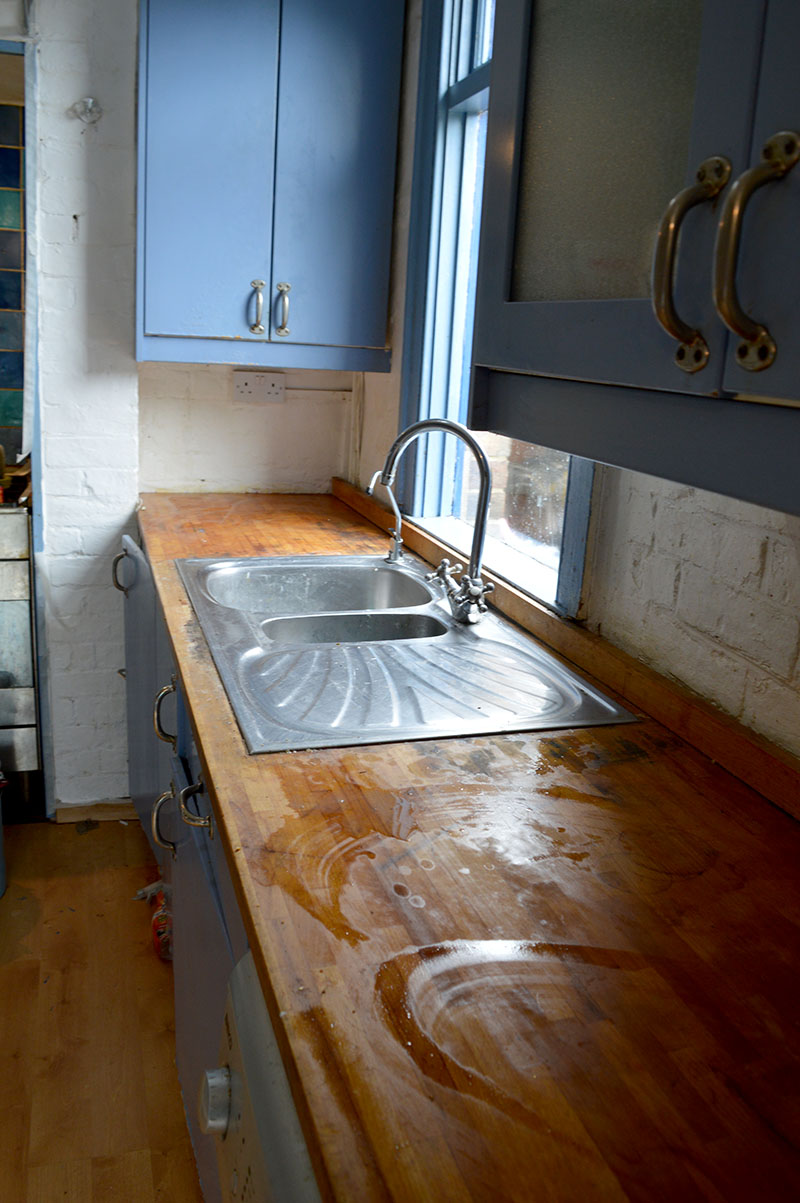 How to paint kitchen counters
1.. The first thing is to sand all the old varnish and grime off the countertops to be painted. I used an electrical orbital sander for this with fine-grade sandpaper.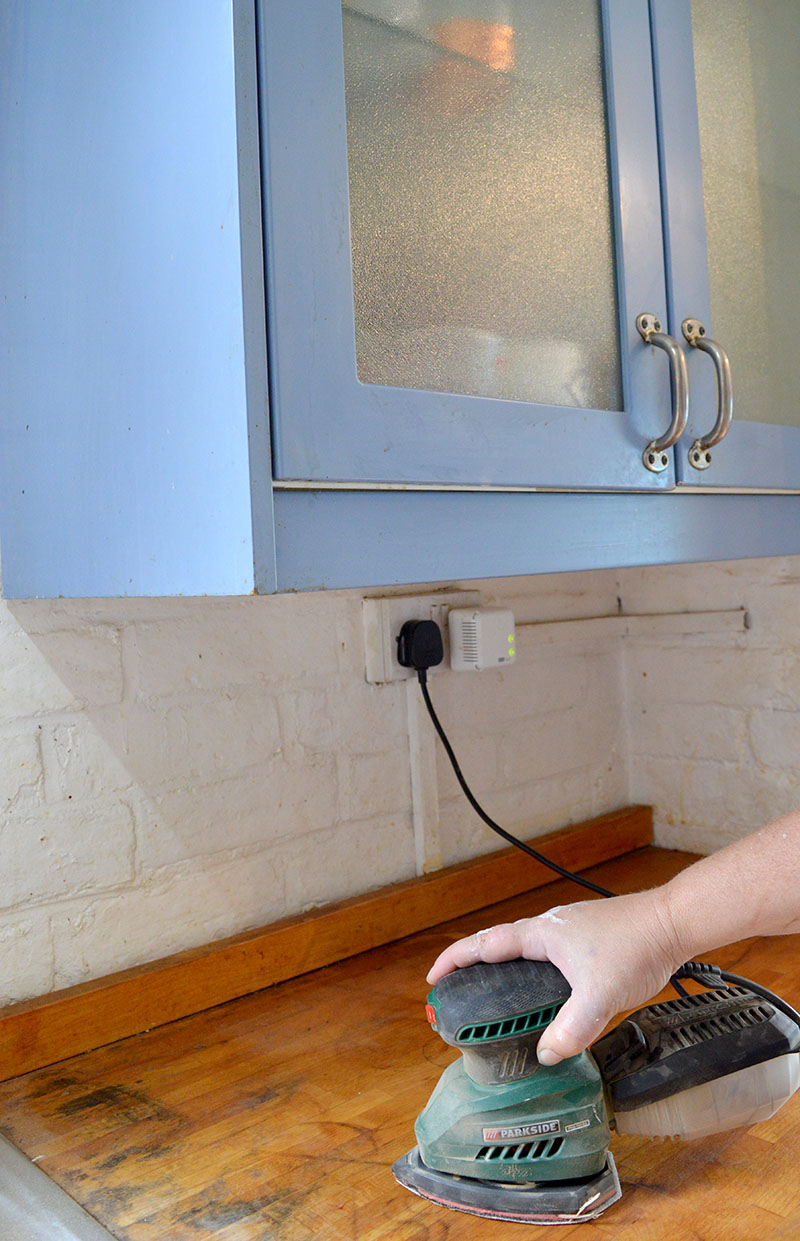 2. Next, use a vacuum cleaner to suck away any dust. Then wipe down the kitchen worktop with a lint-free cloth to make sure they were dust-free.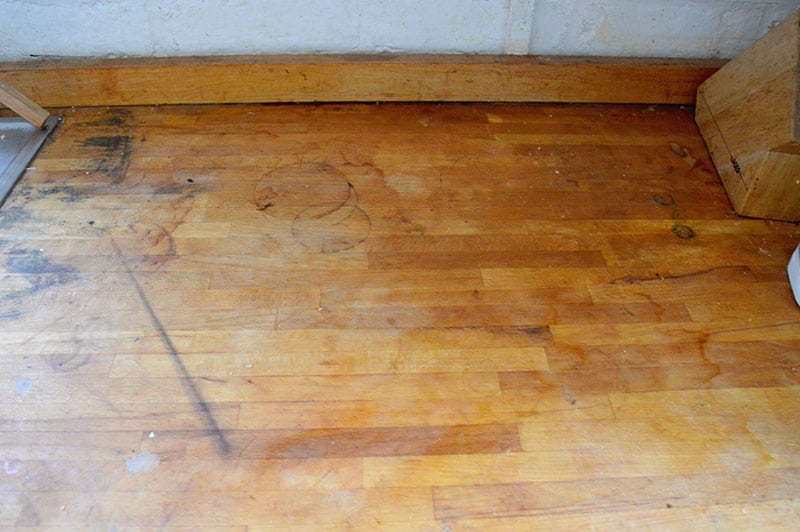 3. Then, prepare the paint according to the instructions on the tin. Often this just involves giving the paint a good stir. I used a small roller kit to apply the paint to the kitchen countertops. This ensured that the paint finish was smooth with no brush marks.
Paint the kitchen worktops with at least 2 coats of floor paint. Make sure the paint has dried thoroughly between coats.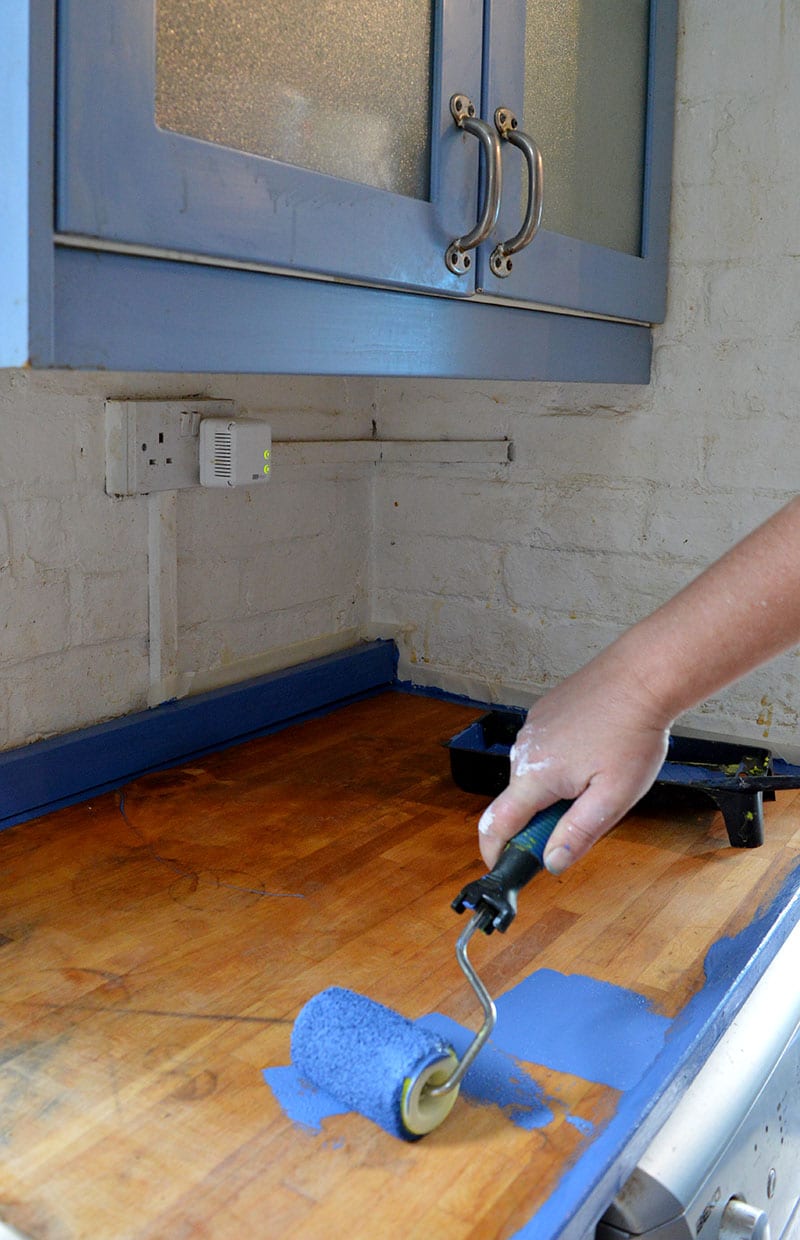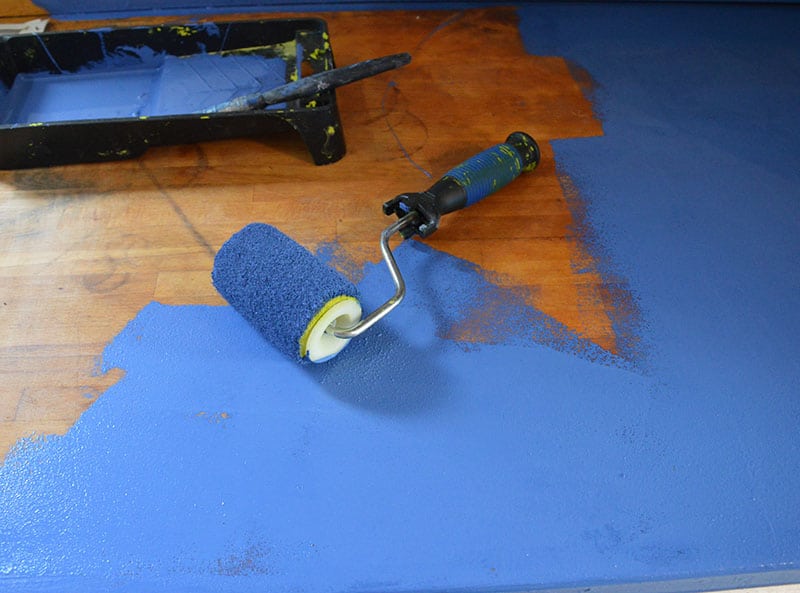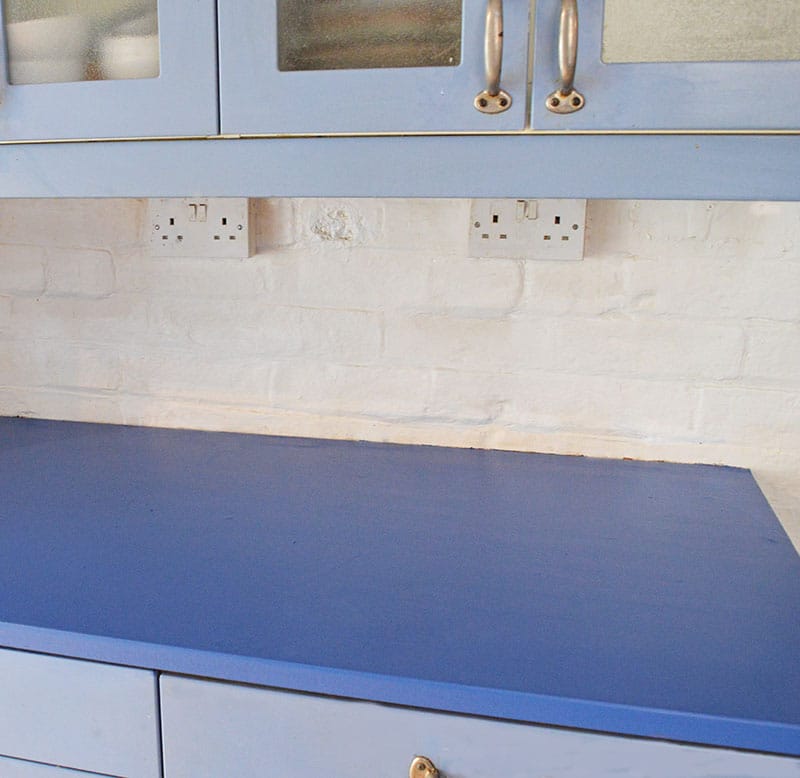 4. Once the paint on the kitchen worktops had thoroughly dried, I added two coats of matt varnish. I used an eco food-safe varnish for this. The varnish provided extra protection, especially around the sink area where the countertops often get wet. The varnish was also to protect the paint from chipping.
Make sure that each coat of varnish dries fully before adding the next.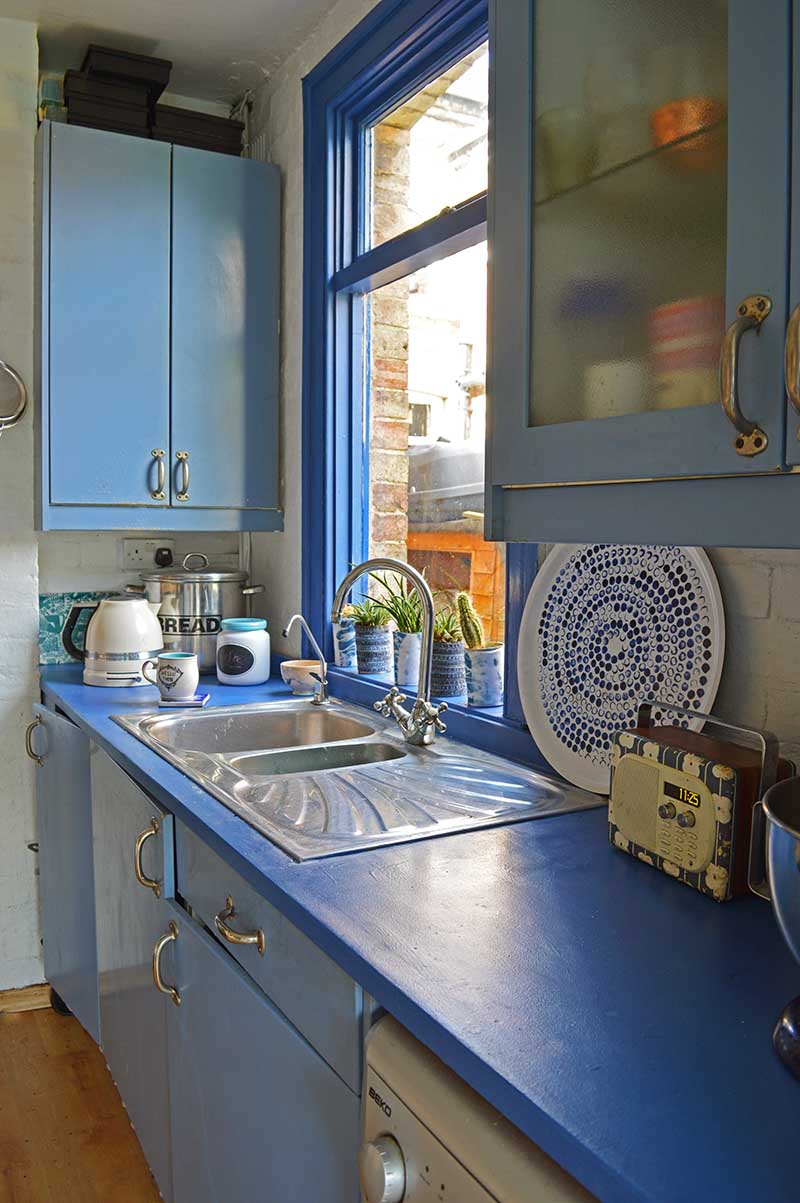 I'm really pleased with the finish on my painted worktops. The paint has gone on really smoothly and looks good. I will see how the painted worktops stand up over time. Tasha reassures me that the paint will last as it is durable floor paint. I do have some left in the pot just in case I need to touch up anytime.
Whilst I had the paint there, I painted my window and door frame to match the worktops and even my knife block and utensil holder.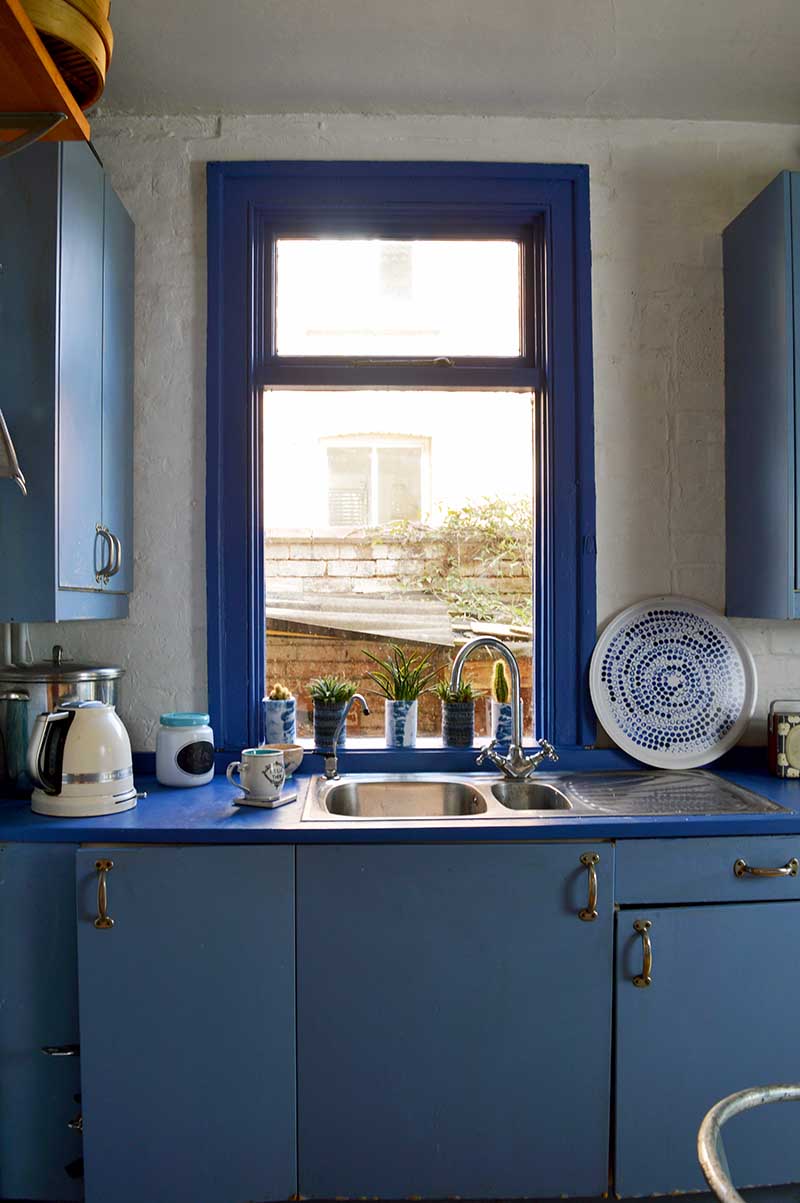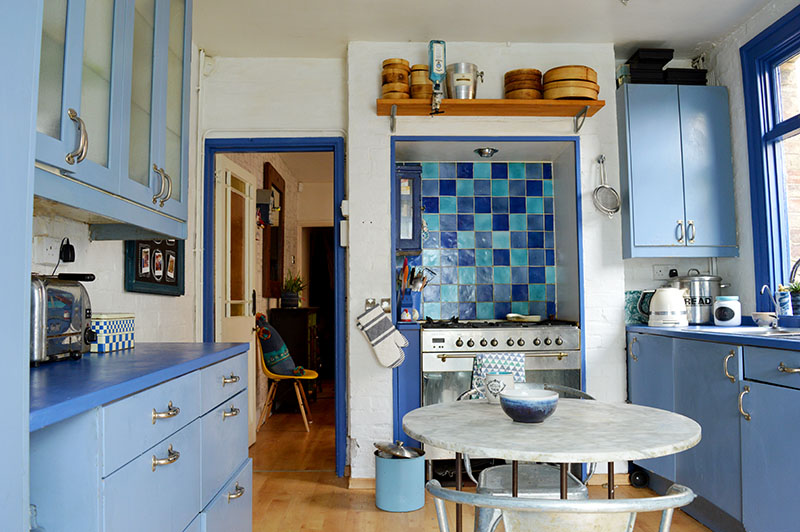 FAQ's About Painted Kitchen Worktops
Since posting this tutorial on how to paint kitchen worktops, I have been asked lots of questions. Here I will answer the most popular ones.
Can this paint be used on Laminate? You need specialist paint for laminate worktops, but with the right paint, you can achieve the same look.
What about Food Safety? Putting Food on a Painted Counter Top: Both the paint and varnish used was food safe. However, to protect the worktop from knife marks, I recommend using a chopping board when preparing food.
How long for the final process to dry? Check what the varnish says on the tin and how humid your home is. I recommend giving the final varnish coat on the countertops at least 24 hours to dry fully.
Will the floor paintwork on all types of countertops? I only recommend using this particular floor paint on wood. There is a special paint available in home stores, for painting on laminate or tiles.
Are there different colors, or only blue? The floor paint comes in a huge range of colours and shades. I picked the blue, as it matched the rest of my kitchen.
Did it stink? The floor paint I used didn't stink. It is eco-friendly, so it doesn't give off any fumes at all. In fact, you can't even smell the paint. The paint has no VOCs and is totally safe. I use eco paints for all my decoration, as my husband is very sensitive to paint fumes.
Does the paint chip? I have to admit in high traffic areas and because my sons don't always use a chopping board, the paint has chipped in places. This has only happened a couple of times, but as I had some paint leftover it was very easy to fix these chips. Just make sure you varnish well, as this reduces the chances of the paint chipping.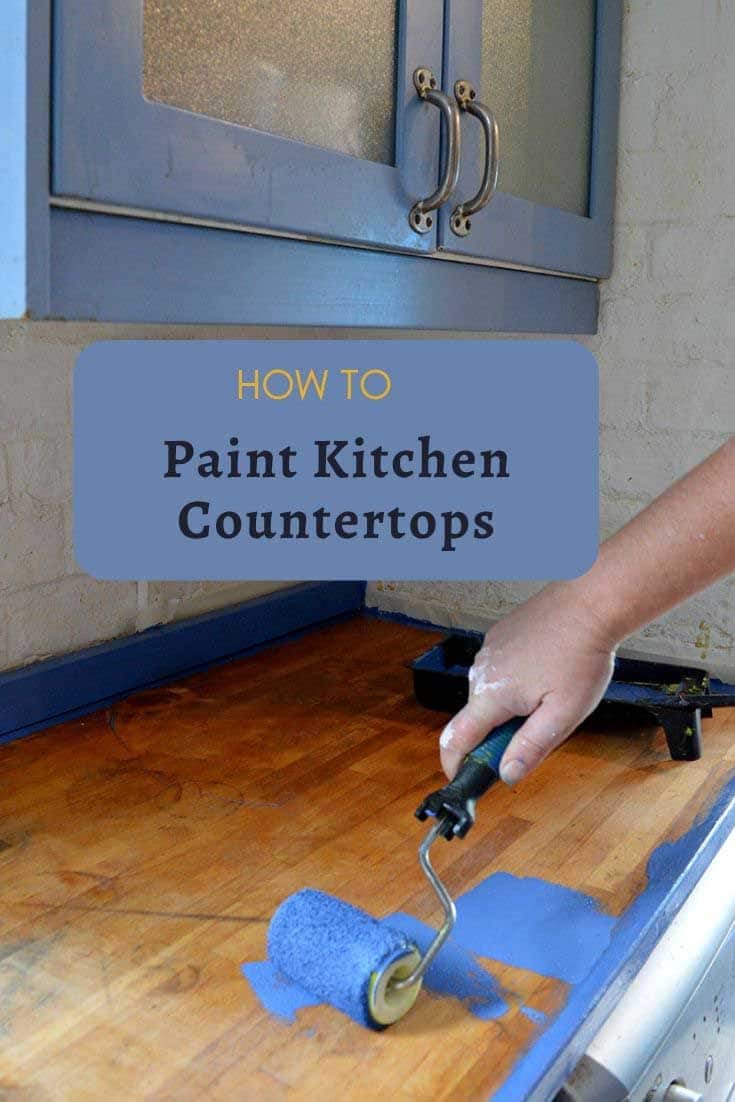 Other Ideas for Revamping Kitchen Countertops
I often get asked if I have any other ideas besides paint for updating kitchen worktops. I know that many people have successfully used vinyl contact paper, both in kitchens and bathrooms to update countertops on the cheap. The marble effect contact paper is particularly effective, and at a distance looks like the real thing.
I have very successfully wallpapered dining tables for a new look. There is no reason why this would not work on kitchen counters too, especially if you use a protective varnish. In fact, I often use wallpaper in the kitchen. I've upcycled my kitchen garbage bin with wallpaper. I also created a stunning wallpaper backsplash in a kitchen.
Since painting the worktops, I also made some unique storage for the kitchen from a repurposed chair back.