You don't need much to create your own stunning door wreath. This denim wreath was just made by upcycling some old clothes such as jeans and sweaters.
One of the things I have discovered since blogging is that door wreaths aren't just for Christmas. I know this not a life-changing discovery but as a Brit, it was a revelation to me!
Now I make door wreaths no matter what the season or what my British neighbours think. My latest creation is an upcycled sweater and denim wreath.
Recycle Sweater Scraps and Jeans into a Denim Wreath
I hate waste that is why I'm such a fan of upcycling. The other week when I made a patchwork recycled sweater blanket, I actually kept all the felt and denim scraps knowing that I would eventually think of something to do with them.
It didn't take long for that lightbulb moment to happen. I realised that I could use the scraps to make a gorgeous wreath for my door. I used the denim seams for the base of the wreath and made felt roses from the felt scraps.
My recycled floral denim wreath is a lovely door decoration. I definitely think that it is a wreath for all seasons. I do actually have two other door wreaths but these are really just for fall, an upcycled map leaf wreath, and a felted acorn wreath.
We're a participant in the Amazon Services LLC Associates Program, an affiliate advertising program designed to provide a means for us to earn fees by linking to Amazon.com and affiliated sites. As an Amazon Associate, I earn from qualifying purchases.
What I used to make a floral denim wreath
Felted sweater scraps – If you don't have any to hand you can just use normal bits of felt
Recycled jeans seams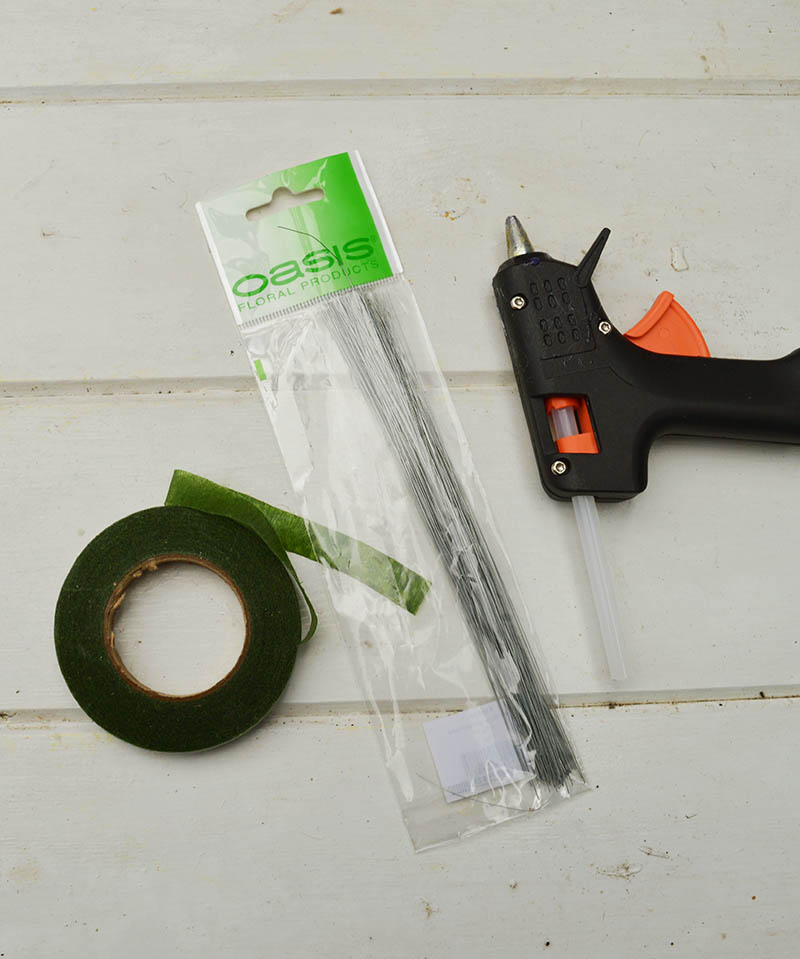 How to make an upcycled sweater denim wreath
Making the felt flowers..
1.. Making the felt roses is the first thing you need to do. They are made pretty much the same way as my beautiful map roses and my denim flower bouquet. Use the same petal template as with the map roses.
However, as felt is thicker than the paper you won't need to make as many petals for the felt roses. Each flower is made with approximately 10 petals.
Use fabric Mod Podge to glue the first petal to the central stem and then each subsequent petal.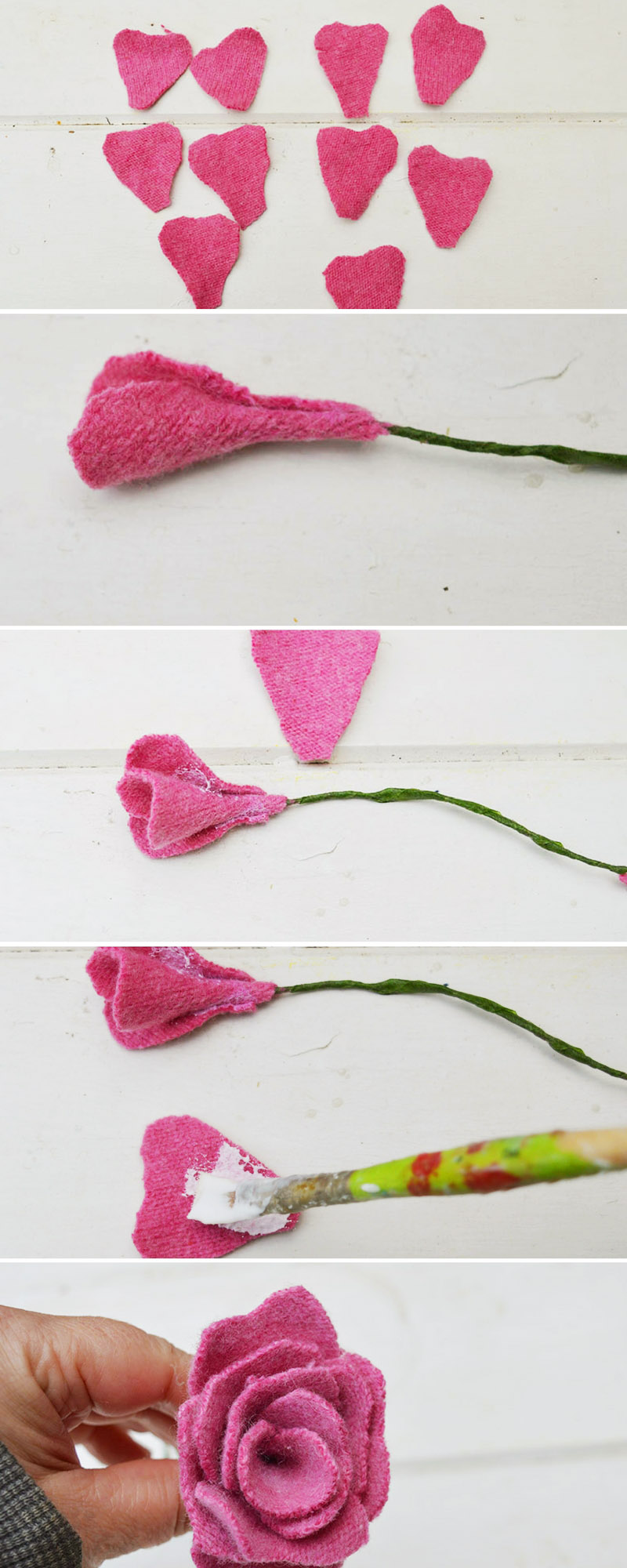 2. Next, make a simple leaf out of green felt. Fold a small square of felt into quarters and cut out a basic leaf shape.
Also, knick a small hole in the corner and then thread the stem through it. Keep the leaf in place with a dab of Mod Podge.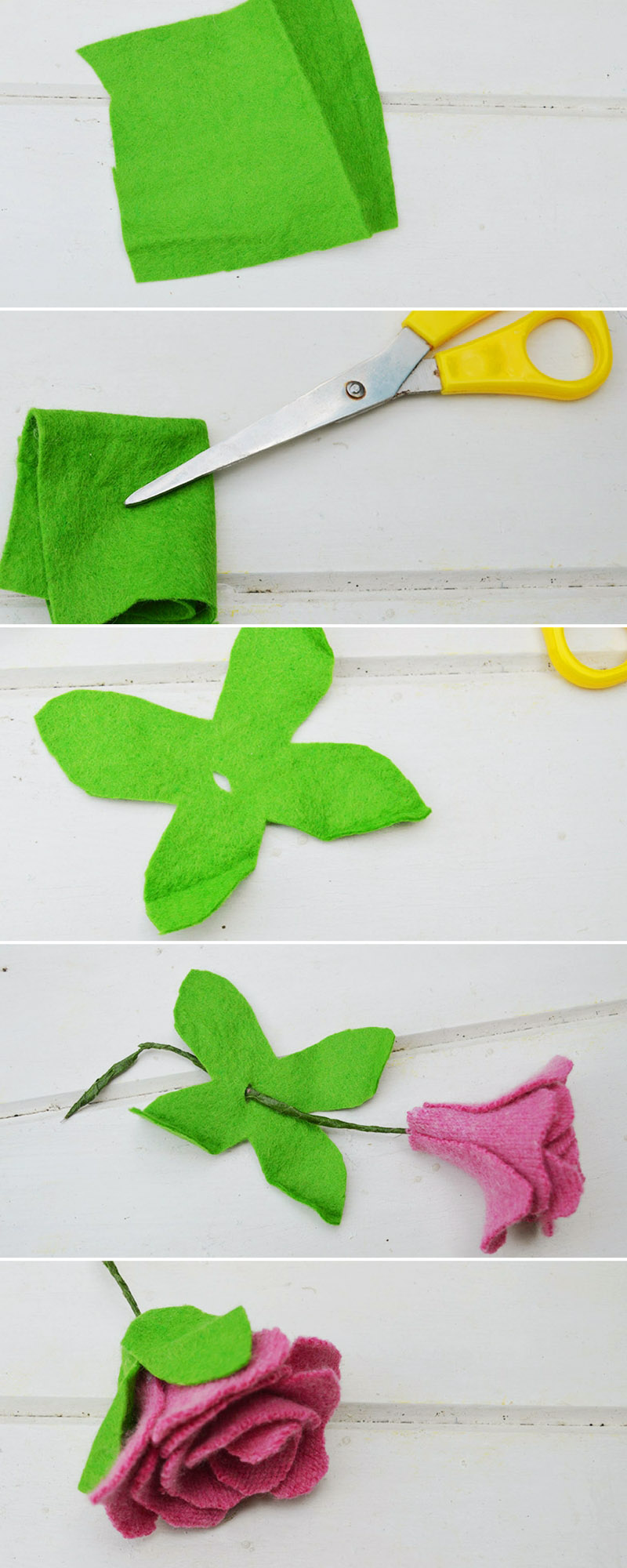 3. Then, carry on making felt roses in different colours until you have at least seven finished roses.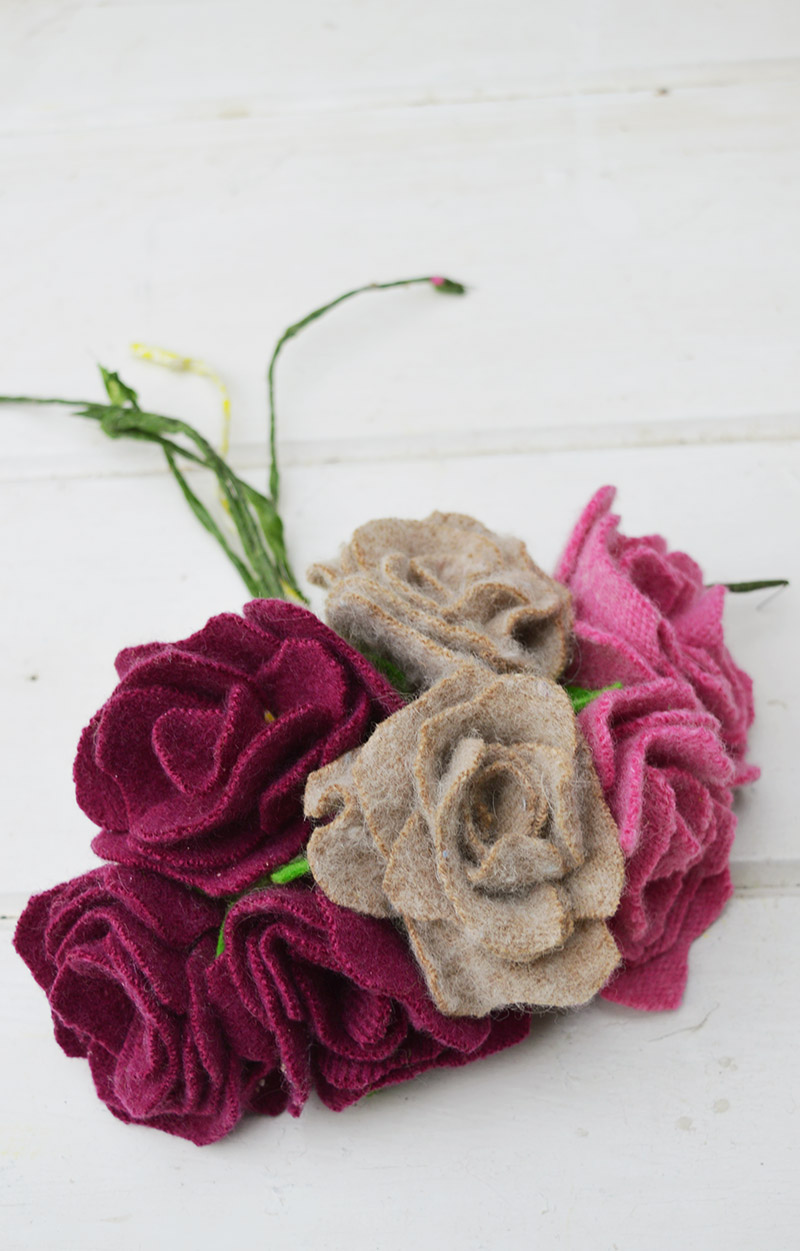 How to make the denim wreath
The good bit about making the denim base for this wreath is that it is a no-sew jeans upcycle that just repurposes the jeans seams.
4. The denim wreath base is so simple to make. Just wrap the recycled jeans seams around the wire wreath frame securing with a hot glue gun as you go around.
Once the whole frame is covered in denim, simply add the felt roses by wrapping their wire stems around the frame.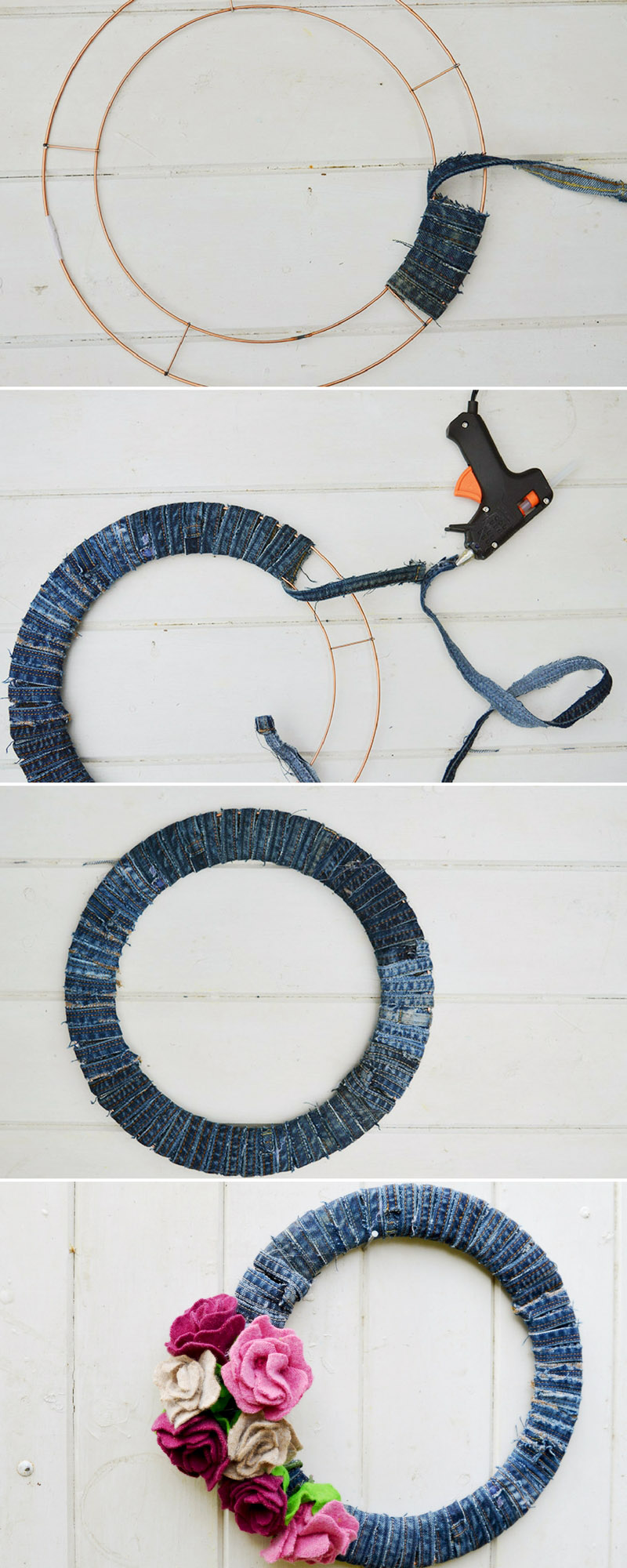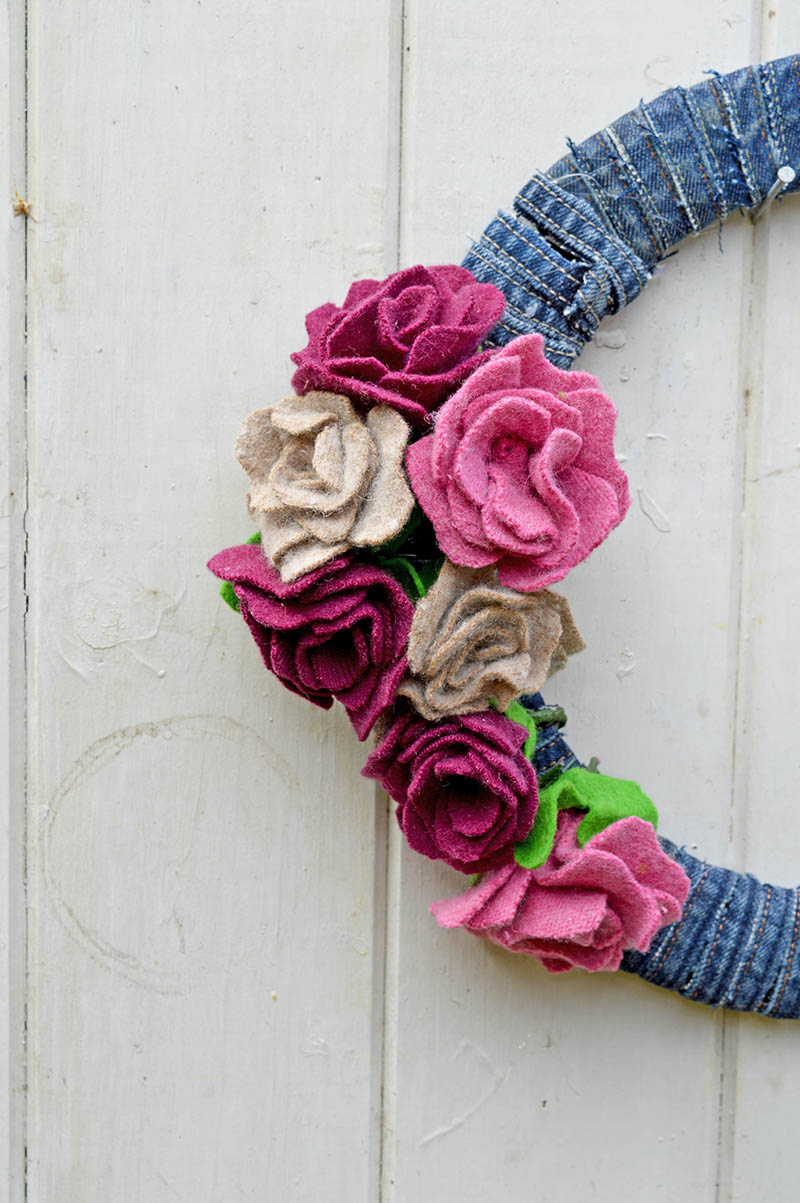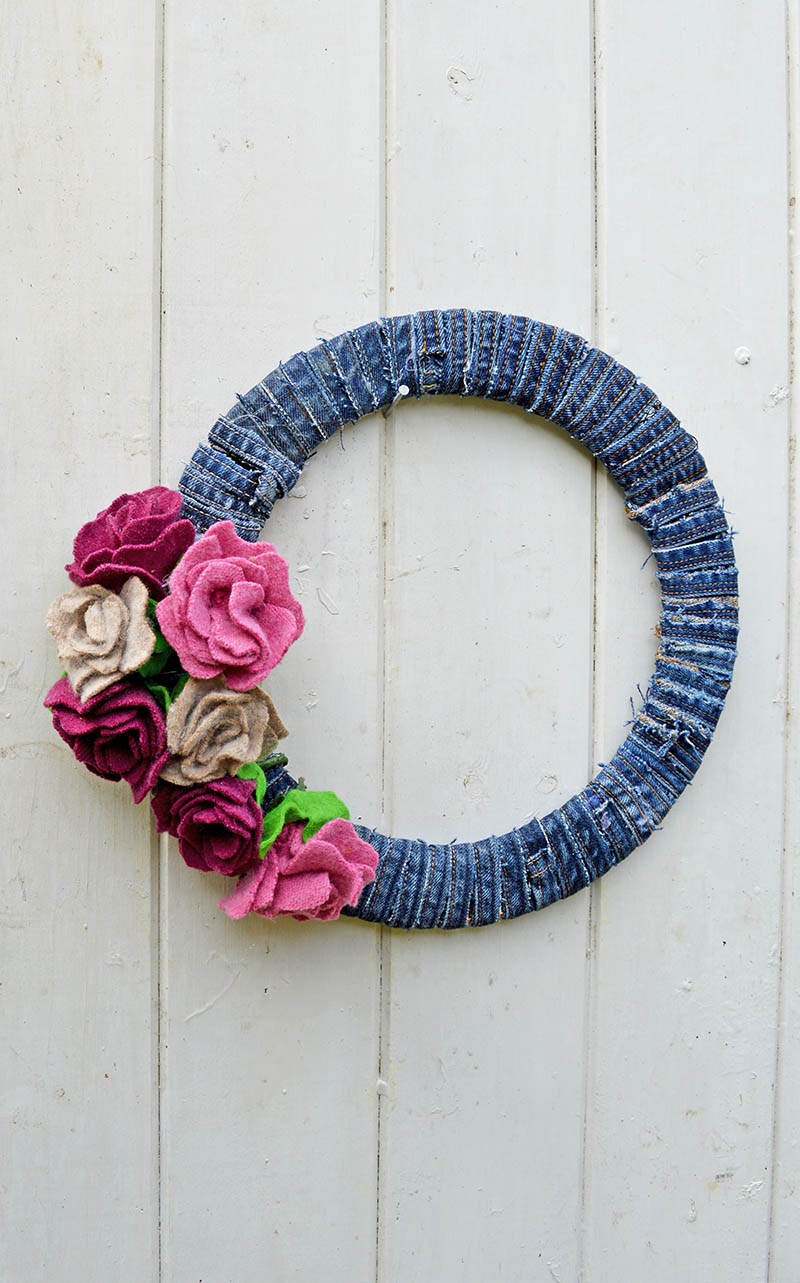 I'm really chuffed with how this denim wreath turned out, especially as it was made from the scraps of other upcycled projects. I really like the felt sweater roses and I will be making some more just to have as a decoration on their own.
I've made other upcycled flowers out of old clothes that would also look great on a wreath like this. There are gorgeous denim pom-pom flowers or denim DIY sunflowers if you want to go for a double denim look with the wreath. However, if you want to stick to felt flowers on the wreath, check out my tutorials for felt succulents.
I have another colorful wreath made from repurposed yarn and fabric scraps.