The great thing about upcycling with wallpaper is that not only does it come in thousands of cool designs it is quite robust and flexible, making it easier to stick to objects than ordinary paper.
Over the last few years, wallpaper has come back in fashion and there are loads of fantastic designs out there. Wallpaper is not just for walls, you can decorate loads of things with it. As many great design houses produce their own wallpapers it can be a cheap way of getting that designer look.
My friend Wendy loves Orla Kiely prints and has found an affordable way to get Orla Kiely into her home by using wallpaper. I'll show you how wallpaper can be used to transform furniture and fixings in your home.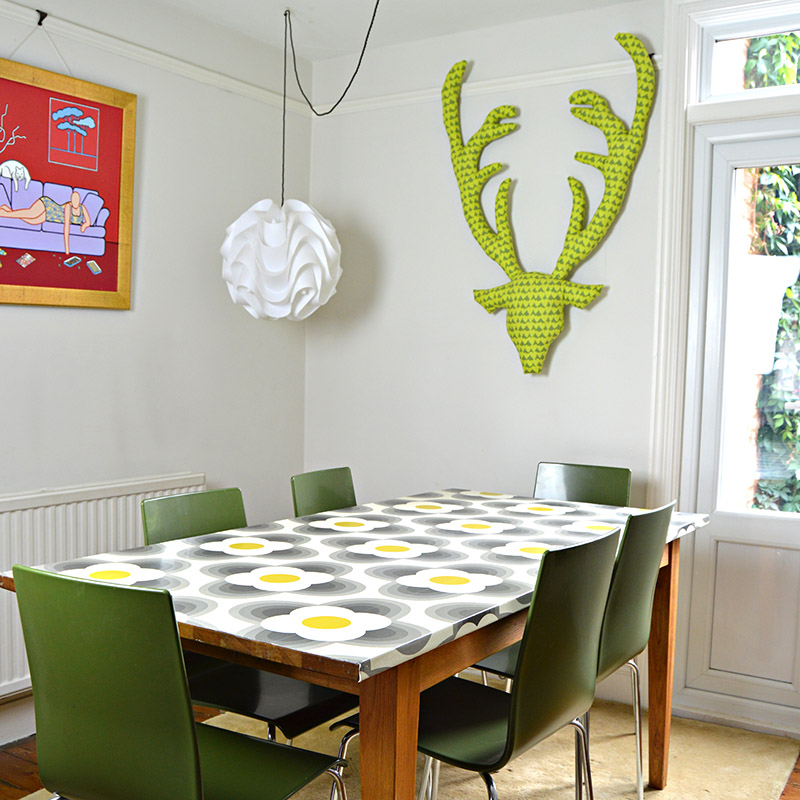 We're a participant in the Amazon Services LLC Associates Program, an affiliate advertising program designed to provide a means for us to earn fees by linking to Amazon.com and affiliated sites. As an Amazon Associate, I earn from qualifying purchases.
Ideas for Upcycling with Wallpaper
The wallpaper ideas I will discuss here are.
Kitchen trash can upcycle
Upcycling tables with wallpaper
Lampshade upcycles
Mirror frame transformation with wallpaper
1. Bin (trash can) upcycling with wallpaper
Wallpaper is great for transforming a mundane kitchen bin into something better looking. For this transformation, all you need is:
Quarter roll of wallpaper. Choose your wallpaper carefully. Make sure you have a design pattern that will fit. Bear in mind that a roll of wallpaper will most likely not be wide enough to go round the bin in one go and you will be using 2 or 3 pieces, so think about pattern join.
We used an Orla Kiely Stem pattern for our bin.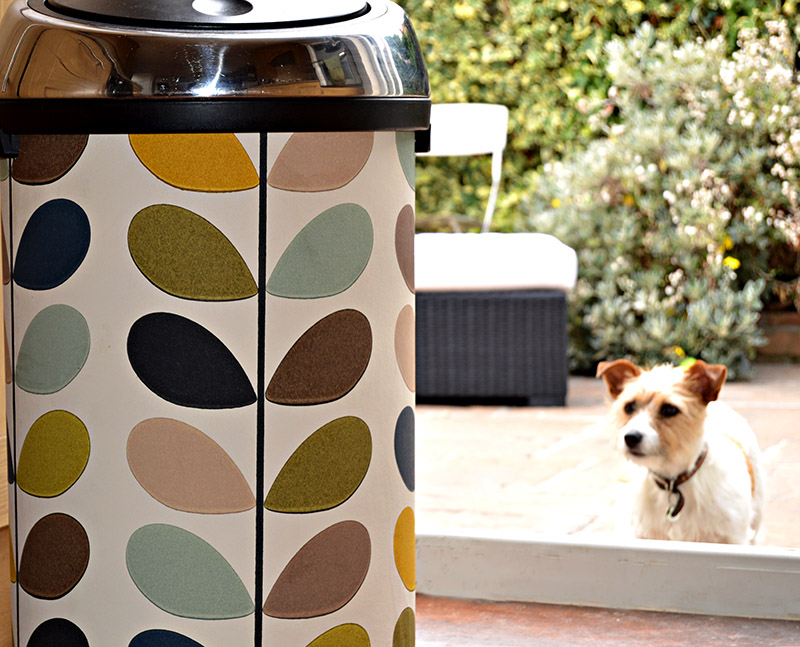 What else you need
How To Upcycle A Trash Can With Wallpaper
1.. Firstly, if you can, remove the handles of your bin. If not don't worry you can work around these.
2. Next, to help the wallpaper paste to stick to your bin you will need to key it. To do this mix a solution of 25% PVA (Elmers) glue to 75% water, cover the bin and leave to dry.
3. Next, measure the height of your bin carefully, and add a couple of mm to make sure. You can always trim the wallpaper later if you need to. Also, measure the circumference of the bin. This will be the width of the wallpaper needed. For the bin in this wallpaper upcycle, the circumference was 2 and bit widths of the wallpaper roll.
4. Next, cut each width of wallpaper you will need to the bin height. Make sure you cut it where the repeat pattern will match, this may involve cutting the piece further down the roll. One of your pieces is also likely to be only part of a roll width.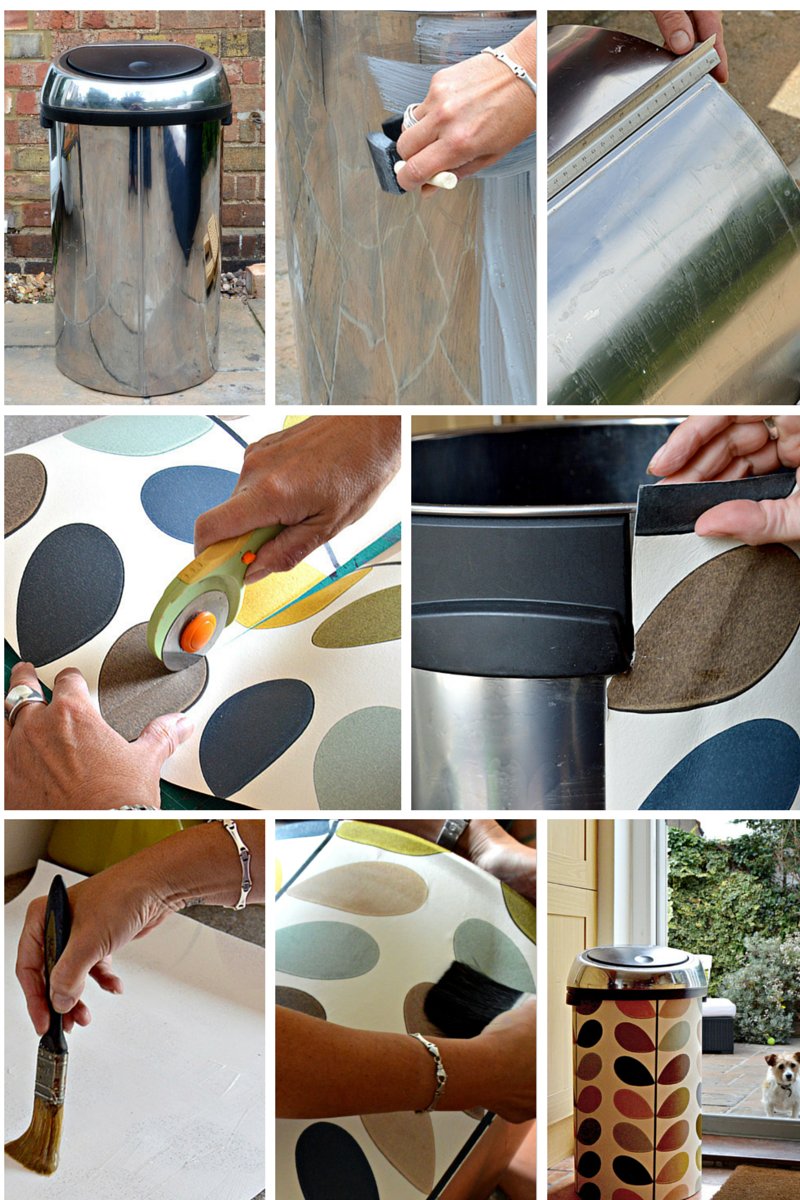 6. Next, cover your first width of paper liberally with wallpaper paste, and place on the bin. You should be able to move it around quite easily to make sure it is straight ( a spirit level may help with this).
Top tip: When placing your first piece of wallpaper you may want to consider that there will be a join and ensure that this is at the back of the bin where it will be less visible.
However, I have found that the join is normally only noticeable if you look very carefully. When you are happy with the position of your paper use the wallpaper brush to remove any bubbles
7. Then, cover the next piece in the paste and line it up next to the first piece on the bin. If you have not been able to take your handles off you may have to cut around them using wallpaper scissors.
Make sure that the wallpaper is flush with the top and bottom of the bin, if not trim accordingly. Brush as before and repeat with the third piece if needed.
8. Most wallpaper is wipe-clean so you can leave the covered bin as it is, but if you want to make sure of better protection from spills I suggest you apply a final coat of waterproof varnish or PVA. When finished re-attach any handles that were removed.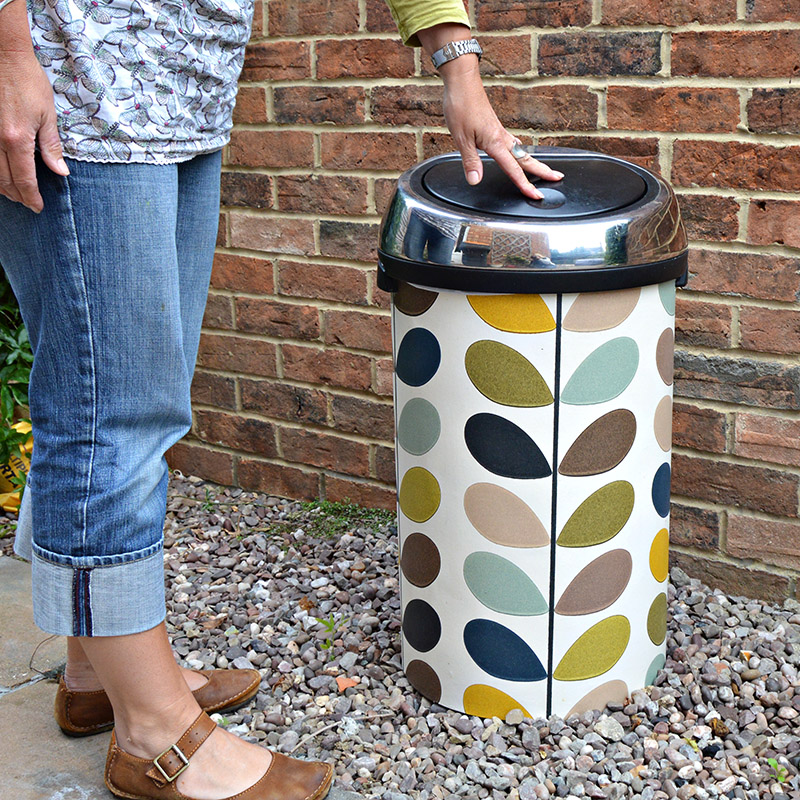 2. Transforming Tables by Upcycling with Wallpaper
You can transform any old table with wallpaper from small side tables to large dining room tables. It is really easy to do and can bring a new lease of life into an old table and turn something ordinary into something cool and interesting.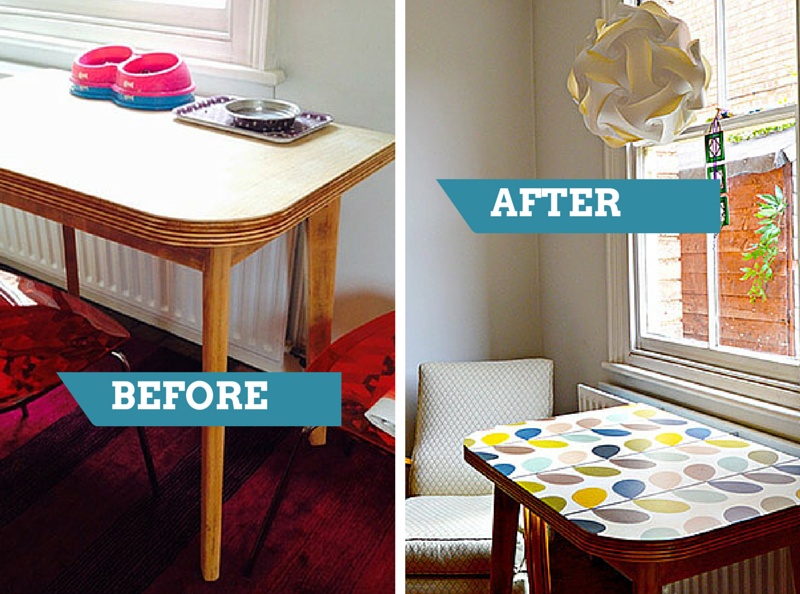 What you need to consider when upcycling tables with wallpaper
There is a full tutorial for decoupaging table tops with wallpaper on Pillarboxblue but here I will discuss some of the basics you need to consider.
First, lay out your wallpaper first to make sure that your chosen design will work. In most cases, the wallpaper will not be wide enough to cover the table so you will need to make sure that you can match the repeat pattern when laying in strips.
Top tip: Geometric patterns work well with tables and smaller patterns are easier to match.
You can use wallpaper paste to stick your paper to the table. However, before you start make sure the tabletop is clean and sand lightly to establish a key.
Like when putting wallpaper on the wall use a brush to get rid of any air bubbles and trim the excess with wallpaper scissors
You will need to protect your table afterward, I recommend coating it with at least 2 coats of waterproof varnish.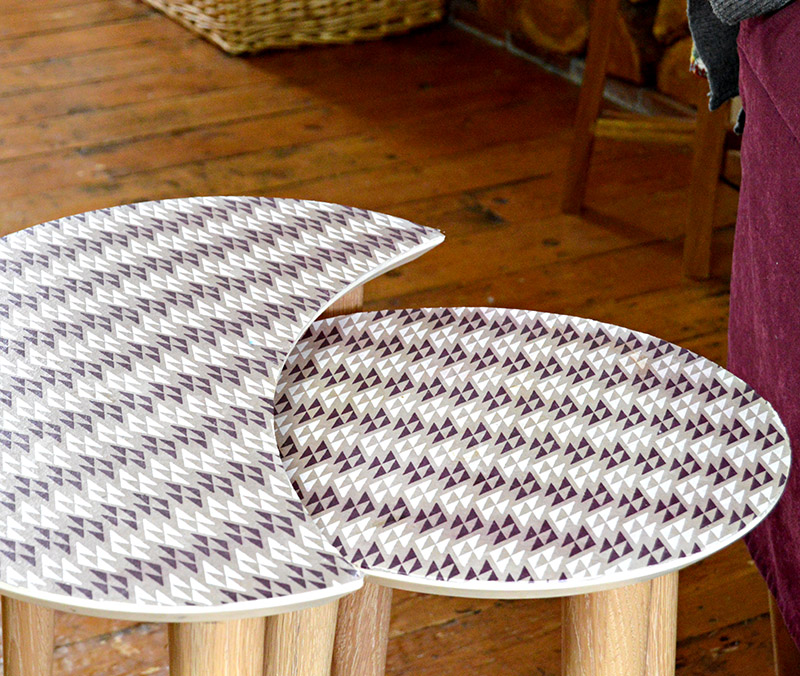 3. Upcycling Lamp Shades With Wallpaper
Would you like a Marimekko or Orla Kiely lampshade? They are so easy to make yourself! You might want to check out my tutorial on how to wallpaper lampshades to match your decor.
There are loads of affordable lampshade kits in various sizes on the internet, and instead of using fabric, you can use wallpaper to make your lampshade.
These kits are really easy to use, and not only do you get to choose your own lampshade design you get to choose the size you want, not limiting you to what's available in your home decoration store.
As with using wallpaper to cover a table, you will also need to make sure that the design of your wallpaper pattern is suitable for transformation into a lampshade.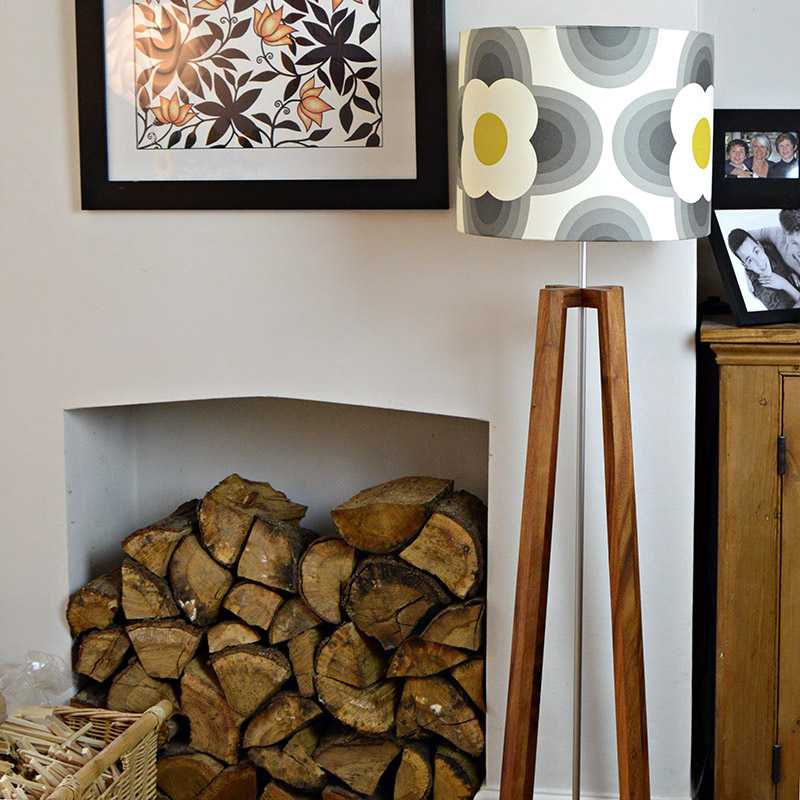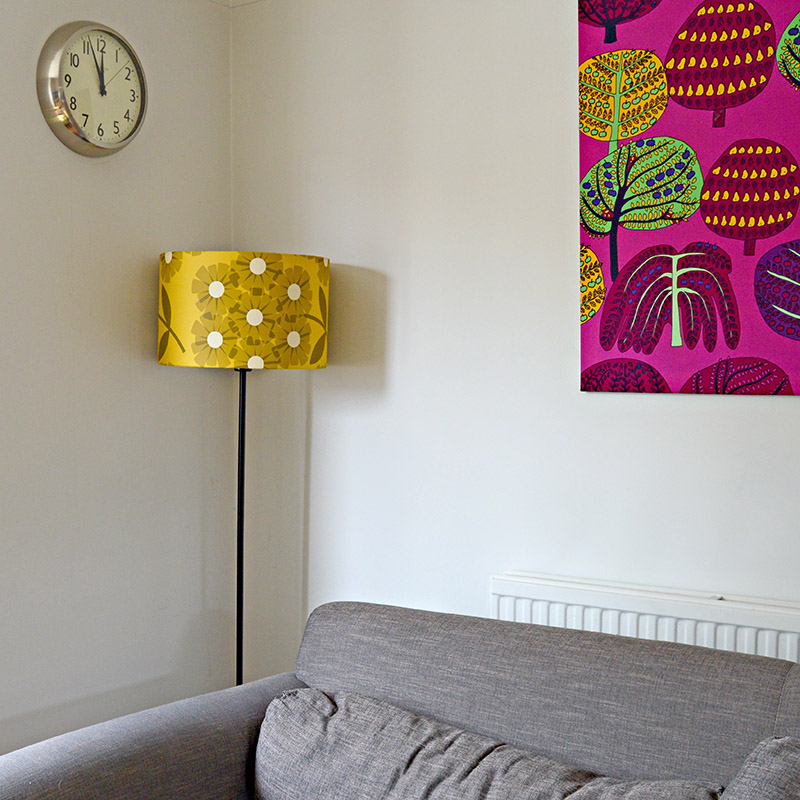 4. Upcycling Mirrors and Frames With Wallpaper
I have posted a full tutorial on how to wallpaper furniture and in particular an IKEA mirror frame. Upcycling a mirror frame with wallpaper can really transform it from something mundane to a piece of art that hangs on the wall.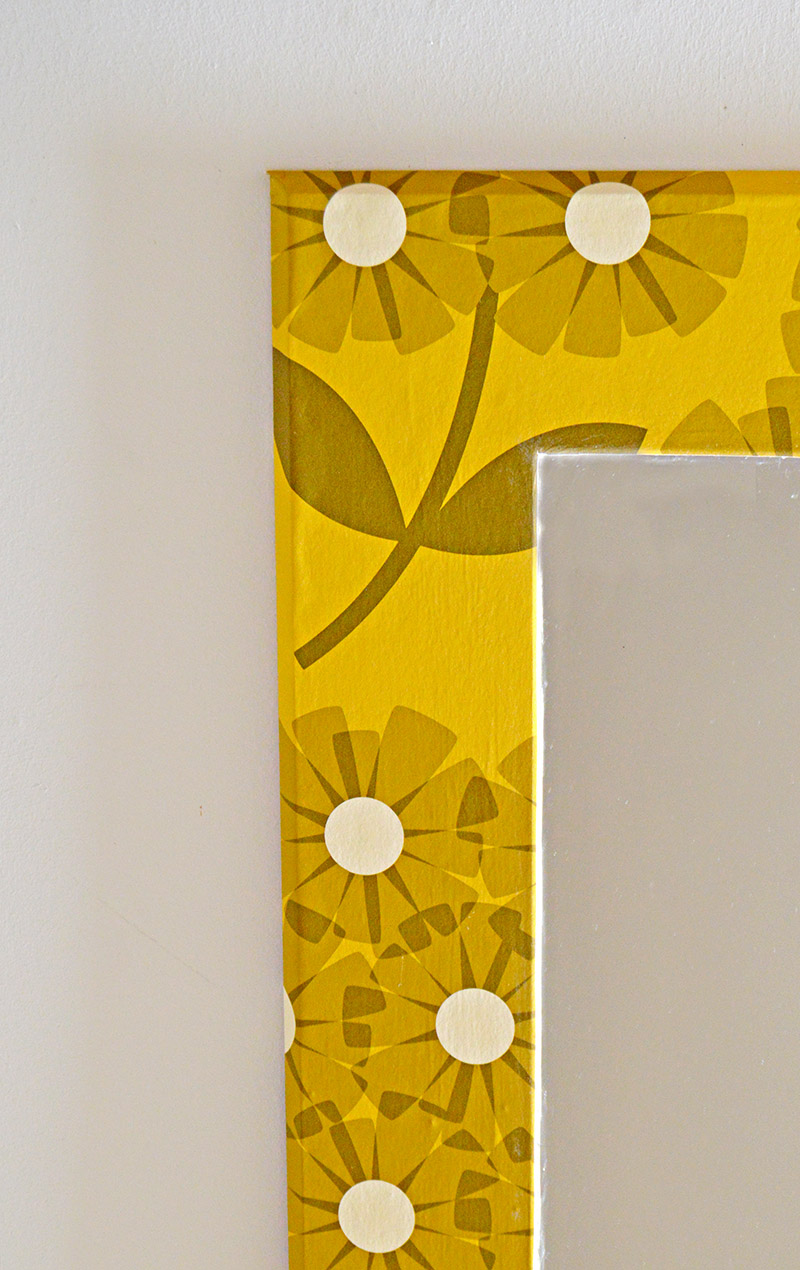 Scraps of wallpaper can be used to transform the frames of mirrors and pictures. I've even covered a mirror frame with fabric scraps before. Wallpaper samples can also be used to make cute paper vases.
5. Wallpapering Dressers
Part wallpapering furniture can be a very effective to upcycle pieces into something unique, especially IKEA furniture. This IKEA Hemnes hack with wallpaper is a great example.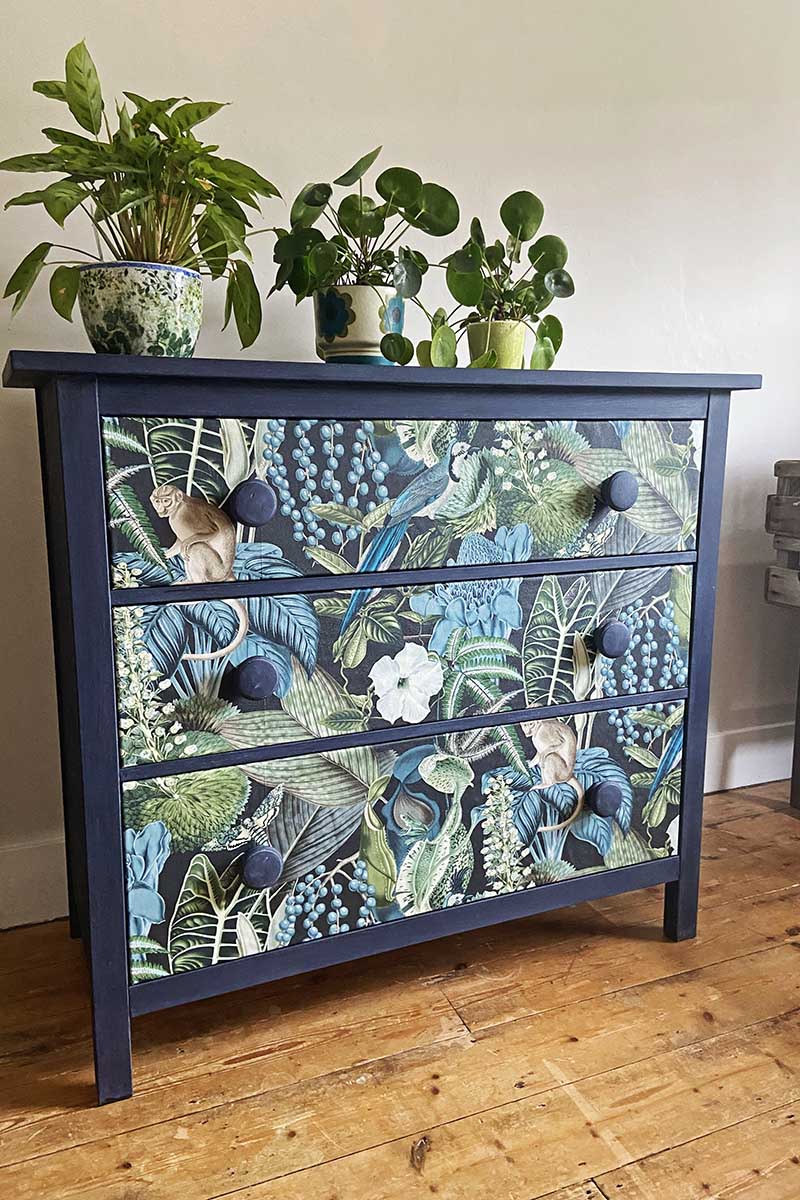 Other Upcycling with Wallpaper Ideas
If you use wallpaper for any home decoration crafts I would love to hear about them also if you have a particular design favourite. As well as Orla Kiely and Marimekko, I love Designers Guild and Graham & Brown have some great contemporary wallpapers. Some designer wallpapers can be expensive but often I pick up odd rolls and part rolls cheaply on eBay.
If you like upcycling with wallpaper you might want to check out my amazing Marimekko Wallpapered Stairs or my DIY splashback (backsplash) using wallpaper.
There are also lots of crafts ideas for smaller wallpaper samples.