There is a definite nip in the air. Summer has almost gone and it won't be long before I'll be putting on the heating. That's why I decided to sew a new throw for the living room by making a recycled sweater blanket.
Autumn is actually my favourite time of year. Even though I feel energised after recharging my batteries over the summer there is nothing I love more than snuggling up under a blanket in the living room with a hot coffee and planning for all the fabulous coming seasonal celebrations.
Recently I refreshed my mountain of pillows and cushions with some Boho style recycled jeans pillows. To continue with this theme I recycled some old wool sweaters to make a new throw for the living room and I used the denim waistbands leftover from the Boho pillows as the trim.
A Recycled Sweater Blanket With A Splash Of Denim
I'm also a huge fan of hexagon patchwork, therefore, I also incorporated hexies into the design of my recycled throw. This actually involved less sewing than with normal fabric hexagon patchwork as felted wool doesn't fray so doesn't need to be hemmed.
Hexagons are a popular shape for crafting and DIY and are an efficient shape for covering a large flat area such as a blanket.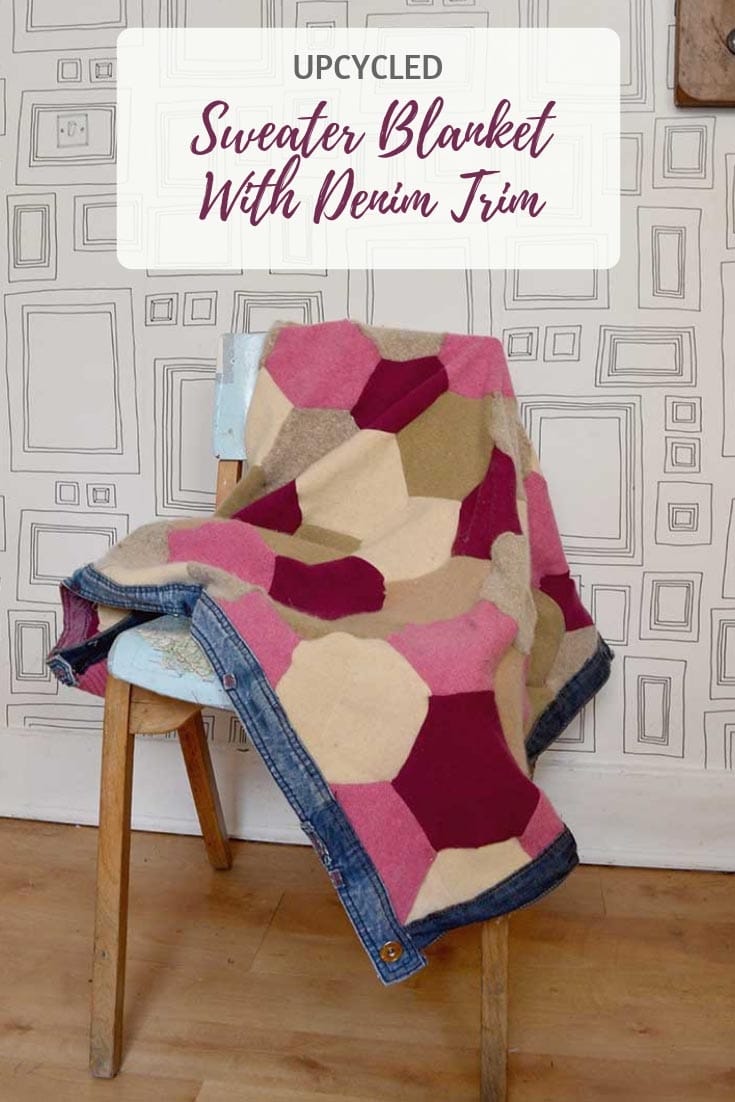 This post contains Amazon affiliate links for your convenience. Click here to see my disclosure policy.


What you need to make a Recycled Sweater Blanket
3 to 4 Old wool sweaters- Make sure they are at least 80% wool. If you can get hold of old lambswool or cashmere sweaters, that's even better as these are lovely and soft. I'm lucky that my family gives me all their old sweaters.

Jumble sales and thrift stores are a great source for wool jumpers/sweaters. How many sweaters you need will depend on the size of the throw you want to make and the size of sweaters once felted.
Denim waistbands for the trim – I used about 5 for this upcycled sweater blanket.
Quilting hexagon template – The templates come in various sizes. When deciding what size hexagons to use you need to think about 2 things. The larger the hexagons you use the less sewing you will need. However, the smaller the hexagon template the more usable hexagons you will be able to cut from a sweater. I used a 3-inch hexagon template as this size worked well for me.
Seam ripper, needle and thread
How to make an Recycled Sweater Blanket
1. The first thing to do is to felt your wool sweaters the way to do this is to put them in a hot wash with soap powder as I did with
my mountain sweater pillows
.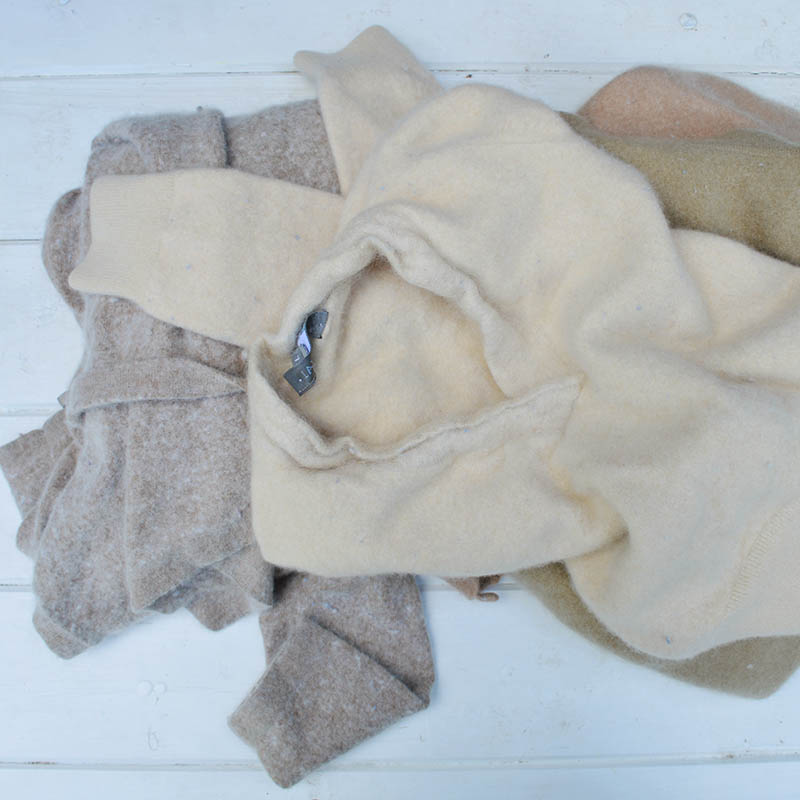 2. Cut your felted sweaters up at the seams to open them out to maximise the surface area. Then using the hexagon template and rotary cutter cut out as many felt hexagons as possible from the sweaters.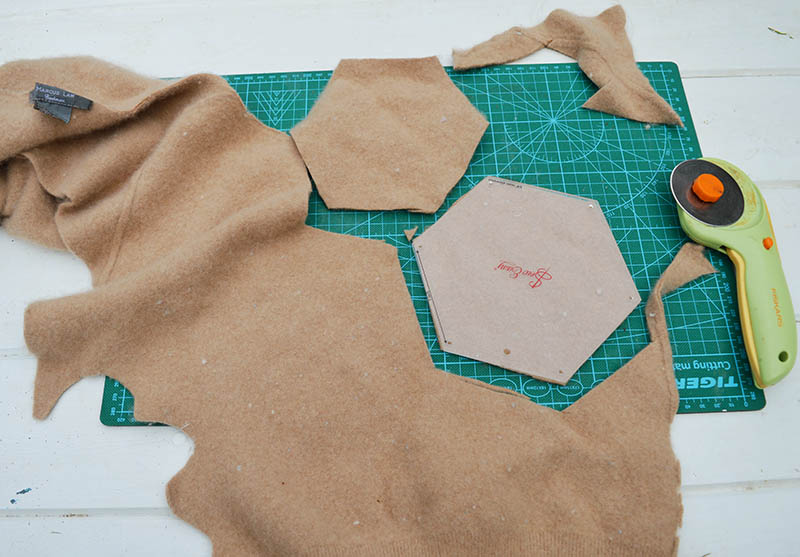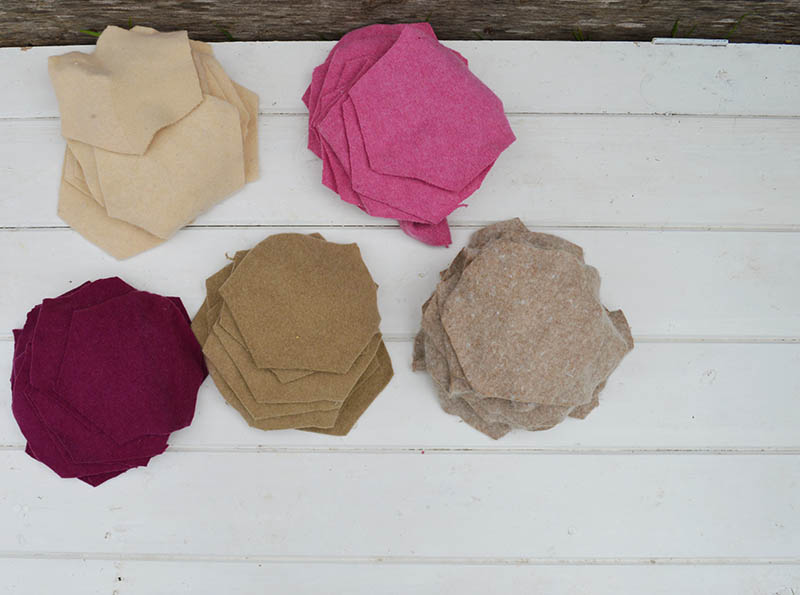 3. When you have finished cutting out your hexagons pin them together in a row the length of your sweater blanket. Then sew the hexagons together in a long row. You can either use a sewing machine or sew by hand. As felt doesn't fray you can stitch very close to the edge of the fabric. Sew all your hexagons the same way, so that the recycled sweater blanket will have a distinct front and back.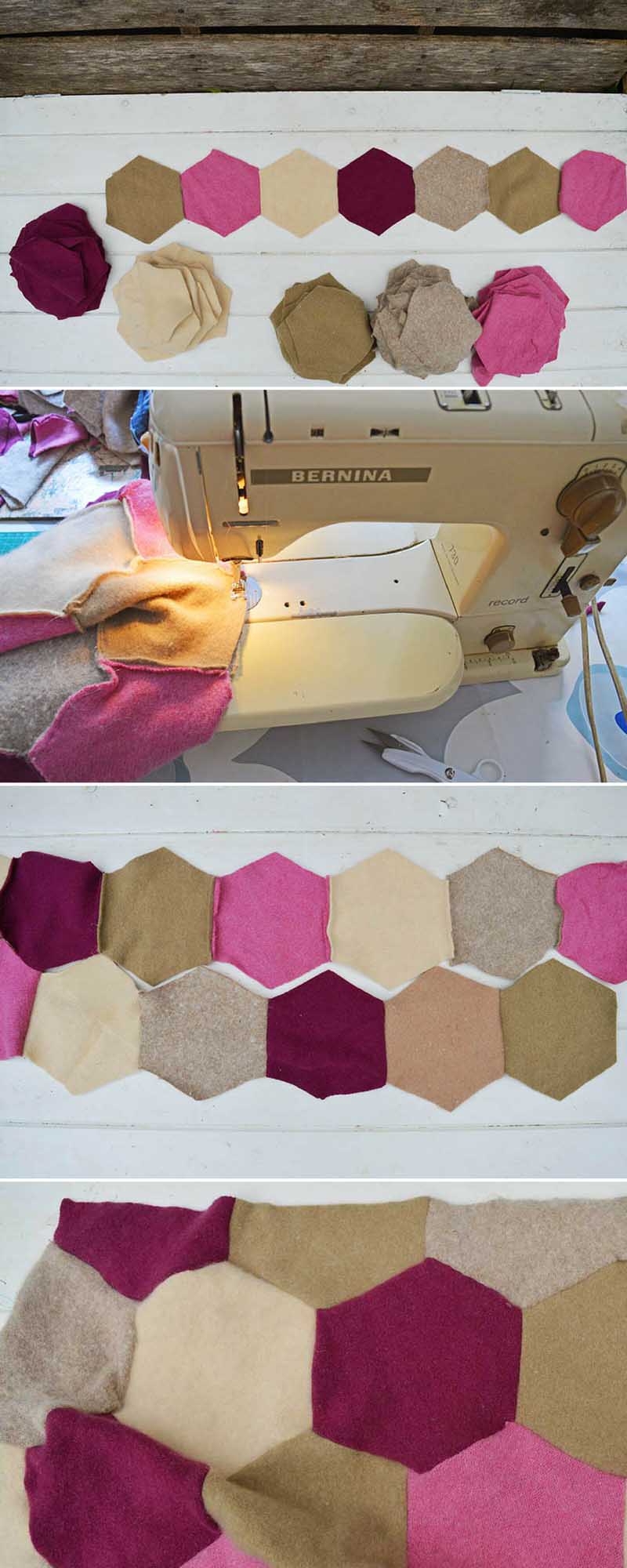 4. To add the denim trim to the blanket, firstly rip open the jeans waistband with a seam ripper. Then open up the waistband, insert the blanket edge and pin the waistband to the blanket. You will end up with a sort of sandwich of denim waistband on the outside and felted wool as the filling. Using a heavy duty needle stitch together and continue until the whole blanket is edged in denim.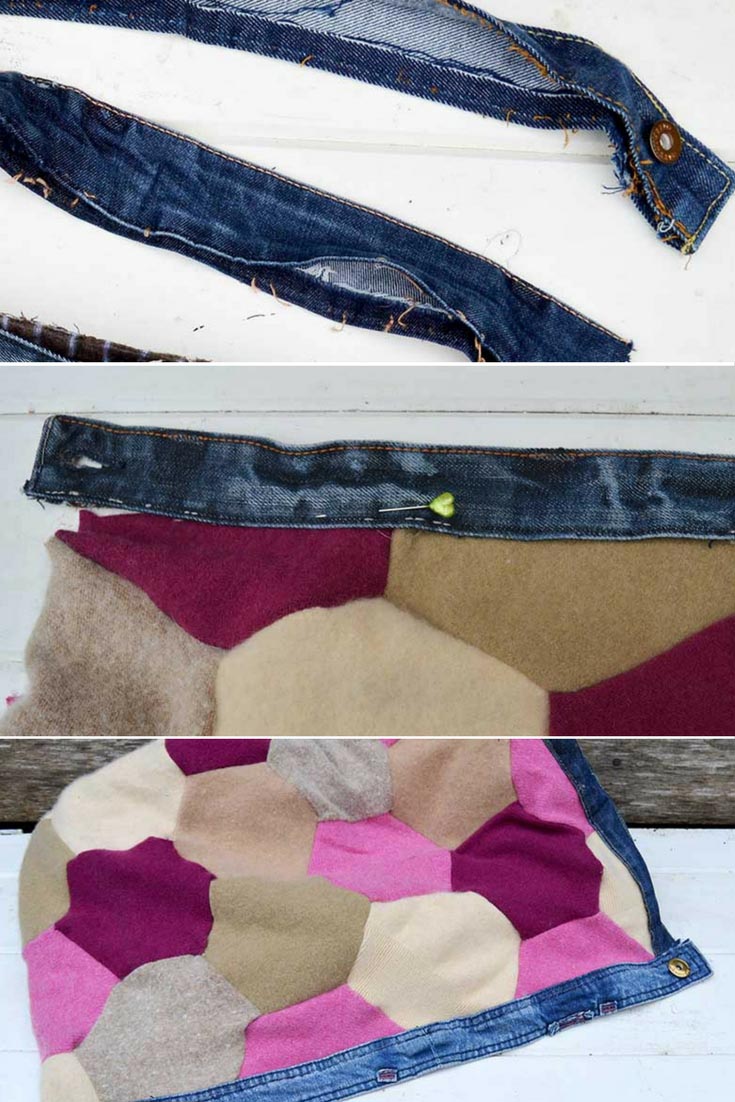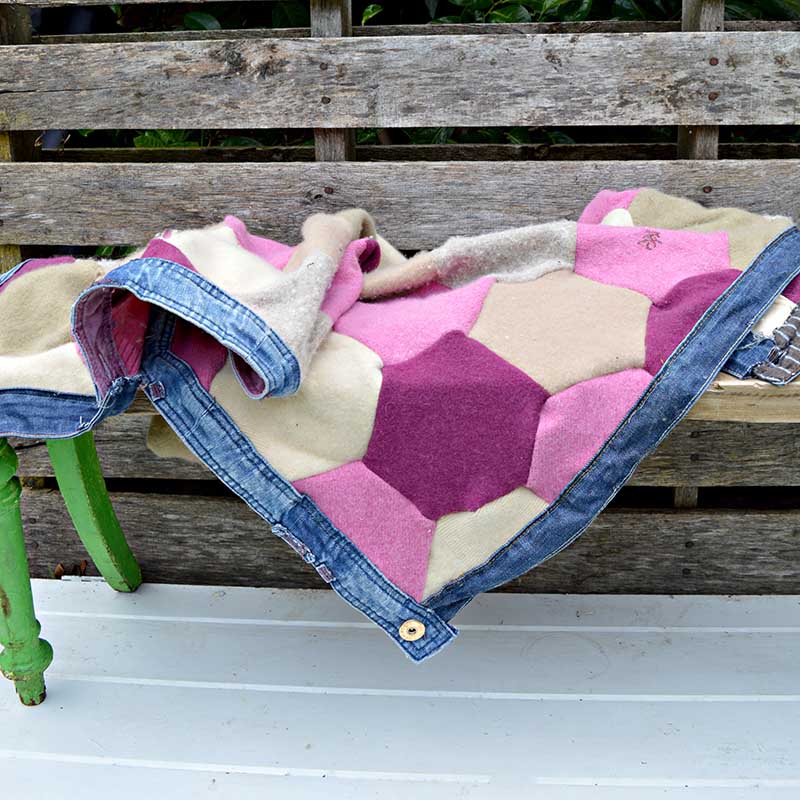 With any left over bits of denim waistbands you can make some cool fabric key fobs.
If you don't have any old denim to hand or want a different look you can always trim the recycled throw with bias binding. You can either buy this online or make some in a fabric design of your choice.
Or if you love denim and hexagons then check out these patchwork denim hexagon table mats I made.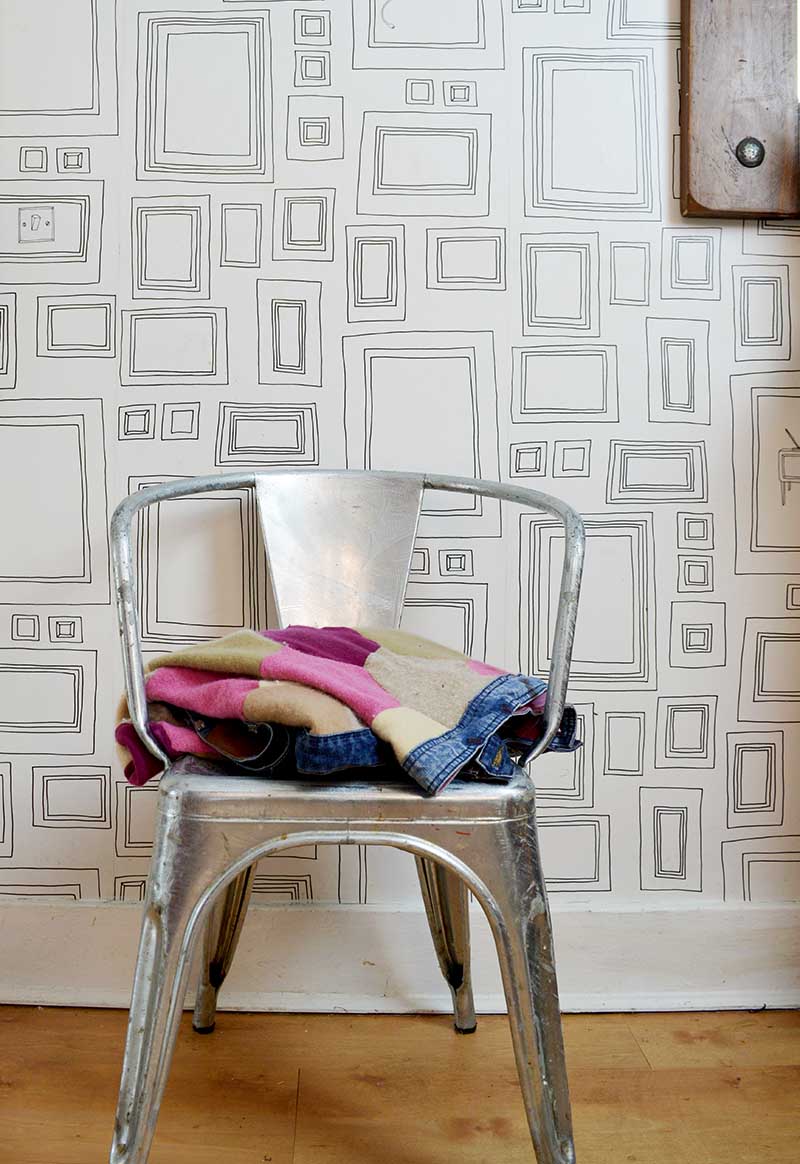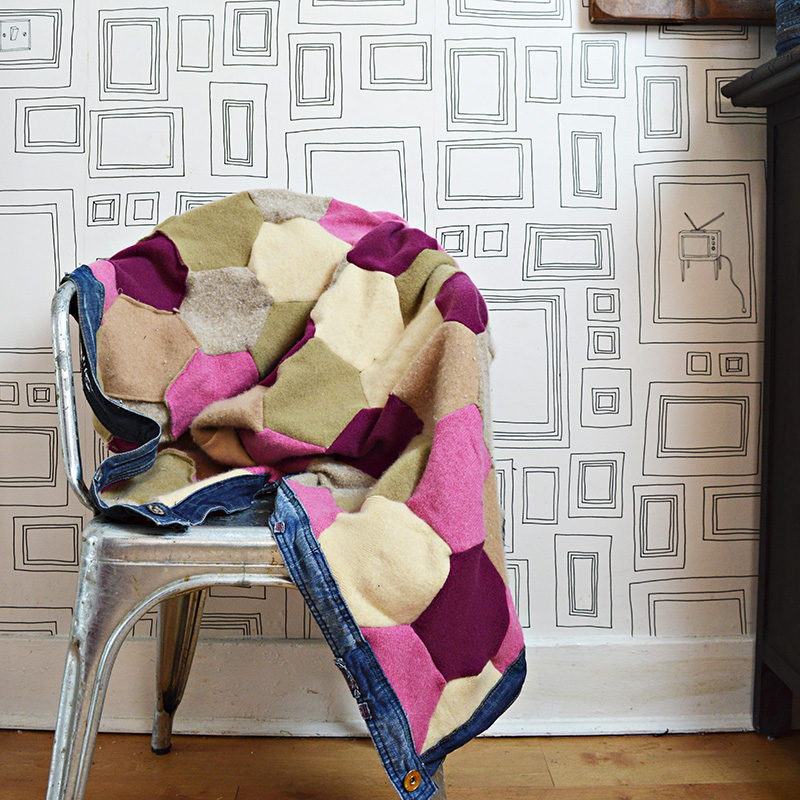 I've already been cozing up under this recycled sweater blanket and love how the denim trim coordinates with the recycled jeans pillows I made the other week. Or you could make some upcycled sweater pillows to match.
Tip alert: When cutting out your hexagons you will have been left with lots of felt scraps. Don't throw them away you can use them to make some lovely Christmas decorations such as upcycled felt garlands or cookie cutter upcycled Christmas ornaments.
For more repurposing and upcycling sewing projects visit allfreesewing.com.