Outdoor Sofa Upcycle with Indigo Shibori Dyeing (IKEA Hack)
Do you sometimes have an idea for a craft and upcycle but are hesitant to start as it has just as much chance of being a complete Pinterest fail as a big success?
I had seen all these lovely pictures of shibori dyeing and wanted to try it not on a simple pillow but with my outdoor sofa. Lucky for me not only did it turn out amazing but so much better than I dared hoped for. Now I'm hooked and am looking for other things in the home to shibori dye.
About seven years ago I bought an Ikea outdoor sofa (Ammero). The sofa frame has lasted really well. Which is amazing as it sits uncovered in the garden all year round putting up with whatever the British weather chucks at it. Which is usually a lot of rain with the odd bit of snow thrown in.
I do bring the cushions in when it rains and store them away over the winter as they aren't waterproof. However, after seven years the cushion covers were starting to look a bit tired and grotty no matter how many times I stuck them in the washing machine.
That's when I got the idea to try and revamp them with some indigo shibori dyeing. I thought that if it didn't work, no harm would be done as I could just fully indigo dye the cushions and my outdoor sofa would simply go from cream to blue.
Well as you can see I didn't need to do that as they turned out amazing.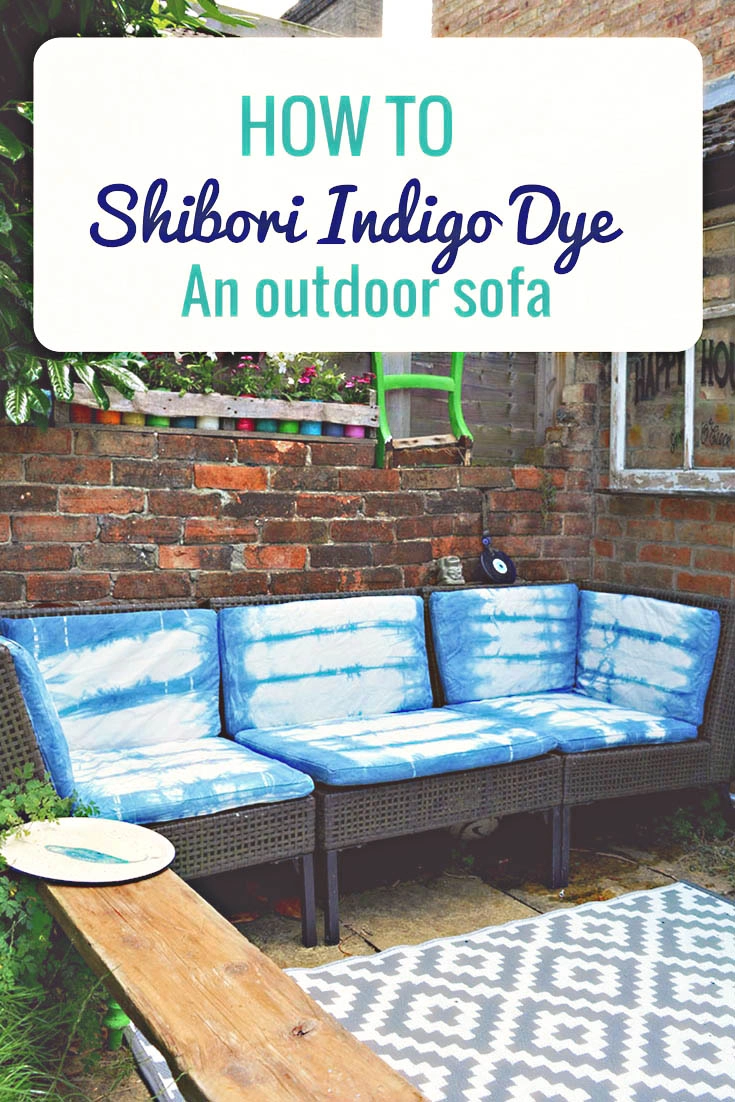 This post contains Amazon affiliate links for your convenience. Click here to see my disclosure policy.
What You Need For Indigo Shibori Dyeing
Shibori Dye Kit – The kit contains most things you need, indigo dye, rubber bands and gloves.
Large stick for stirring.
Washing up bowl or something similar.
How to do Shibori Dyeing
The Shibori Dye kit comes with comprehensive instructions but I will also explain what I did.
The first thing I did make up the indigo dye solution in the large bucket. The instructions on the kit were very clear for this. I needed a long stick that reaches the bottom of the bucket for stirring the dye. Once the dye solution was made up put the lid on the bucket and left it to stand for at least 15mins.
Whilst waiting for the dye solution to settle. I tied up my sofa cushion covers. The shibori dyeing effect you achieve will depend on how you fold and tie up your fabric. The instructions in the kit show you how to achieve many different patterns. This skillshare video here gives a good overview.
I folded my cushion covers in an accordion (fan) fold. As the covers were made of heavy canvas, I folded them over an ironing board, ironing each fold as I went along.Once the entire cushion cover was folded. I secured the folds with elastic bands placed 2-3″ inches apart. I then folded over the whole thing lengthwise and secured with another elastic band.
I then place the folded cushion bundles into a bucket of water to soak.
The next thing I did was remove the lid of the dye bucket and skim off the indigo foam (flower) that had formed on the top and placed it in a small bucket to one side.To dye the cushion covers I removed from the water from them, squeezing out excess water and air bubbles at the same time. The cushions were then dunked into the indigo dye bucket.The longer you leave the fabric in the dye the darker it will go. I wanted a light indigo blue for my sofa so I only submerged my cushion covers in the dye bucket for a total time of 1 min.
Don't panic when you remove the fabric from the dye as it will be bright green. As you put it down to one side it will turn blue as the dye reacts with the oxygen in the air.
After leaving the fabric to oxidize with the air for a good few minutes, I then removed all the elastic bands and unfolded the fabric to reveal the pattern.
Finally, I rinsed off any excess indigo dye and then washed the covers in a mild detergent before hanging out to dry.
My Shibori Sofa
I'm more than happy with how my Shibori dyeing turned out. The sofa just looks so bright and sunny in my tiny town garden. What a massive improvement. To make sure it lasts a little longer I sprayed the cushions with some waterproofing fabric spray.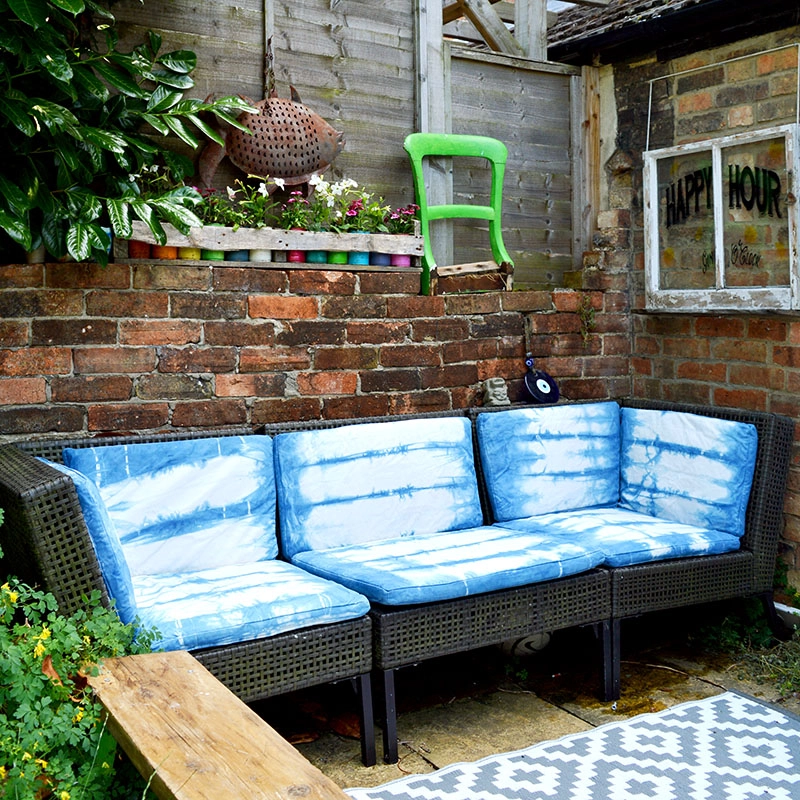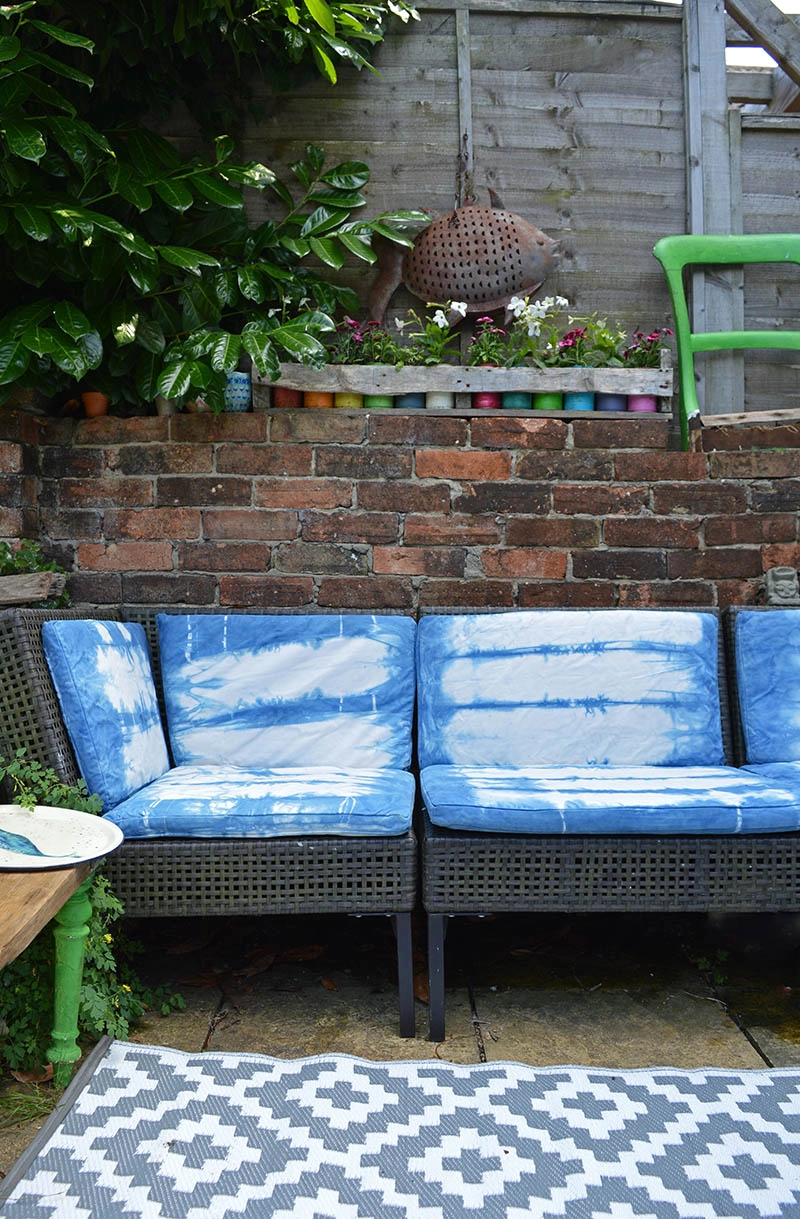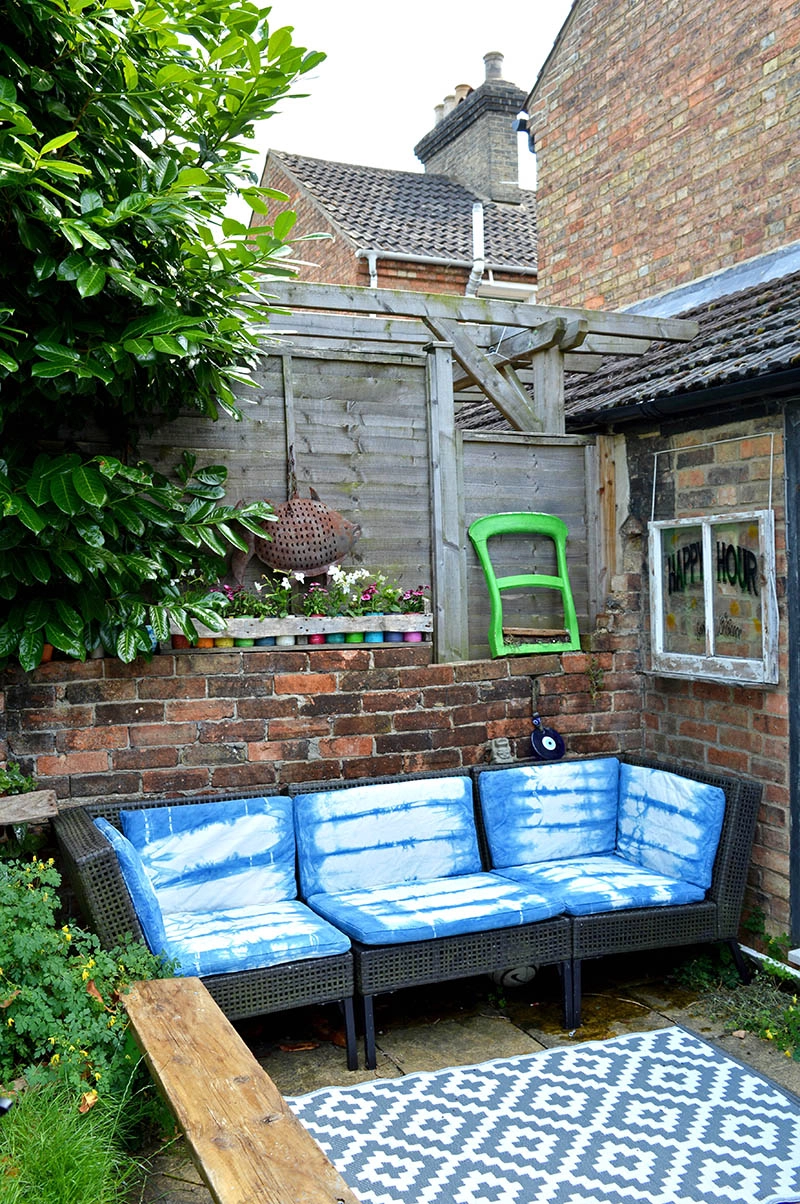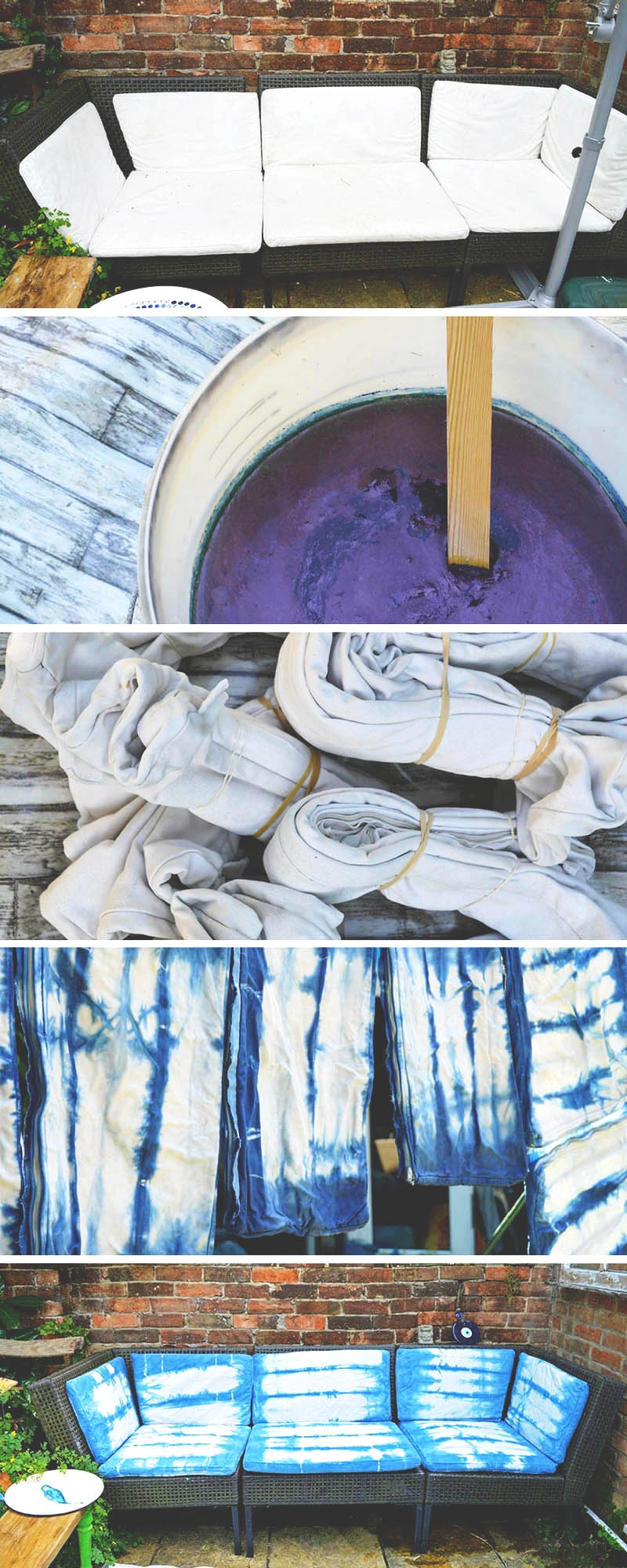 The Indigo dye kit goes a long way. After I finished dying my whole sofa I replaced the flower foam to the top of the dye and replaced the bucket lid.
A few days later my craft club buddies came around for a Shibori dyeing party. Where we dyed quite a few pillows and cushion covers, a duvet cover, some tea towels and a skirt between us. We had such fun trying out different folds and dipping times that we plan another shibori dye party soon.
I made some really cute Shibori indigo planters with some old socks.
I keep looking at things wondering what they would like with a bit of Shibori magic. My doily painted plates have a Shibori look about them too, it's probably because of the colour.
My Ikea Ammero sofa with its new indigo shibori dyed cushions also goes perfectly well with the other seating in my garden my Marimekko bench. They look like they were made for one and another.
There are many more fabulous upcycling ideas for the garden here.