How do you transform a grotty old garden bench? How about some cool decoupage with designer paper napkins and transform it into a Marimekko bench.
I am a huge Marimekko fan. I just love their fabrics and Scandi/Nordic style. For those of you who don't know, Marimekko is a Finnish home furnishings and textile company.
I wanted some of that Marimekko style in my garden. Therefore, instead of just painting a neglected bench in my garden, that was in dire need of cosmetic attention, I decided to Marimekko it!
I got the idea from some Marimekko decoupage shoes I'd made a few months ago. I still had some *Unikko napkins left over from the shoe revamp, so I decided to use these to upcycle and pimp my bench.
(*Unikko is probably Marimekko's most iconic print it was actually first designed in the 1950's, very mid-century modern)
Using Paper Napkin Decoupage to Make a Marimekko Bench
This method of upcycling a bench with paper napkins can be applied to other outdoor furniture too. I've upcycled an old wooden table with other Marimekko designs and turned it into Scandinavian Christmas wall art.
There are also many other fabulous designs besides Marimekko. That is one of the great advantages of using paper napkins to upcycle garden furniture, they come in thousands of fabulous designs.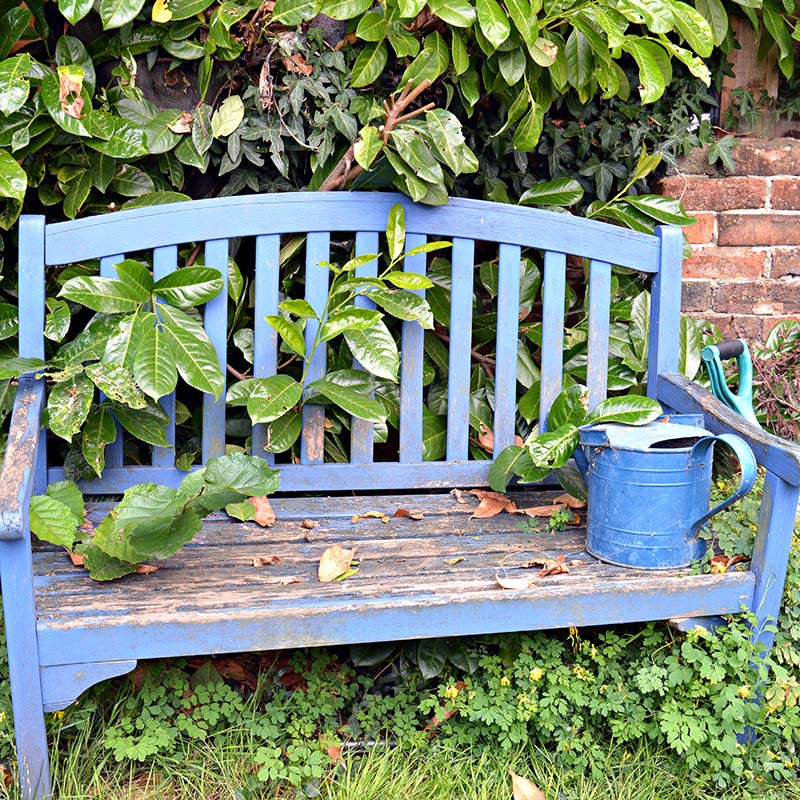 We're a participant in the Amazon Services LLC Associates Program, an affiliate advertising program designed to provide a means for us to earn fees by linking to Amazon.com and affiliated sites. As an Amazon Associate, I earn from qualifying purchases.
What you need to make a Marimekko Bench
Old wooden bench or other garden furniture that needs a revamp
Paint and glue brushes
Marimekko Napkins – I used Unikko blue ones, 1 packet was enough for my bench
PVA Glue / Mod Podge – or other white glue suitable for use with paper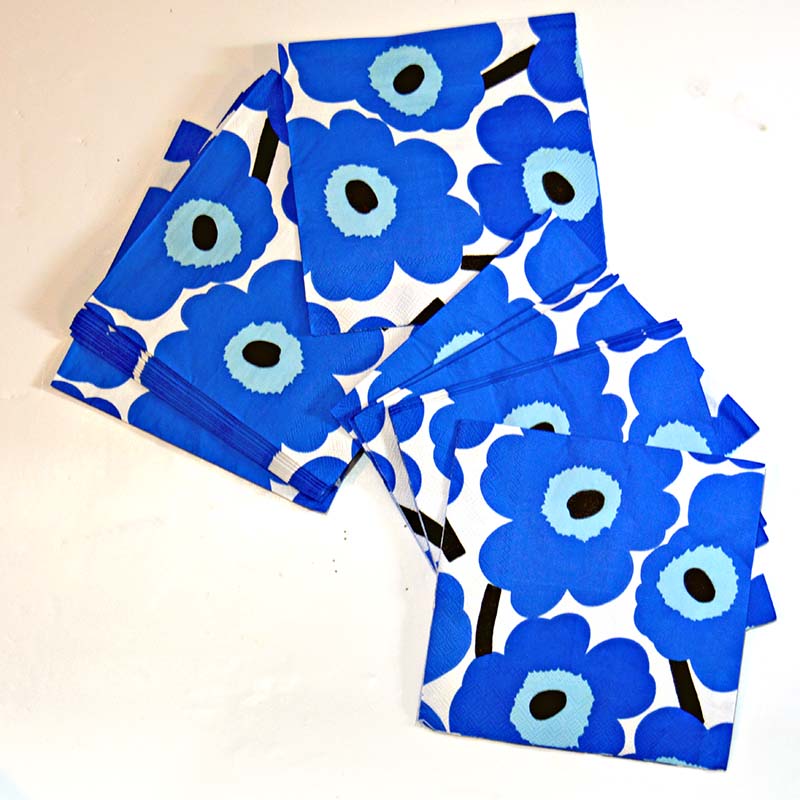 How to Decoupage a Marimekko a bench.
The first thing is to prepare the bench or outdoor furniture for decoupage. To do this sand it smooth with the orbital sander.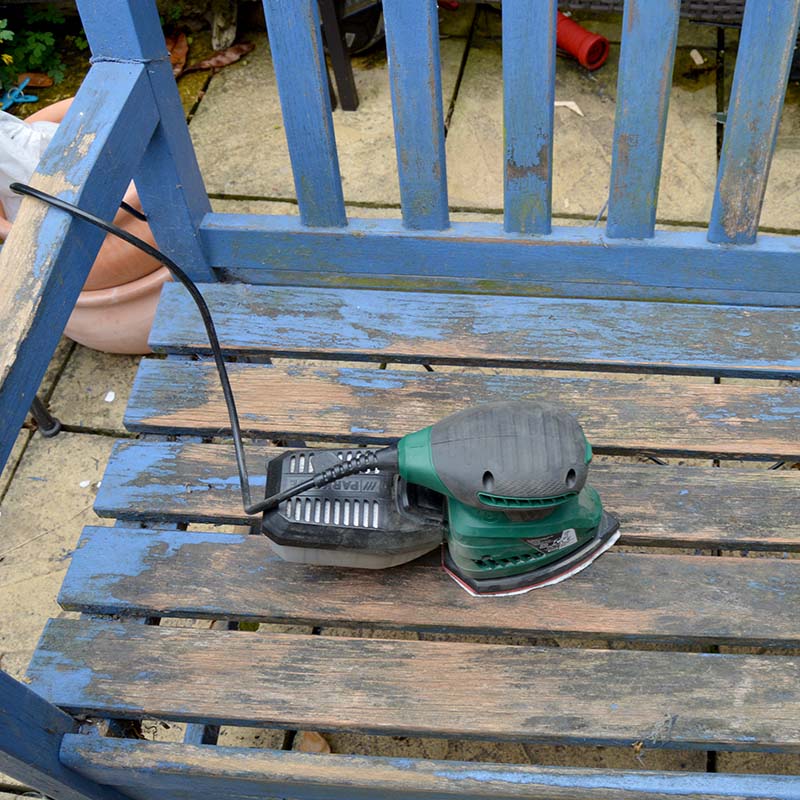 2. Next, give the bench a coat of white paint. One coat should be enough, the paint is just to make sure that the paper napkin pattern can be as visible as possible.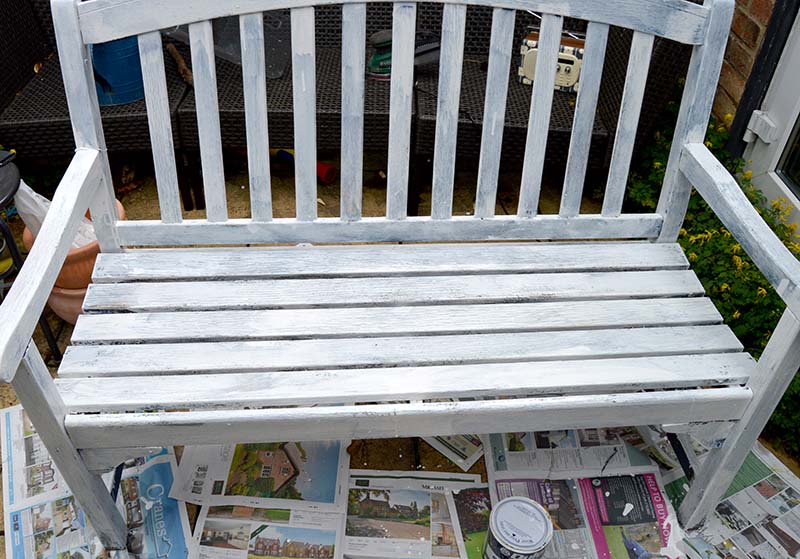 Decoupaging the Bench
3. Next, prepare the Marimekko napkins for decoupage by separating them. Most paper napkins are 3 ply thick, but we only want the top printed ply for decoupage. If your roll the corner of the napkin between your thumb and forefinger the layers of ply should seperate.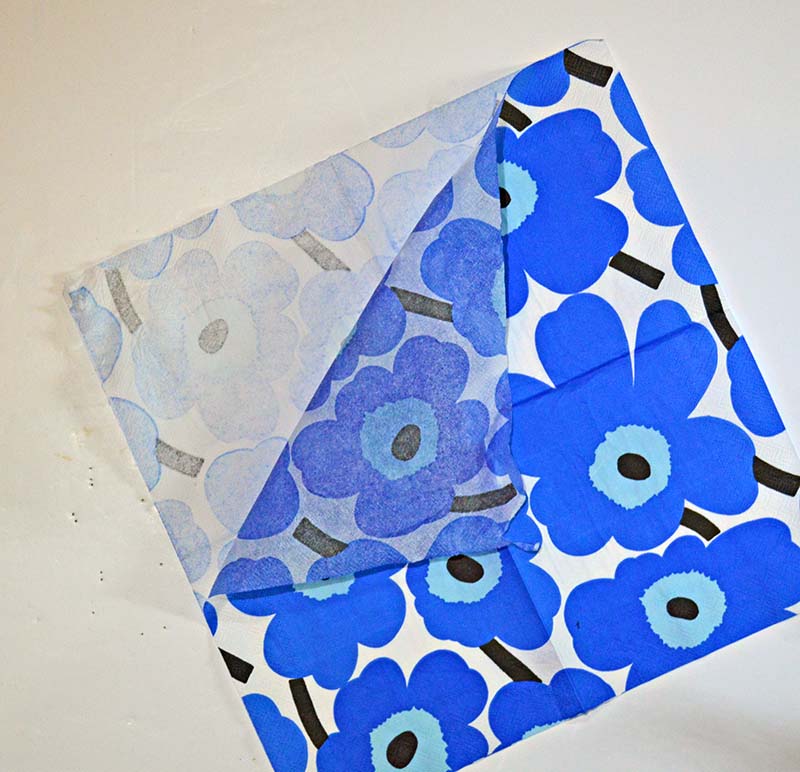 5. Next, tear the flower patterns out from the paper napkins. If you wet the napkin first where you want to tear, the flowers will come away easily. It is better to tear rather than cut the napkins as you get a feathered edge which blends in better.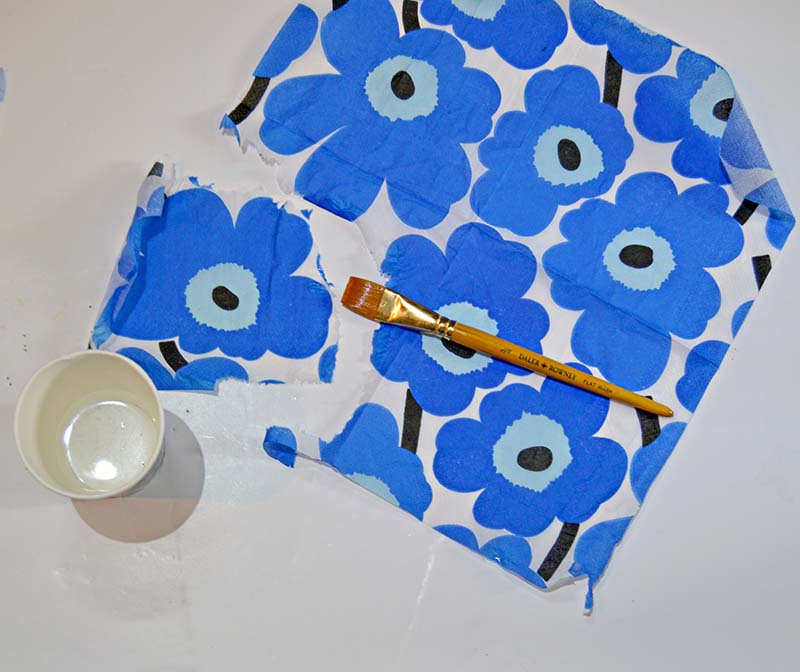 6. Next, spread glue onto the bench where you want to decoupage and then place the cutout flowers onto the wood, one by one. The napkins are too delicate to apply the glue directly to. Gently brush out the napkins as you lay them on the bench.
If you screw up some cling film into a ball you can use this to gently push the napkins onto the bench and smoot them out a bit.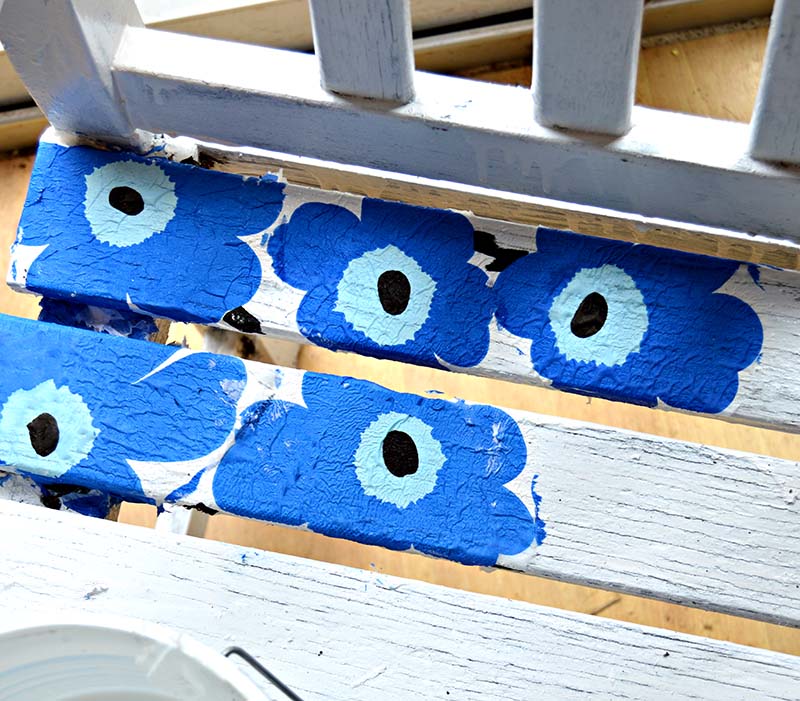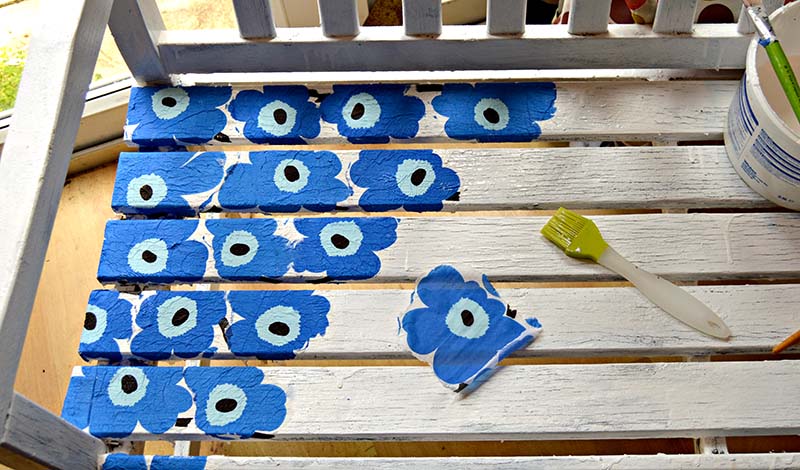 7. Carry on decoupaging the bench with the flowers until the whole bench was covered in Marimekko Unikko flowers. This took me a couple of hours. You can do this in stages it doesn't have to be done all in one go.
8. Leave the glue to dry thoroughly. Once it is dry, cover the entire bench in two coats of crystal clear outdoor/yacht varnish. Make sure you use a crystal clear varnish, as just clear varnish can have a yellow tint to it.
This varnish will protect the decoupaged Marimekko bench from the elements. It has been a few years since I decoupaged this bench and the outdoor varnish has protected it from all the English weather can throw at it.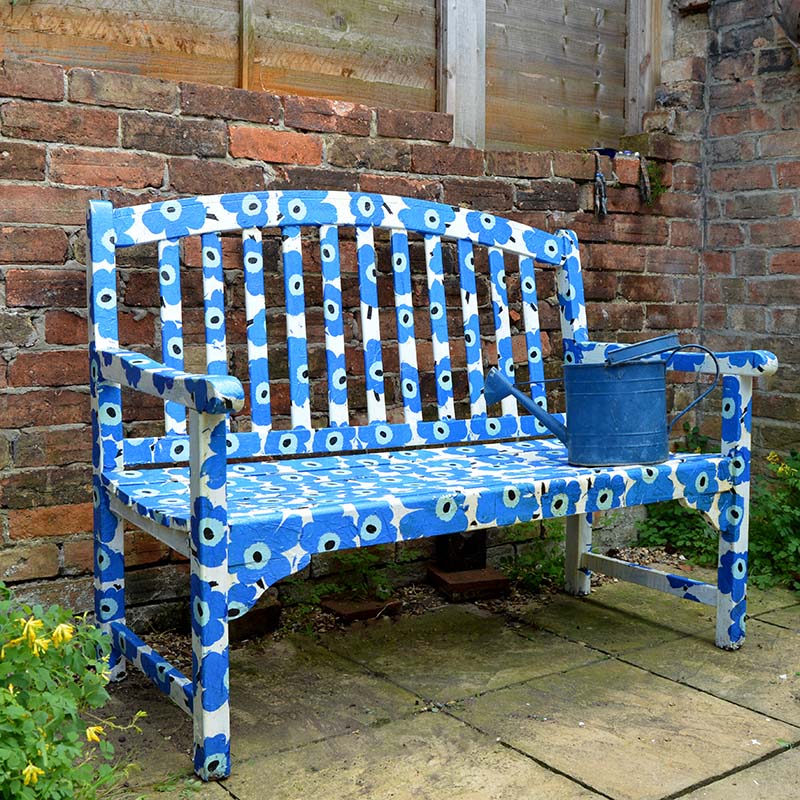 I told you it was easy, and I now have a bench to match my shoes!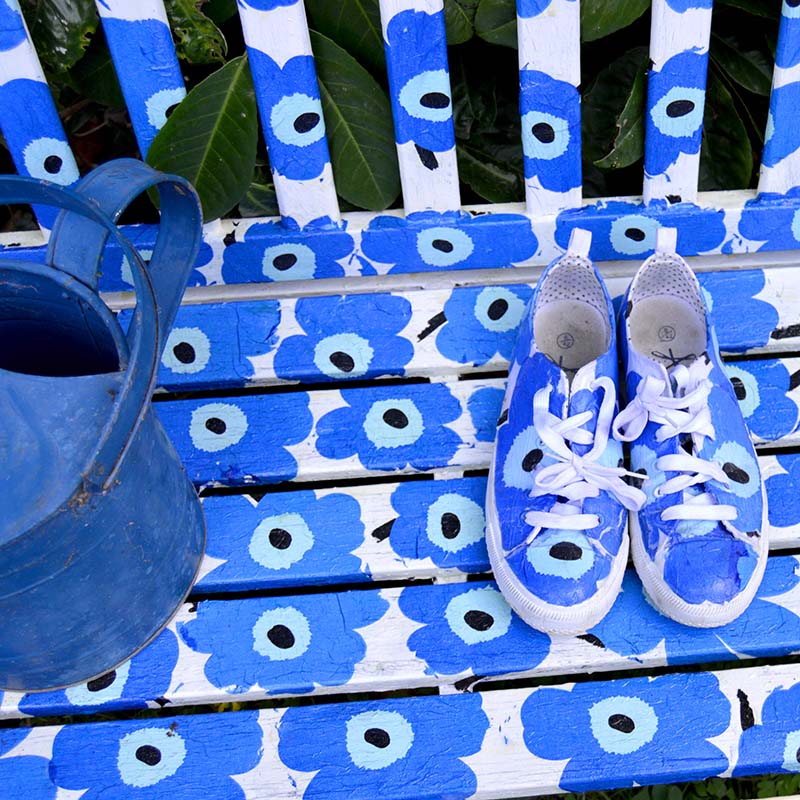 If you're not a huge Marimekko fan, you can of course use this method to upcycle a bench with the napkins of your choice.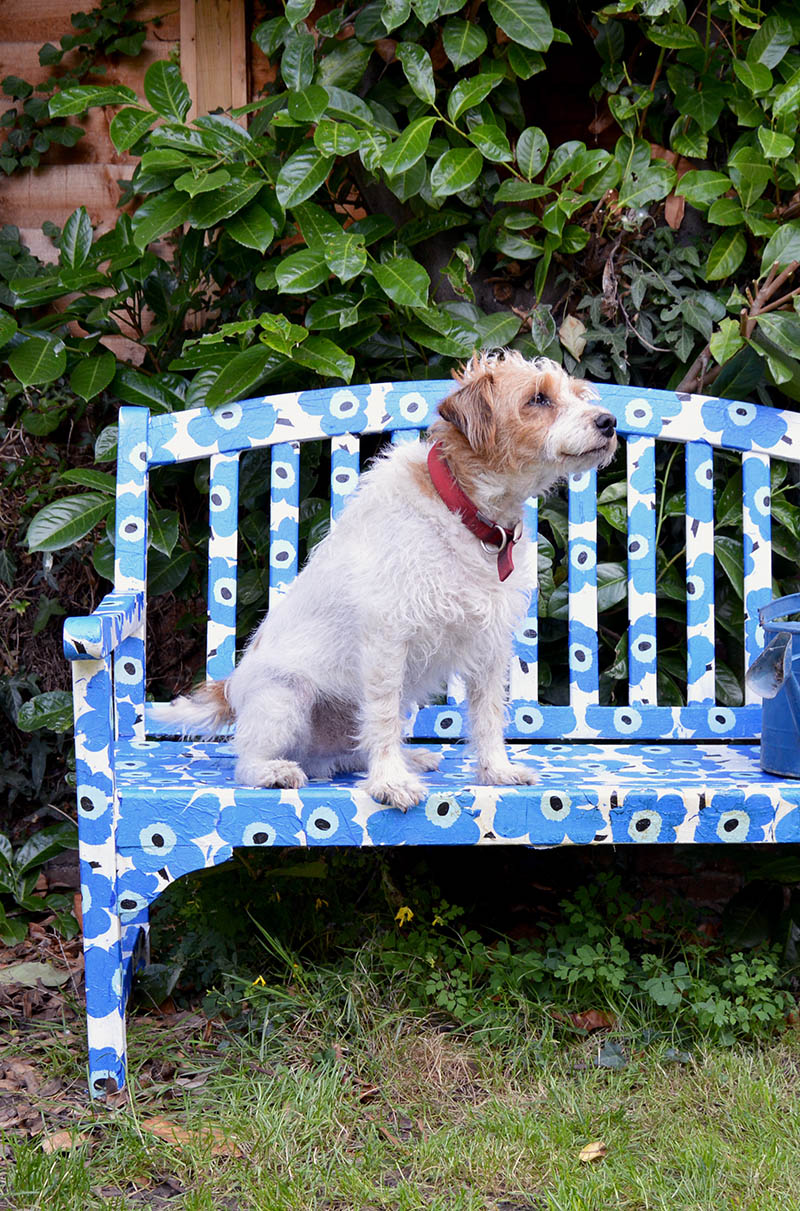 Since upcycling my garden bench with Marimekko, I have painted my garden shed to match in the same Unikko pattern but in a different colour way.
I have also created a wonderful and beautiful floral display of decoupaged Marimekko planters using paper napkins in lots of their different designs which brightens up my garden on the dullest of days. And in the summer I even have a Marimekko giant cactus I bring out into the garden for some fun decor.
Marimekko isn't just for the garden, my stairs have been wallpapered in the Unikko design too.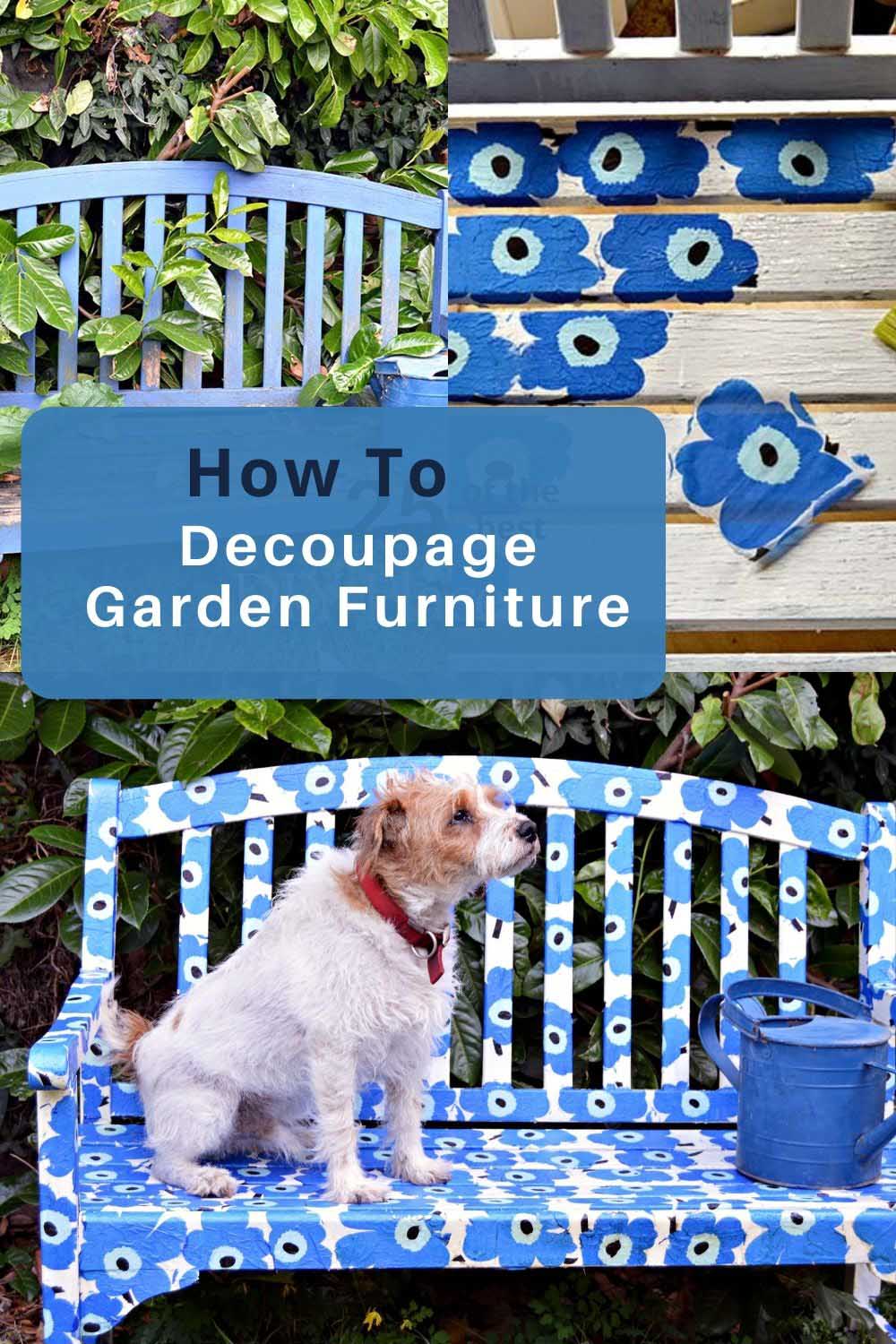 You will find more unique upcycled garden ideas here.