Moroccan Style Painted Wood Pallet Planter
I love my Victorian brick walled garden it looks charming and is full of character, however, the brick work can be a bit dark. That's why a made a painted wood pallet planter for my garden to brighten up and add colour.

I'm really into Moroccan tiling at the moment and decided that I wanted to recreate the effect with paint. Also, I just love the colour blue, last week I even did some indigo Shibori dyeing on my outdoor sofa.

To recreate that Moroccan tiled look I stenciled a wooden pallet with a Moroccan style stencil. I then added plant pots to create a bright summery walled planter. My new walled garden definitely makes the garden feel more summery.

It's hard to remember it's summer here in the UK sometimes. We are having a typical unpredictable British summer at the moment. One minute is scorching hot the next is raining and cold again. Mind you if the weather was predictable we Brits would have to think of something else to talk about.

The whole painted wood pallet was a really affordable way to brighten up the garden it took me only a couple of hours to do. The pallet was free, I already had the pots and I used left over paint.

Being made of sturdy pallet wood the planter should hopefully last a good few years too.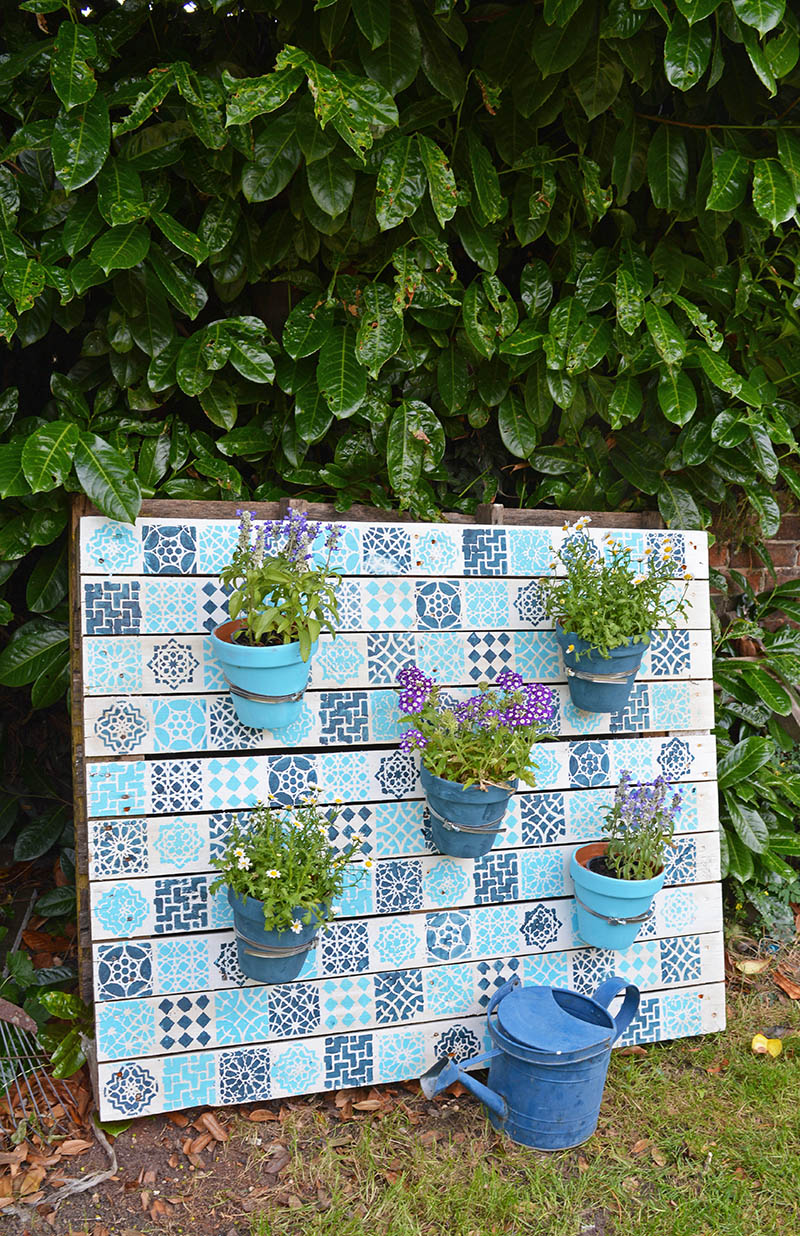 This post contains Amazon affiliate links for your convenience. Click here to see my disclosure policy.


What You need to make a Moroccan painted pallet garden
Pallet – I just pick mine up from skips(dumpsters).




Moroccan Tile Stencil – This was a large 12″by 12″ stencil which made the stenciling quick.
Paint – I just used paint left over from decorating. White emulsion (latex) for the background and two different shades of blue paint for the stencil one was a latex paint and the other was chalkboard paint. You could also use acrylic paints with the stencils.
Jubilie clips /hose clamps – large enough for the plant pots you use.
Wood screws
Terracotta pots – I used five 17cm pots.






A sealant for the paint, varnish or clear furniture wax.
Paint brushes and stencil brushes.
How to make a painted wood pallet garden
Stencilling the Wooden Pallet
The first thing I did was paint the pallet white. This was to be the background of my garden. I used white emulsion (latex) paint as I had some left over from decorating the house. Any white or pale colour will do.






Once the white paint was dry I began my stenciling. The first thing to do is to tape down the Moroccan tile stencil at the edges in the corner of the pallet. This is to stop it moving when stenciling.

The stencil is divided into 9 Moroccan tiles. I painted the tiles in 2 different blue paints one light and one dark. Alternating each tile to create a checkerboard effect.

Good tips when stenciling is not to have too much paint on your brush and to paint with a stippling motion. This will stop the paint smudging and spreading under the stencil.




Whilst the stenciled pallet wood was drying. I painted the terracotta plant pots in the same colours as I used for the Moroccan tile stenciling.






Attaching your plant pots to the painted pallet wood

You will need to drill a screw hole in each jubilee clips to be able to attach them to the pallet.






As I had quite large pots I only used 5 for my planter. If you have smaller pots you may want to use more. Each clip was screwed to the pallet wood in a 5 dot dice pattern.





I closed the jubilee clips up. As the plant pots are tapered they simply just slot into the jubilee clips. This makes them very easy to change and remove when needed.










I'm really pleased with how this painted wood pallet has turned out. It looks awesome in my garden and I love the Moroccan feel that the stencil gives to the planter wall.




If you like this you should check out some of my other more colourful garden tutorials.
Colourful tin can planters
How to create a stunning outdoor sofa with Shibori dyeing
How to make a unique Marimekko bench


If you are looking for more planter ideas don't forget to check out DIYideacenter.com