How to paint plates with permanent dishwasher-proof patterns and how to use a paper doily as a vintage-style stencil.
It's a fun way to make my eclectic collection of vintage crockery matches. I have a bit of a plate habit and love to buy vintage crockery from junk shops and flea markets. I like fluted-edged plates.
Add colour and a lace pattern to old ceramic plates using paint and paper doilies. The paint on the plates can be made permanent and dishwasher-proof.
There are so many wonderful lace patterns that you can get with doilies, both paper and cloth. They are great for adding a Boho and Shabby aesthetic to your home decor. I've made doily stencilled cushions, which look great on my Shibori sofa.
(There is a printable how-to card for this craft at the end of the post.)
How To Paint Ceramic Plates
Having revamped my boring cushions with a paper doily stencil, I thought, why not do the same with my plates. That's what I did. It's a fantastic improvement.
I will show how easy it's to paint ceramic plates with permanent paint. Using a stencil, you can paint intricate patterns without special artistic skills. Or a steady hand.
It is so easy to upcycle old crockery with paint and a paper doily!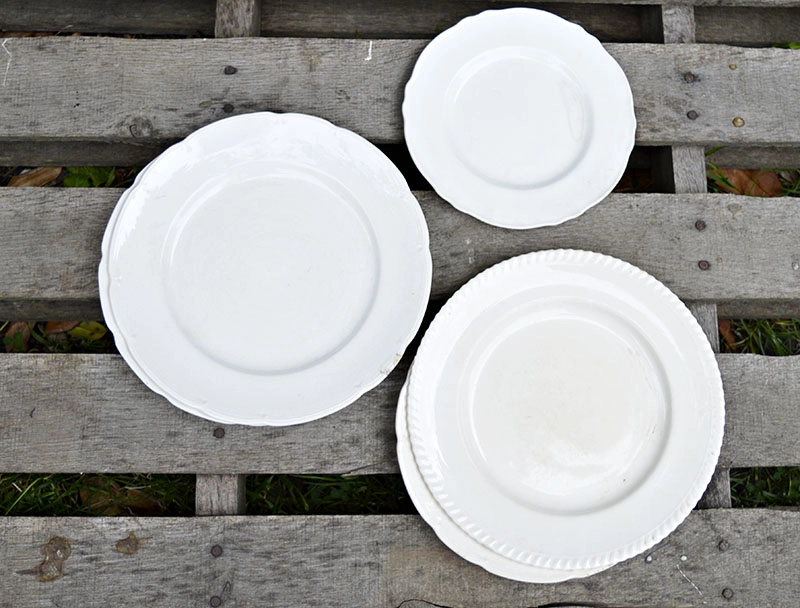 What Paints To Use On Ceramic Plates
There are several different ways you can paint old crockery. You can use acrylic paints, porcelain paints and even permanent markers such as sharpies.
The best paints I have found are those designed for porcelain and the bake version rather than easier no-bake paint.
For a baked painted plate, you seal it by putting it in an oven. The paint tends to be more robust than the easy no-bake paint.
If you plan to eat off the decorated plates, make sure to use a ceramic plate labelled food-safe and free of toxins. If the China is going to be used as a wall decoration or for non-food purposes, then you can use an enamel acrylic paint.
We're a participant in the Amazon Services LLC Associates Program, an affiliate advertising program designed to provide a means for us to earn fees by linking to Amazon.com and affiliated sites. As an Amazon Associate, I earn from qualifying purchases.
What You Need To Paint Old China With A Doily Pattern
Plate – You can use any old china plate for this project. Jumble sales, thrift shops and Facebook Marketplace are good cheap sources for vintage crockery. I ask relatives and friends if they have old China they don't want.
Porcelain paints – There 2 types of porcelain paints, bake and no-bake. Baked paints are best if you plan to use the plates rather than for just decorative purposes. Or there are porcelain paint pens for more accurate painting.
Assortment of paper doilies – Look for vintage lace patterns you would like as a decoration.
Repositionable spray adhesive – To easily remove the doily stencil.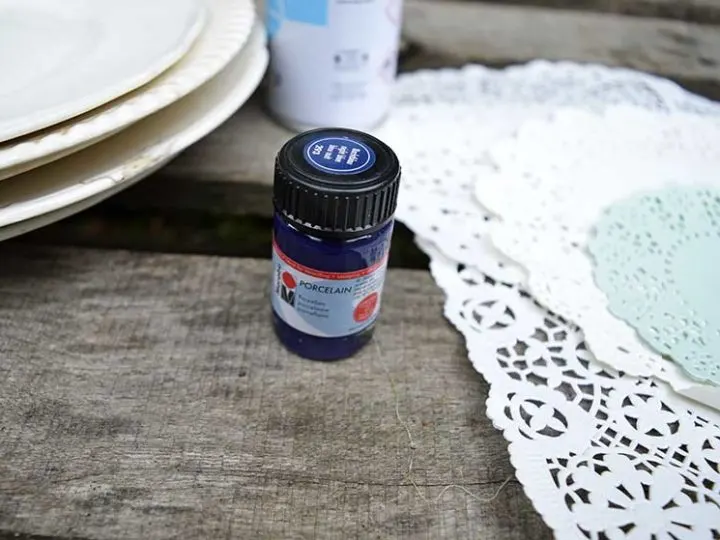 How To Paint China
Step1: First, wash your China plates with hot soapy water. Then make sure they are thoroughly dry. To remove soapy residue or sticky marks from labels, rub the ceramics with rubbing alcohol.
Step 2: Next, spray the back of the paper doily with repositionable spray adhesive. Then place it onto the plate to where you want the pattern. I placed my stencil on the edges of the plate and off centre.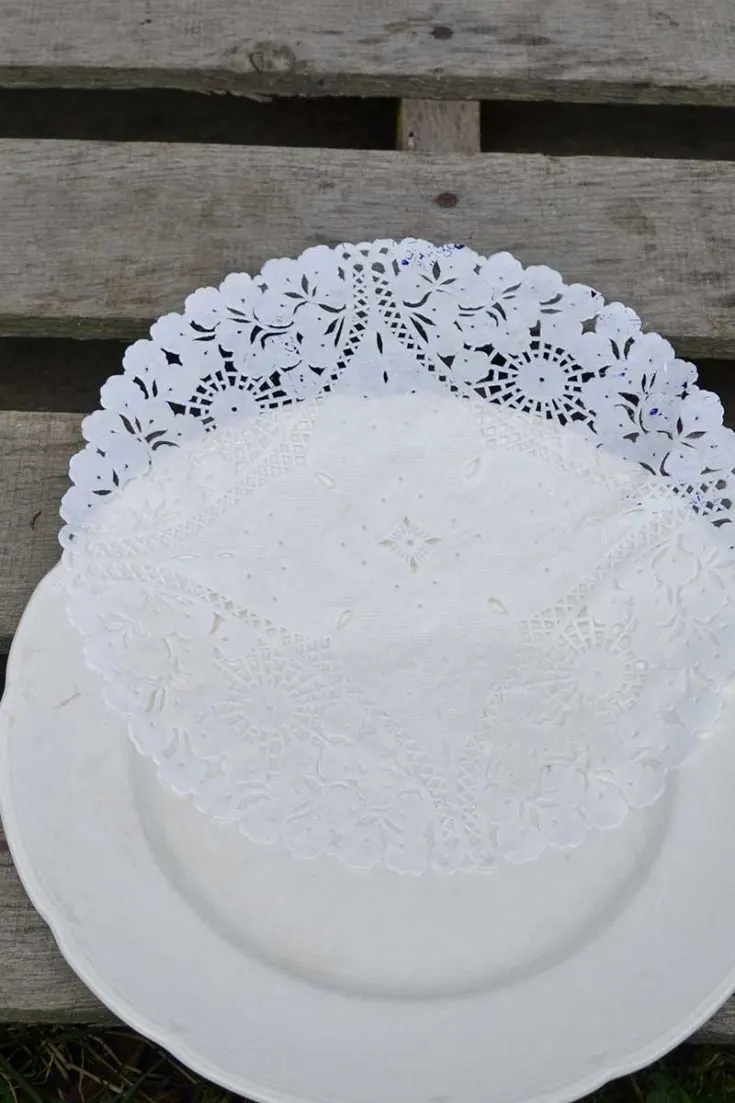 Step 3: Next, use a small paint brush and load up the tip of the brush. Only use a small amount of porcelain paint. Then carefully dab in the holes of the paper doily. Be careful not to have too much paint on your brush, as this may seep under the doily.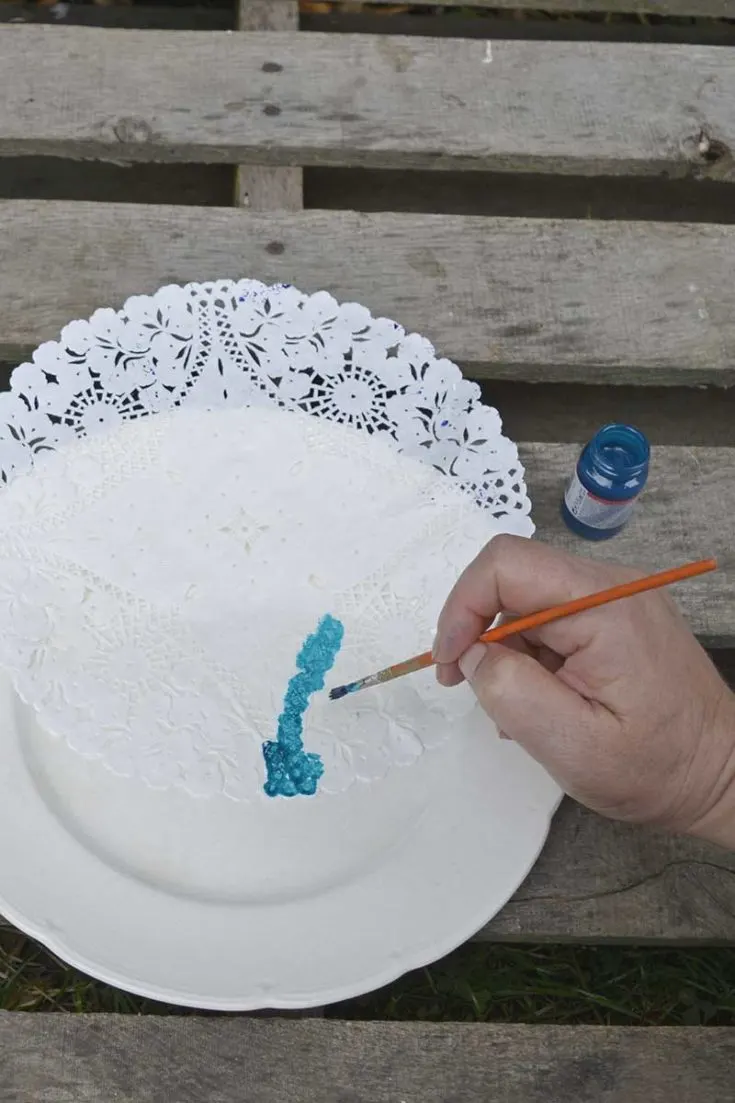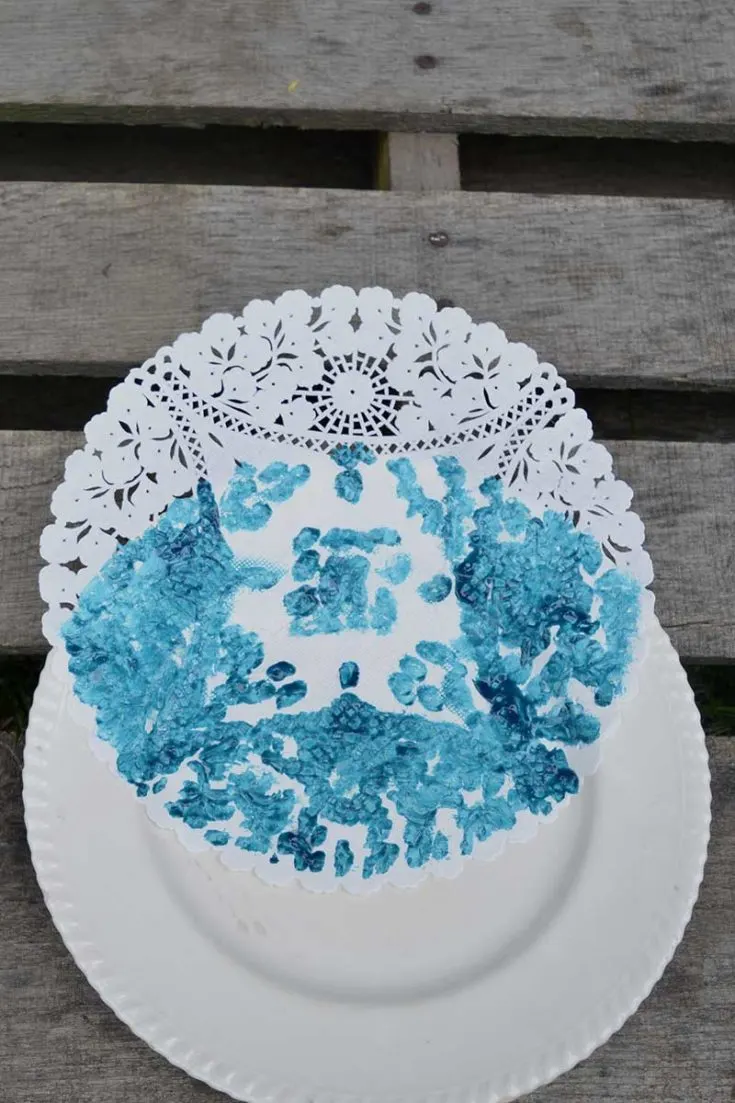 Step 4: When you've finished painting in the doily holes, carefully lift off the paper doily stencil.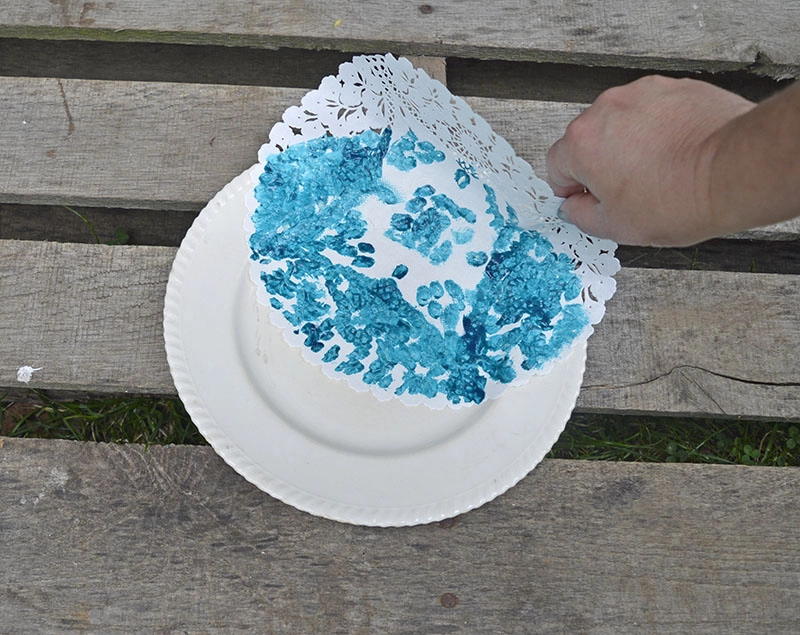 Step 5: To finish off, make sure the paint on the plates drys thoroughly.
With no-bake porcelain, paints leave the plates to dry for a couple of days before using and washing them. They will only be dishwasher er safe up to 40 °C, so it's best to wash them by hand.
If you use the baked version of porcelain paint, the pattern will be more robust and last longer.
How To Set The Paint in The Oven
There will be instructions on the bottle of paint used on how to set it. But this is the method I use, the only thing that might be different is the recommended oven temperature.
Place the painted plate in a cold oven. This will reduce the chance of them cracking. The ceramics can be placed on either a rack or the base of the oven, it doesn't matter.
Turn the oven temperature to 160 °C, about 325°F.
Once the oven has reached the temperature, leave the plates in for 40mins.
Then turn off the oven but leave the plates in until it has cooled, this will take a couple of hours.
The plates will then be ready to use. I made my painted plates a few years ago and they look just as good as the day I made them. I used the baked-on paint method to make the paint permanent on the plates. They have even been in the dishwasher a few times and the paint hasn't faded.
I'm on the lookout for some other plates to paint with stencils. I like the doily pattern, but I also have some Pineapple stencils and Moroccan stencils in my craft cupboard I'd love to try out with painted ceramics.
If you are more artistically confident, you can just free-style paint patterns on your old plates and our designs.
If you have a few doilies left over then you should check out these easy paper doily crafts.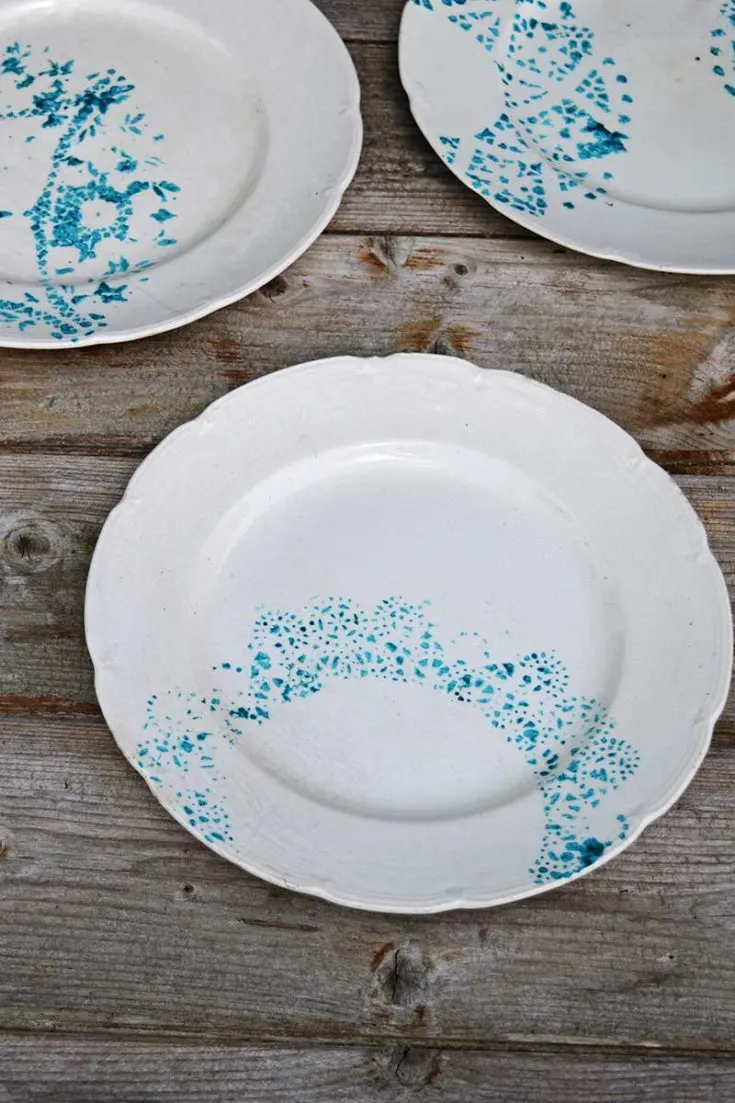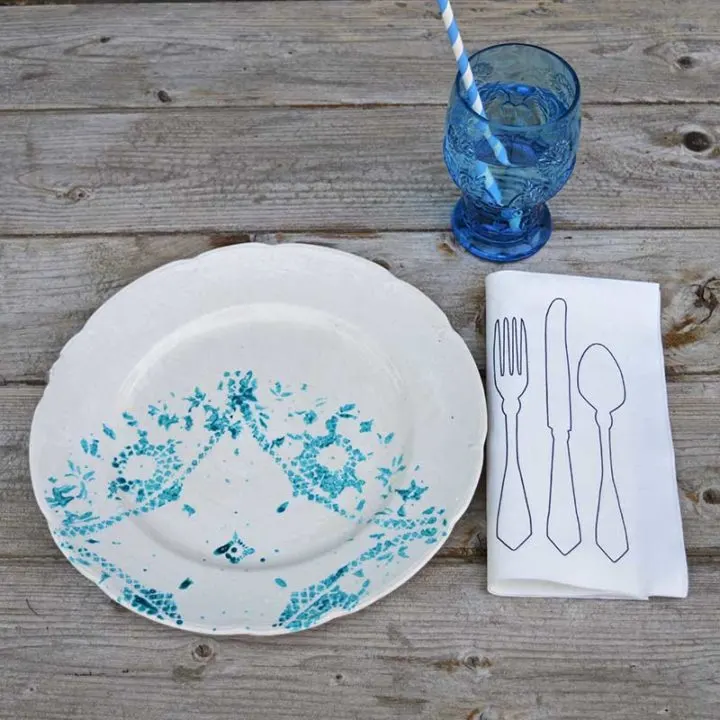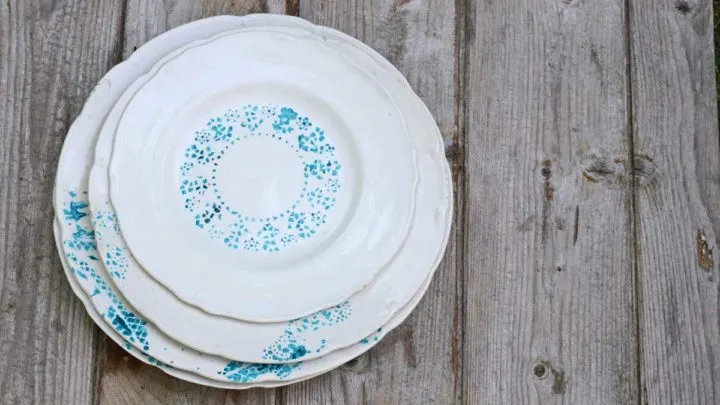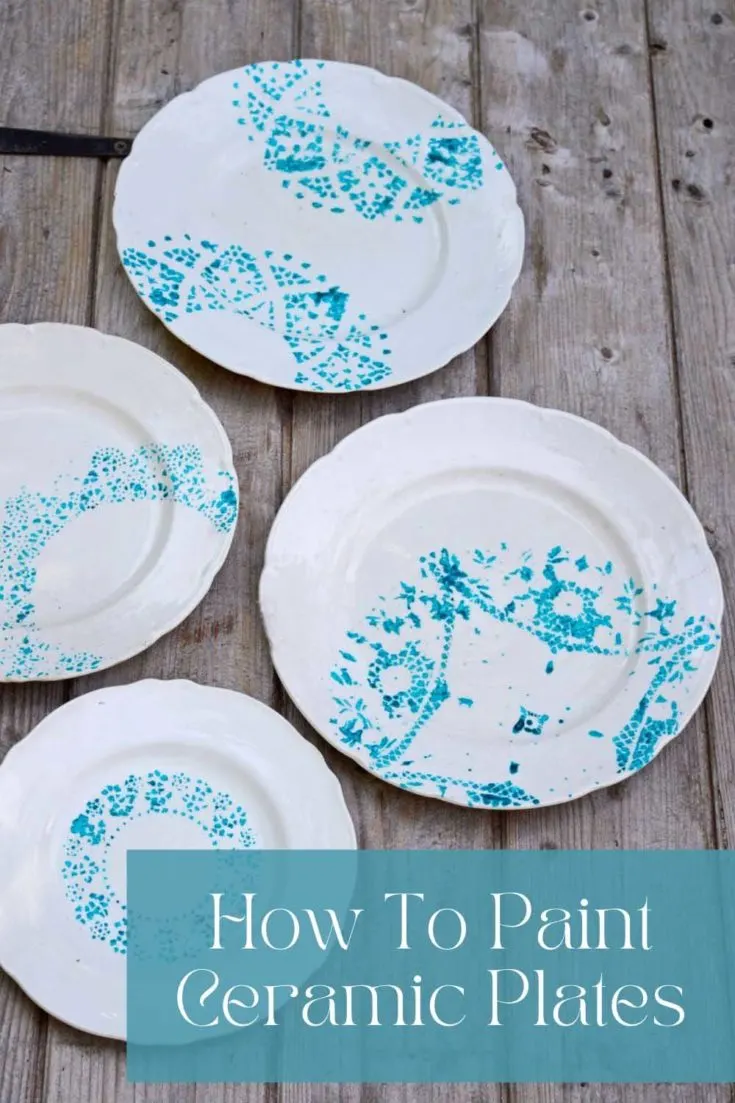 I don't just paint old China crockery. I also paint glass to decorate and upcycle old windows and vases. You should check out my painted bee window herb planter and Christmas window decoration.
Yield: Painted ceramic plate with a laced doily pattern.
How To Paint Plates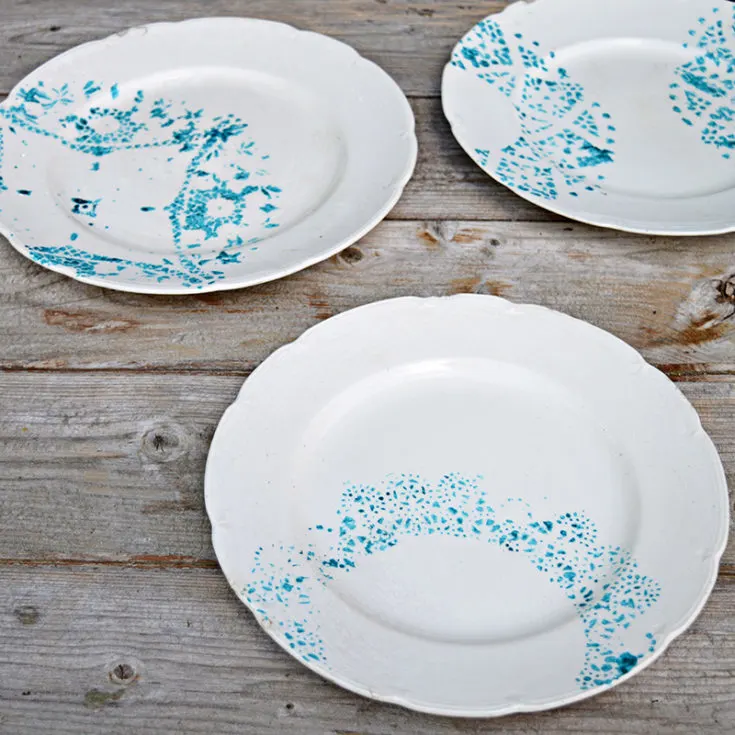 Upcycle plain old China plates with paints and a paper doily stencil. It is permanent, food safe and dishwasher proof, a great way to make vintage crockery collections match.
Total Time
2 hours
30 minutes
Materials
Old ceramic plain plates
Food safe, permanent porcelain paint
Paper doilies
Repositionable spray mount
Rubbing alcohol
Instructions
Wash the plates in hot soapy water. Then dry them before rubbing with alcohol. It removes the soapy residue and sticky label marks.
Spray a paper doily with the sticky mount and place it onto the plate.
Add a small amount of porcelain paint to a small brush. Don't overload the brush, as it will run under the stencil.
Next, dab the paint into the doily holes onto the plate.
When you have finished painting the plate, carefully remove the stencil.
Next, place the plate in a cold oven. Then turn the temperature to 160c, when the temperature is reached, leave it on for 40 minutes.
Next, turn the oven off and leave the plate to cool down in it. Remove the plate after a couple of hours or when cool to handle.
Recommended Products
As an Amazon Associate and member of other affiliate programs, I earn from qualifying purchases.
This post was first published in August 2016 and updated in June 2022