Make your own Gorgeous Tropical Fabric Birdhouse Decoration
I love the tropical trend at the moment, I think it's because it remind me of my childhood growing up in the far east. To add a bit of tropical fun to my decor I made this gorgeous tropical fabric birdhouse.

This birdhouse is basically an updated version of my very popular homemade fabric birdhouses. The big difference is the roof and the tropical fabric print I used. Also, I managed to find some lovely tropical birds to adorn my birdhouse.

I actually prefer this tropical fabric version of my birdhouse to the original. I will definitely be making more of them to decorate my home with. These birdhouses also make a great gift for someone. They are so easy and fun to make for a very little cost. You can either buy some tropical fabric or even use an old Hawaiian shirt or printed blouse to make the birdhouses with.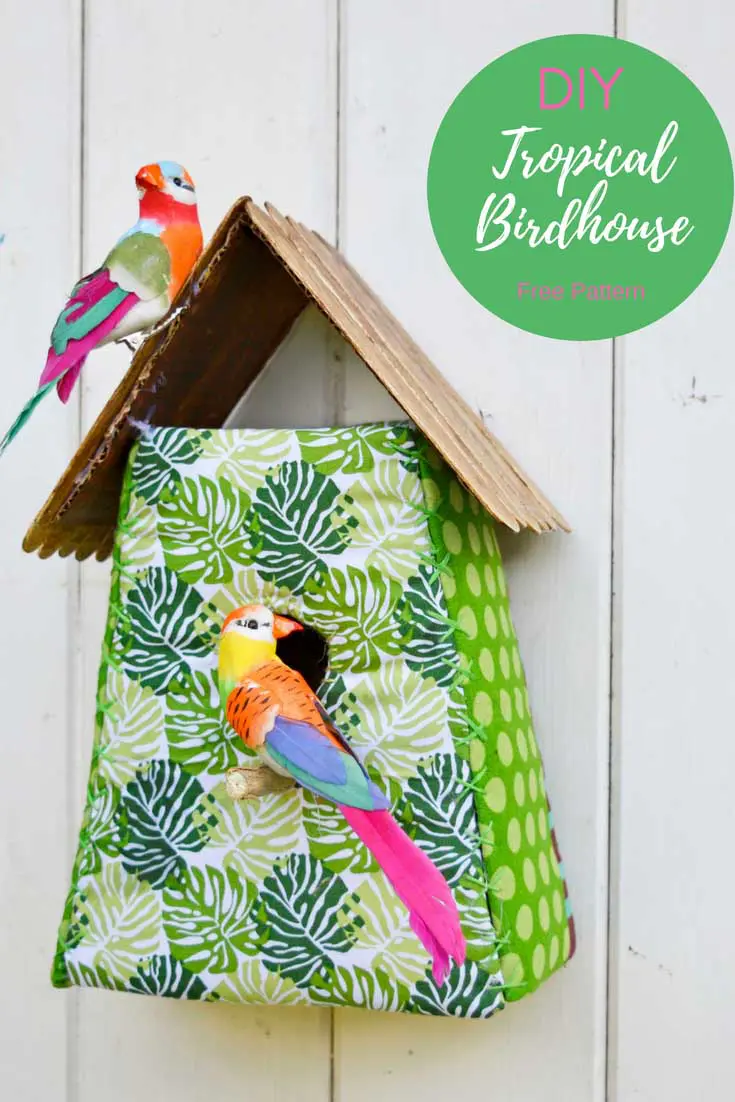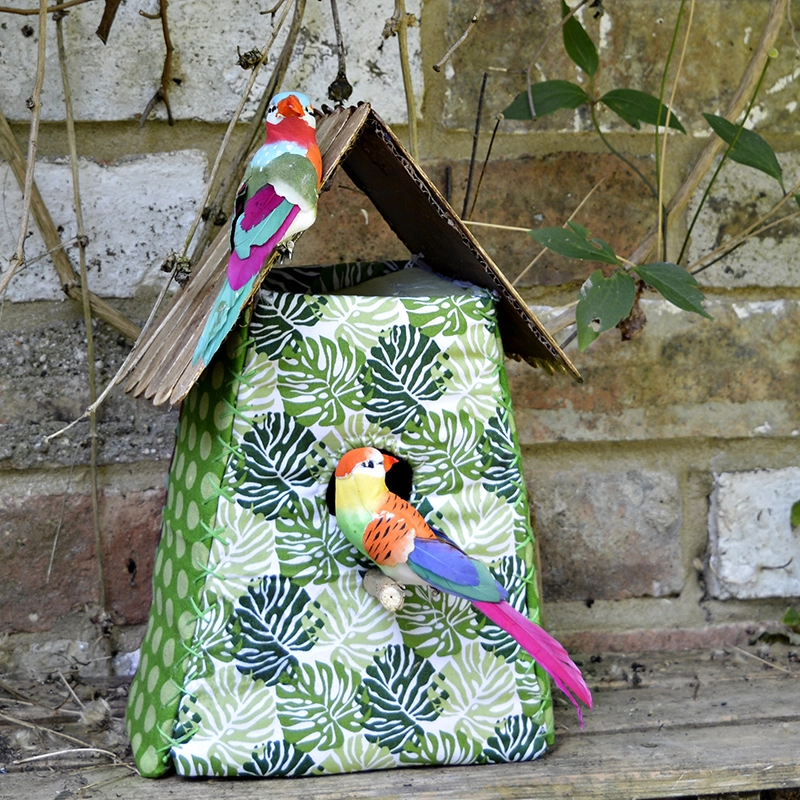 This post contains Amazon affiliate links for your convenience. Click here to see my disclosure policy.


What you need to craft a tropical fabric birdhouse
Birdhouse template – You can download this template from my original homemade fabric birdhouse post for here free.
Cardboard – Scrap cardboard from old packaging is fine. I find amazon boxes great for this craft.
Tropical print fabric – As the tropical look is really popular at the moment there are loads of tropical fabric prints around. I'm sure you'll find one online you like, you'll need no more than a fat quarter.
Fabric scraps to compliment your tropical fabric.
Quilt batting/wadding Only need about a fat quarters worth.
Twig for perch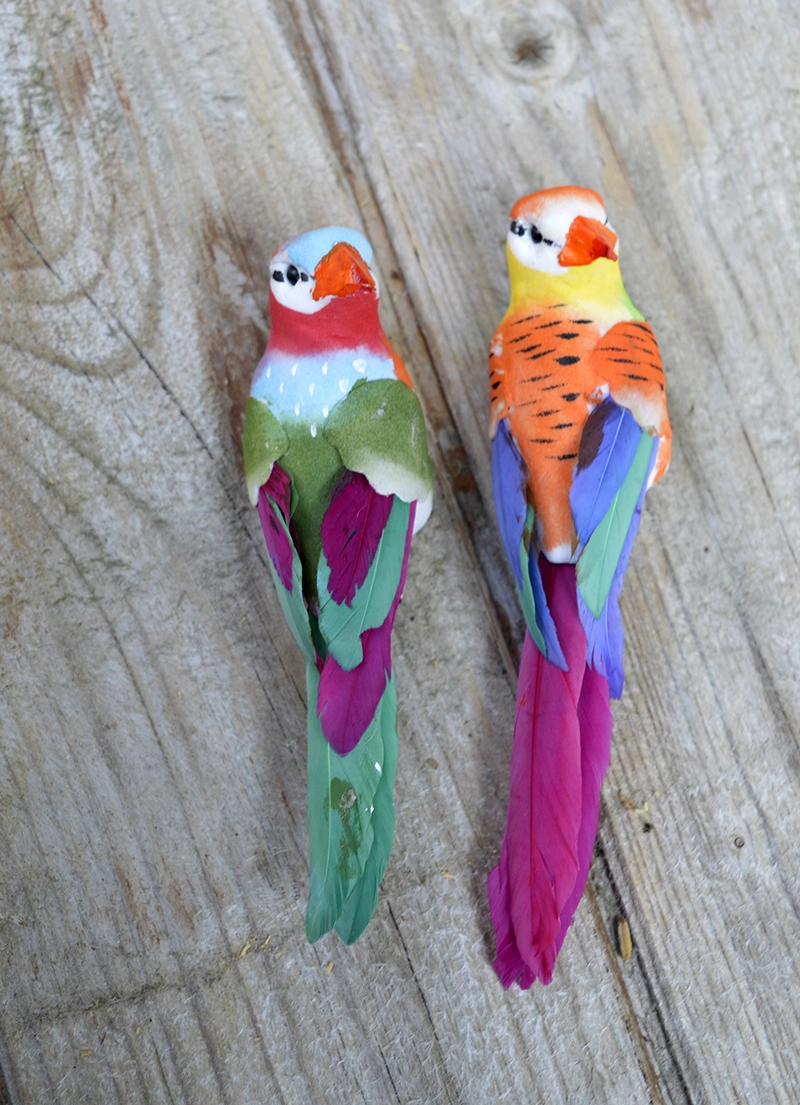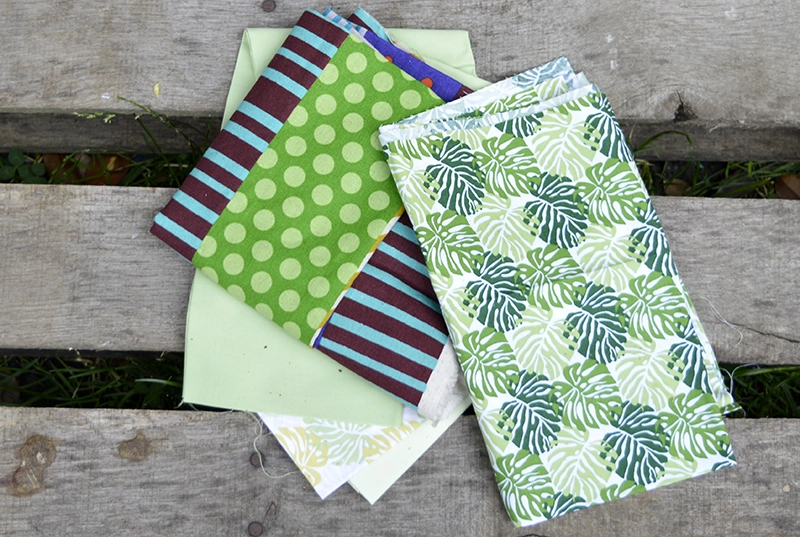 How to make a tropical fabric birdhouse base
The birdhouses are made exactly the same way as my original fabric birdhouses except for the roof. If you want more detailed instructions for the birdhouse base then the ones below, then click over to the original birdhouse post

1. Download template from original birdhouse post.

2. Use the template to cut out the seven cardboard pieces. Cover with wadding and fabric using the glue gun according to the instructions. Don't forget to cut out a entrance hole.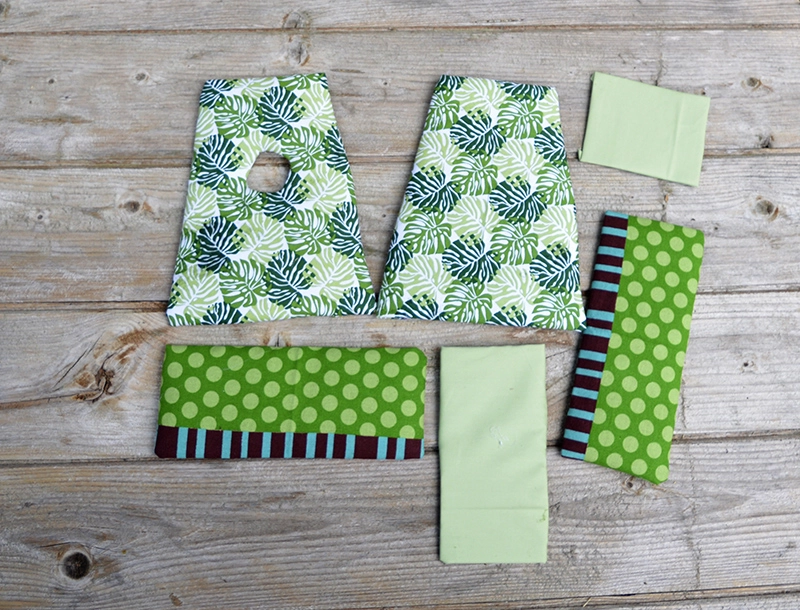 3. Sew up the fronts and sides of the tropical fabric birdhouses, using your embroidery thread and a giant cross stitch. Also sew a simple stitch around the entrance hole.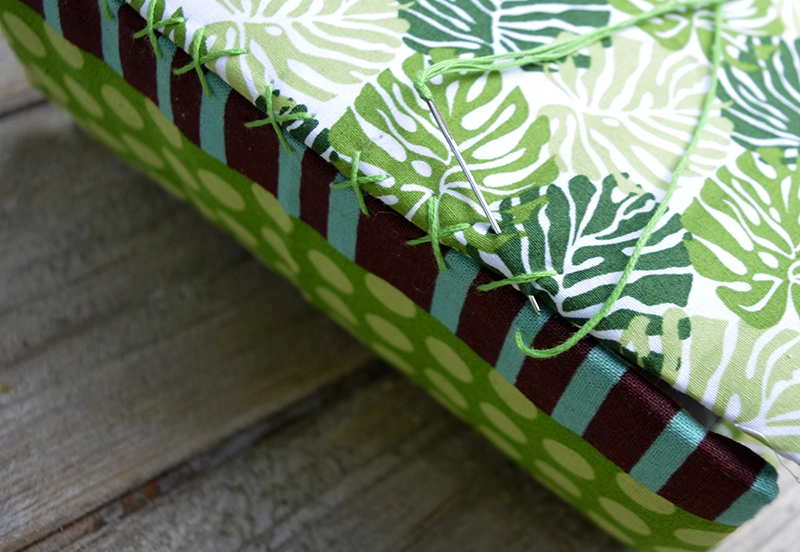 4. Use the glue gun to stick the top and bottom pieces to the stitched birdhouse base. Using a sharp object pierce a hole in the front of the birdhouse for a perch and wedge a twig into the hole.

How to make the roof of your tropical fabric birdhouse

This is where the instructions differ from my original fabric birdhouses. Instead of covering the cardboard roof piece with fabric, I made a wooden roof.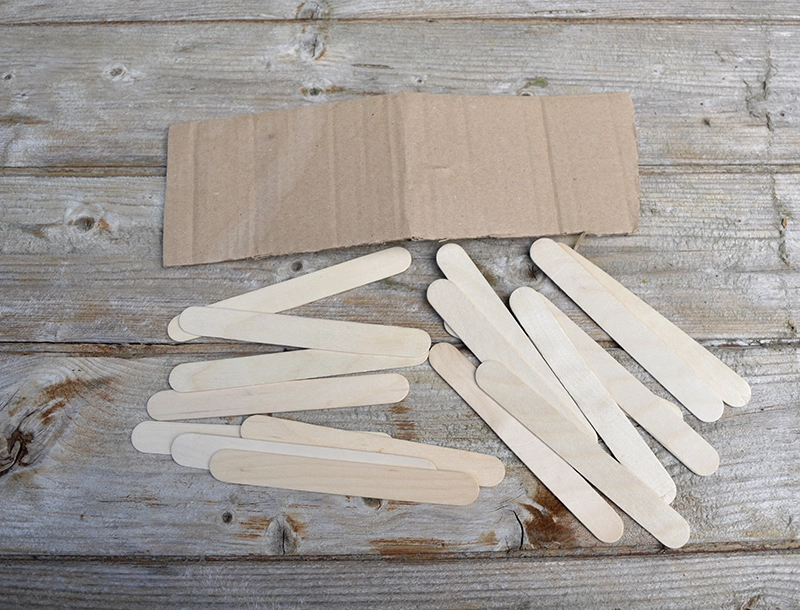 1. Wax your natural wood craft sticks to darken them. I used about 12 woodsticks for each birdhouse, enough to cover up the cardboard. You may also want to paint the underside of cardboard a darker colour.

2. Fold your cardboard roof piece in half. Using the glue gun stick 6 of the craft sticks to each side of the roof.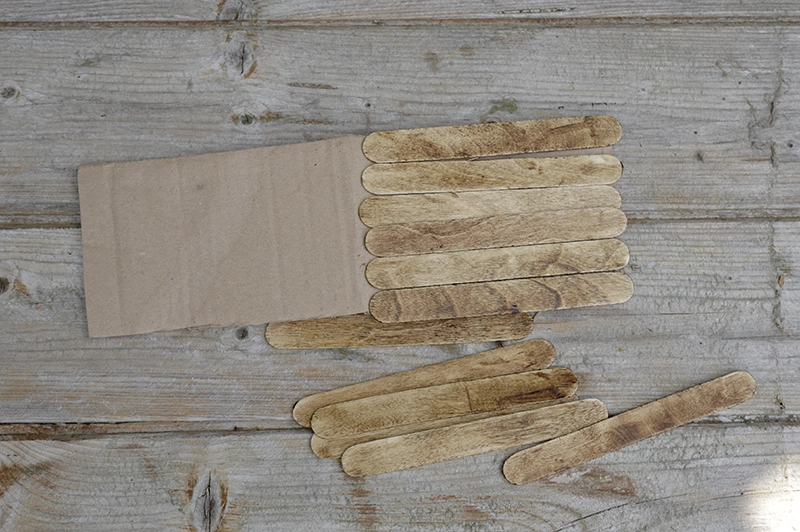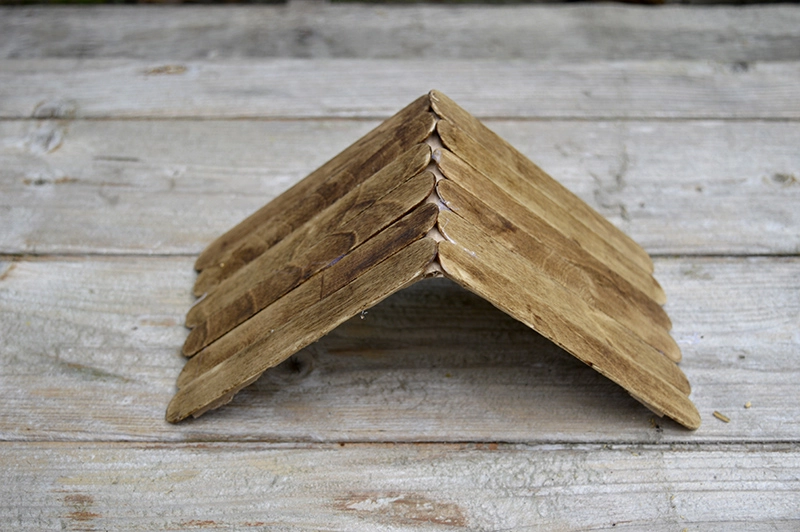 3. Again using the glue gun stick the wooden roof to top of your tropical fabric birdhouse. Now all you need to do is add tropical birds.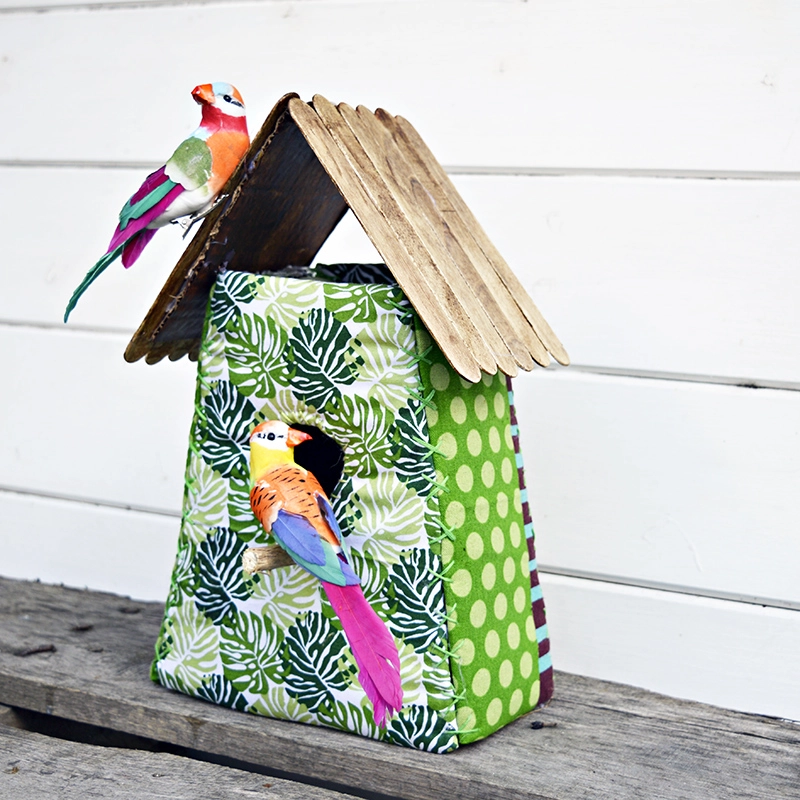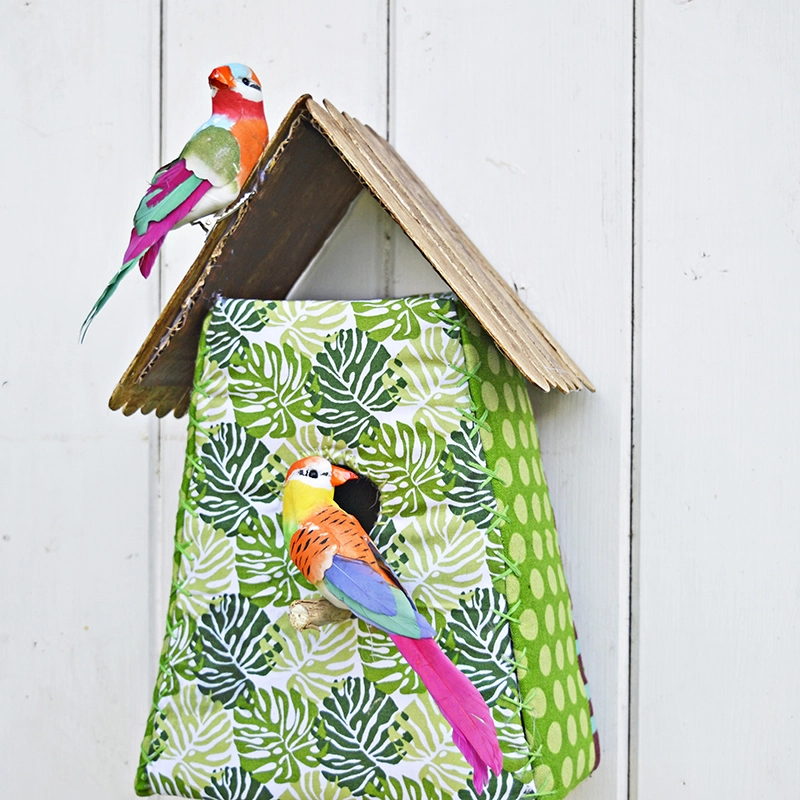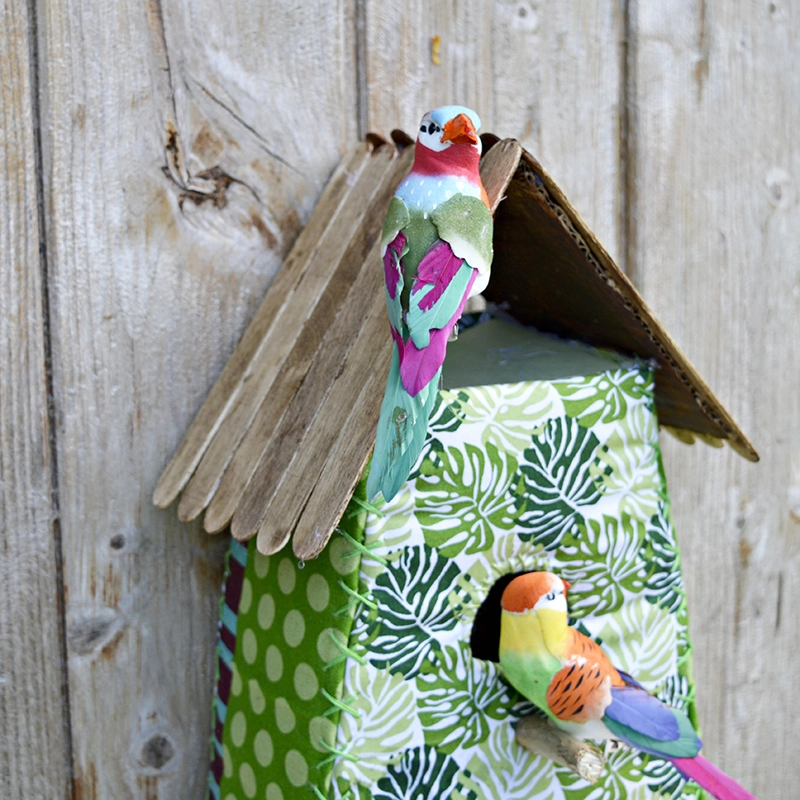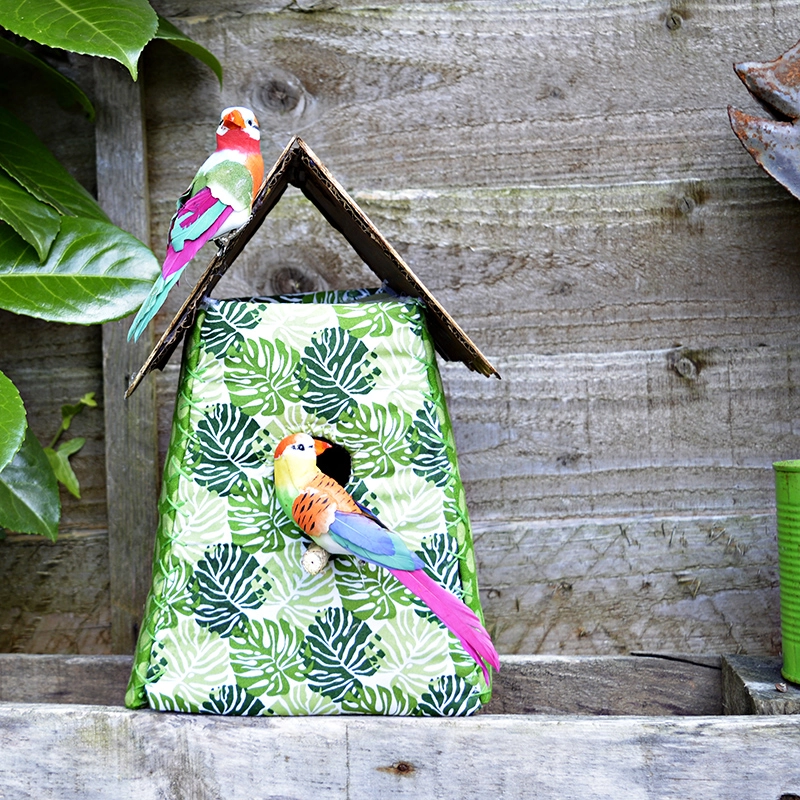 If you like this post you might also like these other crafts.
Homemade fabric birdhouses
Gorgeous spring fabric birdcage
Scallop Shell trinket dish