Upcycle A Scallop Shell Into A Gorgeous DIY Ring Holder
On her way back from France my aunt popped into see me with a gift of a crate of wine and a bag of scallop shells. Whilst the wine disappeared quickly the shells sat in my craft shed for a year. One of the perks quirks of being a crafty upcycler is that you get given all sorts of random crap stuff to transform.
Jeans and jumpers are greatly received. Occasionally, I get given things which I may graciously accept, whilst actually be thinking, what the heck can I to do with that. The funny thing is that in most cases I end up making something with this stuff.
That was the case with these scallop shells. I used them to make a useful DIY ring holder.
The last thing I do every night when I get into bed is to take my rings off and put them on my bedside table. This isn't always the safest place to put them. As they often get knocked off onto the floor as I reach for my phone in the morning.
I know, I hate to admit it but I'm a slave to my phone. It's the last thing I look at before going to sleep and the first thing I check in the morning. Anyway, I digress what I needed besides kicking the phone habit is a DIY ring holder.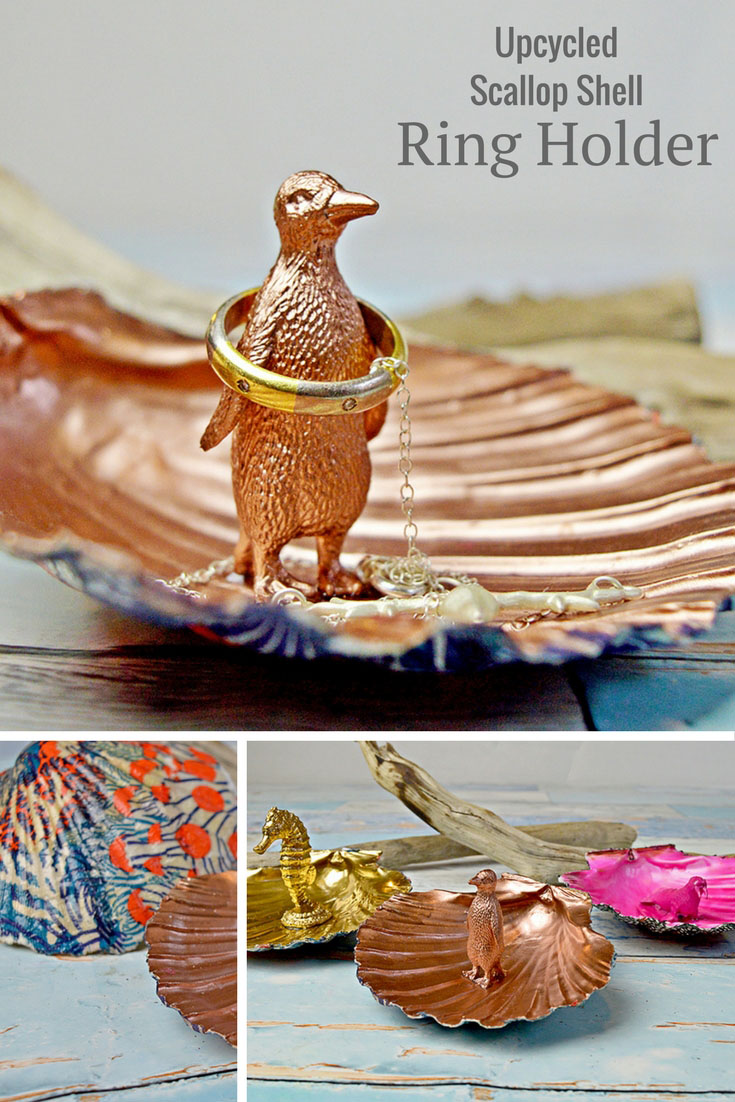 Scallop DIY Ring Holder..
This is a really simple and quick craft with a gorgeous end result. So much so that I made a few of these DIY ring holders. They make a perfect handmade gift.
To keep with the seaside theme of the scallop shells, I added a bit of quirkiness to my DIY ring holders by attaching a little sea creature. Also being a bit of Marimekko fan I decoupaged the outside of shells with some Marimekko napkins to add to their overall gorgeousness.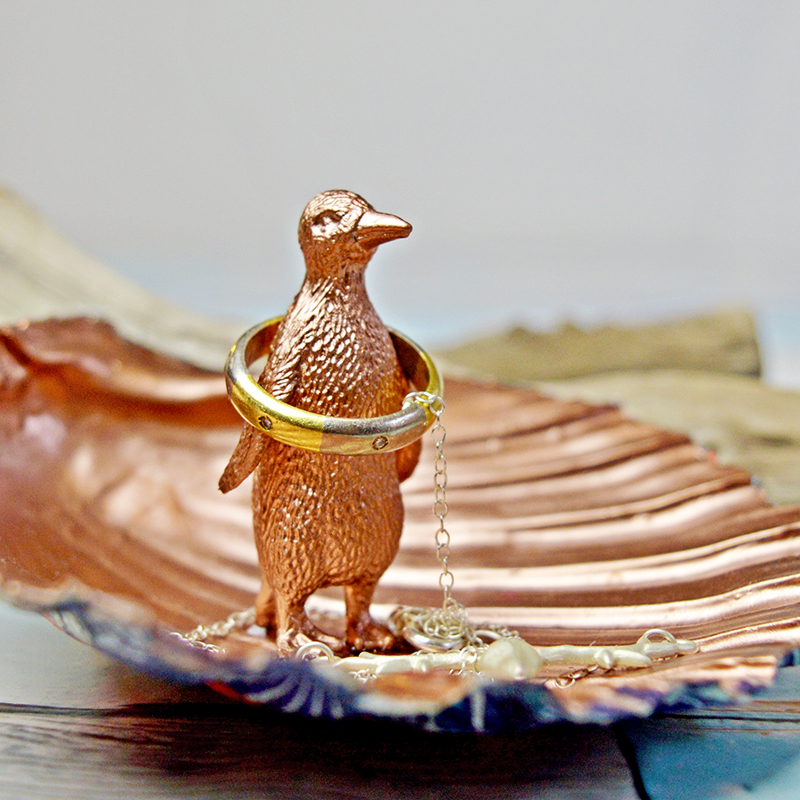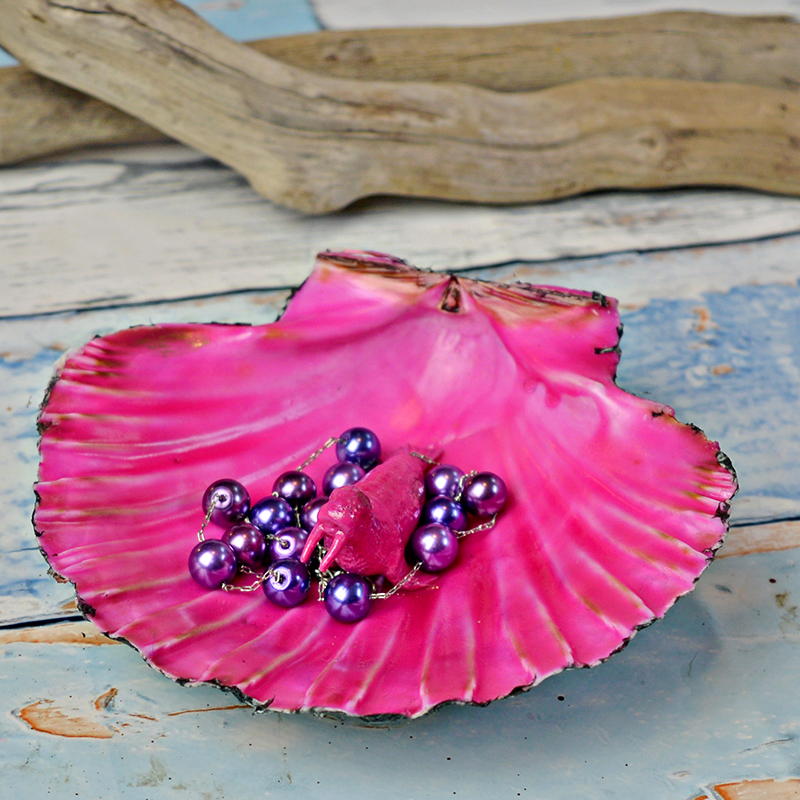 This post contains amazon affiliate links for your convenience. Click here to see my disclosure policy.
What You Need to make a Scallop Shell DIY ring holder
Scallop Shells – you may not have an aunt to give you some but all's not lost. These shells are quite easily obtained from your local supermarket or fishmongers. Most prepared scallop dishes are served in these shells. You can even buy them online (click here)
Small plastic sea creatures – I had these left over from my upcycled toys frame.
Napkins to decoupage the outside – as you may already know I love Marimekko and they do some lovely sea themed paper napkins (Merivuokko) that are perfect for this.
Spray paints – I used copper, gold and a metallic transparent pink, but obviously use whatever you have or fancy using.
PVA Glue or Mod Podge/ Decoupage glue, Resin glue.
Small glue brushes and pads.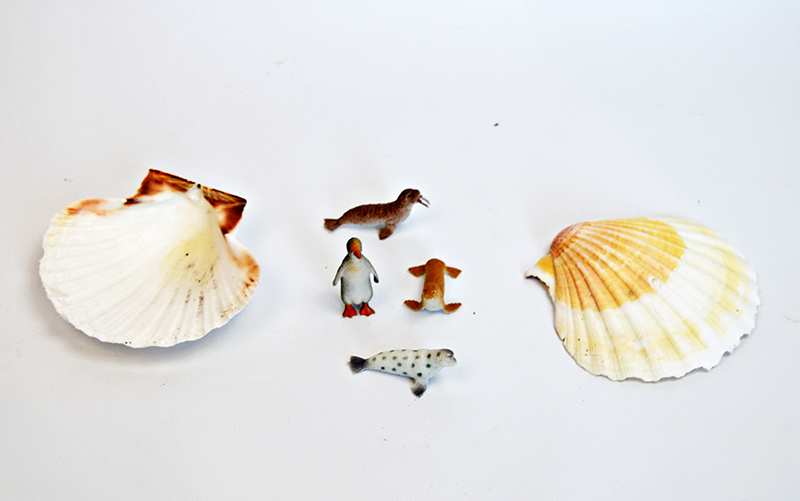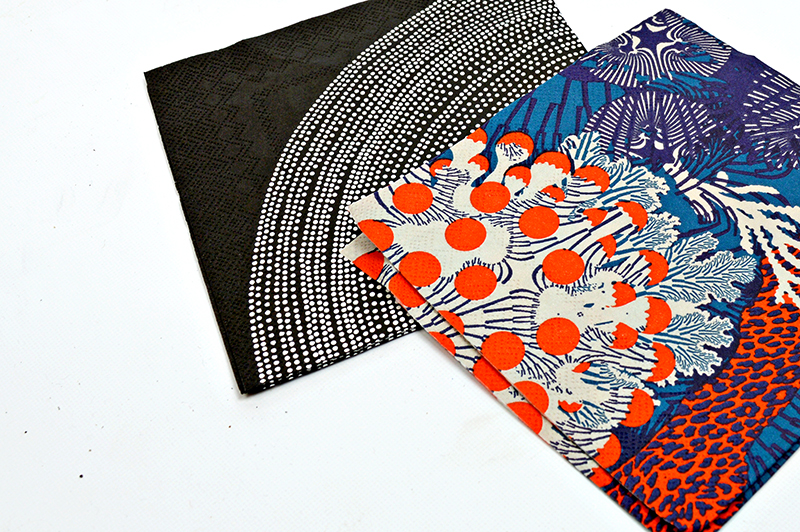 How to make your scalloped shell Ring Holder
As I had loads of shells and because they make great gifts I made 3 DIY ring holders.
First I spray painted the inside of my shells in my chosen colours. I do love a bit of copper and it goes with my home decor so I sprayed one copper and then the others gold and metallic pink just because I already had those colours in my craft cupboard.
Spray paint the sea creatures you're going to use the same colours as your shell.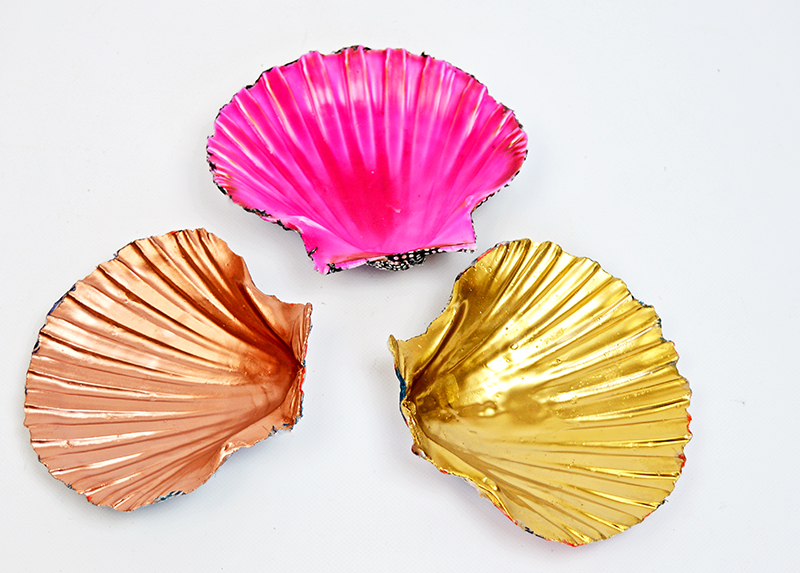 Decoupaging scallop shells..
I also decoupaged the outside of my shells. Firstly I separated out my 3 ply napkins and only used the top ply.

Then using water and a brush I wet my napkins where I wanted to tear it (tearing gives a nice feather edge). I glued these small strips of napkins one at a time to the outside of my shell.

As napkins can be rather delicate it's better to use a pad rather than a brush to pat down your napkins. When the shells are completely covered and dry apply at least one coat of PVA glue or mod podge to provide a protective layer.

Finally the spray painted sea creatures were glued to the inside of my shells using a resin glue.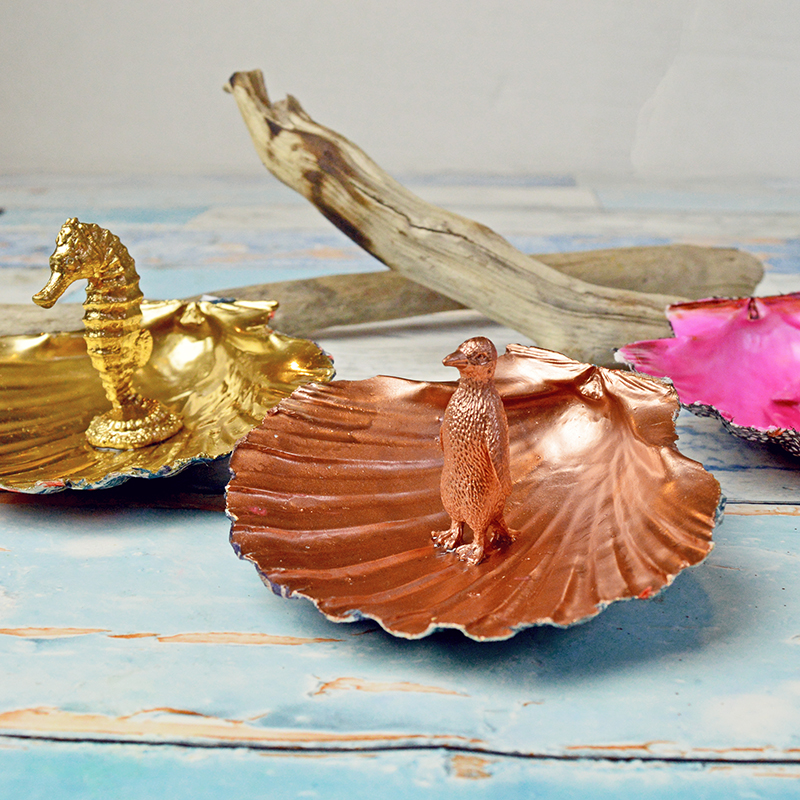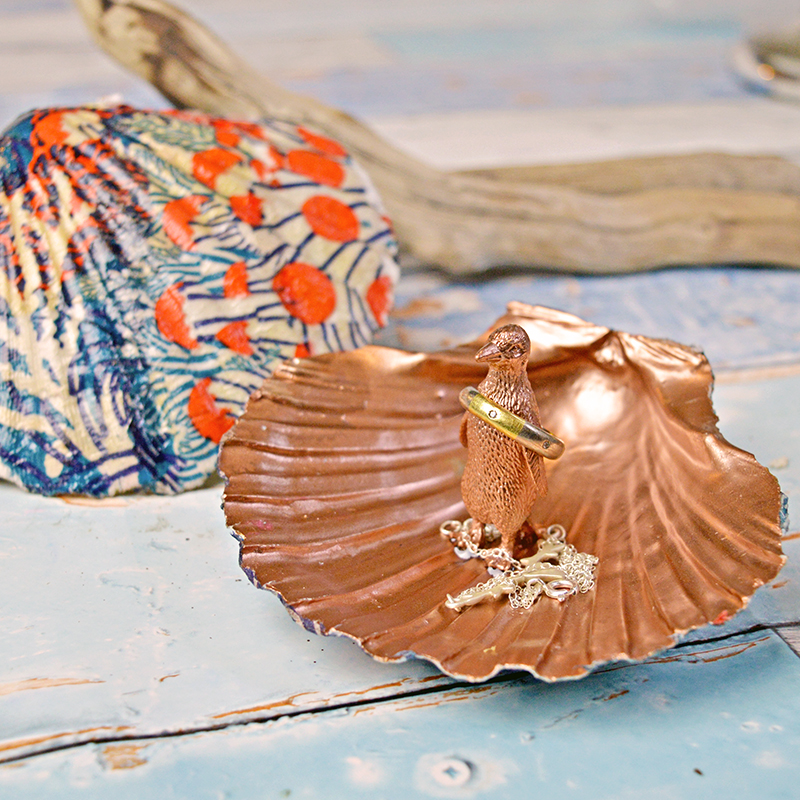 I have the copper DIY ring holder with the penguin on my beside table. The penguin is just the perfect shape for hanging rings on. The others I have gifted to friends.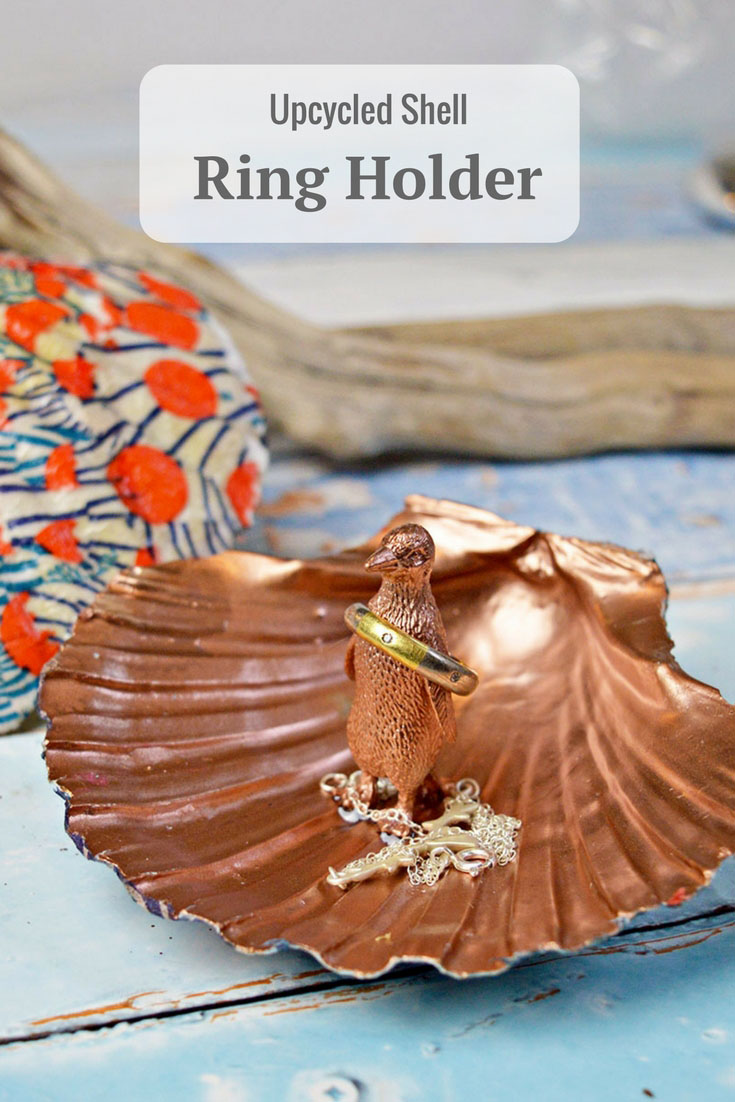 If you liked this post then you may like some of my other handmade gift ideas.
Decoupage Shell Dish
Gorgeous Fabric Birdhouses
Beautiful Map Roses
Spring fabric birdcages
DIy Jewelry -Upcycled Silk Scraf Necklace