Inside: Two tutorials, one on styling a printer tray for Christmas and the other on how to make an upcycled printer tray shadow box.
Before I started blogging (when I had more time!), I used to print with letterpress as a hobby. I still have the old presses and vintage printer tray. I have half a dozen vintage printer trays, so I thought I'd style on as a Christmas decoration.
The vintage printer's tray was easily styled to return to its original state when needed. You can often find printer tray's on auction sites and in junk stores. However, if you don't have one or can't find one, I also have tips for upcycling a wooden cutlery tray into a Christmas decoration.
I had so much fun with this DIY Christmas decoration. Cutting up the old Christmas cards was my favourite bit. Before doing this upcycle, I'd forgotten how much I love collage. I think with pictures rather than words and collages are an easy way to express myself.
When I was younger, I collected pictures, maps, etc., and collaged them. This was instead of keeping a written diary of my travels.
After spending a year travelling around South East Asia, I decoupaged a tailor's dummy. I used the images I collected over the year as my travel journal.
Reusing Old Christmas Cards To Style A Vintage Printers Tray
I've always wanted to make a shadow box after seeing an exhibition of the artist Joseph Cornell at the Royal Academy a few years ago. This styled vintage printer tray is like a giant Christmas shadow box.
Keeping with the theme of printing and letterpress, I made my letter blocks for the tray. I used them to spell out one of my favourite Christmas phrases, "Pa Rum Pum Pum Pum" from the chorus of "The Little Drummer Boy".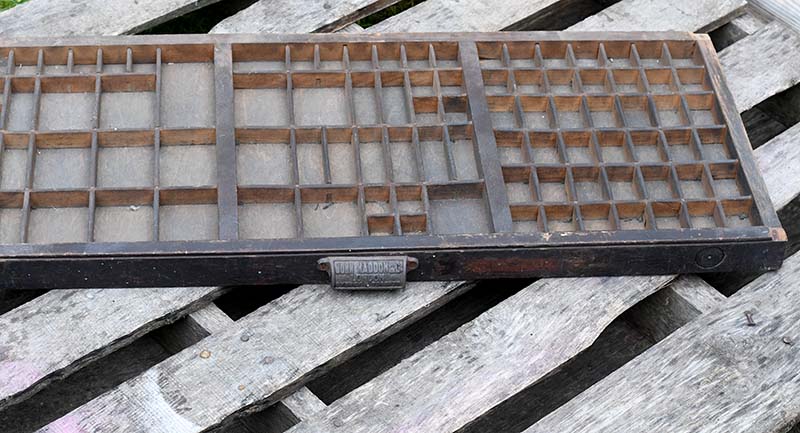 We're a participant in the Amazon Services LLC Associates Program, an affiliate advertising program designed to provide a means for us to earn fees by linking to Amazon.com and affiliated sites. As an Amazon Associate, I earn from qualifying purchases.
What You Need to Style A Vintage Printers Tray
Last year's Christmas cards – If you didn't happen to keep the previous year's Christmas cards to repurpose, you could find many vintage images on sites such as Pictureboxblue to download. Also, Christmas catalogues and magazines are good sources for Christmas images.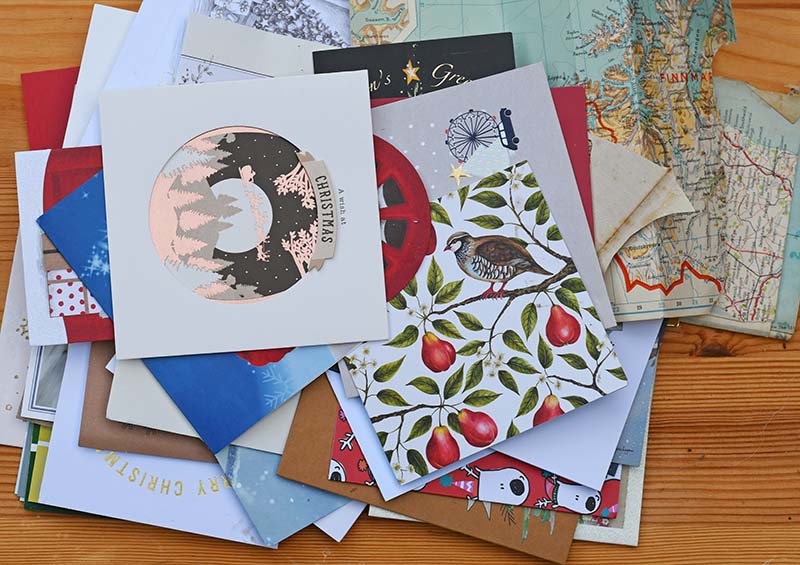 How to Style A Vintage Printers Tray for Christmas
Step 1: The first thing is to make the letter blocks. Cut the blocks to size so they fit in the printer tray boxes.
Then, sand and paint them red. Next, stencil the letters of your chosen Christmas phrase onto each block. When the paint is dry, rub the blocks with dark wax to age them.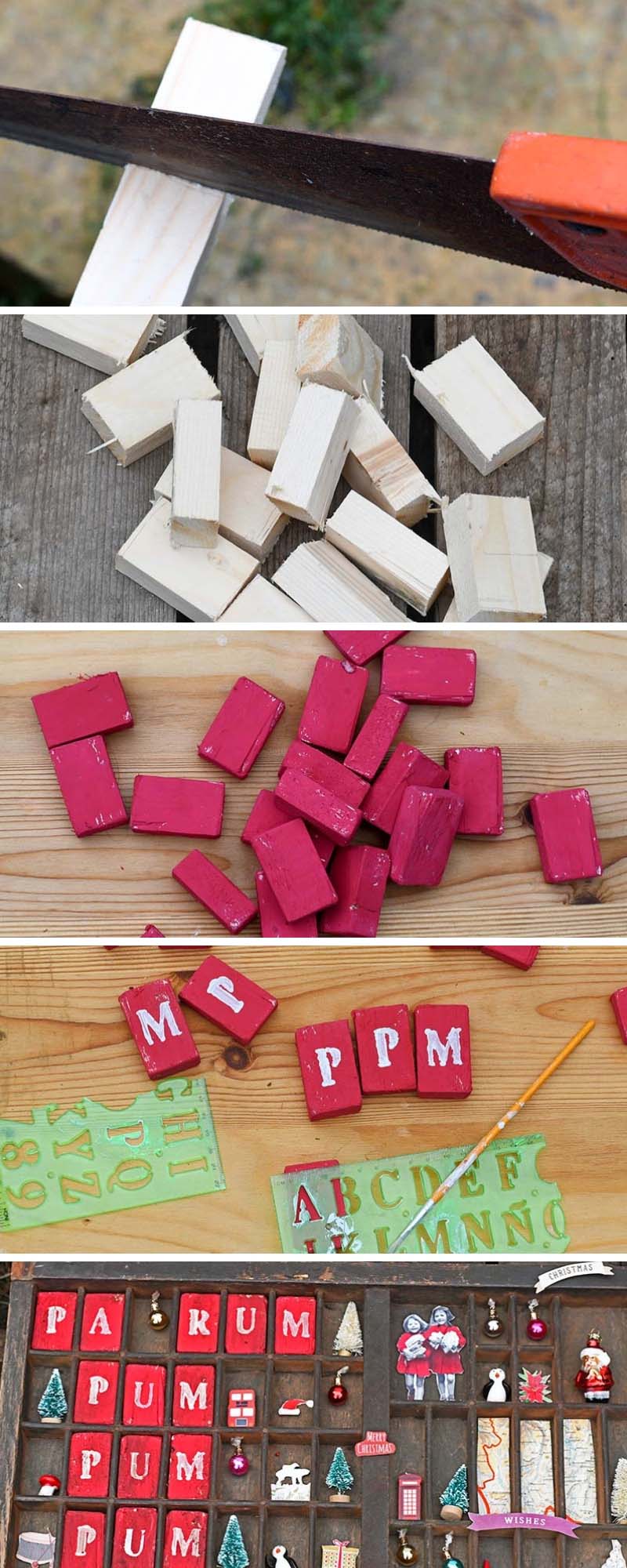 Step 2: Next, cut out any Christmas pictures and words from old Christmas cards and magazines that you like. Make sure that they will fit in the printer's tray.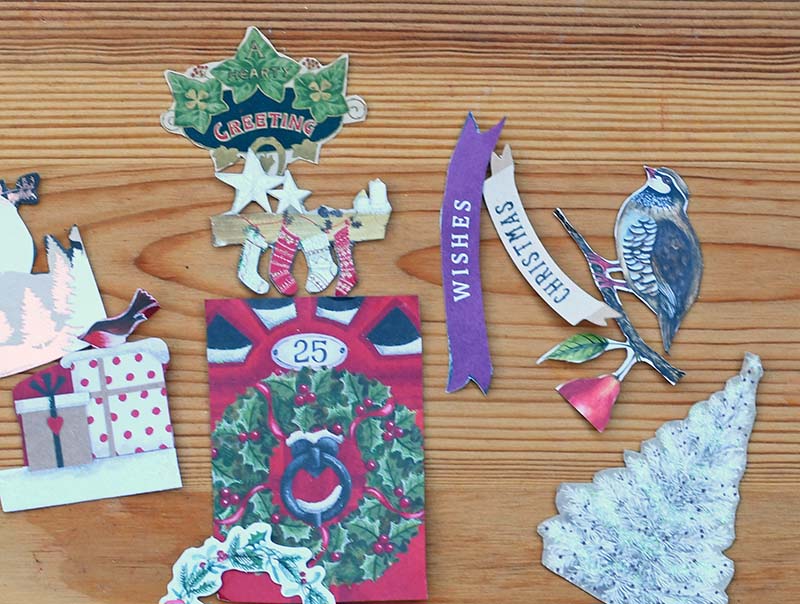 Step 3: The final thing is to gather the three elements, letters, pictures, and ornaments to create the Christmas shadow box from the vintage printer tray. I used glue dots to stick the items in the box. This made it easy to move around as I changed my mind.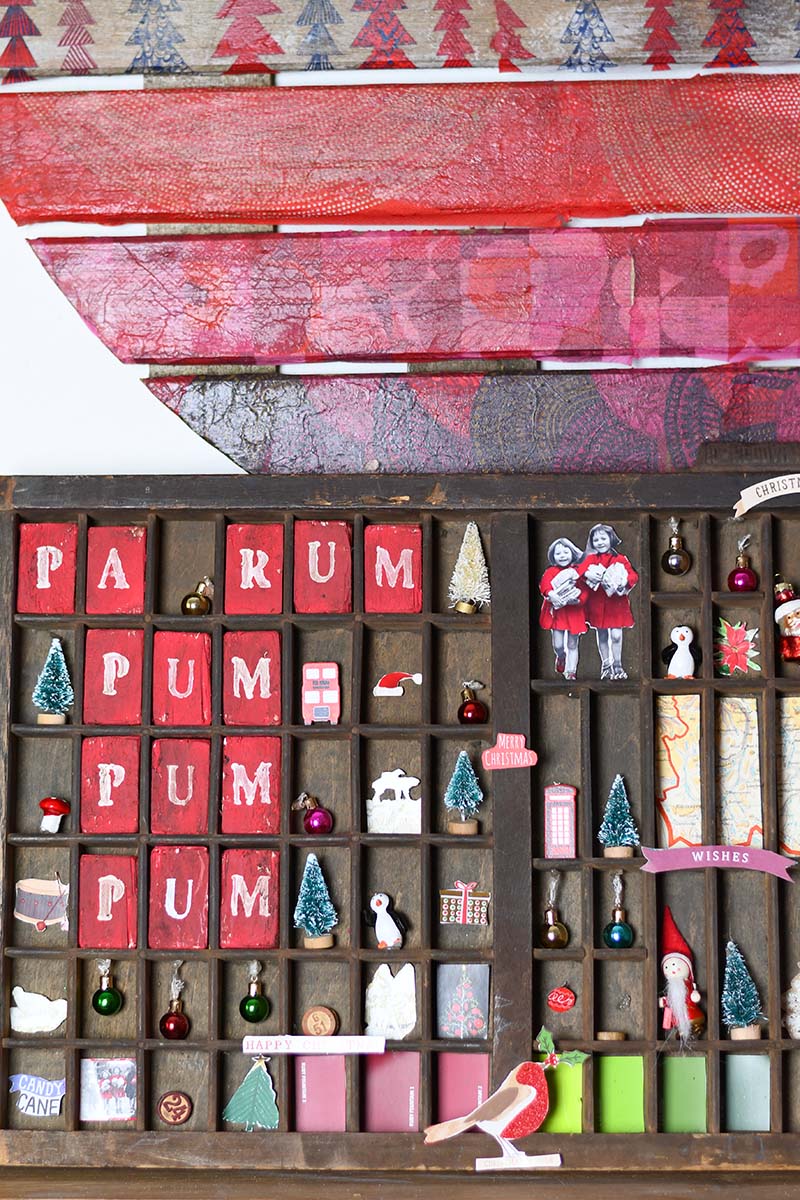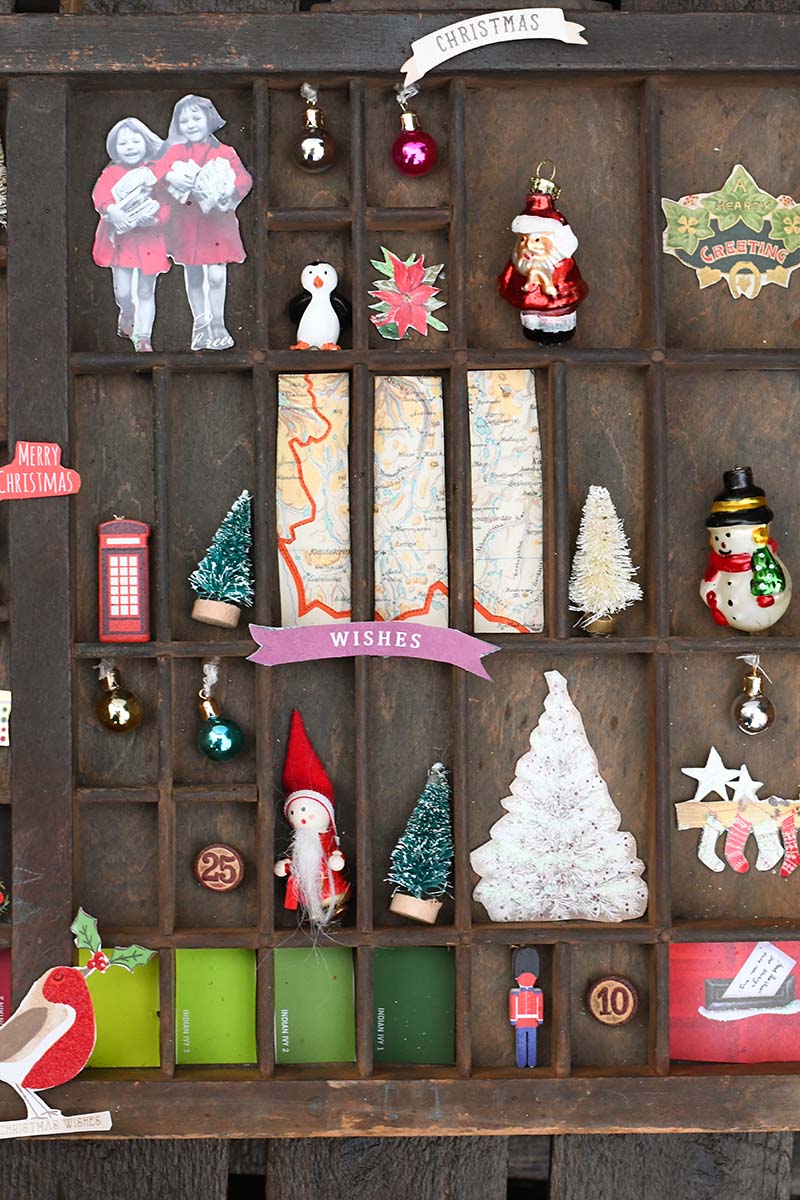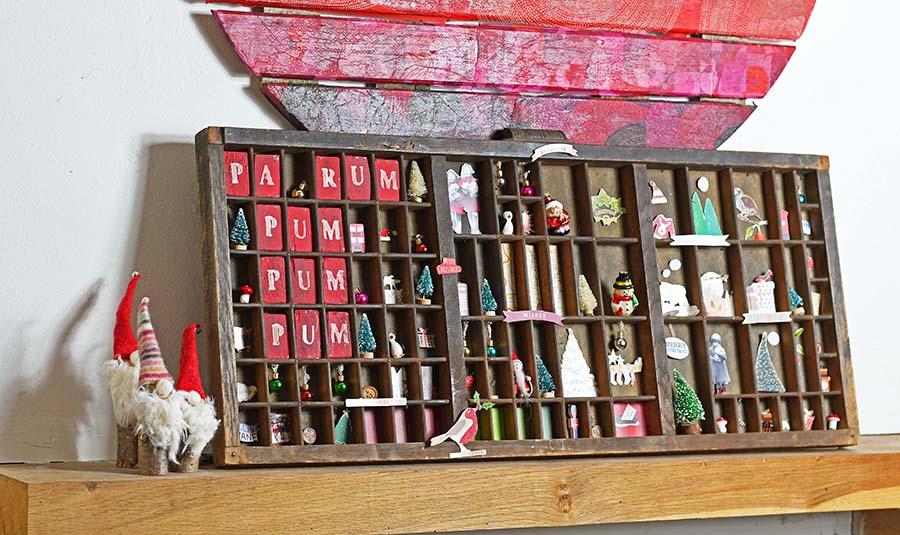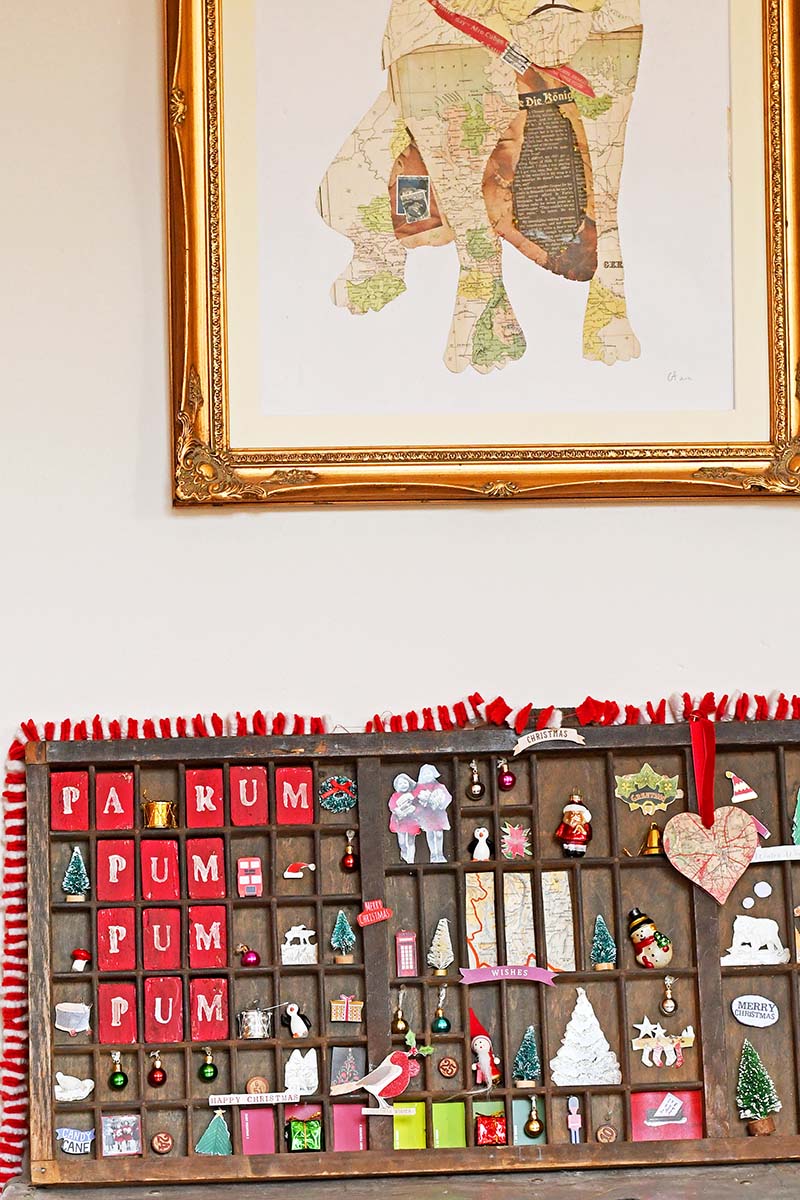 DIY Printer Tray Shadowbox from a Wooden Cutlery Tray
Whilst repurposing the vintage Christmas tray, I remembered I had an old IKEA wooden cutlery tray lying about in the shed.
I shoved it in there a year ago, thinking I might make something with it one day. Well, that day came! I decided to make a Christmas shadow box out of this tray.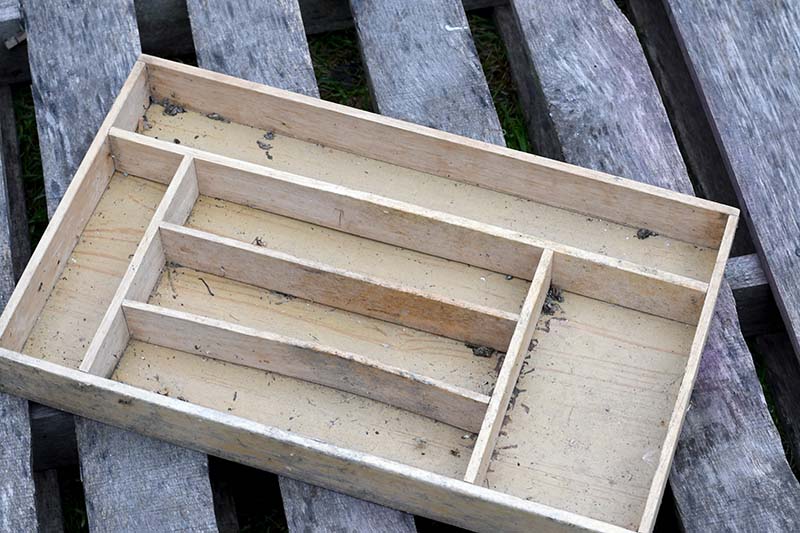 Step 1: Firstly, I painted the inside of the tray with black chalkboard paint. The outside of the cutlery tray was stained with walnut wood stain.
Step 2: Next, I got some Christmas stencils and painted a few Christmas images onto the black chalkboard with white paint.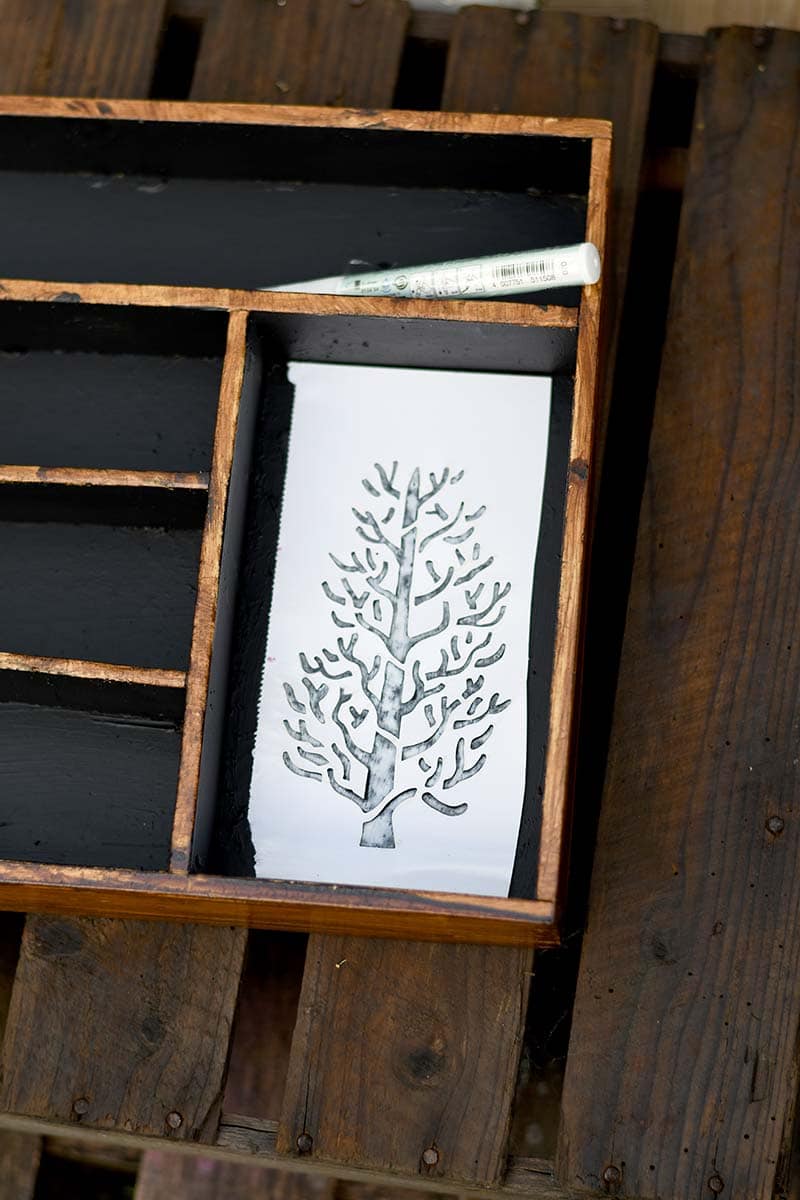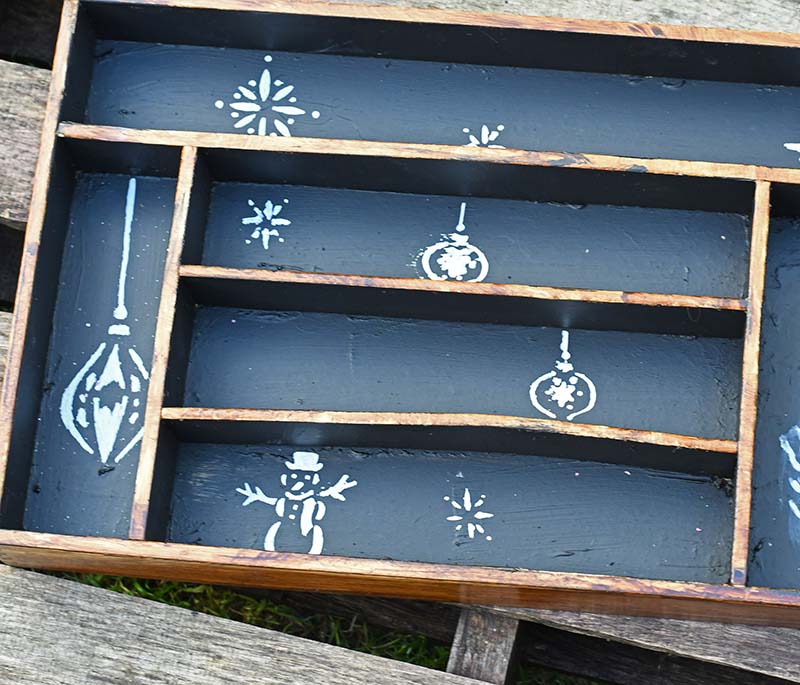 Step 3: Finally, I filled the cutlery tray repurposed into a Christmas shadow box with some of my favourite ornaments.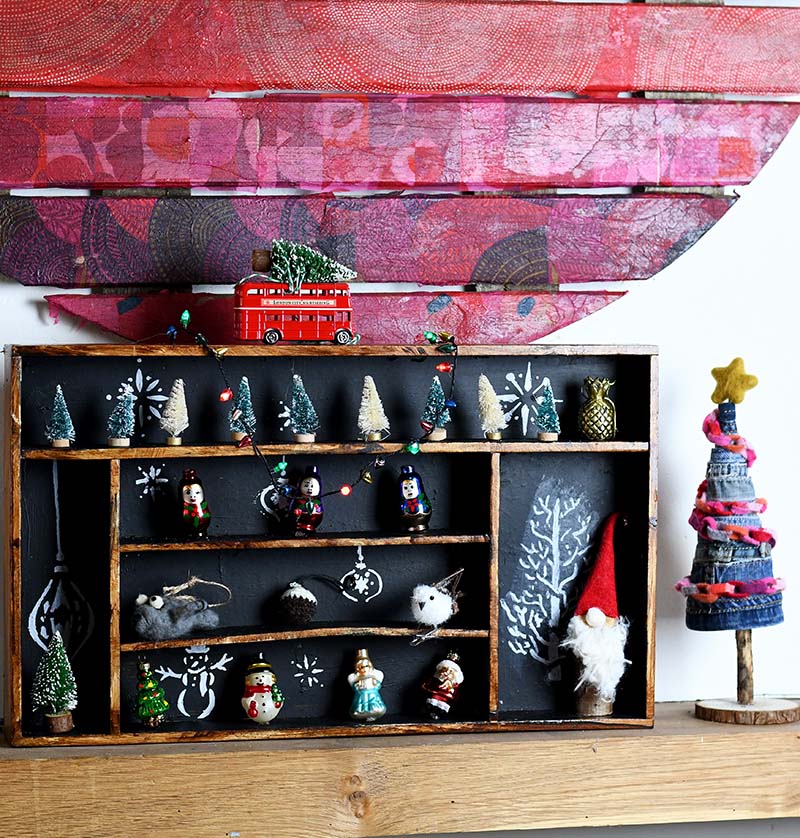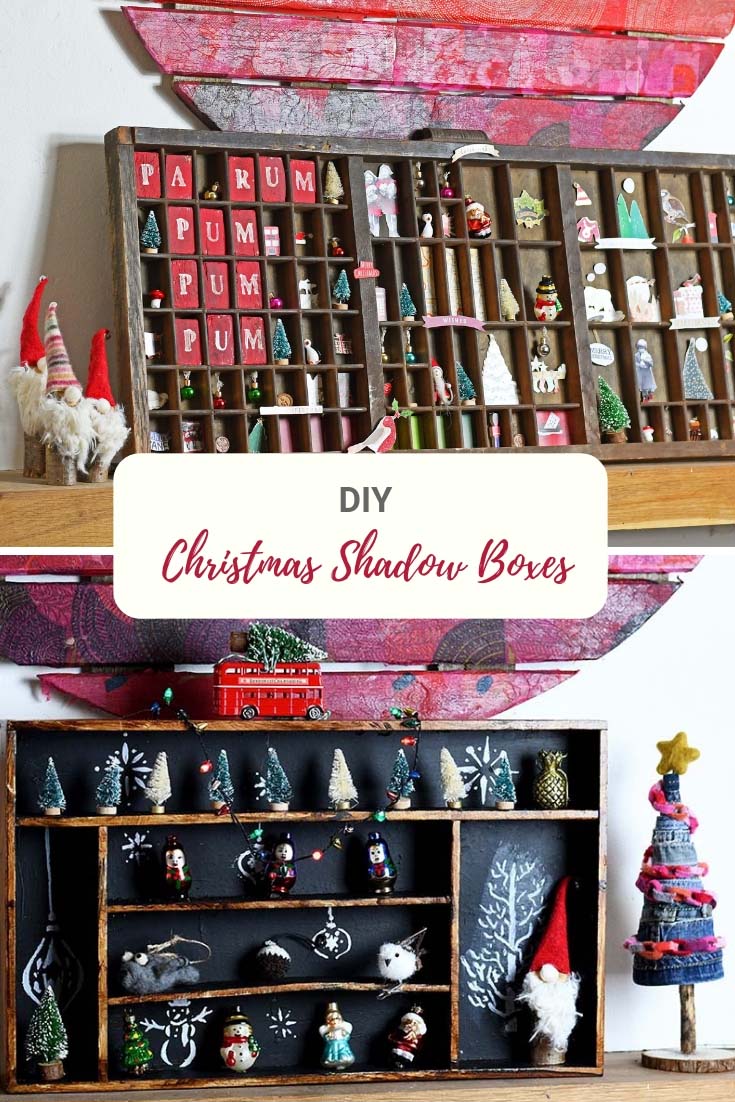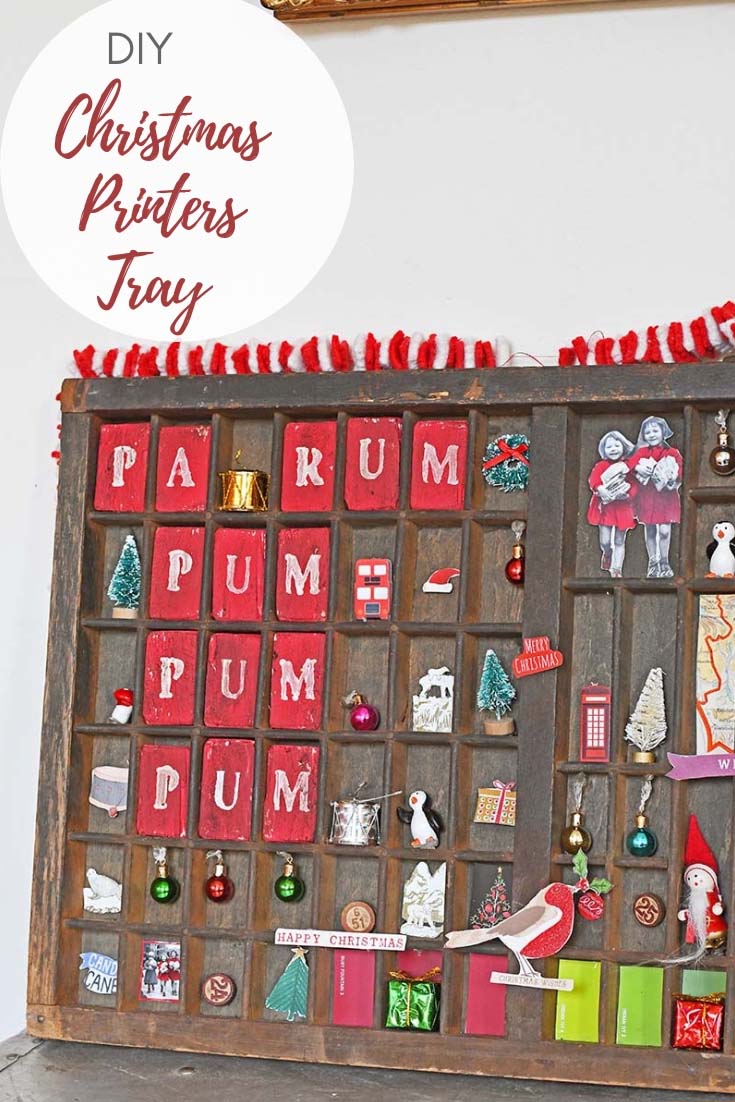 The Christmas wine cork figures I made would also look great inside the printer tray. These vintage butterflies would also look great styled in a printer tray shadow box.
Every year, I save all the Christmas cards and repurpose and craft with them. As well as using them to style vintage printer trays, I use them to make repurposed tin can ornaments.