Recycling last years Christmas cards into ornaments and decorations is not a new idea. My Grandmother used to keep them and repurpose them as gift tags for the following year. I've used them in the past to style a vintage printers tray for Christmas and to make tin can ornaments for the tree.
This time I've upcycled old Christmas cards into 3D ball Christmas ornaments. I love to make my own upcycled Christmas ornaments and these cute recycled Christmas cards fit that brief perfectly.
Constructing these 3D Christmas card balls is like putting together a little puzzle. They remind me of those designer Danish puzzle lampshades that you get flat packed and have to construct into a 3D shade. However, these ornaments are much easier to construct than those lampshades.
I actually got the idea for these Christmas ornaments by adapting this 3D paper ball tutorial.
We are a participant in the Amazon Services LLC Associates Program, an affiliate advertising program designed to provide a means for us to earn fees by linking to Amazon.com and affiliated sites. As an Amazon Associate, I earn from qualifying purchases.
What You Need To Make A 3D Christmas Card Ornament
The balls are simple to make. They practically cost nothing too. The only cost is for the embroidery thread to make the optional tassels for the ornaments.
Old Christmas cards – I keep mine from year to year for crafting. Friends and relatives also pass me on their old cards too, as they know I will make good use of them.
A pen and a pair of scissors
Scrap wool for the pompom
Embroidery thread for the tassels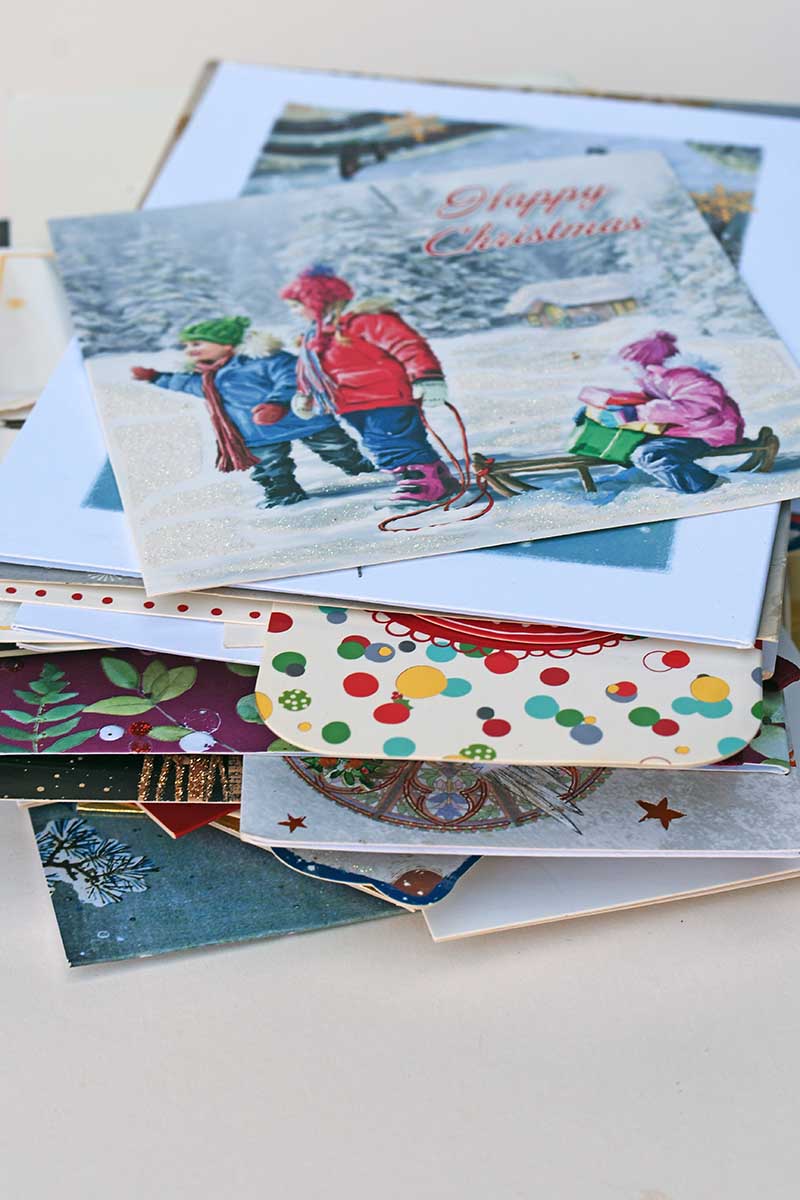 How To Make A Christmas Card Ball
Step1: Download and print out the basic stencil shape for the 3D ball. For these 3D ball ornaments, I used a small stencil. This made an ornament about 7-8cm (3″) in diameter.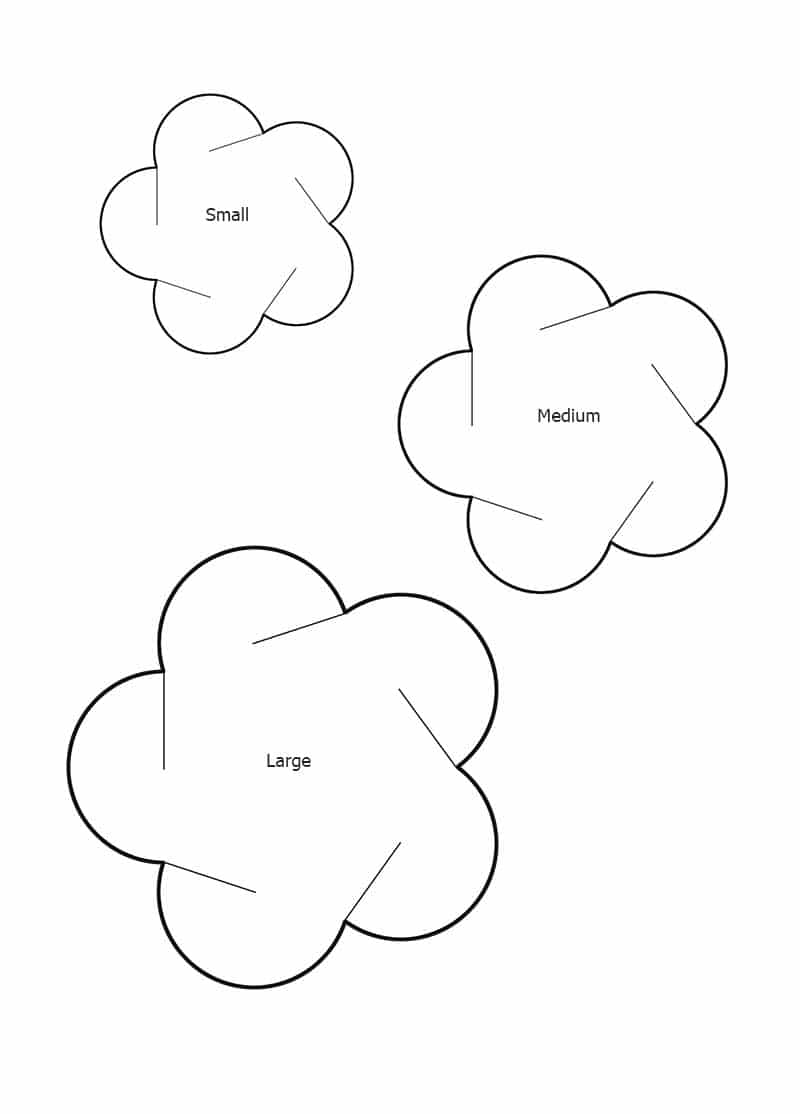 Step 2: Cut out the flower stencil shape you are going to use. Make sure you cut the slit marks that go inside the flower shape wide enough to fit a pen. Also, make sure the slits are cut to just over halfway across the petal.
Step 3: Next, sort the Christmas cards into piles of roughly the same colour. This is optional, but I think it makes the ball ornaments look better if all the bits of card used to make them are of a similar colour.
Place the flower stencil shape on the Christmas card and draw around it. You can either draw around the front of the Christmas card to make sure you cover a particular image. Or just draw the shapes on the back of the card.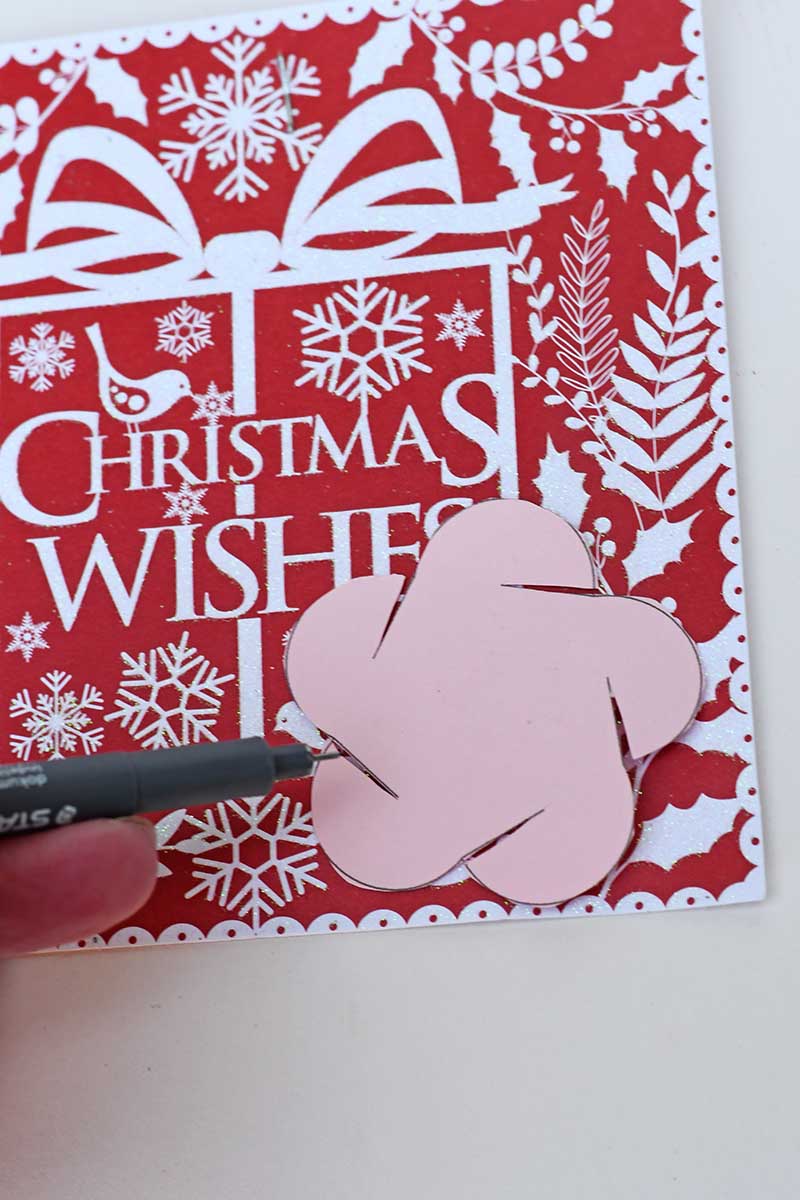 Step 4: Depending on the size of the Christmas card, you should be able to get four or five stencil shapes on each card. For each recycled Christmas card ornament, you will need 12 of these flower-shaped stencils.
Top Tip: Make sure that the stencil is the same way up for each shape, otherwise the flowers won't slot together properly.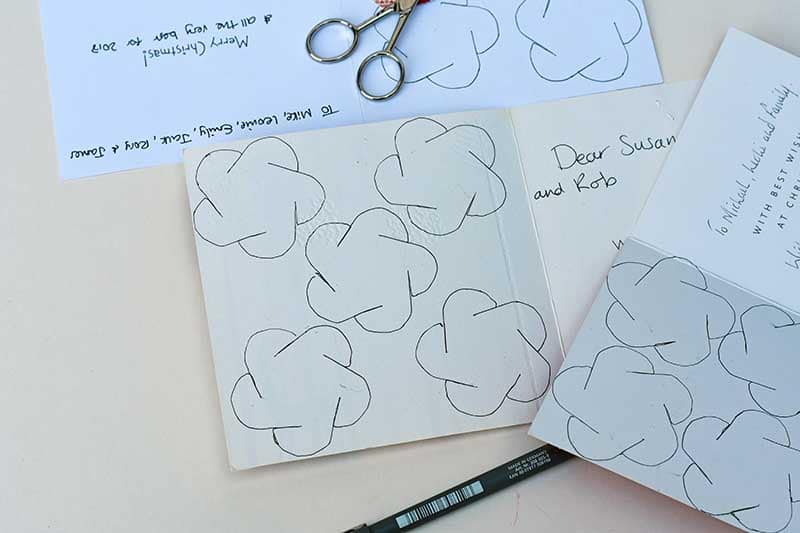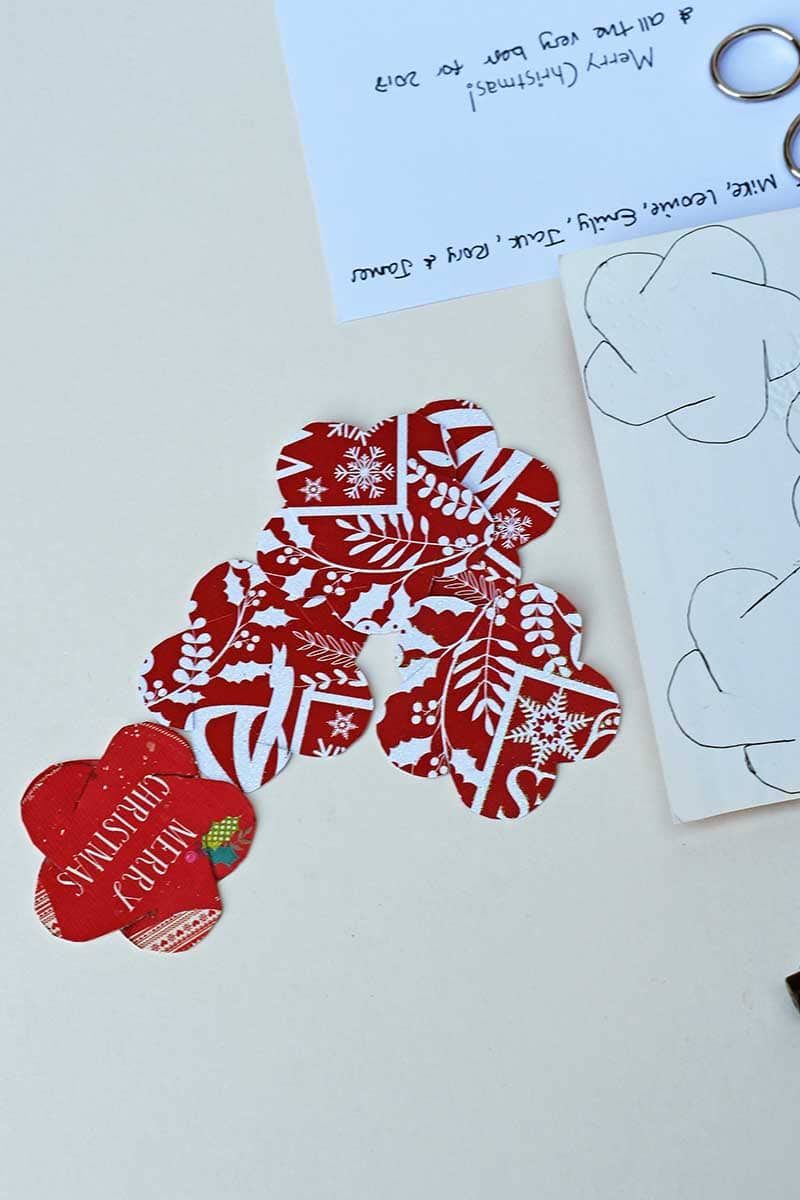 Step 5: Once all the flower stencil pieces have been cut out, it is time to construct the 3D ball. Start off by slotting two pieces together along the slits.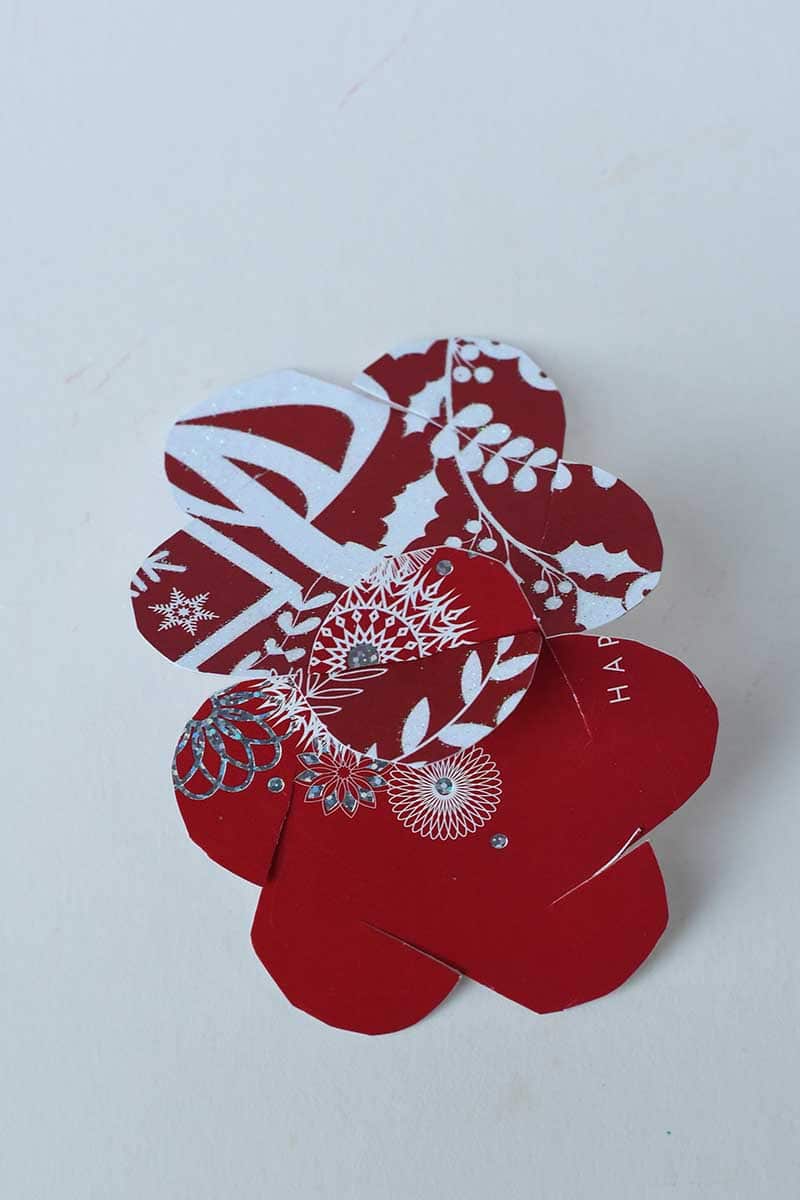 Step 6: Then slot in another stencil, this time you will end up slotting the petals in two places.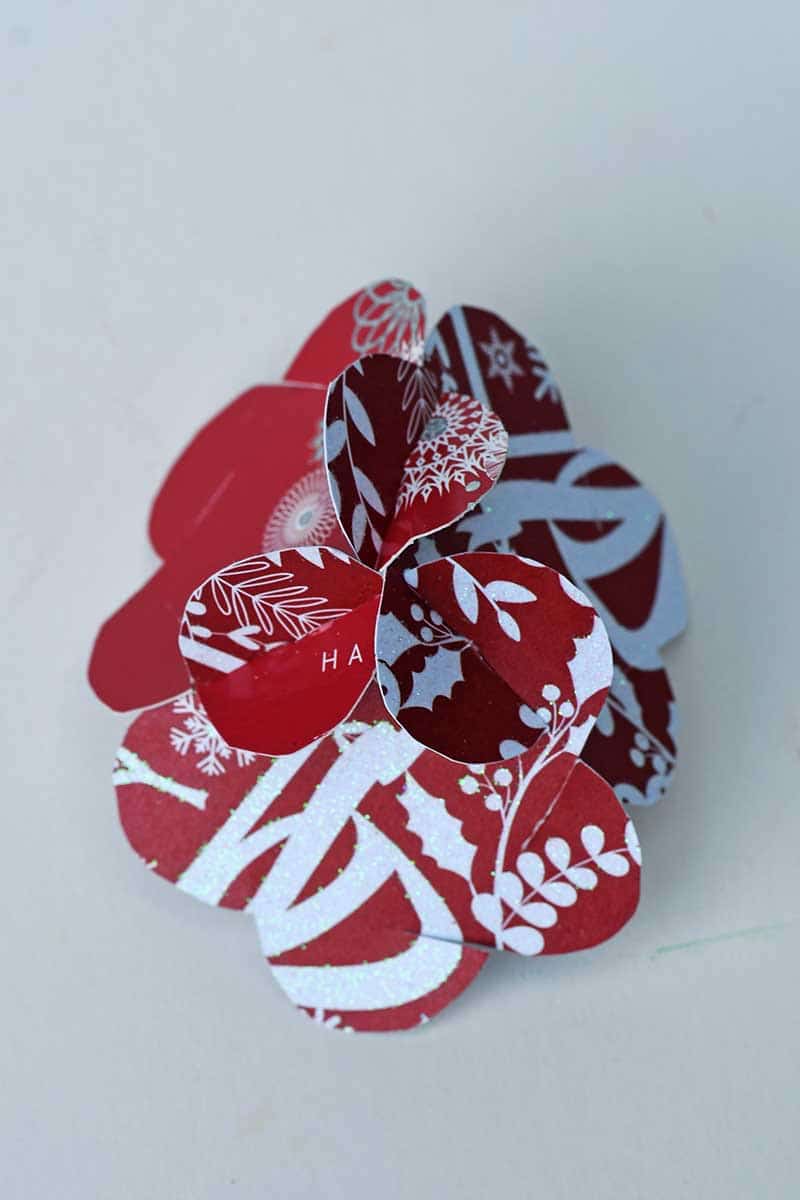 Step 7: Carry on slotting in the flower petals one by one. After 6 you will have a cup shape. As you add more and more shapes, it gets a bit fiddly. But as you can bend the cardboard this helps. After a bit of practice, you will get the hang of it.
However, the last piece of this 3D Christmas card ball puzzle is the most tricky to add, as it slots into five different flowers.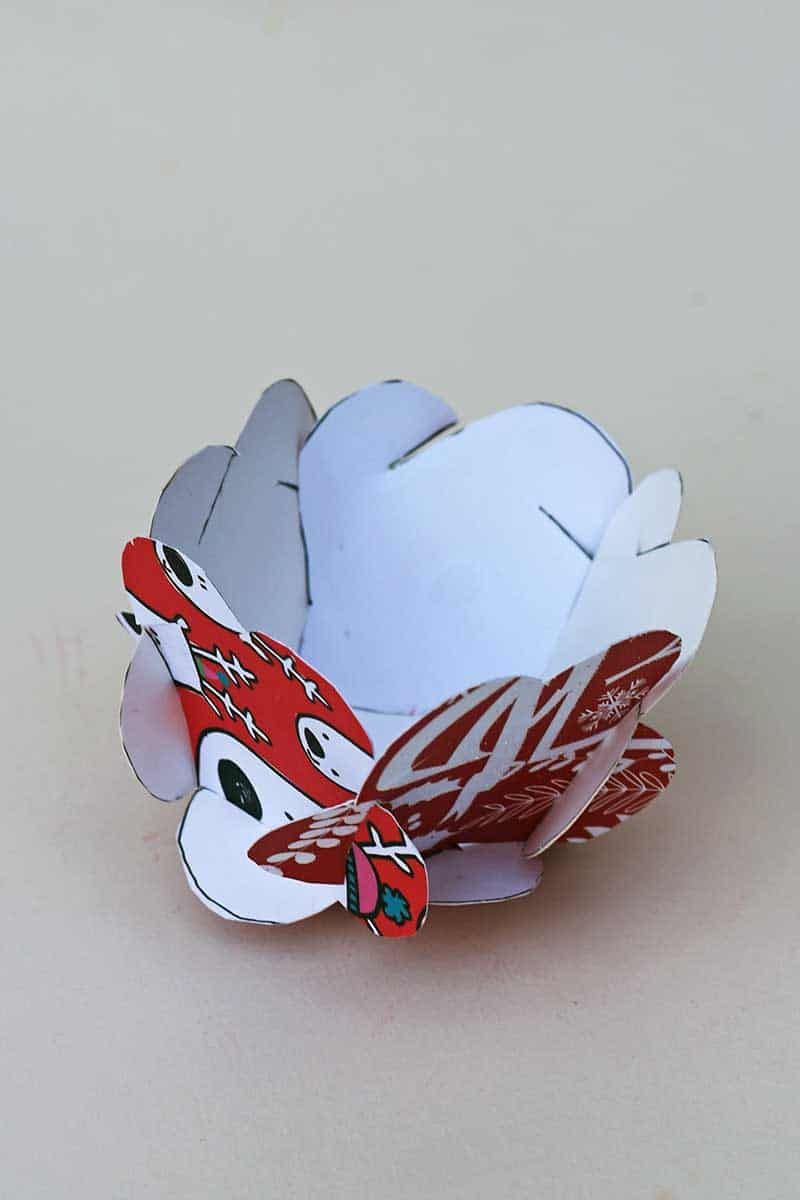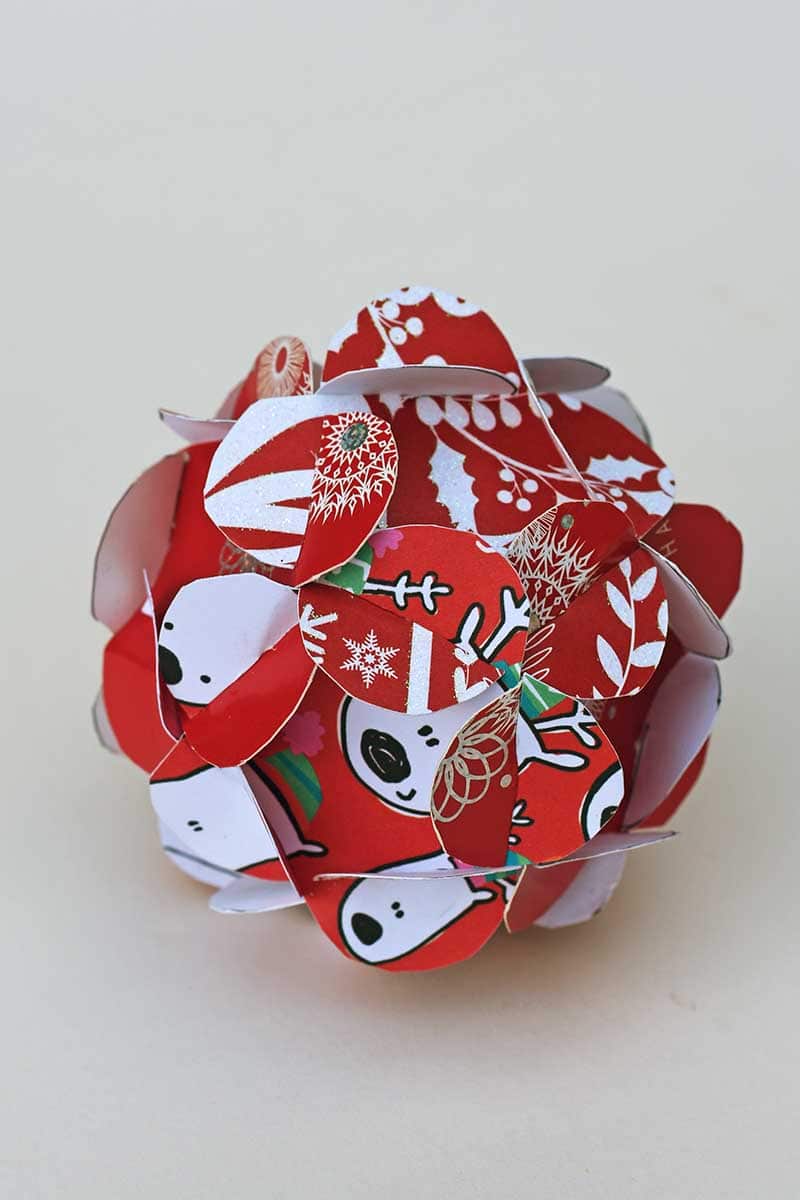 Adding A Pompom and Tassel
Step 8: To finish off the recycled Christmas card ornaments, I made a pompom and tassel for each one. The small pompoms were made by wrapping yarn around the four prongs of a fork (see below).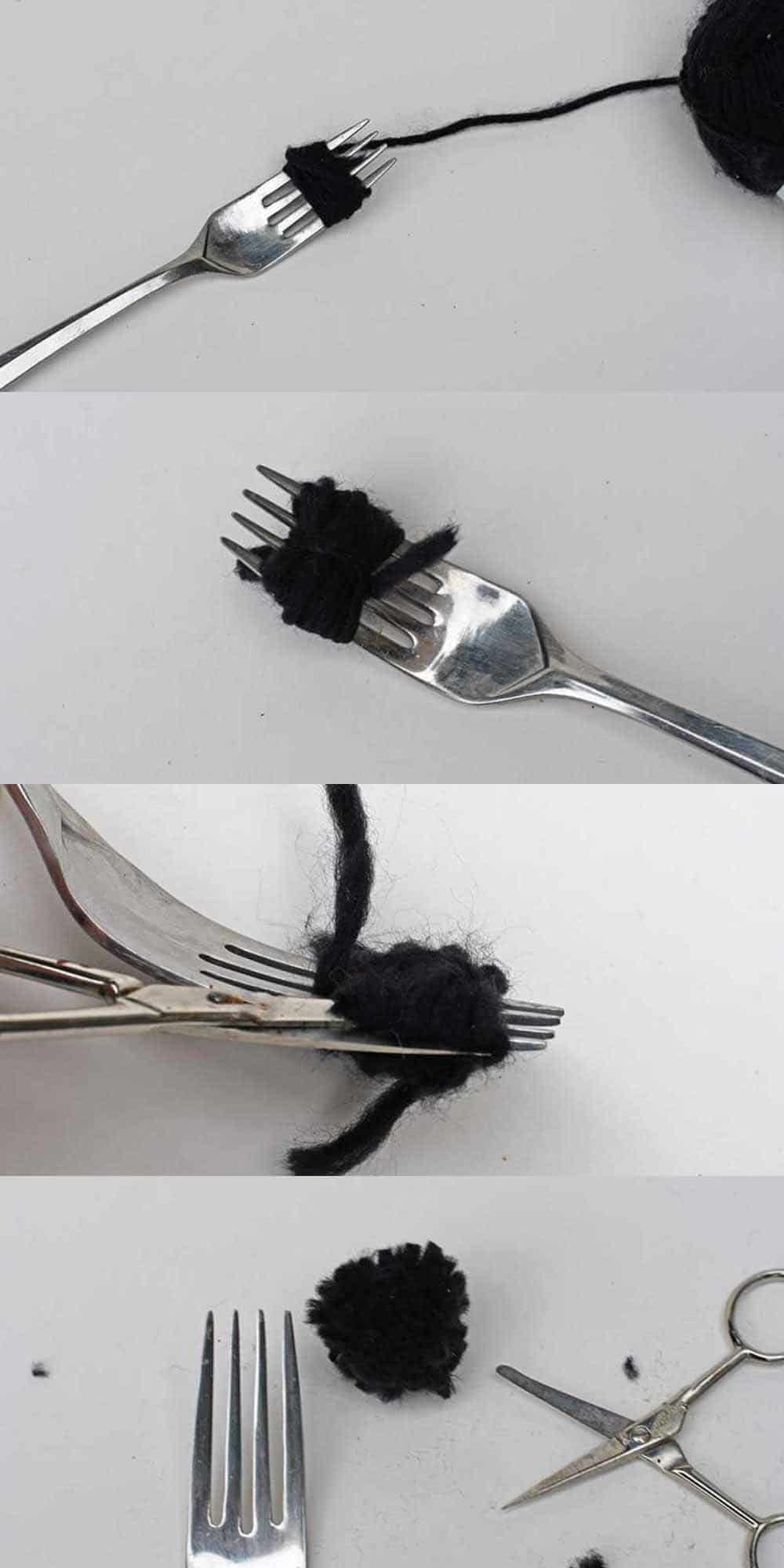 The tassels were made with embroidery thread skeins, in the same way as they were for my repurposed map decorations.
Step 9: Finish off the ornaments by threading the tassel and pompom decoration through the card at the base right through to the top. Use a needle to pierce through the card and make a hanging loop at the top.
You can do this in one go with a long upholstery needle. Otherwise, it's best to add the pompom tassel before placing the final flower stencil on the 3D ball ornament.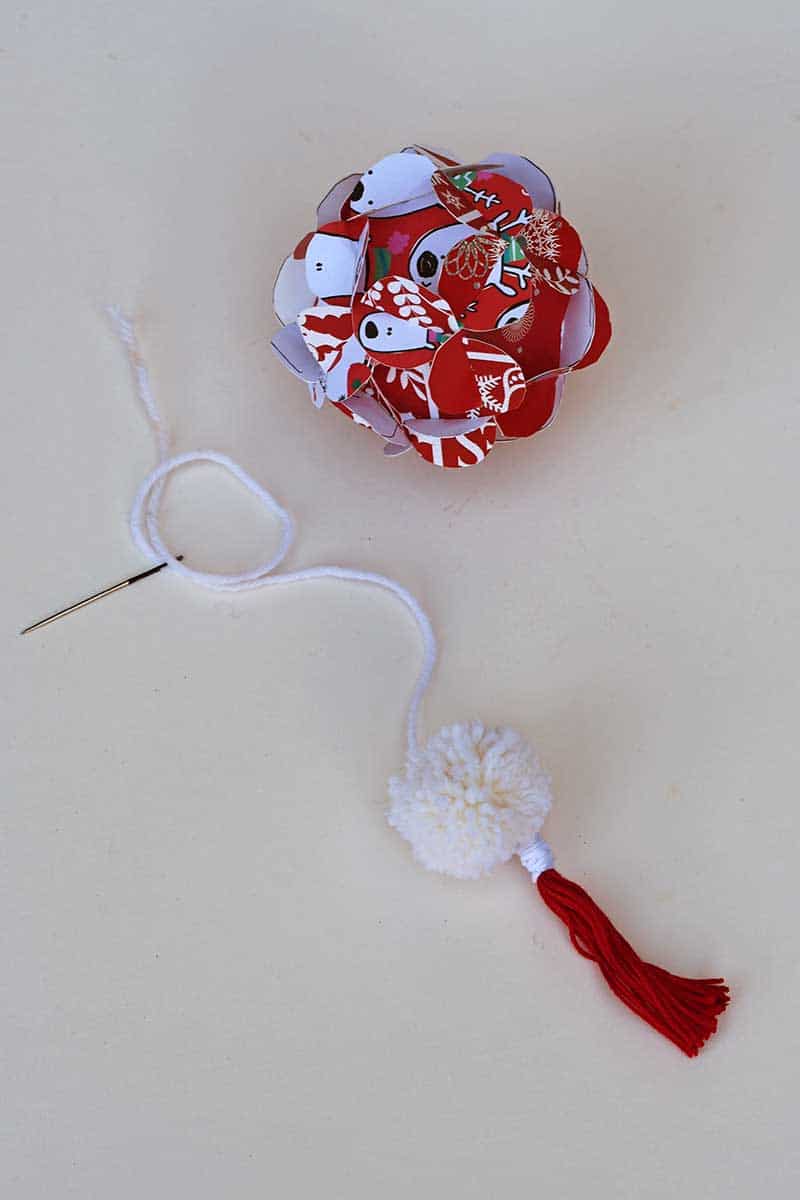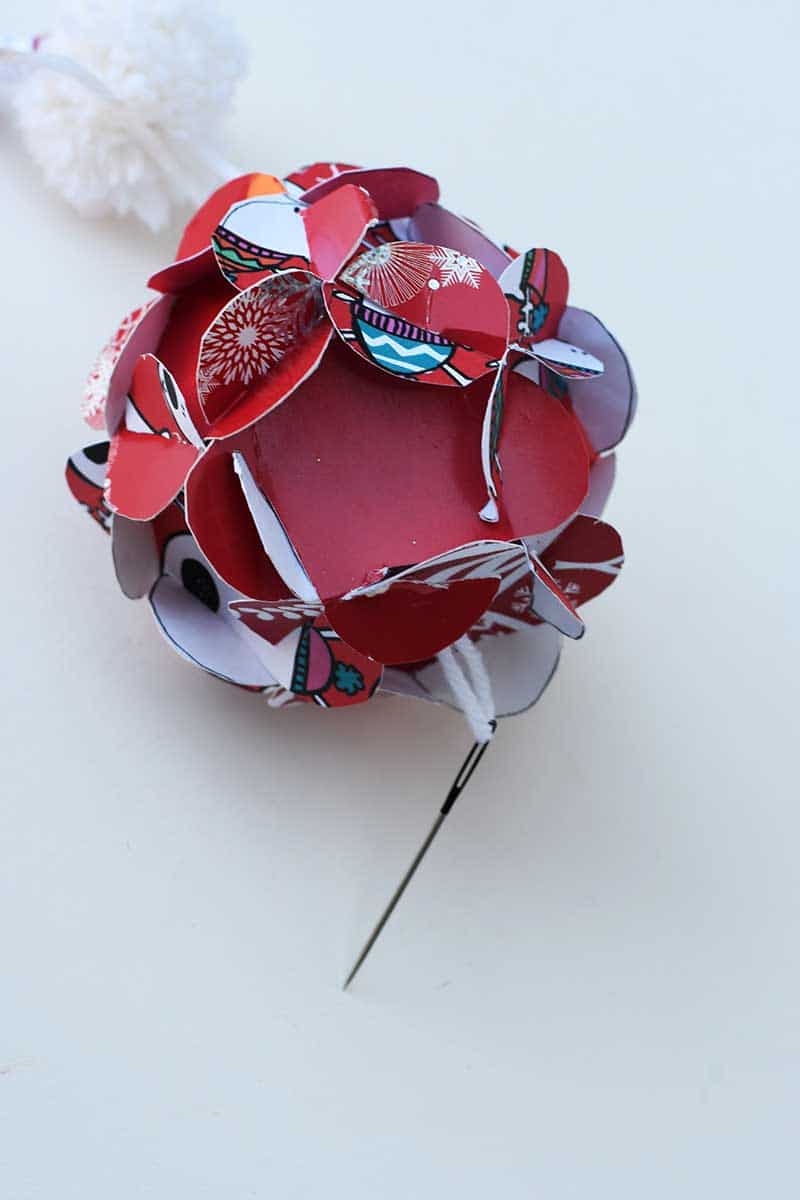 I ended up making a few of these upcycled Christmas card ornaments in different colours. I also tried to make the pompom tassel decoration in complementary colours to the 3D balls.
After making the first couple of balls, I found slotting the stencil pieces together much easier, and I got much quicker at making them.
I would love to try making a large paper ball using this method out of old maps one day. To perhaps use as a lampshade.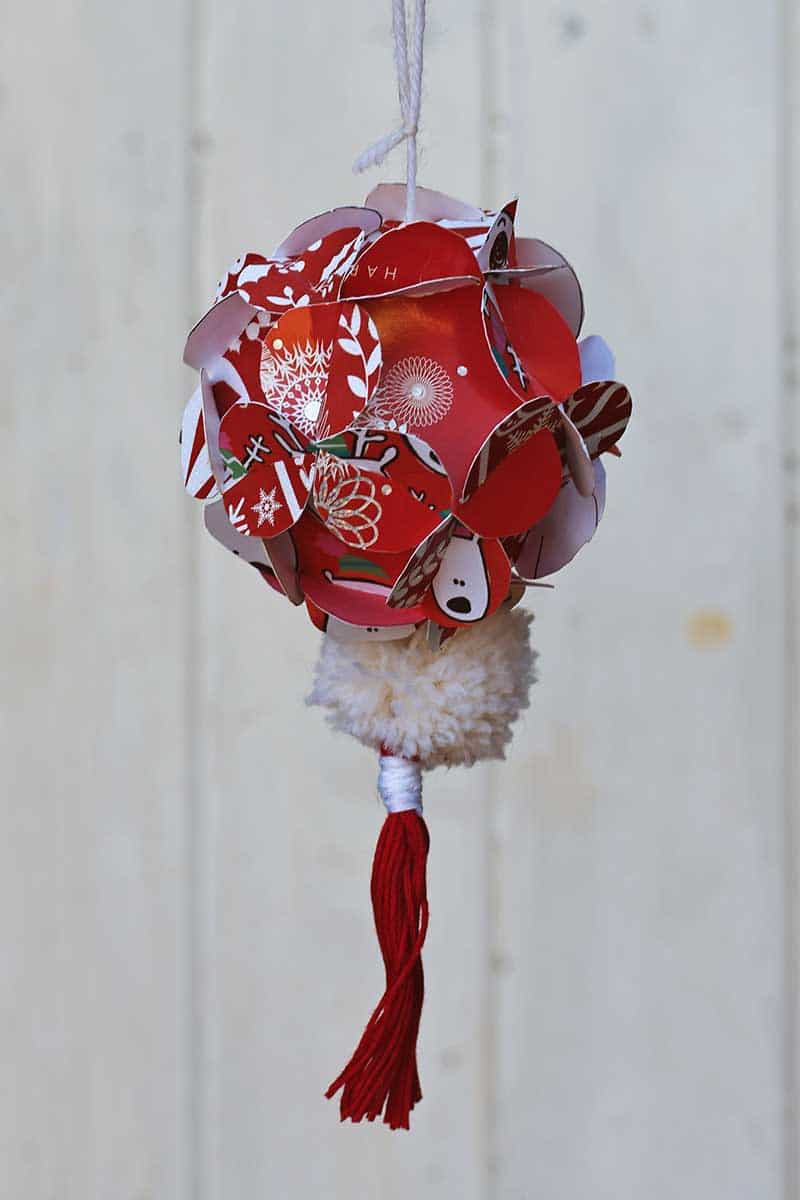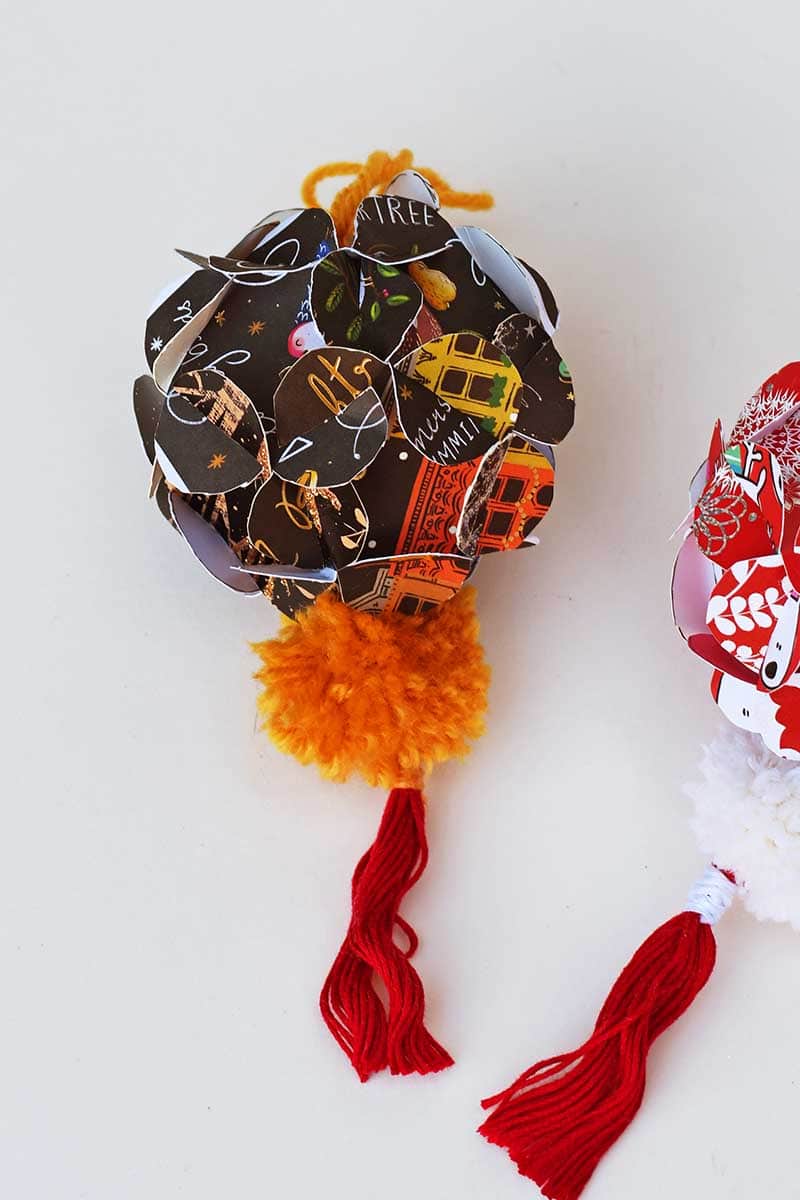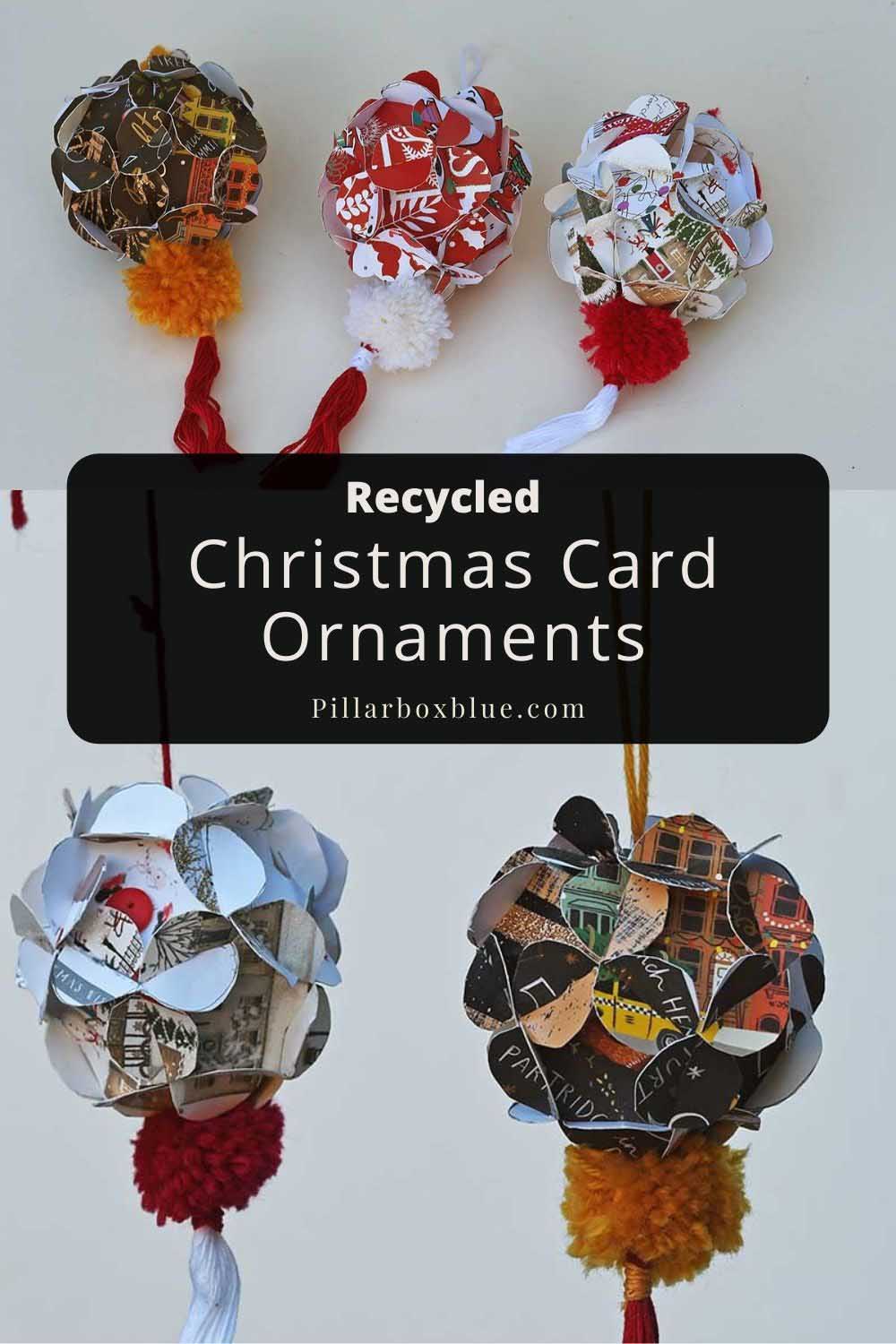 Don't forget to check out all my other wonderful Christmas craft ideas and the A to Z of upcycling ideas for more free environmentally friendly crafts. There is also a great collection of more cardboard Christmas craft ideas.