I got the idea for this fun wine cork Christmas craft after making a load of cork figures for Halloween. This time, I updated the wine cork with classic Christmas characters.
Like the Halloween figures, I upcycled a mixture of wine and champagne corks. I made a gang of seven different Christmas figures. All together, they look like a gang of Christmas superheroes.
The cork figures can be displayed on the mantle as a fun Christmas scene. Or you can add an eyelet screw into the top of the corks to hang them from the Christmas trees as an ornament. I hung my Halloween cork figures in a garland, as I didn't have a tree at Halloween.
This simple Christmas cork craft is suitable for both adults and kids. Besides the wine corks, you only need a few paint pens, scraps of felt and wire. It is a very affordable craft.
We're a participant in the Amazon Services LLC Associates Program, an affiliate advertising program designed to provide a means for us to earn fees by linking to Amazon.com and affiliated sites. As an Amazon Associate, I earn from qualifying purchases.
What You Need To Make Christmas Cork Figures
Old wine and Champagne corks – I collect mine throughout the year and have a jar full. If you ask around, friends and relatives will save you their wine corks for crafting.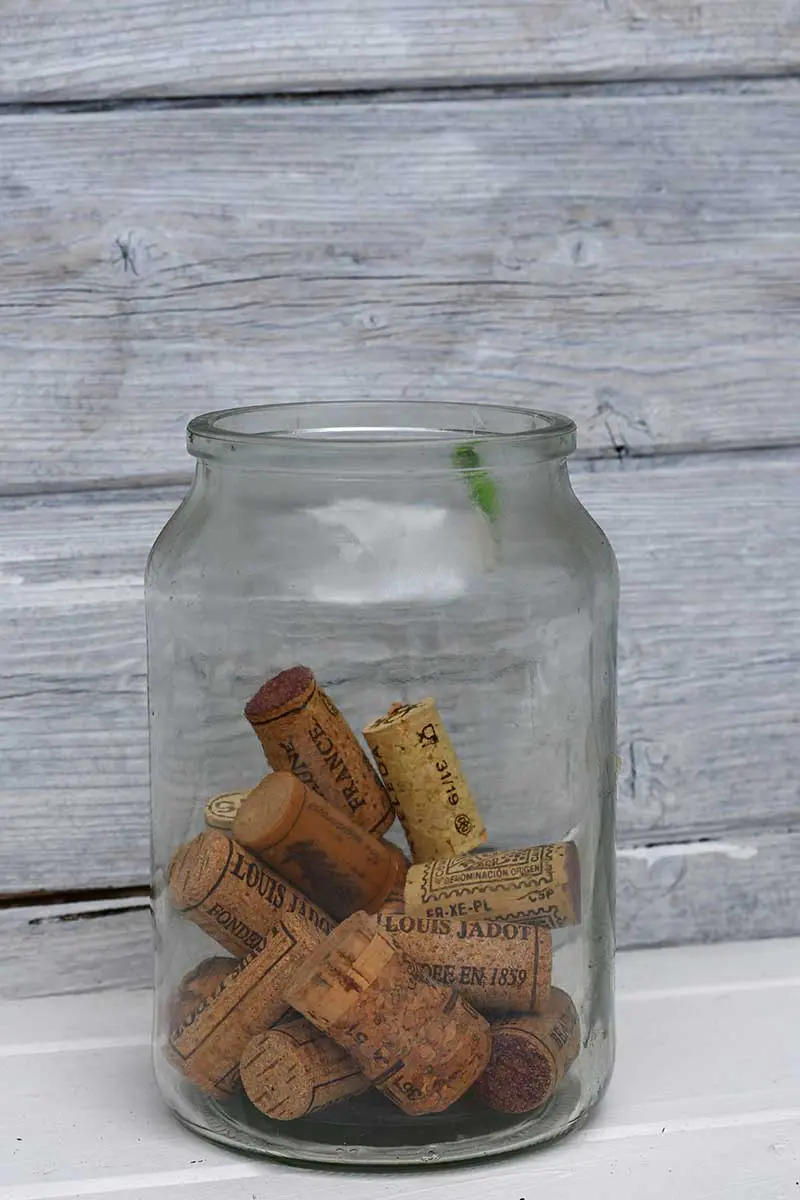 Scraps of red and green felt for Santa and elf hats.
Cream felt for angel wings
Assorted mini felt balls
Cotton wool pads for Santa's beard and hat trim.
Craft paints and acylic paint pens
black wool – enough to make a small pompom
Craft wire for angel halo and antlers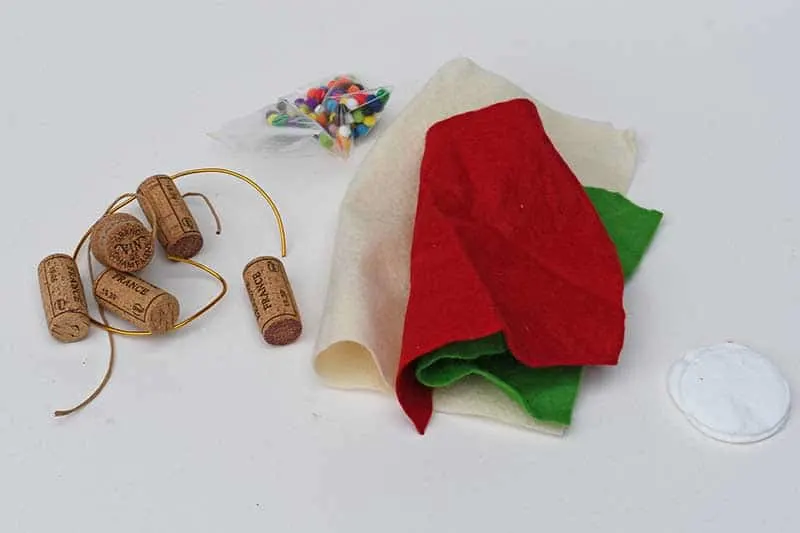 The Wine Cork Christmas Craft
I made seven different Christmas corks in total. This motley gang of Christmas classics included Rudolph, Santa, an elf, an angel, a Nutcracker, a gingerbread man and a snowman.
I'll go through each wine cork's character in detail below. Before I started, I painted the corks with craft paint in the base colours needed for each figure.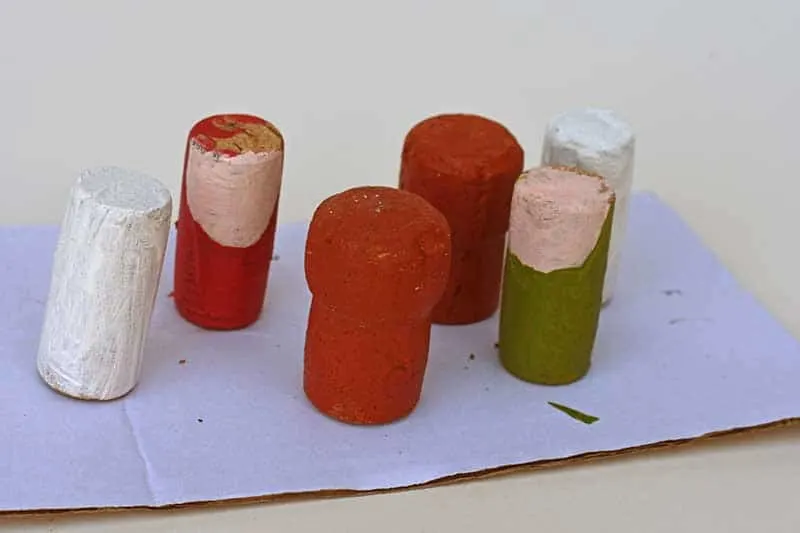 1. How To Make A Wine Cork Rudolph
Step 1: Use a champagne cork and paint it a brown colour.
Step 2: Make two mini antlers by twisting brown paper covered wire into shape. Or you can make a set of brown felt or cardboard antlers.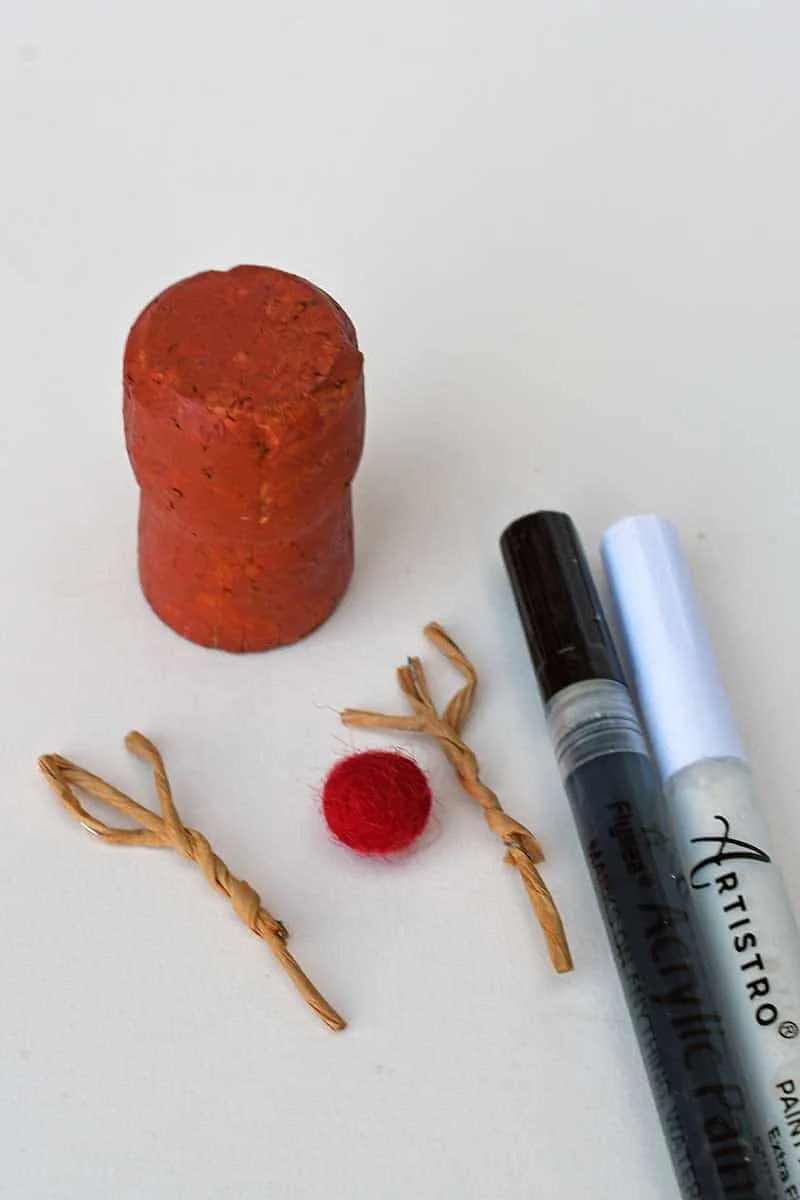 Step 3: Punch two holes into the top of the cork with a sharp object, such as a nail. Stick the antlers into the holes. Then, glue a red felt pompom to the front for a noise. Use the acrylic paint pens to draw on some eyes.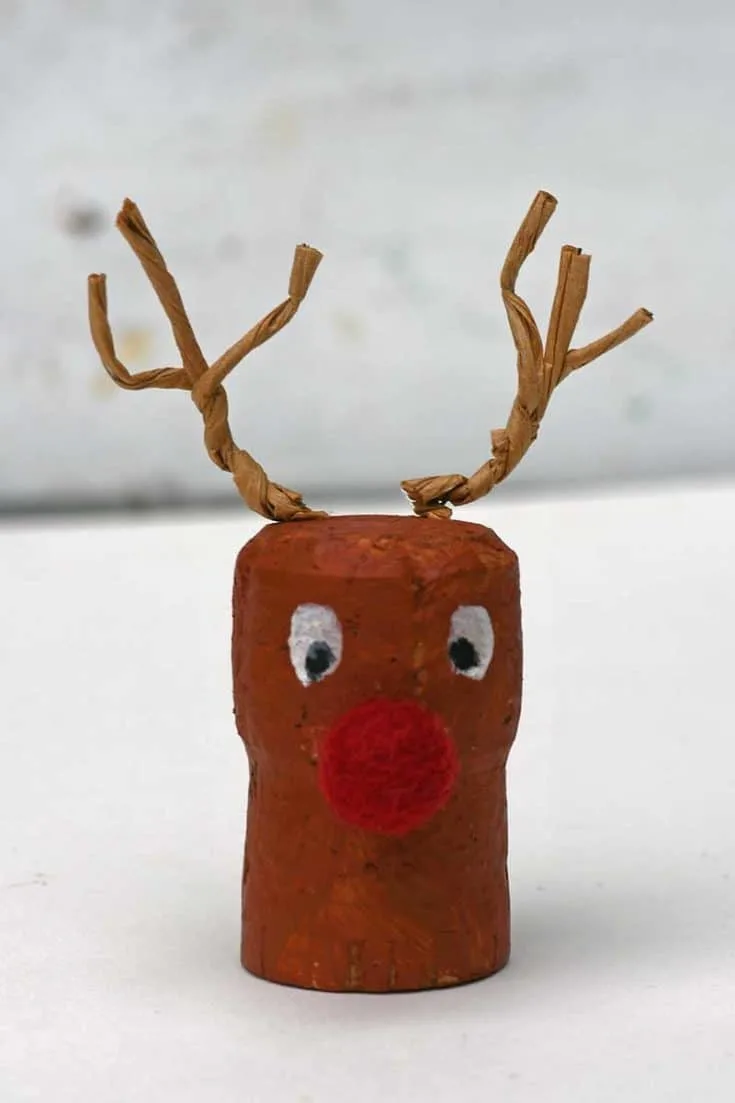 2. The Snowman Wine Cork
Step 1: First, paint a wine cork white. Then, use a black acrylic paint pen to draw on the eyes and buttons.
Step 2: Next, cut an orange pompom to be slightly pointed. Glue it onto the cork for the snowman nose.
Step 3: Next, cut a thin coloured ribbon to fit around the wine cork. Stick this ribbon onto the cork so that it looks like a scarf.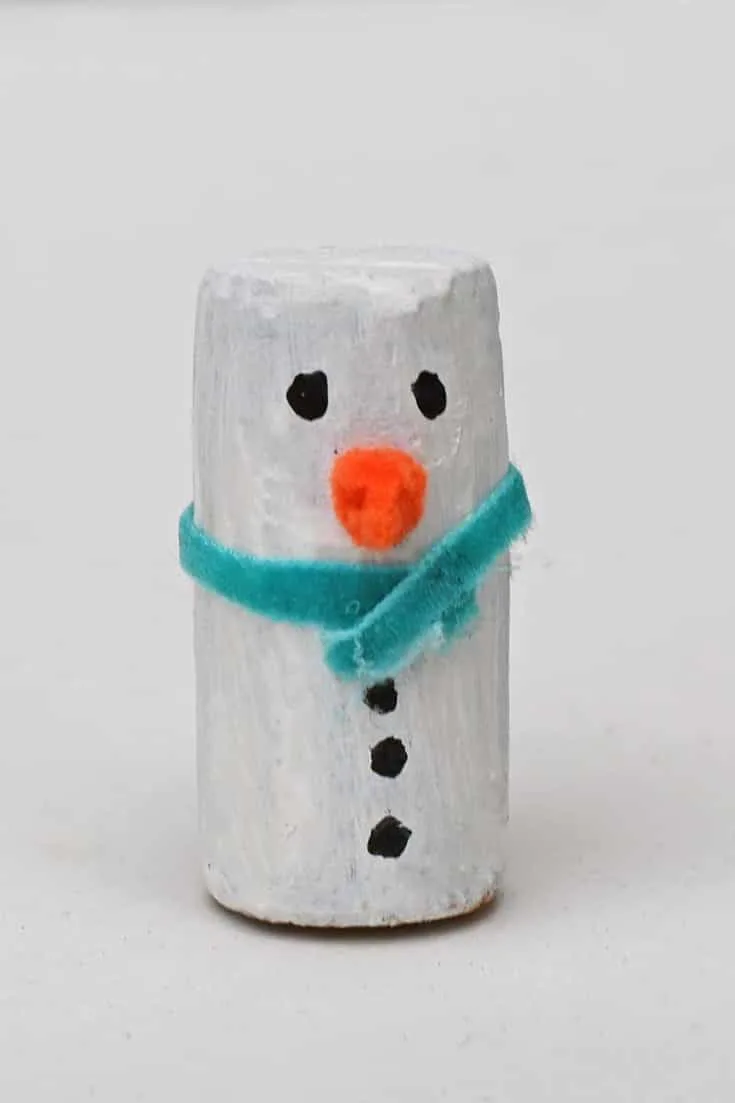 3. How To Make A Santa Wine Cork
Step 1: First, paint a wine cork red with a pink face.
Step 2: Next, make a Santa hat out of red felt. Cut a piece of felt into a small quarter circle. Glue some cotton wool along the curved edge of the red felt. Then, sew the felt into a cone shape. Sew a small white pompom at the top.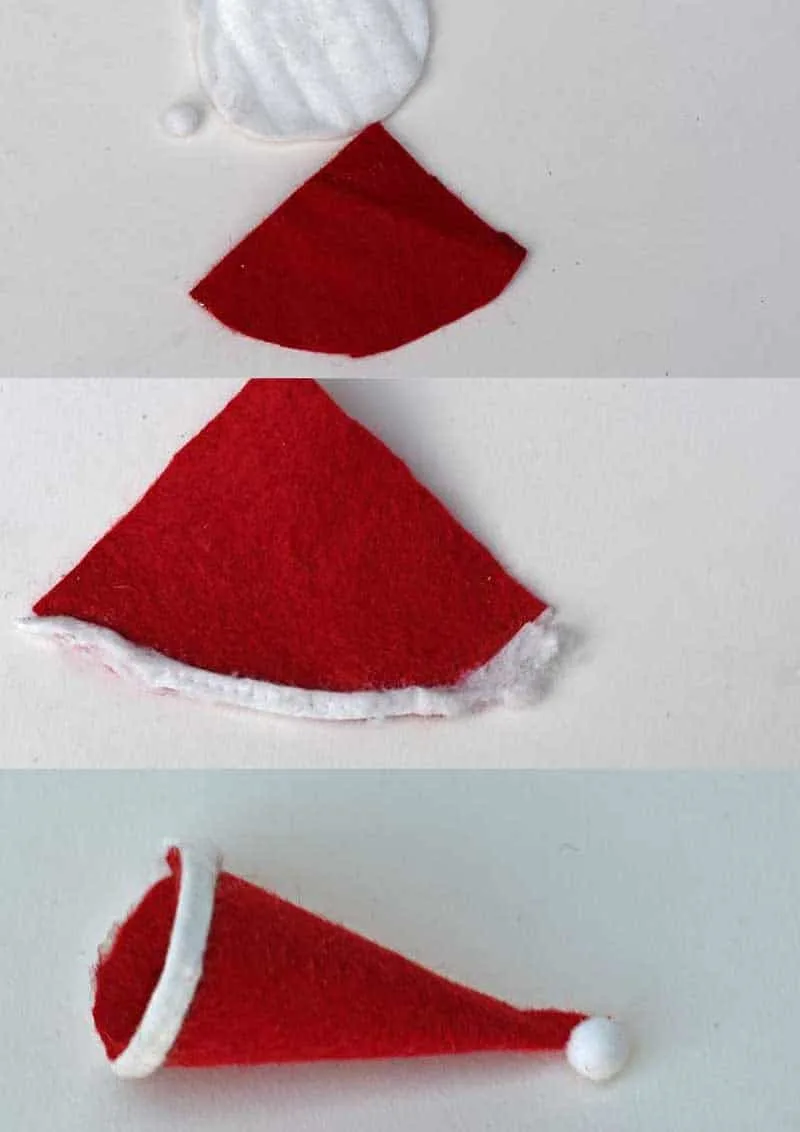 Step 3: Next, cut a cotton wool pad into a small triangle shape to make a Santa beard. Draw eyes onto the face of the wine cork. Finish off by glueing on the beard and hat.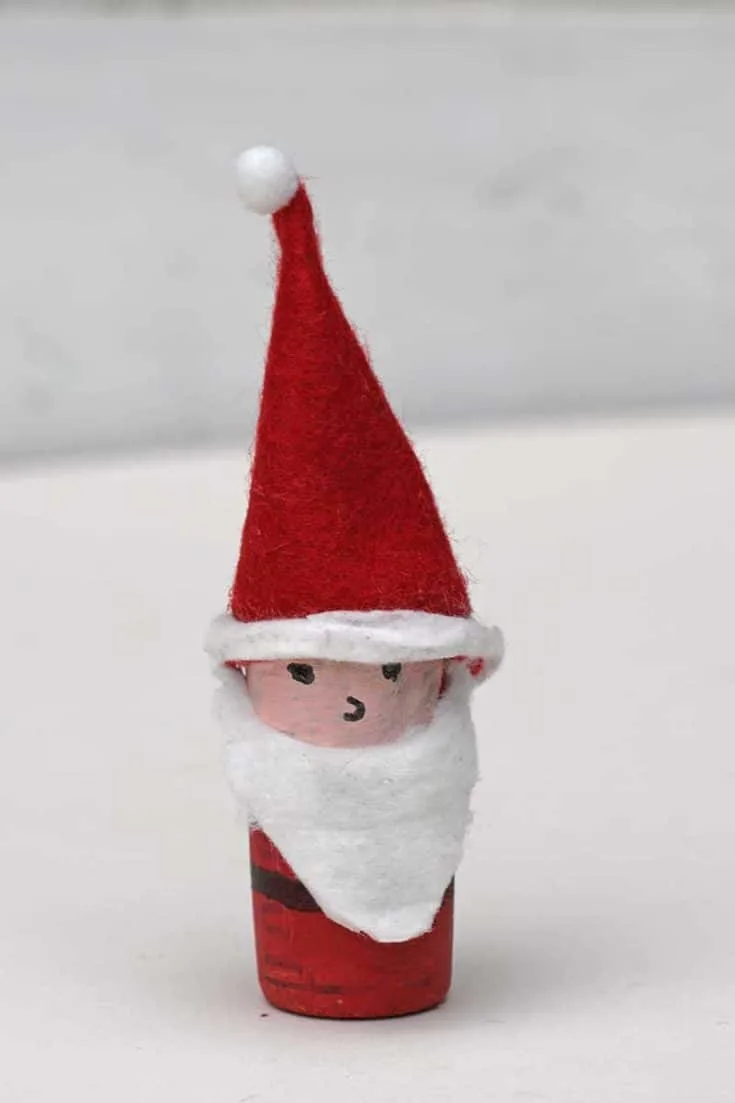 4. How To Make A Cork Gingerbread Man
Step 1: First, paint a Champagne cork brown. Then, stick two coloured pompoms to the front of the cork.
Step 2: Finish off by painting white squiggly lines on the cork and some black eyes.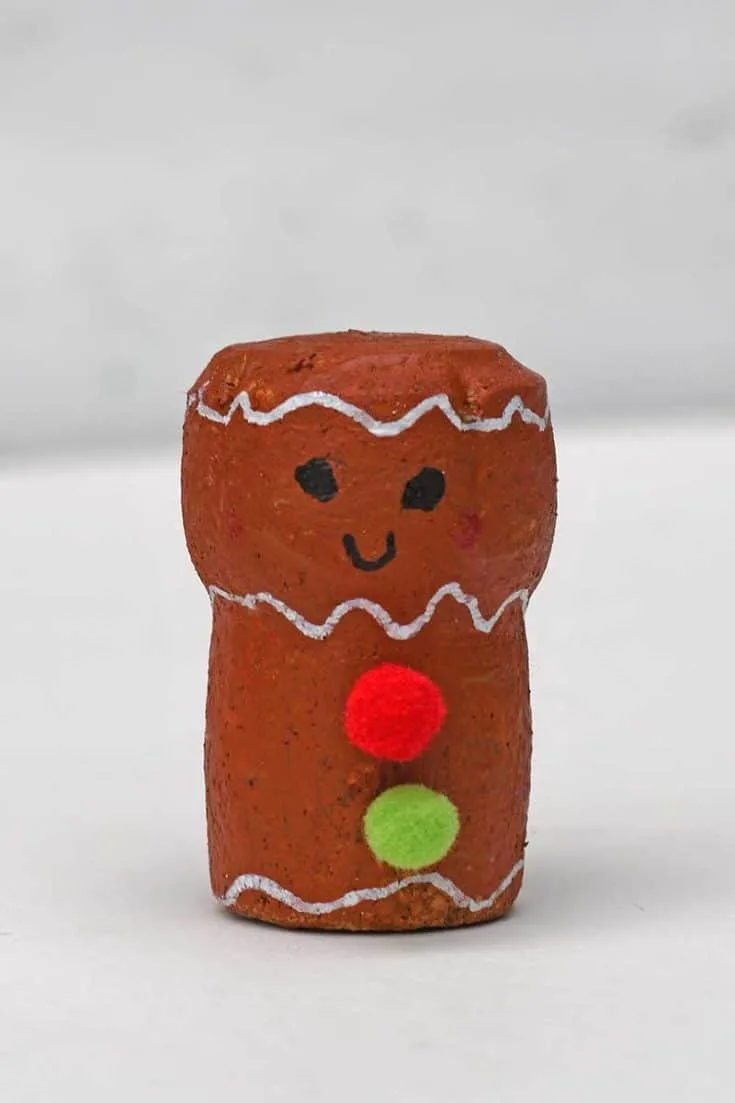 5. How To Make Elf
Step 1: First, paint a wine cork green with a pink face. Then, paint on a red elf collar and white hooped strips. Draw black eyes onto the face.
Step 2: Make a green felt elf hat, the same way as the Santa hat above. Glue the hat to the top of the painted wine cork.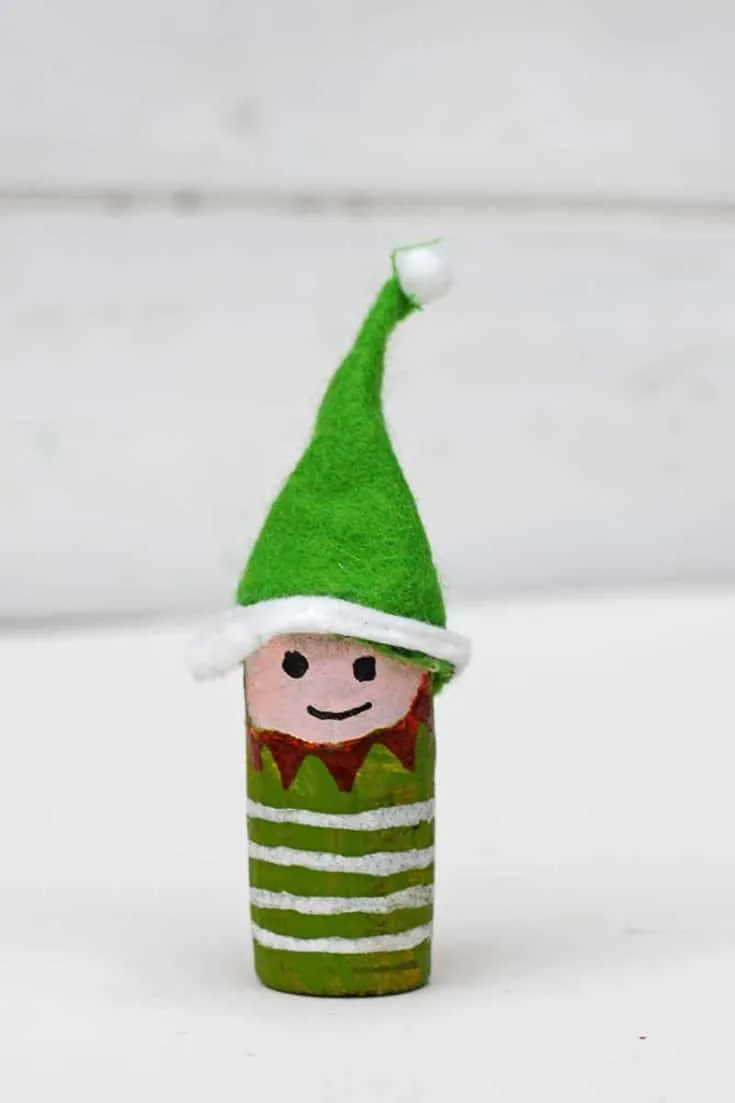 6. How To Make A Cork Nutcracker Soldier
Step 1: First, paint a wine cork with black, blue and red stripes. Don't forget to paint a pink face.
Step 2: Next, draw on some eyes and a black moustache. With a yellow acrylic paint pen, add some details, such as a chin strap and a cross.
Step 3: Make a small black pompom bearskin hat. Do this by wrapping black wool around a fork. Then, tie it off in the centre before cutting it free. Trim the pompom down to size and to make it more fluffy.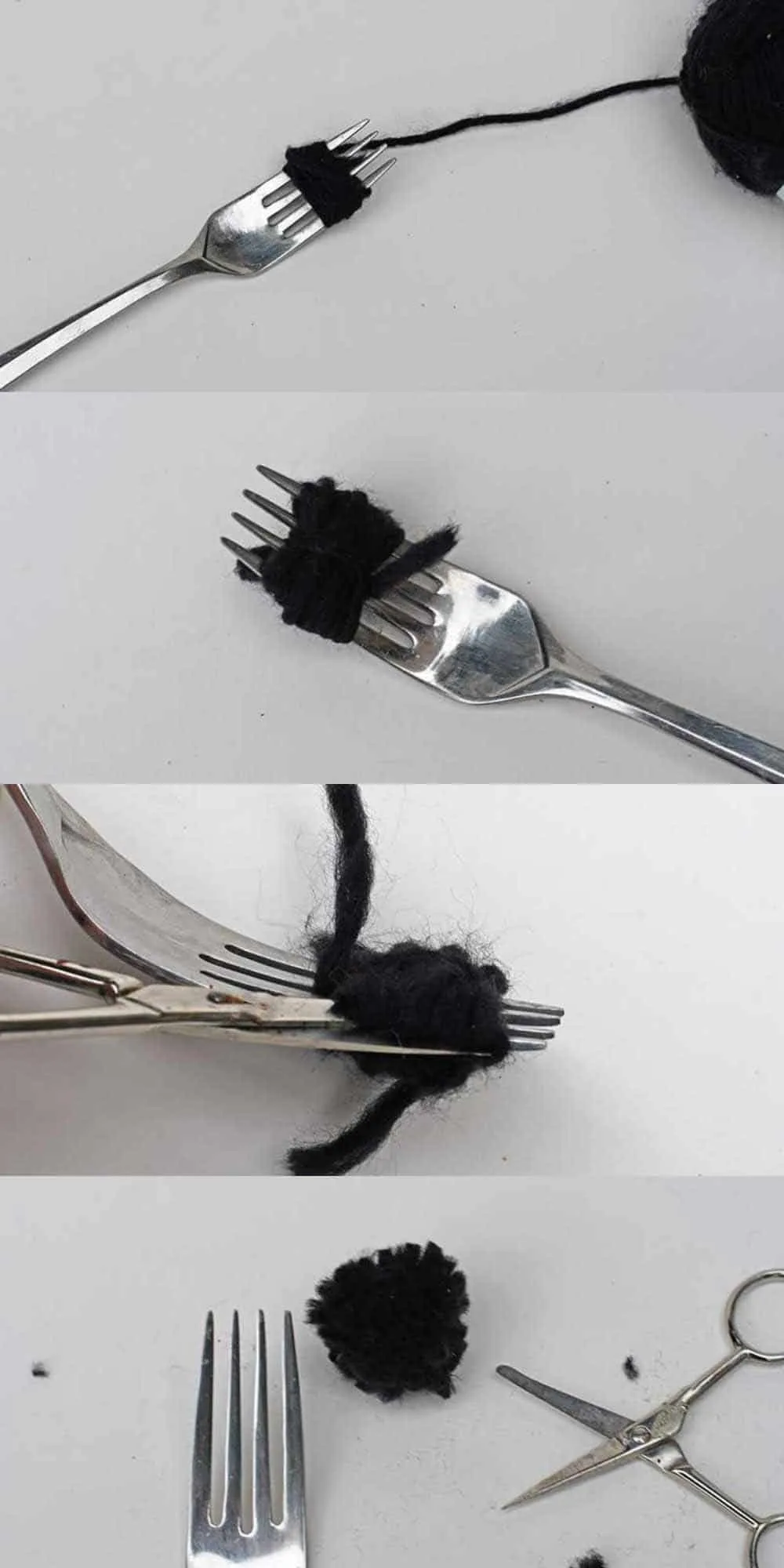 Step 4: Finish off the nutcracker wine cork figure by glueing the pompom bearskin hat.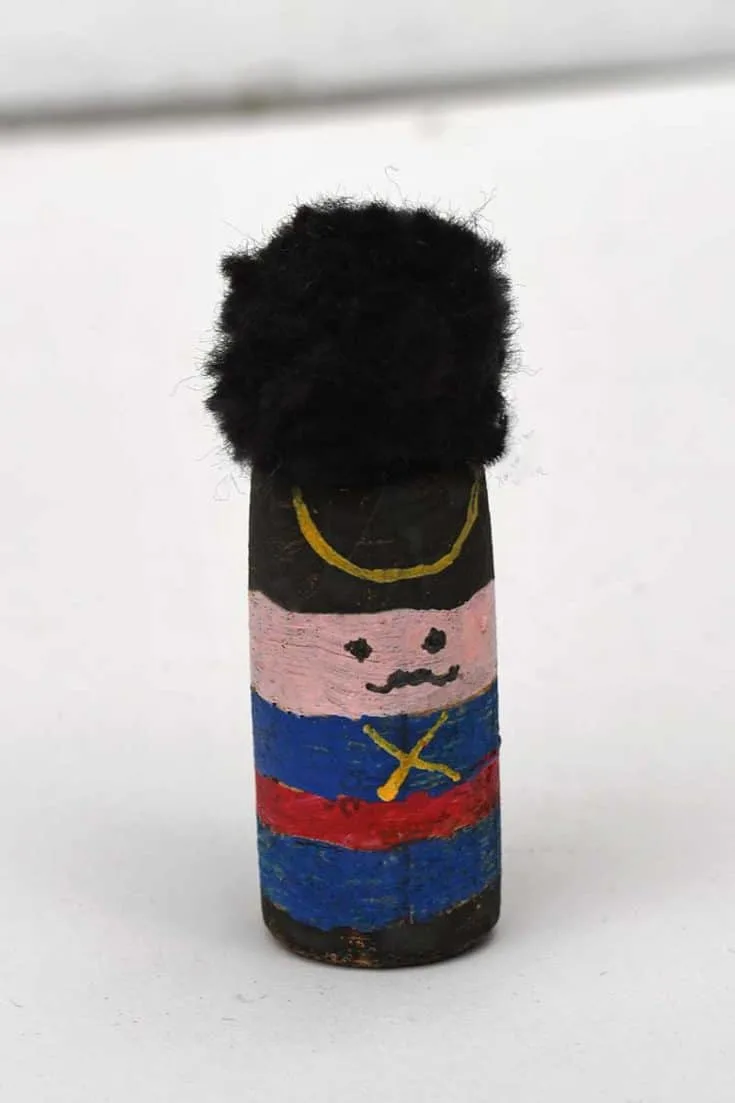 7. How To Make An Angel Cork Character
Step 1: First, to make a wine cork Christmas craft angel, you will need to make mini felt wings in cream. And make a tiny halo out of bent craft wire.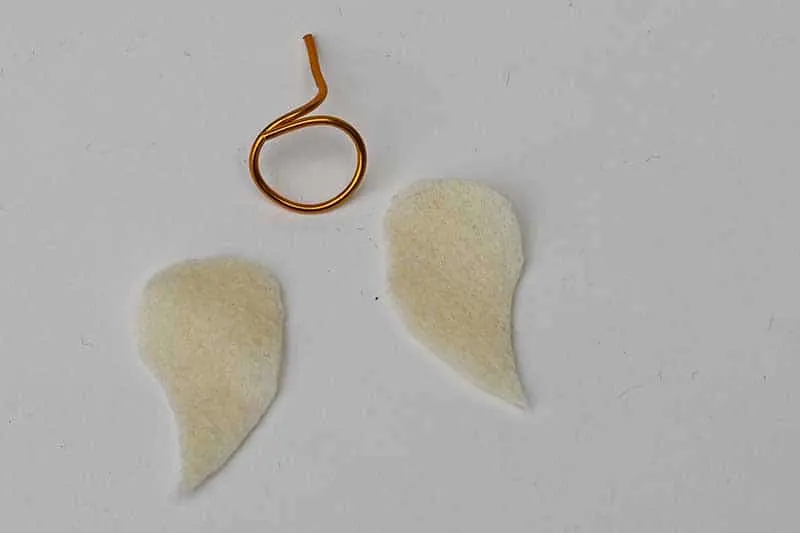 Step 2: Next, paint a wine cork white and draw on a mouth and face.
Step 3: Finish off the angel by glueing the felt wings to the back of the cork. Then, stick the halo into the top of the cork.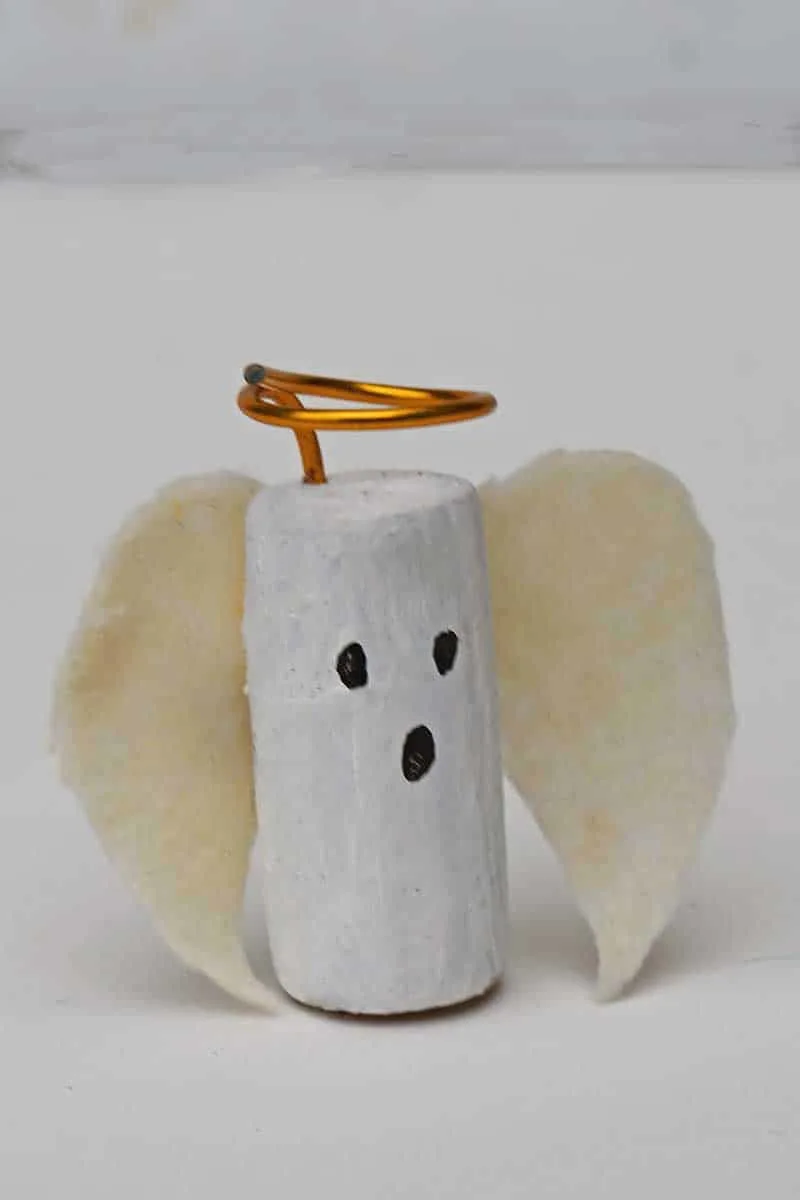 The Finished Christmas Cork Gang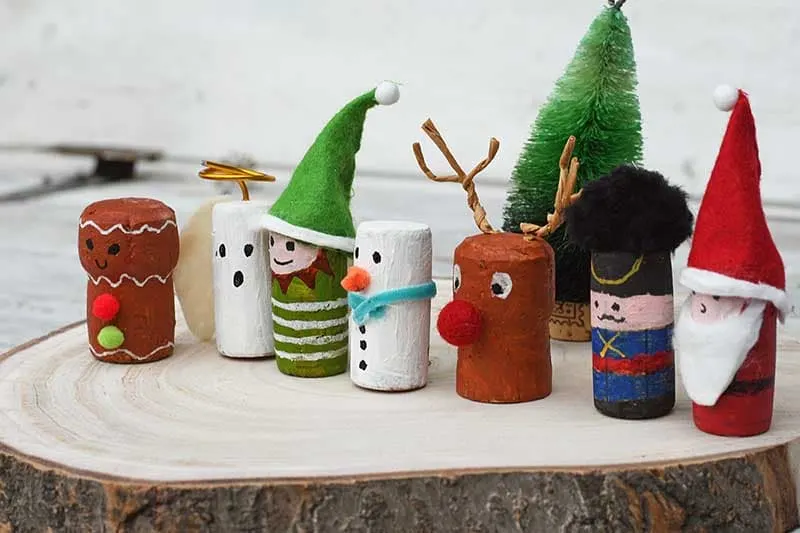 I like to display my Christmas characters all together in a group. But you could easily turn them into hanging ornaments by adding eyelet hooks to the top of the corks. Or, for the characters with hats and hair, just sew the hanging thread into the top of the hats.
They would also make lovely DIY place card holders for the festive table.
The figures would also look great placed inside a Christmas printers tray display.
If you have any suggestions of more Christmas characters I could make out of wine corks, I'd love to hear them.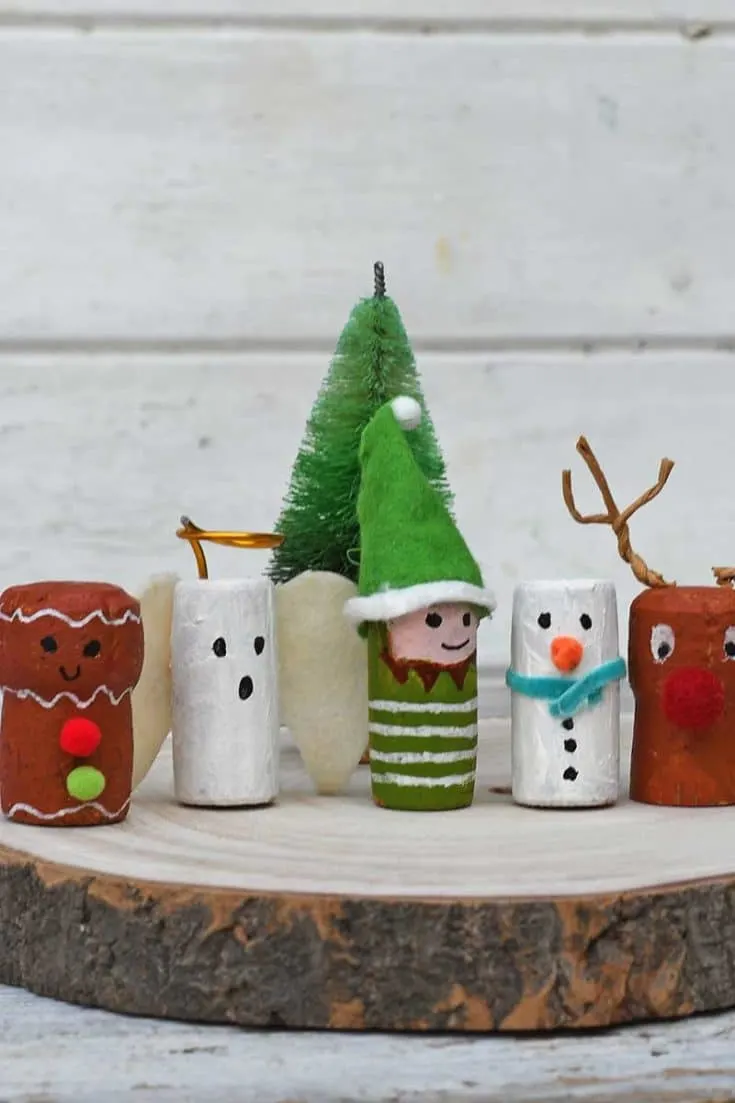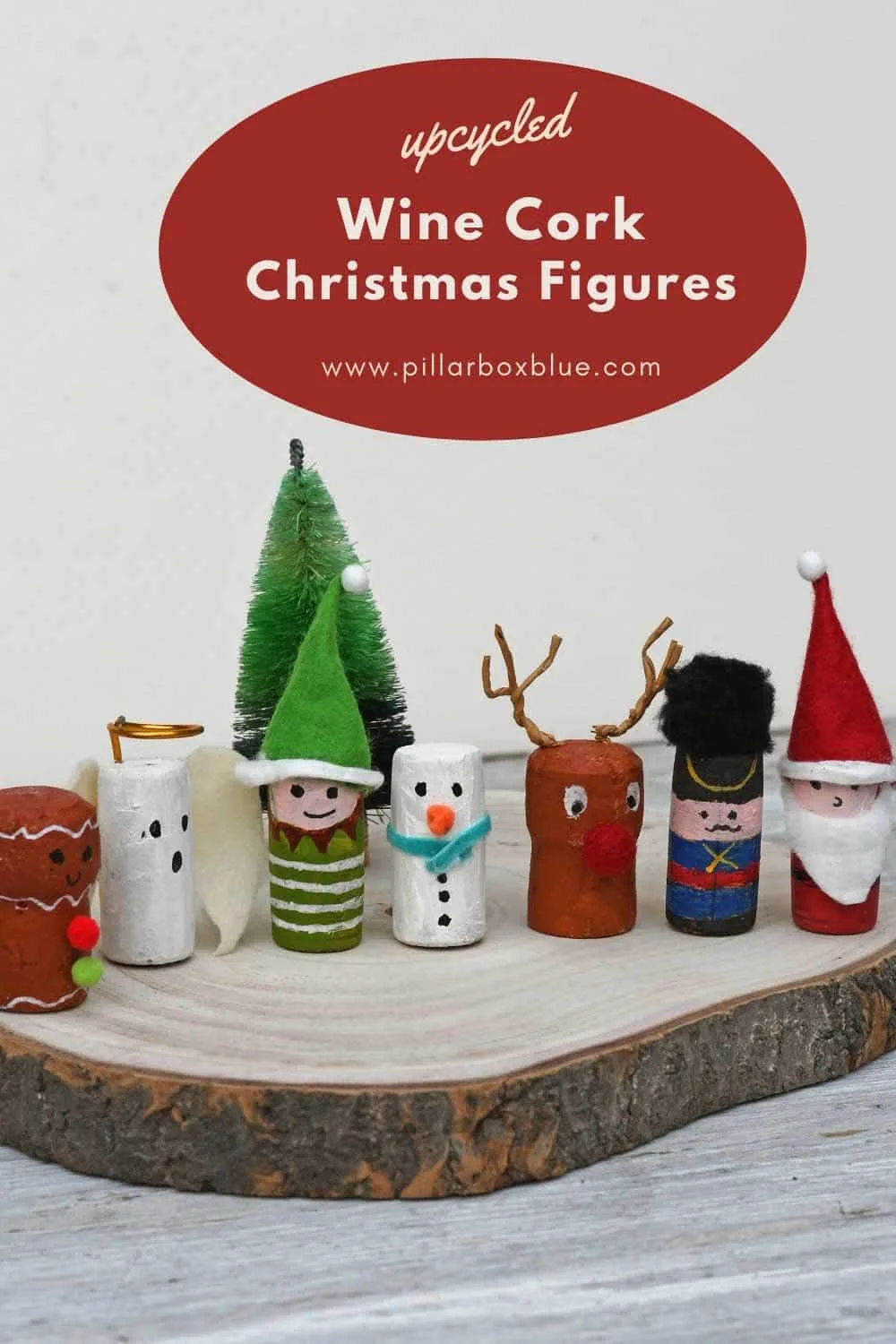 There are many fun Christmas wine cork crafts, and Christmas upcycles and crafts on the site that you might also want to check out. Such as the Christmas shuttlecock angels, and tin can ornaments.
Wine corks aren't just for Christmas, check out these other wine cork craft ideas.
Others include
For more interesting ideas of what other everyday things can be upcycled, check out this A to Z of clever upcycling ideas.