IKEA has been selling their small wooden drawers for many years in various forms. I have bought a few myself over the years.
There's one full of shoe-cleaning equipment and spare football boot studs in the downstairs closet. One in the DIY cupboard full of nails and screws and a beautifully map decorated one in the hallway for stamps and other postage-related paraphernalia.
These particular small wooden drawers I revamped have been in the playroom undecorated for years. I used to use them to store all the odd pieces of Lego, bouncy balls and bits of toys
The drawers are handy for storing those tiny random bits of plastic; you don't know where they're from, but you know someone will be looking for them one day!
Giving An IKEA Small Wooden Drawers A Modern Look With Velvet
The great thing about the IKEA small wooden drawers is that they are designed to be stained, stamped, painted or decoupaged. They are perfect for crafting into your unique piece.
Revamped, with velvet my small drawers have been promoted from a kid's playroom into a living room with a small desk area. They are now full of office things like clips, pins, tacks and other small stationary "bits and bobs".
This IKEA upcycle featured in the alphabet of clever upcycles.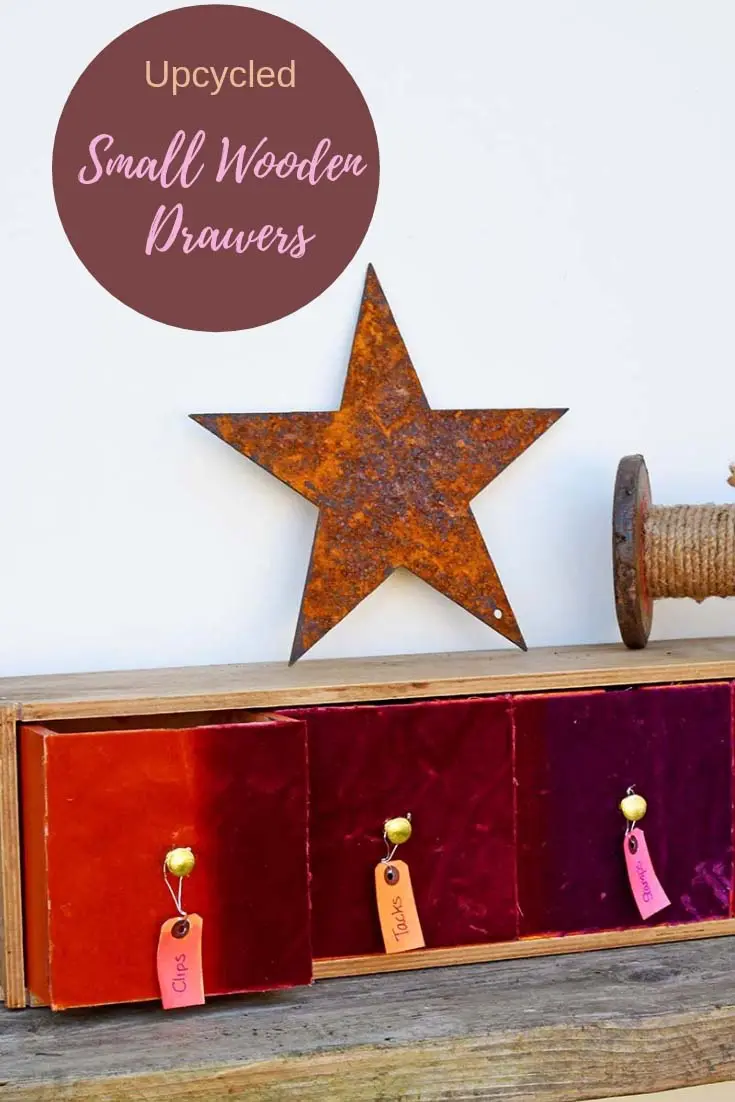 We're a participant in the Amazon Services LLC Associates Program, an affiliate advertising program designed to provide a means for us to earn fees by linking to Amazon.com and affiliated sites. As an Amazon Associate, I earn from qualifying purchases.
What You Need To Revamp Small Wooden Drawers
Wooden drawers – These particular drawers were from IKEA originally but have since been discontinued. Don't worry, though; you can still get similar small wooden drawers from IKEA called Moppe. They are a different shape but can be revamped in exactly the same way. Lots of craft shops sell similar plain unfinished small wooden drawers ready to be revamped.
Velvet – I had some velvet material left over from my curtains (Harlequin Amazilia velvet). You can often buy small off-cuts of velvet on eBay. As you only need small pieces, velvet fabric swatches would be good to use too. Pick these up from interior shops or order free swatches online.
Small white tags for the labels
Small jewelry cabinet knobs
Spray paint
Dark wood wax
Rotary cutter and mat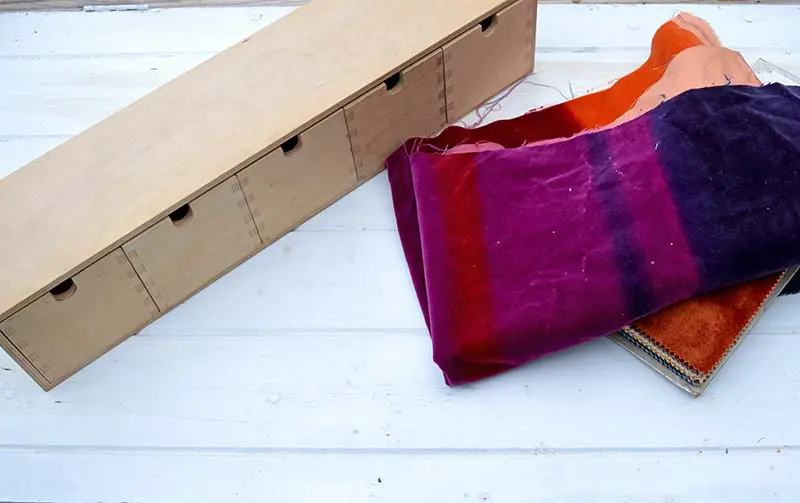 How To Revamp Mini Drawers with Velvet
Step 1: The first thing to do is to spray paint the drawers. Use a colour that matches the velvet that you will use. I sprayed my drawers orange. I also applied a coat of dark wood wax to the outside of the chest.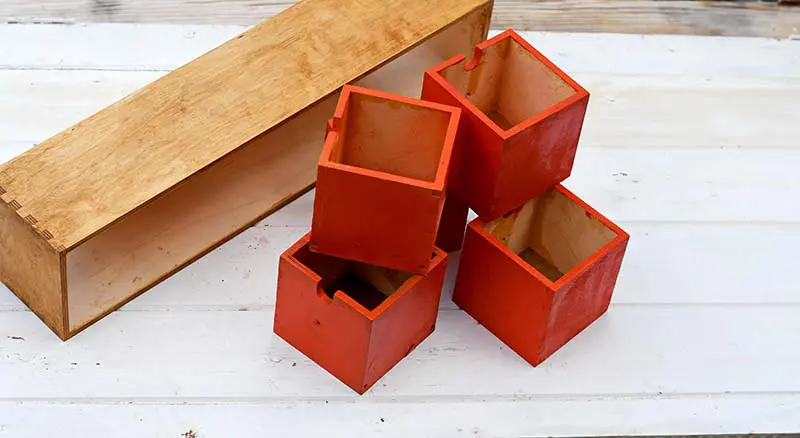 Step 2: Using a ruler measure the center point of each drawer front and mark it with a pen. Then drill a hole in this spot large enough for the knob screw. But don't put the knobs on yet.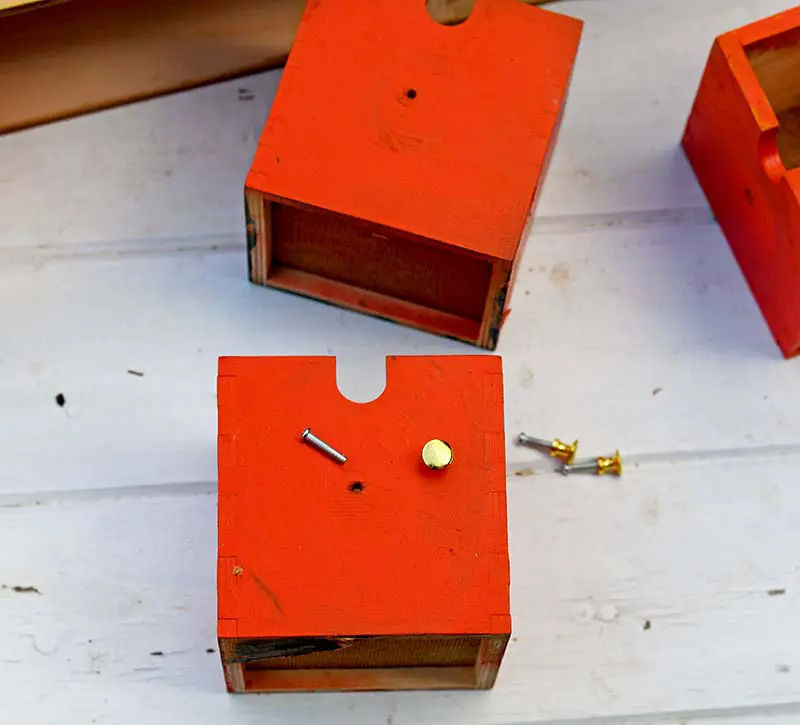 Step 3: Next, carefully measure the face of a wooden drawer. Then using a rotary cutter and mat, cut the velvet fabric to this measurement.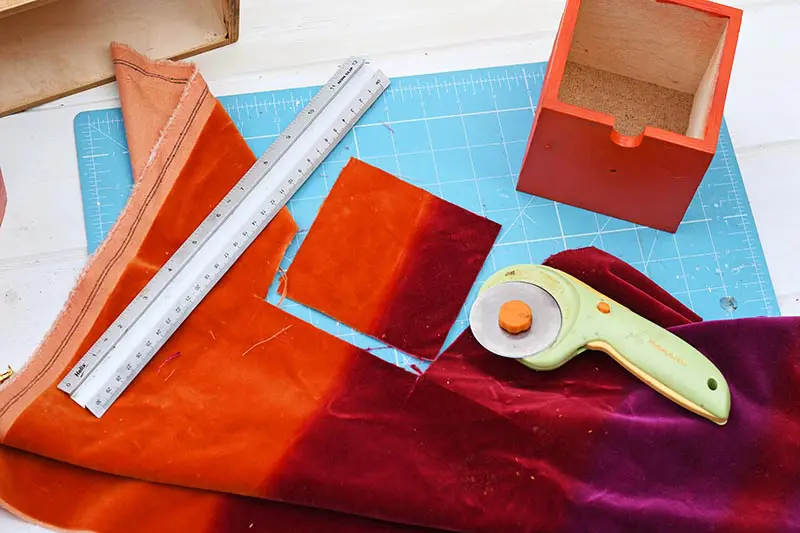 Step 4: Next, with the precise super glue, apply a small strip of glue around the edge of the drawer front. Then stick the cut velvet to the drawer front.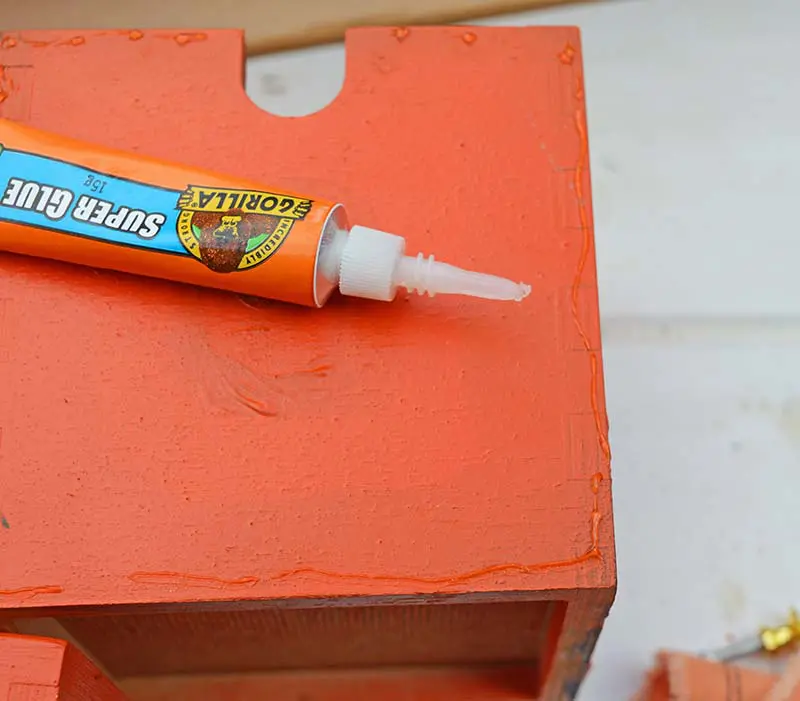 Step 5: Once the glue has dried, which will only take a couple of minutes. Pierce a hole in the centre of the velvet where the drilled holes are. Then screw in the small knobs. Trim any loose threads with scissors.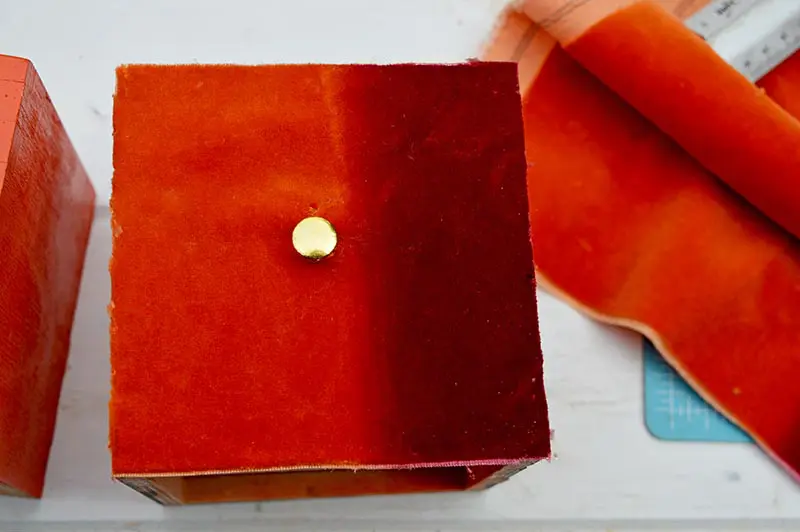 Step 6: Finally, once all the drawer fronts were covered in velvet, I made some labels. I used small white tags and painted them with watercoloured inks. I used inks of different shades to create an ombre effect similar to the velvet.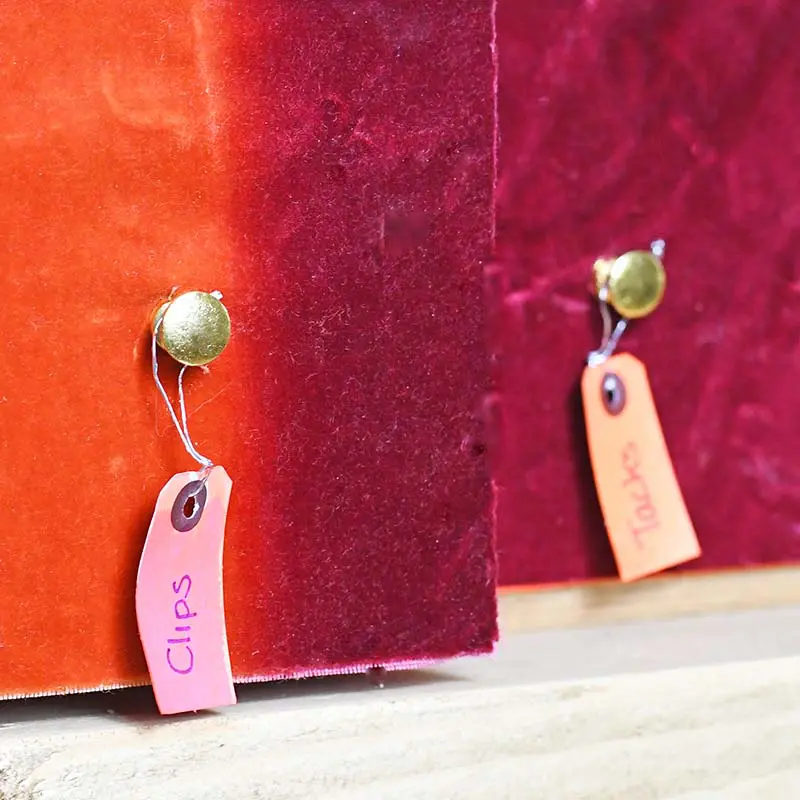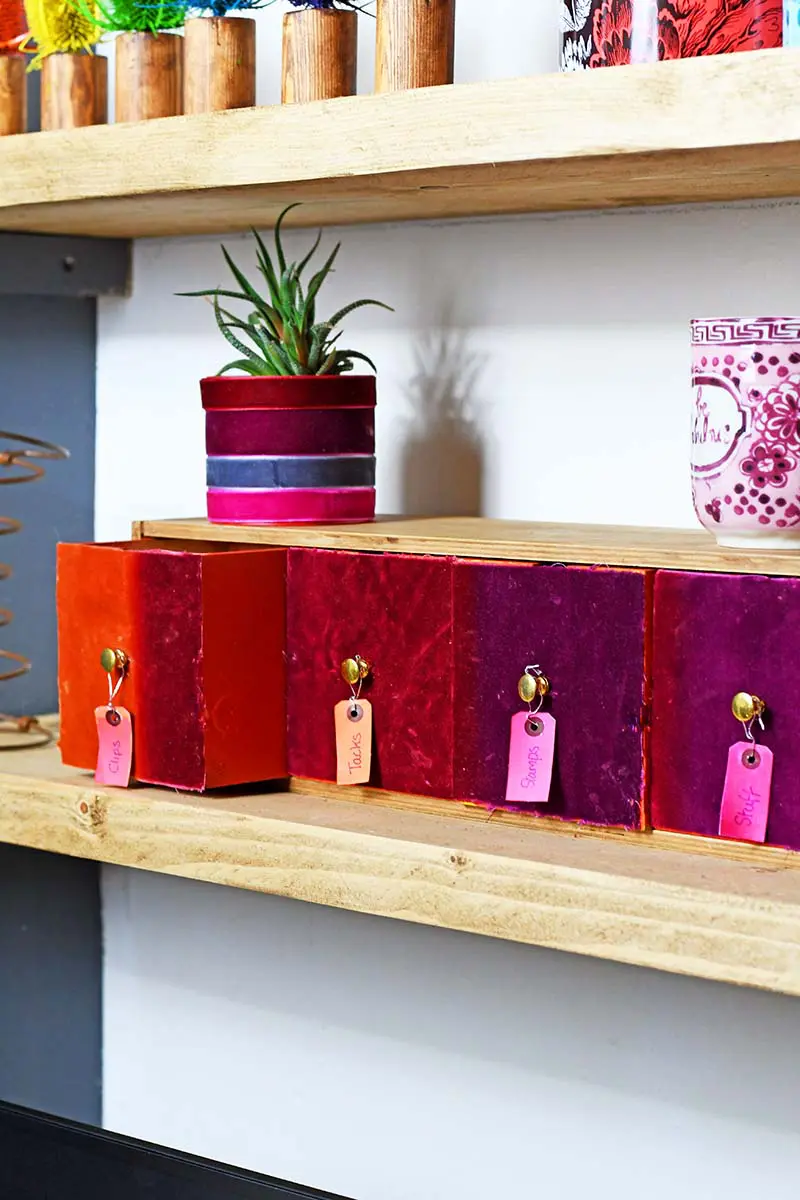 The velvet small wooden drawers go well with the decor in my living room. Especially as they match the curtains. The labels are handy, reminding me what is in each little drawer.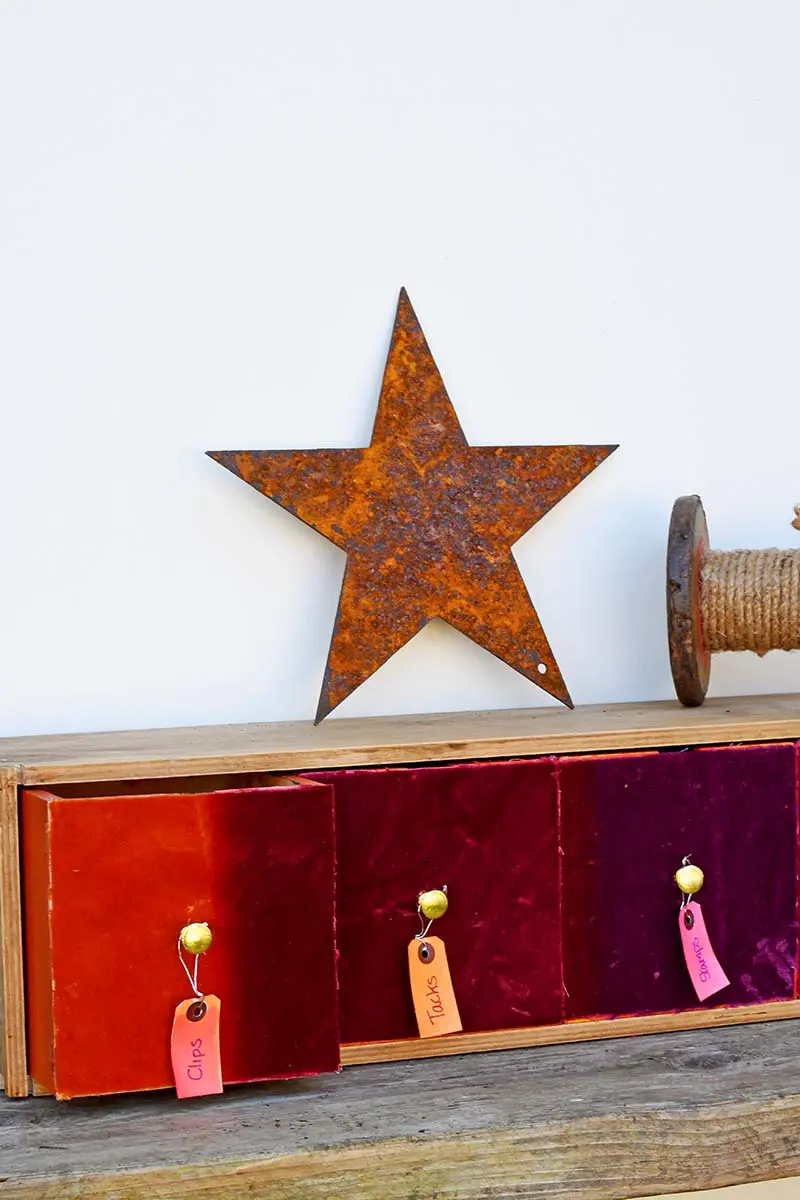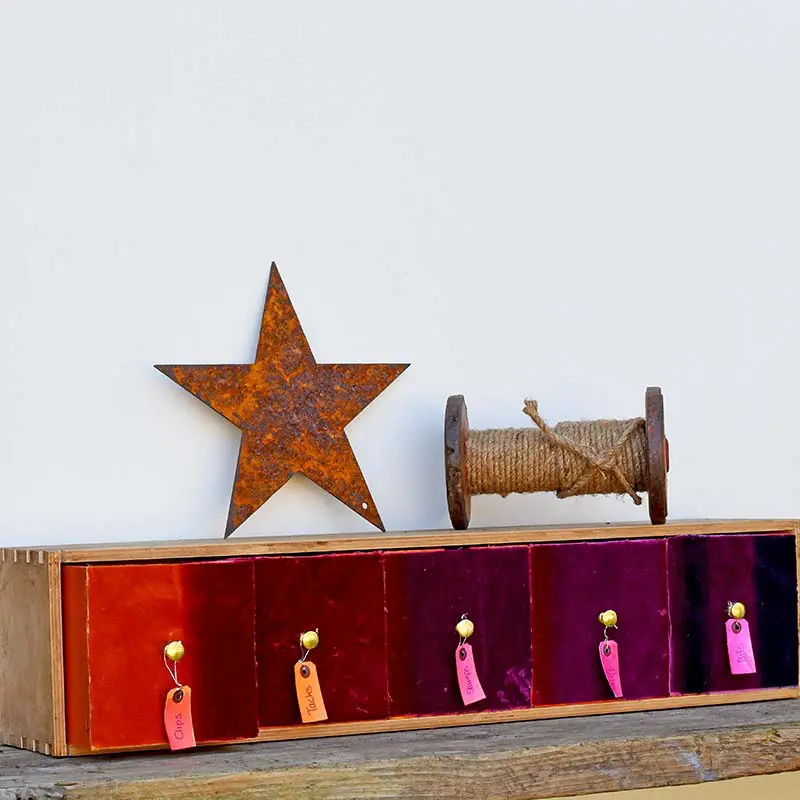 If you liked this post, you might want to check out these other velvet crafts and small wooden drawer posts.
For more cheap DIY ideas, visit cheapandthrifyliving.com