Moppe is the name Ikea gives to those cute unfinished birch desktop mini drawers.
I don't know why they call them that. I put Moppe into Google translate, and it didn't come up with anything of meaning, so I think it's one of those random Swedish words Ikea give their stuff.
Whatever you call the Ikea Moppe, it is a handy piece of furniture and great fun to hack. They are so handy too, which is why they are one of IKEA's best sellers.
These fabulous hacks can be applied to other brands of mini drawers, often sold in craft stores for handy storage solutions.
Amazing Clever Mini Drawers (Moppe) Hacks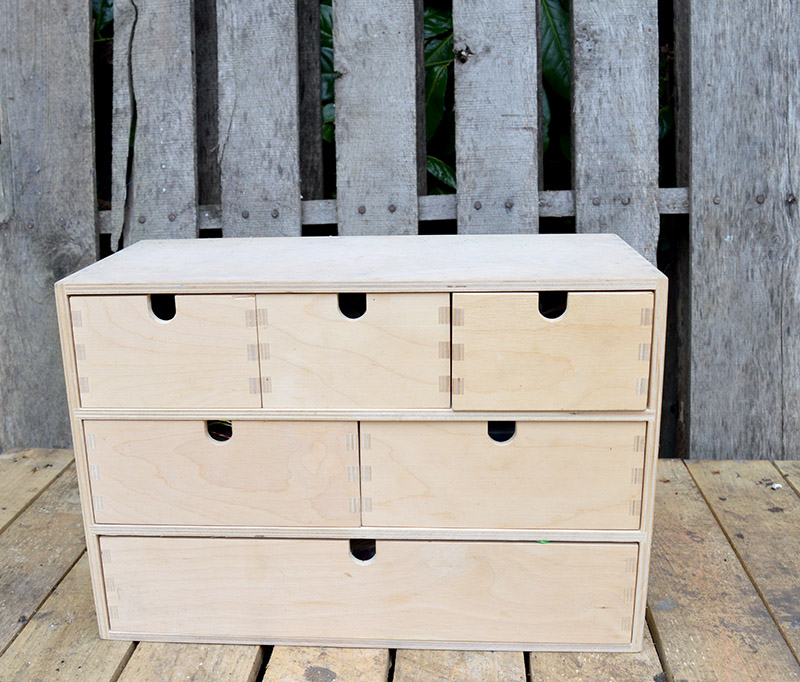 The Ikea mini drawers of the Moppe are so useful; I have three around my house. One sits on my desk in the study. Another is in the hardware cupboard for storing screws and nails.
There is even one on the bookcase in the lounge for random little stuff I find lying around the house; even though I'm not sure what it is, it looks too important to throw away.
So far, I have only managed to hack two of these Moppes, so I'm looking for a creative hack for the third.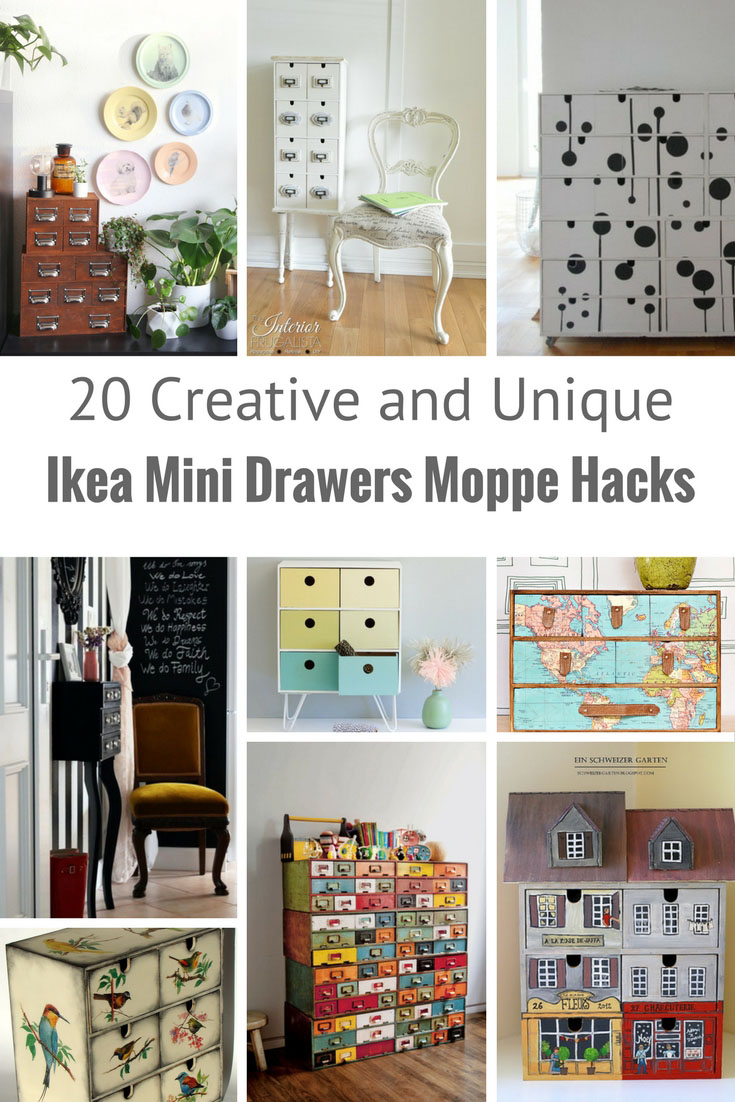 See if you can decide your favourite because I can't pick one!
22 Unique IKEA Mini Drawer Crafts
1 to 5
This is one of my own (Ikea Moppe) hacks, and it does look very handsome in the study. Mind you put a map on anything, and it looks great. The leather pulls on these mini drawers are a stylish finishing touch.
You can download free printable maps for crafting here.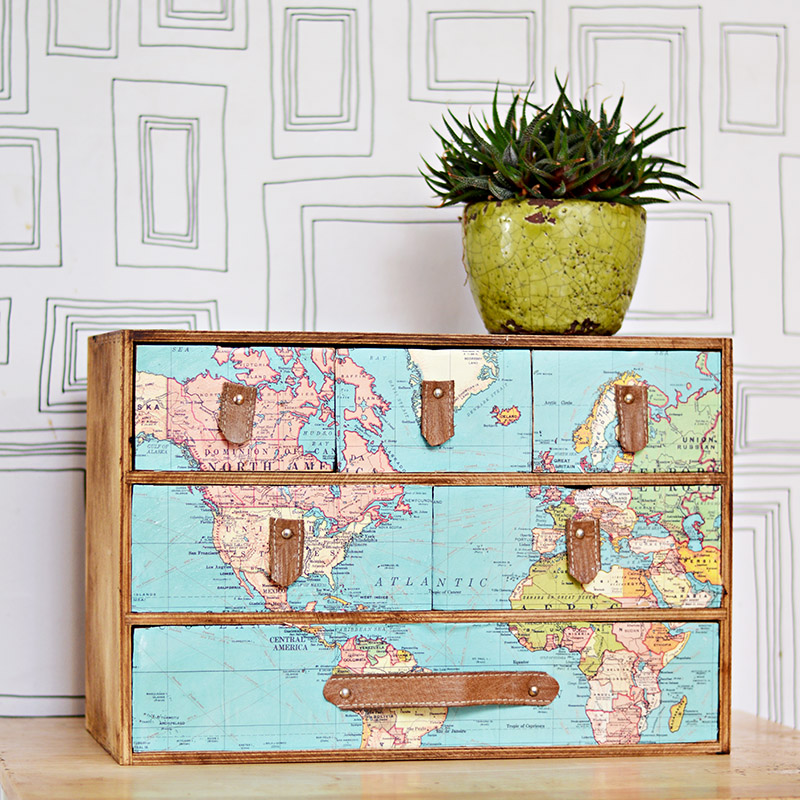 2. Moppe DIY Card Catalog – AKA Design
The crackled paint finish on this Moppe Ikea mini drawer hack is fantastic. II love the vintage vibe and the little labels too!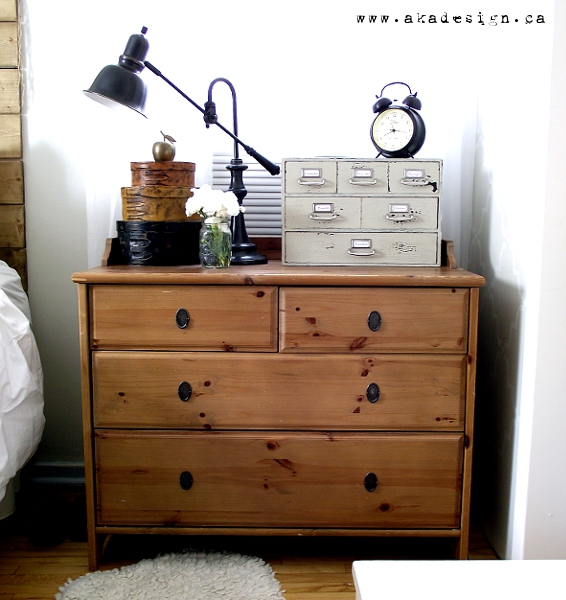 3. IKEA Moppe Hack Apothecary Cabinet – Interior Frugalista
The legs on this apothecary Ikea Moppe hack turn it into a much bigger piece of furniture. Combined with the white paint, that certainly gives it a shabby French feel.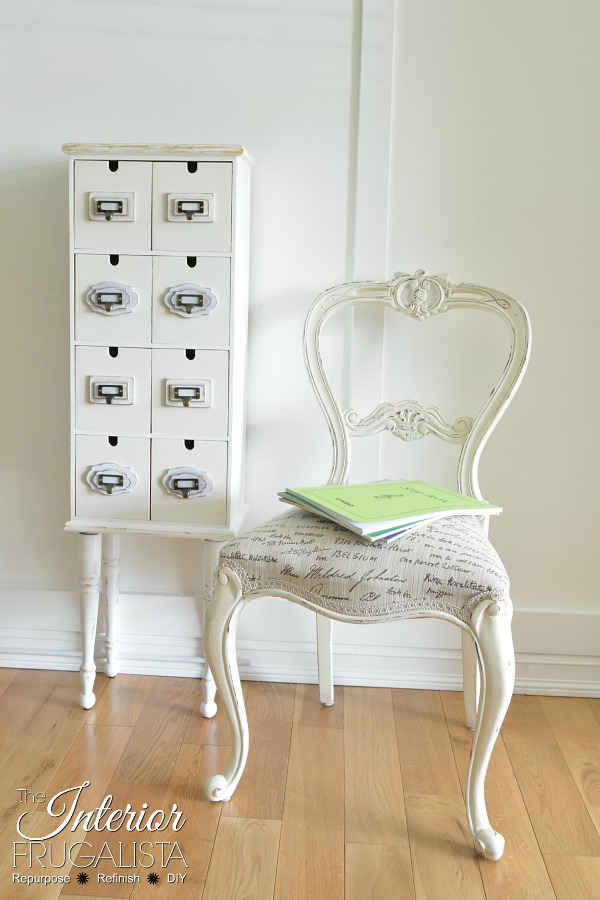 4. Ikea Moppe Hack – Cord and chrager organizer – Blueistyle.
I need one of these in my life, well, in my kitchen. What a brilliant use of mini drawers for an excellent charging station organizer.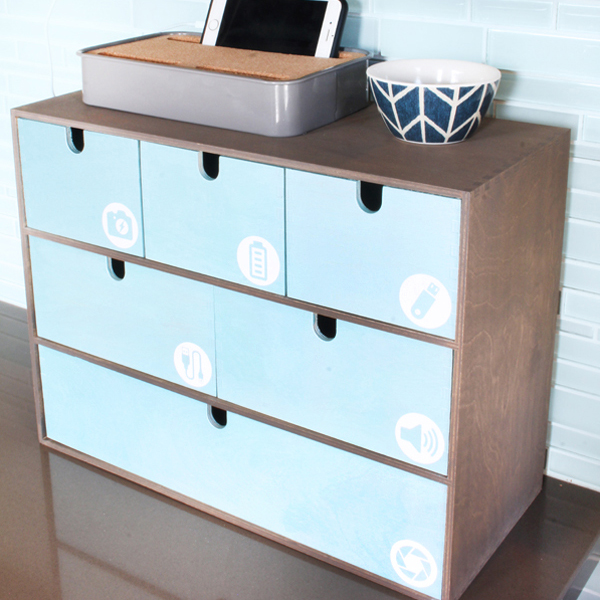 5. Fabric Covered Ikea Moppe Hack for Craft Room – Zwergenstoffe
I love the colourfulness of the fabric-covered drawer fronts with their mini chests. The way they are hung on the crafts room walls looks sweet too!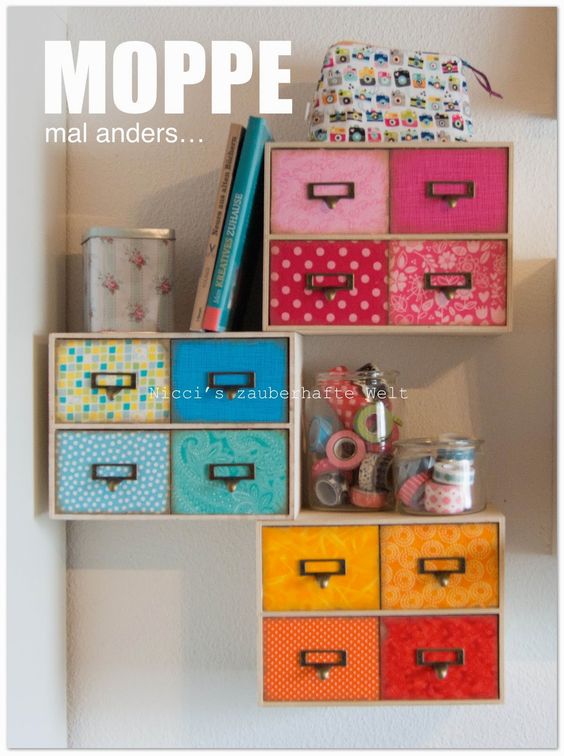 6-10..
6. Wallpaper decoupaged Ikea Moppe Hack – handmadekultur
What an excellent choice of wallpaper for this decoupaged Moppe mini drawers hack. You don't need a hole roll either; pick up free wallpaper samples from your home store.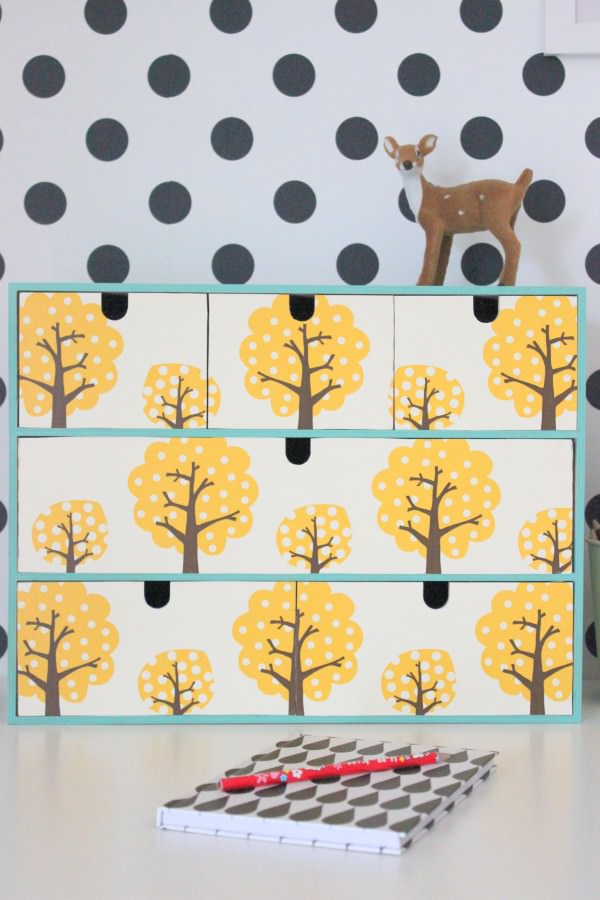 7. Vintage decoupaged Ikea mini drawers hack – liveinternet
If you think this vintage bird graphic decoupaged chest is gorgeous, you should check out the other mini drawer hacks on this Russian site. There are some adorable ones.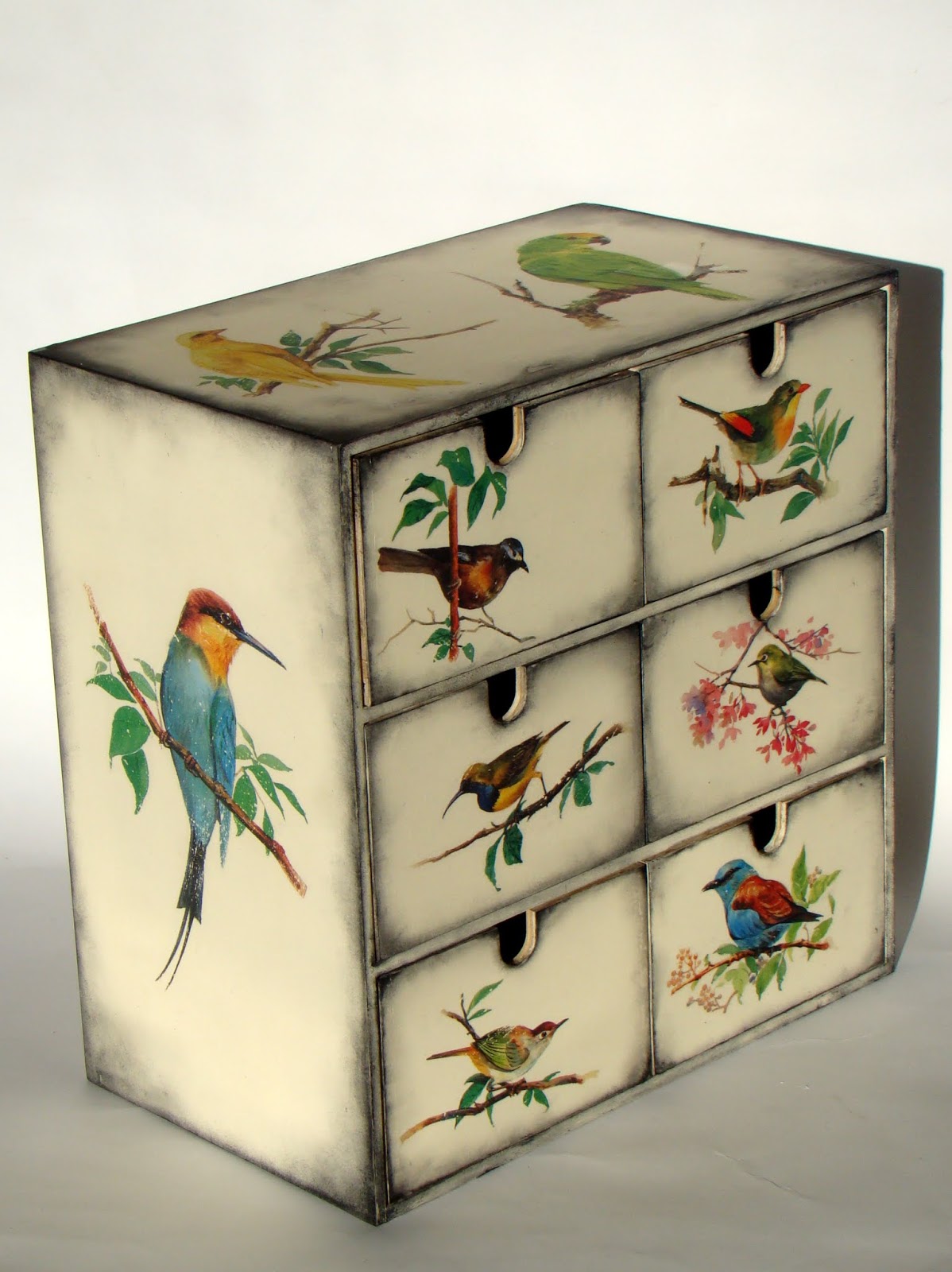 8. Chalkboard Ikea Mini Drawers – kreativfieber
This is a straightforward Ikea hack with chalkboard paint. Great for craft room organisation.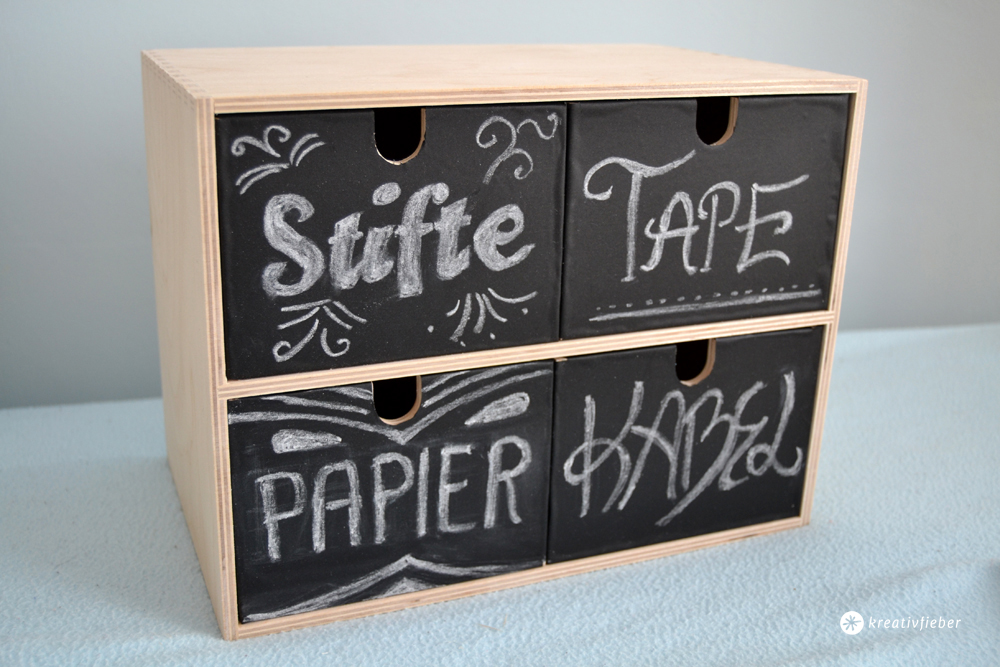 9. Ikea Moppe and Bekvam Stool Combination – handundfuss
This is a fantastic hack for mashing the Ikea Bekvam footstool with an Ikea Moppe for a minimalist piece of Scandi furniture.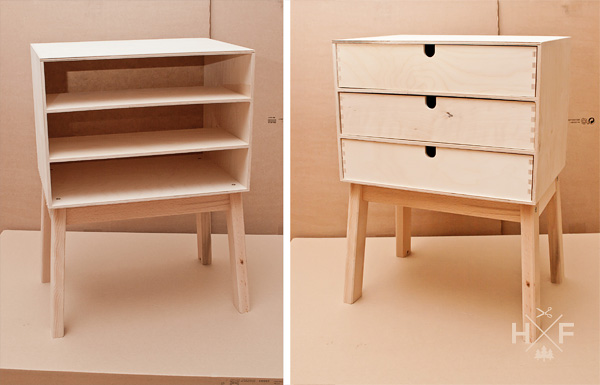 10. Ikea Mini Draws House – schweizergarten
How freaking adorable is this. These shopfronts remind me of the ones in the old town part of Bergen, Norway, where my in-laws are from.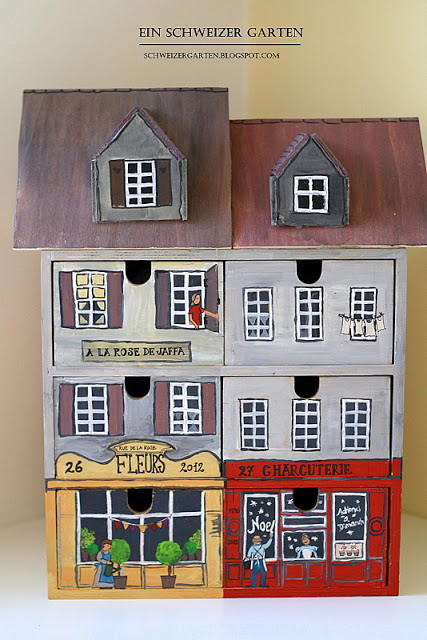 11-15…
11. Retro style Mini drawers hack – Curbly
Lovely the retro styling with these Ikea mini drawers. The colours are perfect, and I didn't know you could get hairpin legs that small. These hacked mini drawers would also work well with an Ikea Moppe.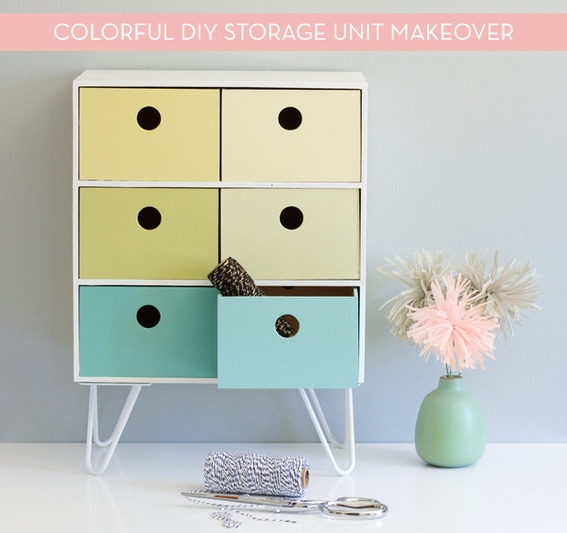 12. Channel Ikea Moppe hack – Funkynality
It may be a bit too blingy for me, but it is a fabulously unique Moppe hack. The pimp for those after that high-end designer look.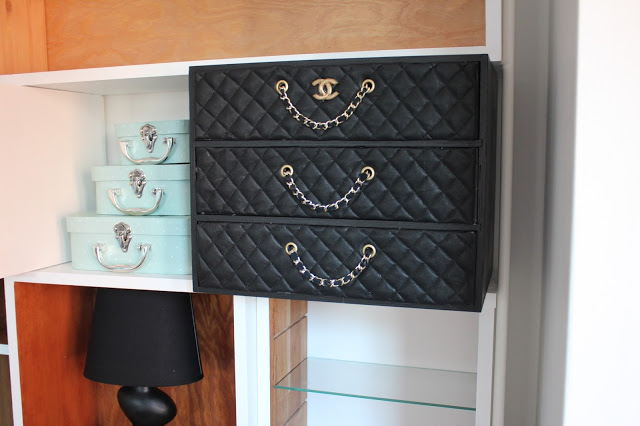 13 Geometric double mini drawers hack – helloctober
This is a tremendous geometric paint job on this double Moppe chest.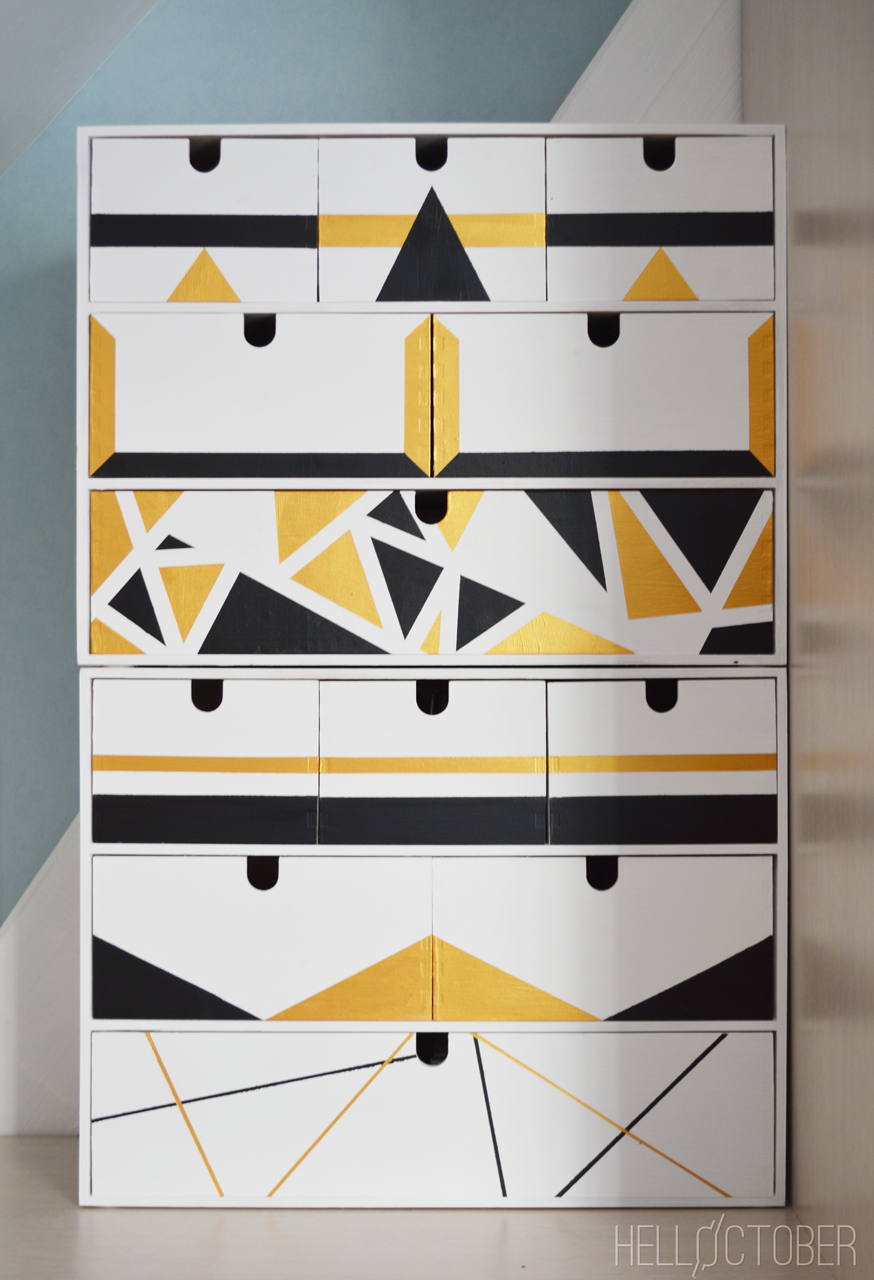 14. Vintage decoupaged mini drawers – galadreams
How about a steampunk vibe? The different vintage pattern papers and labels give these mini drawers set an exciting look.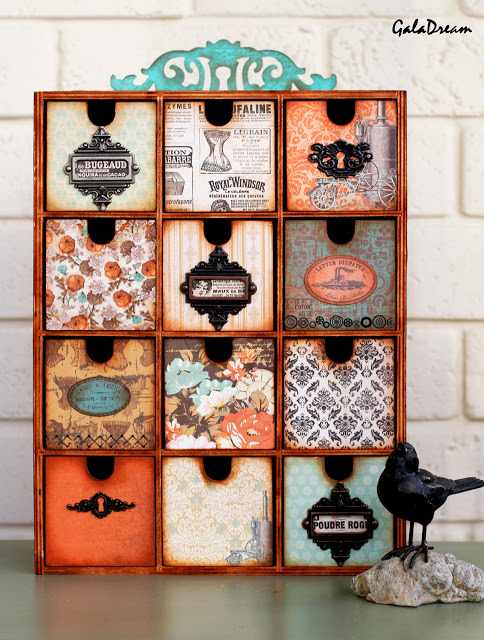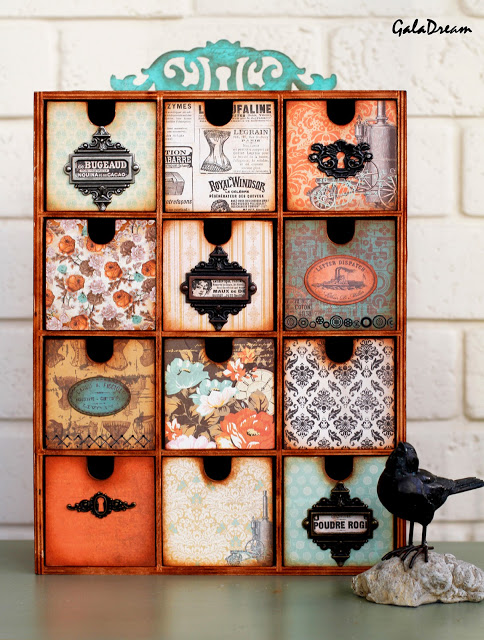 15. Chest of Drawers with Ikea Moppe – Solebich
This is on a German blog; I can only find the picture. Even though there is no tutorial, I had to show it as it's a fantastic piece of modern furniture.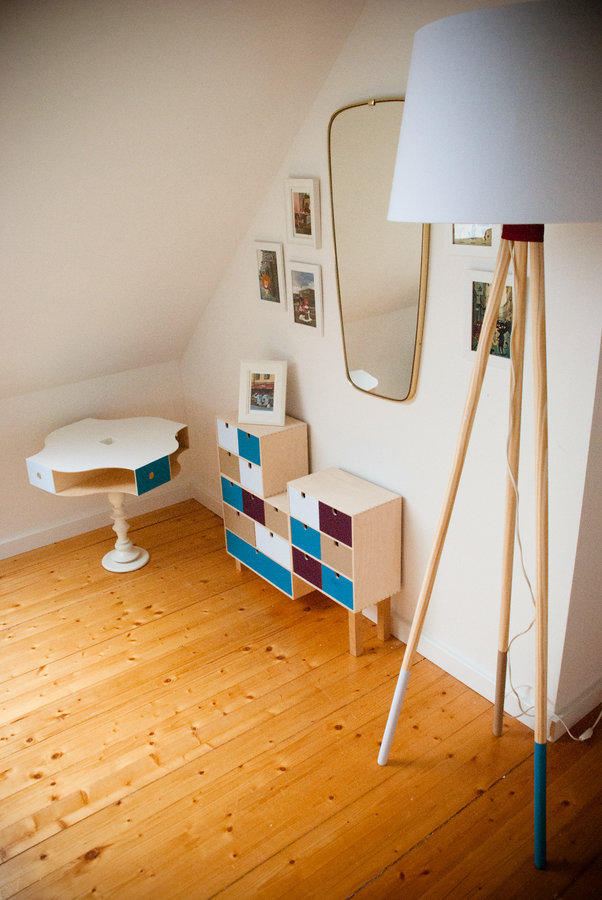 16-20…
16. Stylish Ikea Moppe wall chest of drawers – akicsihaz
Wow! This is an unusual and stylish Moppe hack for a hallway.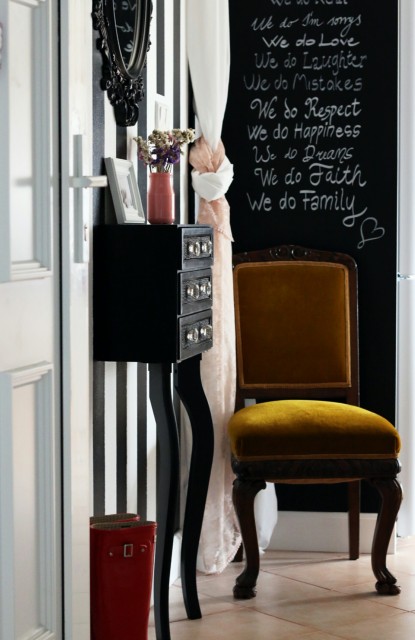 17. Antique Moppe Mini Drawers – Meinfeinstaub
I love the antique staining and gorgeous handles on this Moppe for a museum-like look.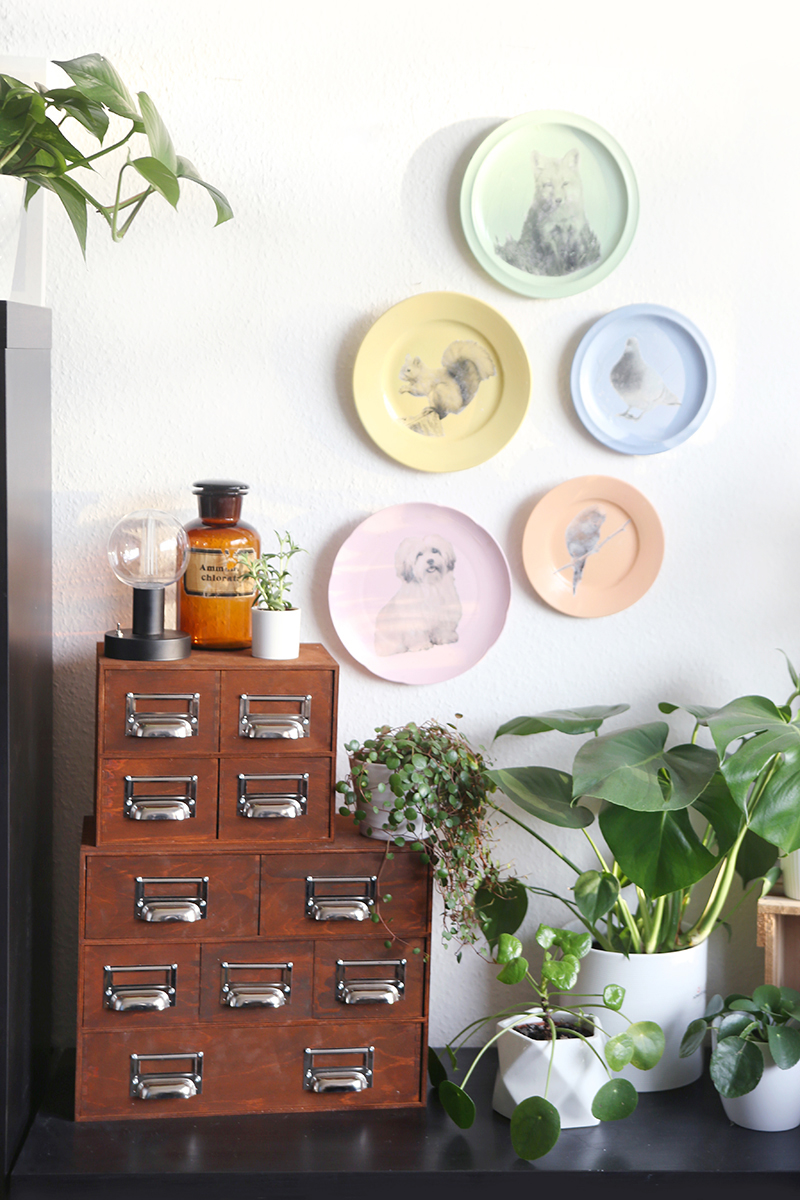 18. Simple Geometric Ikea Moppe Hack – Arstect
Sometimes simple is all you need, like with this Moppe mini drawer hack.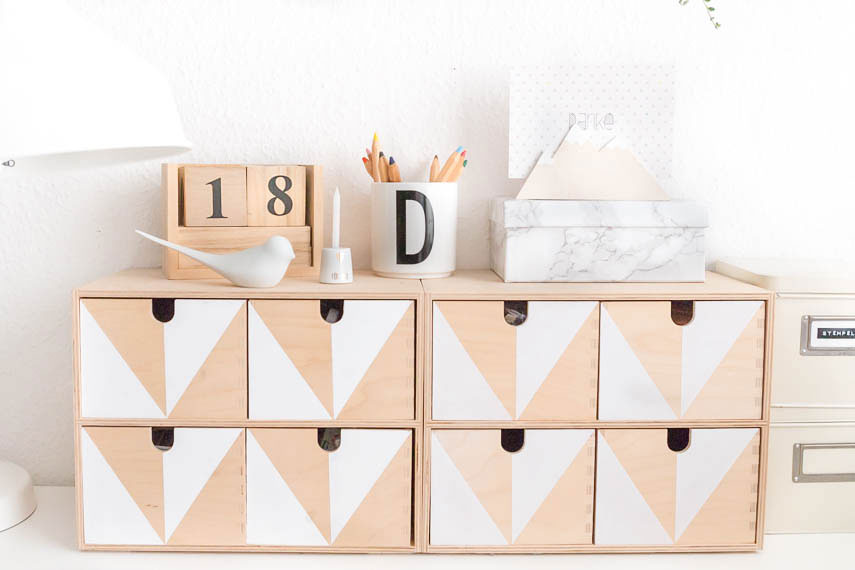 19. Rainbow mini drawers chest – Style-files
Again all I have is a picture, but what a picture. These are gorgeous, all that lovely colour.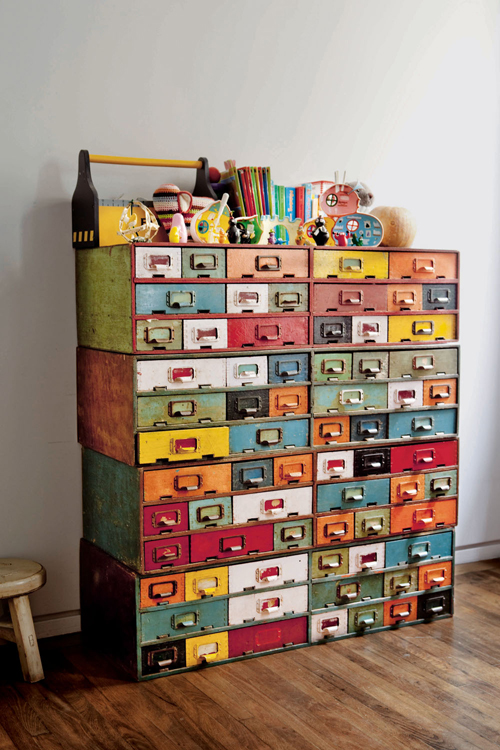 20. DIY Moppe Chest of Drawers – Roomilicious
This chest of drawers on casters is fabulous, and I love the black-on-white dots.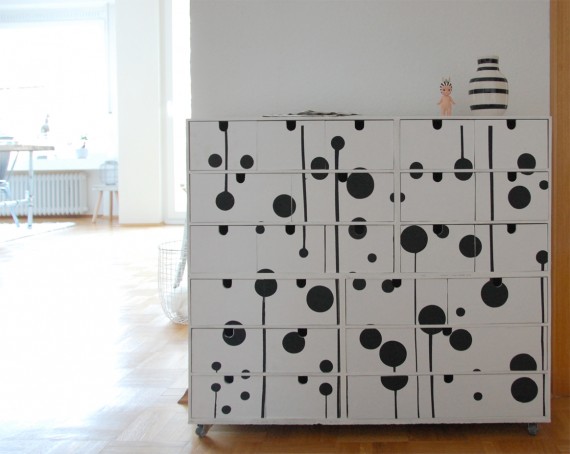 21. Luxurious Velvet IKEA Moppe hack – Pillarboxblue
These drawers were the old-style IKEA Moppe, but the principles are the same. Velvet gives the drawers a lovely glam Boho vibe. I love the little tag labels on each drawer.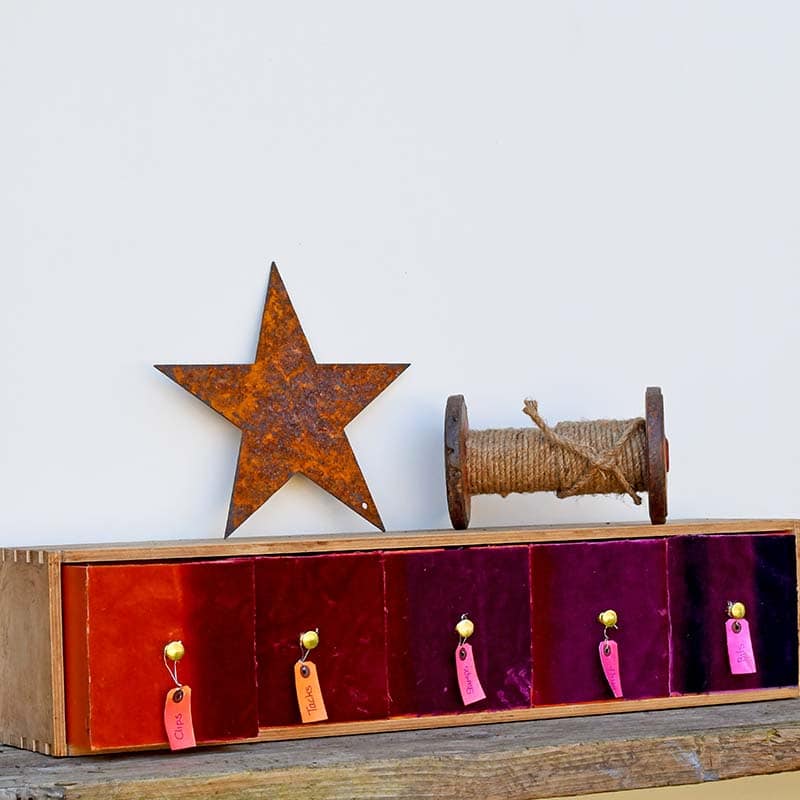 A clever tutorial on painting a cute fox face on the front of a Moppe chest of drawers. This would look fabulous in any kid's bedroom.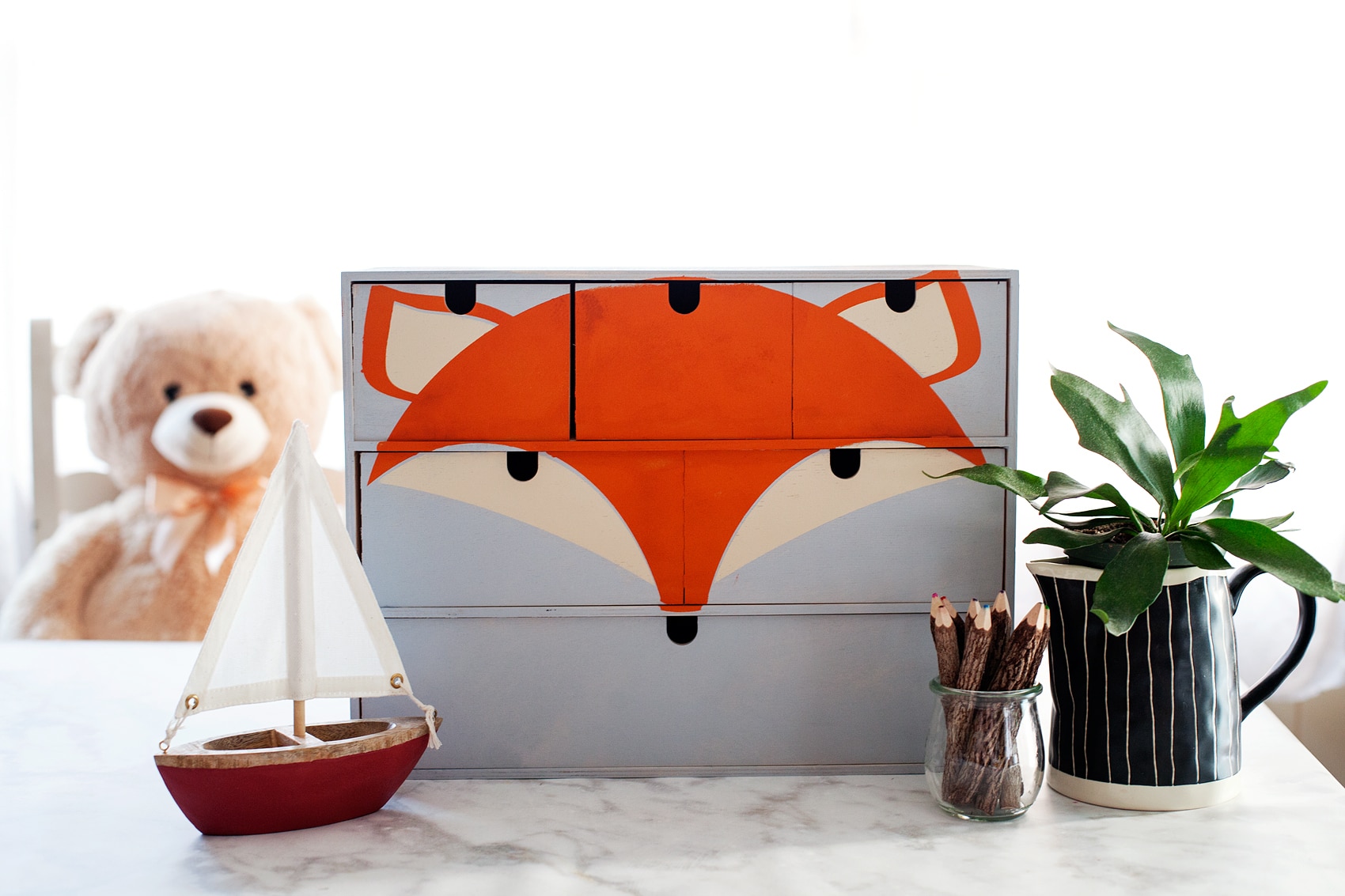 After looking at all these Moppe mini drawers, I still can't decide what to do with my third Moppe. I will buy some more and construct a new piece of furniture with them.
Wallpaper is another quick way to update IKEA Moppes, and this upcycled drawer tutorial could easily be adapted for smaller chests of drawers.
Perhaps do a bit of an Ikea mash-up with some other Ikea furniture. Watch this space!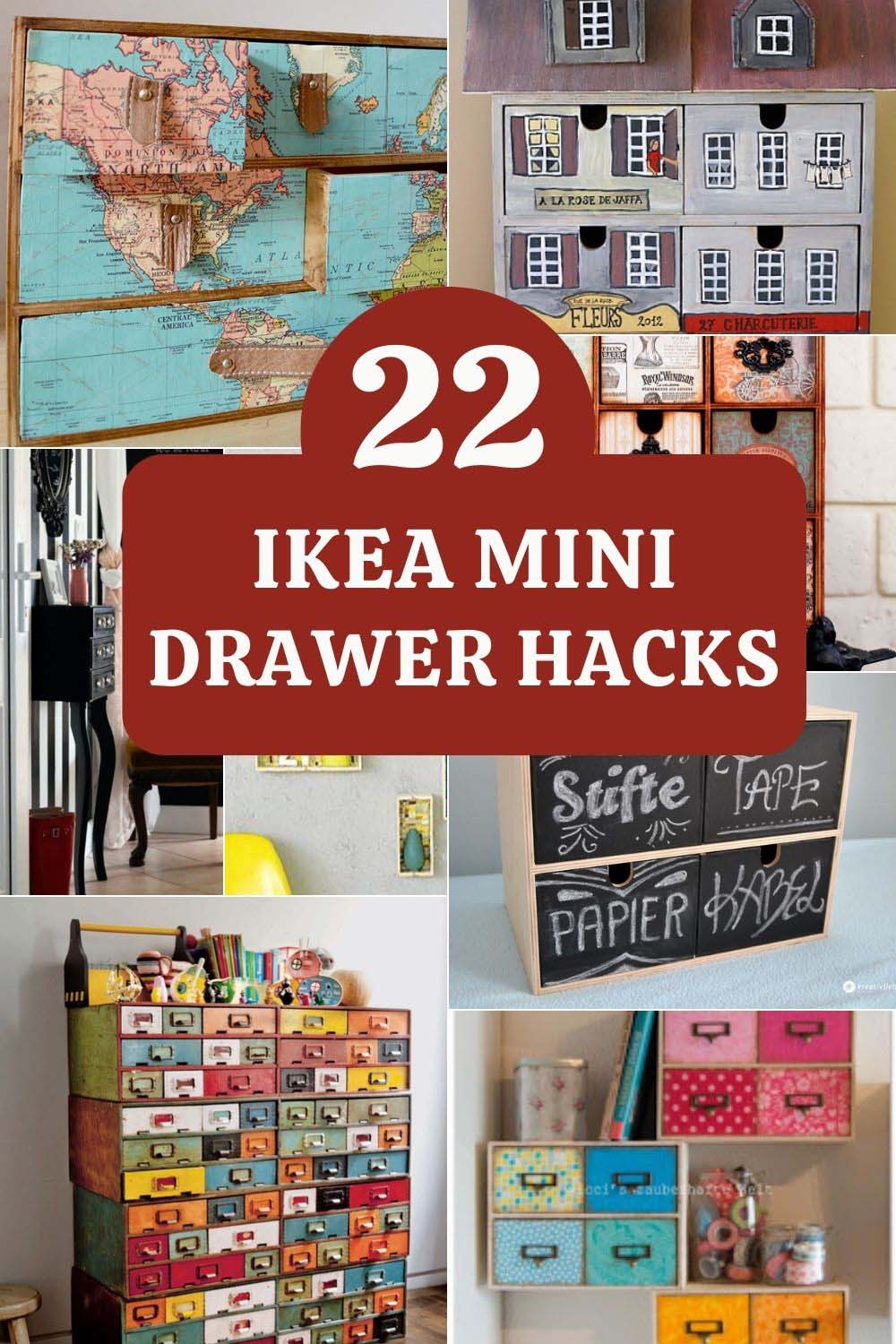 If you liked this post, then you might want to check out these:
This IKEA upcycles are featured under the letter I in the A to Z of cool upcycling ideas.