These gorgeous hexagon patchwork cushions/pillows were made by my sister Tasha. She used a fabric called China Doll by Michael Miller to give it a retro Chinese feel, which fits in with the decor of her house.
Both my sister and I were born and raised in Hong Kong. This has influenced some of our decors and crafting choices. I made some Chinese paper lanterns for the Chinese New Year. In my garden, I have some upcycled tin can faux Ming vases. My upcycled craft cupboard is also in a Chinoise style.
I love hexagon crafts and DIYs, so this cushion fits right in.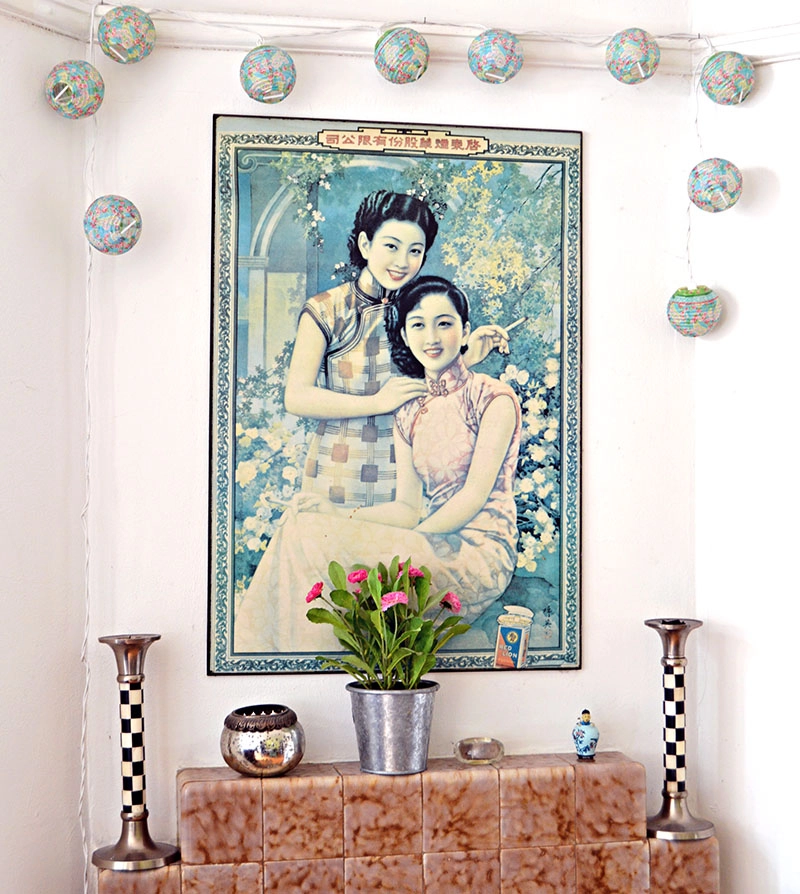 How to Make A Hexagon Patchwork Cushion/Pillow
If Chinoise is not your style, you can use any patterned fabric to make these gorgeous cushions.
This is an effortless hand-sewn craft suitable for all levels. It is so easy to make your hexagon patchwork cushion. Appliqueing hexagons to an existing cushion cover makes it a quicker craft than patchworking a whole cushion.
It is a quick way to update any plain cushions/pillows by adding some applique hexagons to the front.
We're a participant in the Amazon Services LLC Associates Program, an affiliate advertising program designed to provide a means for us to earn fees by linking to Amazon.com and affiliated sites. As an Amazon Associate, I earn from qualifying purchases.
What You Need to Make a hexagon patchwork cushion
3 to 4 different colour fabrics. The fabric used here was China Doll by Michael Miller, which can be purchased online. A fat quarter of each colourway should give you enough material for several cushions.
Rotary cutter or scissors
3-inch Paper hexagon squares. These can be bought cheaply online, or you can cut your own.
Ruler
Needle & Pins
Black thread for tacking
Thread to match the fabric
Cutting Board
Double-sided sticky tape
IKEA Gurli 50cm X 50cm cushion cover. Any plain cushion cover will do.
The Michael Miller fabric used for this cushion reminds me of Helen Hyde's prints of oriental children.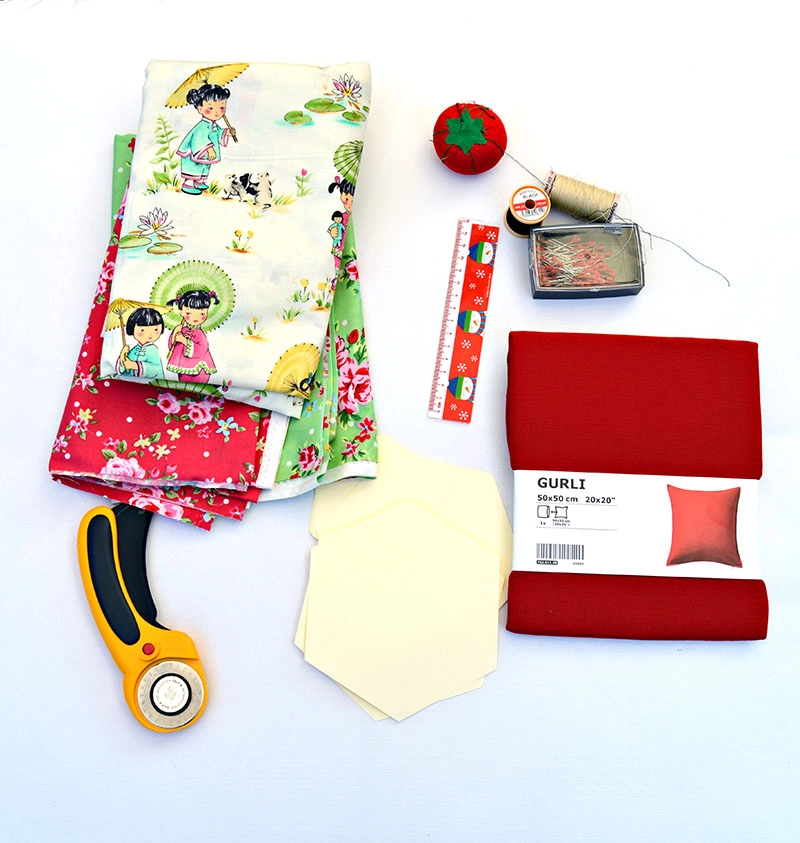 How to make Applique Patchwork Cushion
The applique patchwork hexagons are attached to the cushions/pillows using a method that is sometimes referred to as English Paper Piecing. This method makes it easier to get neat shapes and angles with appliqued shapes.
1.. Iron the fabric to ensure it's completely flat before you start. Then, stick the double-sided tape to the middle of a paper hexagon. Stick the hexagon to the reverse side of your fabric where you want the pattern.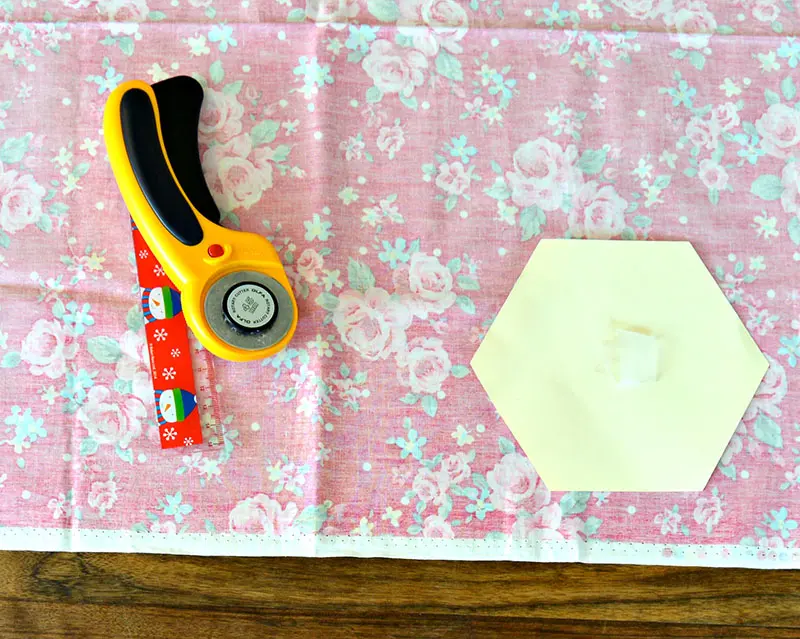 2. Next, using a ruler to get a 1cm edge around the hexagon, cut the fabric with a rotary cutter. Repeat with your chosen fabric pieces; each cushion will need seven hexagons.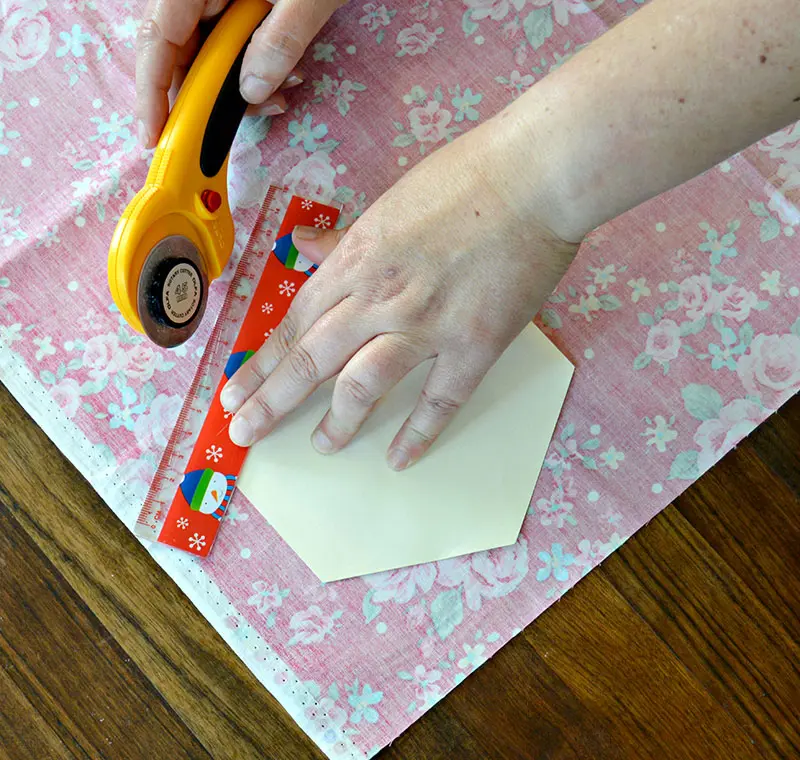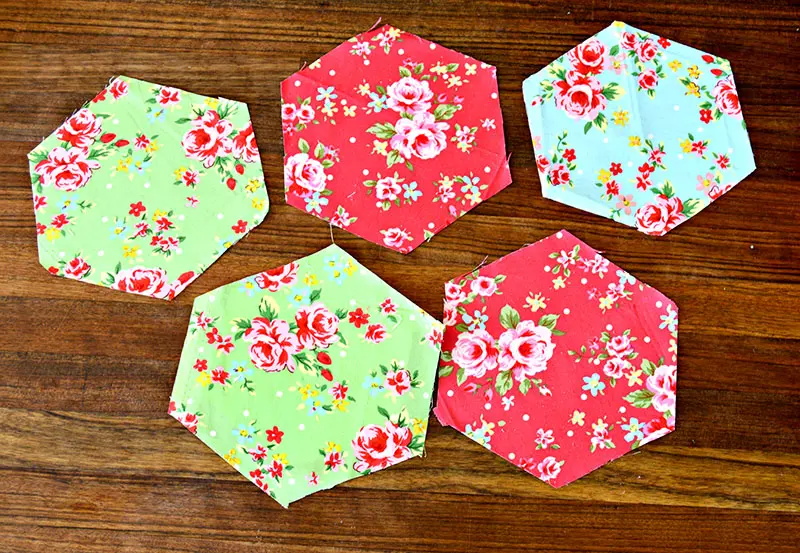 3. Next, tack the fabric to the paper hexagons. First, ensure the paper hexagon is centred and then secure it to the fabric with a pin. Fold the fabric edge over the paper hexagon, and tack the folded fabric edge to the paper hexagon using a contrasting thread.
Continue tacking around the whole hexagon. Folding the fabric over the paper as you go around. Don't knot the end of your thread when you have finished, as you will be pulling this out later.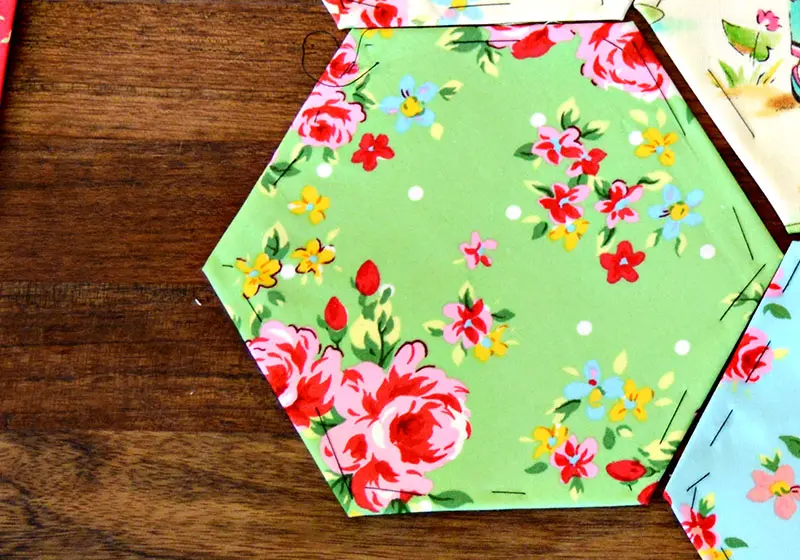 4. Next, decide how you want your seven hexagons to fit together. I arranged mine with one centre hexagon and six around the edge.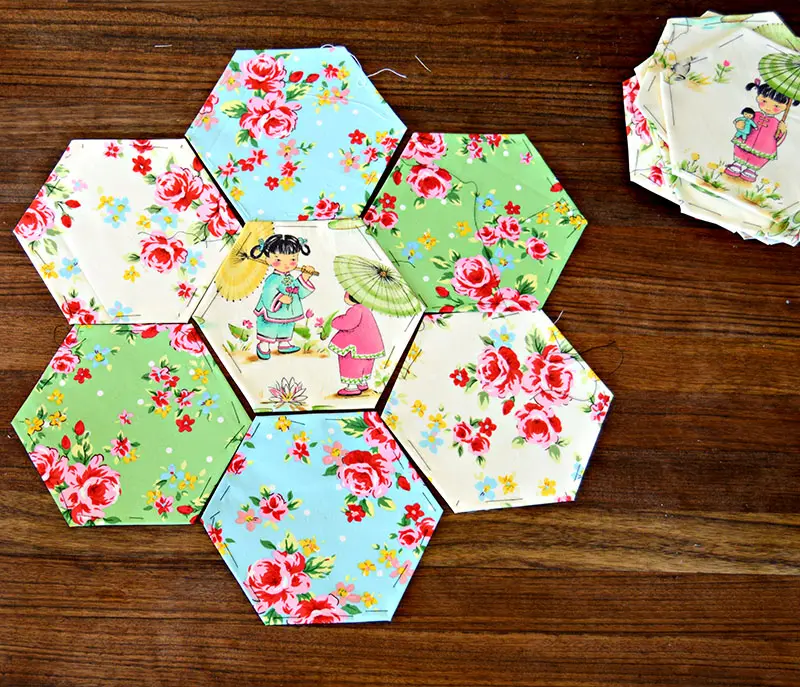 5. Then, use the arranged design as your guide. Whipstitch the hexagons together. I was sewing at the edges of the hexagons, just going through the fabric, not the paper hexagons.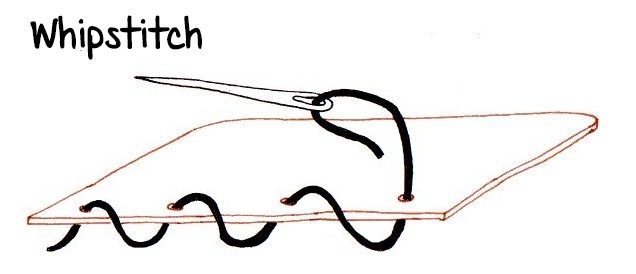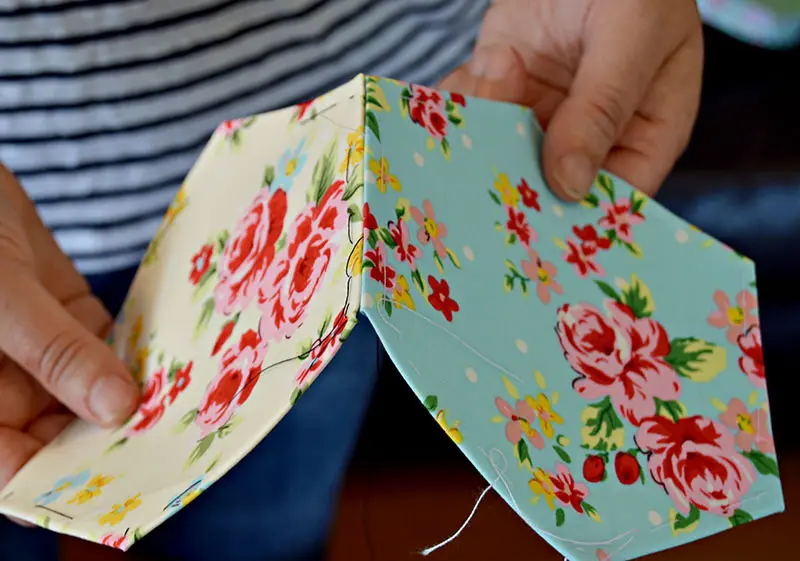 6. When finished stitching the hexagon patchwork together, you will end up with a neatly sewn fabric panel consisting of seven hexagons. Carefully pin this to the cushion cover.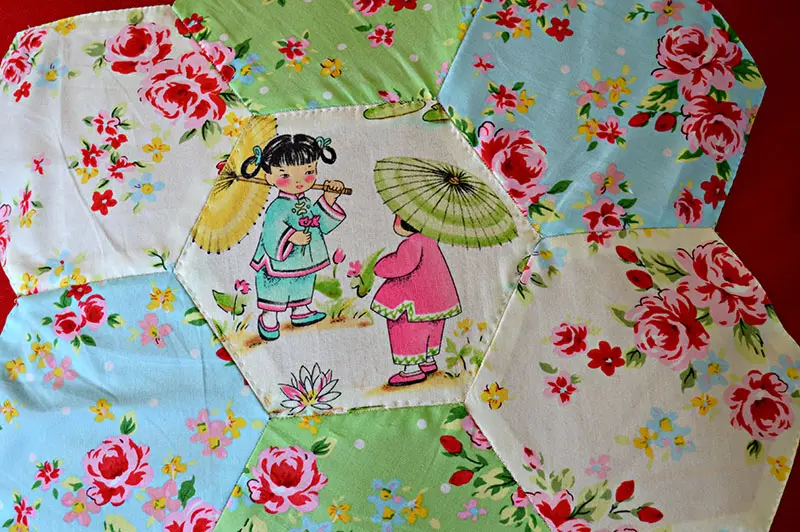 Appliqueing The Hexagons
7. Next, Start the applique with the middle fabric hexagon. Use a thread that matches your fabric and a small running stitch; neatly sew the hexagon to the cushion cover. Your stitches should go all around the very edge of the hexagon.
Bear in mind that you will need to remove the paper hexagons. However, keeping the paper hexagons in the patchwork panel as long as possible is more accessible as the panel keeps its shape better and is easier to work with.
That means on the outer hexagon; the paper stays in until you have appliqued all but the last side. Then, whip out the paper hexagon before attaching the last side of the hexagon to the cushion.
8. Repeat, this time going around the outer edge of the whole hexagon panel. This should be enough to attach the hexagons to the cushion cover securely.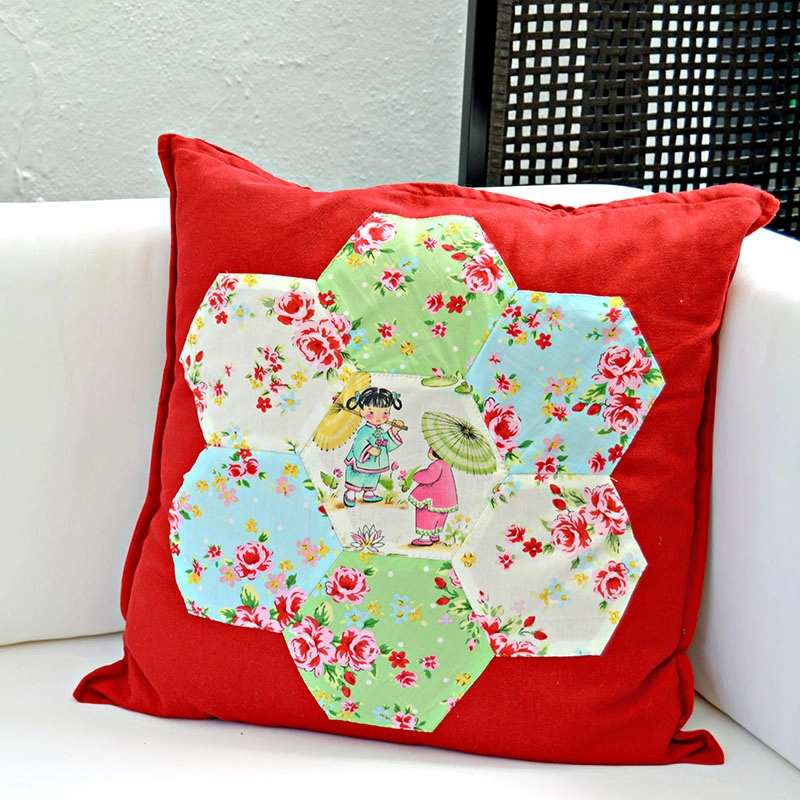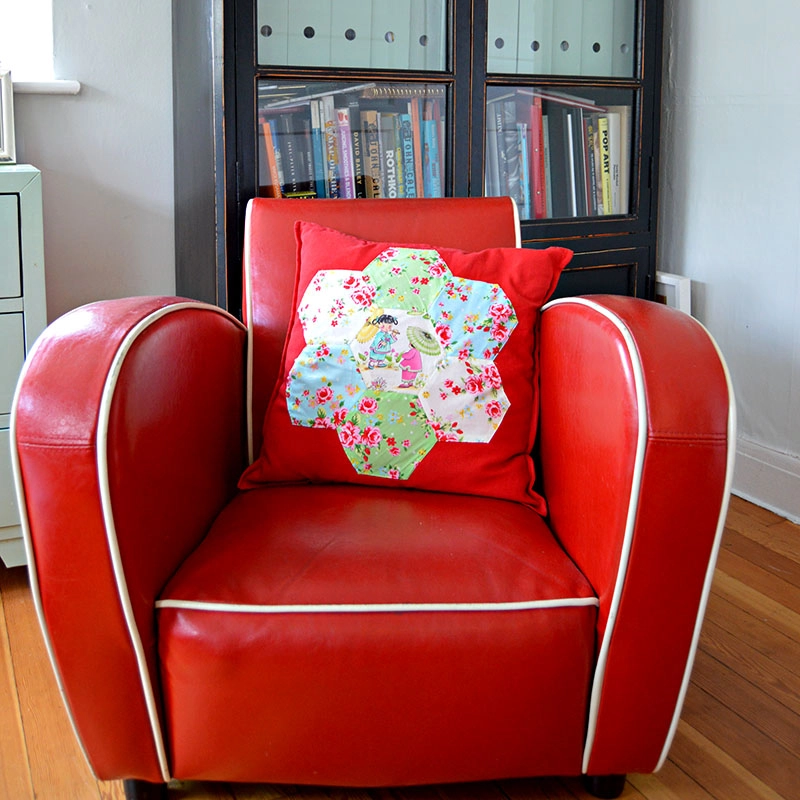 This is a lovely project, as you don't need to get your sewing machine out. It can be done slowly over time in the evenings while watching TV. The final cushion looks excellent; I love the retro feel of the fabric and the patchwork effect.
Reverse applique is another fun, easy technique I have used to make some super cute reverse heart applique Valentine pockets.

These hexagon patchwork shapes are sometimes referred to as hexies. I love making hexies so much that I used this paper hexagon method to make denim patchwork chairs with old jeans for a fabulous upcycle.
I've also made denim patchwork placemats. However, this time the hexagons were made using triangle patchwork shapes.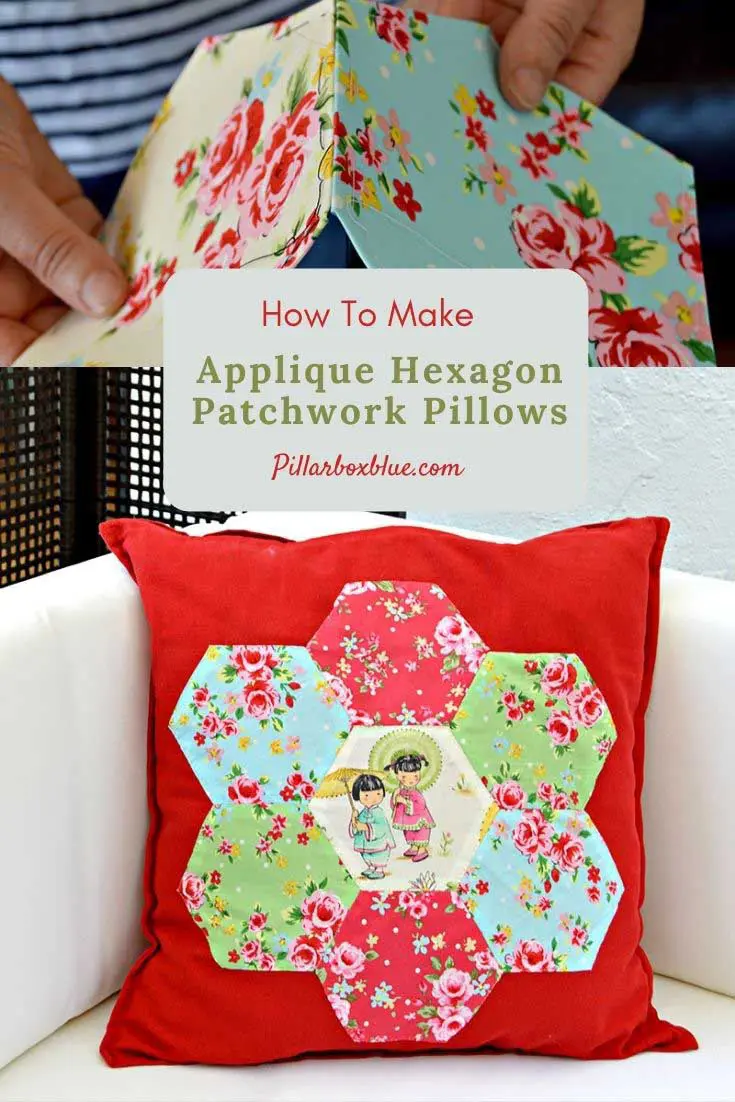 If you like making pillows and cushions for your home, I have some beautiful tutorials for upcycled sweater pillows and repurposed denim pillows. The most popular is my patchwork Boho jeans pillows. You will also find lots more easy hand sewing projects here.