Growing up in I was surrounded by blue and white pottery. My mother was and is a big collector of it. We lived in Hong Kong at the time and blue and white porcelain is very popular in Chinese culture and has been since the 14th century. That's where I got the idea for my latest tin can upcycle with these oriental pottery style DIY flower pots.
One of my favourite ways to upcycle old tin cans is into planters. I have a stack of tin cans in a variety of sizes in my craft cupboard just waiting to be turned into a fun planter.
This upcycled craft is a fun way to give larger tin cans a faux Ming vase makeover. I have created some blue and white Ming vase images to use with this project, which you can download below. There is blue and white Chinese vases artwork on the Paintedhive blog that you could also use.
I did originally make these vases for the garden, but I'm thinking of bringing them inside as they will match my Chinoise patchwork cushions.
Blue and White Style Upcycled Tin Can Planters
Blue is my favourite colour, hence the name of this blog! I spotted some blue bedding flowers in a local garden store and thought they would look lovely in these faux Ming DIY flower pots.
The flowers I potted were blue Gentiana scabra and deep purple Senetti.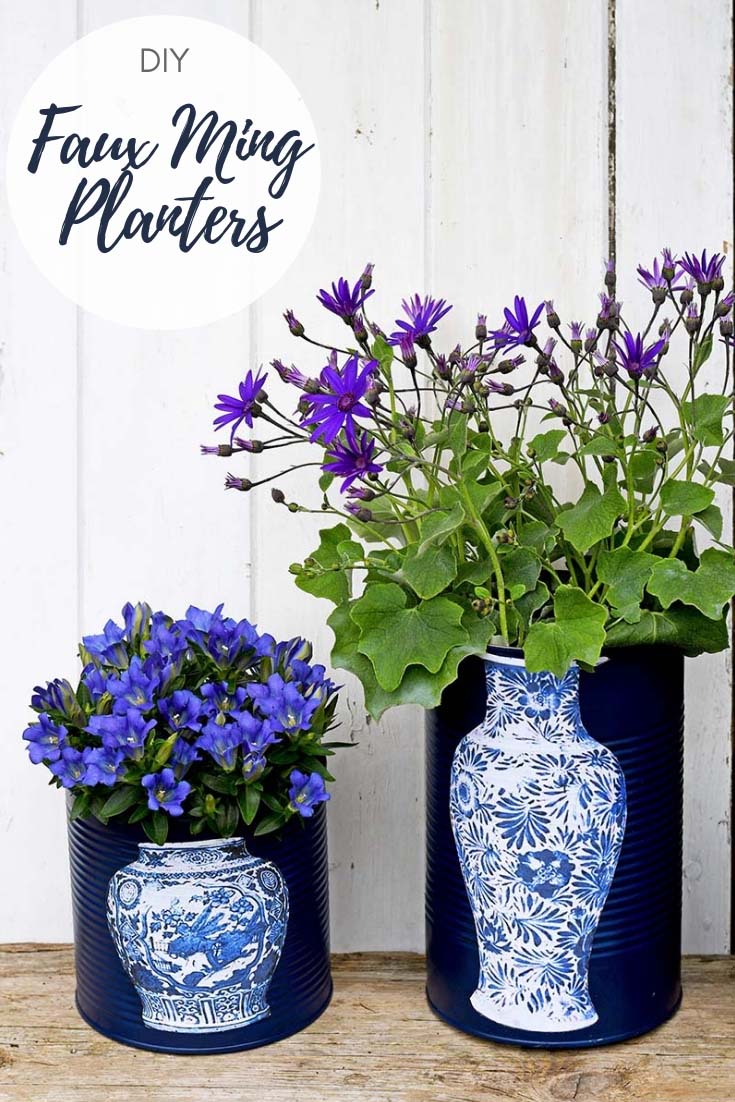 We're a participant in the Amazon Services LLC Associates Program, an affiliate advertising program designed to provide a means for us to earn fees by linking to Amazon.com and affiliated sites. As an Amazon Associate, I earn from qualifying purchases.
What you need to make upcycled tin can blue and white Ming vases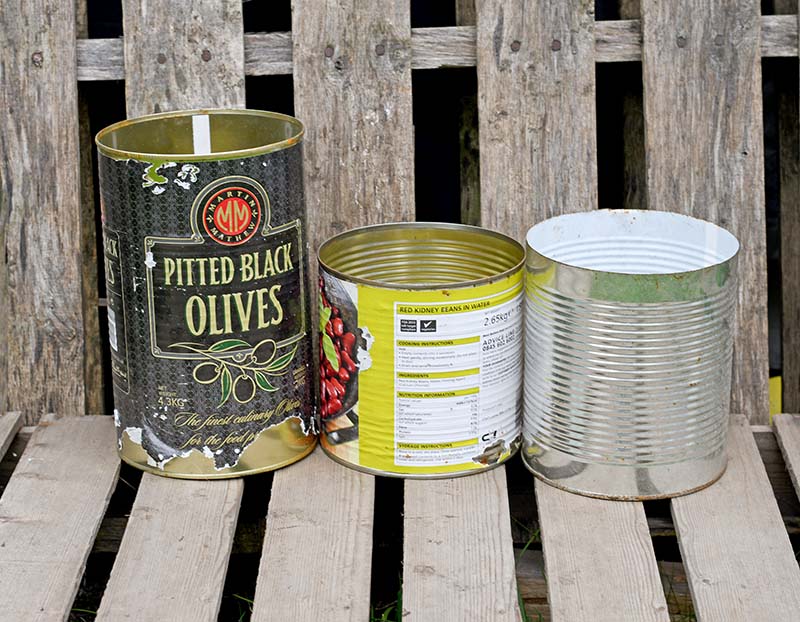 How to make Ming DIY Flower Pots
1. First, remove the labels from the tin cans and spray paint them blue. I used Montana gold blue note spray paint.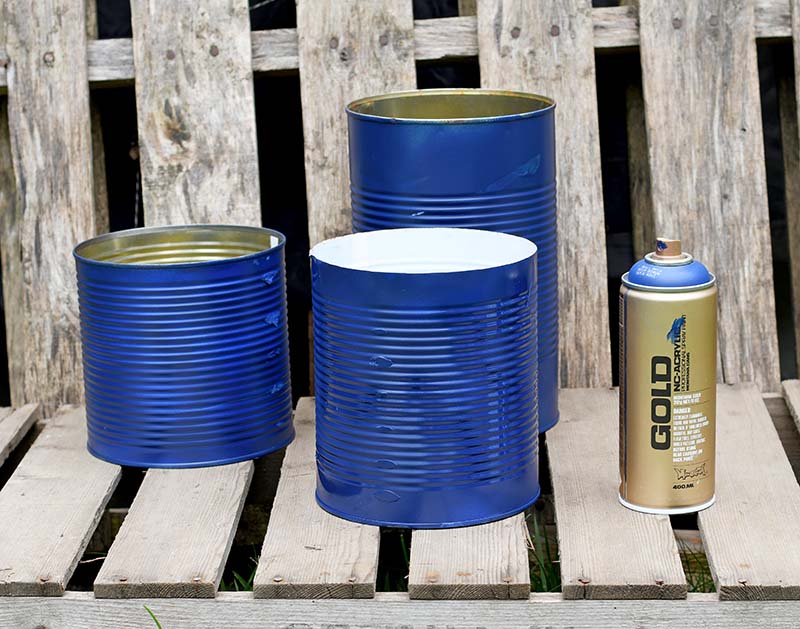 2. Next, download and print out the blue and white vase templates listed below. These templates were designed to fit my DIY flower pots. However, you might need to adjust the size of the print out to fit tin cans you are using. It is best to use lightweight paper for this decoupage.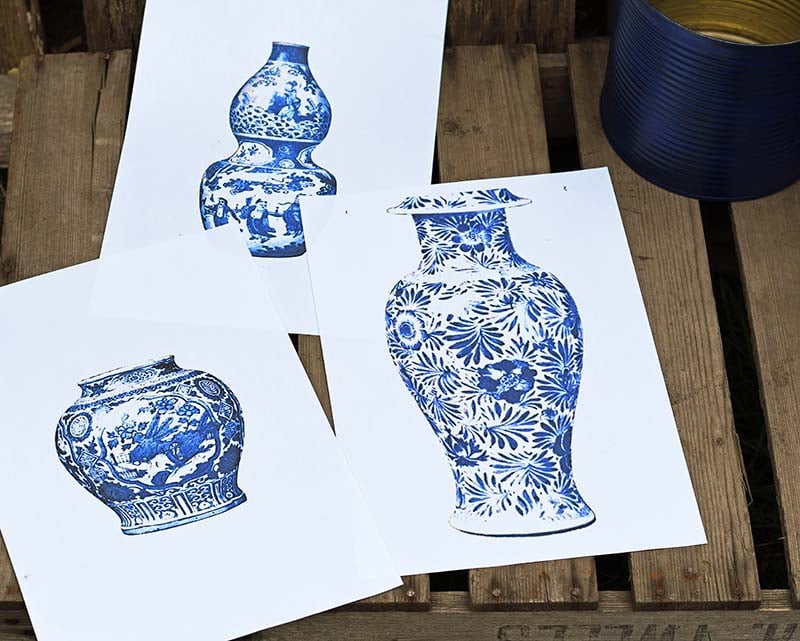 3. Next, carefully cut out each of the Chinese blue and white vases from the print outs.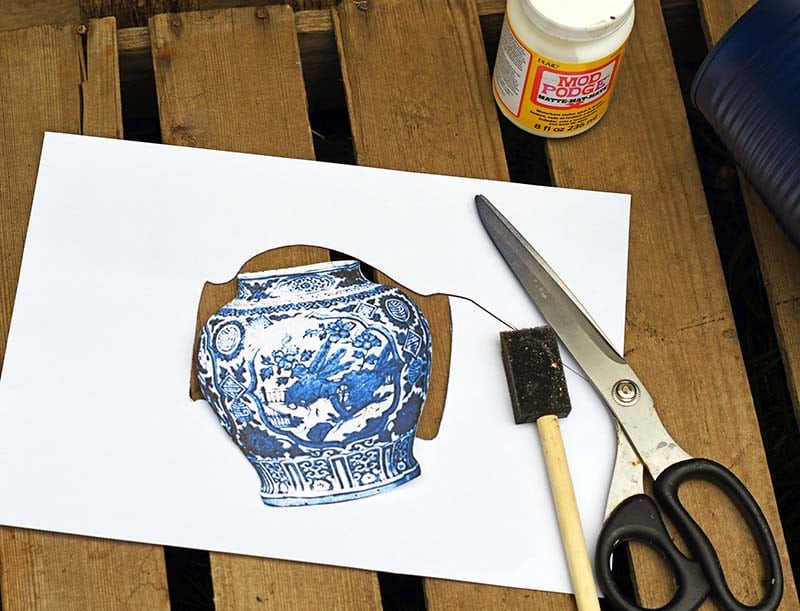 4. Using a foam brush, liberally cover the back of the small vase template with decoupage glue. Then stick the picture to the front of the small tin can. Repeat with the other 2 templates and tin cans.
5. Next, seal the images on the tin cans. I printed my images on my home computer which is an inject printer, so I used an acrylic spray varnish to seal the tin cans. If you use a laser printer to print the images then either use the same spray or cover the tin cans in another layer of mod podge, (waterproof mod podge for outdoors).
Mod podge on top of inkjet printed images can smudge them. That is why I use an acyrlic varnish spray to seal.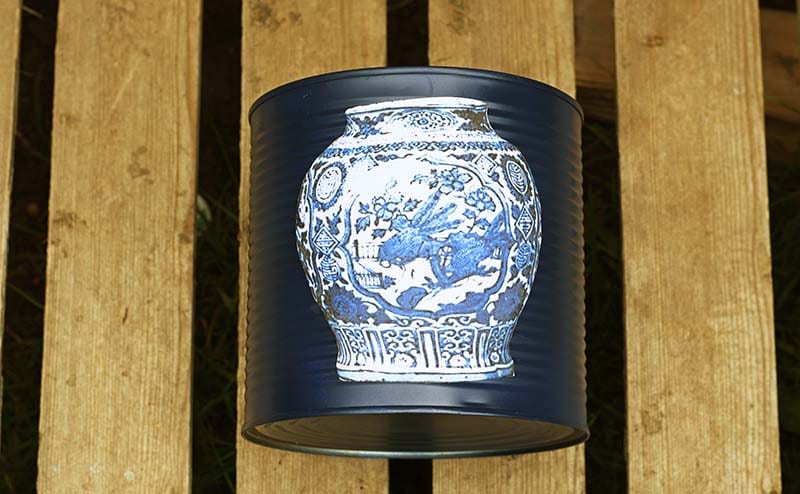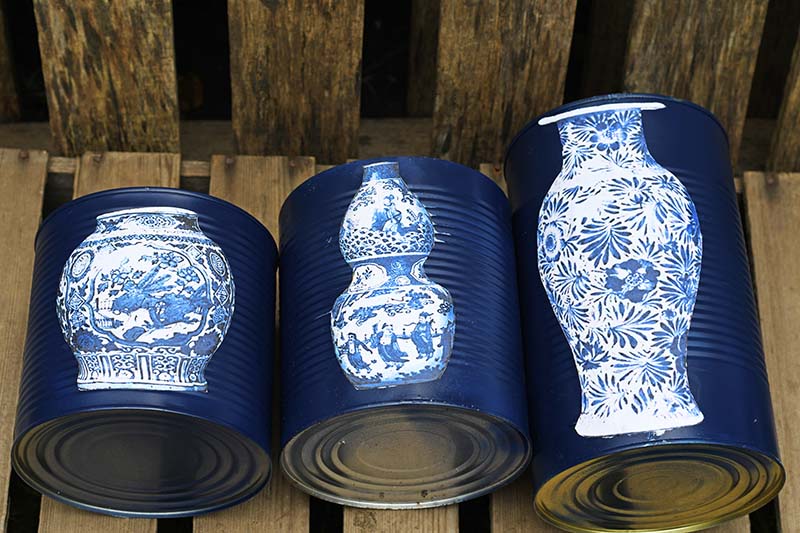 6. Finally, all that is left is to plant the flowers. I think blue flowers look fabulous in these faux Ming vase DIY flower pots. To help with drainage I add a good layer of pebbles and broken pots before planting the flowers. Like I did with my colourful tin can planters.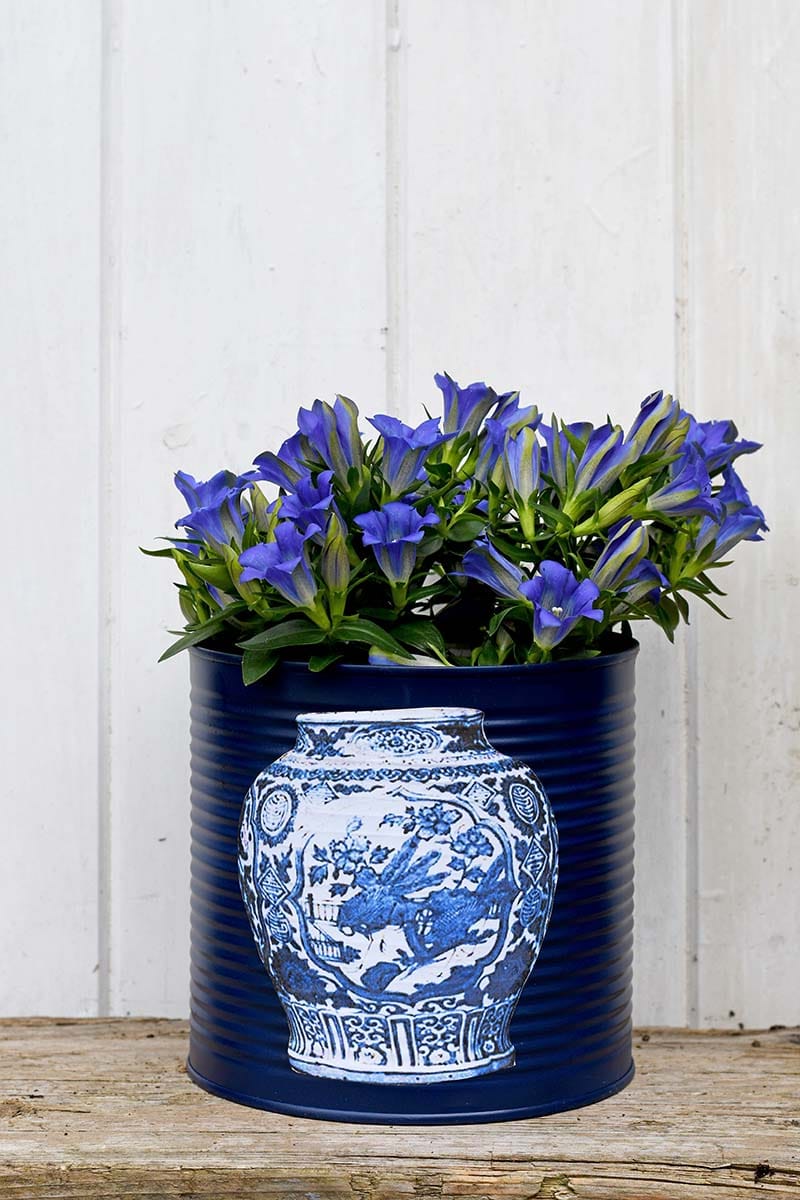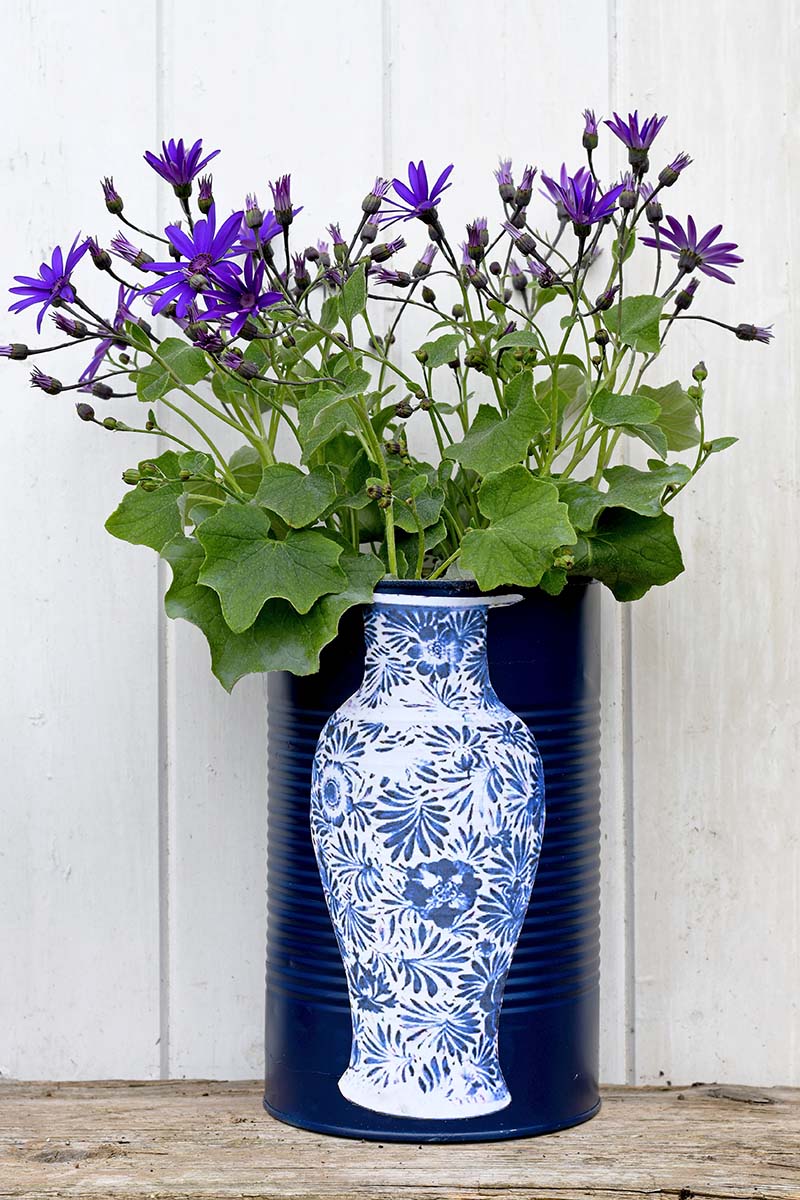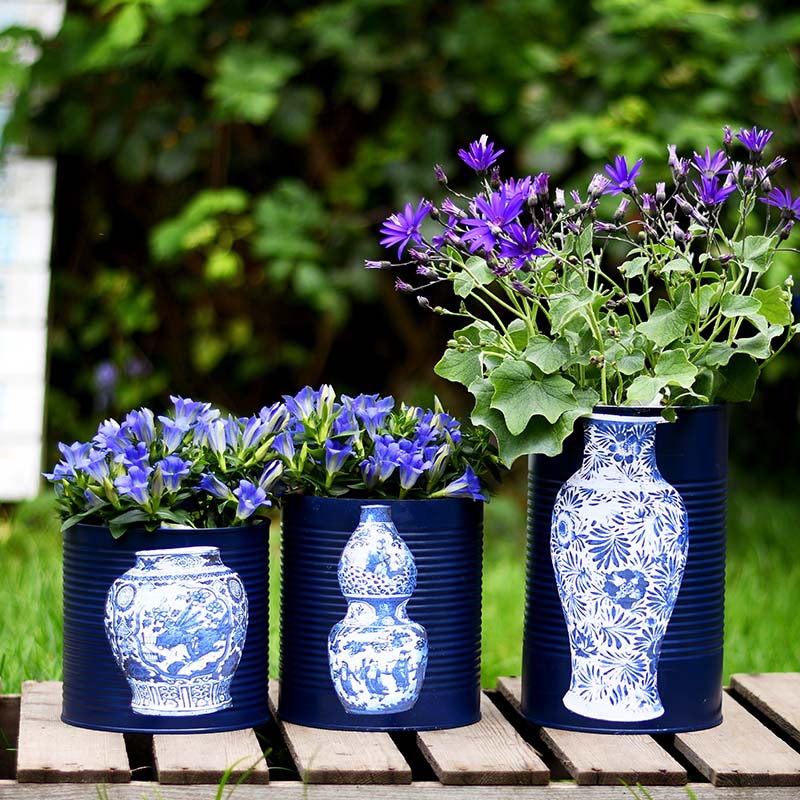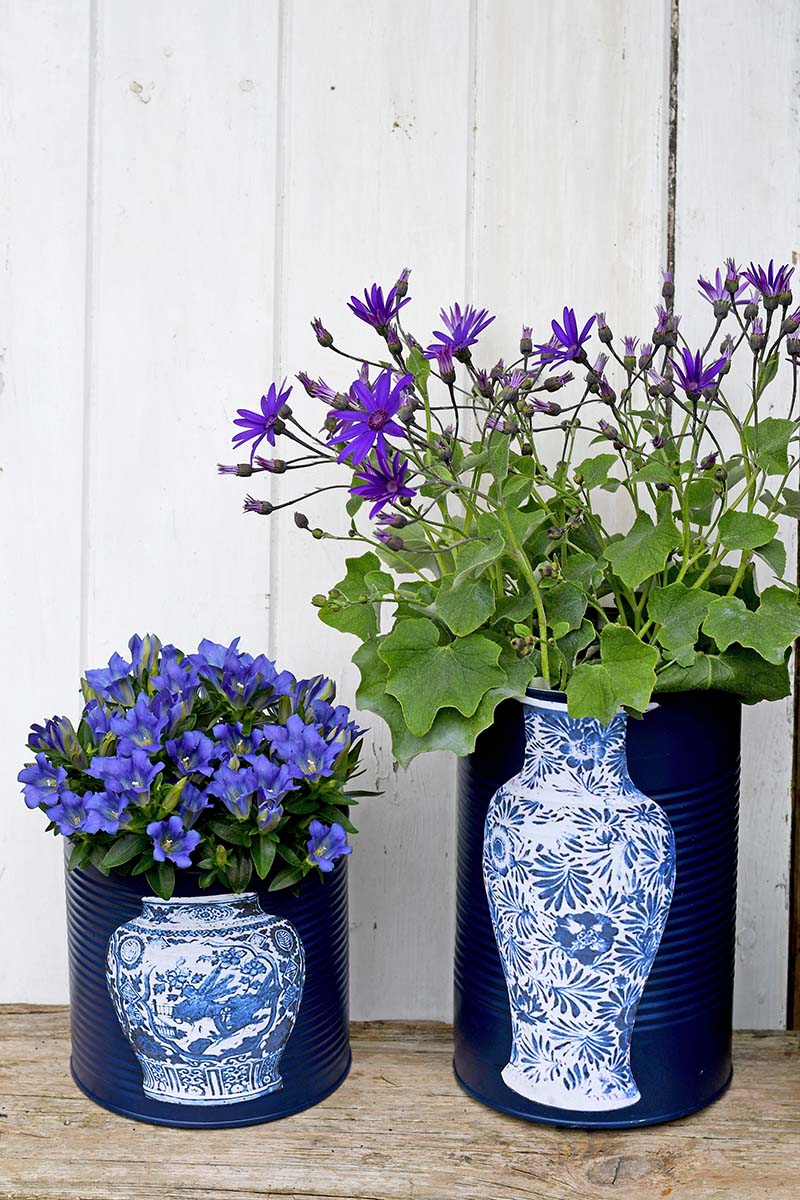 Another fun way to make faux vases is to use wallpaper sample like with these stitched paper vase sleeves.
If you like these tin can DIY flower pots you should check out some of my other fun tin can crafts and upcycles.
Also, there is another fun craft you can make for your garden using three tin cans of various sizes with this songbird tin can wind chime.
There are more fabulous garden craft ideas here.