I live in a Victorian semi townhouse, so I just have a small town garden. When the sun is shining there is nothing more I like to do than to bask on my outdoor sofa. This year I decided to brighten up my little coffee corner in the garden with these colourful tin can planters.
They were really easy to make and cost me next to nothing. They were made from recycled items and stuff I already had in my DIY cupboard.
Colourful Tin Can Planters and Pallet Holder
I also used an old pallet to make a handy holder for all the rainbow of colourful tin can planters.


This post contains Amazon affiliate links for your convenience. Click here to see my disclosure policy.


What You Need To Make Rainbow Tin Can planters
12 Empty tin cans
Old paints in as many colours as you have
Paint brush
Old pallet
Saw
Nails
How to make the tin can planters
1.. First, gather your paints. I emptied out my DIY cupboard of all bits of paint I had. This was a mixture of emulsion/latex paints, chalk paints, spray paints and sample pots.
It doesn't matter what kind of paint you use, you are more interested in getting a variety of colours. Once you've got your paints just simply paint each tin can a different colour.
You can always mix paints to get more colours or use cheap sample pots. You don't need much paint to cover a tin can.
2. Once they are all painted and dry, carefully spray your painted tin cans all over with an acrylic varnish. This will seal in your paint and make it waterproof, that's why it doesn't matter what kind of paint your paint scraps are.
How to make the wooden plant holder
3. I found a wooden pallet in a skip (dumpster) on my road. Skips are a good place to pick up pallets, and as long as you ask most people will happily let you have them.
Saw the bottom rung off the pallet. Then remove a wooden plank from further up the pallet and nail this to the sawn-off piece to make a wooden trough. Then finish off the pallet tin can holder by sanding it smooth.
Filling the Rainbow tin can planters
What you need..
Bedding plants (I used violas)
Shingle or small pebbles or stones,
Activated charcoal
Sand
Potting compost
I am by no means a green-fingered gardener. A few years ago I made some terrariums with my Beaver cubs, and as these terrariums are still going strong, I have decided that the planting method I used was a good one.
Firstly, fill the cans about a third of the way up with shingle, to provide a drainage layer. For the second layer, add some activated charcoal. This will also help with water absorption.
Then followed this with a small layer of sand and place the bedding plants in the top third of the cans with potting compost.
If you live in a wet climate I suggest that you drill some holes in the base of the tin cans before planting to aid with rainwater drainage.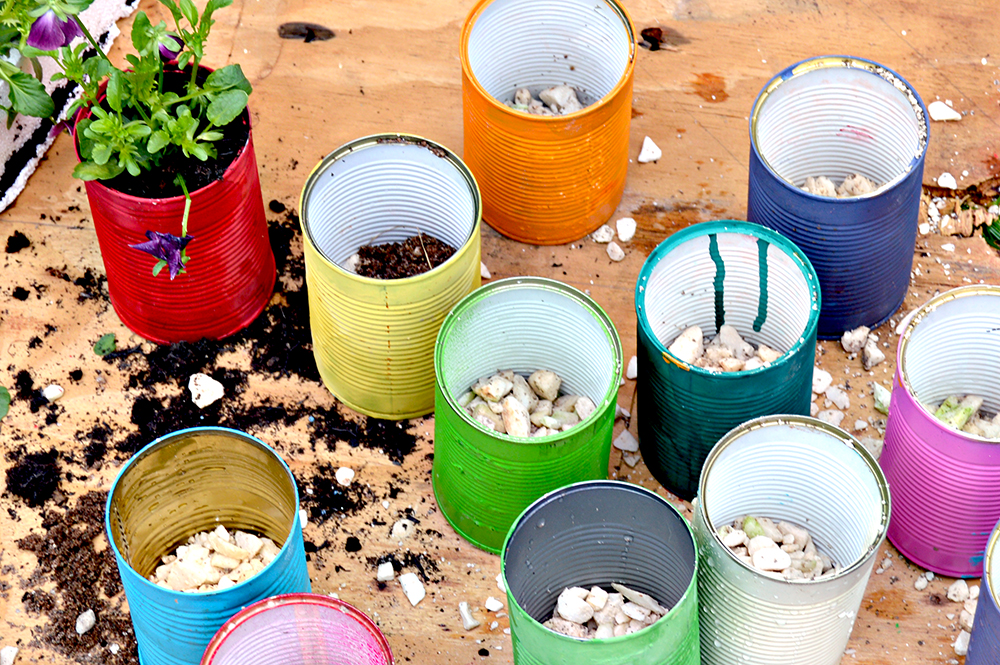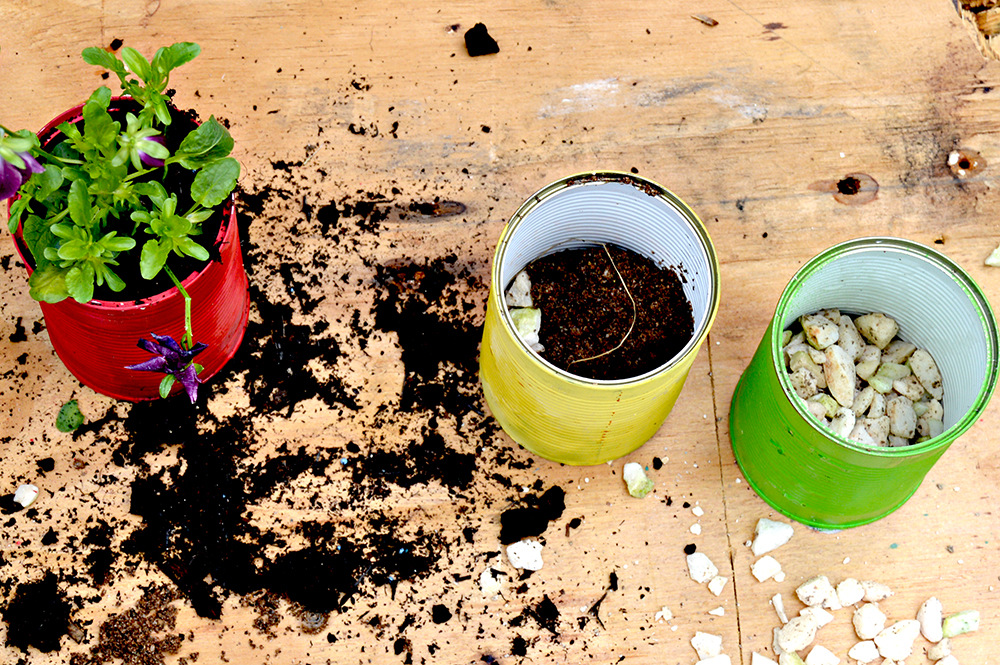 These upcycled can planters have really brightened up my little outdoor coffee nook. I'm so pleased with how they turned out. I'm still saving cans to make some more for my window sills and have some other ideas for upcycled cans in the pipeline.
The pallet holder makes it really easy to move the tin can planters around. Just lift the pallet holder and move all 12 planters in one go. I think the planters will also look great indoors with succulents and cacti.


Since posting this, I have made some gorgeous even more colourful Marimekko decorative tin can planters, and some hanging Marimekko soda can planters.
Check out some of my other outdoor tin can ideas.
Upcycled window herb planter
Happy Hour Upcycled Window
Copper and denim caddy

You can find this post and many wonderful repurposed garden ideas in this round-up of the best garden upcycles.