I made these decorative tin can planters partly to use up some of my paper napkins stashes!
Every time I go into a Scandinavian/Nordic interiors shop I wander around swooning over all the beautifully designed furniture. I can't afford the furniture but don't want to leave empty-handed so I buy a pack of Marimekko paper napkins.
Marimekko prints are a favourite of mine and have used their designs in lots of crafts and DIYs. I even have a Marimekko wallpapered staircase in my home and a unique decoupaged Marimekko bench in the garden.
DIY Colourful Spring Decorative Tin Can Planters
This time I thought it would be fun to show off lots of the Marimekko designs in one go. That's when I got the idea for making a load of upcycled decorative tin can planters for the garden with the paper napkins. I love to repurpose tin cans into planters and collect them throughout the year.
OK, you may be thinking, you aren't a paper napkin addict like me. And you I don't want to buy lots of packets of paper napkins, just to make some decorative tin can planters.
Well, you don't have to, there are plenty of sellers on eBay that sell paper napkins in small amounts specifically for decoupage. You can easily buy a variety of Marimekko paper napkins without having to buy lots of packets.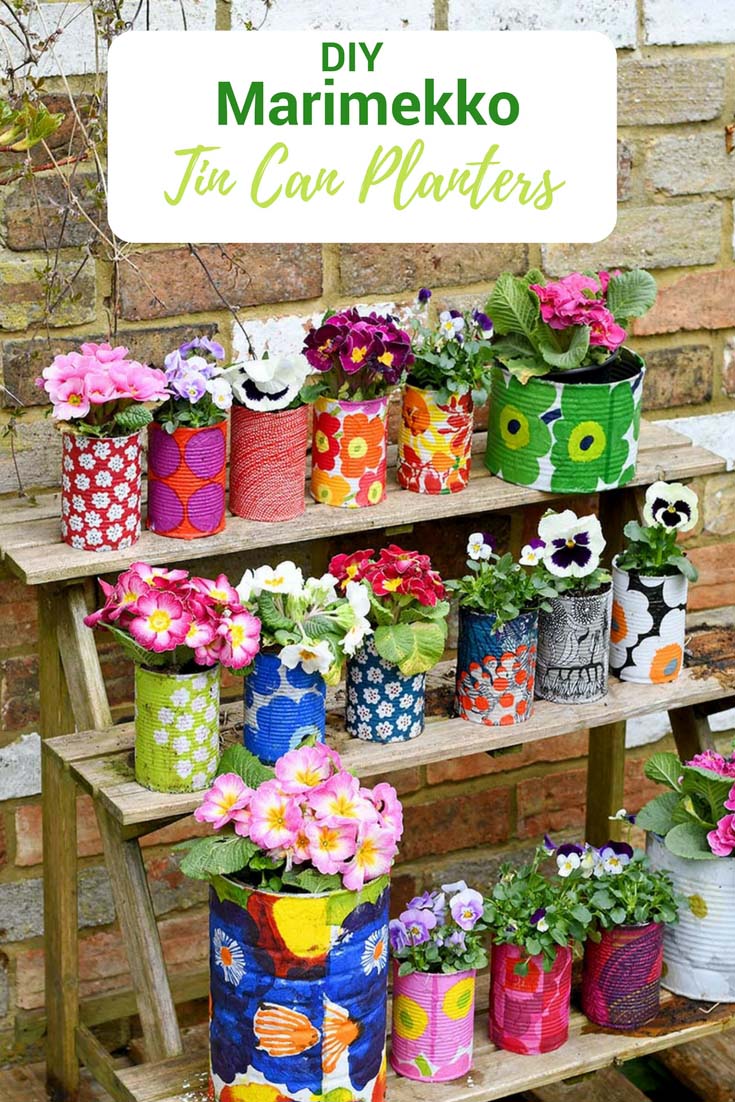 We're a participant in the Amazon Services LLC Associates Program, an affiliate advertising program designed to provide a means for us to earn fees by linking to Amazon.com and affiliated sites. As an Amazon Associate, I earn from qualifying purchases.
What you need to make Marimekko Tin Can planters
Empty tin cans – I used lots of the normal soup sized cans and a few big catering tin cans.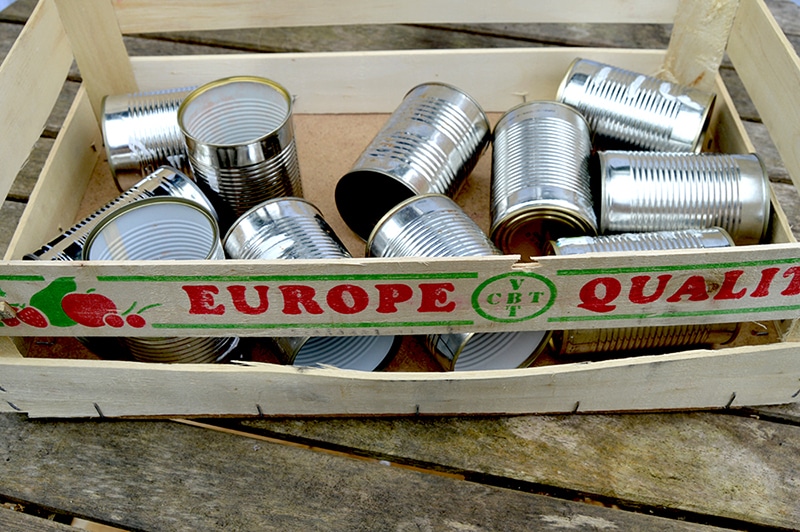 Marimekko Paper Napkins – As I have mentioned on eBay, you can buy just a few napkins at a time rather than a whole packet for each design. You only actually need one napkin per tin can.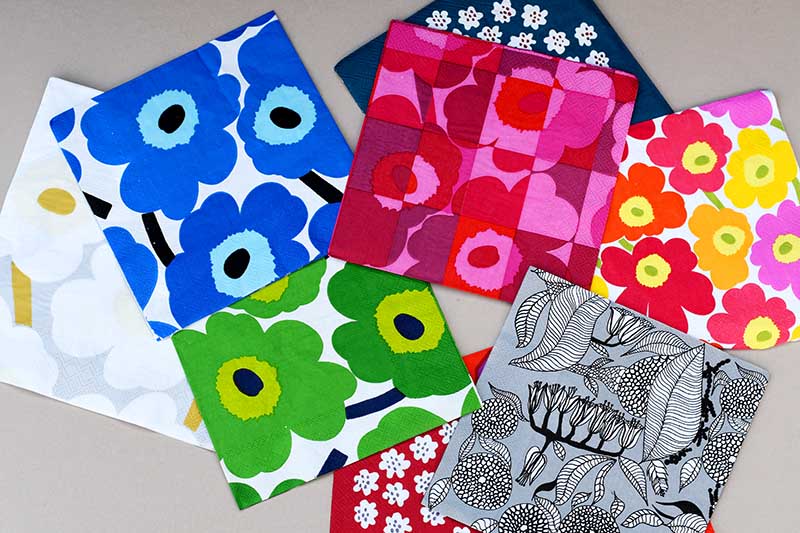 For planting
Drill with a steel drill bit
Small Stones
Potting soil
Bedding plants
How to Make Marimekko Decorative Tin Can Planters
1.. First, before decoupaging the tin can planters, spray paint them white. The paper napkins are very thin and the planters will look better with a white background.
I think tin cans in a variety of sizes look great with this upcycle.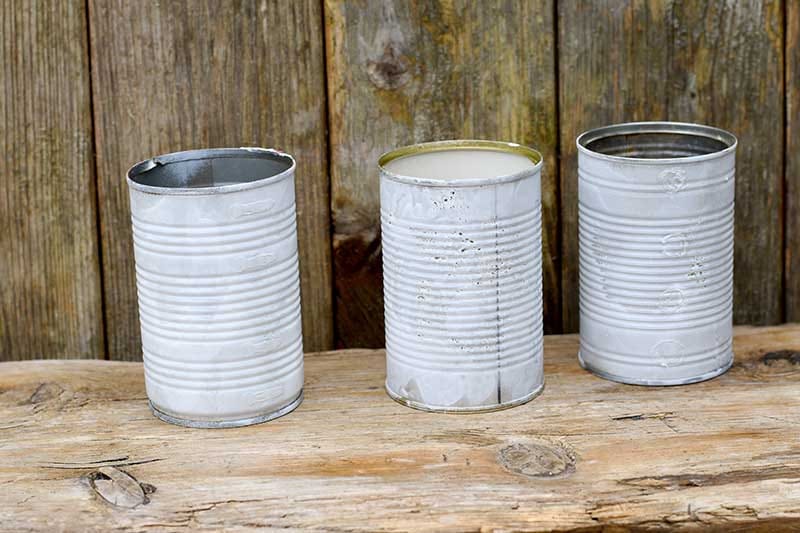 2. Next, cut up the Marimekko paper napkin to the size of the can to be covered. I used a rotary cutter and mat for this.
With the larger cans, you may need to use more than one paper napkin per can.
3. Next, cover the whole of the tin can in Mod Podge or other decoupage glue. It is best to add glue to the can and not the napkins as the napkins are very thin and likely to tear.
4. Then, separate out the cut three-ply napkin to the top printed ply. I find that if you gently rub the paper napkin between your thumb and forefinger, the ply layers should separate more easily.
Carefully, lay the paper napkin onto the Mod Podge covered tin, and press down using a large foam brush. Wrap the napkin around the tin until it is all covered.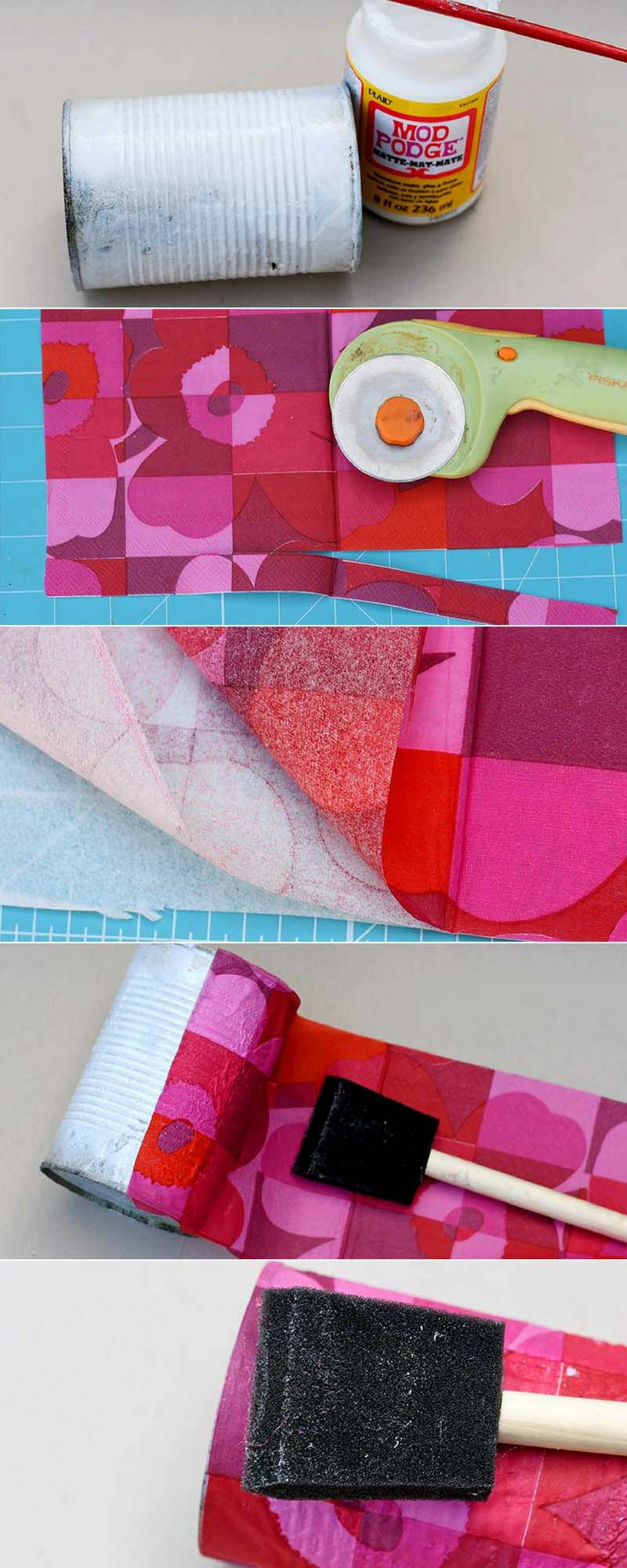 5. Then, once the glue has dried, spray paint the decorative tin can with at least 2 coats of acrylic varnish. Allowing the varnish to dry in between coats. This will help protect the decorative tin can planters from the elements,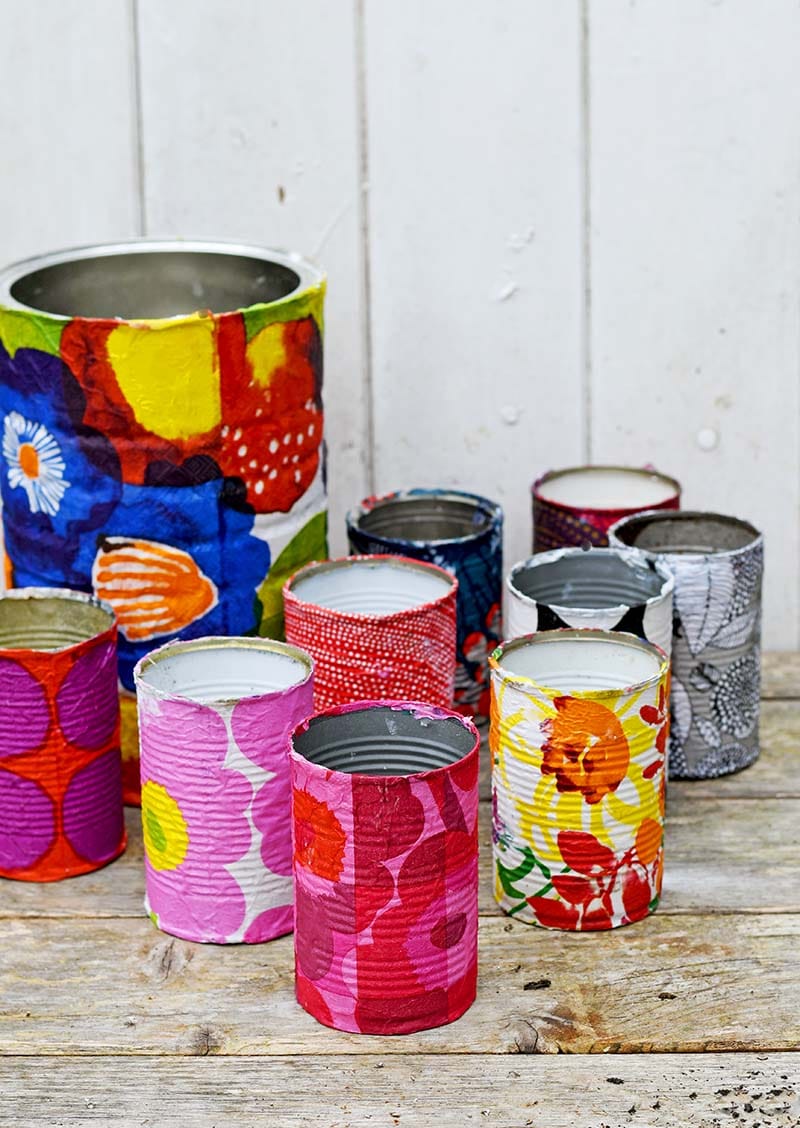 Planting The Marimekko Tin Cans
I planted up the Marimekko tin cans in the same way as I planted my colourful tin can planters.
That is I firstly drilled holes in the bottom of the cans for drainage. I then added a layer of stones before the potting soil and bedding plants.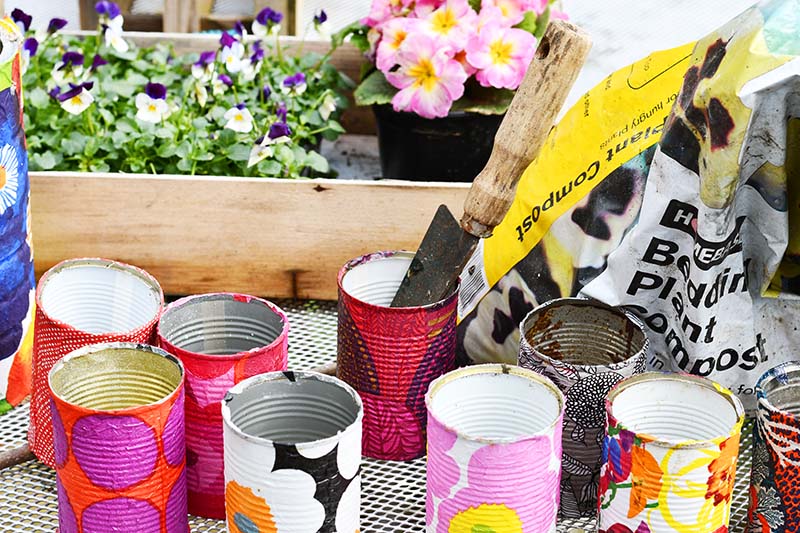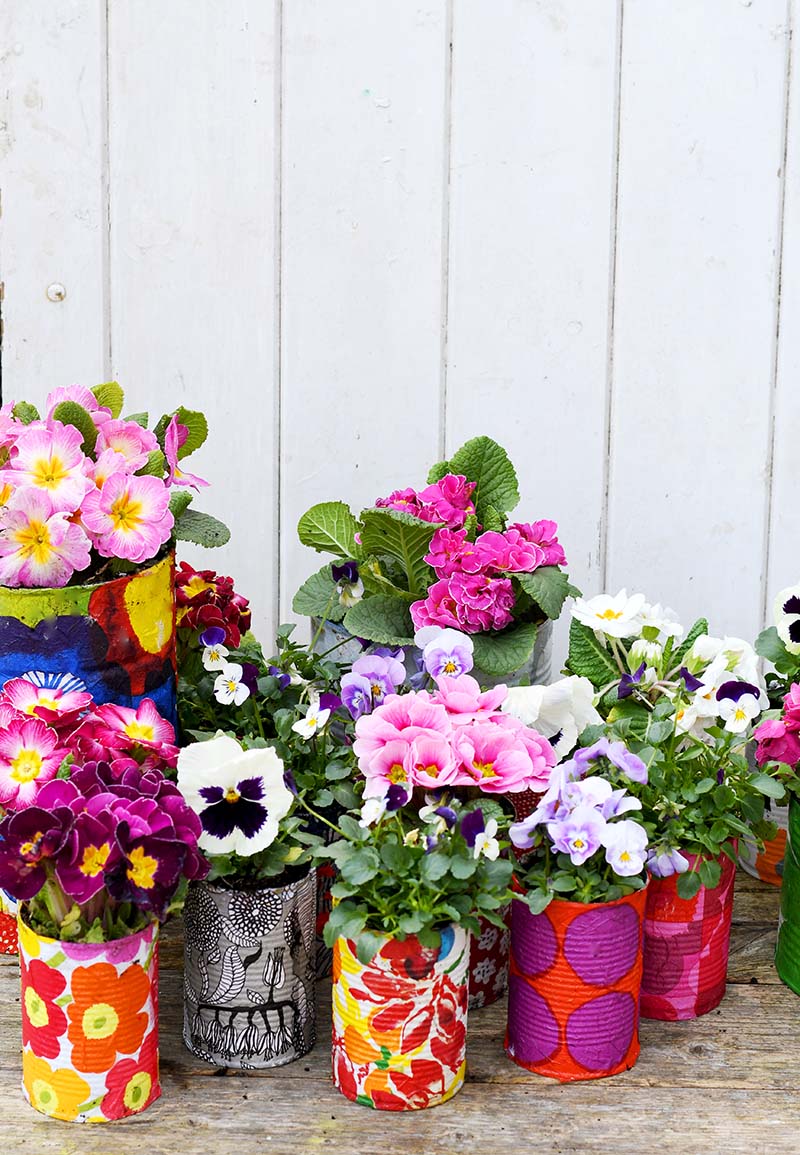 Now, all that is left is how to decide how to display the decorative tin can planters. I sprayed my Marimekko planters with acrylic spray as I wanted them outdoors in the garden rather than indoors.
They brighten up my brick wall in my traditional Victorian walled garden.
I also have a tutorial for a cool Marimekko indoor plastic bottle herb garden which is great for the kitchen. There is also a Marimekko version of these hanging soda can planters.
One thing is for sure these Marimekko planters are a cheap and easy way to add a lot of colour to my garden. I'm busy saving more tin cans to upcycle into decorative planters.
I think the more the merrier. I've even made some oriental vase tin can planters for the garden to add to this collection.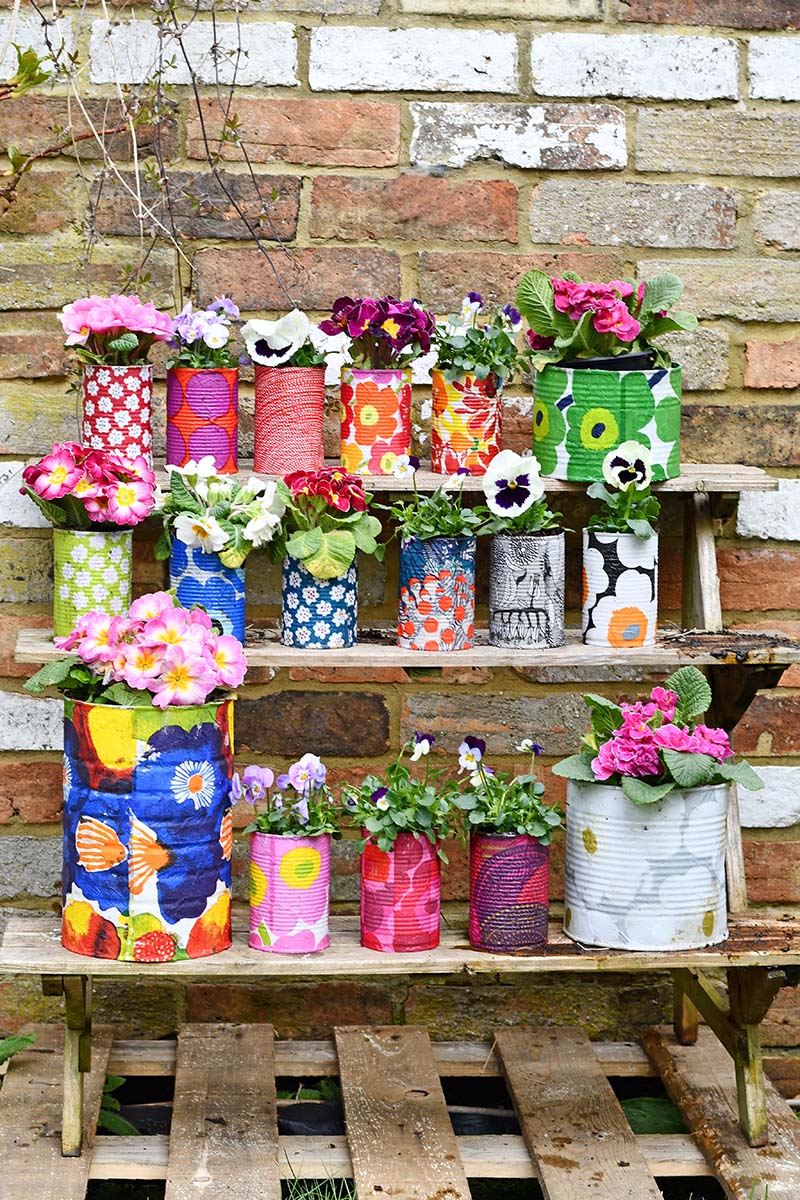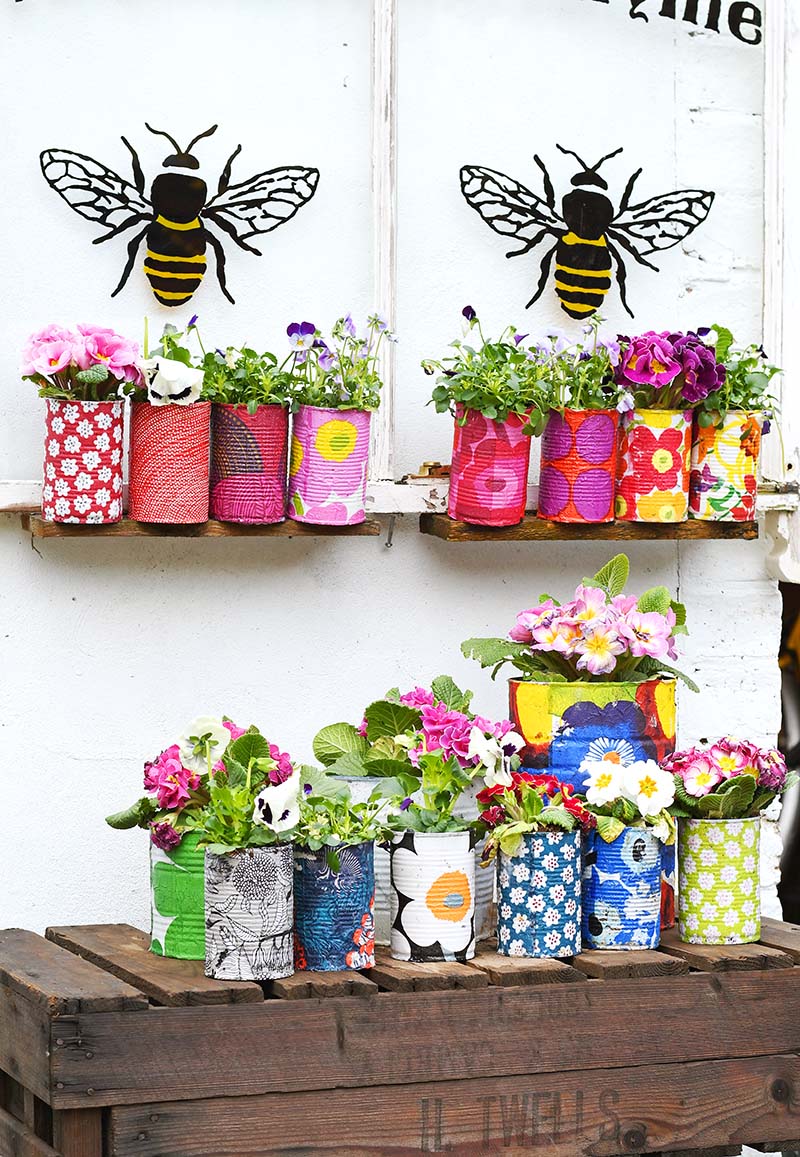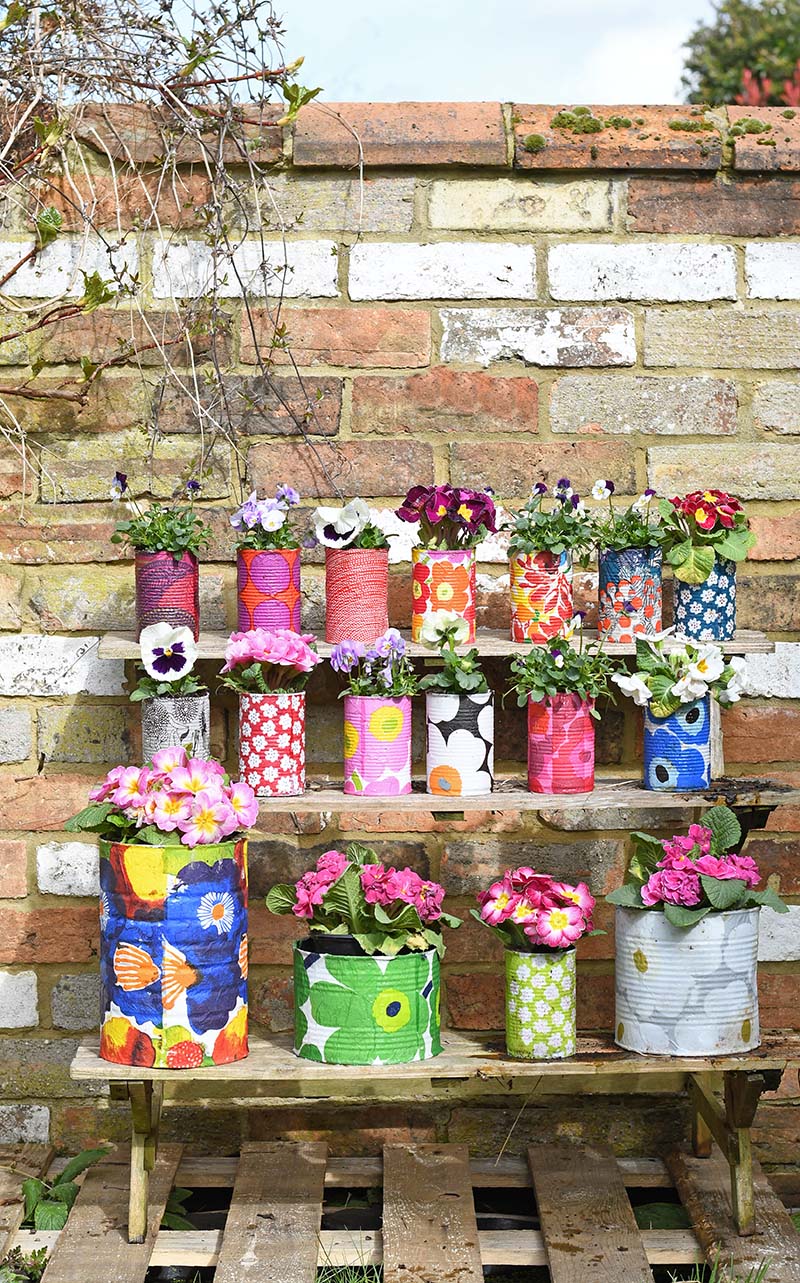 If you are looking for an even easier tin can planter idea that doesn't involve decoupage check out these gold crushed tin can planters. Or you can find more upcycled planter ideas on Favecrafts.
I have an indoor version of this craft with the Marimekko mini bud vases made from upcycled Yakult bottles.
Another way to give tin cans a Marimekko makeover is to use wallpaper samples. This is what I did when I made a cool Marimekko desk caddy, and with these beautiful paper vases.
This post featured in the 50 best upcycles for the garden.