Patiriotic Upcycled Bunting
It feels like ages since I've upcycled anything with denim, my last denim post was my scrap denim Easter eggs. I do have some denim upcycling projects in the pipeline but I thought I'd show you how to make some fabulous flag upcycled denim bunting.

I'm participating in a Junk Visionaries monthly challenge and the theme is patriotic. The upcycled denim bunting I originally made was Union Jack bunting, but as most of my blog audience is American I've also made a Stars and Stripes version just for you ! It was quite easy to adapt my flag bunting design from Union Jack to Stars and stripes as they are both red white and blue.

So whether you celebrating the Queen's 90th Birthday or the 4th of July there is a bunting for you !!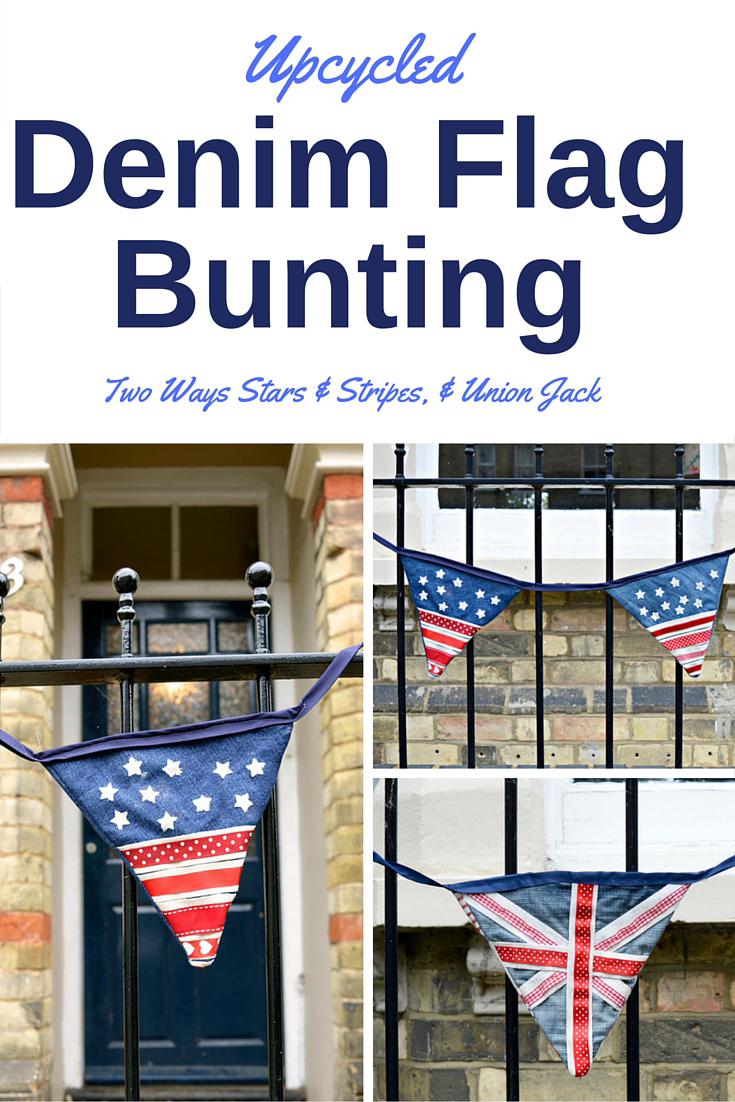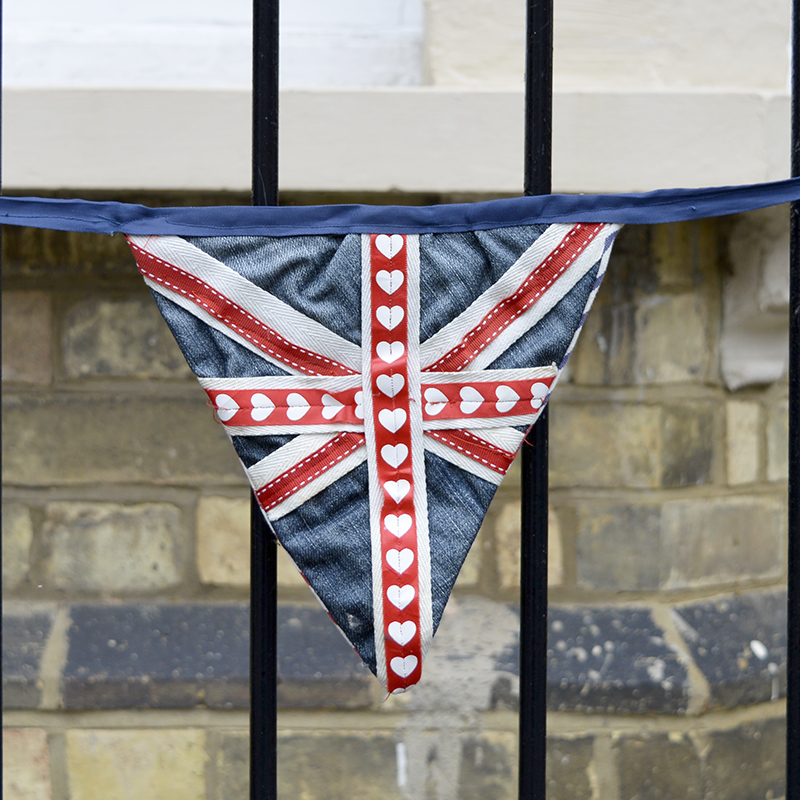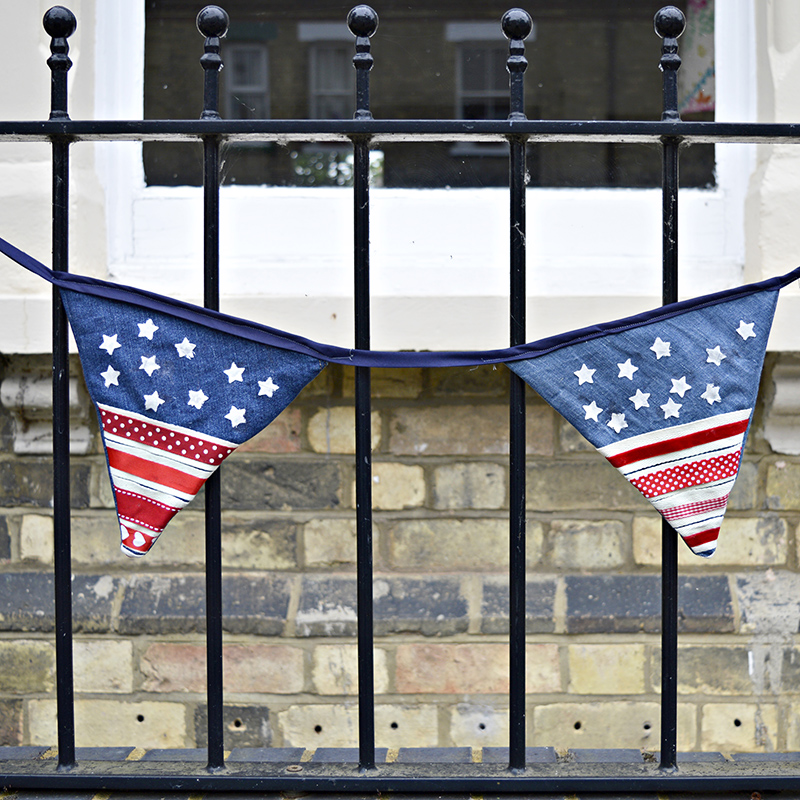 This post contains amazon affiliate links for your convenience. Click here to see my disclosure policy.


What you need to make your denim bunting
Old pair of jeans. I just use the legs of the jeans, (so you can save the pockets to make a fabulous denim pocket organiser.)
Ribbon scraps, I keep all ribbon scraps from presents and packaging and have quite a collection especially red ones from Valentines gifts. If you haven't got any you can normally by a variety pack from your craft store.

Red ribon, various sizes and patterns.
Scissors,or rotary cutter, thread, cardboard & sewing machine.
Depending on how long you want your bunting will determine on how many pairs of jeans and how much ribbon.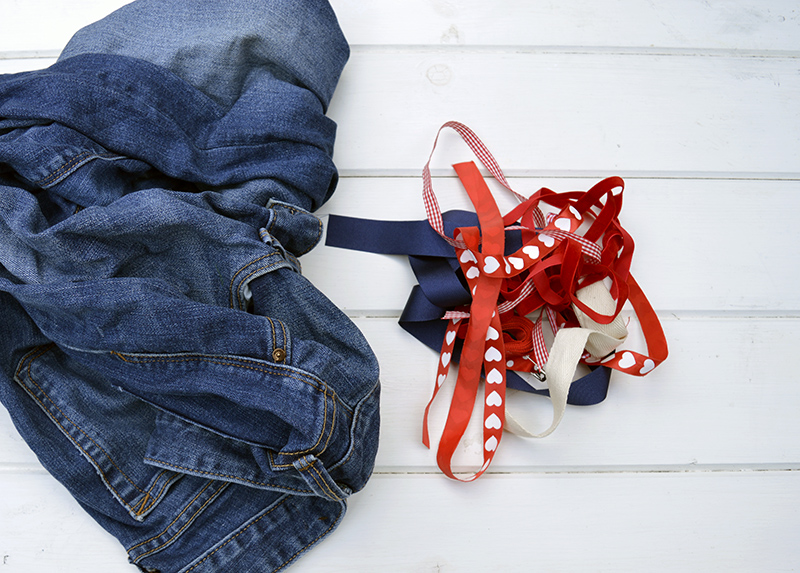 How to make your upcycled denim bunting

First make a triangular cardboard template the size you want for your bunting. Use this template as a guide for cutting out your denim. Personally I prefer to use a rotary cutter and board to cut my denim, but scissors are fine, just a bit slower. You will need 2 denim triangles for each piece of bunting one for the front and the other for the back.

Secondly lay out your ribbon, depending on what flag you're making. You can either sew your ribbon flag design to your denim triangles or the easy option is to glue them with fabric Mod Podge. Glueing instead of sewing does make your bunting a little stiffer but this is no bad thing.

I have 2 graphics to show you how to make your upcycled bunting, one for Union Jack bunting and one for Stars and Stripes bunting. They are both practically the same except for how you arrange the red and white ribbon. Also you note there are stars on the American bunting. I used cut out these stars from some spare white ribbon. If you don't have a die cutter you can always use a star stamp instead.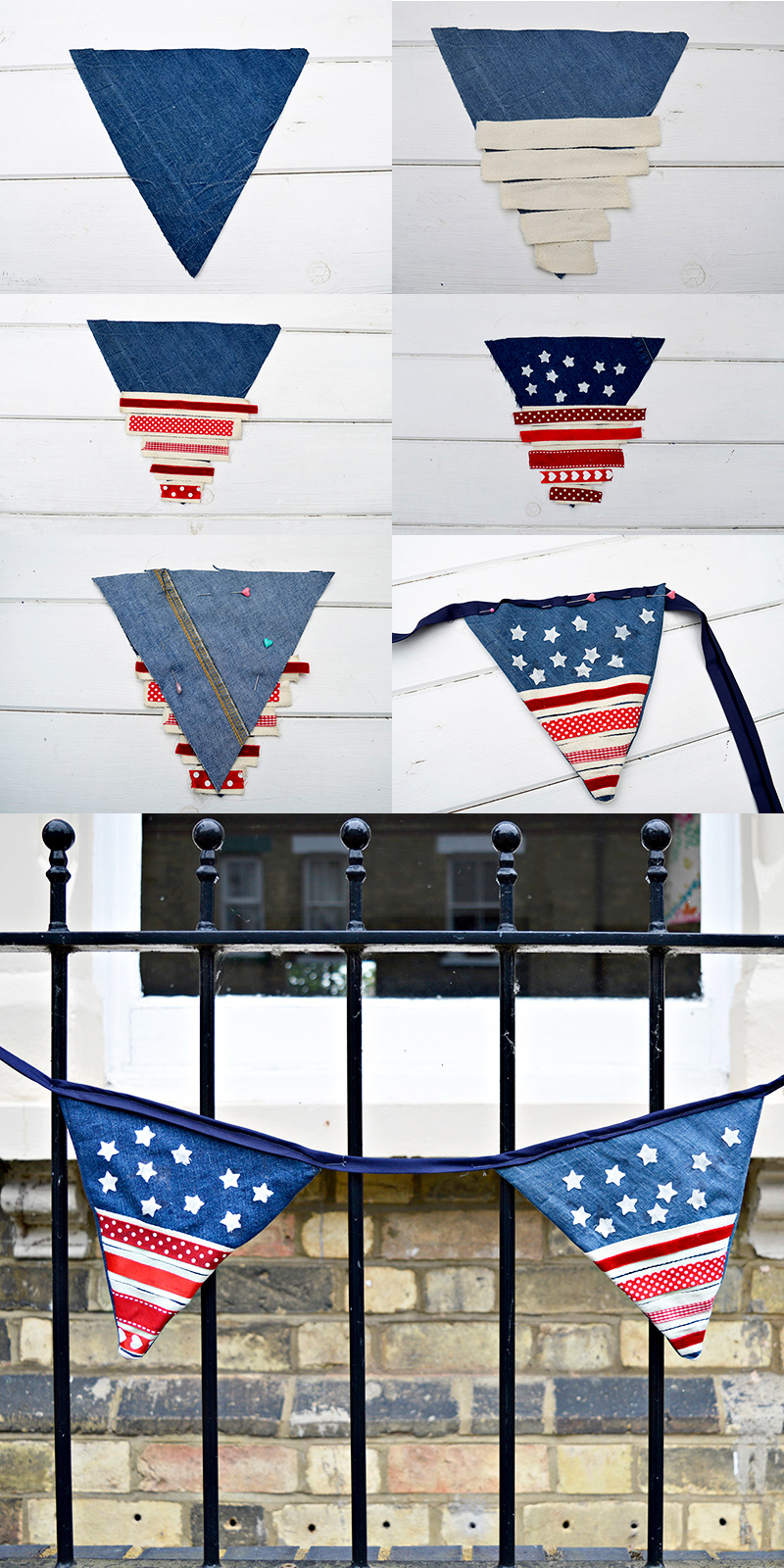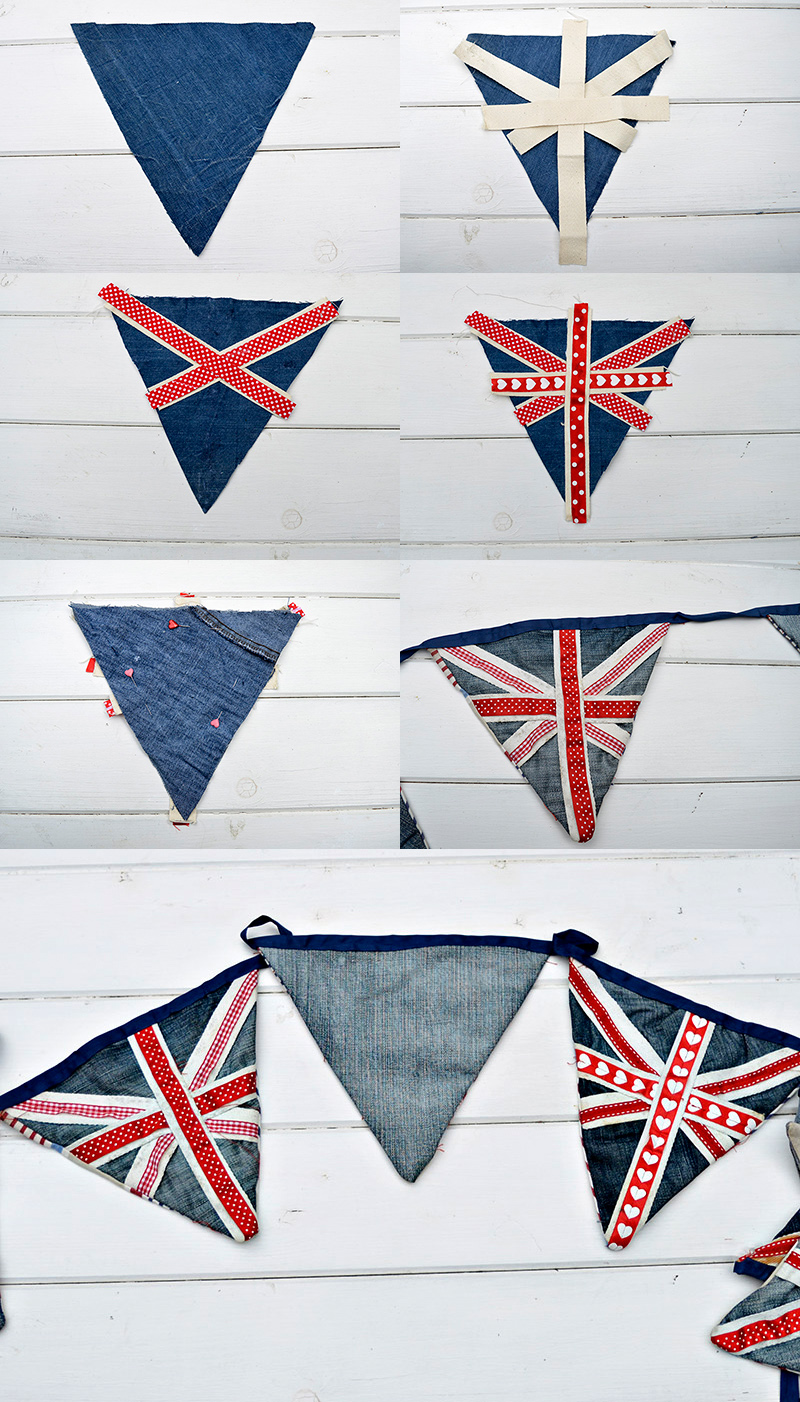 After you have glued or sewn your ribbon pieces into place, get a blank triangle of denim and pin these 2 pieces right sides together. Sew round the sides leaving the top open. Trim off an excess ribbon, and turn right side out. You will need a pencil or something pointed to push out the tip of your triangle.

To sew your bunting triangles together in a long garland, fold over your blue ribbon and pin this to the top of your triangle. Make sure that you place the denim in between the ribbon fold. Then simply sew your denim bunting flags to the blue ribbon. All you need now is a party !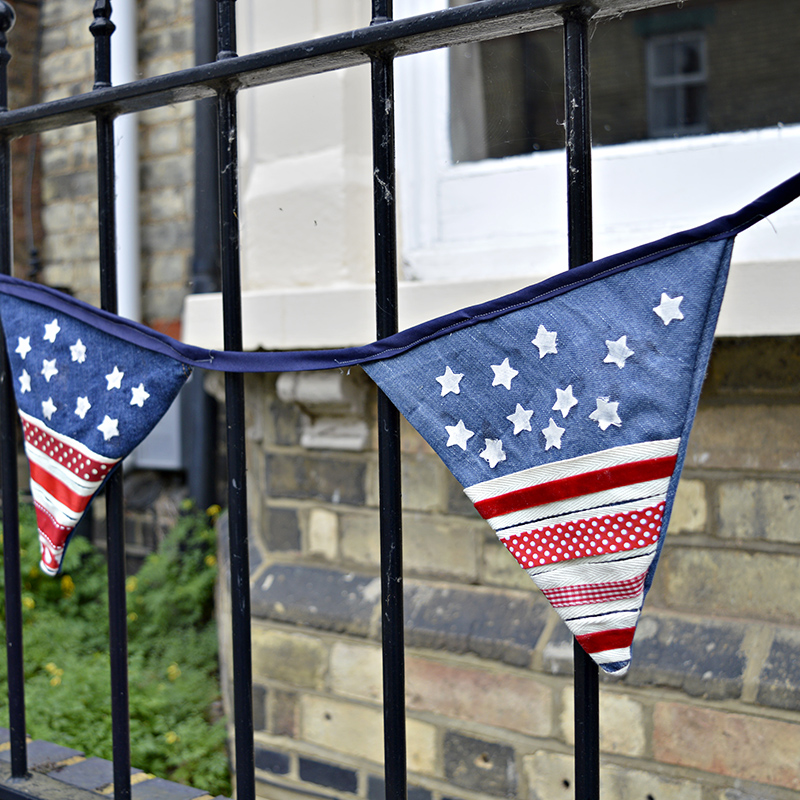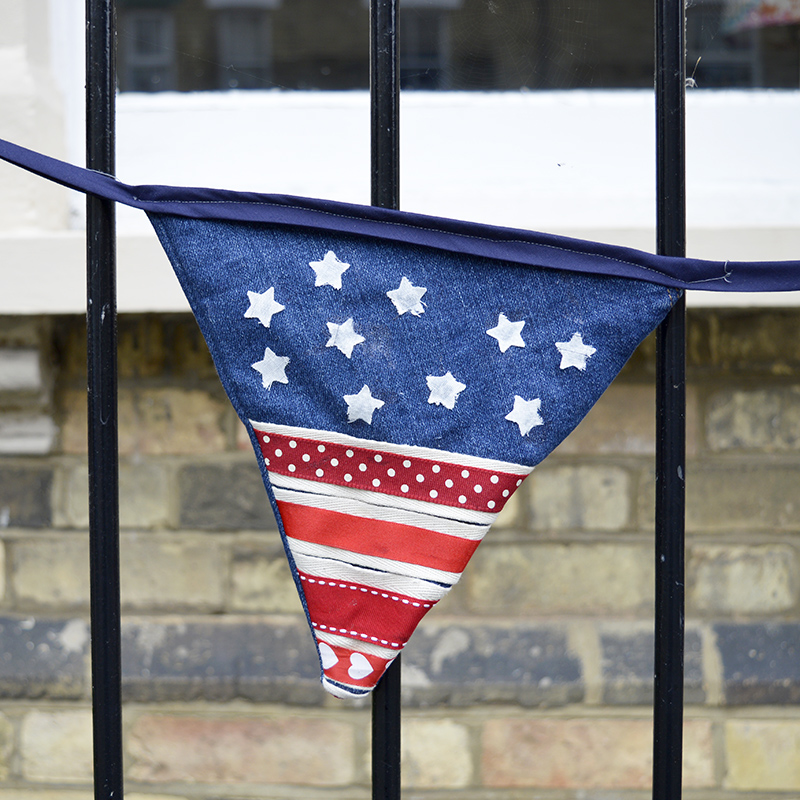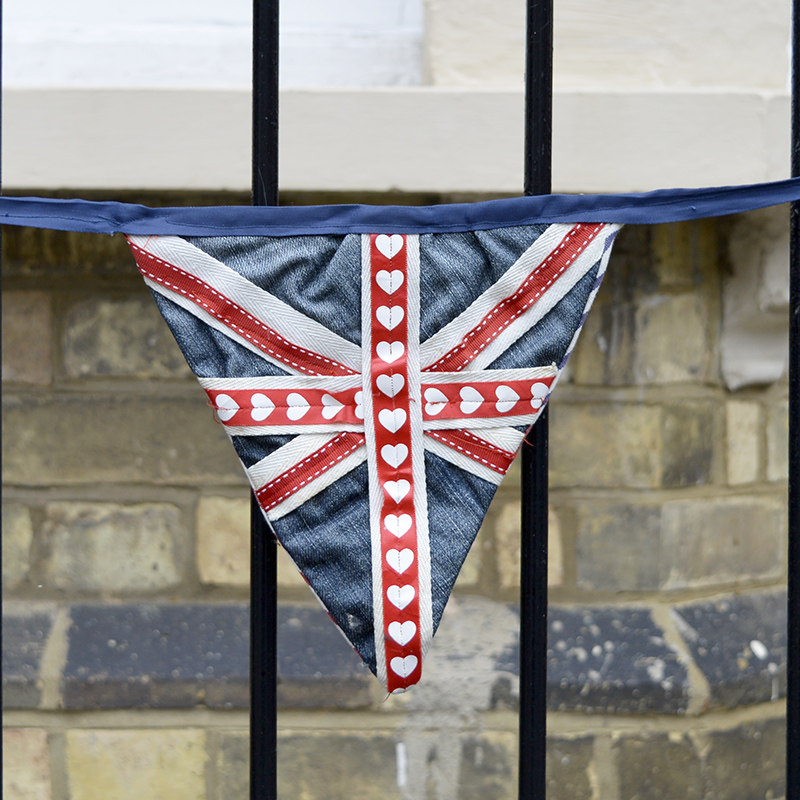 I first made my Union Jack bunting in 2012 for the Queen's Diamond Jubilee when we had a street party. I got it out again for the royal wedding in 2013. It's been sitting in a draw since then but will be back on display next weekend for the Queen's official 90th Birthday.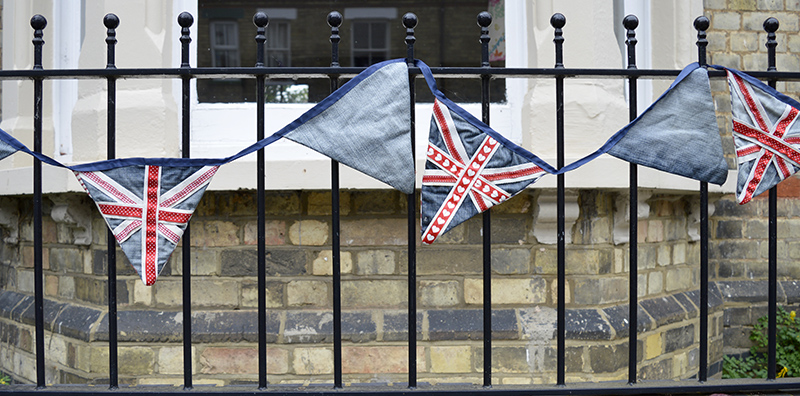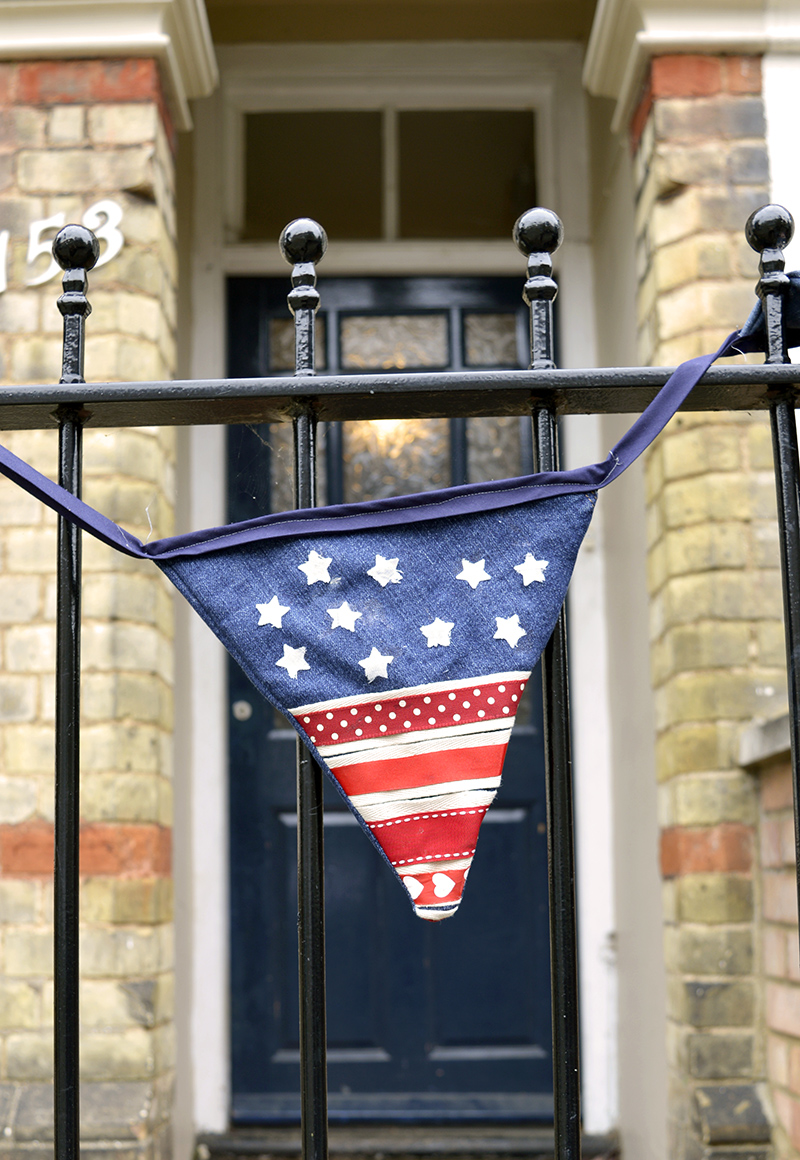 Im am member of blog group Junk Visionaries, and I have submitted this post to their monthly upcycle challenge for June. The theme for June is patriotic. Please check out everyone else's submissions below.