Inside: Tutorials for making lots of different felt succulents for a repurposed felt succulent garden.
Making this repurposed felt succulent garden was so much fun. It got my creative juices going, trying to work out how to make different succulents out of sweater scraps.
Working out how to mount my succulent garden and upcycling a container to show it off added to the creative joy.
I'm a craft geek; I get a kick out of making lovely things from repurposed materials. Not only that, I get even more of a kick when it's made with the scraps from other upcycling projects.
Using Sweater Scraps To Make Succulent Garden
These weren't my first faux succulents. I made some cute tiny ones from plastic bottles for my upcycled terrariums. But with these succulents, I delved deep into my bag of sweater felt scraps, leftover from all my other upcycled sweater projects.
I've always wanted a faux succulent garden. I've seen some fantastic crochet succulents and cacti on Pinterest, but my crocheting skills aren't up to recreating one. However, when I spotted this amazing succulent garden made of quilled paper, I got the idea to make my garden out of my felted sweater off-cuts.
I love upcycling fabrics for the home. Previously, I made a gorgeous sweater felt rug using a quilling technique. I have also made some magnificent fabric mushroom displays out of old bedsheets.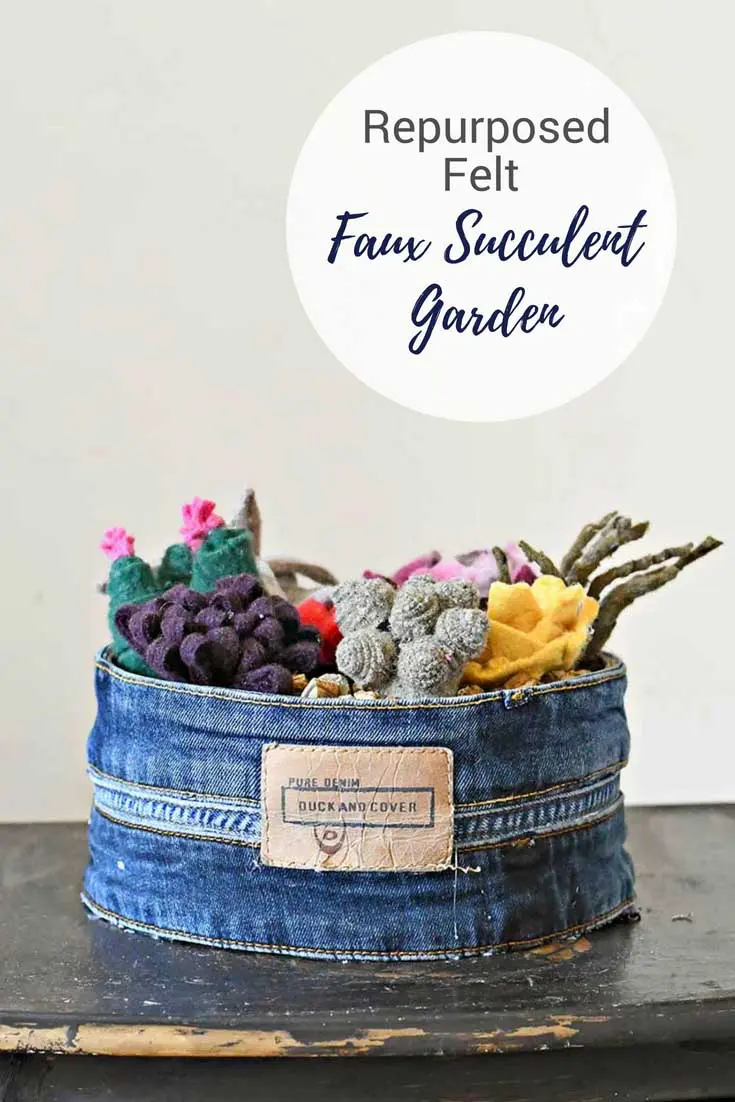 We're a participant in the Amazon Services LLC Associates Program, an affiliate advertising program designed to provide a means for us to earn fees by linking to Amazon.com and affiliated sites. As an Amazon Associate, I earn from qualifying purchases.
What You Need
Sweater felt scraps in assorted colours are left over from my felted wool sweater projects. (You can see how to felt sweaters wool here). You can, of course, use craft felt for this. I prefer the sweater felt scraps as they are often thicker than craft felt and have more exciting textures.
Old biscuit tin – I used one of the IKEA tins left over from their delicious Christmas cookies.
Pins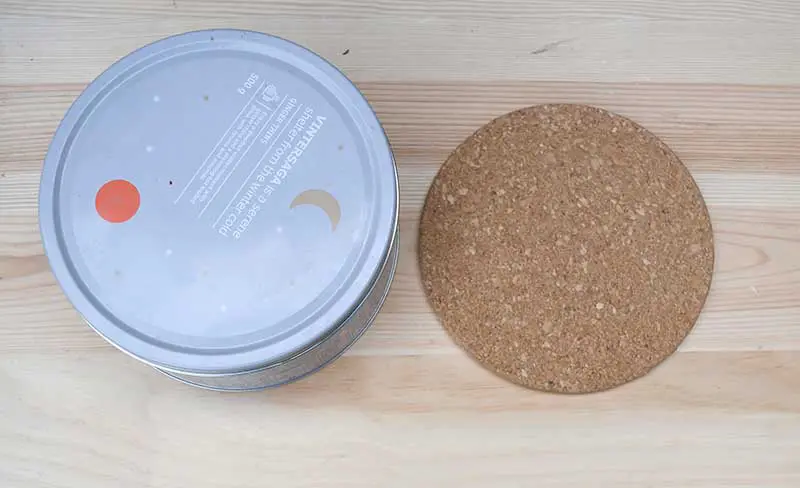 Making the Succulents
The Spiky Green Succulent
Step 1: I made several different felt succulents. The first lot I made using a quilling technique similar to the paper-quilled succulents here. Cut the felt into long 5mm strips with a rotary cutter.
Step 2: To make this succulent. Paste one side of the felt strip with fabric glue and wind it around the floristry wire. Overlap the felt as you move down the wire. I made each spiky leaf about 6-7cm long; I made about 9.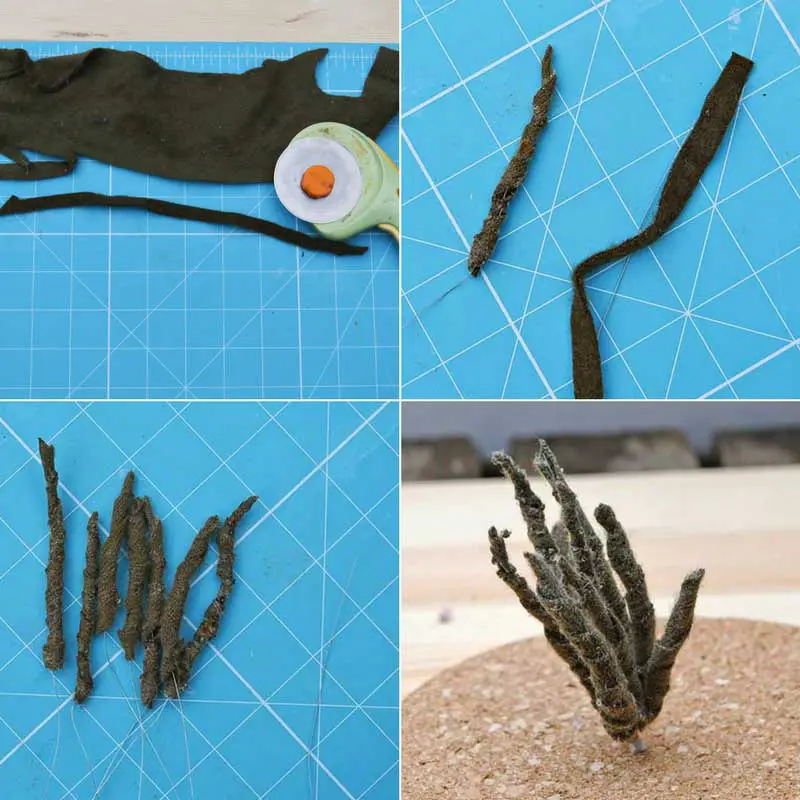 The Red Round Leafed Succulent
For this succulent, I rolled my felt strips into tight flat spirals. I used a dab of fabric glue on the end to keep it from unravelling.
You will probably have to use a pin to hold the spiral in shape as the glue dries. I made 12 of these red spirals, five large and five small. Then, I glued them into the succulent shape below using a glue gun.
The Other Quilled Felt succulents
I used a slightly thicker felt strip for these other succulents and quilled the felt into a dome shape. I cut some tiny flowers out of pink felt with the tall green ones and stuck them to the top. Floristry wire was hot glued on the bottom of each succulent.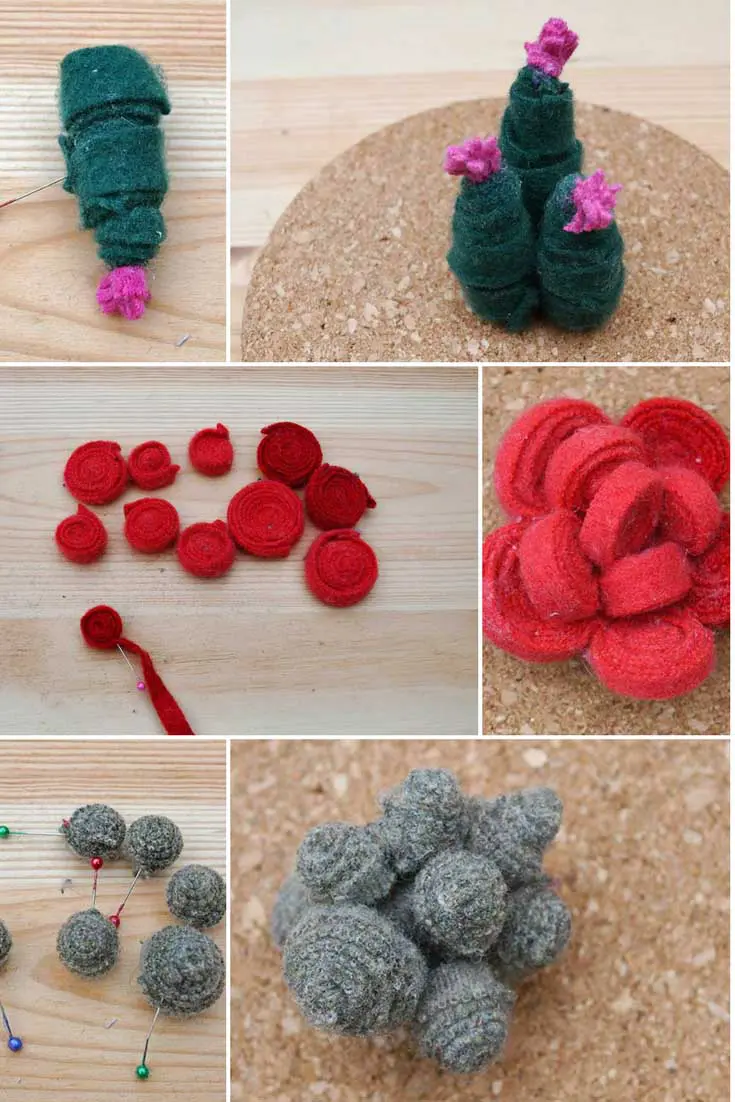 The Large, Floppy, Long Leafed Felt Succulent
For this succulent cut, a strip of sweater felt about 20cm long, the width at 7cm on one end, increasing to about 11cm on the other.
Then cut the strip into a zig-zag leaf shape and curl it up. Secure it with a dab of hot glue and add a wire stick to the base.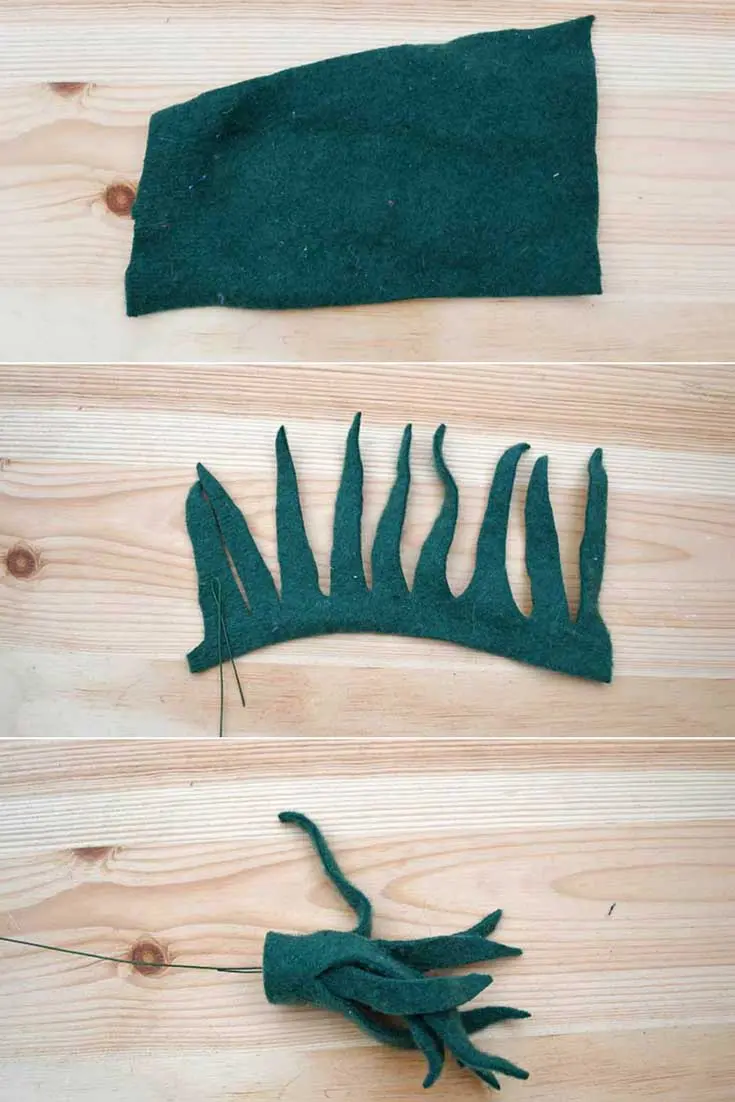 Purple Flower Faux Felt Succulent
For this unusual succulent, I used the cuff of a felted sweater. However, you can get the same effect with a folded-over piece of felt.
Fold a strip of felt about 20-25cm long and 8-10cm wide in half-width ways. Cut slits into the felt about 5-7mm apart, don't cut right to the end. Hot glue the wire stem on the edge, roll and secure it with hot glue.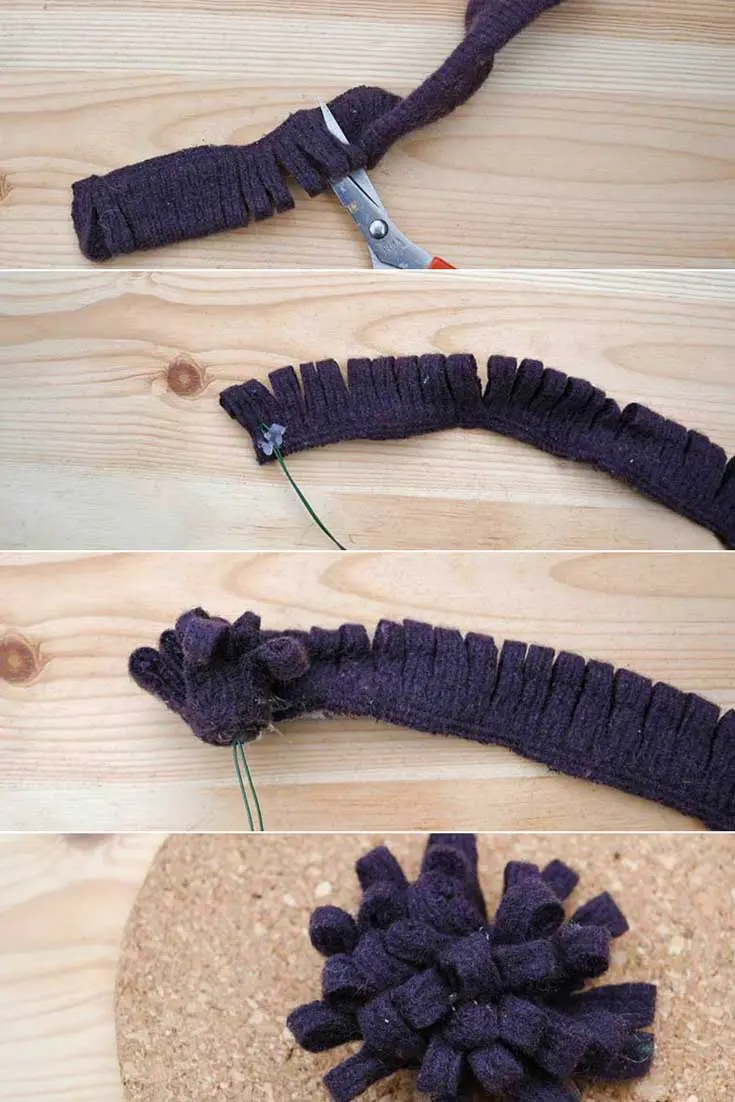 Flat Petal Faux Sweater Succulent
Using a template, cut out six large and six small felt petals. Glue the small felt petals overlapping slightly into a round. Repeat with the large petals. Stick the small petal round into the centre of the large petal round. Don't forget to glue a wire stem to the base.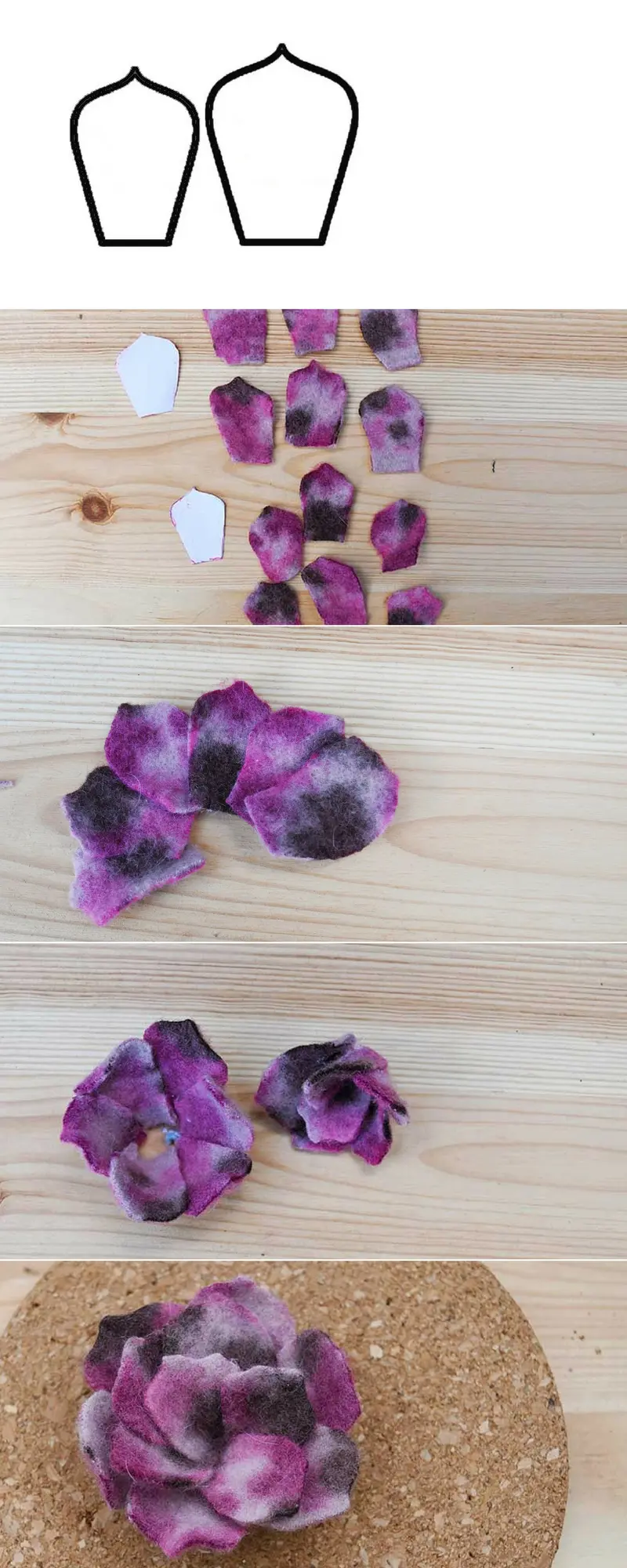 How to Assemble The Succulent Garden
Use the cork trivet to assemble the felt succulent garden. Pierce the cork with wire stems and thread the wire through. Arrange the felt succulents to fit all onto the corkboard. This simple method makes it easy to move and change the succulents.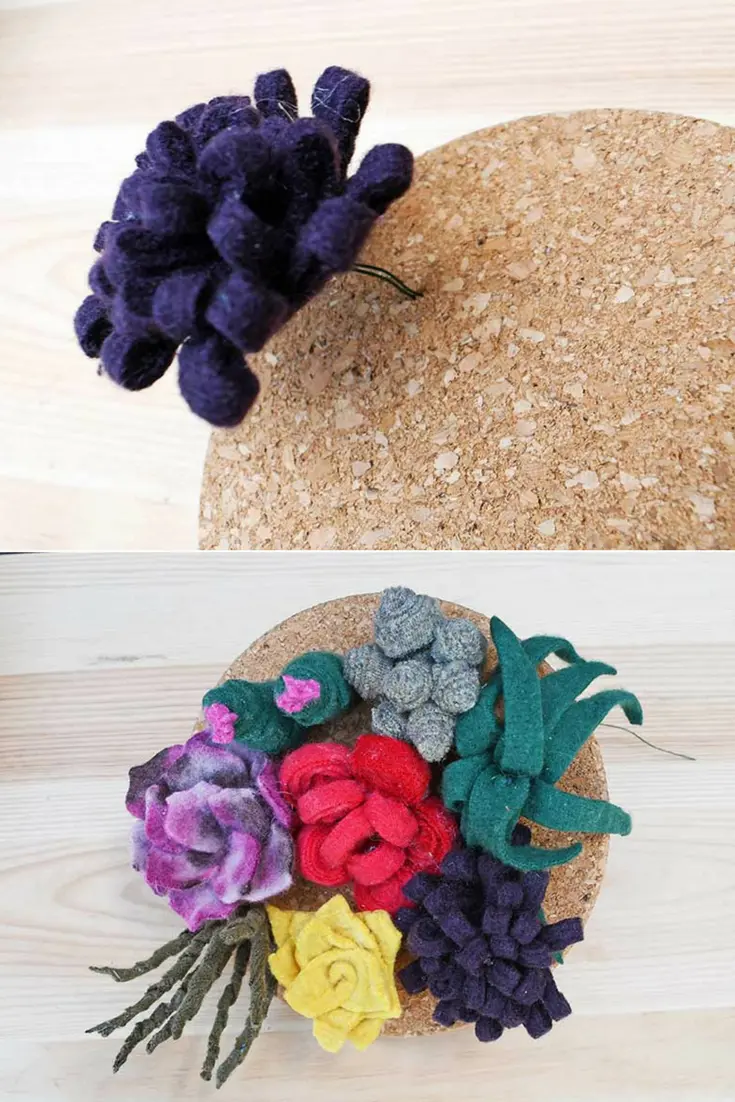 Where to Pot The Garden
If you already have a pot suitable for the succulent garden, you can use that. I found an old casserole dish that was the perfect size for these succulent gardens.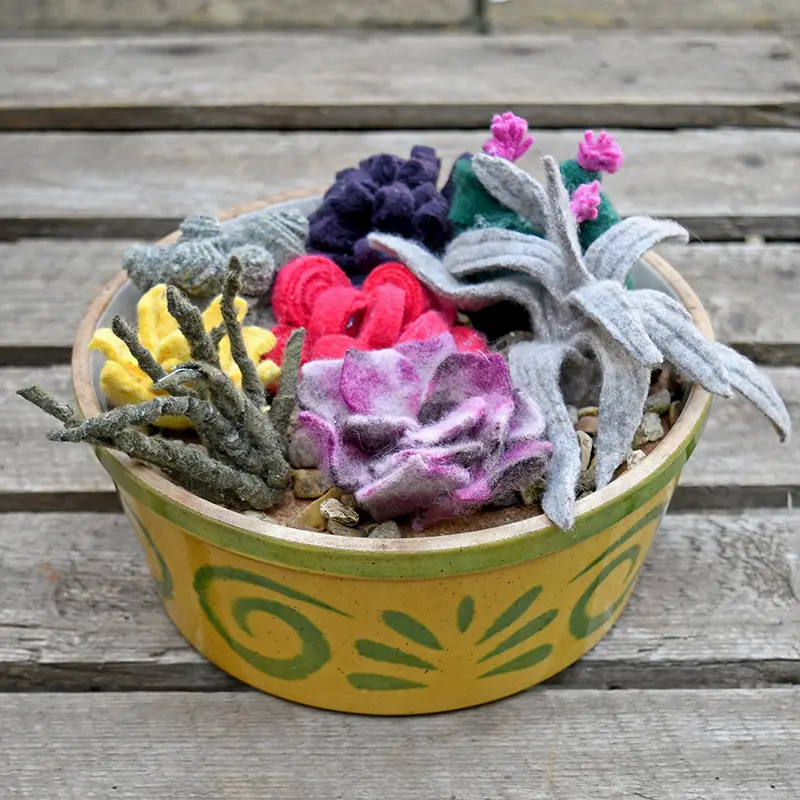 If not, you can repurpose an old cookie tin by spray painting it with the stone effect spray paint. Or upcycling the tin with denim, like with my recycled jean planter.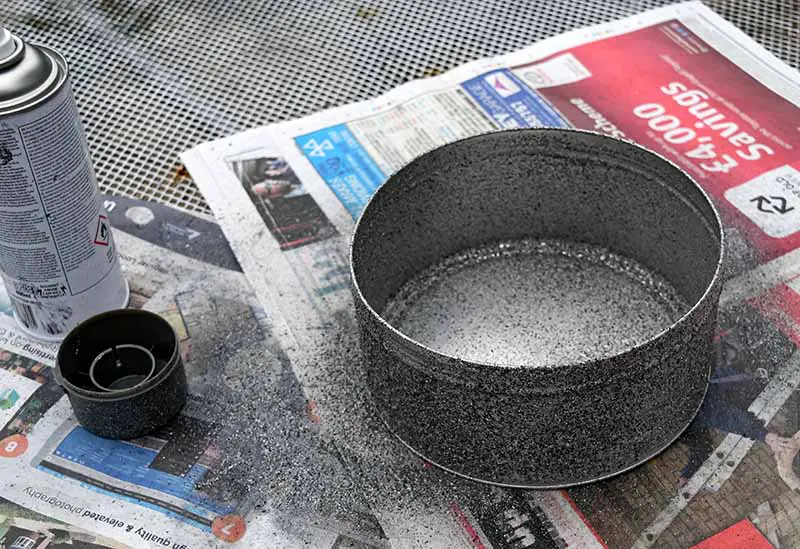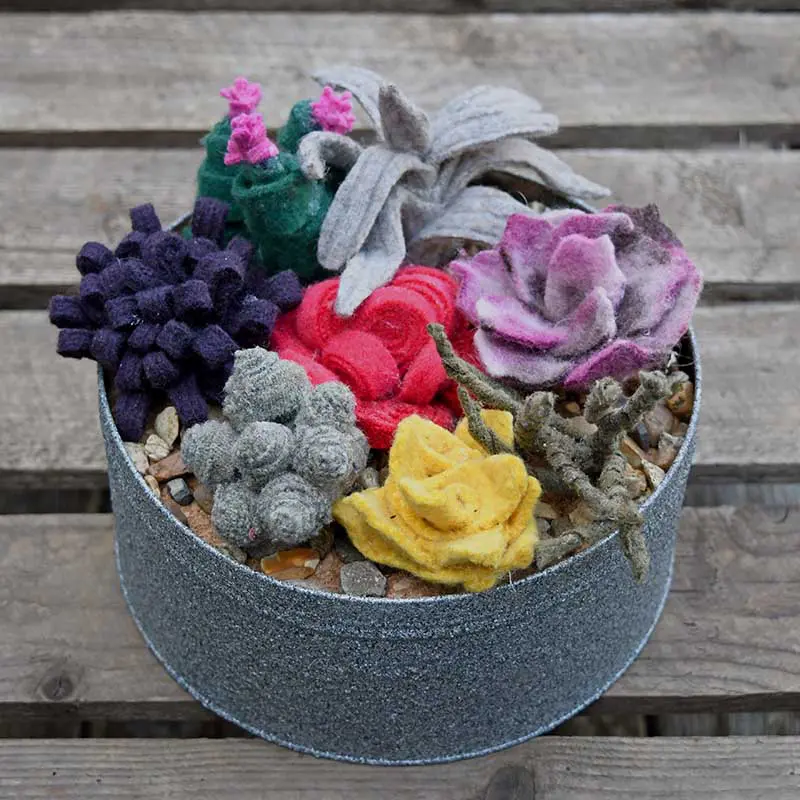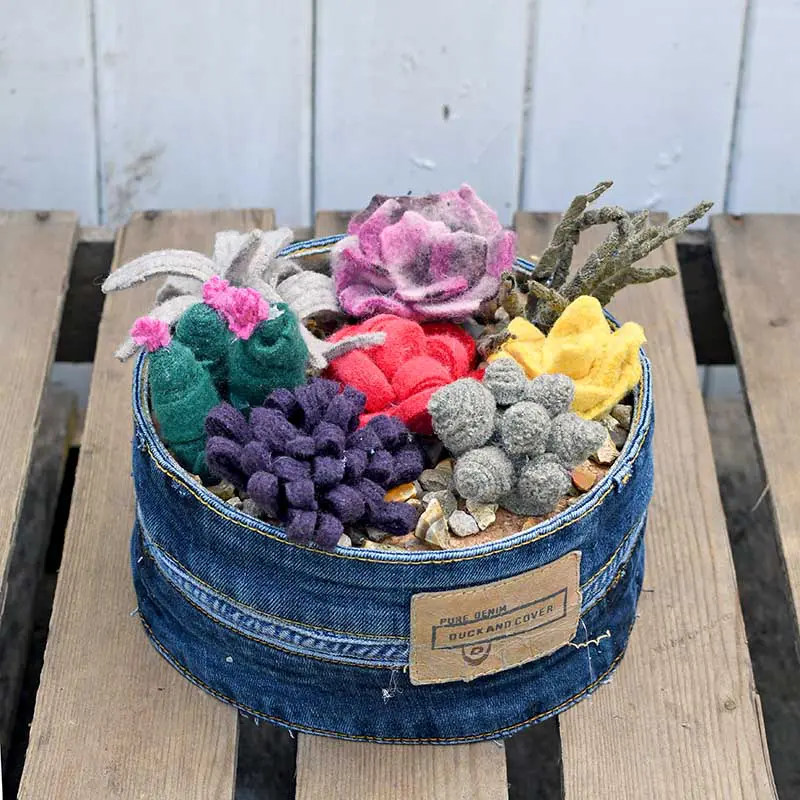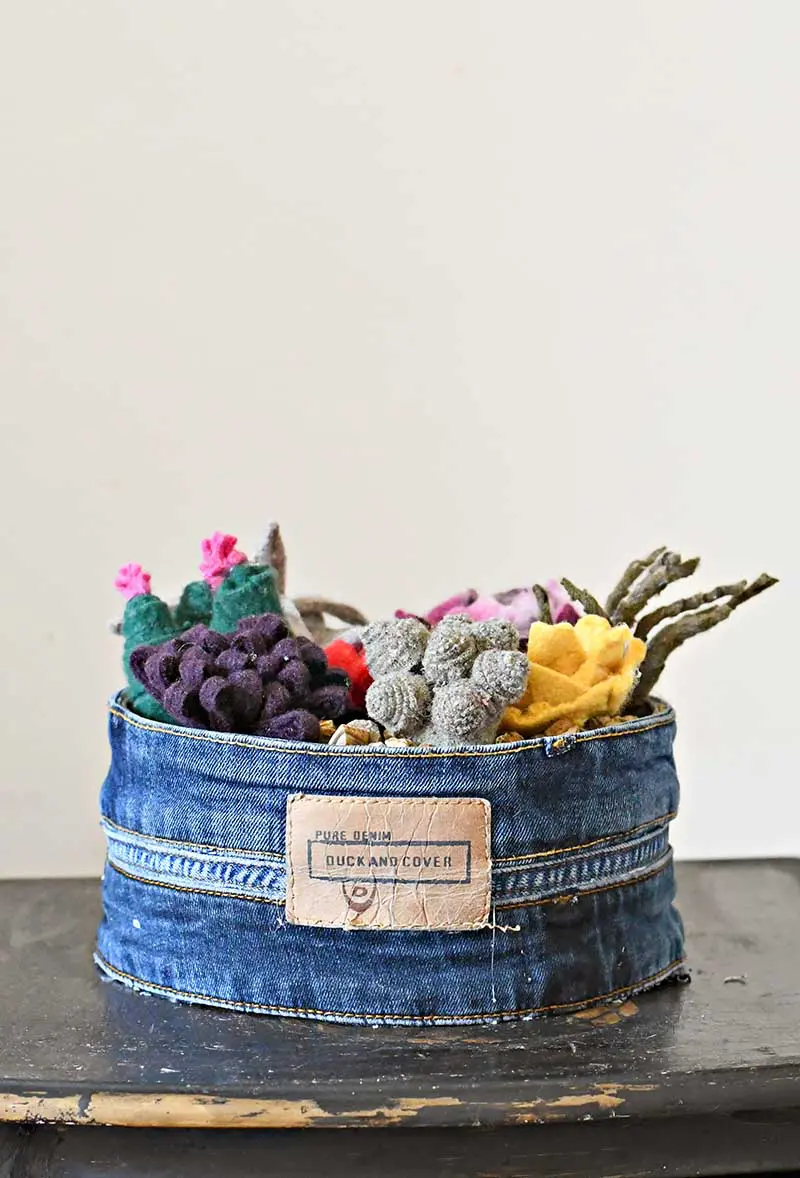 This is one succulent garden I won't be able to kill through neglect. I'll have to give it occasional dust. Also, it's hardly made a dent in my felt scraps, so I have plenty more to make many succulent gardens.
If you have a pair of jeans, you should check out this tutorial for making faux fabric snake plants.
I know Christmas is yonks away, but I fancy making a few of these as gifts. Great idea for a housewarming gift too. There is a tutorial for leather succulents with this leather craft round-up.
You can also use some smaller sweater felt scraps to make a pretty heart-shaped flower brooch for Valentine's day. Or use them to make some faux poppy seed heads.
This felt garden has a Mexican feel and would go together with my other Frida Kahlo crafts.
This succulent garden looks fabulous alongside my upcycled denim moths taxidermy.
Don't forget to check out my super cute scrap felt Christmas tree and other ways to repurpose old wool sweaters.