I have gone through the entire alphabet and have compiled a complete A to Z of denim crafts and upcycles. I get a buzz out of repurposing my old jeans, so I thought this would be a fun list to compile. You can find an A to Z list of general clever upcycling ideas here.
Jeans must be one of the most universal items of clothing on Earth. Most people I know own at least one pair. I personally, wear jeans almost every day.
With millions of pairs of jeans being made, sold, and worn every single day, there is never a shortage of denim to upcycle.
Any regular visitor to Pillarboxblue will know that I have a passion for upcycling denim for the home. Lucky for me, I have a ready supply of old jeans to upcycle and repurpose and have made a variety of denim crafts, from feathers to ottomans.
It is a lovely fabric that actually improves with age. The more worn a pair of jeans, the softer they become. When denim is dyed with indigo, the color only stains the outside of the jeans. This is why denim fades with age as it is gradually worn away.
That's why old jeans have such wonderful character and are fun to craft with.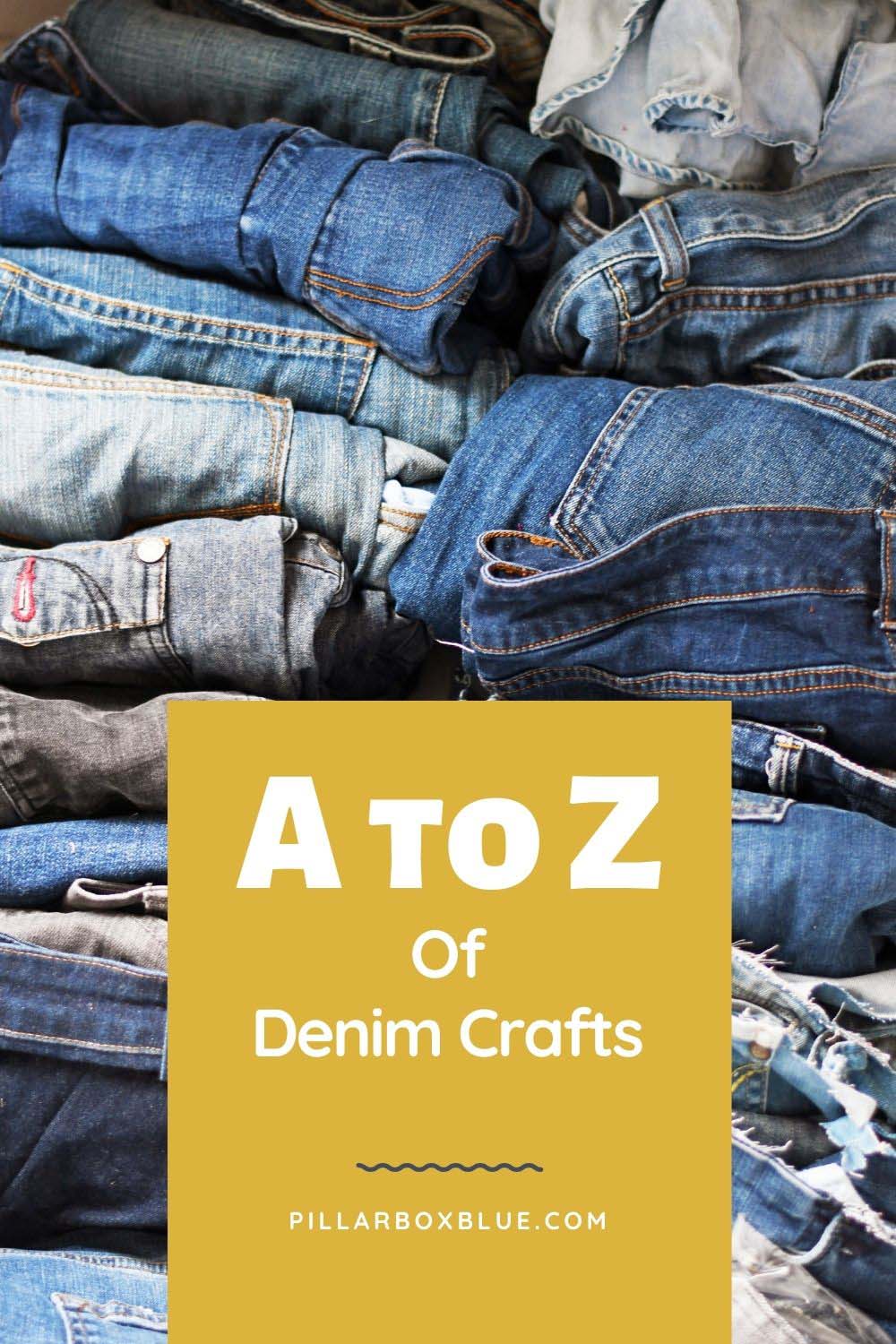 Denim Crafts For The First Half Of The Alphabet A-M
For these A to Z ideas nothing is wasted, all parts of a pair of jeans are used.
Larger denim upcycles, such as the upholstery of sofas and chairs, use the whole pair of jeans. Other denim crafts, used just the jeans pockets or the denim seams.
Hopefully, you will find a denim craft that will inspire you to upcycle your old jeans.
Remember, upcycling fabrics can be fun. There are many therapeutic and environmental benefits of upcycling.
To reflect my passion for repurposing jeans, I thought it would be fun to see if I could compile this A to Z of denim crafts. Not only did I manage to find something to fit every letter of the alphabet, but there was often more than one craft for each letter.
Most of the upcycles are my own, but I have also included some from my fellow bloggers too.
By the way, if you can think of any other denim upcycles for the difficult letters of X, Y, and Z I'd love to hear them. Or any others that you think should be on the list.
A is for Aprons, Advent Calendars & Angels
You can make a fabulous apron from an old pair of jeans. The jeans pockets can be a handy feature with the apron. When painting and crafting, I wear a denim apron made from a lovely soft pair of worn jeans.
Yes, advent calendars! I have even made one of those for my son. The best thing is that it can be used from year to year. The jean pockets on this advent calendar are a nice size for treats too.
Another fun thing about this advent calendar, my son actually recognizes the pockets from some of his old jeans.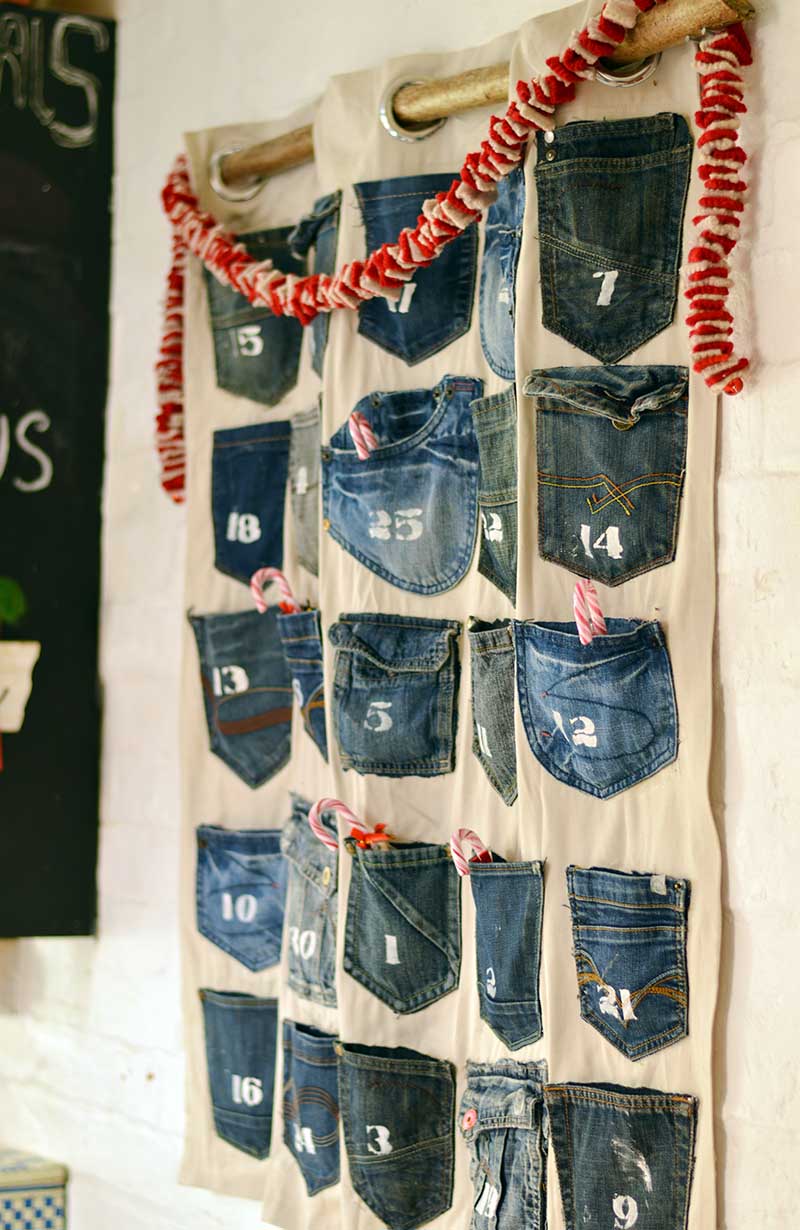 There are many Christmas crafts you can make from old jeans, including these cute pocket angels.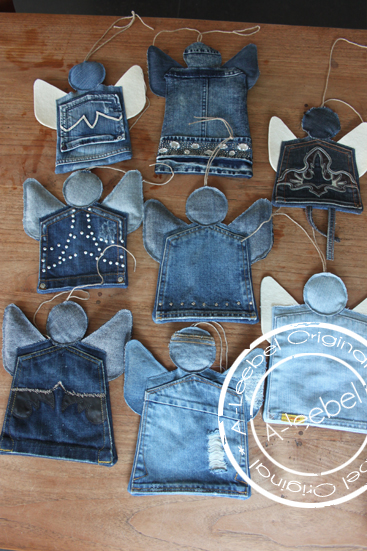 B is for Bags Boxes, Bunnies, Bows & Bowls
There are 101 different ways to make a denim bag. Vicky Myers has some of the best denim bag tutorials, such as this denim tote.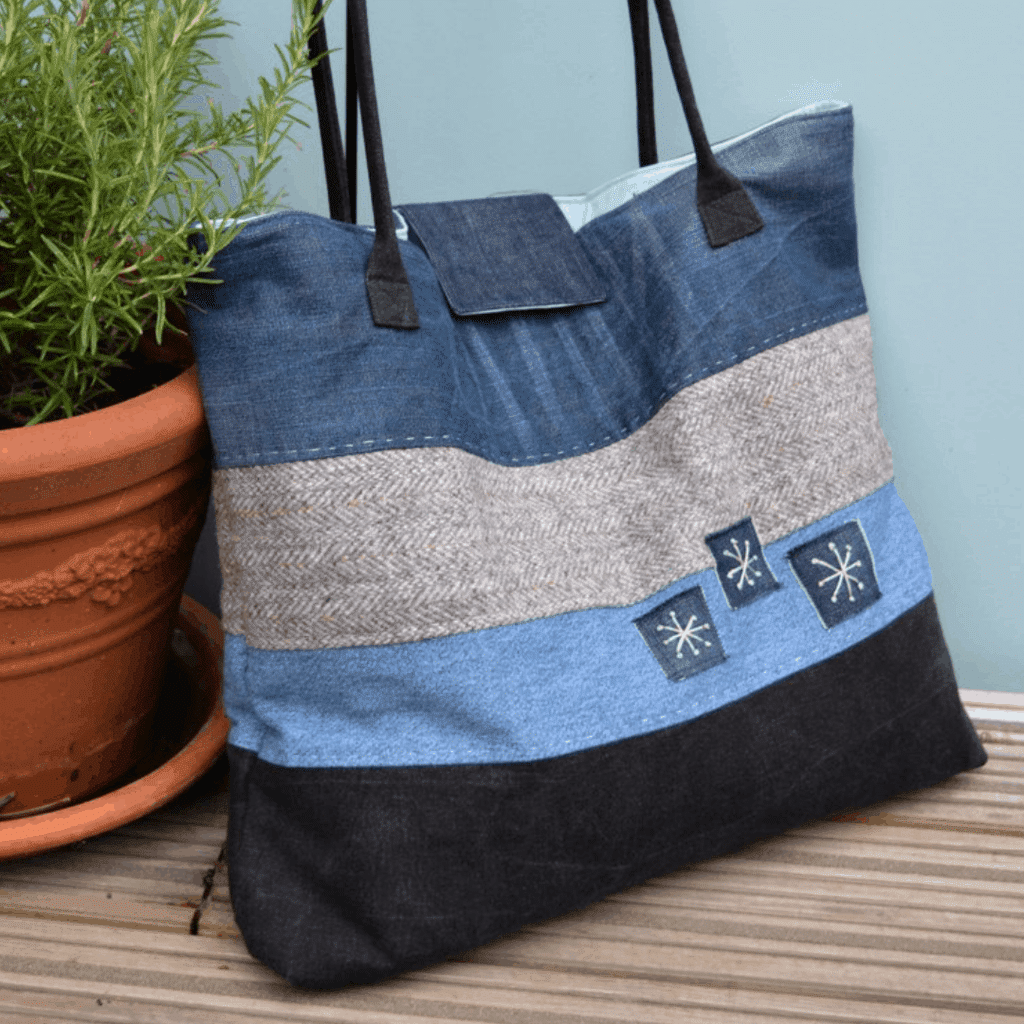 Simply cover a cardboard box in denim to turn it into fun storage. Then add a bit of humor by stenciling onto the denim. This is very easy to do using white acrylic paints.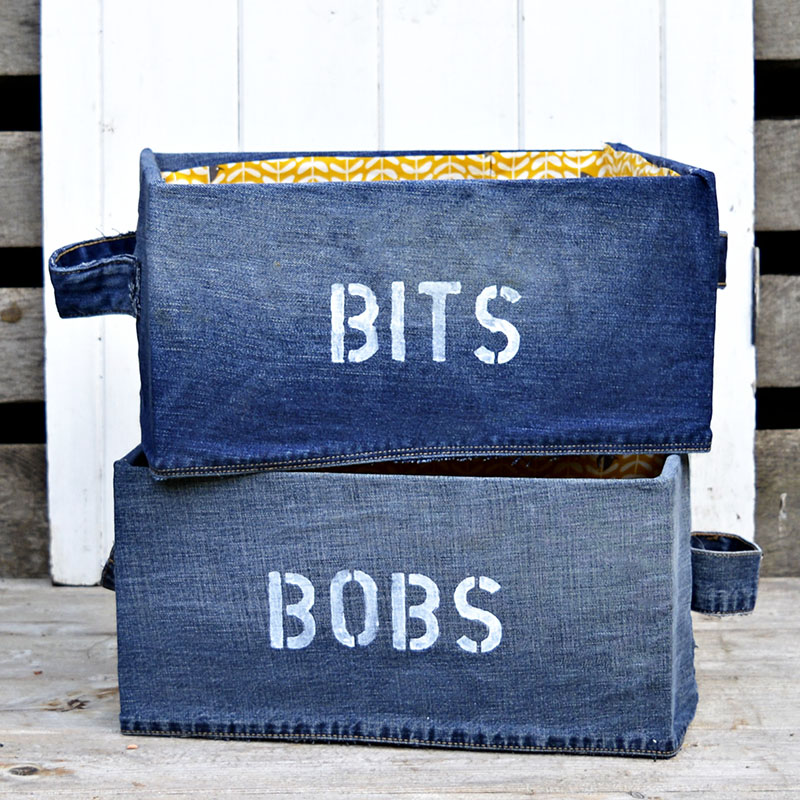 There are two different ways to make denim bow ties from old jeans.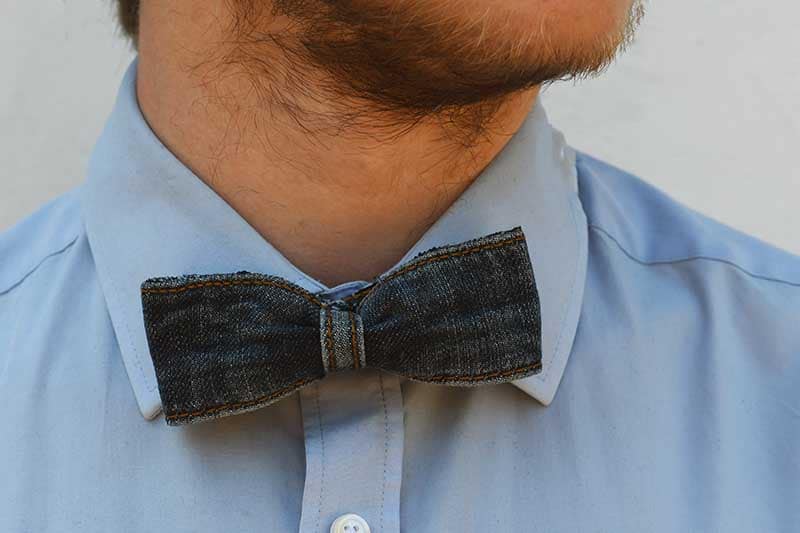 The best thing about these denim fabric bowls is that they don't require any sewing, nor do these denim bunnies.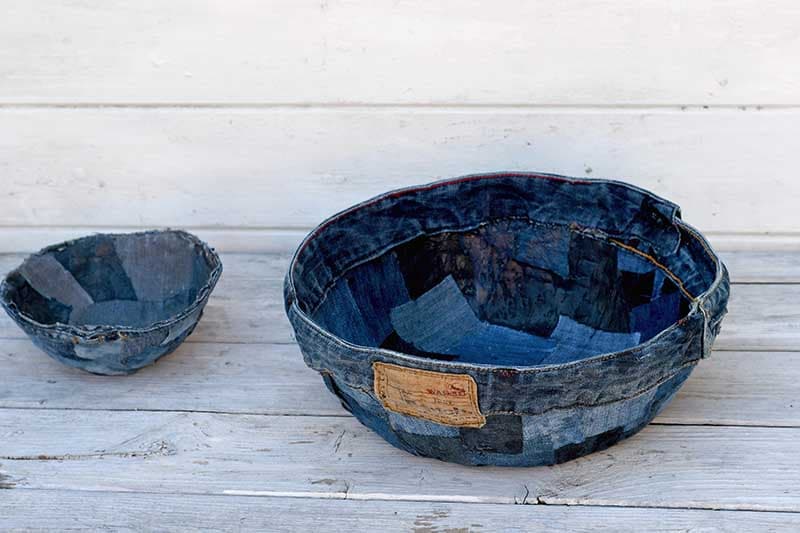 C is for Chairs, Curtains and Crowns
Denim is a hardwearing fabric, which makes it good for upholstering chairs. Patchwork denim makes good heavy curtains. The curtain tab tops are made from jeans waistbands.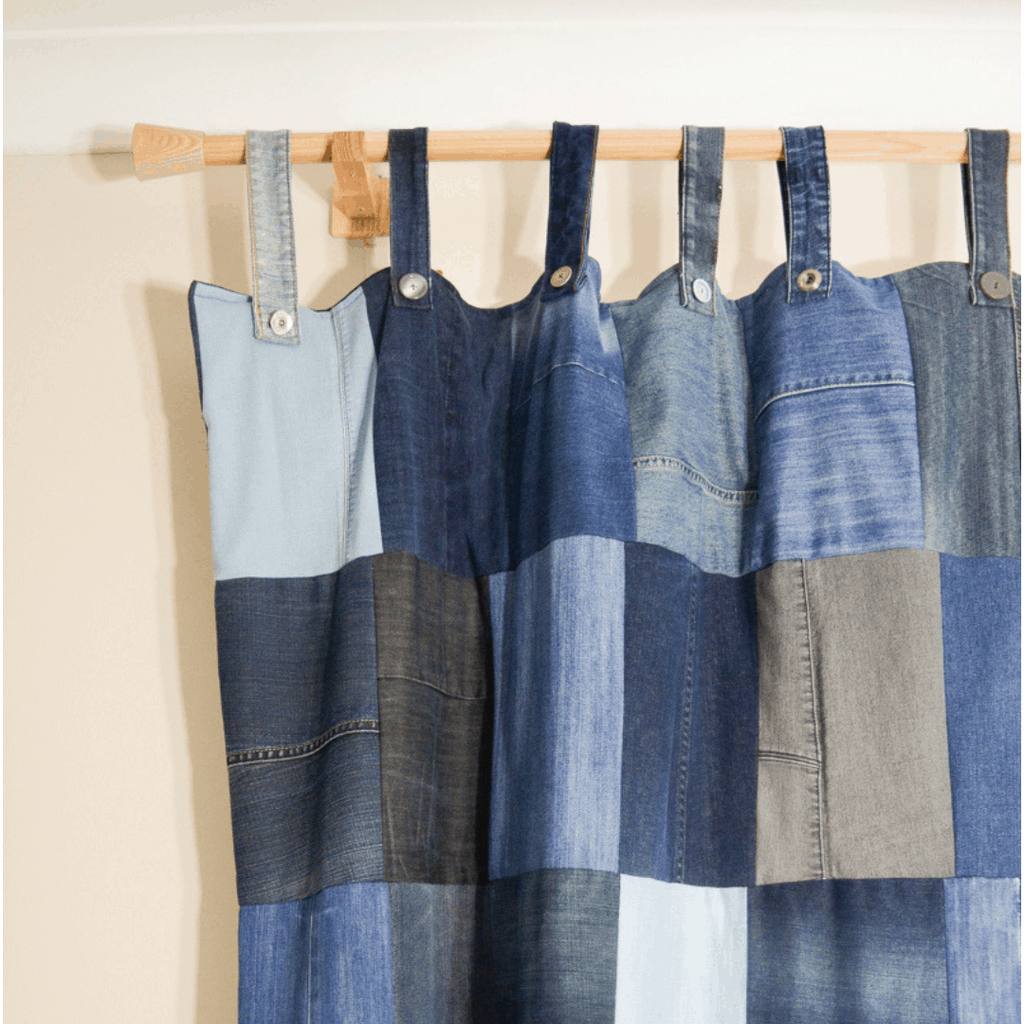 A denim crown would be a great addition to any kid's dressing-up box. C is also for coasters, check out these no-sew denim seam coasters.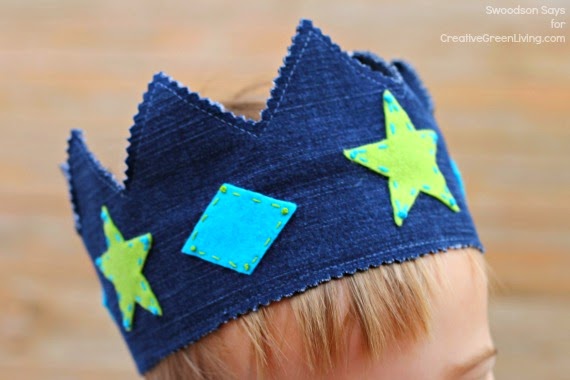 D is for Dala Horses & Dog Toys
These cute denim Swedish Dala horses were made originally as a Christmas decoration, but they will look good all year round.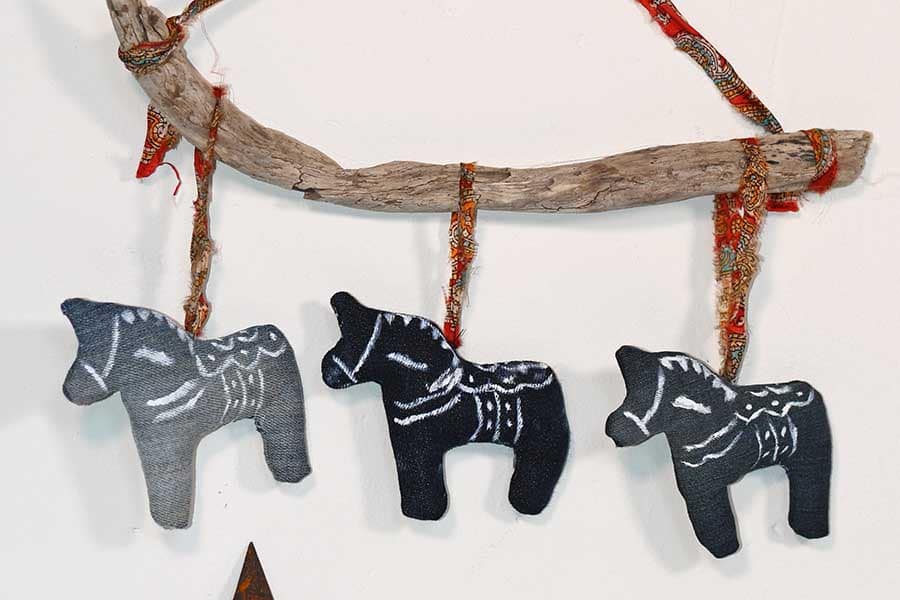 My dog Toby loved these handmade denim dog toys, especially when I hid a treat in the pocket. The squeak did drive us a bit mad, though!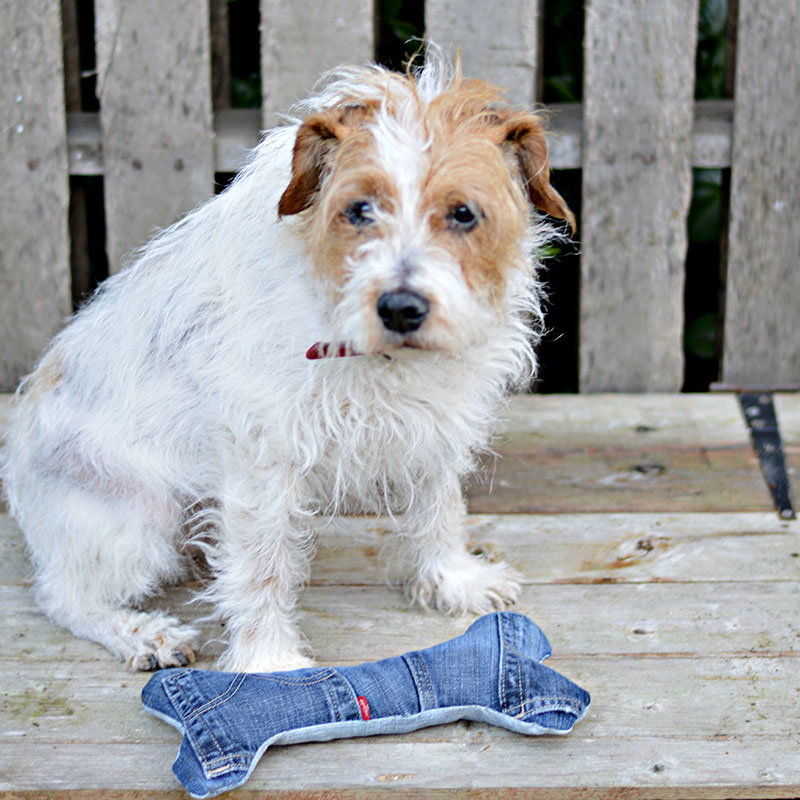 E is for Easter Eggs & English Paper Piecing
Cover eggs in denim scraps to create a unique rustic farmhouse style Easter decoration.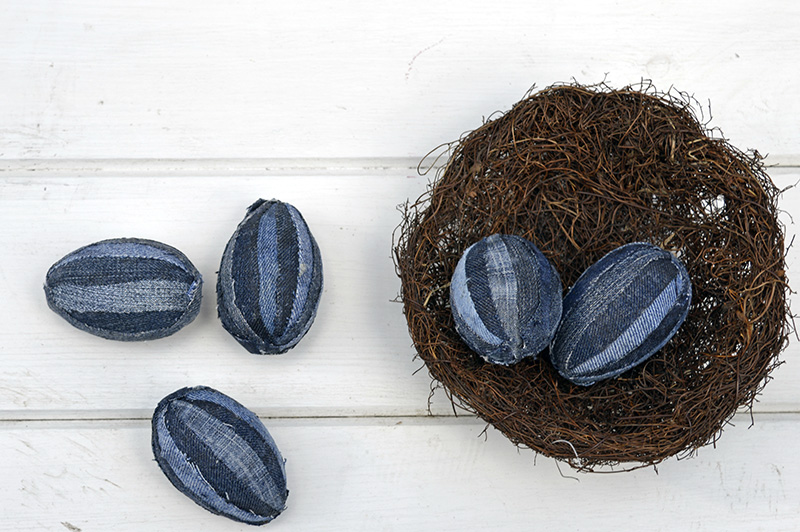 English paper piecing is a patchwork technique that was used to reupholster these chairs with a unique denim hexagonal pattern.
It's a great way to create a large piece of denim for crafting with scraps. The hexagon pattern shows off all the different shades of indigo denim. This is a slow denim craft that can be done over time whilst watching TV.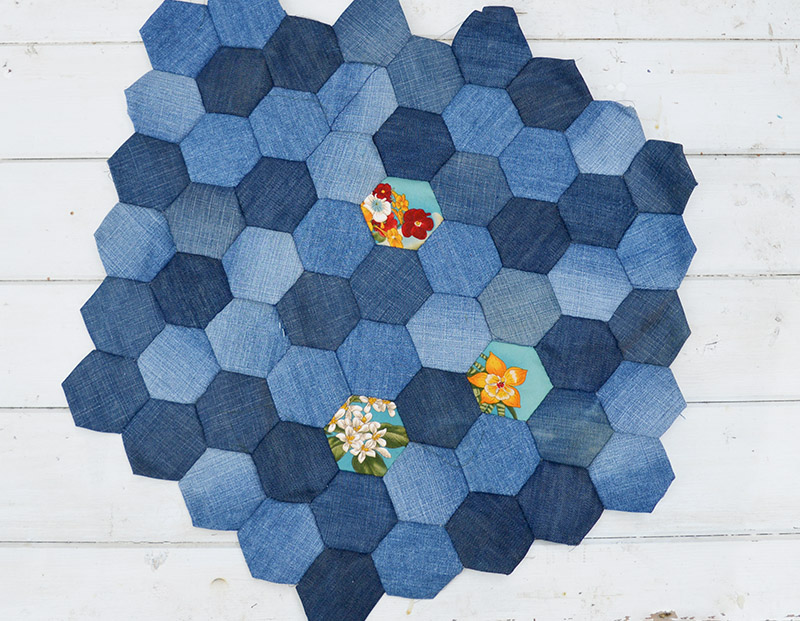 F is for Feathers and Fish
These two F denim crafts are both great scrap busters. The denim feather wall hanging is one of the most popular posts on the site. It's also one of my more addictive crafts. I often make denim feathers from scraps while watching TV.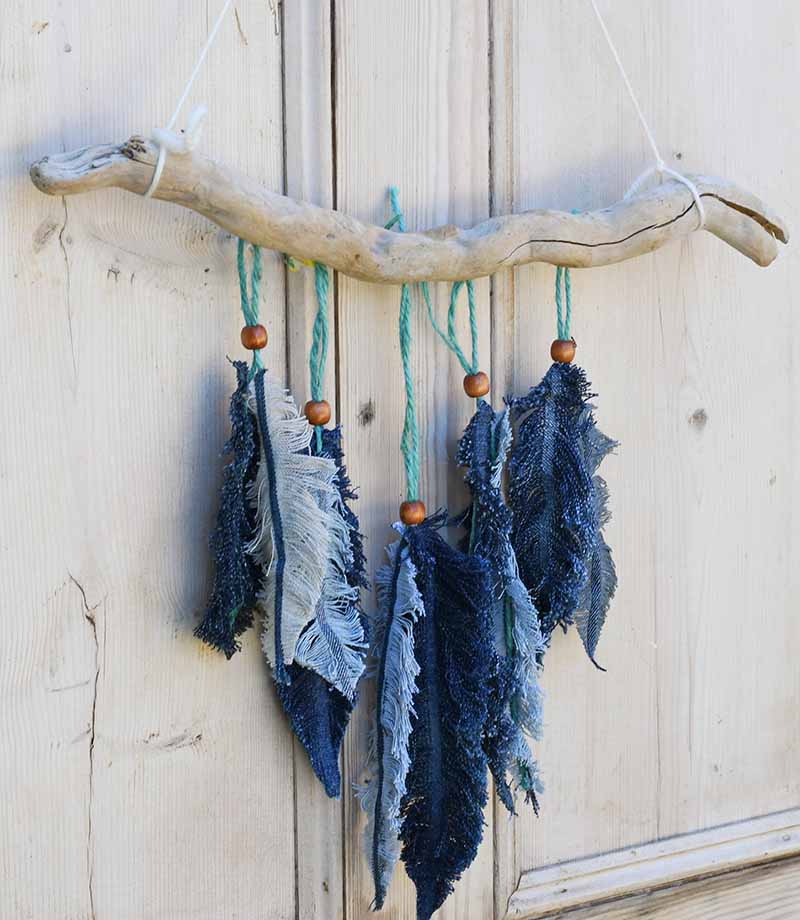 Another very popular denim craft is making pillows. There are many different denim pillow designs my favorite are these fish pillows. They would look good in any seaside home.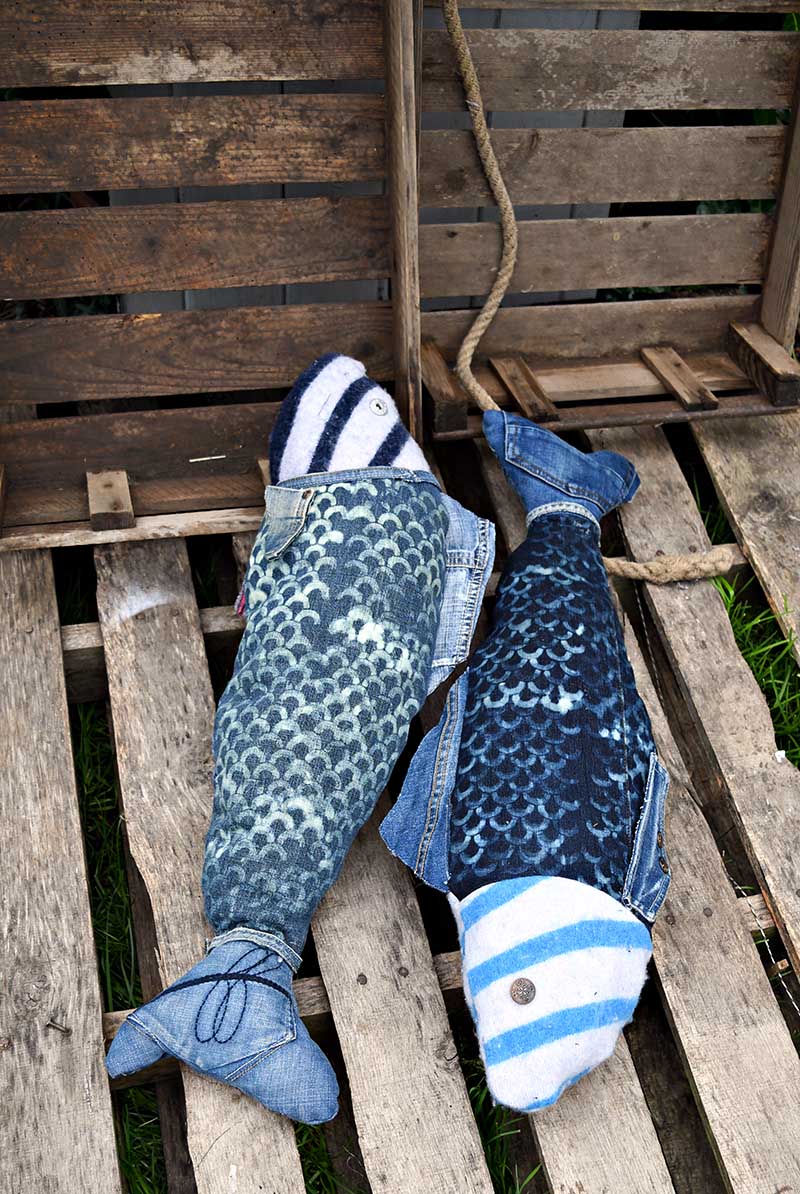 G is for Glasses Case and Gift Tags
Turn a jeans pocket into a handy denim glasses case and phone holder in one. This is a great handmade gift idea. You can even make a personalized denim gift tag to go with it.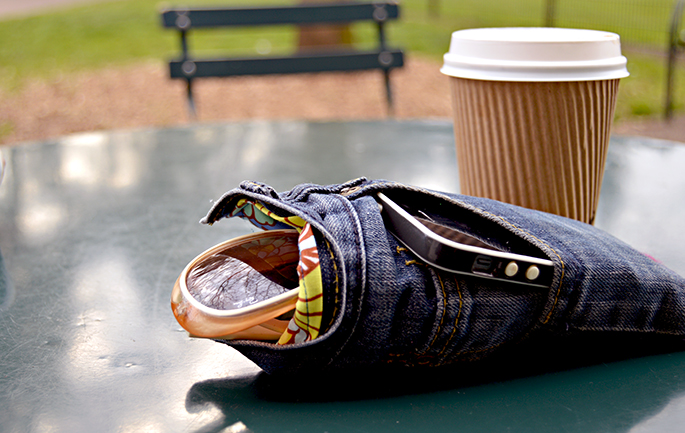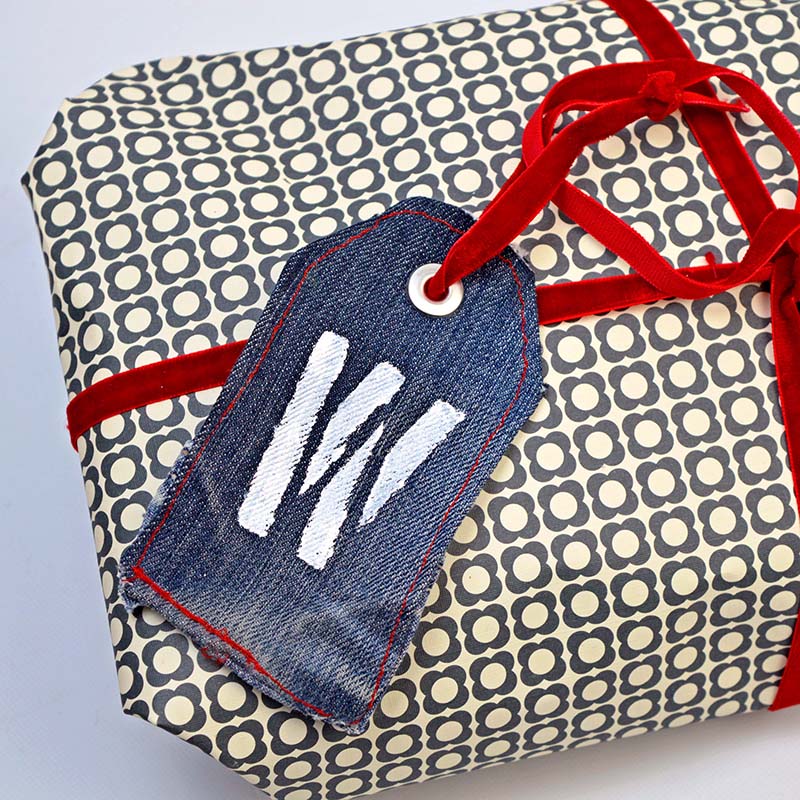 H is for Hearts
All you need are your jeans scraps and an old coat hanger to make these rustic denim hearts.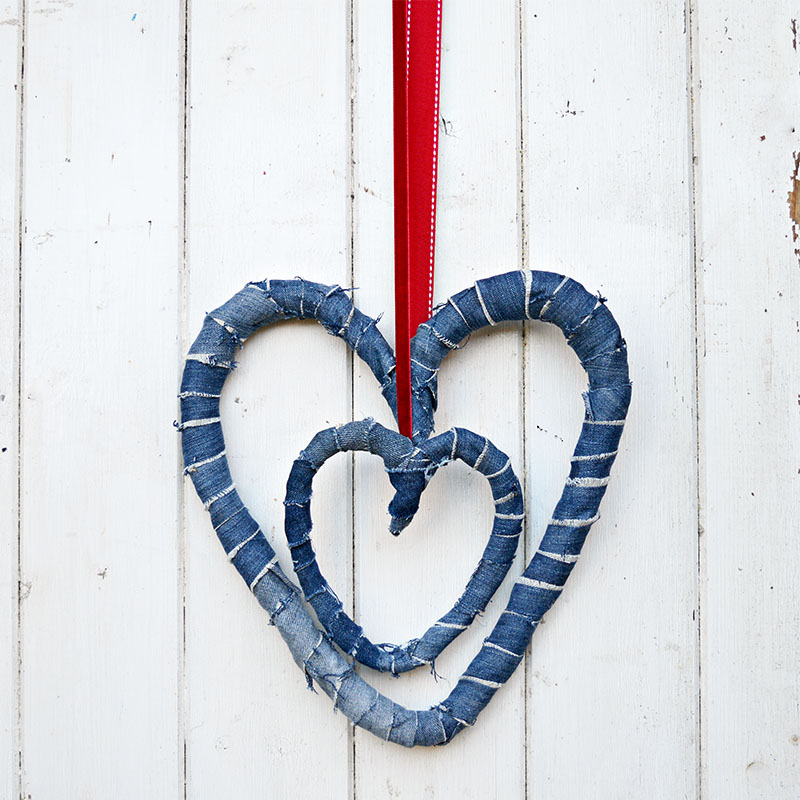 H is also for hexagons, check out these patchwork denim placemats.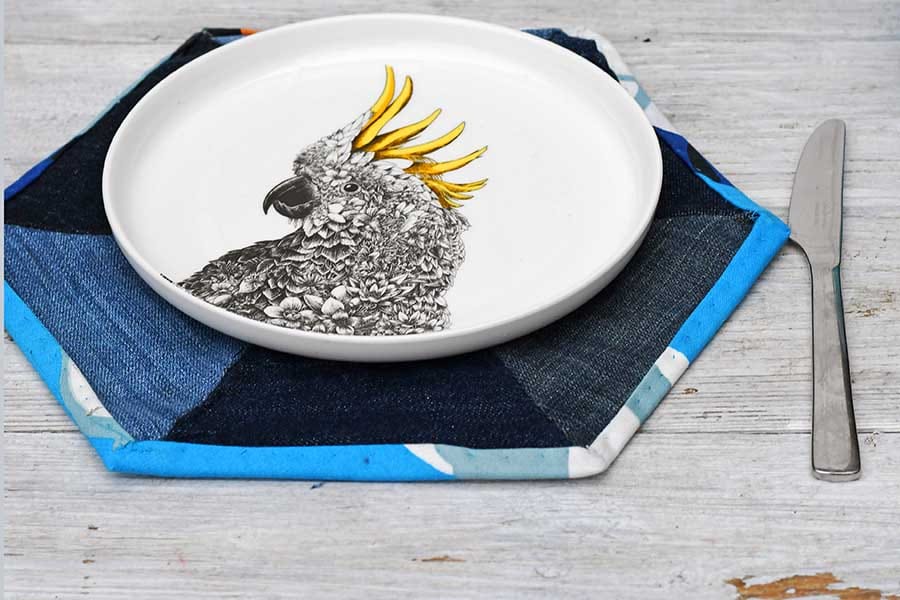 I is For Indoor Herb Garden
This handy indoor herb garden hangs in my kitchen. The herb pots sit in little denim pouches with labels on them. The labels help my son as he doesn't know his basil from his coriander (cilantro).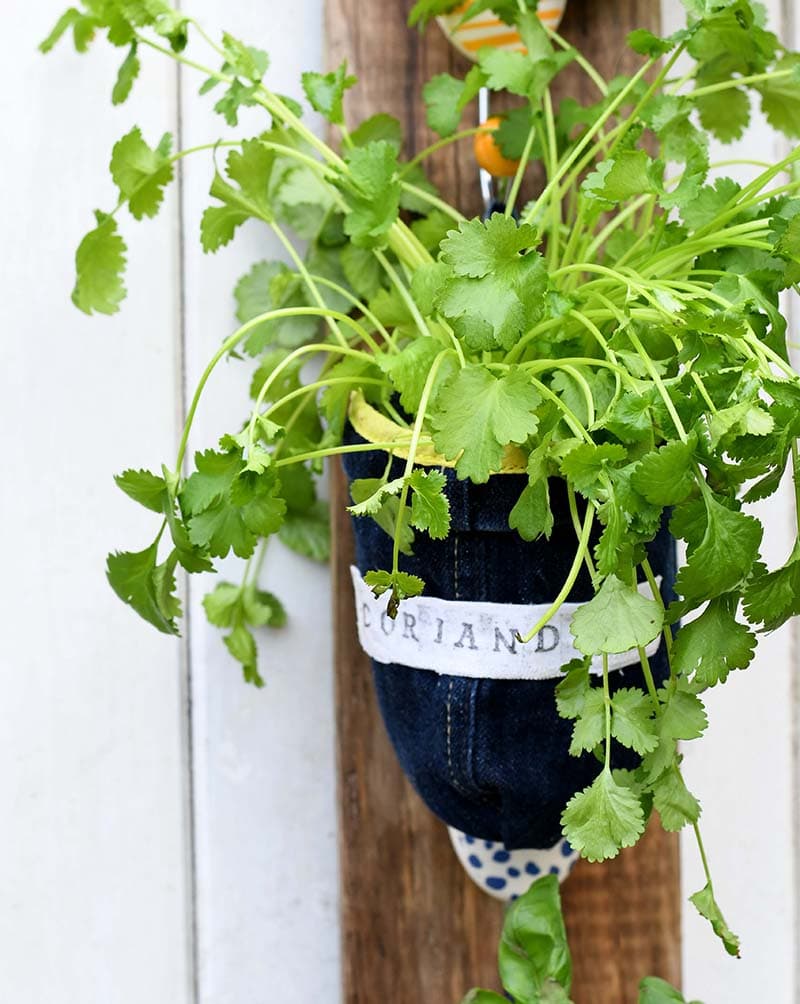 J is for Jewelry and Junk Gnomes
I've seen many cute bracelets and cuffs made from jeans scraps, including these clever cuffs made from denim waistbands.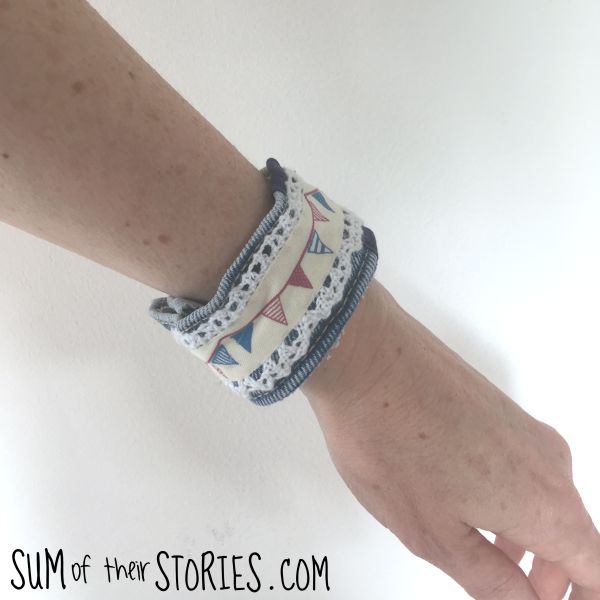 Denim and other upcycled bits and pieces are crafted into these cute Junk gnomes.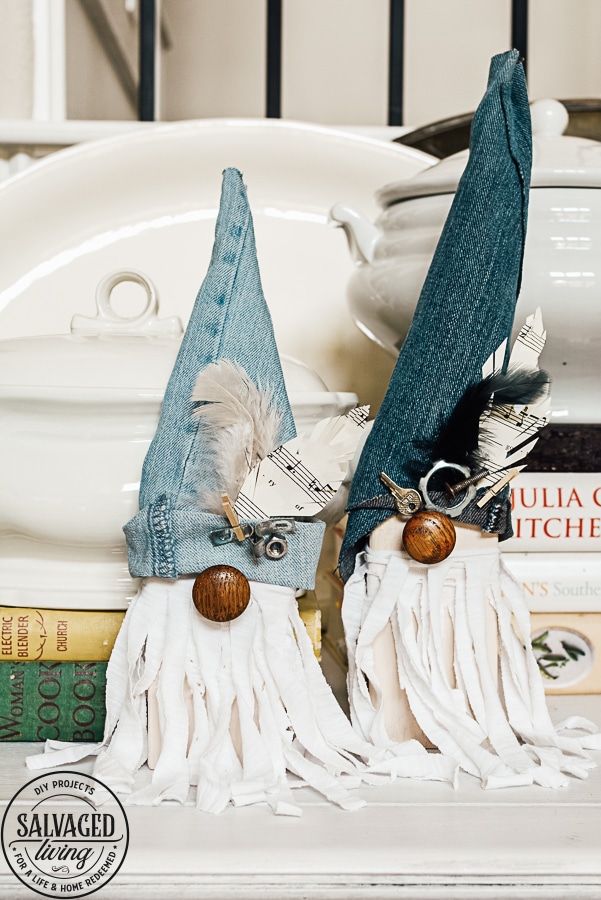 K is For Key Chain and Key Fob
Make a heart-shaped keychain for the door from your denim scraps. They are a lovely handmade Valentine's gift, especially if you make them from their own old jeans.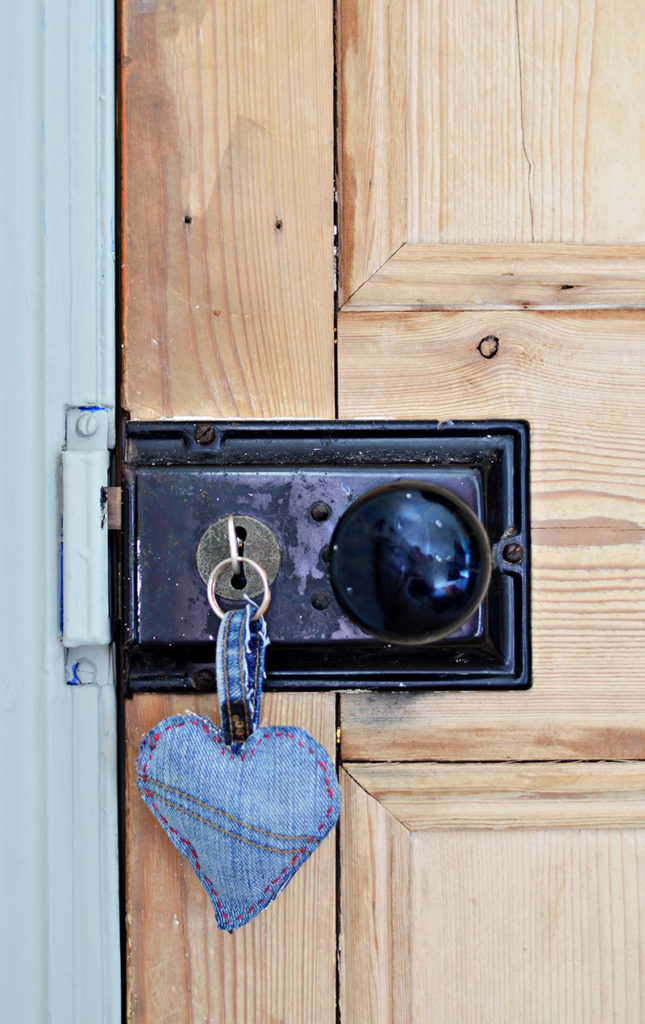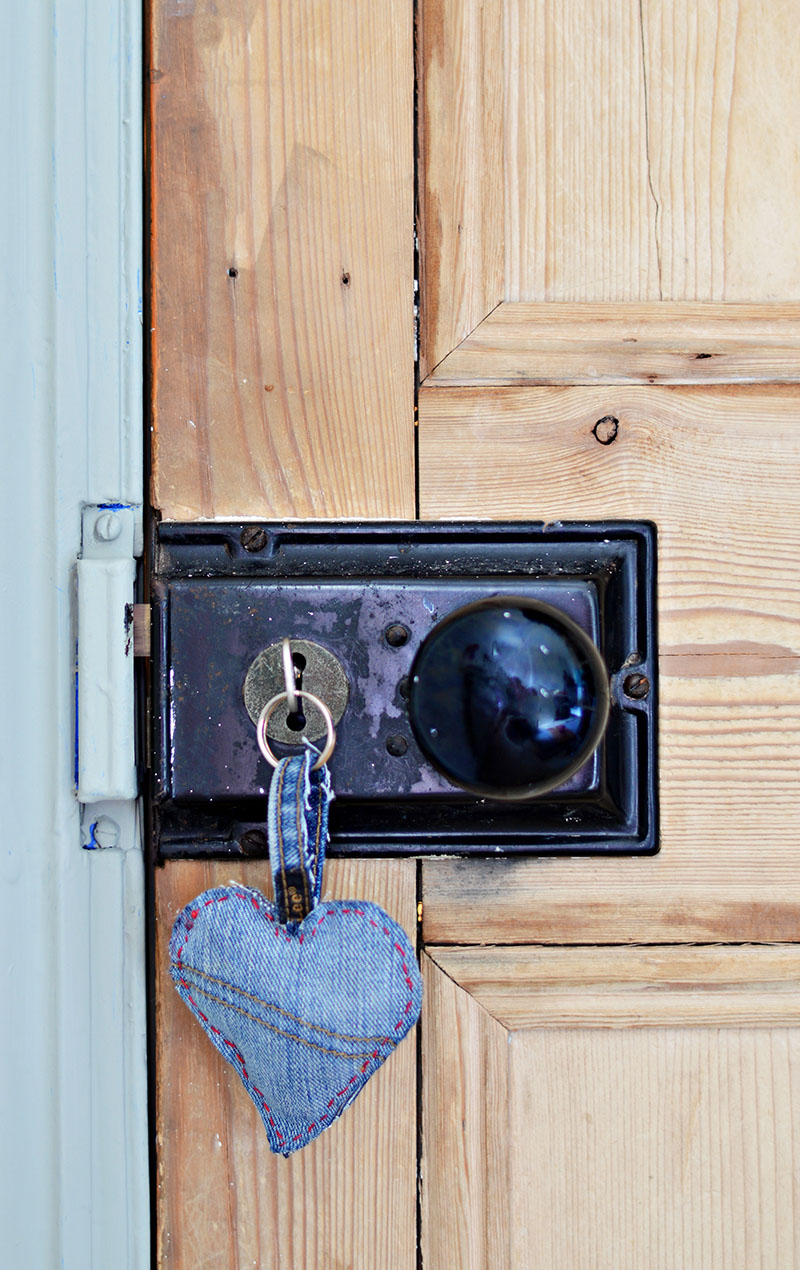 These personalized DIY fabric key fobs from denim waistbands would make a lovely gift.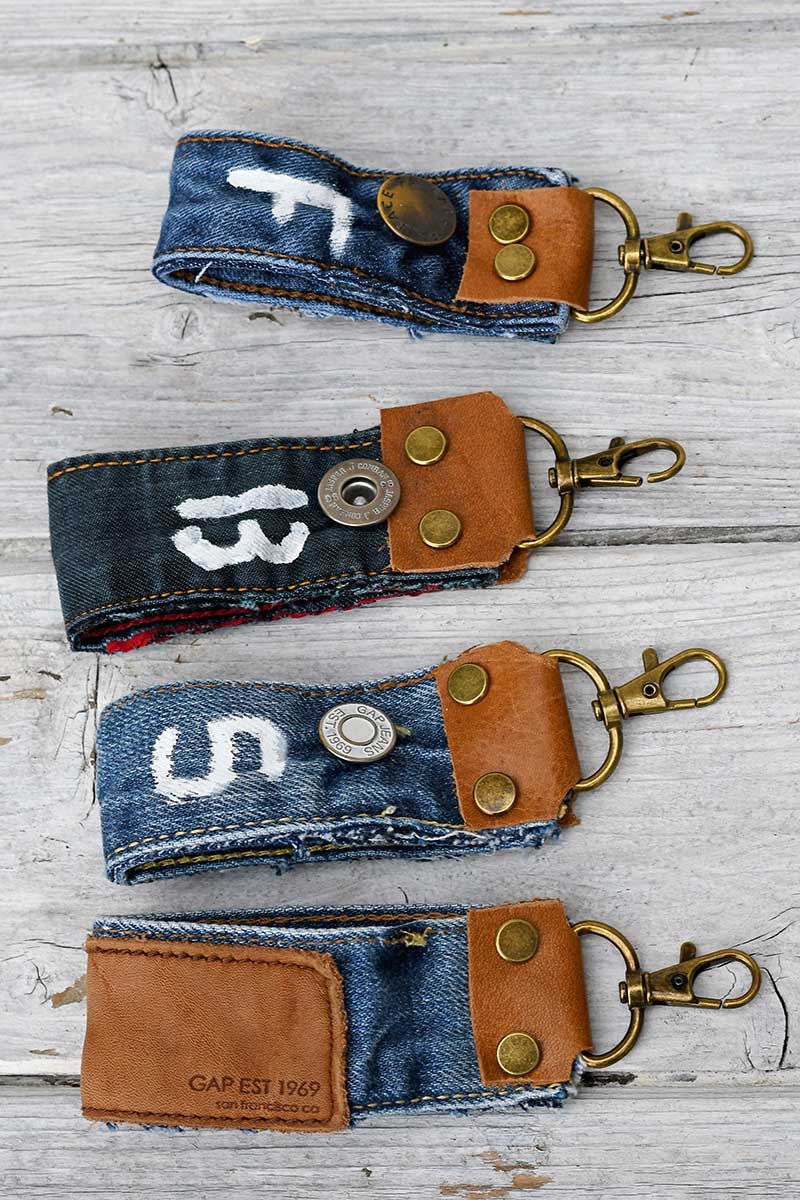 L is for Lampshades and Lap Top Cases
Denim can be used to make lampshades, like this woven one made from just the seams of old jeans.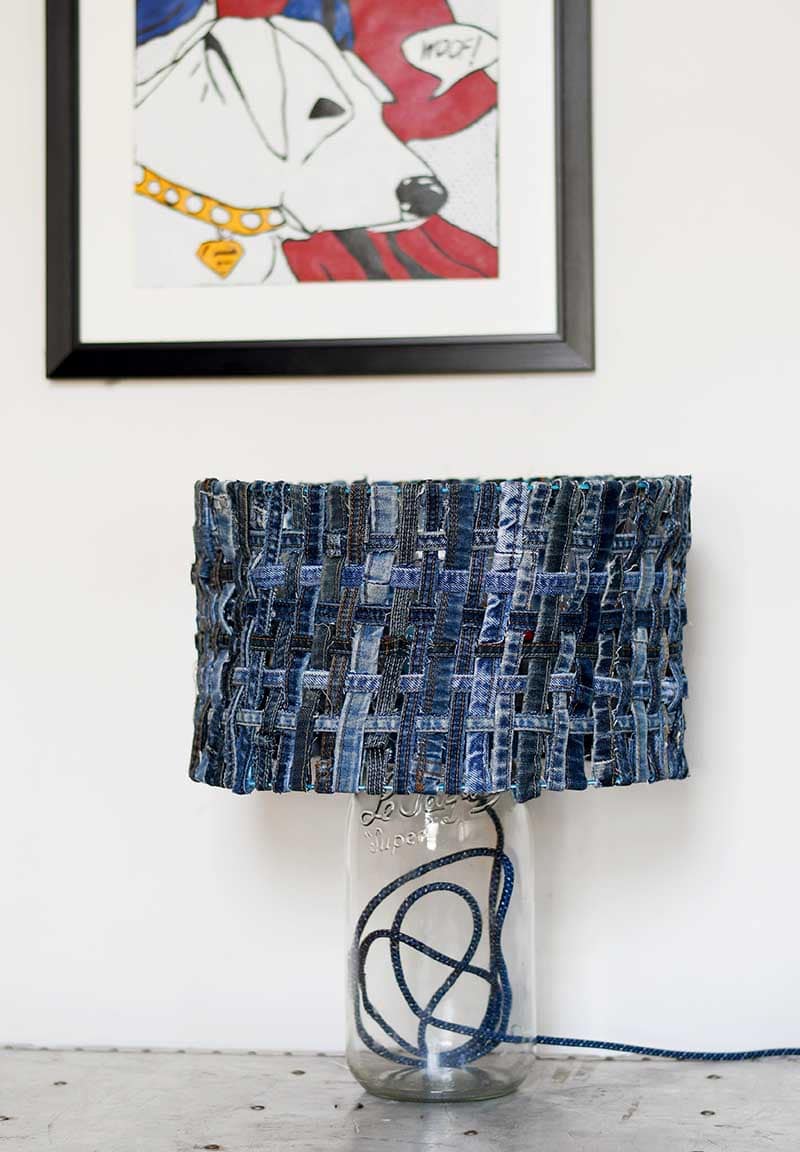 The pockets on the jeans give this laptop case and handy extra feature, great for storing memory cards and USB sticks.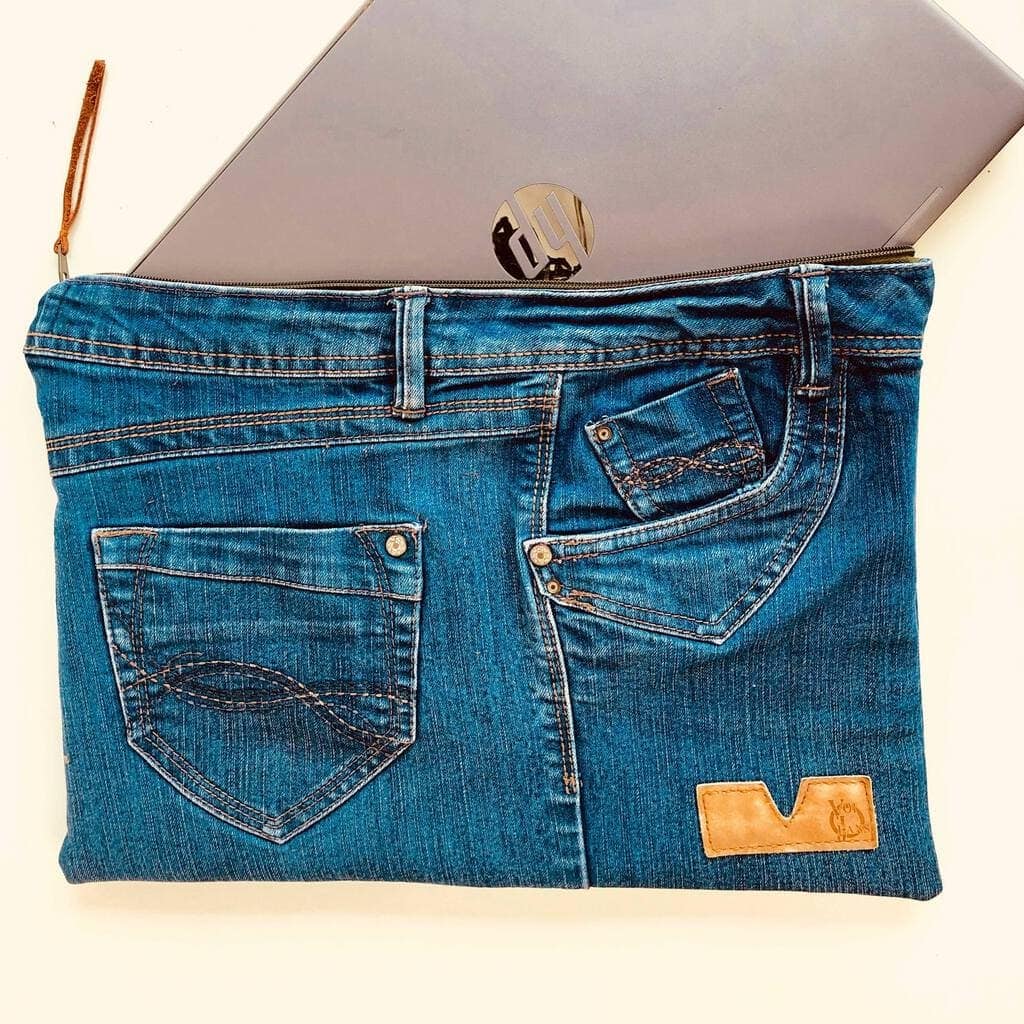 M is for Magazine Racks, Moths and Mushrooms
Copper and denim go well together to make this fabulous upcycled magazine rack. The copper is just old bits of plumber piping.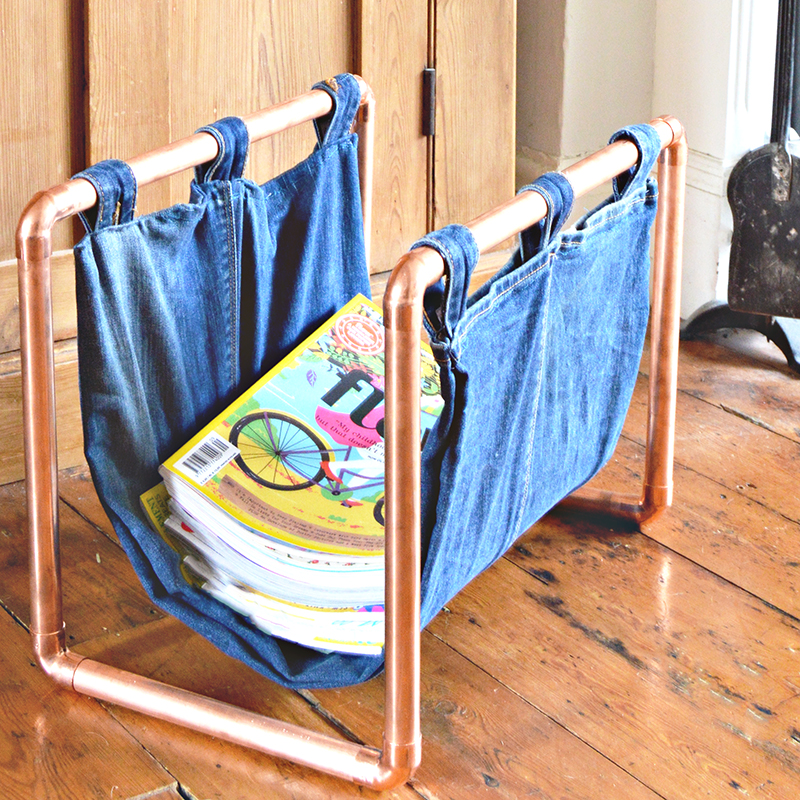 The smallest of scraps are used to make faux fabric moths, for this fun whimsical denim craft.
They look fabulous displayed like Victorian insect specimen trays. This craft is kinder to the environment rather than using real moths. It is also a great way to show off all the different shades of indigo denim. They also match the denim fabric mushrooms I made.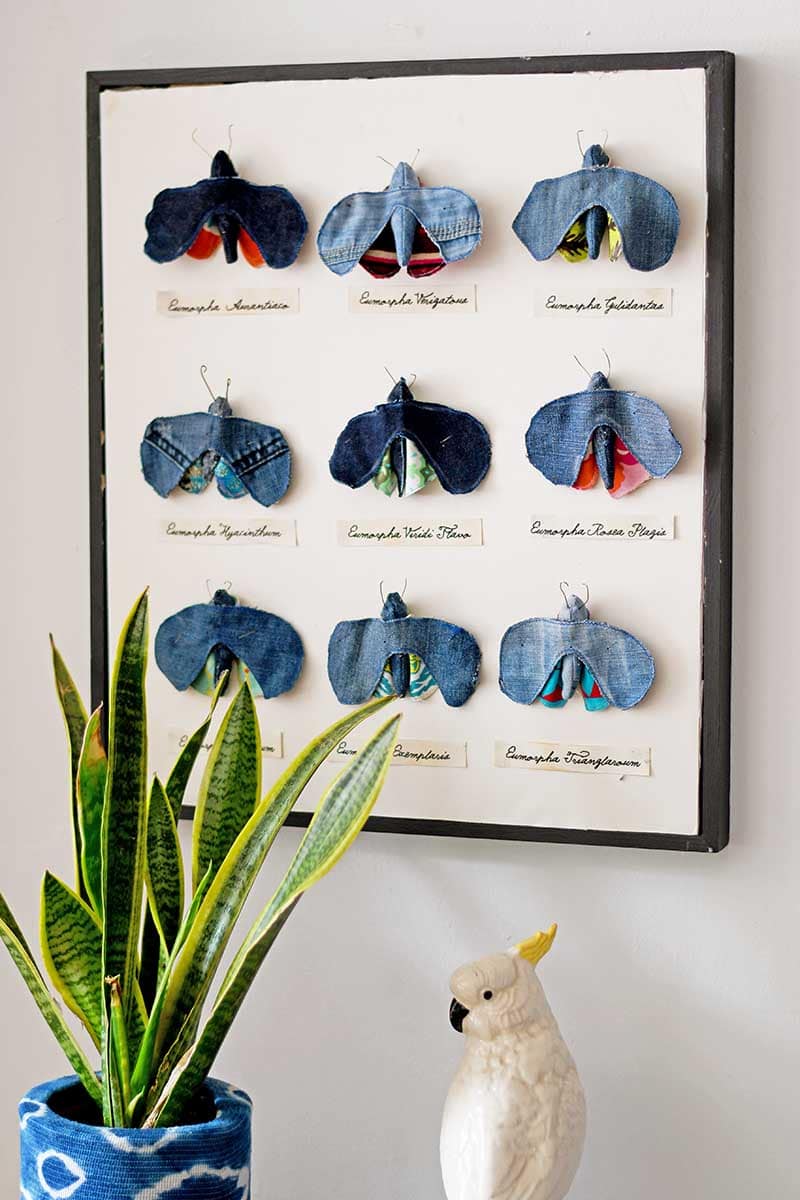 The Second Half of The Alphabet N-Z
N is for Napkin Rings and Necklaces
The waistband from a pair of jeans can be repurposed into some unique napkin rings. What I love about this denim craft is that the jeans buttons are used.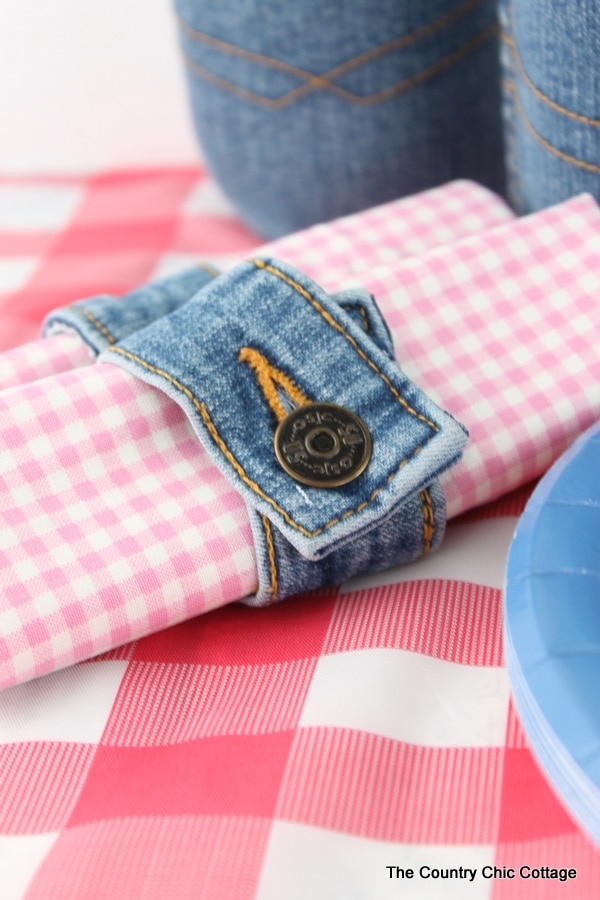 I will be making one of these jeans necklaces soon. They are so lovely and a great way to use denim scraps.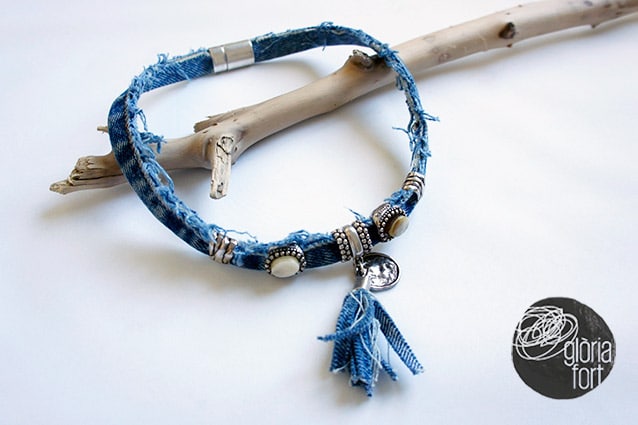 O is for Ottoman, Organizer and Ornaments
Upcycle a crate with denim to make a nifty ottoman. Not only does it provide you with extra seating, but storage too. This would look great in a man cave and can be personalized by stenciling your family name on the side.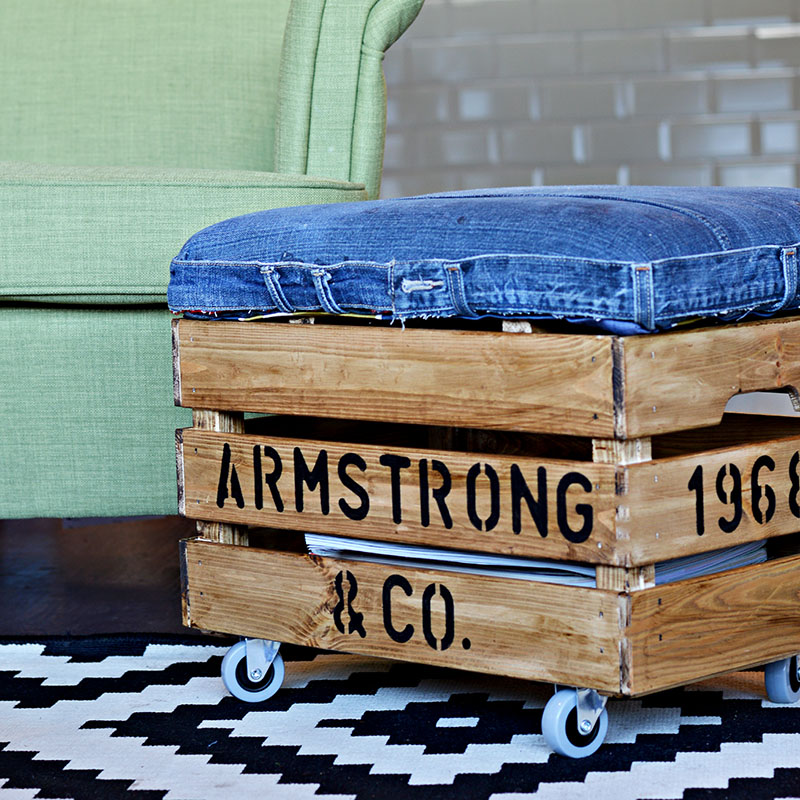 The denim pocket organizer was my first denim upcycle on the site. It still hangs on my son's bedroom wall and is very handy. He even recognizes some of the pockets from his old jeans. What I love about this denim craft is that it uses both front and back jeans pockets.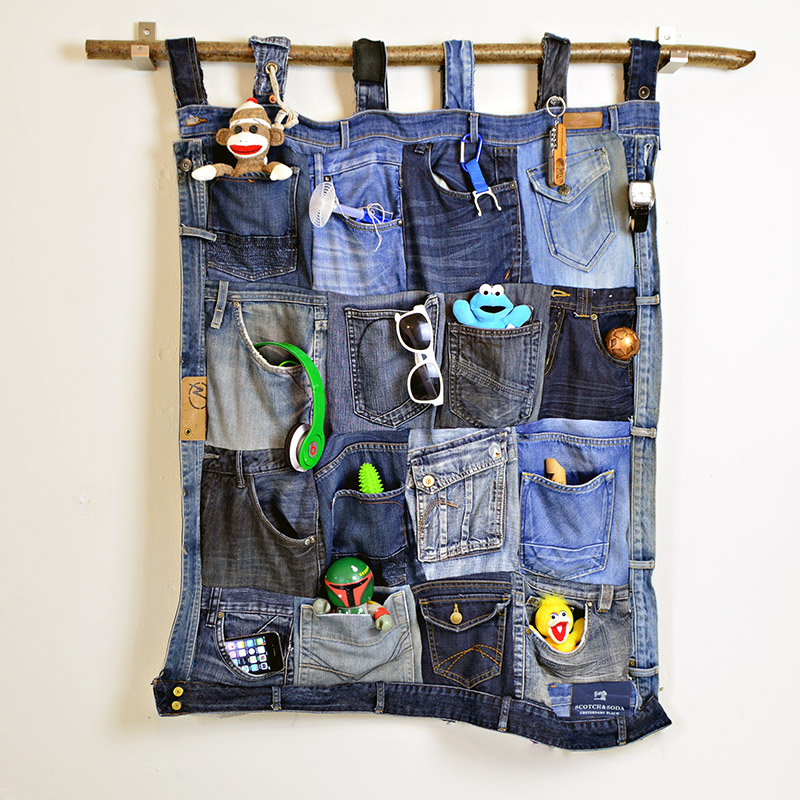 Every year I make a new denim Christmas ornaments. This year I made these cute hanging trees out of the smallest of denim scraps.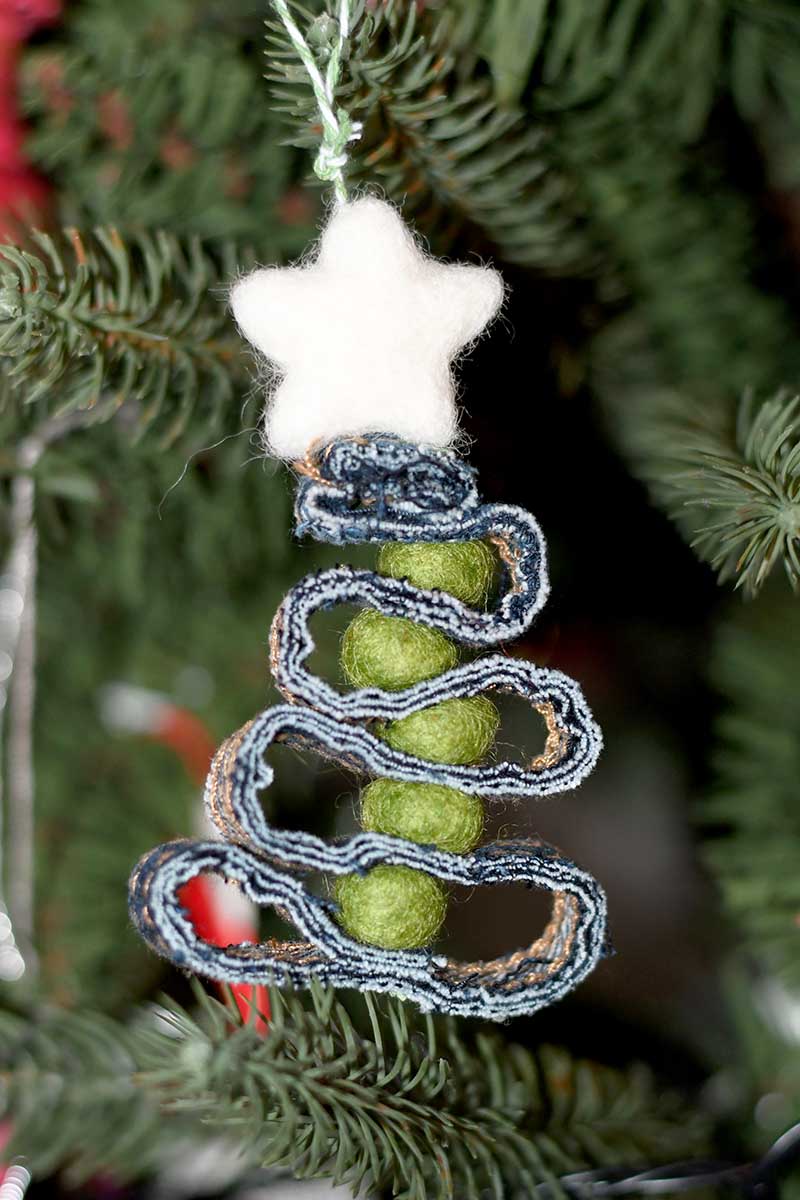 P is for Photo Frames, Planters, and Pocket Holders
These photo frames are an example of how every part of a pair of jeans can be upcycled. The frames are made from denim belt loops.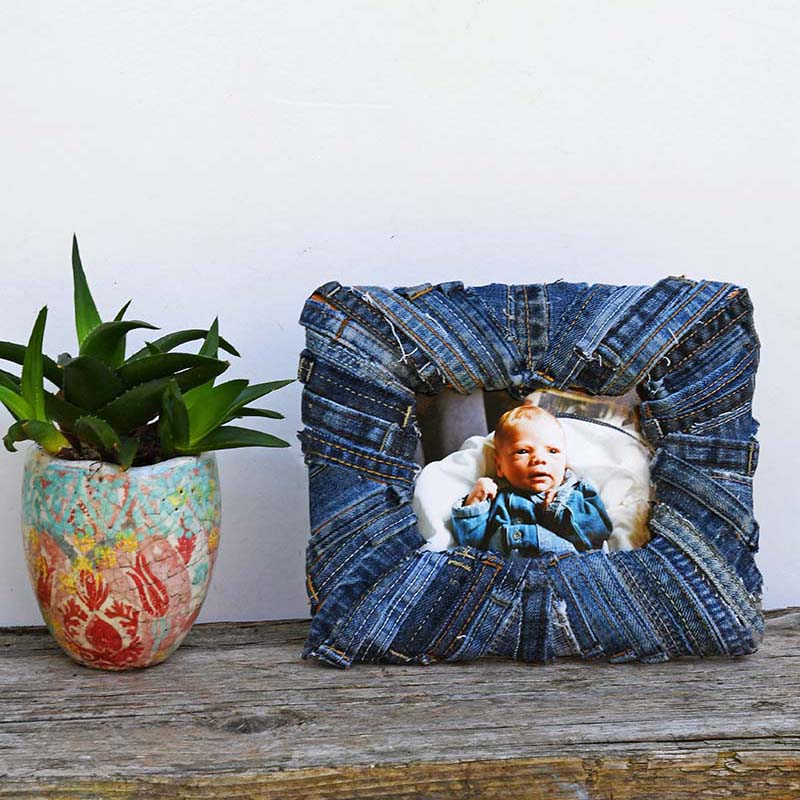 Denim seams and tin cans combine to make cool jean planters. They can be made with tin cans of any size, using denim waistbands on larger cans.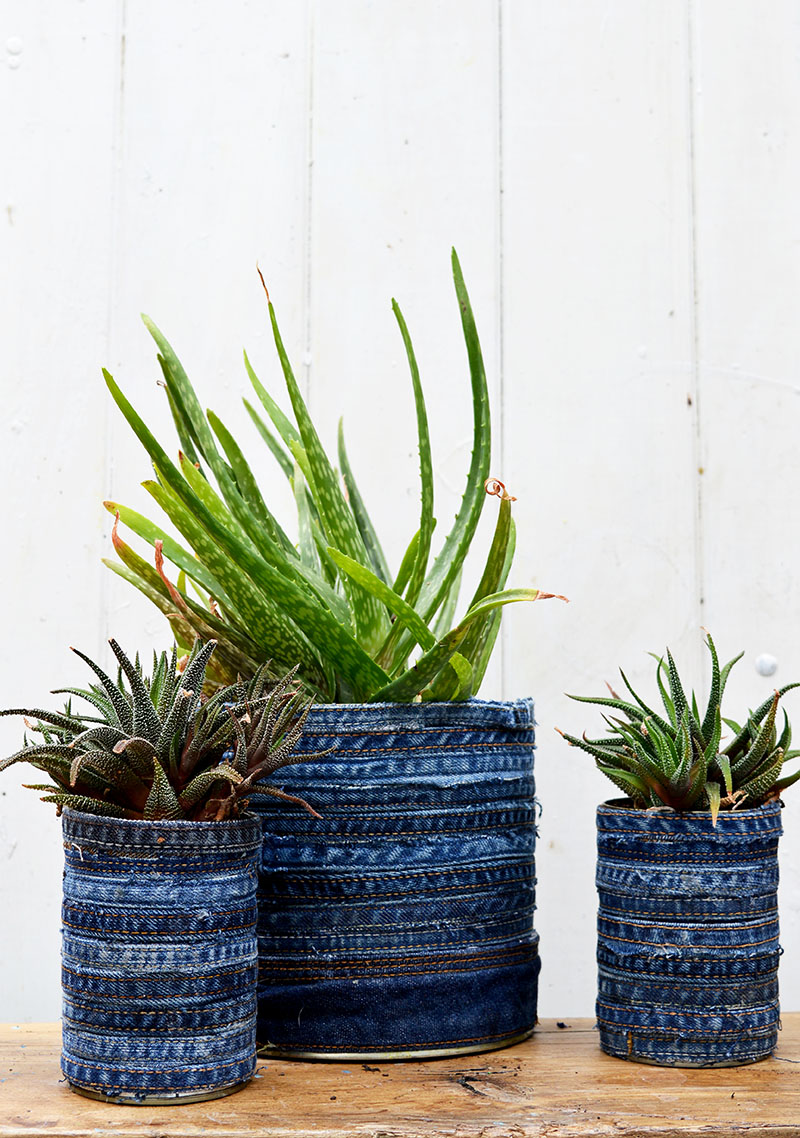 The pockets from old jeans are fun to repurpose and can really add character to a denim upcycle. The pockets of several pairs of jeans, each stitched with a letter representing a colour of the alphabet, were used to make these hanging rainbow storage pockets.
I hang them on my pegboard and use them to sort and store my coloured pens. Also, check out these applique pocket gift bags.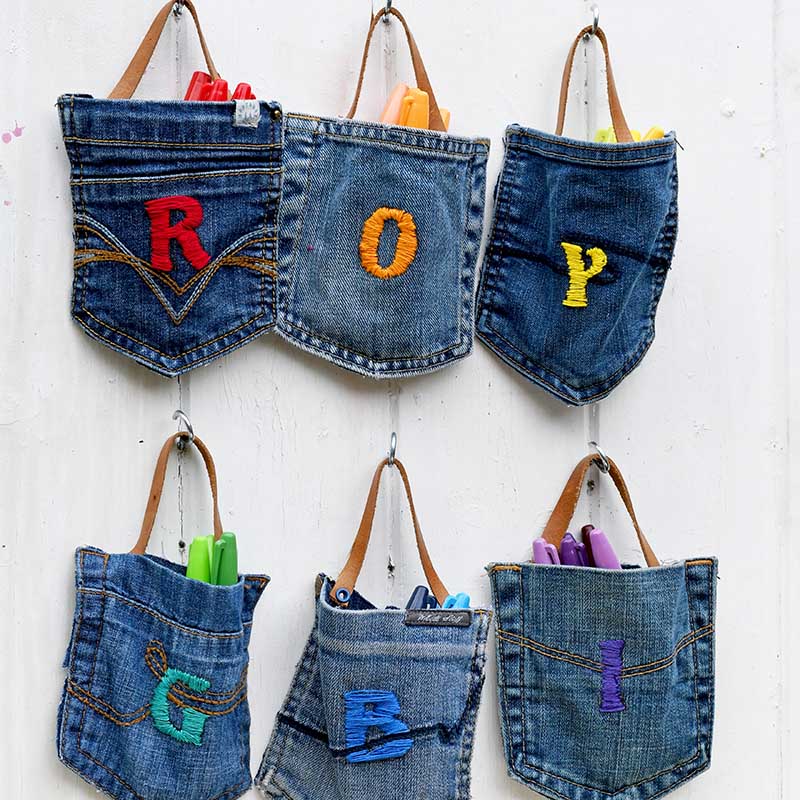 Q is for Quilts
I made a denim patchwork quilt for my king-size bed over 10 years ago. It's nice and heavy and still sits on my bed. The quilt is very warm and comforting on cold nights. The weight makes it feel like a therapeutic weighted blanket.
I have found two tutorials for denim quilts, both quite different. The first is for this wonderful striped quilt made from colored jeans. It would look just as good in shades of indigo denim.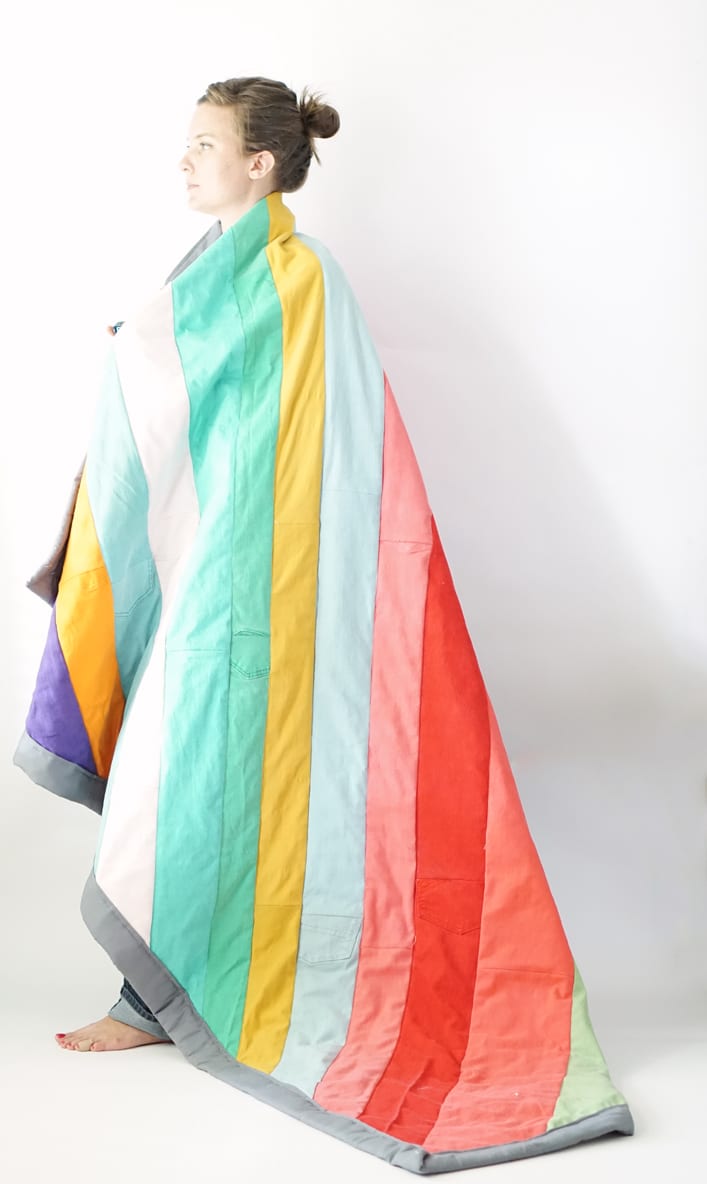 The other denim quilt tutorial is for a more traditional patchwork quilt.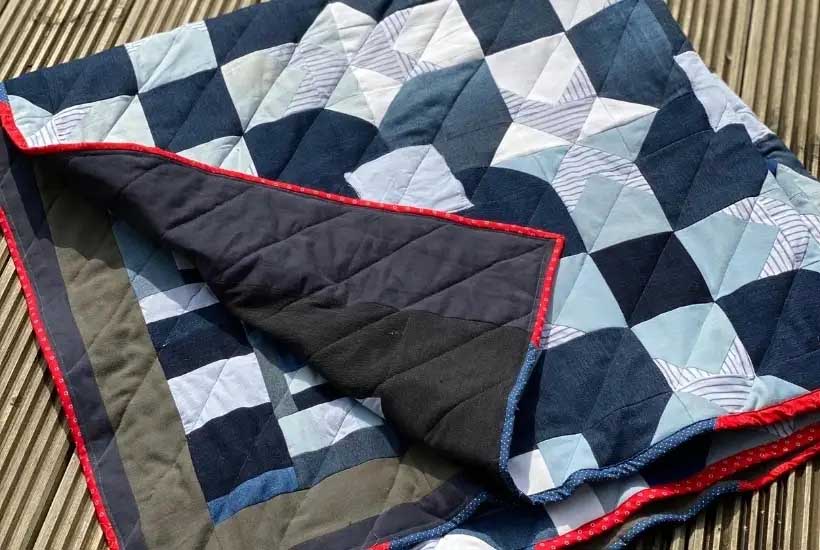 R is for Roses and Rugs
Say it with flowers and gift a bunch of denim roses. These flowers will last forever.
Making roses is a fun denim craft. Create a beautiful bouquet with a few flowers by using denim scraps from jeans in different indigo shades.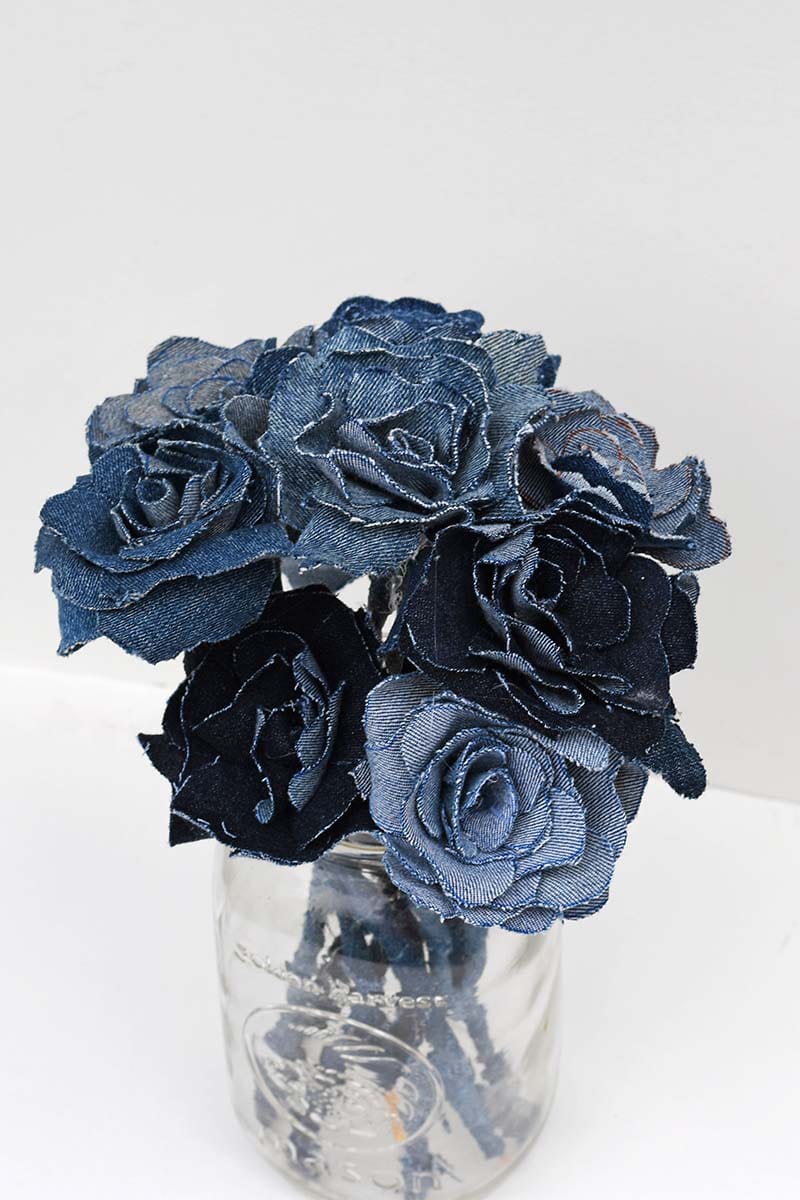 There is more than one way to make an upcycled blue jean rug. I myself have made two, the most popular being this denim waistband rug.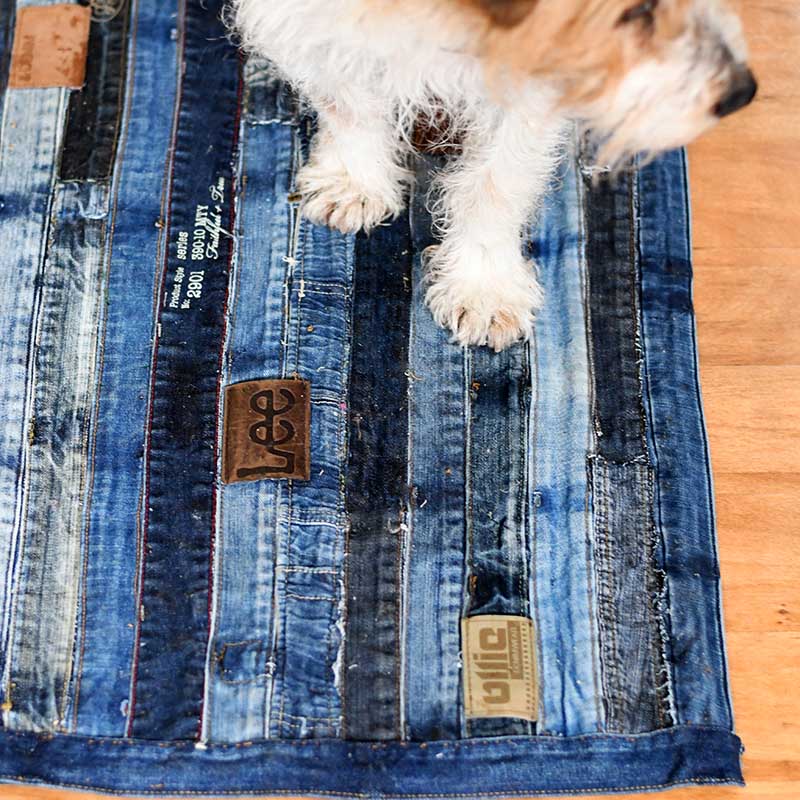 S is for Stars and Stenciled Table Runner
As with denim hearts, there are several different ways to make denim stars. The simple rustic ones require no-sewing. The patchwork stars are slightly more complicated as they need to be stitched. Both look good hanging on the wall.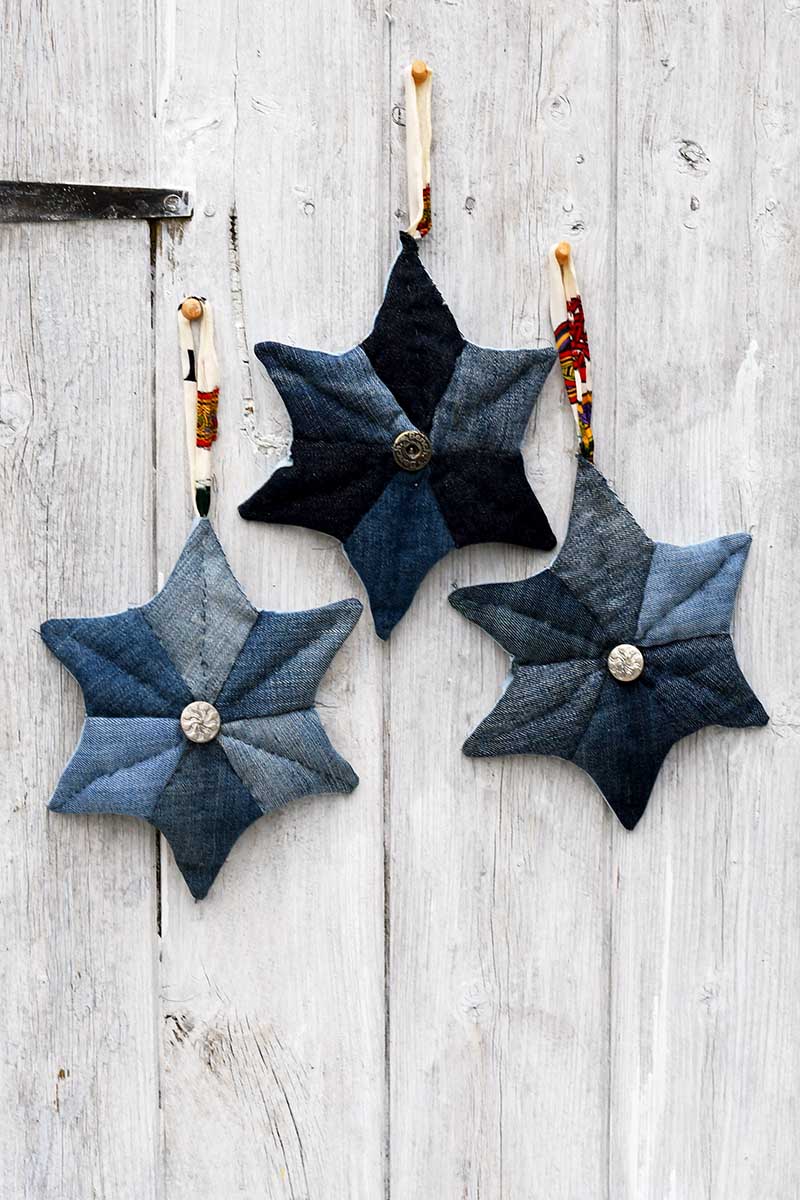 When you stencil onto denim with white paint, it looks a bit like Shibori dyed fabric. A good example is this stenciled denim table runner. I love the Morrocaan feel the stencil gives.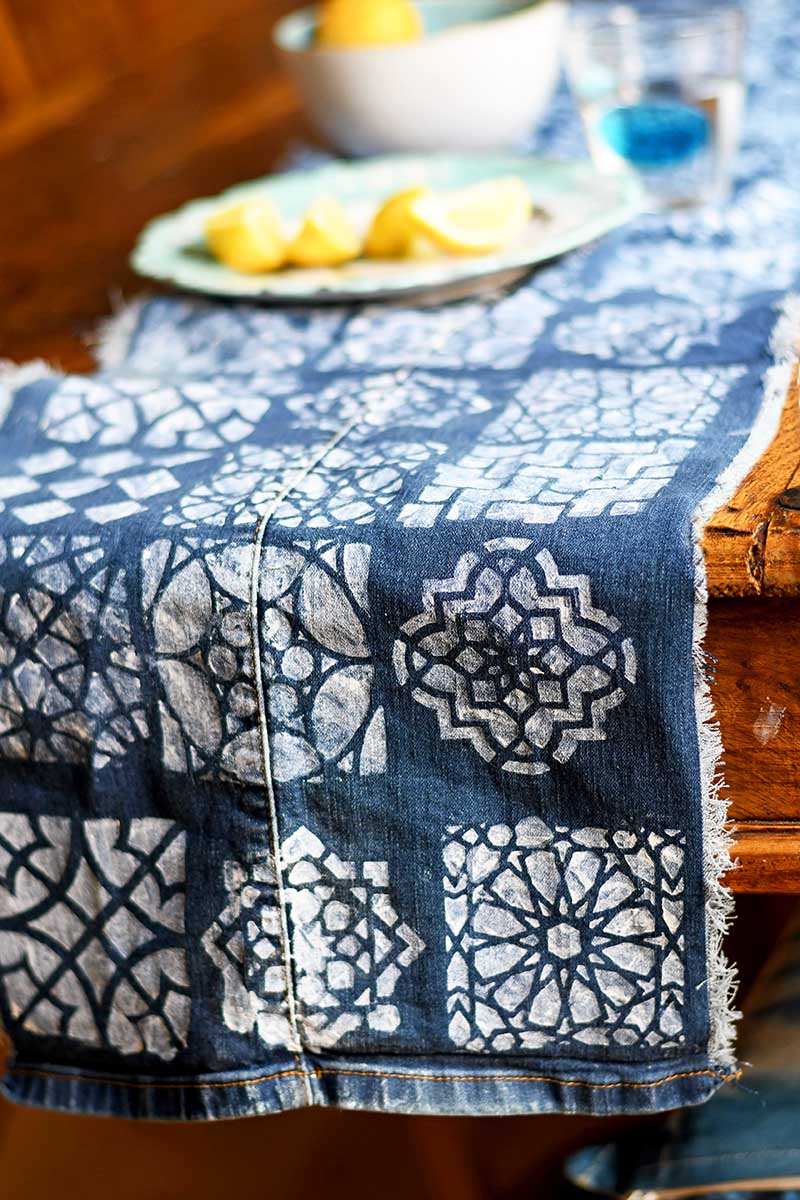 T is for Tassels and Trees
Denim tassels require no skill to make just a bit of patience. They are a fun denim craft to do in front of the TV as they don't take much concentration. You can also make them in a variety of sizes.
The larger tassels I use as swags. Decorate pillows or make earings with smaller tassels.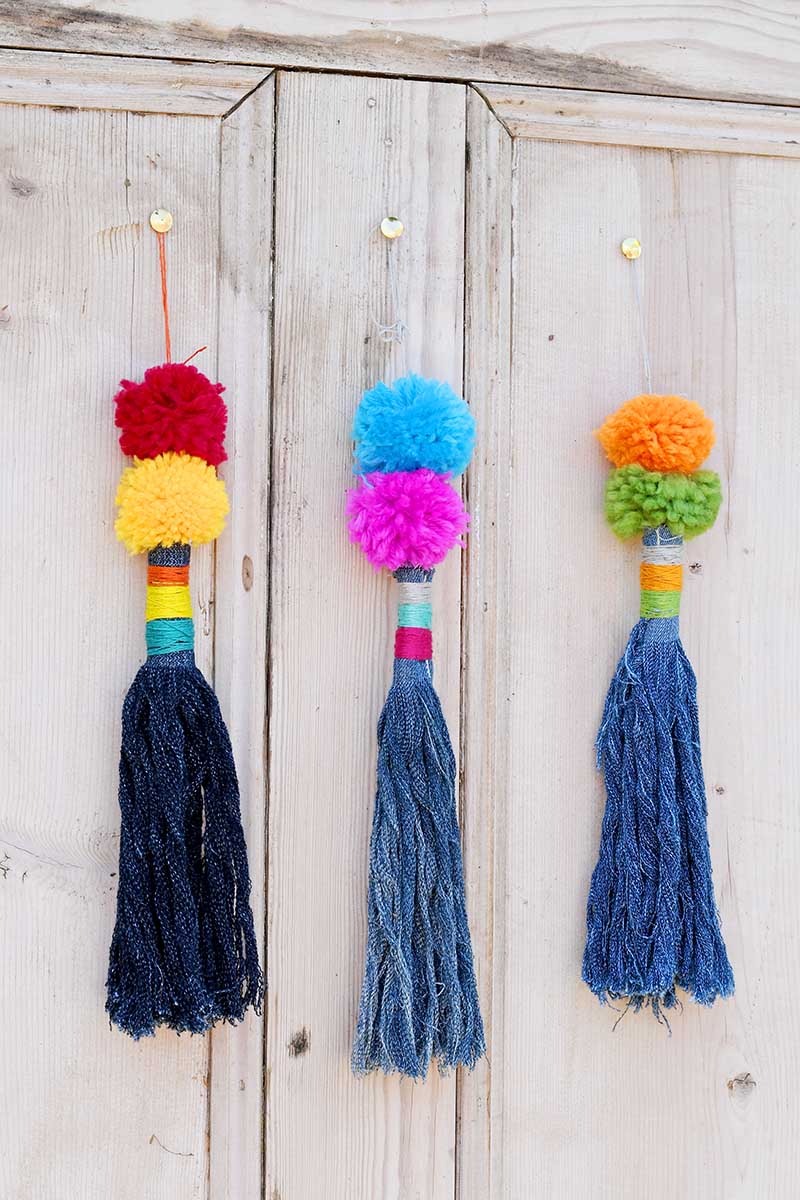 At Christmas, I love to fill my mantle with tabletop trees. The denim trees are my favorite. Leave them plain or decorate them with pom pom trim for Christmas.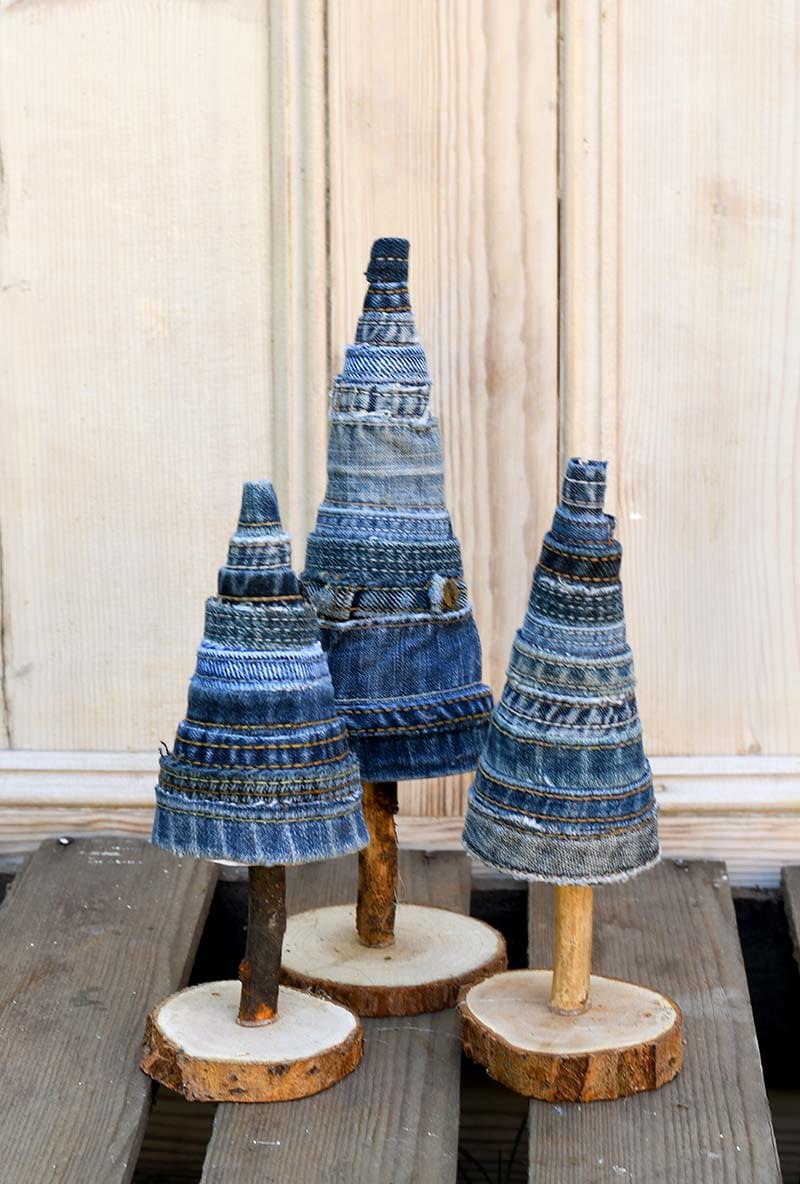 U is for Upholstery, Union Jack and USA Flag
As it's such a strong hardwearing fabric, denim is great to use for upholstering furniture, whether it's to cover a stool, chair, or sofa.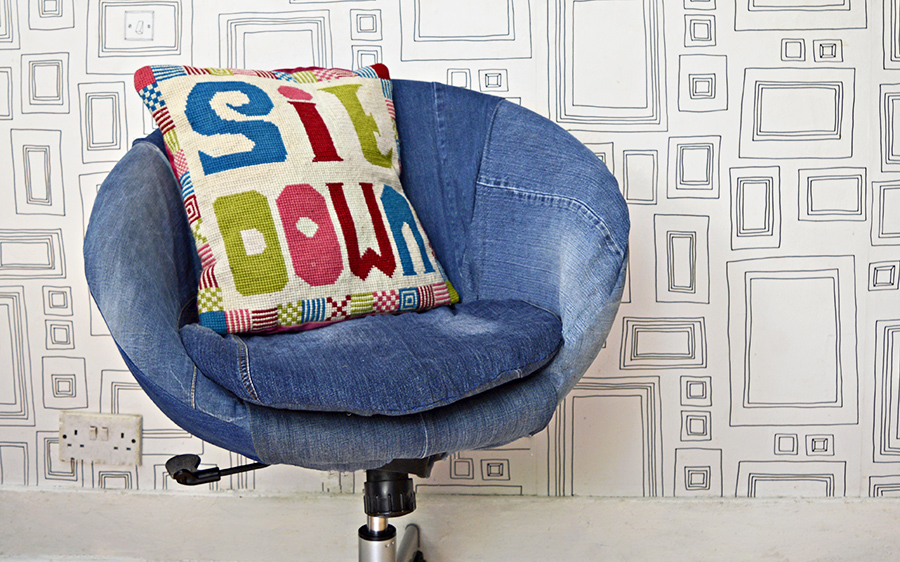 This patriotic flag bunting comes into two styles, one with the Union Jack for British celebrations. The other has a flag of the USA, great for the 4th of July.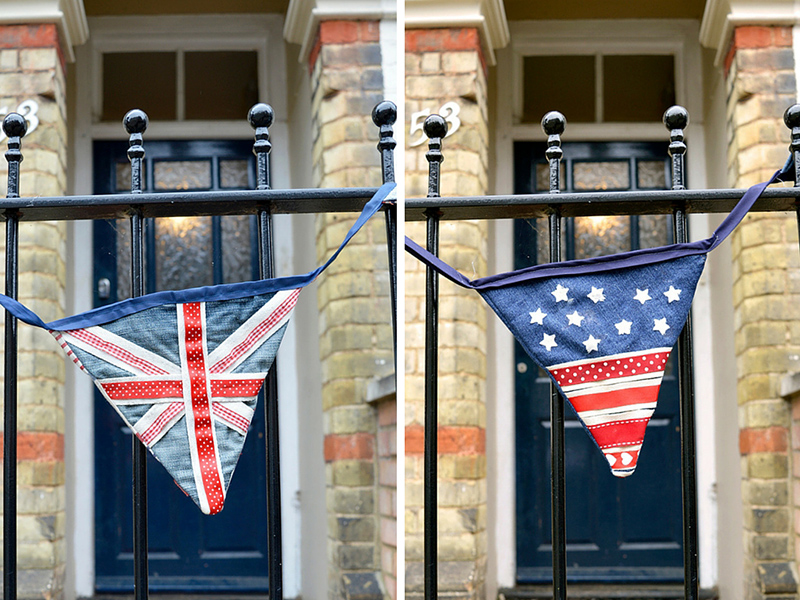 V is For Valentines and Vases
I've made woven Scandinavian hearts for Valentine's day before, using upcycled denim and sweaters.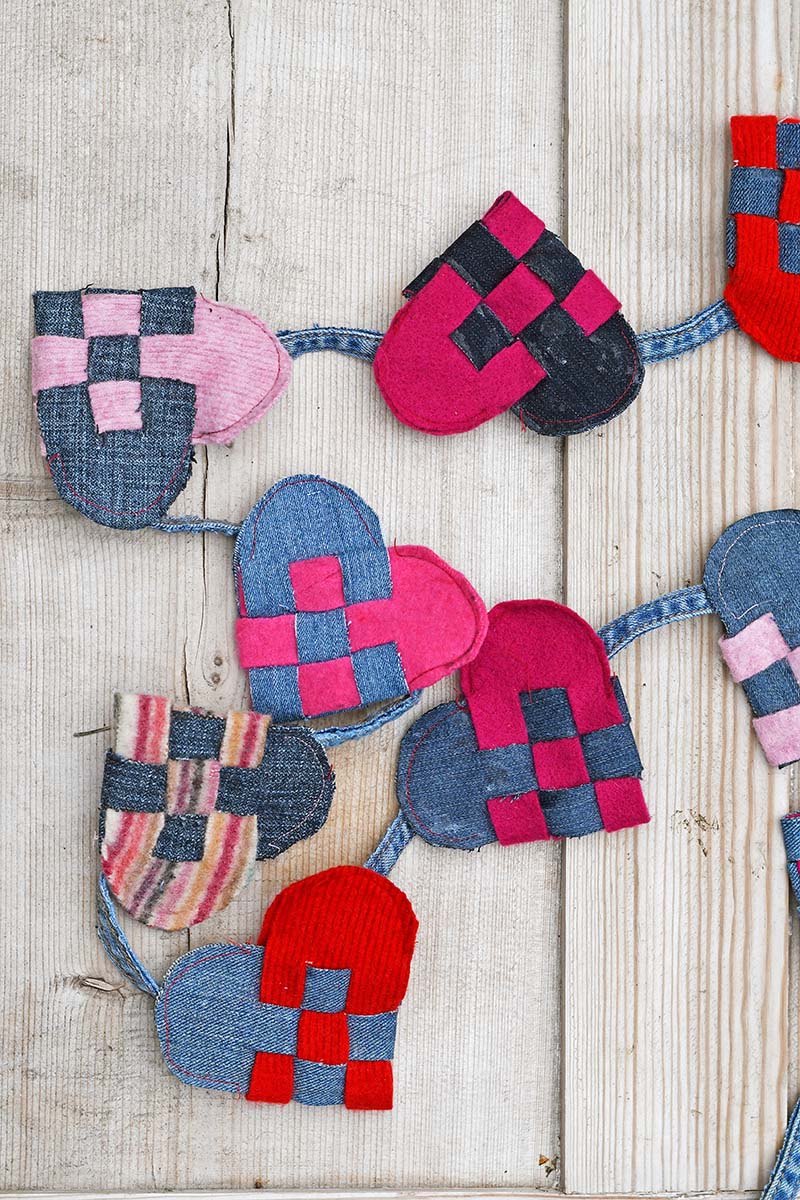 No sweaters to upcycle, no worries you can just make a purely denim Valentine's day garland.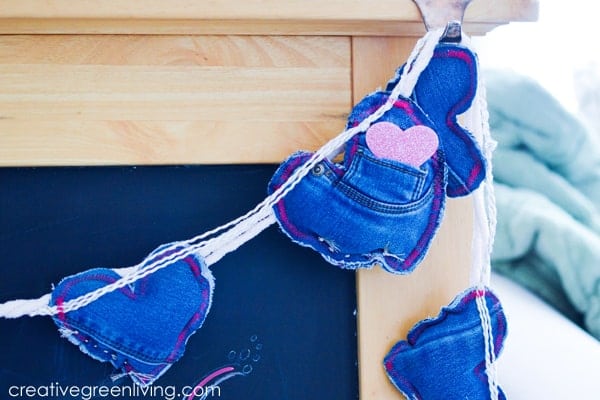 No mason jars were harmed in the making of these upcycled denim wall vases.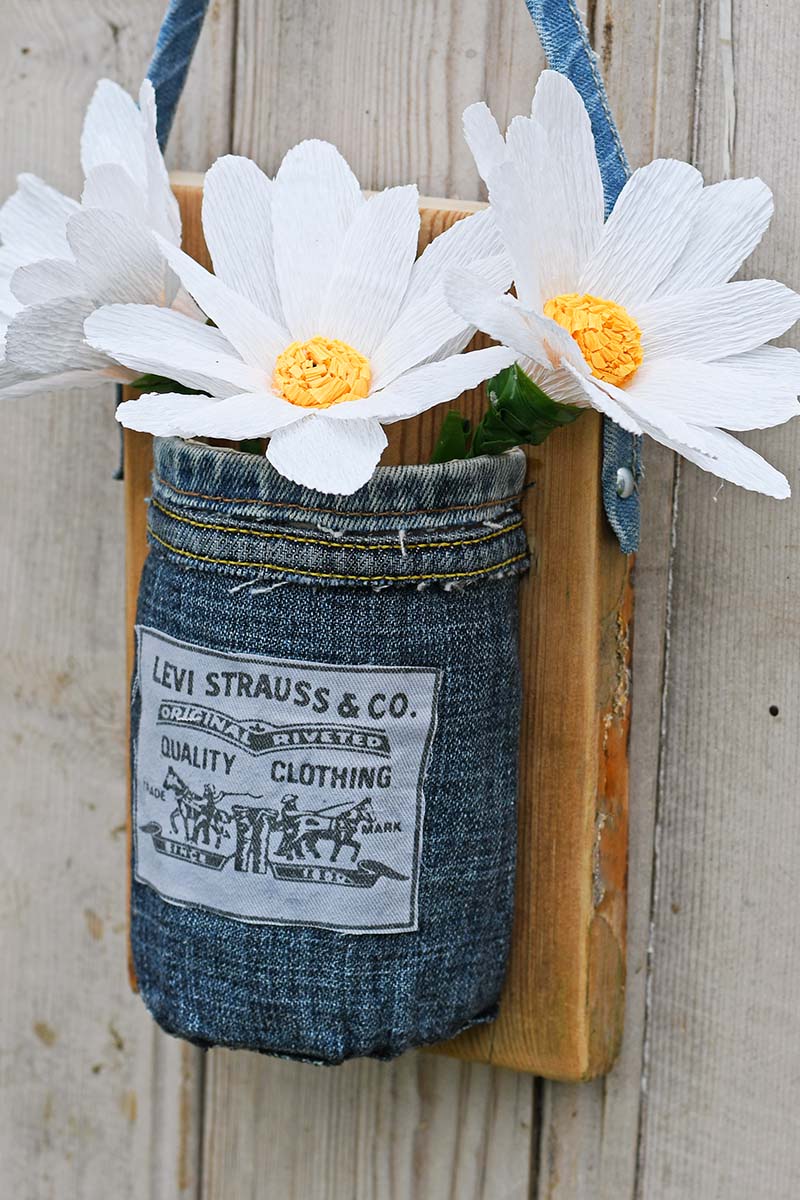 W is for Windchimes and World Map Pillows and Wreaths
Now even I wouldn't have thought of that making a wind chime out of an old pair of jeans.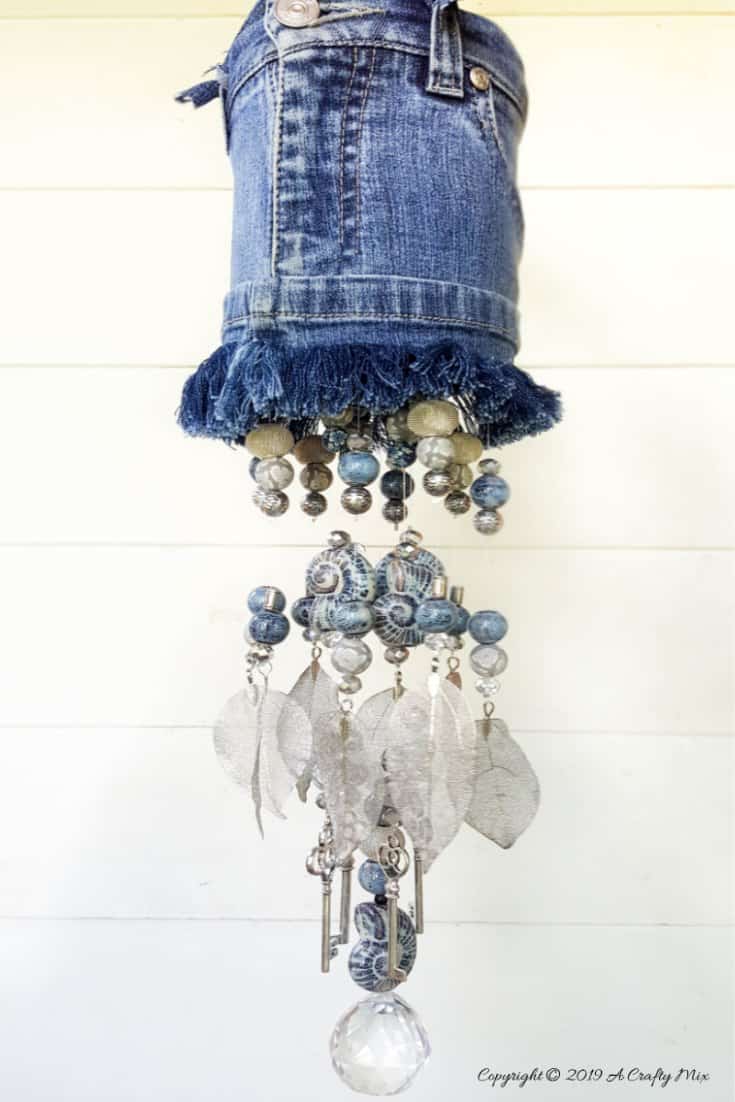 The different shades of denim indigo make the continents on this world map pillow stand out. This is a cool floor cushion for those with wanderlust or a teen bedroom.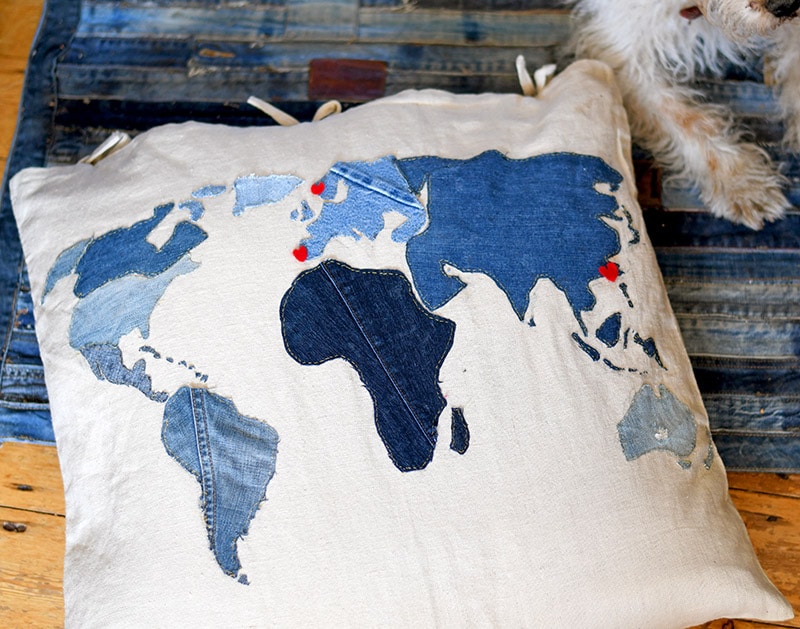 The seams from old jeans make an interesting base for a denim wreath. They go well when paired with upcycled sweater roses.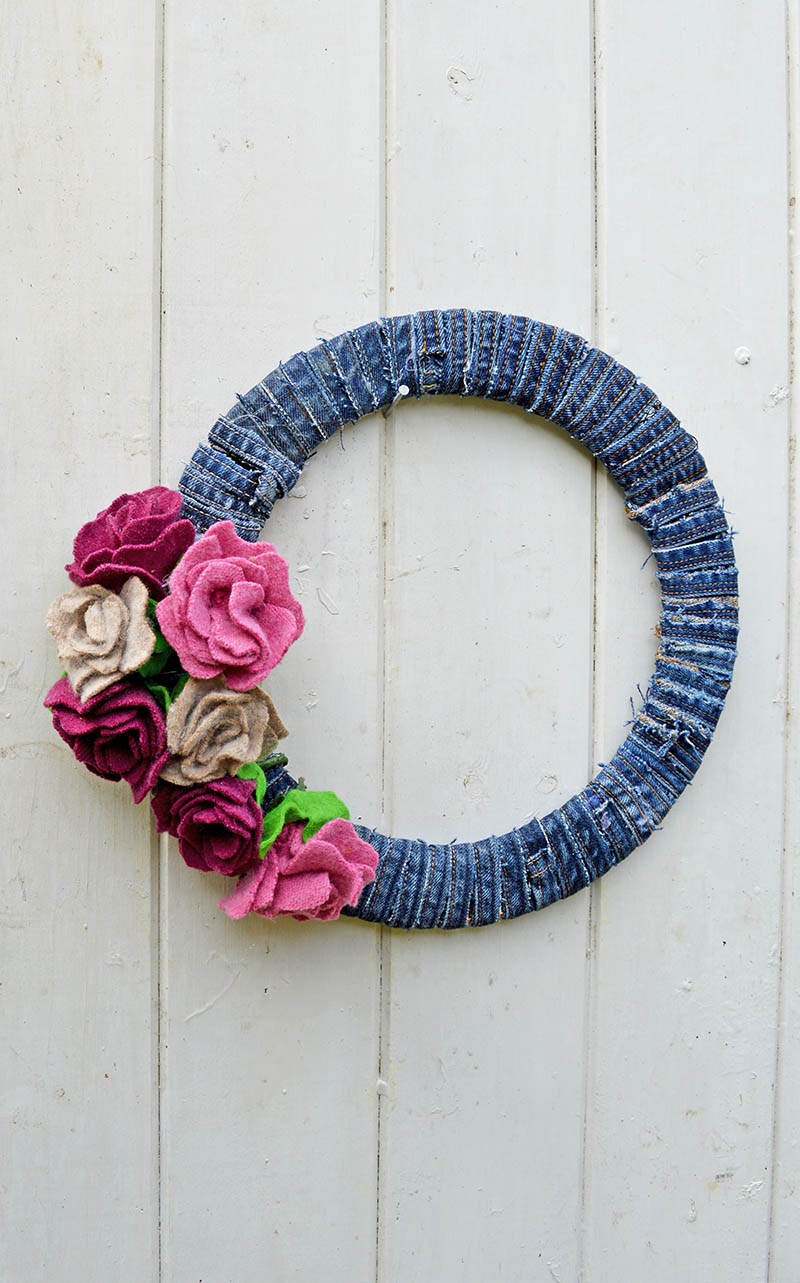 X is for Crosses
That is the X in the game of Tic Tac Toe. We call the game naughts and crosses in the UK. The denim version of the game will look cool on the coffee table. There is a YouTube tutorial.
Y is for Yarn
Make denim yarn by cutting up your old jeans. Crocheted rugs and baskets are one of the many things that can be made with the yarn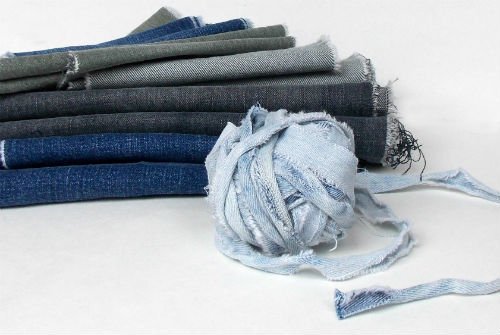 Z is for Zipper Hearts
Use the zips from old jeans to make cute little zipper hearts.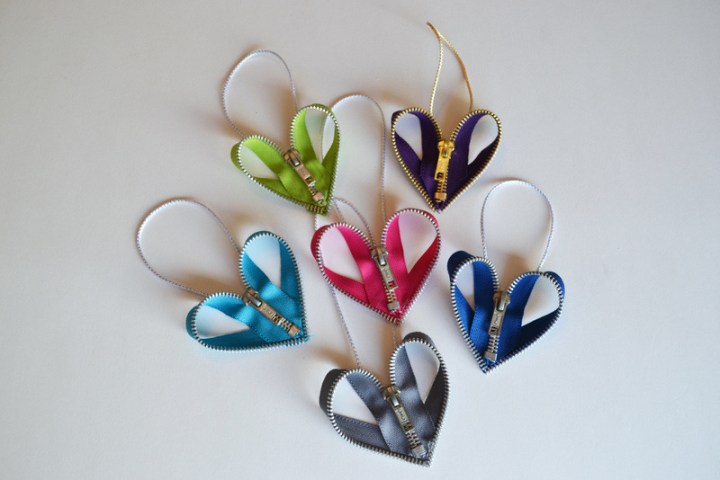 I hope you found some denim inspiration here, don't forget to check out these no-sew denim crafts too.
My second favorite fabric to upcycle is old wool sweaters. I'm working on an A to Z list of sweater crafts. Also, there are many cool adult craft ideas here that involve other materials besides denim.