You might just dry your dishes with a tea towel. But I have some pretty cool ideas for tea towel crafts and upcycles.
My kitchen drawers are full of lovely colourful patterned tea towels. When I see a pretty tea towel, I can't resist buying it! I don't just buy new tea towels, but vintage ones too.
Tea towels are made from hard-wearing cotton or linen. This makes them strong enough for upholstery and soft enough for other scrap fabric crafts.
Tea towels are sometimes called dish towels, both are used for drying dishes. But unlike some dish towels, tea towels are never made with terry cotton.
I'm English and we always call them tea towels, I like to think that has something to do with the amount of tea we drink. Also, in my part of the world tea isn't just a drink, it's the evening meal. The most asked question in my house is "what's for tea?"
Tea towels are approximately 18″ x 30″ in size. But can be a little bigger or smaller than this.
They are hemmed, which can minimise the sewing with crafts. Or the hem can be unpicked to make the fabric a little larger if need be.
Plain linen tea towels are great for embroidery projects, like this spring embroidery.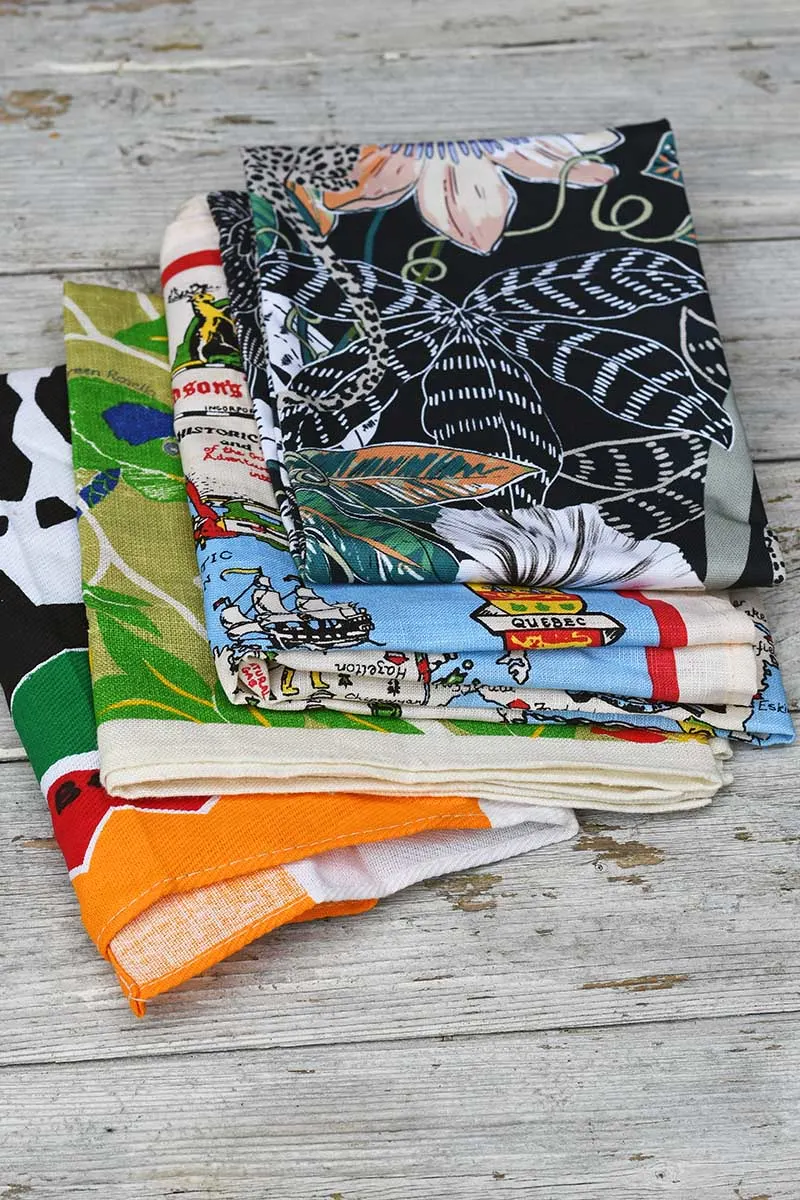 Where To Find Tea Towels For Crafting
Traditional plain tea towels that are striped or checked in neutral colours are great for, farmhouse and Scandinavian crafts. IKEA and dollar/pound shops are a great place to source these towels cheaply if you don't have any of your own to re-purpose.
For something a bit more boho, pimp the plain tea towels with embroidery or stamping before crafting with them.
I find vintage tea towels the most colourful and interesting to upcycle and repurpose. The best place to find these cheaply is in charity and thrift shops, antique and flea markets. Maybe just ask your elderly relatives if they have any old unwanted tea towels.
I've picked up some amazing tea towels from relatives. They had bought them initially when on vacation as a cheap souvenir. I particularly love the ones with maps on them. These are great for making statement upholstery pieces and fun pillows.
Even if vintage tea towels are well-worn, bits of their patterns can be rescued for smaller crafts, such as making bunting or pin cushions.
Another great source for beautiful tea towels is Etsy. Many independent fabric designers sell beautifully printed tea towels of their pattern designs.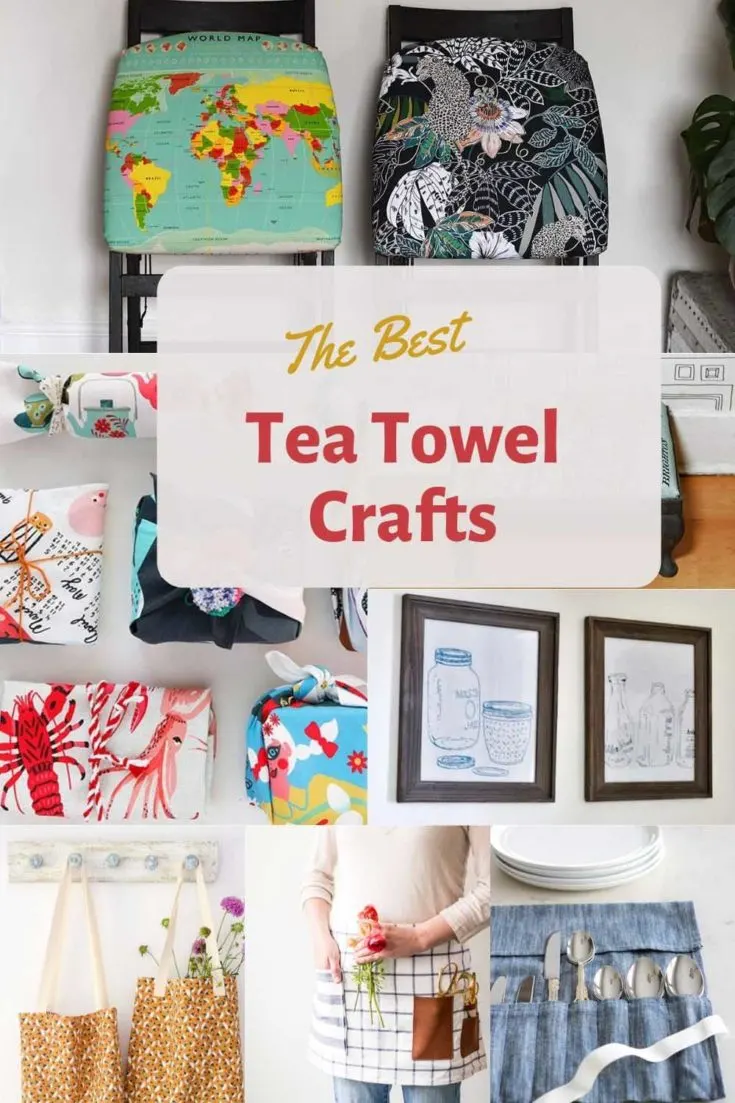 The Best Tea Towel Crafts and Upcycles
A collection of the best ideas for crafting and upcycling old tea towels. From crafting with the fabric to making pillows and totes to using it for large upholstery projects. Hopefully, they will be some ideas here that will inspire you to do something with your favourite tea towel besides drying the dishes.
Another idea for using vintage tea towels is to sew a few together to make an interesting table cloth. Unfortunately, I couldn't find a tutorial for that, but it shouldn't be hard to work out. If you don't have enough tea towels for a whole table cloth you could just make a table runner.
On the blog, there are many more ideas for upcycling fabrics, including old sweaters. And if you have lots of old jeans, I have a ton of ideas for denim crafts, some of which are no-sew jean upcycles.