Turn old denim into a delightful fish pillow with our DIY guide and free pattern. It's a fun, sustainable craft project.
I got inspired to make a fish pillow from a trip to Portugal.
Every summer, I visit my parents in Portugal; I love to spend an afternoon strolling around the local gift stores. Fish is the predominant theme for Portuguese gifts, probably because they eat more fish than anyone else.
My fish pillow, of course, had to be made from repurposed fabrics. I used my two favourite materials for recycling denim and sweater felt.
Fun Fish Pillow DIY From Upcycled Jeans
Using a pair of jeans for these fish pillows allowed me to use the exciting bits. Such as seams, buttons, and pockets to add details to the fish. I was also able to bleach stencil fish scales onto the denim fabric.
I've included the pattern for these denim pillows so you can easily make them yourself. And in other fabrics besides denim if you prefer.
Combining denim with other fabrics to make attractive pillows is popular upcycle of mine. In the past, I've combined denim with sari trim to make boho jeans pillows—denim with wool to make fabric placemats and an iPhone denim pocket pillow.
These fish pillows are featured under the letter F in the A to Z of repurposed jeans ideas.
We're a participant in the Amazon Services LLC Associates Program, an affiliate advertising program designed to provide a means for us to earn fees by linking to Amazon.com and affiliated sites. As an Amazon Associate, I earn from qualifying purchases.
What You Need to Make a Fish Pillow
Paper pattern – Draw your own to the desired size, or download mine here.
A pair of jeans or denim scraps from several pairs of jeans. Or other fabrics if you prefer
Small piece of felted sweater fabric (see here how to felt sweaters), or other fabric.
Fiberfill – I use old pillows for this.
Needle and thread
Household bleach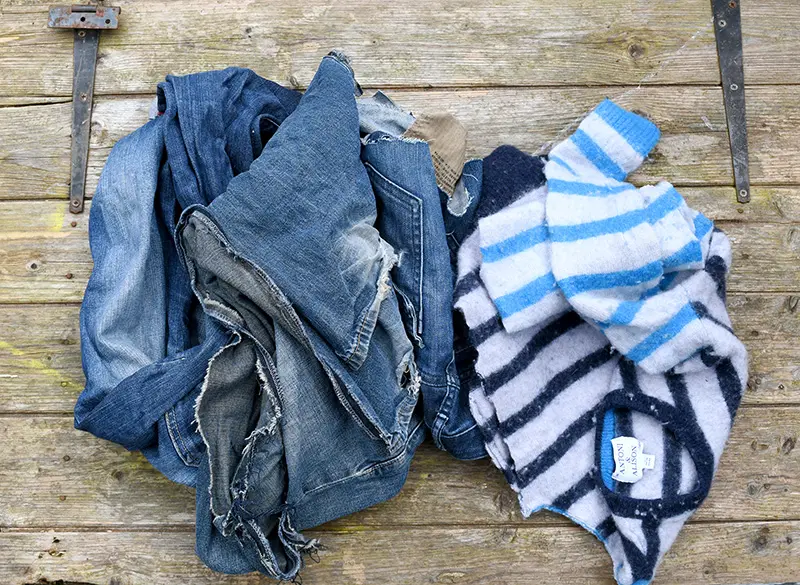 How to make a denim fish pillow
Step 1: First, make a paper pattern template. I drew my fish onto paper and then cut it into different sections: tail, head, body, and fin.
I have scanned the pattern I used, which you can download and print out and use. Note the body template of the fish would not fit on one side of the paper, so it has been printed over two pages.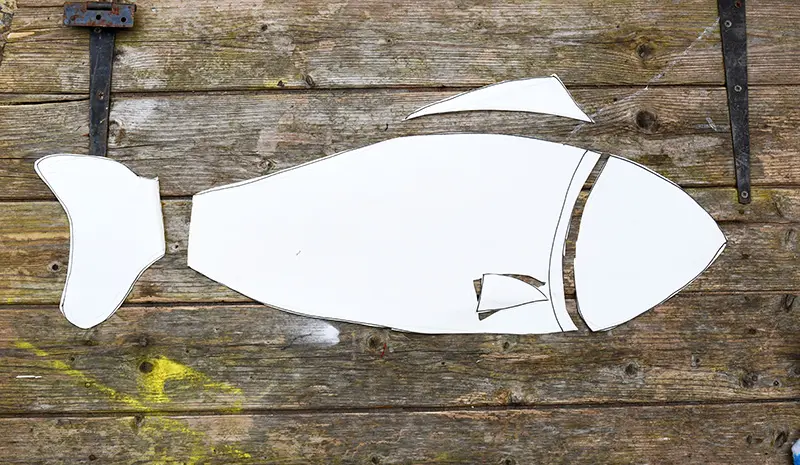 Step 2: Place the paper pattern onto the material and draw around, allowing for a 1cm seam allowance. Then cut out the shape.
Flip over the paper pattern and do the same again; you will need two pieces of fabric for each body part.
I used denim fabric for the fish's body, tail and fins. For the head, I used the felted sweater fabric.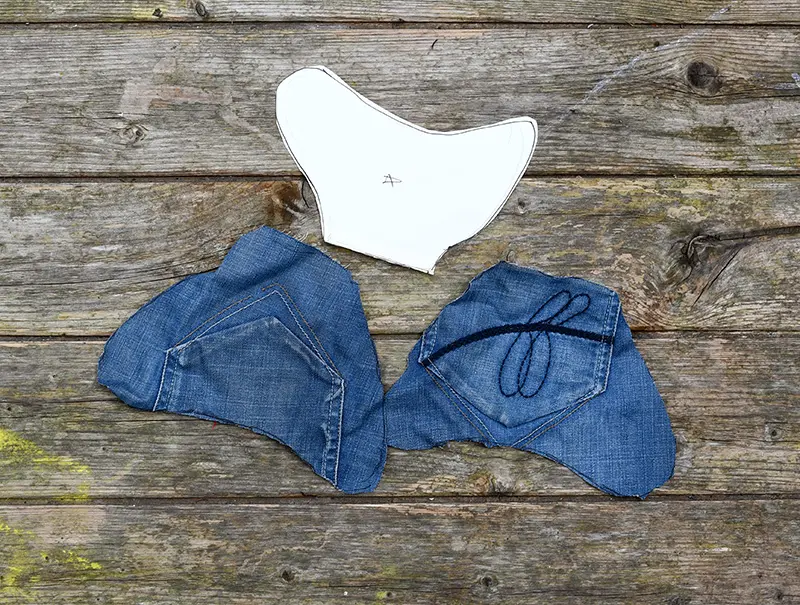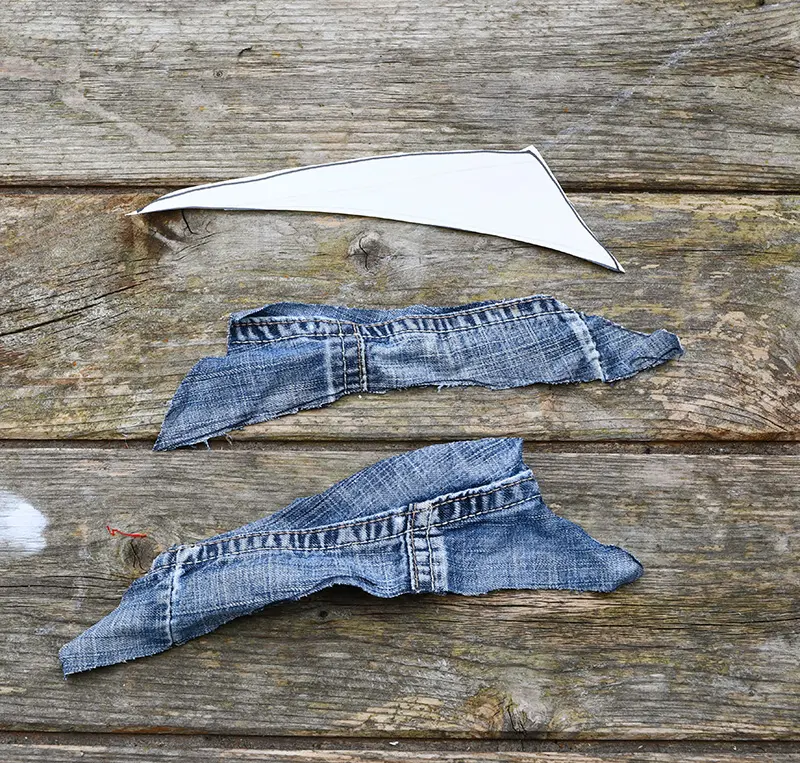 To make the bleached scales on the denim fabric.
Step 3: Place the stencil onto the cut-out denim body. Using a foam brush, paint bleach onto the stencil. Leave for about 20mins to allow the bleach to work, then wash and dry the denim fabric.
Top tip: If you prefer to use paint for the stencil, check out my tutorial with my stencilled denim table runner.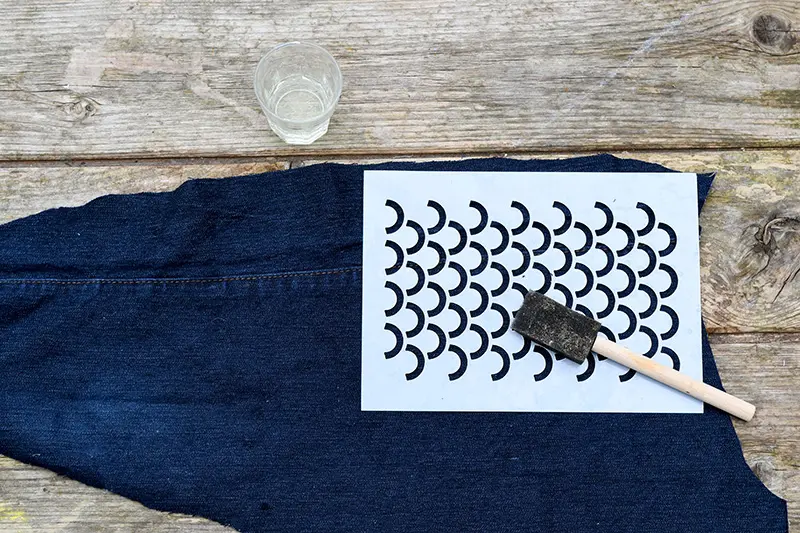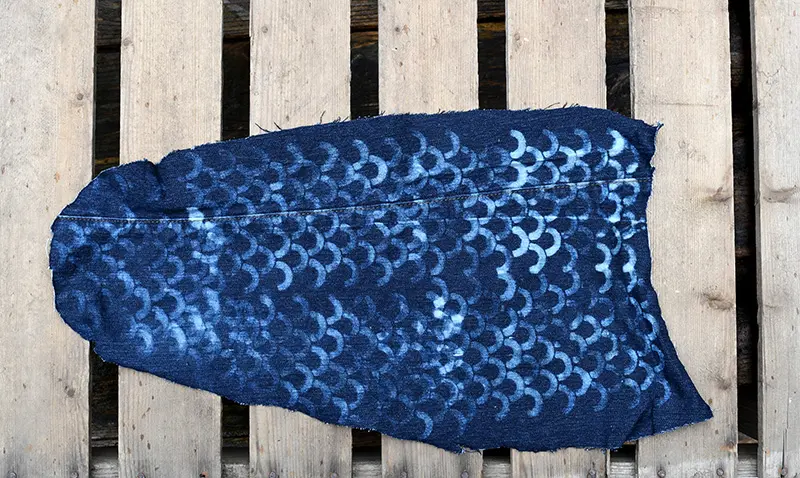 Step 4: Lay out the fish pieces for each side and then sew them together. This is also the time to sew embellishments to the fish, such as a fin on the body or an eye.
I used the button from the jeans as the eye for the fish pillow. I just cut up a bit of the jeans pocket for the fin.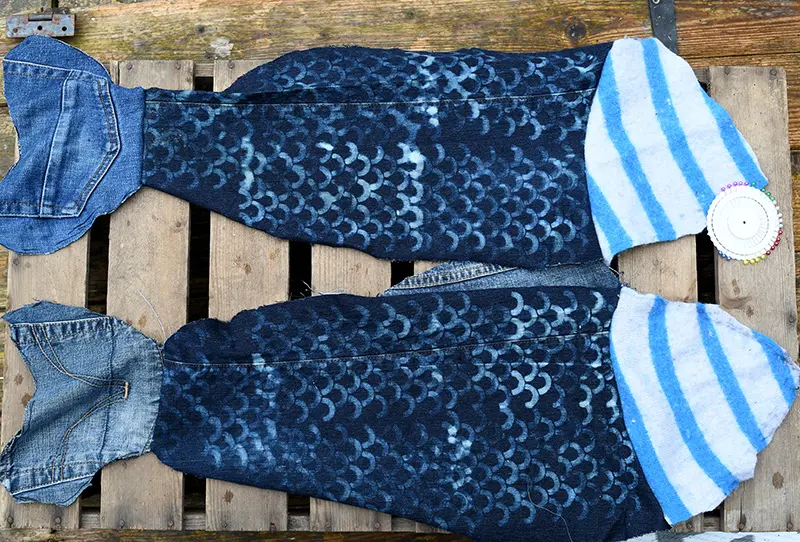 Step 5: Next, pin the two sides of the fish right sides together and sew. Leave an open gap of about 3 inches in the belly of the fish.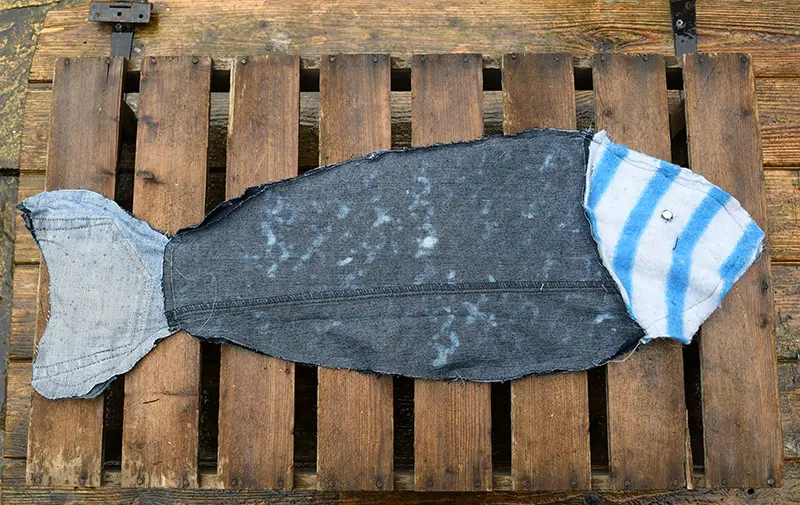 Step 6: Using the hole you have left, turn the fish pillow right side out and stuff it with fibre. Once you have finished stuffing the pillow, stitch up the hole.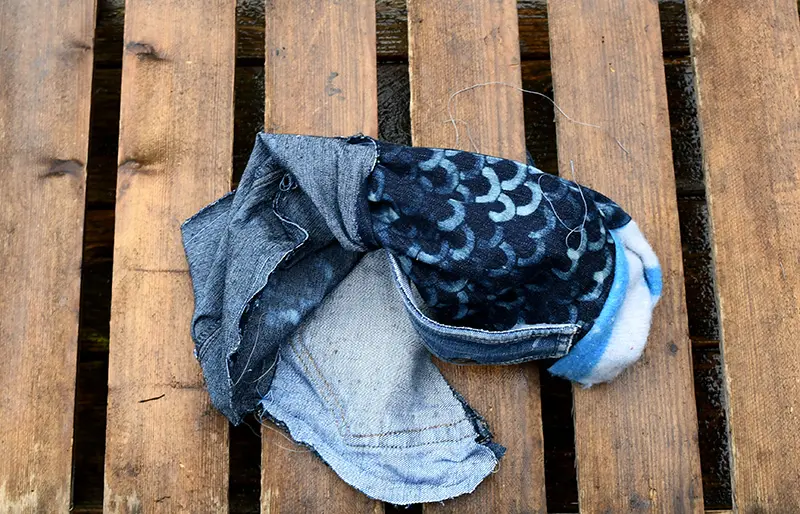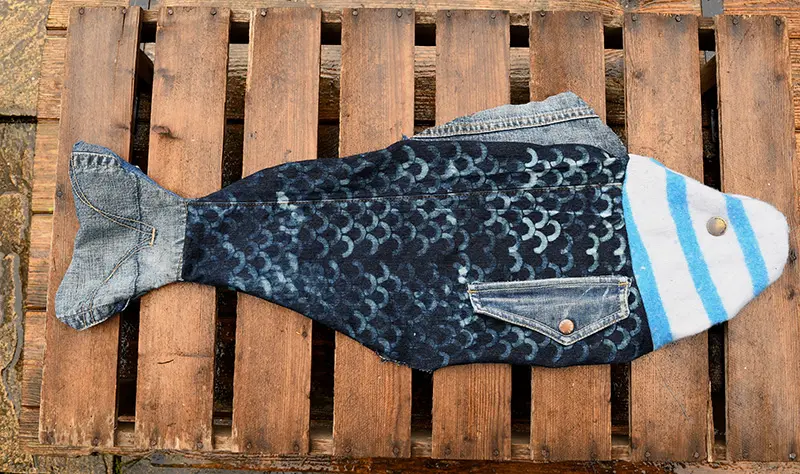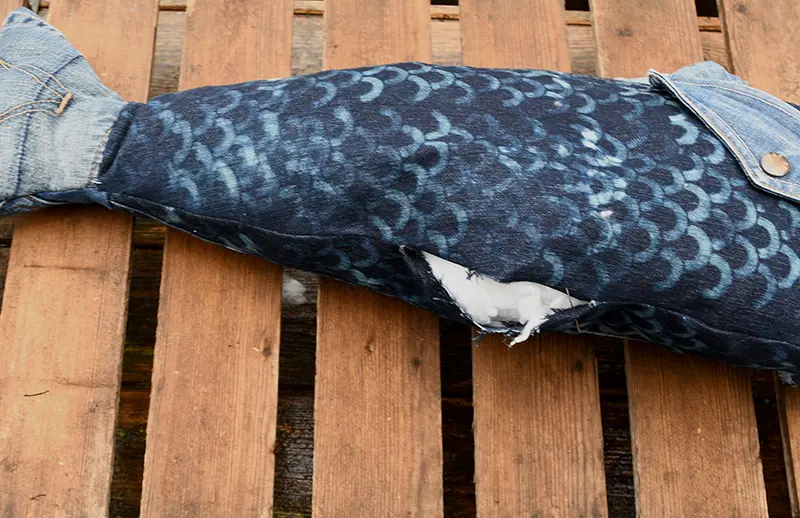 Step 7: Finally, you can leave your fish pillow as is or add further embellishments, such as glueing denim seams to the body to add further detail.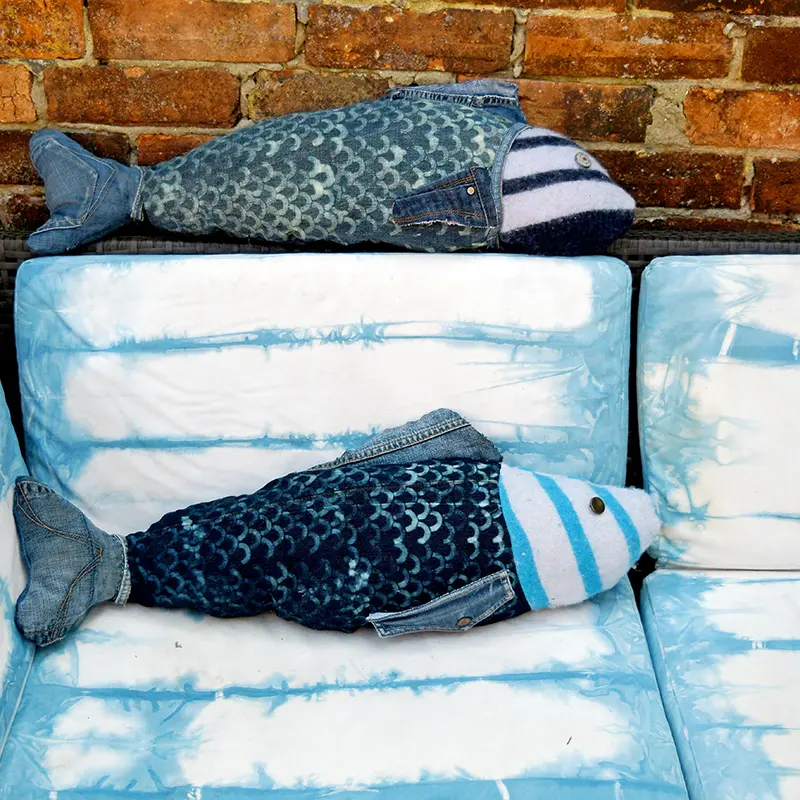 I loved the repurposed denim fish pillow so much that I made another one. I think the pillows look more interesting if you used denim from more than one pair of jeans; that way, you get lots of lovely shades of indigo.
When placed outside on my sofa with shibori dyeing outside, they look like the fish are swimming in the sea. They also match the Shibori indigo planters I made.
Making denim pillows is one of my favourite things to do with old jeans; I've made a denim world map cushion and a woven denim pillow, to name a few. They look also look great with my repurposed jeans rugs.
Check out all these other wonderful shaped pillow cover design ideas.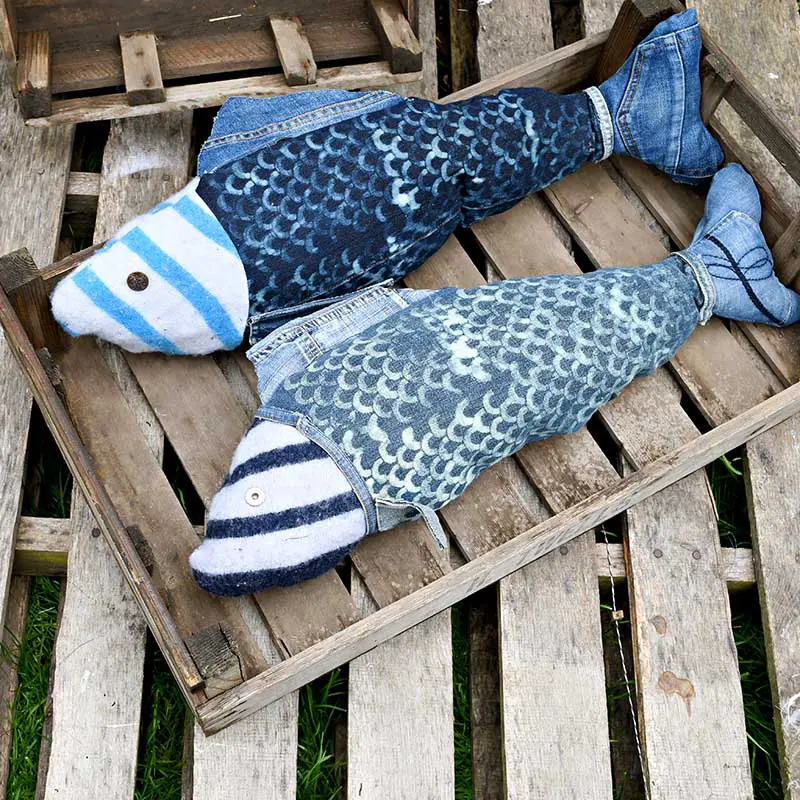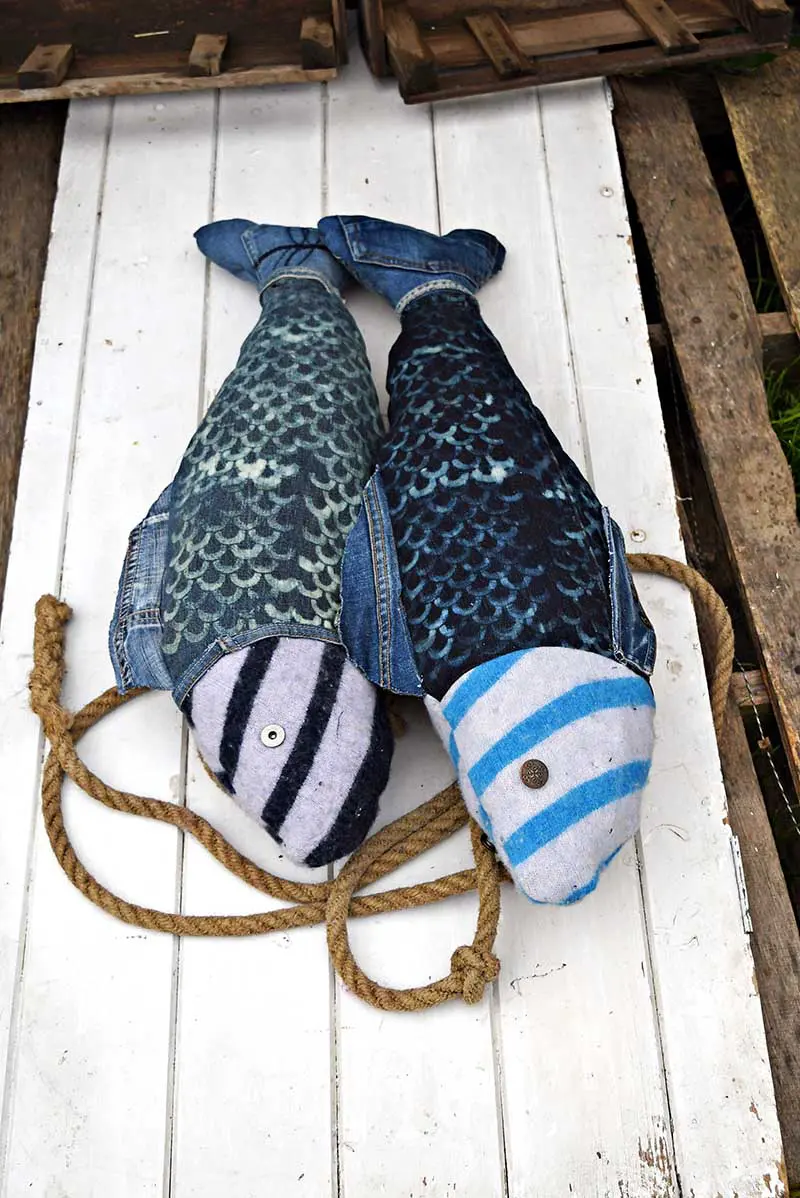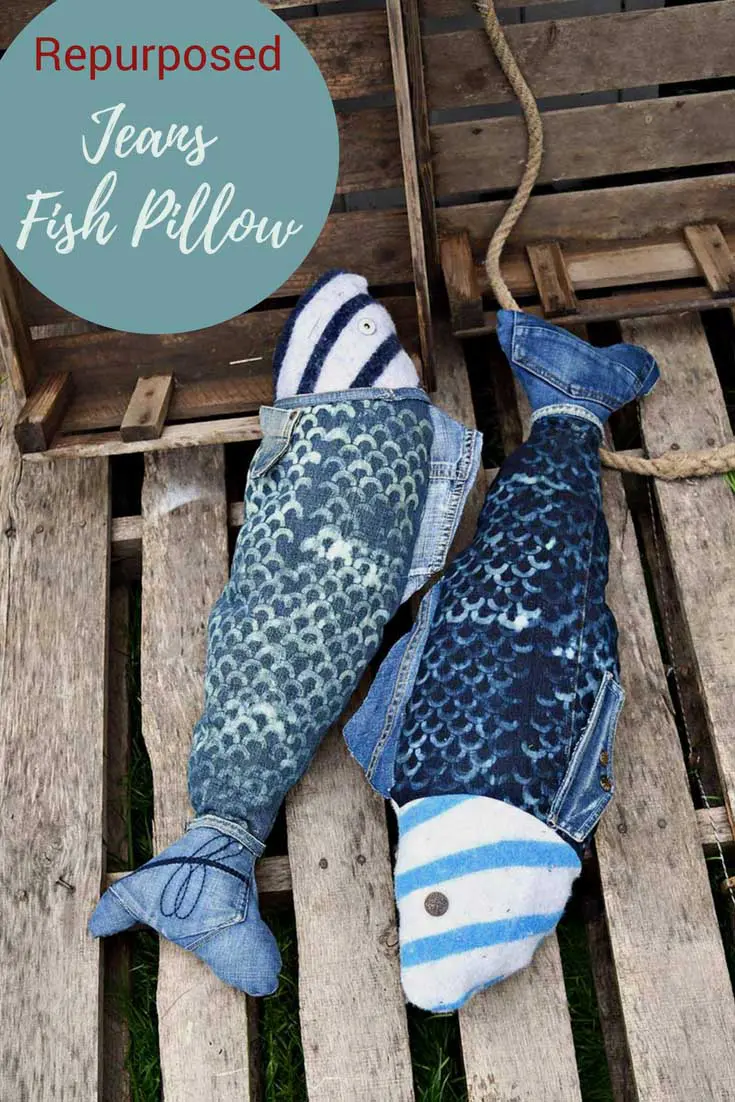 For more free home sewing projects, check out allfreesewing.com