Upcycling Lampshades with Wallpaper
A couple of weeks ago I revamped my stairs with wallpaper. They went from dull and dirty to bright and cheery. I used a classic Marimekko wallpaper which was a bit Marmite (you either loved or hated it !), luckily my family and I loved it. To complete the look I decided to use the leftover wallpaper to revamp my lampshades in the hallway too. Now my lampshades match my stairs, how cool is that !
My craft buddy Wendy first showed me how to wallpaper lampshades, as she's always doing it. Wendy's more into Orla Kiely than Marimekko though. It is really easy to do.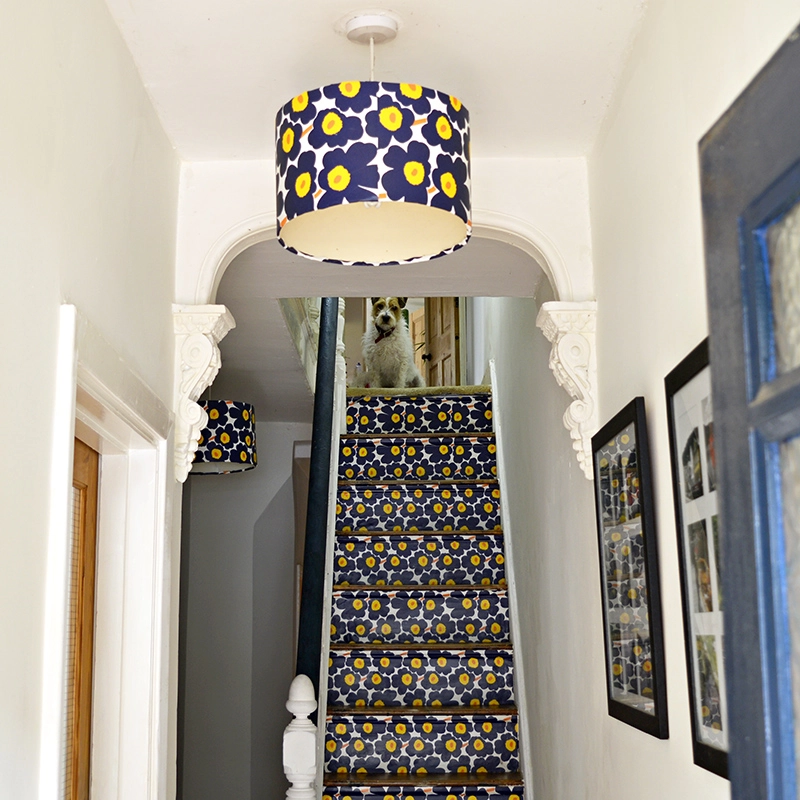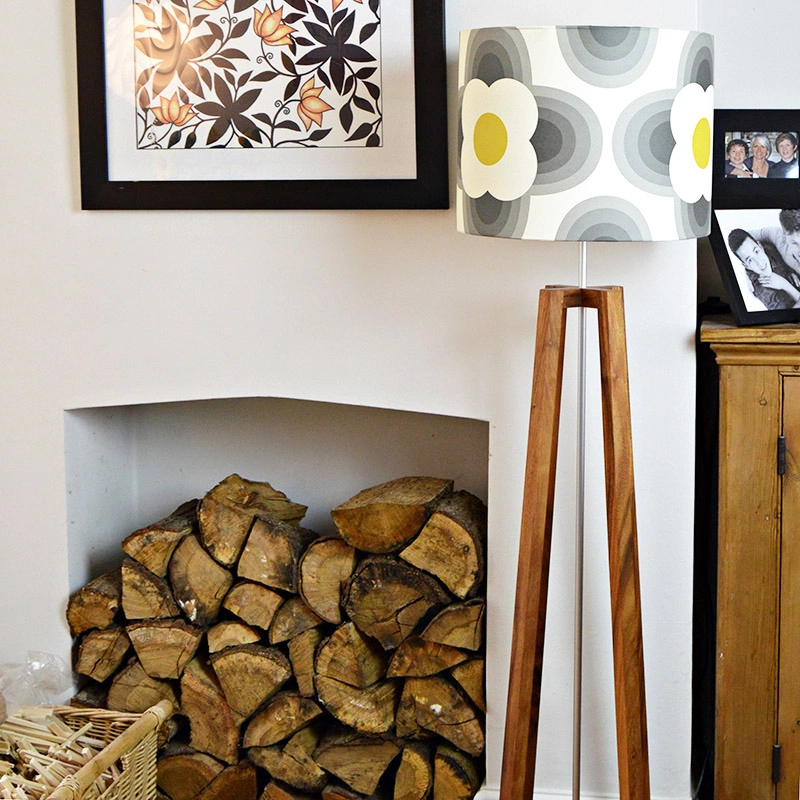 I love wallpaper, not on necessarily on my walls but I love to use it in my upcycling projects. Wallpaper comes in so many fantastic patterns and colours, it's a great way to get that designer look really cheaply. Customizing accessories round the home enable you to get that unique look. I have wallpapered, bins, tables, lampshades, mirrors and suitcases.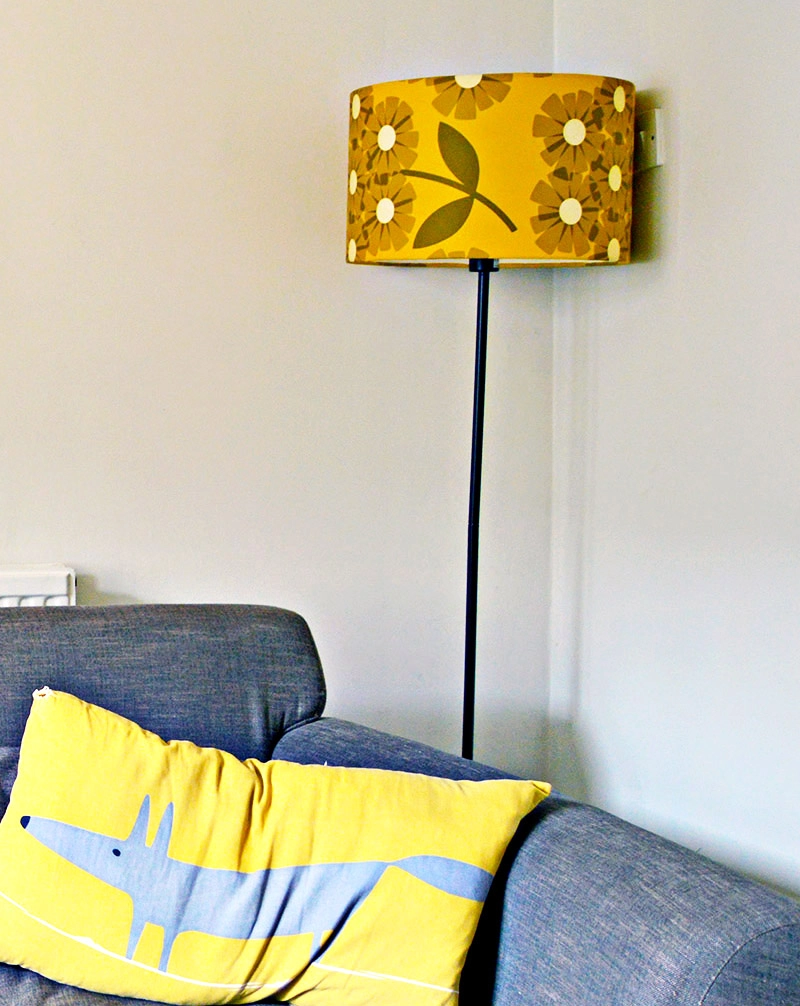 As well as looking fantastic, wallpaper is a lot easier to use than other papers when it comes to upcycling. It is more robust, and flexible enabling you to reposition your paper till you get it right.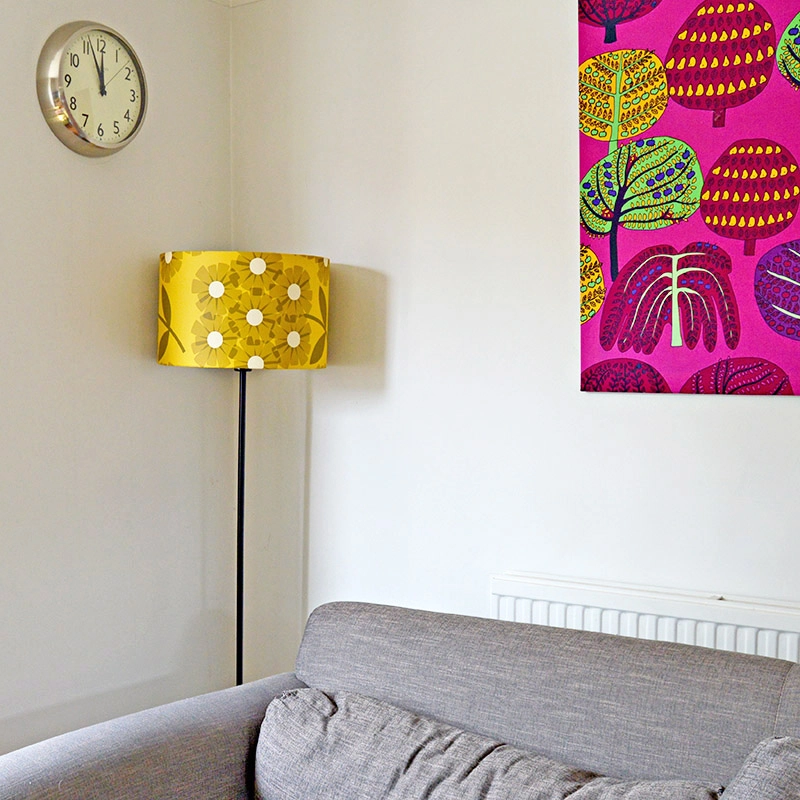 This post contains amazon affiliate links for your convenience. Click here to see my disclosure policy.
What you need to make wallpaper lampshades
.
Wallpaper – Choose your wallpaper carefully, you want to make sure that the pattern is right for the lampshade. Smaller patterns are better, and think about the direction of the pattern. A roll of wallpaper will not be wide enough to fit round your shade widthwise. Therefore you will be cutting the wallpaper longways, (unless you don't mind having more than one join on your lampshade). If cutting the wallpaper lengthwise as recommended, you will usually need a piece about 1.5meters long.
Lampshade to upcycle, or you can buy a lampshade kit if you want to make one from scratch.
Tape Measure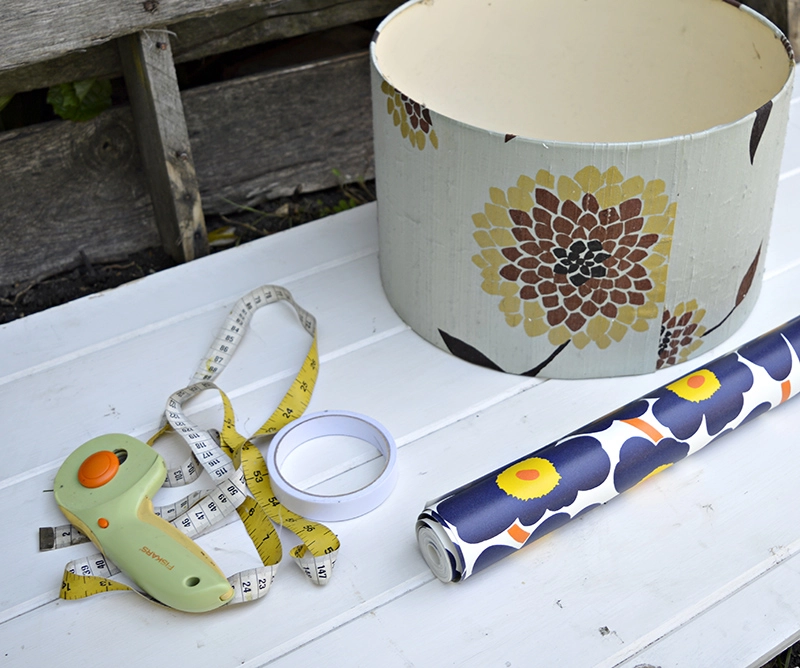 How to wallpaper lampshades
1.Measure both the circumference and the height of your lampshade. Add about 5mm-10mm to the circumference, to allow for a small overlap. You will be wrapping the wallpaper over the top and bottom wire ring of the wallpaper so you will want to allow for an overlap of approximately 7mm either side (14mm in total).
2. Using the rotary cutter and mat cut your wallpaper to size, whilst taking into account how the pattern will look once on the shade. Lucky for me the Marimekko Unikko wallpaper I had used on the stairs was perfect for the lampshades. The pattern was small and it didn't matter which way up it went.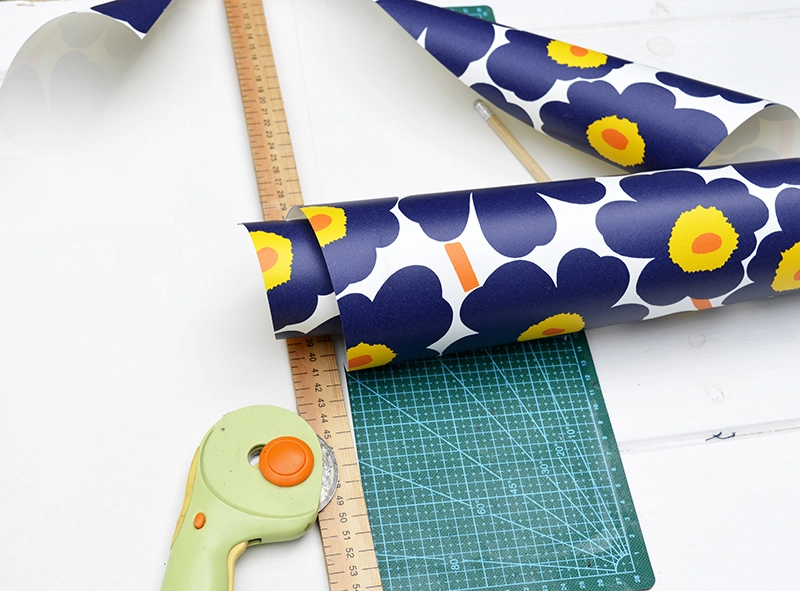 3. Stick the double sided tape to the top and bottom rim of the lampshade. You want to stick the tape so that you can fold it over the wire rim, so half the tape is on the outside of the lampshade and the rest is on the inside rim.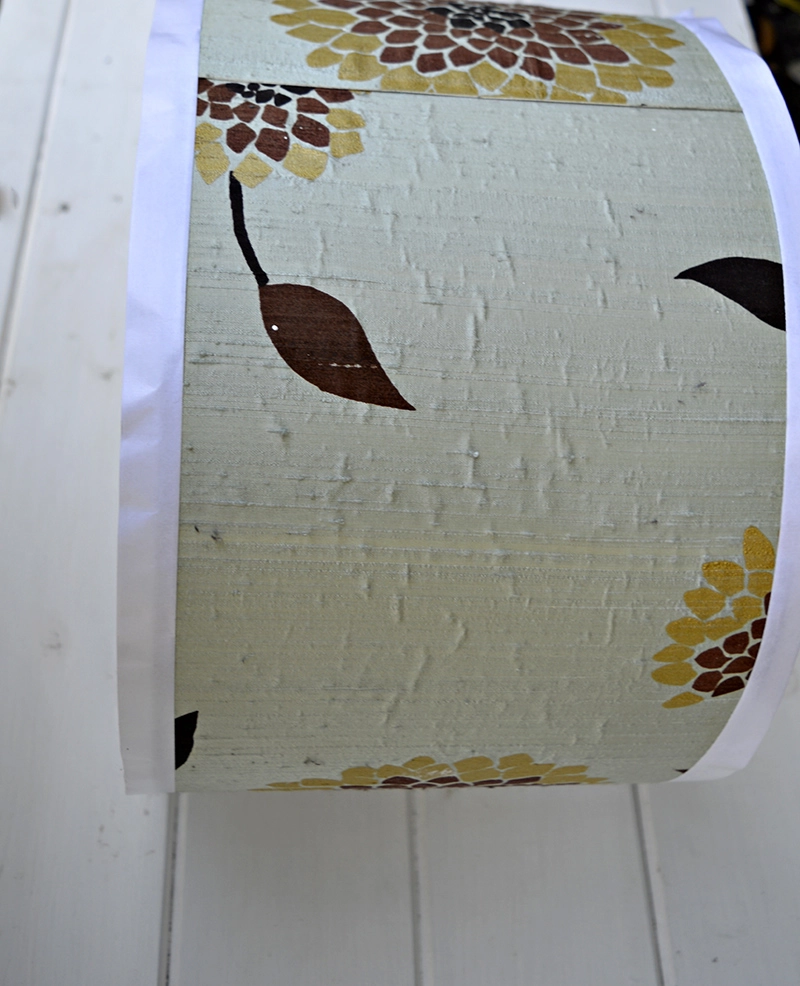 4. Lay out your cut wallpaper. After removing the outer layer of the double sided tape place the lampshade on the wallpaper. Making sure the lampshade is lined up straight carefully roll up the wallpaper round the shade. It should stick to the sticky tape.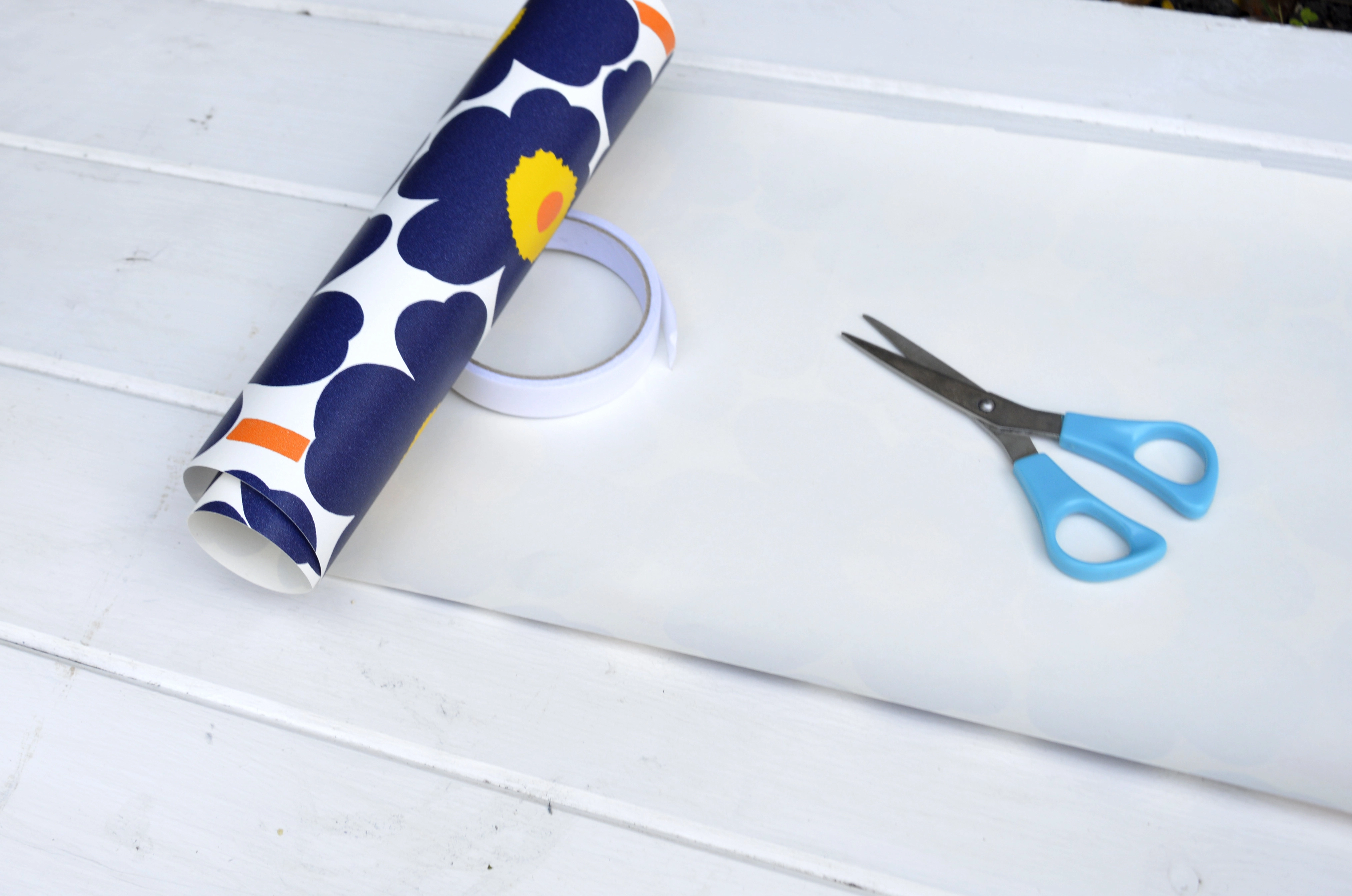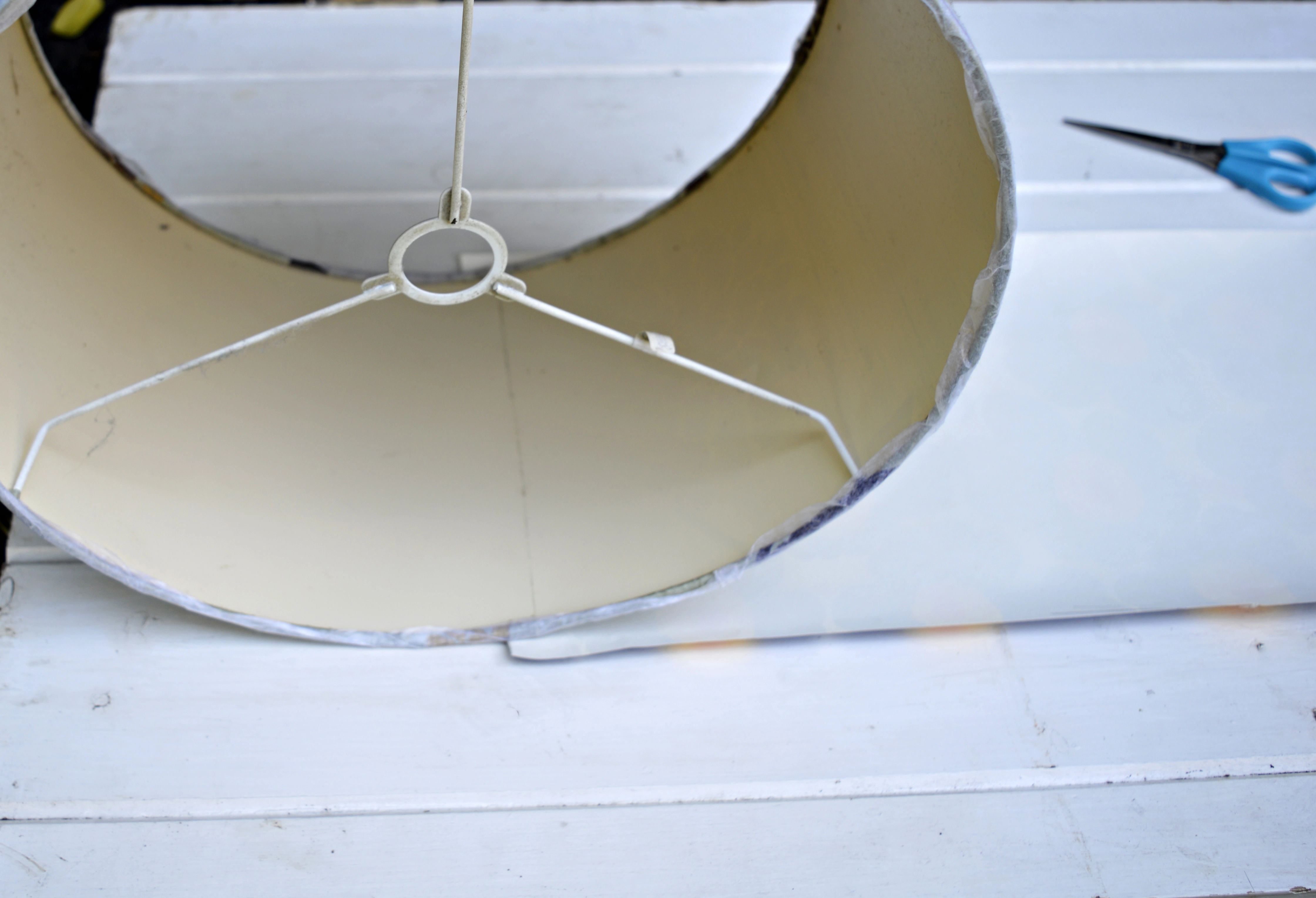 5. Using another piece of sticky tape to join the overlap of the two ends of wallpaper.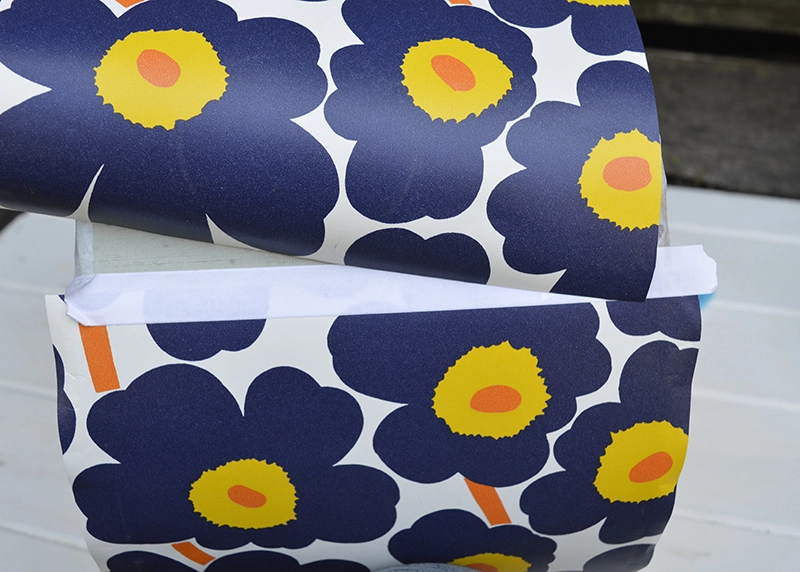 6. Finally wrap the top and bottom wallpaper overlap round the wire frame. This should stick, depending on the quality of your double sided tape. If struggling, you can always use a bit of glue to help it along.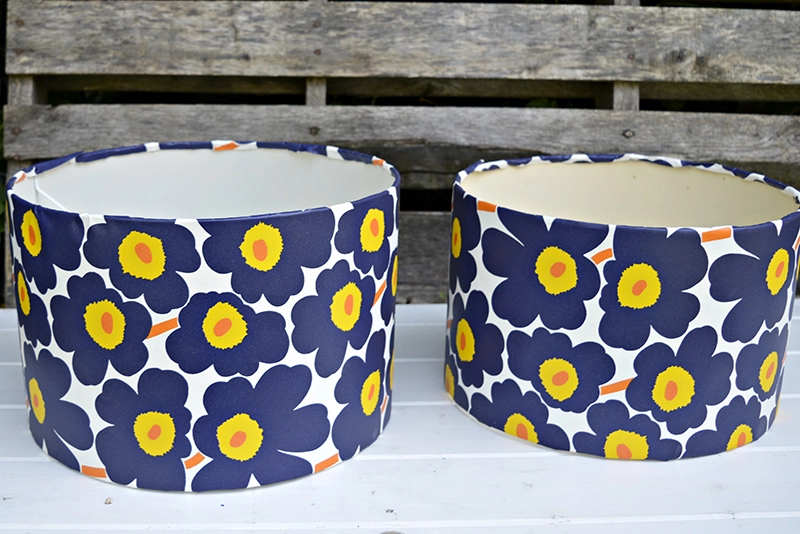 My lampshades were easy to wallpaper as they were drum lampshades. I have wallpapered cone shaped lamp shades before but this is more complicated. With cone shape shades you will need to make a paper template of the shade and then use this as a guide to cut your wallpaper. You will be cutting a curved shape rather than a straightforward strip of wallpaper.
You don't have to stick with wallpaper to revamp lampshades you can use fabric in the same way.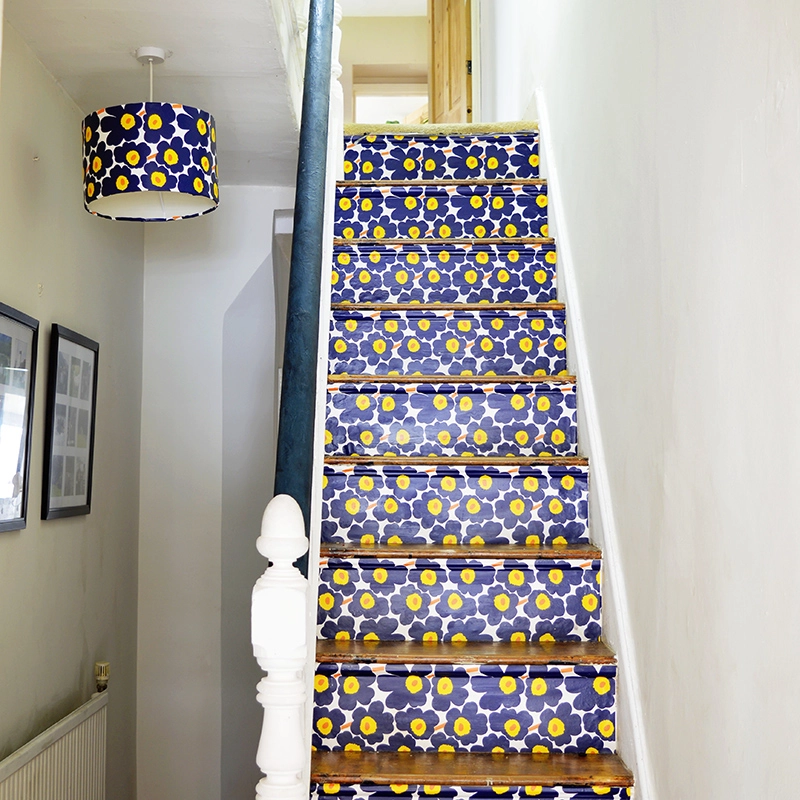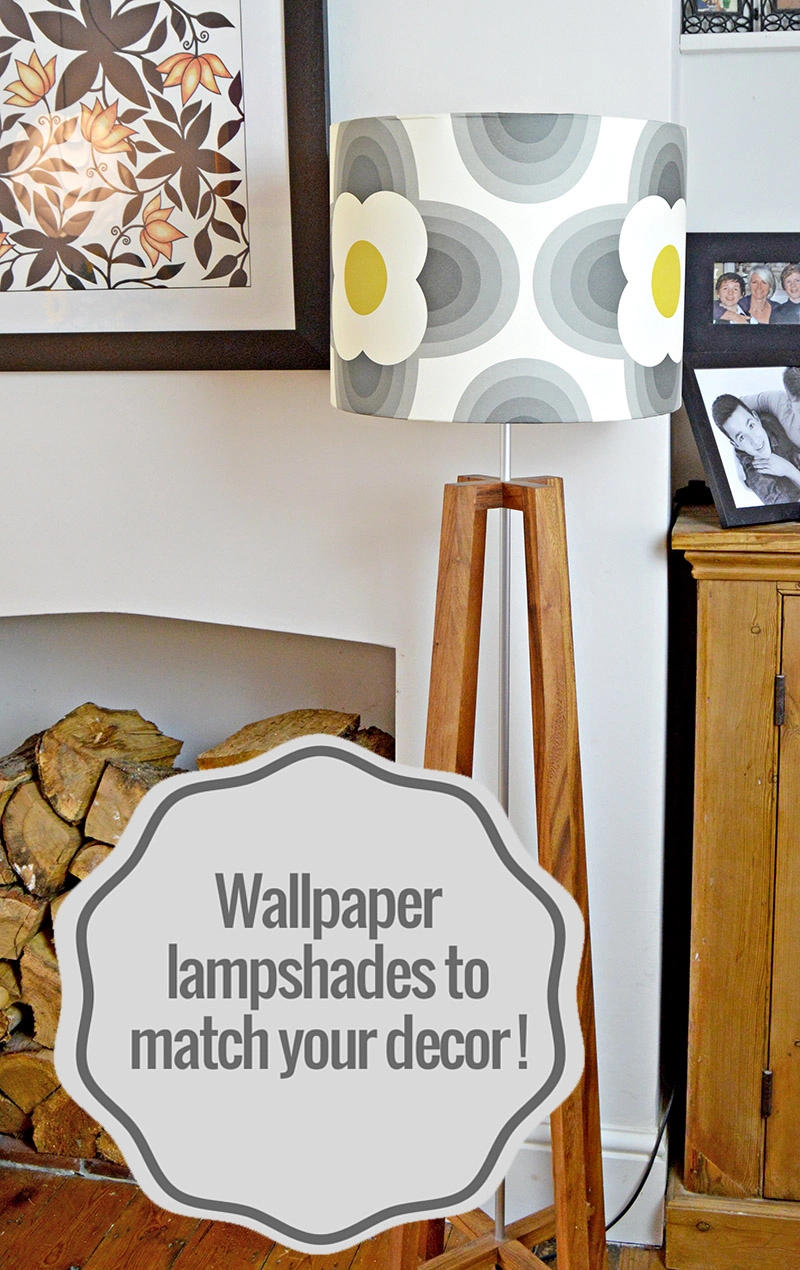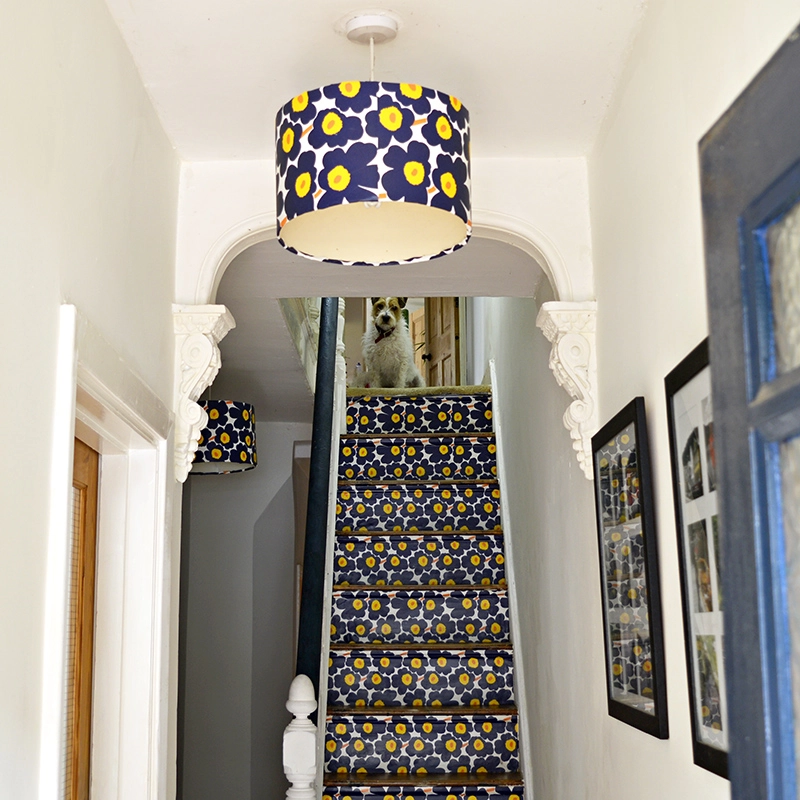 Wallpapering the two lampshades in the hallway to match the stairs have really help finish off my hallway revamp. I have some more great wallpaper decor ideas coming soon, so watch this space.
You might want to check out this IKEA Hemnes hack with wallpaper.