It is very easy to stencil a cushion or pillow with doilies.
I gave my outdoor canvas cushions a bit of a makeover by using doilies as stencils to paint pretty patterns on them.
It was a very affordable and fun pillow upcycle that gave great results for very little effort. I warn you it is a very addictive craft, as the cushions are so lovely. It's very tempting to make many stenciled pillows, I'm on the lookout for more fabric.
I got so carried away with using doilies as stencils I even painted some old vintage plates for a cute upcycle.

A couple of weeks ago I made some Map Table Mats. When I was putting them away in the kitchen with all my other table stuff, such as paper napkins and cloths, I struggled to shut the drawer. It was time for a clear out!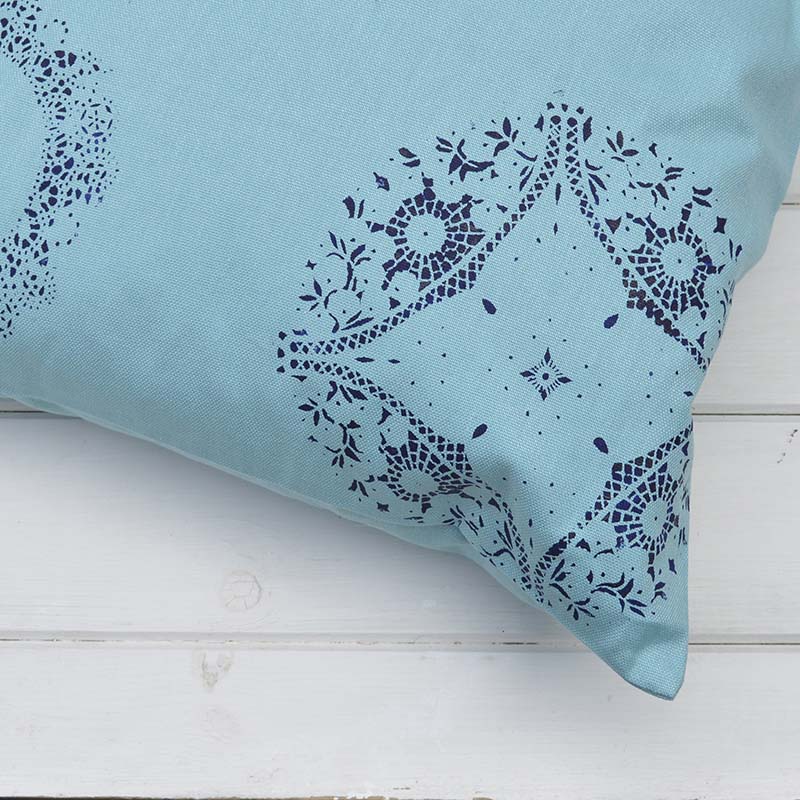 Firstly I discovered that I must stop buying paper napkins no matter how pretty they are. Secondly, I found right at the bottom a packet of paper doilies.
I'm not one normally for fancy doilies, these must have been leftover from the traditional English garden party we held for the Queen's diamond jubilee.
These doilies did, however, give me an idea and that didn't involve cucumber sandwiches and Victoria sponge cake. I would use them as a stencil.
We are a participant in the Amazon Services LLC Associates Program, an affiliate advertising program designed to provide a means for us to earn fees by linking to Amazon.com and affiliated sites. As an Amazon Associate, I earn from qualifying purchases.
Doily Stencil a Cushion/Pillow
What you need to stencil a pillow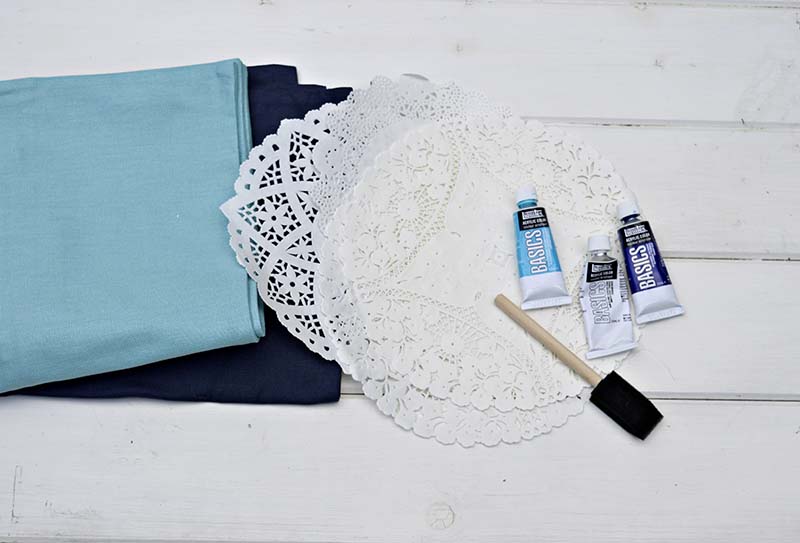 How to Doily Stencil a Pillow
1. First, remove the cover from the cushion / pillow. Then using the repositionable spray mount, spray one side of your doily. Place the doily on the cushion where you want to stencil.
I liked to create a random pattern with my doilies on the cushion covers and used doilies in an assortment of sizes as well as patterns.
Top tip: If you don't want to use spray paint another method is to pin the pillow cover to a foam board to stop it moving around and to pin the doily stencil to cushion cover.
The idea is to make sure that the cushion/pillow and doily don't move while stenciling.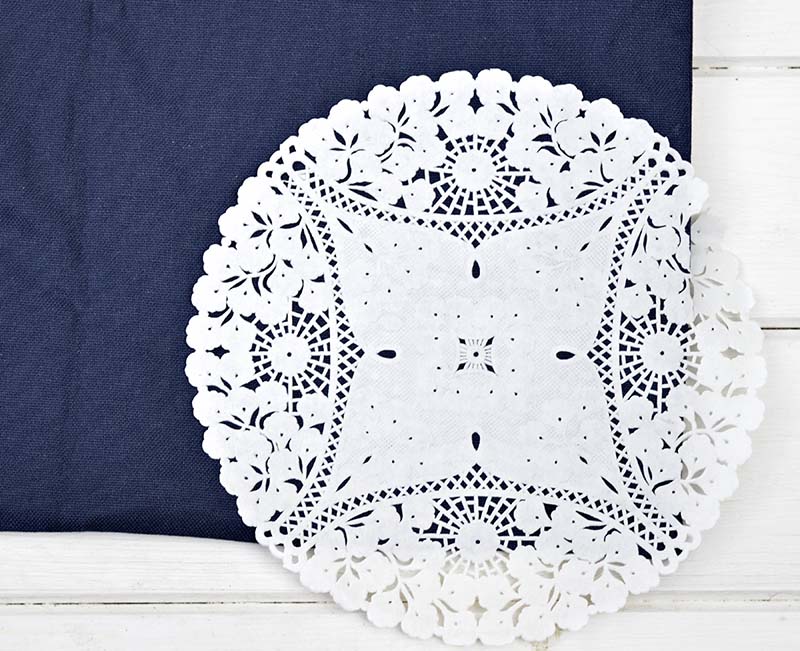 2. Next, it is time to add the acrylic paint. With these cushions I painted with the acyrilic paint neat and they have lasted well.
However, I have since discovered fabric medium which if added to acrylic paint turns it into fabric paint which makes it more robust when washing.
When painting with a stencil it is best to use a foam brush and to use a dabbing motion. Load up the foam brush with not too much paint and dab it over the holes in the doilies until all the fabric is covered.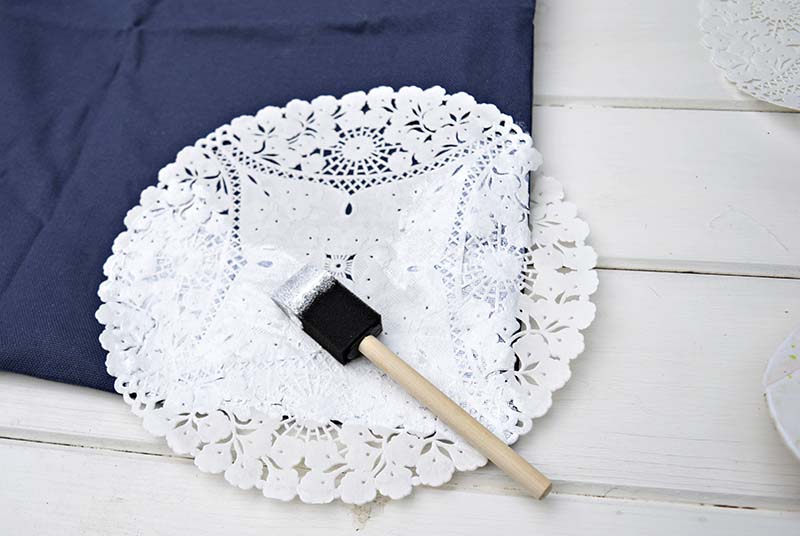 3. When you have finished stenciling the cushion quickly and carefully remove the doily.
Especially if you have used repositionable spray rather than pinning. If you leave the doily too long on the pillow it will get stickier and be harder to remove.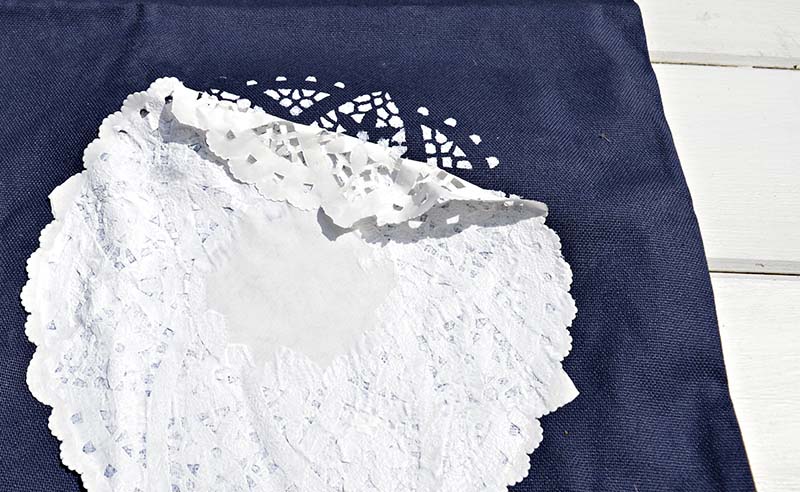 4. Repeat with the next doily until you have the pattern you want. The paper doilies will get wet so it is best to use a fresh doily with each pillow stencil.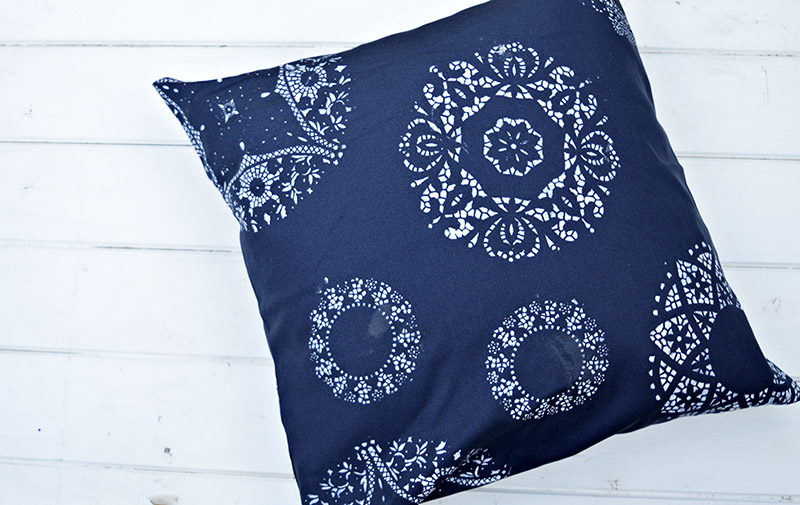 5. To finish off, if you just used paint and no fabric medium you will need to seal soften the doily stenciled pillow.
To do this, once the paint is thoroughly dry, spritz the paint with a 50/50 mixture of clear vinegar and water. Then place a clean cotton cloth such as a tea towel in between the paint and the iron, iron with a hot iron.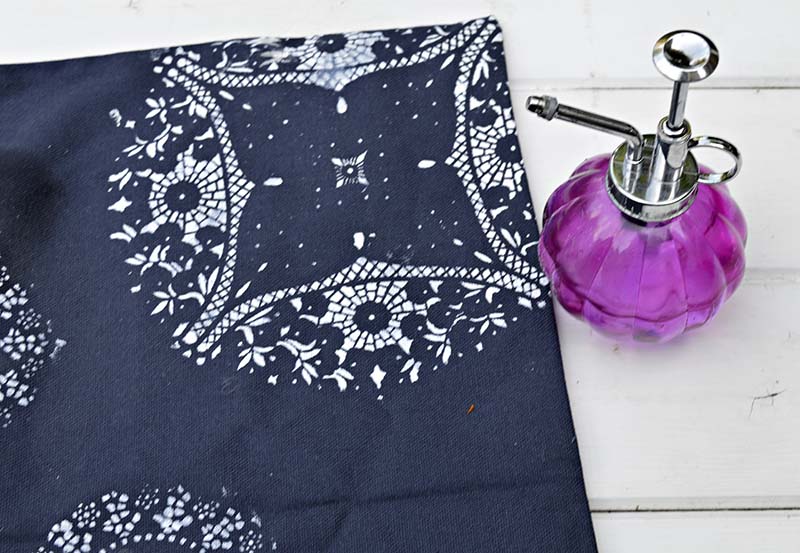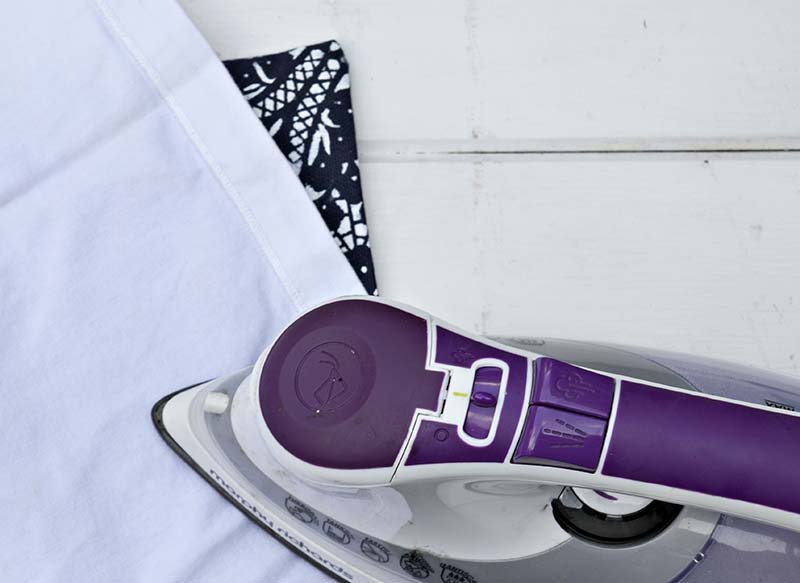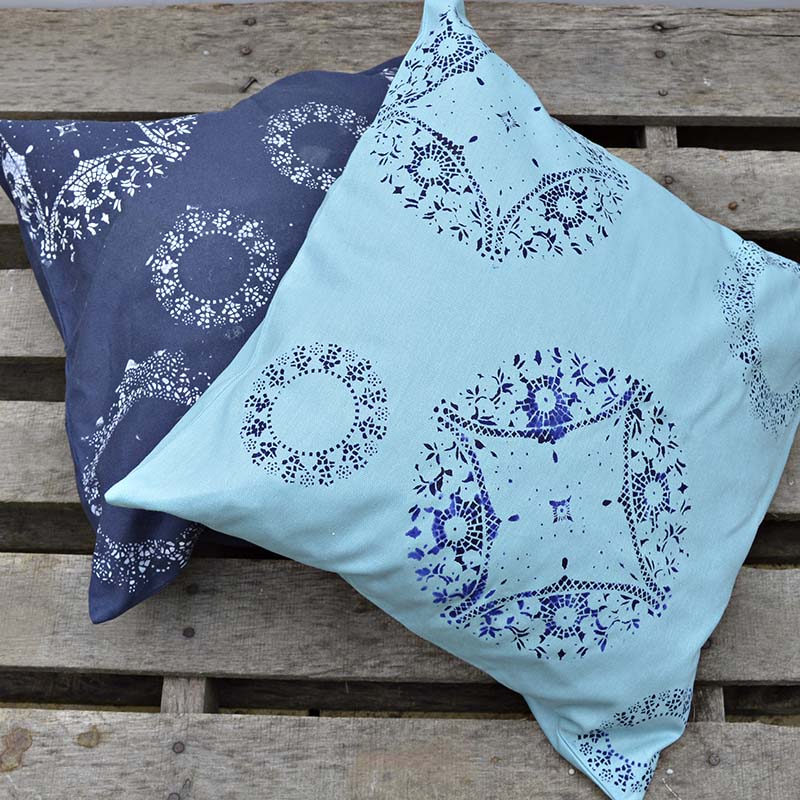 I love how these cushions turned out. It is best to use a paint colour that contrasts with your cushion cover.
So if you have dark cushion covers then use a light paint. For example, I used a navy blue cushion and white paint. If you have a light cushion cover use dark paint.
I had a light turquoise cushion and stenciled with dark blue paint. I'm tempted to go and by some more colorful cushion covers and try out lots of different color combinations.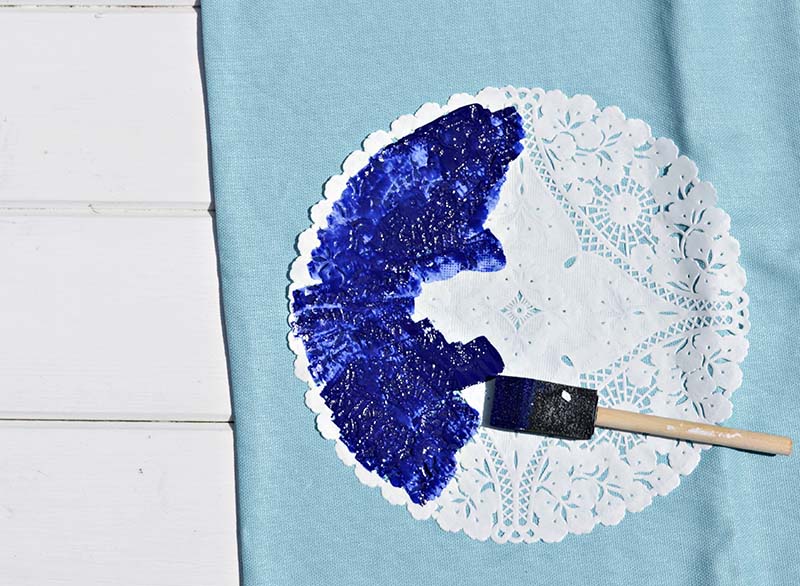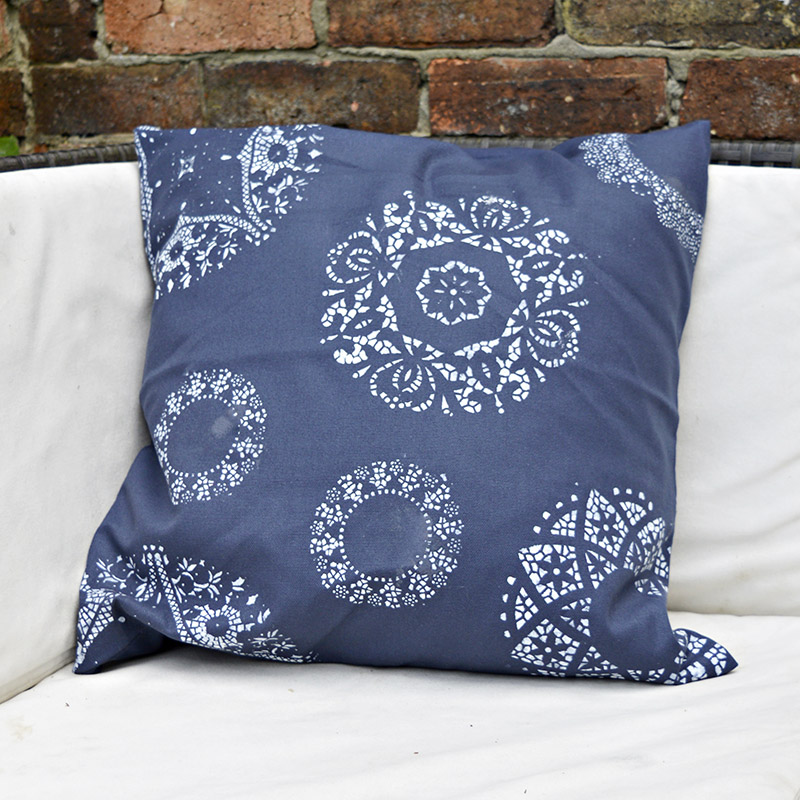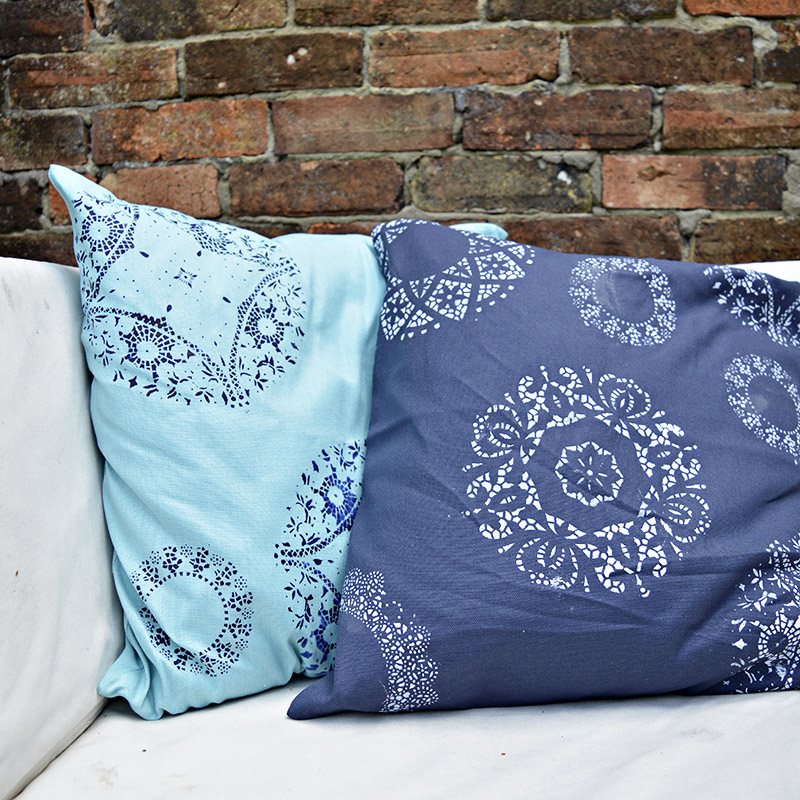 These doily stenciled pillows sit on my outdoor sofa in the summer. Since making the doily pillows I have Shibori dyed the sofa cushions and the doily pillows go really well with them.
There are more ideas of stenciling with paper doilies here. I also have a tutorial for turning vintage cloth doilies into a cute angel wings ornament.
I have also stenciled a denim fish pillow but this time I used bleach instead of paint.
As well as stenciling fabrics I have stenciled a wooden pallet in my garden to make a Moroccan painted wood planter wall that matches these cushions very well. I've also made a pineapple stenciled table for my living room.