Get The Mid Century Modern Look with Orla Kiely Crafts & DIY
I love the mid century modern look, which is very popular at the moment. One of the great ways to achieve that look in your home is to add a bit of Orla Kiely. Orla Kiely is a contemporary Irish designer, whose designs have a definite mid century modern vibe about them. The most iconic of her designs probably being the multi stem leaf print. This print has been on everything from, bedding, home furnishings, kitchen ware, furniture, bags, and even garden gloves and digital radios.

Here I have rounded up 12 great ways to get a bit of Orla Kiely magic into to your home. Whether it's upcycling with a her wallpapers or creating your own Orla Kiely inspired designs, the'll be an idea here for you. Go get that mid century modern look!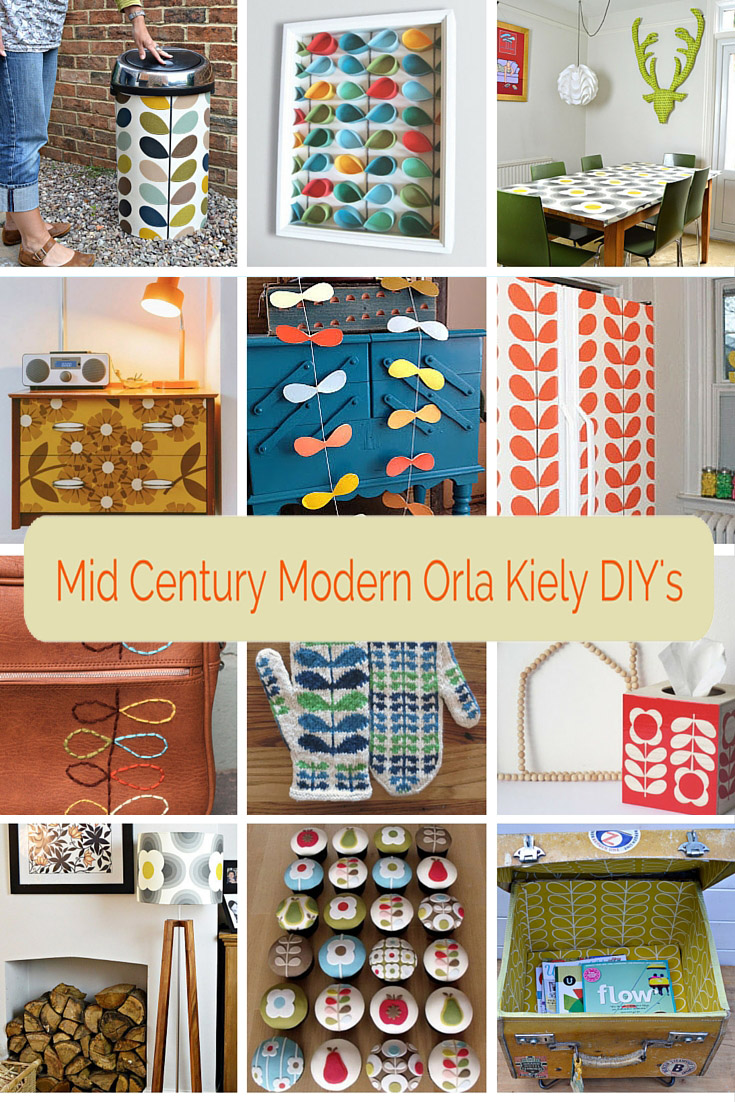 1. Orla Kiely Linear Stem bin makeover – Pillarboxblue
This is my most popular post and has been featured in several places such as Apartment Therapy. Who'd of thought that transforming a humble bin with a bit of wallpaper would be so popular. You have got to admit though the bin looks great.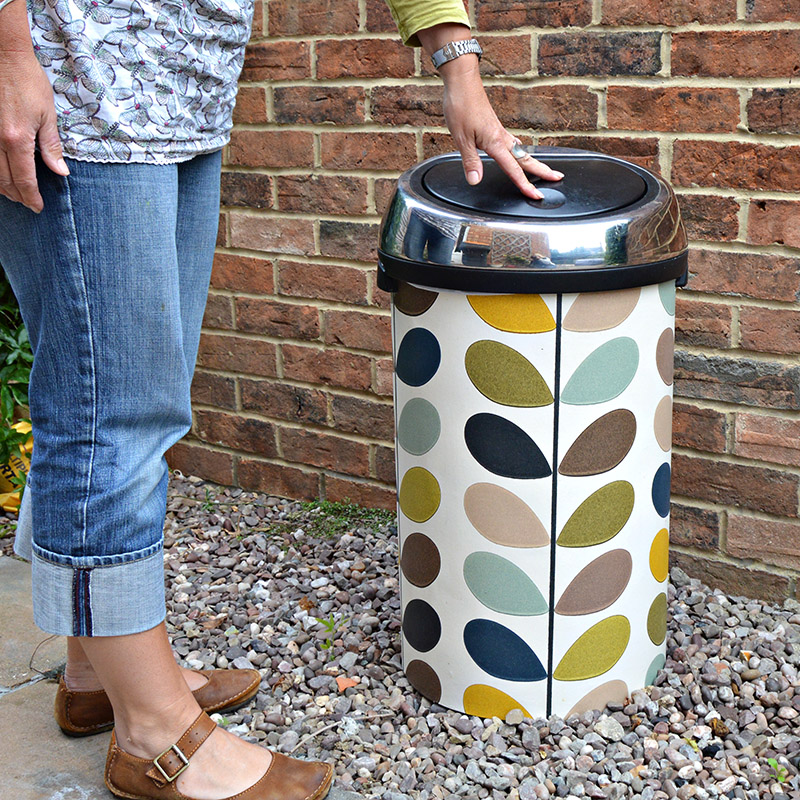 2. Orla Kiely Fridge – Casapinka
Why stop at a bin? You could revamp your fridge with Orla Kiely wallpaper.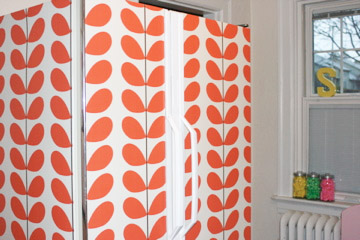 3. Hand stitch the multi stem design onto a bag – A Beautiful Mess
Update a plain bag with some Orla Kiely by hand stitching one of her designs.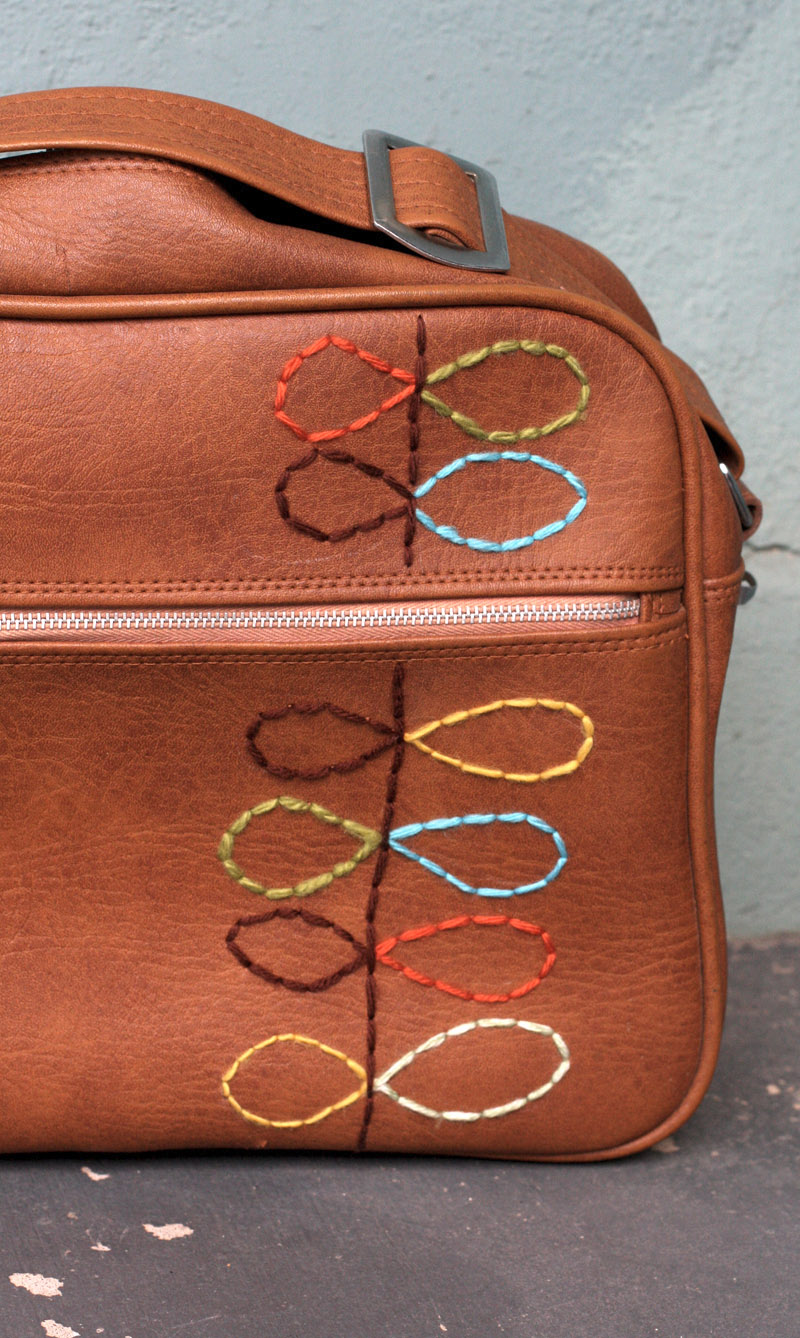 4. Orla Kiely Lampshades – Pillar Box Blue
It is so easy to make your own Orla Kiely lampshade or revamp an existing one. Again with wallpaper, this time the daisy print.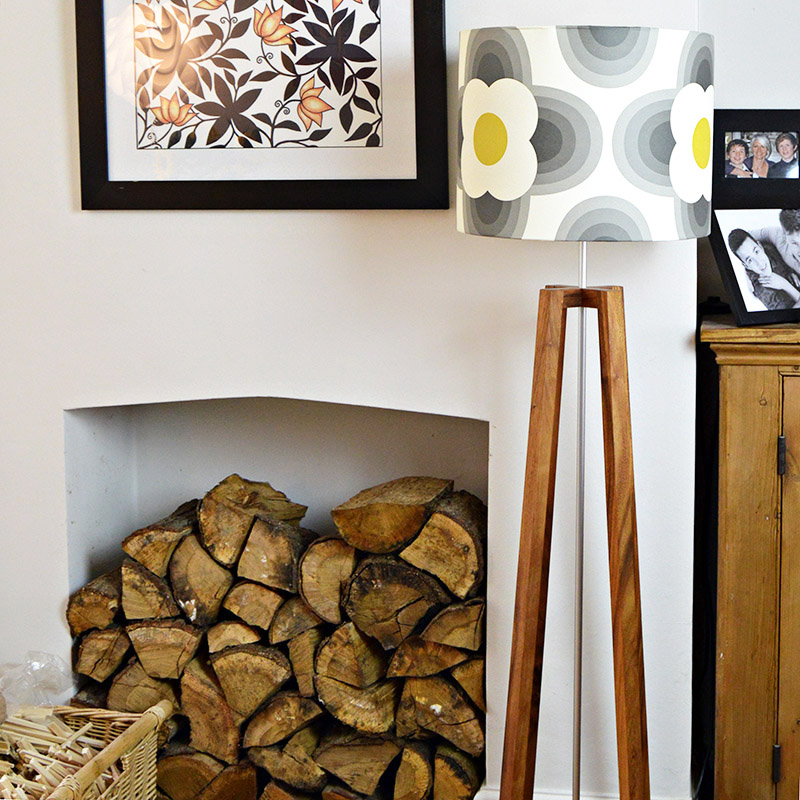 5. Multi Stem Garland – The Blue Kazoo
How about making an Orla Kiely multi stem garland from paint chips, for a fun decoration.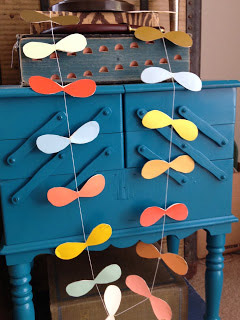 6. Line a vintage suitcase – Pillar Box Blue
Because Orla Kiely prints have that retro vibe, they are perfect when combined with vintage revamps. Like with this upcycled suitcase side table.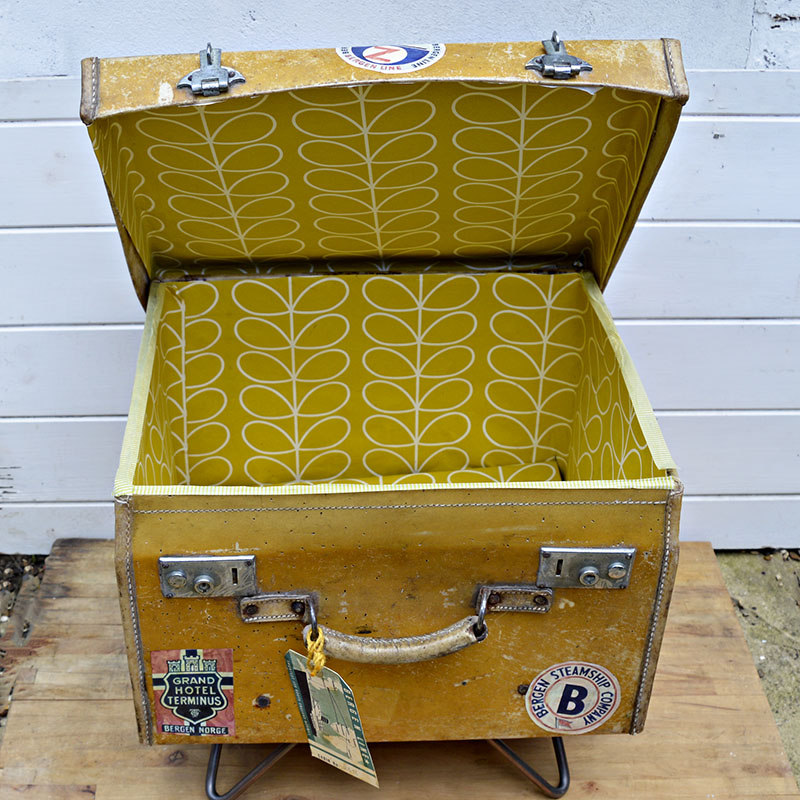 7. Orla Kiely inspired cardboard wall art – Mollee Made
Create your own mid century modern picture with coloured paper.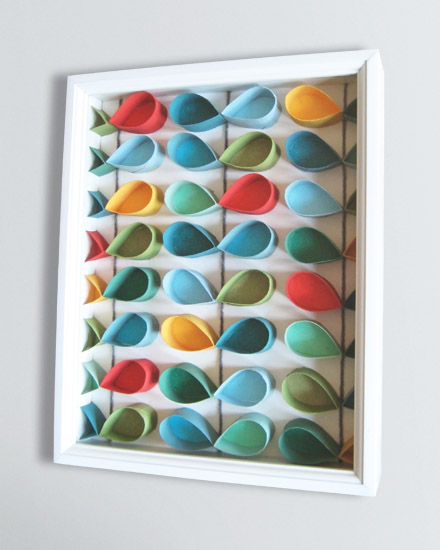 8. Dining room table in the Daisy print – Pillar Box Blue
Revamp an old dining room table with some Orla Kiely wallpaper to give it a more mid century modern feel.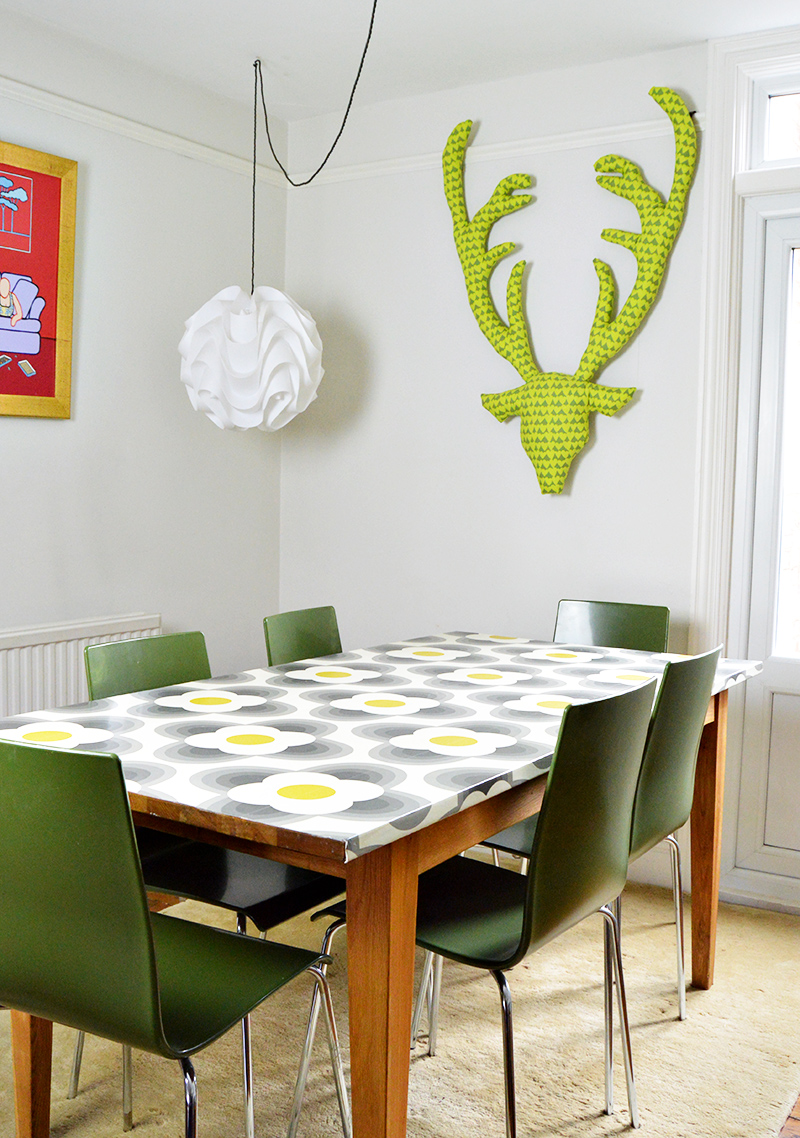 9. Orla Kiely inspired mittens – Just Crafty Enough
For those of you who like to knit, here's an Orla Kiely inspired pattern.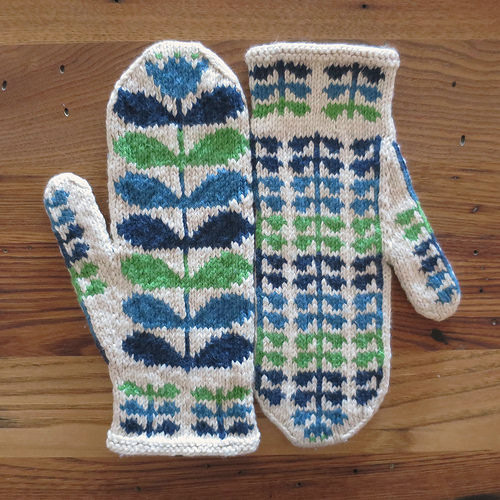 10. Orla Kiely Cupcakes – Hellocoton
I couldn't find a tutorial for these cupcakes, but they are so adorable I had to include them in my round-up. It shouldn't be too difficult to work out how to make them.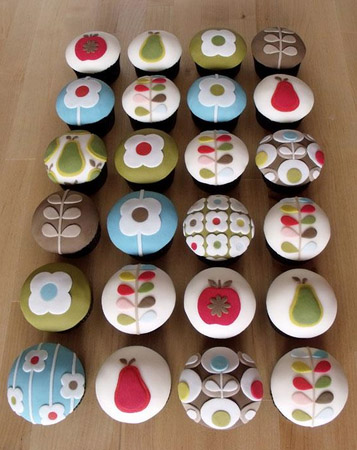 11. Orla Kiely Tissue Box – Tadaam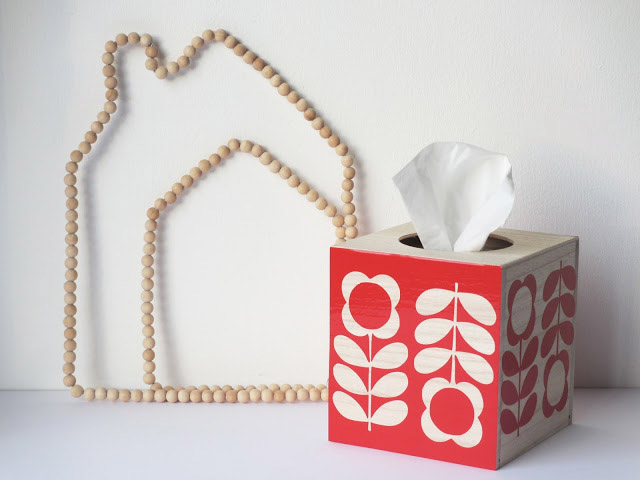 12. Orla Kiely furniture and stairs upcycle – Recycled Interiors
If you want to see some great use of Orla Kiely in a home have a look at this great home tour at Recycled Interiors. Orla Kiely has been used on stairs, drawers and chairs in this unique cottage giving a truly impressive mid century modern feel.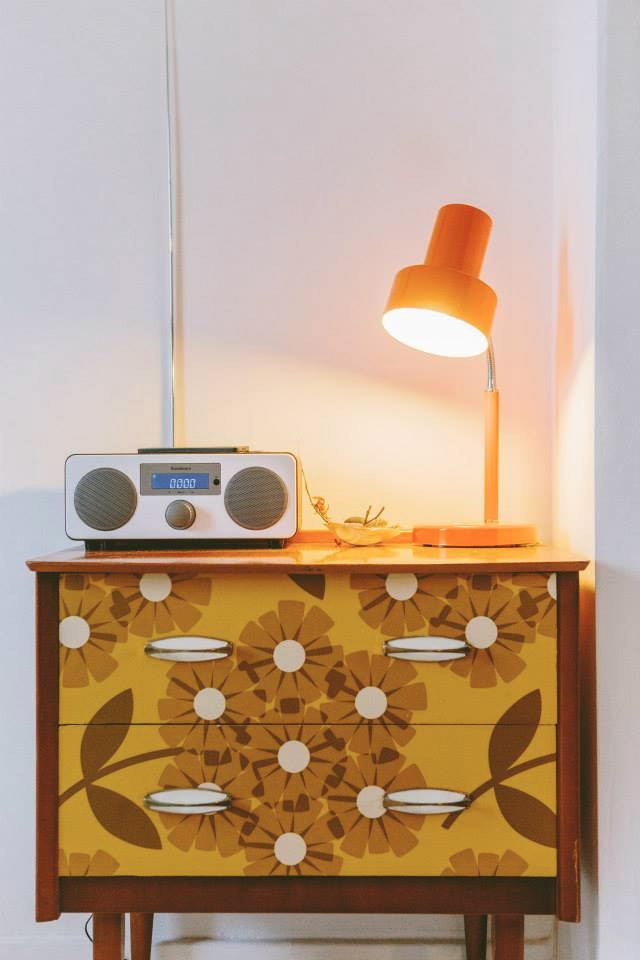 A lot of these crafts and DIY's are made with Orla Kiely wallpaper. Sometimes you only need a little wallpaper, I look on ebay to buy part rolls of wallpaper for smaller projects. Also you can by Orla kiely wrapping paper which will work just as well for some of these projects.

Another design company with a mid century modern feel to their prints is Marimekko, click here to see my popular round up of Marimekko DIY and crafts.