I found a gorgeous mustardy yellow old suitcase, which I upcycled into a fabulous side table. Not only that, I added extra character to the case with some vintage luggage labels. This old suitcase table looks great either as a bedside table or as a coffee table. The storage it creates is an added bonus.
My sister-in-law has a fabulous collection of vintage luggage labels and hotel stickers from Bergen which she kindly lent me for this project. I have scanned these lovely labels into a pdf which you can download and use for your own projects (click here to download).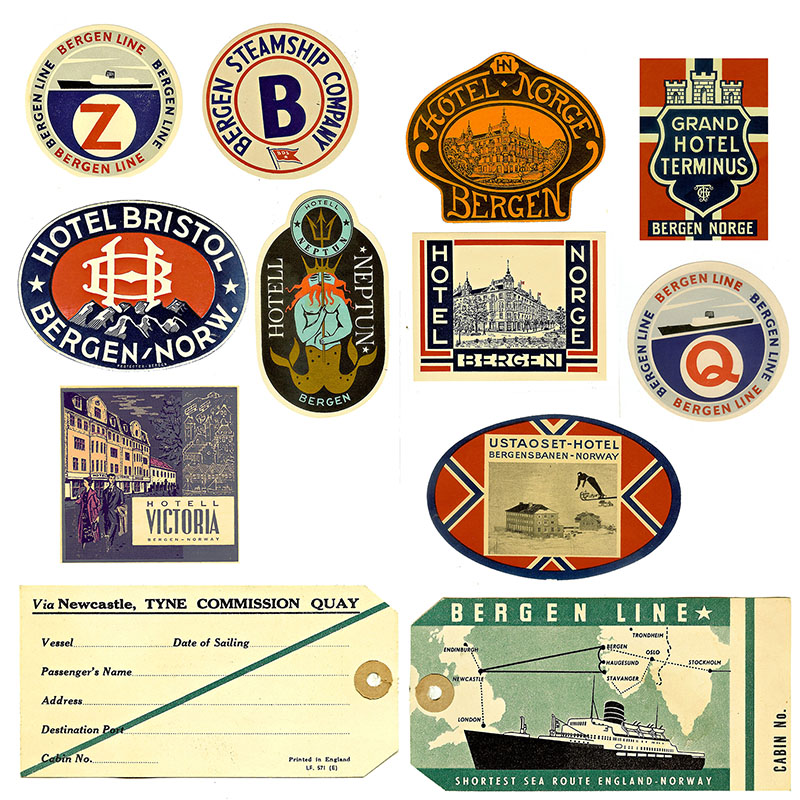 Why Bergen ?
To give my upcycled creations that extra special touch, I love to personalize them often with images and maps. My husband's family is originally from Bergen in Norway and it is one of our favorite places in the world.
Being brought up in Hong Kong I have traveled extensively, especially around Asia and Europe. And Norway is the most stunningly beautiful country I have ever visited. If it wasn't also the most expensive Paul and I would be tempted to live in the Fjords. I'd already made a map chair to celebrate my love of Norway, so I decided to continue with this theme when decorating my old suitcase table.
A wonderful collection of vintage Norwegian maps including one of Bergen can be found here.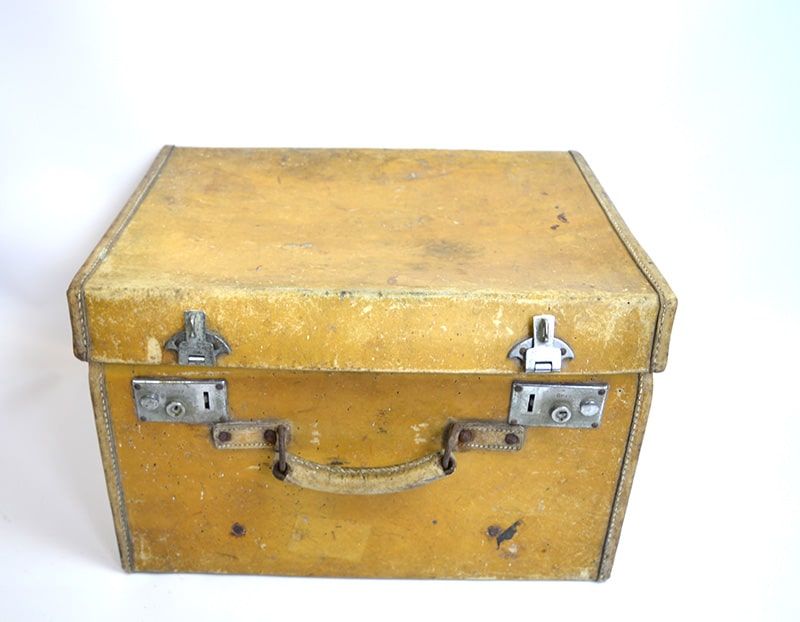 We're a participant in the Amazon Services LLC Associates Program, an affiliate advertising program designed to provide a means for us to earn fees by linking to Amazon.com and affiliated sites. As an Amazon Associate, I earn from qualifying purchases.
How to make an upcycled old suitcase table
I was lucky to find this suitcase at my local auction house, and because it was in a bit of a poor state, I managed to pick it up for just a couple of pounds. I'm always on the lookout for old suitcases at the auction or in charity shops.
I can normally pick them up very cheaply as I'm happy to have the more unloved suitcase ready to revamp into something wonderful like my patchwork denim suitcase.

Part of the charm of this particular case was its color and aged look so I didn't want to do too much to the outside of it. I just gave it a good clean with some leather cleaner. I used wire wool to scrape away excess rust from the hinges and lock.

PART ONE: Relining an Old Suitcase
The suitcase inside was in an awful state, so I ripped out the old lining and gave it a new one. In the past, I have lined my suitcases with fabric, such as my map case. However, this time I decided to use wallpaper.
The only reason I used wallpaper and not the fabric is because I had some lovely Orla Kiely paper scraps. These were left-over from previous upcycling projects, which I thought would look great with this vintage case. The colour was perfect; the print had a lovely vintage vibe.
I cut out pieces of wallpaper to fit the sides and the suitcase lid, with a small overlap. The wallpaper was stuck to the insides of the old suitcase using wallpaper paste.
As I was going to fit legs onto my suitcase, I needed a firm base to attach them to. I cut a piece of plywood to fit the base of the suitcase. I then covered this in the wallpaper and inserted it into the case.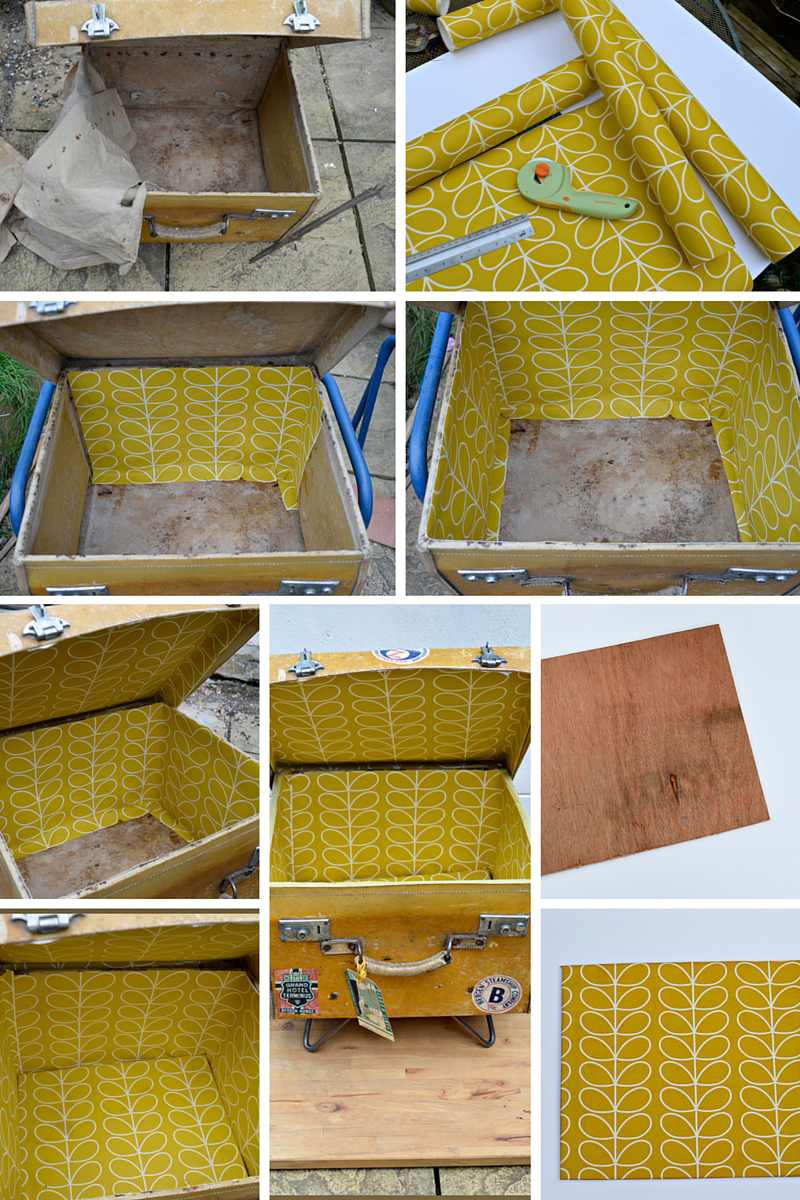 PART TWO: Adding Hairpin Legs To A Suitcase
To turn this old suitcase into a table I needed to give it a bit of height. I bought four 6″ hairpin legs from Amazon.
You can buy hairpin legs in various colors and styles to match your decor. I was making a low bedside table from the old suitcase, so I choose short hairpin legs.
To attach the legs to the suitcase, I simply drilled holes in the bottom of the suitcase. I then attached the hairpin legs by screwing through the bottom of the case and into the plywood base I'd inserted.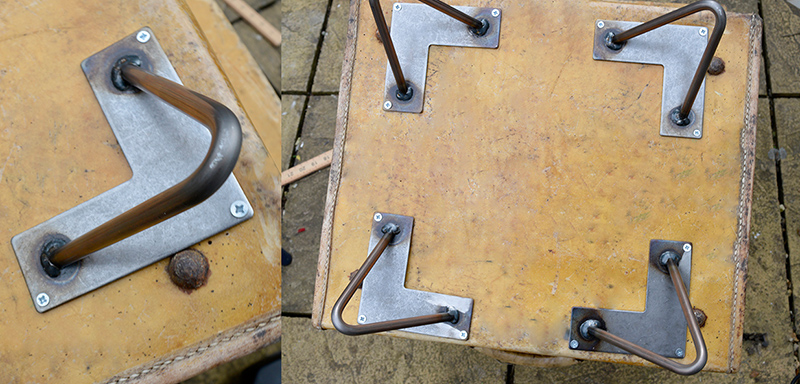 PART THREE: Personalizing The Suitcase Table
The great thing about making your own upcycled furniture is that you can make it unique to you by personalizing it. That is what I did with this table by using vintage luggage stickers. If you are looking for vintage travel stickers of a particular destination try Amazon, there are lots to choose from.
I printed out the luggage label and travel stickers pdf: Bergen Labels. I then cut these out very carefully. Then, with decoupage glue, I stuck the cutout labels onto the old suitcase.
Some of the labels were stuck randomly. I used other labels to hide any bad blemishes on the old suitcase. Then, the labels were covered with a couple of coats of decoupage glue to protect them.
To complete the vintage travel look of the upcycled old suitcase table, I made a luggage tag. Both sides of the Bergen Labels were printed onto cream-colored heavy paper. I then stuck them back to back and I used an eyelet tool to punch a hole into the luggage tag and added a rivet and old twine to complete the vintage look.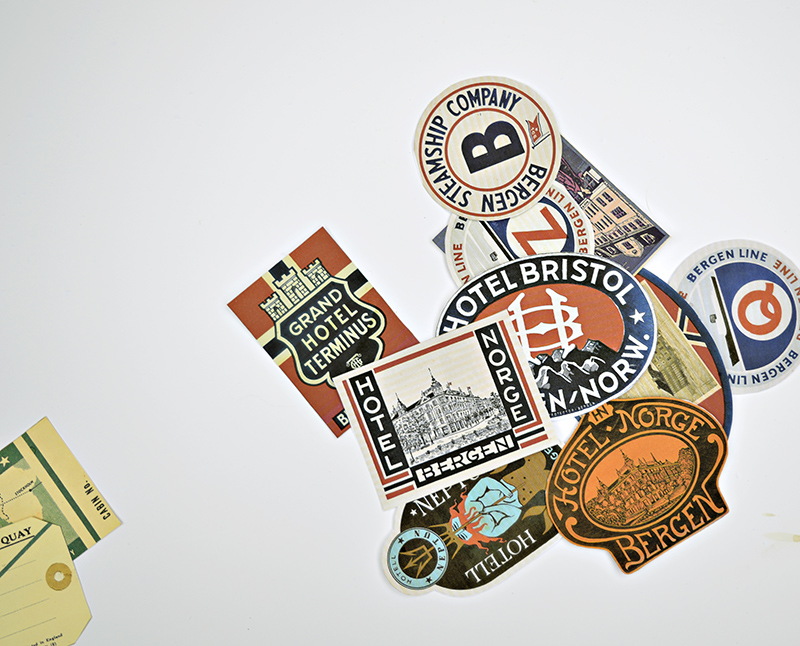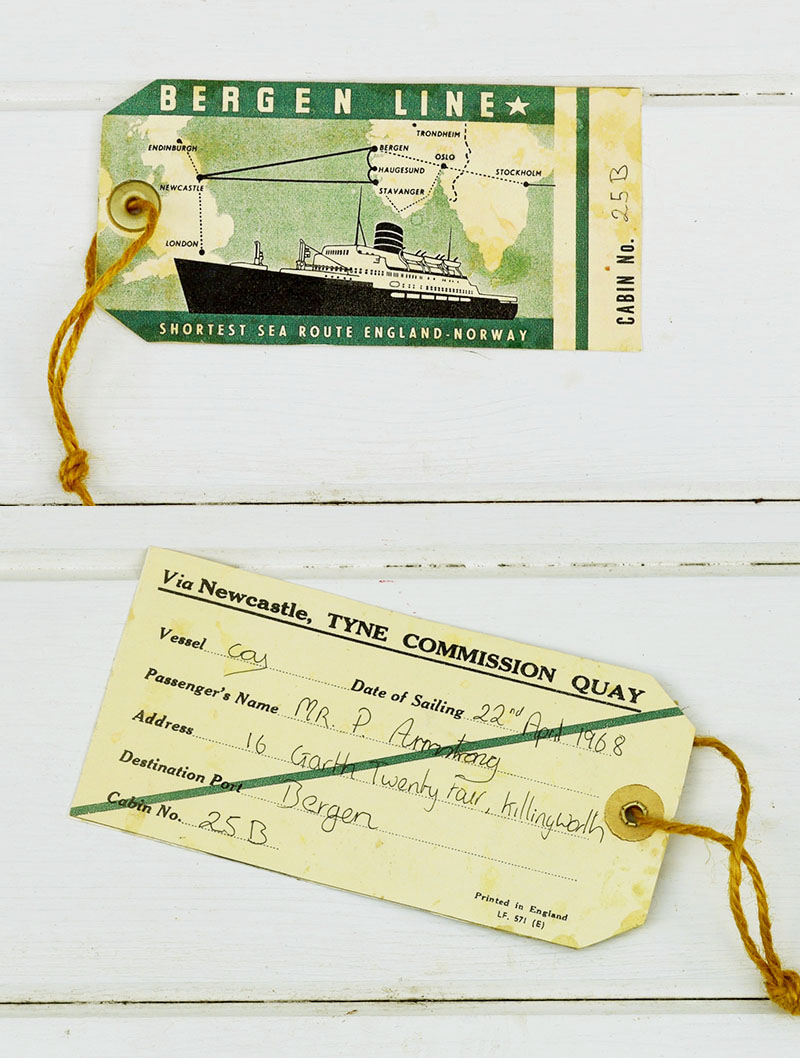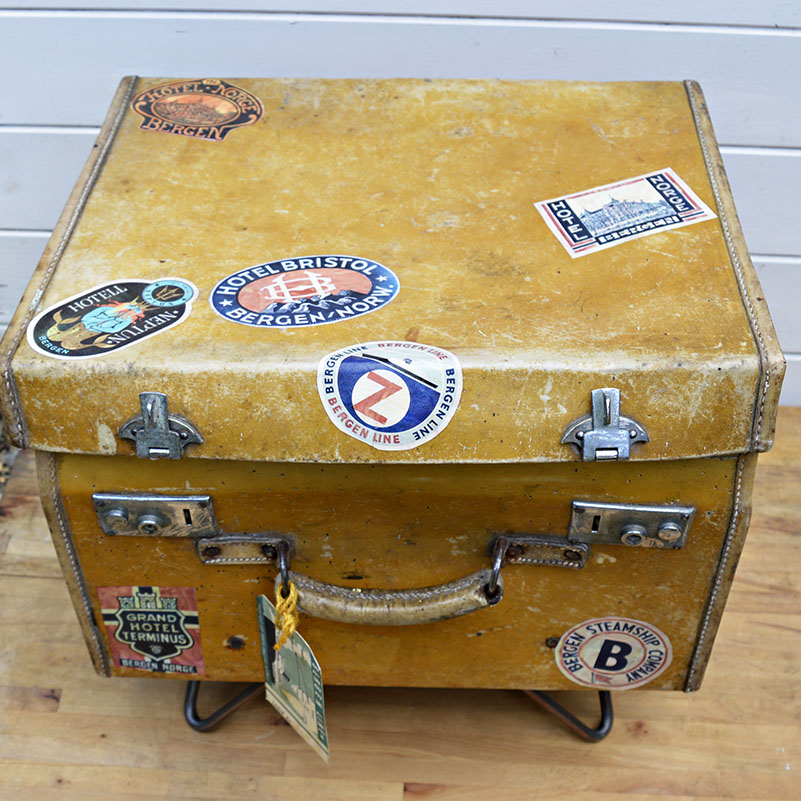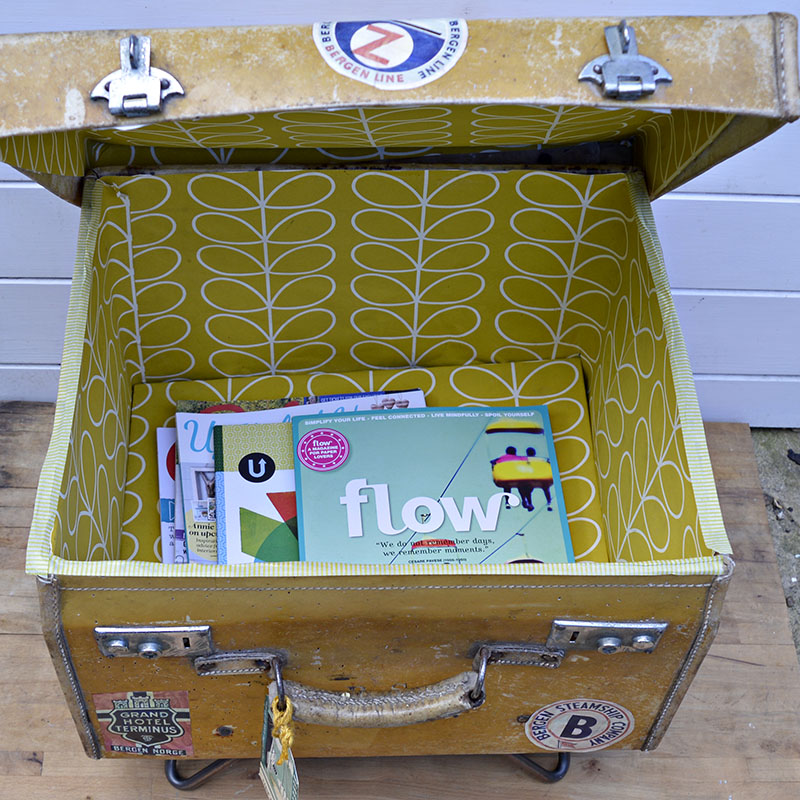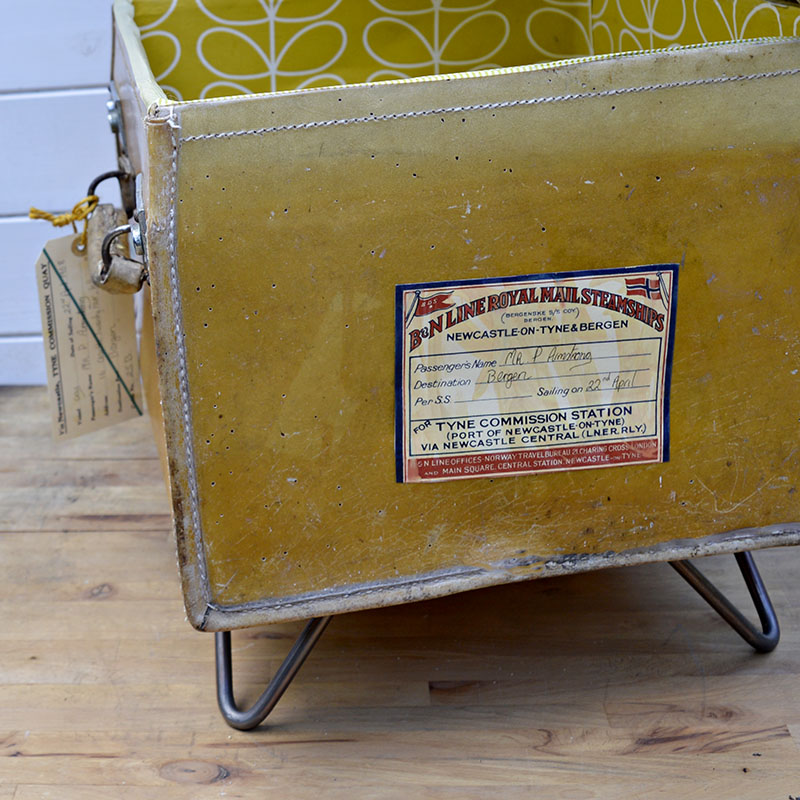 I love this upcycled vintage suitcase table. My husband has it as his bedside table. As well as looking great, with all the lovely old stickers, it's really handy for storage too.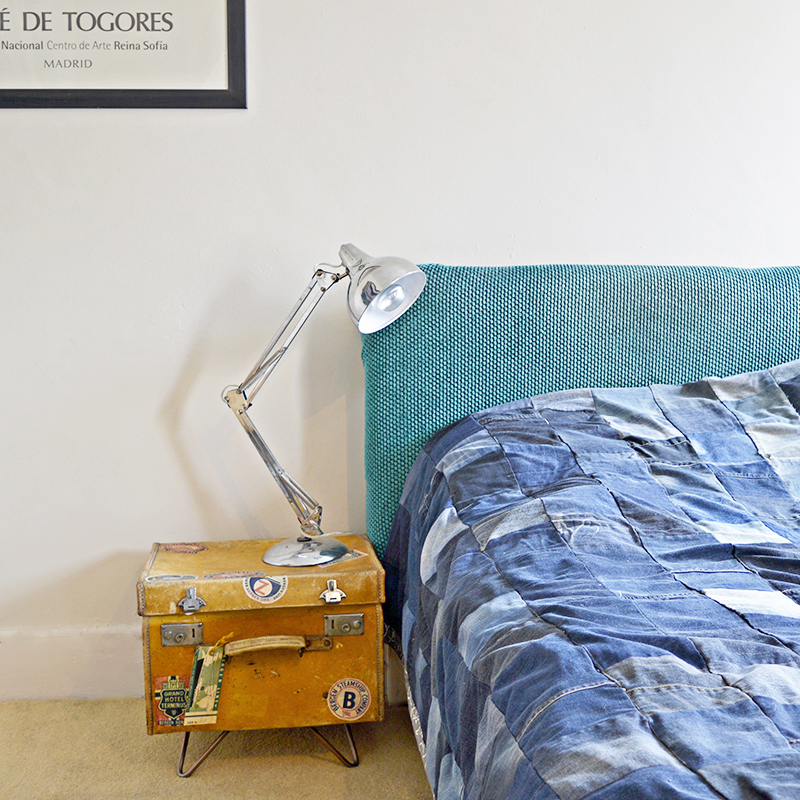 More Travel-Themed Ideas
The hairpin legs used to make this old suitcase table are convenient. I've used more of them to make my son a fun upcycled nightstand out of an old wine crate. There are also a lot more ideas on how to repurpose vintage suitcases here.
I have also used more vintage luggage labels to make cute magnetic pins for a map magnetic board. For more travel-themed upcycled decor ideas complimenting this bedside table, check out these other posts.