Why I made this wall planter. When my eldest son accidentally broke my favourite plate, whilst silently screaming on the inside, on the outside, I was calm. I just put the plate to one side. I couldn't bare to throw it away.
My favourite plate was beyond repair but I it was too lovely to just chuck out. I was determined to find a use for it. And I did with this beautiful mosaic wall planter.
Of course, I used more than one plate for my mosaic wall planter.
Living with 3 teenage boys and being afflicted with the clumsy gene myself, my broken crockery box soon grew to include a few more plates, chipped bowls and mugs.
I have this quirk that I love to eat off a fancy plate. I don't know why because not much else is fancy in my house. And the food I eat off them isn't particularly fancy normally just a bit of cheese and chutney.
I actually have quite a collection of fancy plates. Every time I visit Anthropologie I can't resist buying one of their Lou Rota Plates. I now have the complete set.
How to Transform Broken Crockery into a Beautiful Mosaic Wall Planter
My collection broken crockery was from my beautiful plates and bowls. Therefore I didn't design a fancy mosaic pattern for the wall planter as the broken pieces had pretty patterns and colours on them.
For me, the clever bit of this project was actually cutting the chipped bowls and mugs in half to use as them as planters.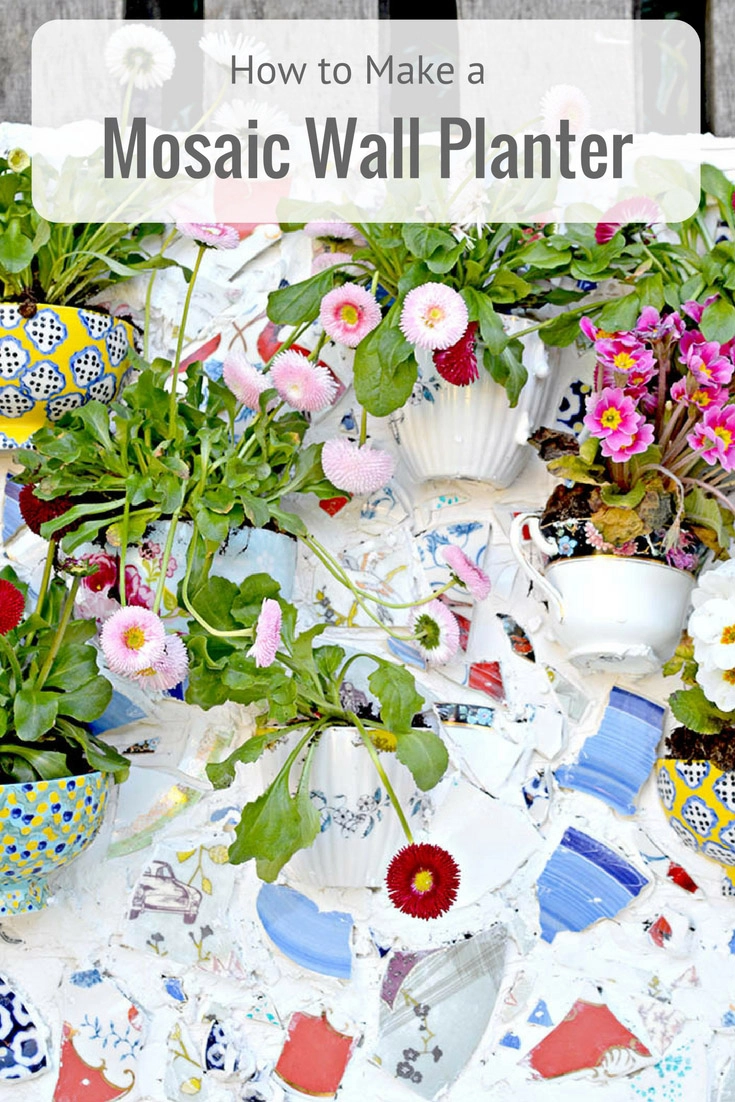 I can't decide whether to have this mosaic wall planter in the garden with bedding plants or to have it inside with succulents. I will just have to carry on collecting another box of broken crockery and make another one.
This post contains amazon affiliate links for your convenience. Click here to see my disclosure policy.
What I used to make a mosaic wall planter
The tools used ..
A few specialist tools were needed for this project. Listed are the ones I used.
Any tile cutter will do, if you don't have one perhaps you could borrow one.
The other bits and pieces needed…
Collection of broken or chipped plates, mugs, and bowls.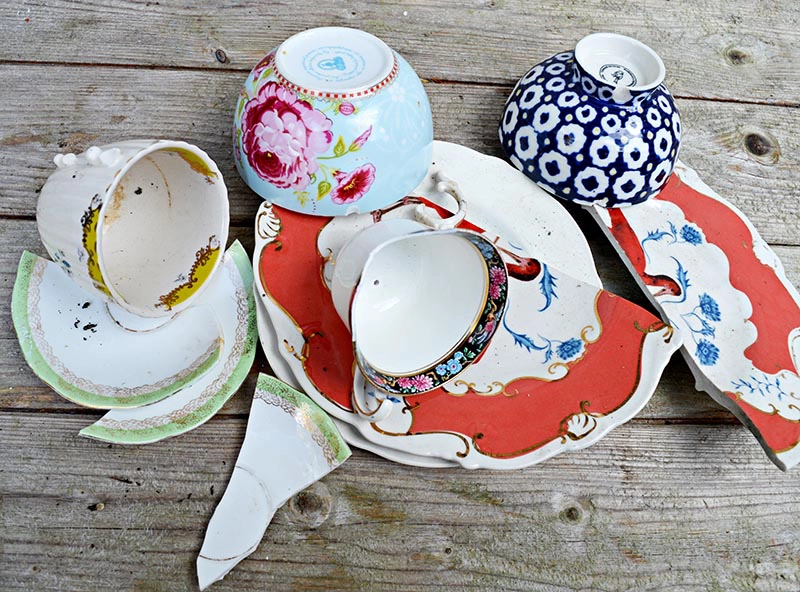 A piece of wood to mount your mosaic wall planter on. You will want something that is suitable for outside (or it will warp). If you don't have a suitable piece of wood that is treated for outdoor use you can use a concrete backed board. The type that is used when plastering bathrooms. You should find this in your local DIY store.
How to construct a mosaic wall planter
Preparing the base..
1. The first thing you will need to do is to prepare the base that you will use for your wall planter. I used an old kitchen cupboard door rescued from a friend's skip (dumpster). The door was solid wood, the right size and had hinges which I thought would be useful for hanging. In order to weatherproof the wood, I coated it all over with outdoor marine wood varnish.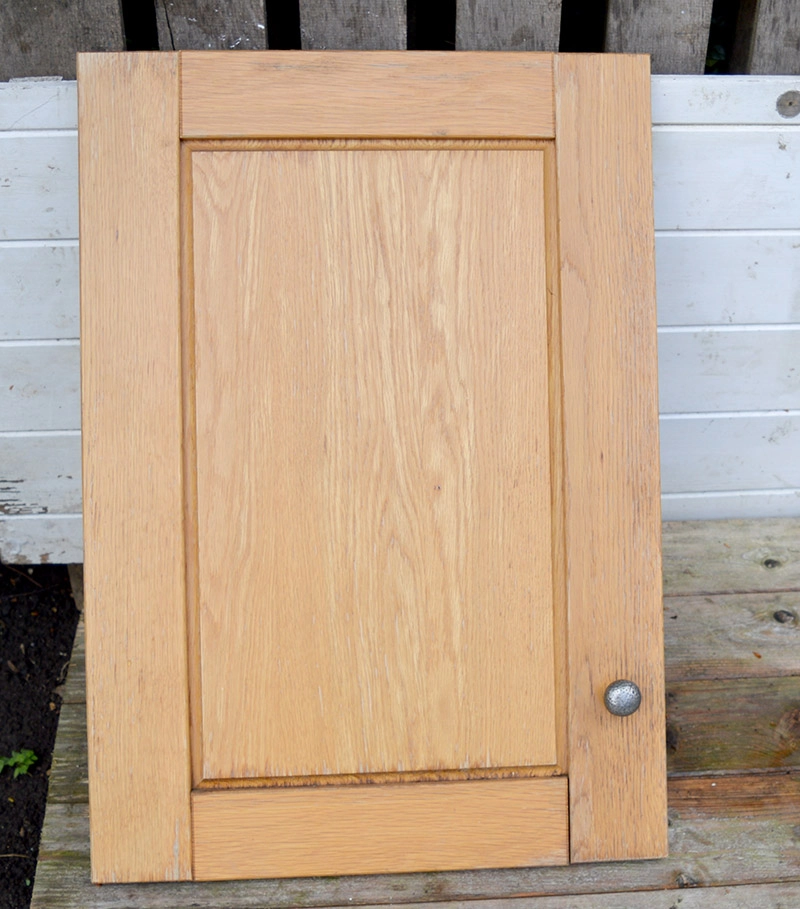 Preparing the crockery..
This is where the power tools come in handy. You need something that will saw and drill into tiles/porcelain.
2. Next, use a specialist drill bit to drill a couple of holes in the bottom of each bowl and cup. However, if your planter is going to be out of the rain then you may be able to skip this bit.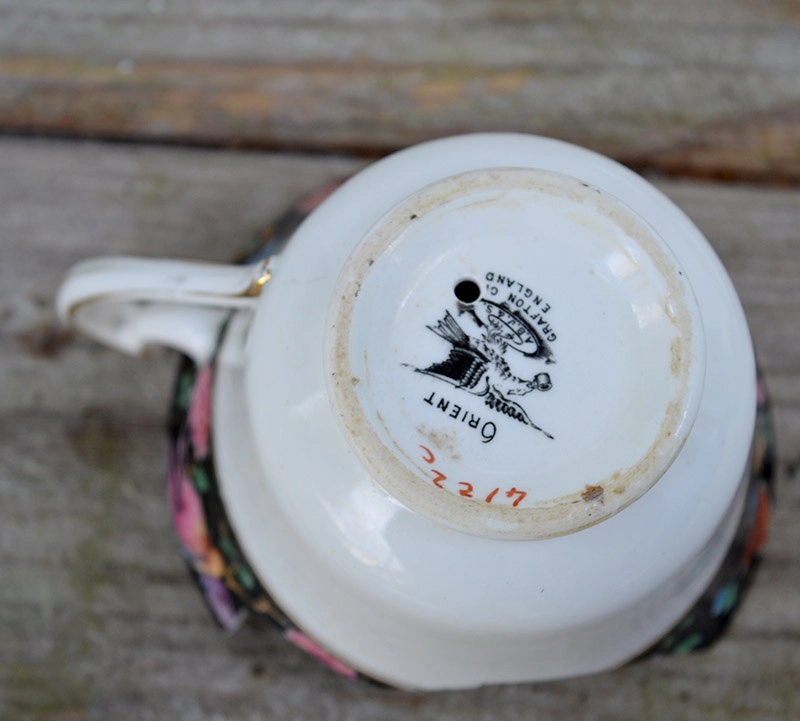 2. Then, using a Dremel rotary saw carefully cut each bowl and cup in half. Don't forget to wear safety goggles when doing this as little bits of porcelain fly all over the place.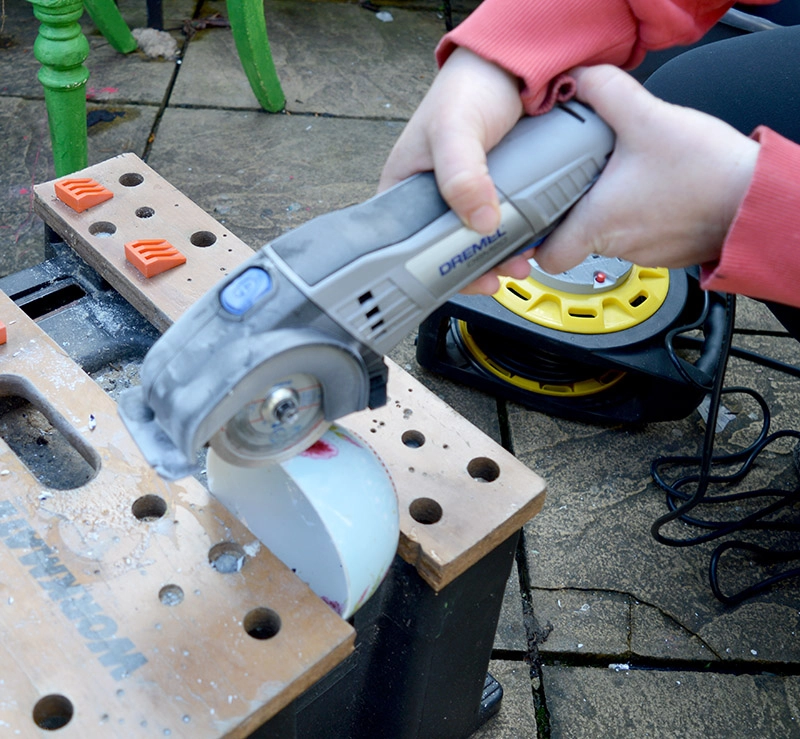 3. Next, place the rest of the crockery in a box and smash it into smaller pieces with a hammer. If you want a piece of crockery a particular shape and size then you can also use the tile nippers.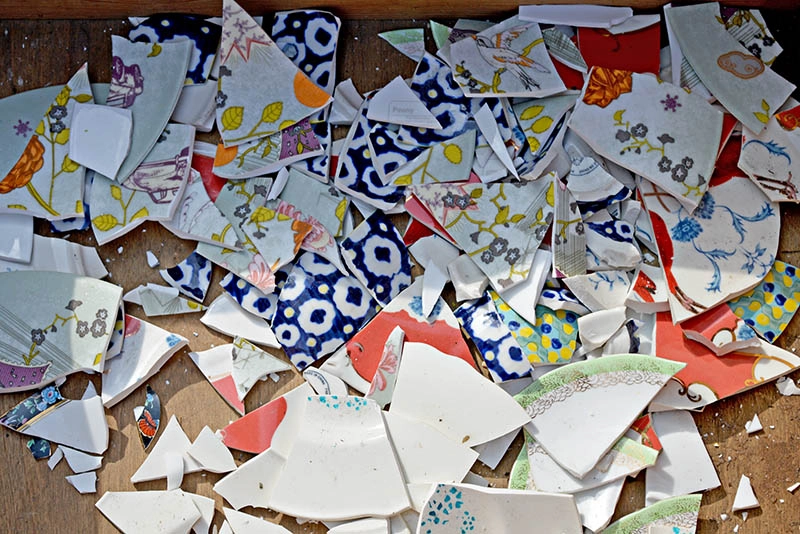 Making the mosaic wall planter..
4. This was a random piece of mosaic there was no design to follow. I did, however, lay my bowls out on the door and take a photo of them. This gave me a reference of where I would like them placed on the finished mosaic wall planter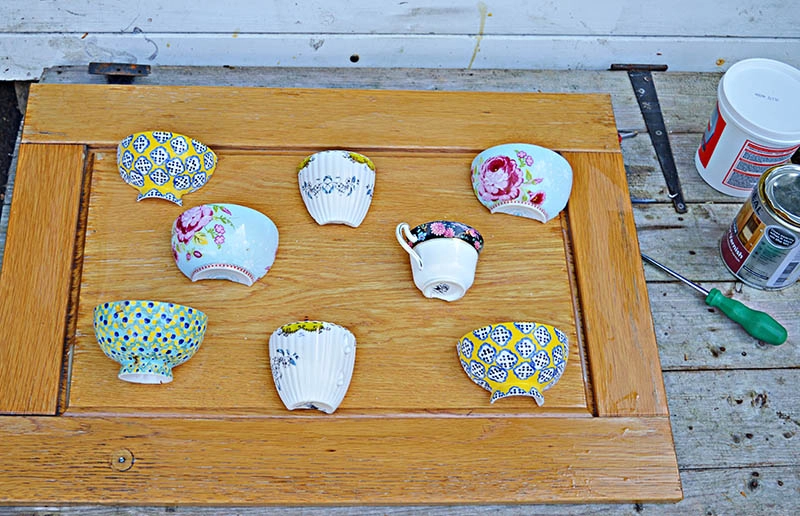 6. This next stage is the fun part. Spread a layer of the ready-mixed adhesive and grout to a thickness of about 3mm on the door. Using the photo as a reference push the cups into the adhesive.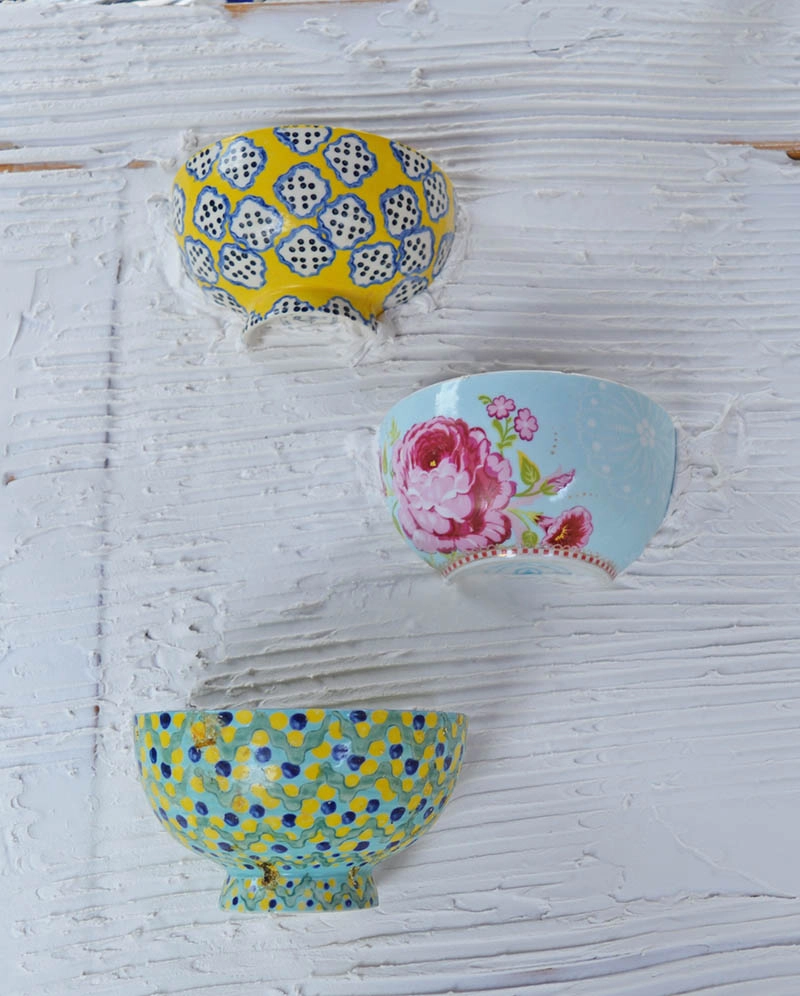 7. Next, stick the individual broken pieces of crockery around the cups until the whole board is covered. Sometimes it helps to put some of the adhesive mixture onto the broken china as well as the board. You will need to work quickly as the adhesive will start to set (about 30mins).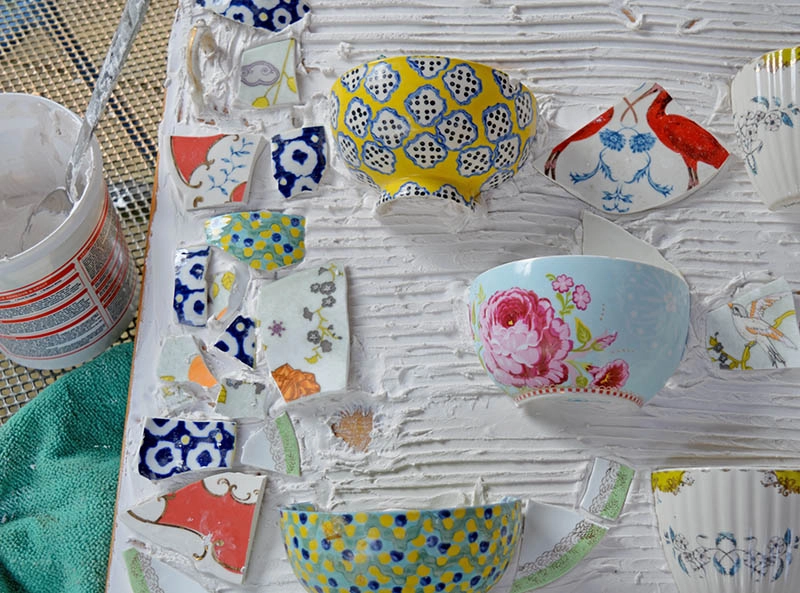 8. Leave the covered board overnight to dry. Before picking up the board gentle wiggle each piece to ensure it has stuck down firmly. If not just apply some more adhesive to it.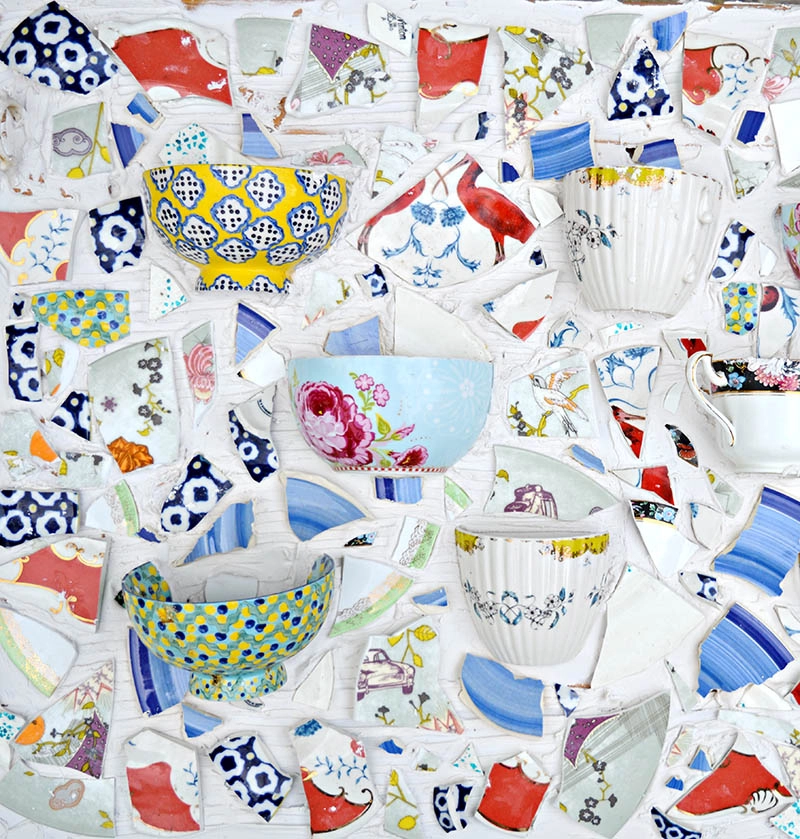 9. Finally, leave the mosaic wall planter as is, or smooth it out with more grout. However, bare in mind these are random pieces of ceramics of different thicknesses. Some bits are even curved so you will never get a flat finish like with a tiled mosaic.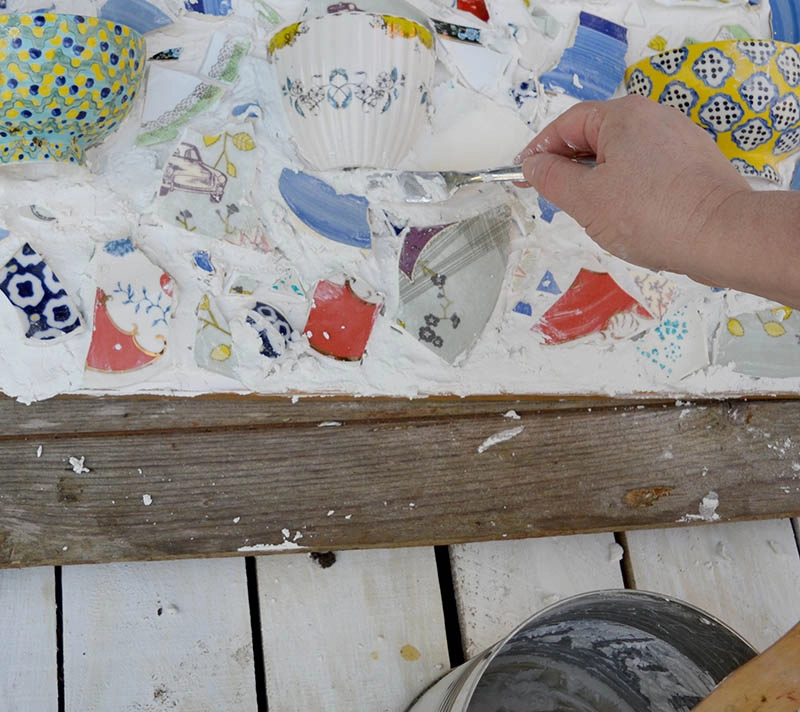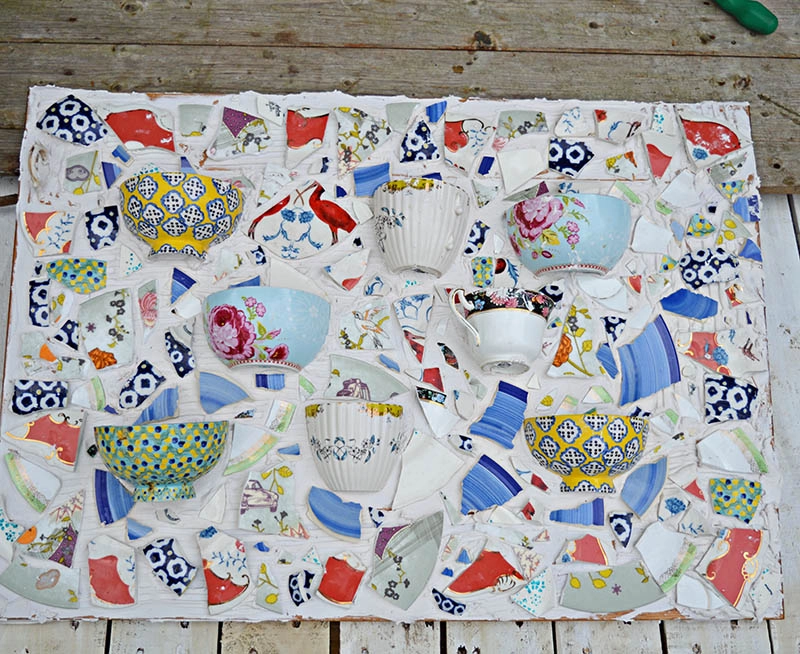 Once fully dried the mosaic wall planter is ready for planting. Either with pretty bedding plants and flowers or succulents and cacti.
You could even have it as a herb planter. In the right kitchen, it could look fantastic.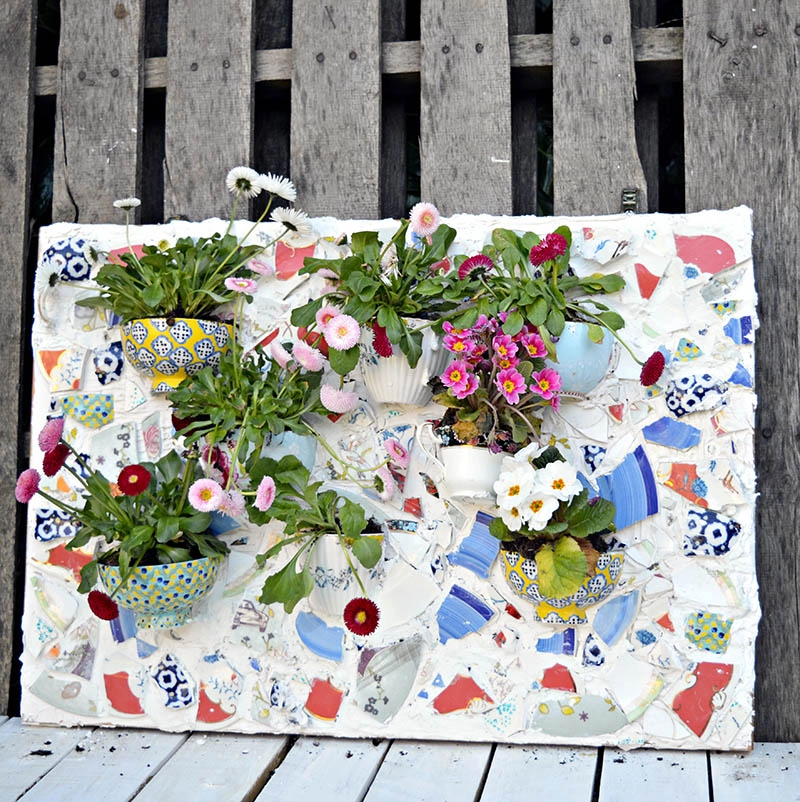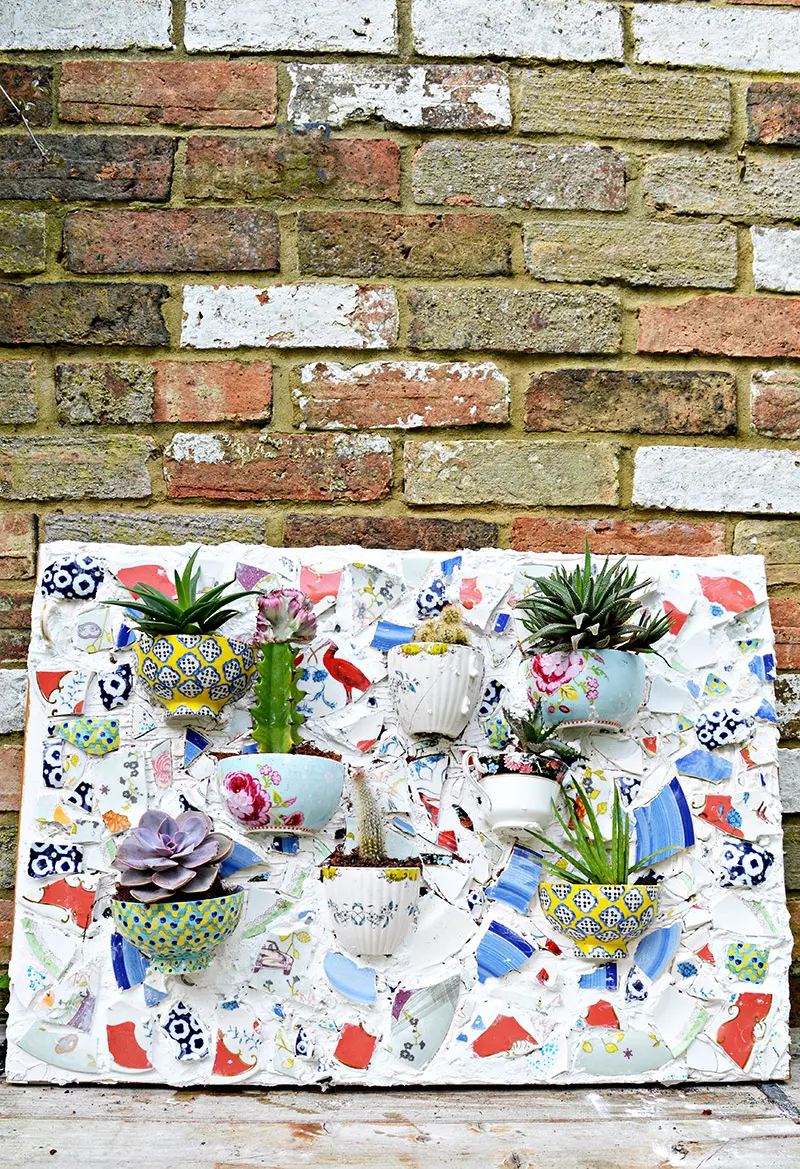 I love making planters here are a few of my other planter ideas you might want to check out.
This China upcycle featured under the letter C in the A to Z of upcycling projects. It also featured in the 50 best garden upcycles.