When you chip or break a favourite mug or teacup, don't throw it away. Repurpose the broken China teacup into a fun DIY wall vase for your home.
I'm rather clumsy and have broken a fair bit of China in my lifetime. Instead of getting upset about losing another favourite plate or cup, I repurpose broken China especially if it has a lovely pattern on it.
Upcycling Broken China
I was so excited when I discovered that you could actually saw through China. It opened up another world of upcycling possibilities. All you need is the proper blade attachment for your rotary cutter.
I've sawn through broken bowls to make a gorgeous mosaic wall planter in my garden. I've even upcycled China plates into Christmas trees.
This repurposed broken China project is similar to the mosaic wall planter, except these DIY wall vases are framed for indoor use.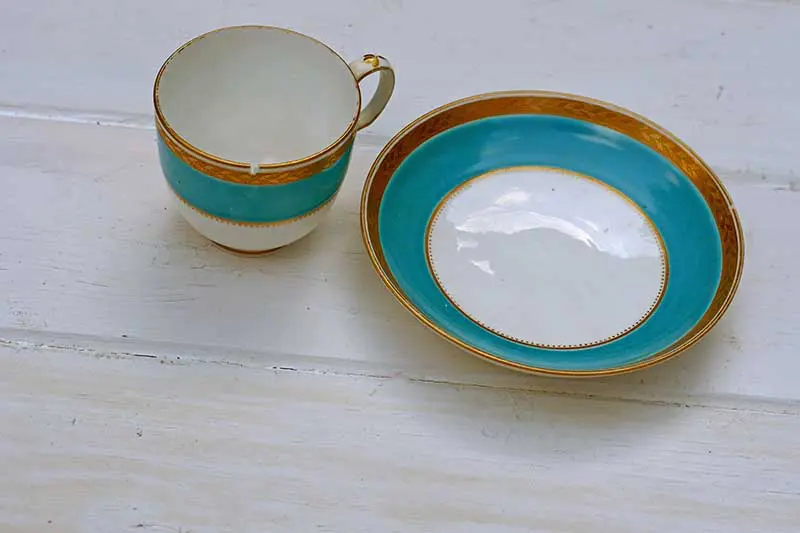 DIY Wall Vases
I love to fill my home with plants and flowers. I'm always looking for new ways to display them in my house.
It's not just natural plants and flowers that I love; I'm a big fan of faux plants too. One of my favourite and most relaxing crafts is making crepe paper flowers.
Some of these crepe paper faux flowers I make resemble real flowers, like the ones I made for a large paper flower wall pineapple. Others are made up, such as the giant flowers I made for an upcycled leather Boho vase.
With these China teacup vases, I decided to make crepe paper flowers that resembled real flowers. These included Morning Glory and blossom.
The China wall vases could also be used to display real flowers. The teacups aren't very big, so they are more like bud vases.
However, they could also be used as planters for mini cacti and succulents: real ones or even better faux succulents made out of felted sweaters.
We're a participant in the Amazon Services LLC Associates Program, an affiliate advertising program designed to provide a means for us to earn fees by linking to Amazon.com and affiliated sites. As an Amazon Associate, I earn from qualifying purchases.
What You Need
Old China cups – These can be chipped or broken as long as there is enough for half a cup.
Old saucer – This is if you want to make a repurposed broken China mosaic background.
Small picture frame and spray paint in the colour of your choice.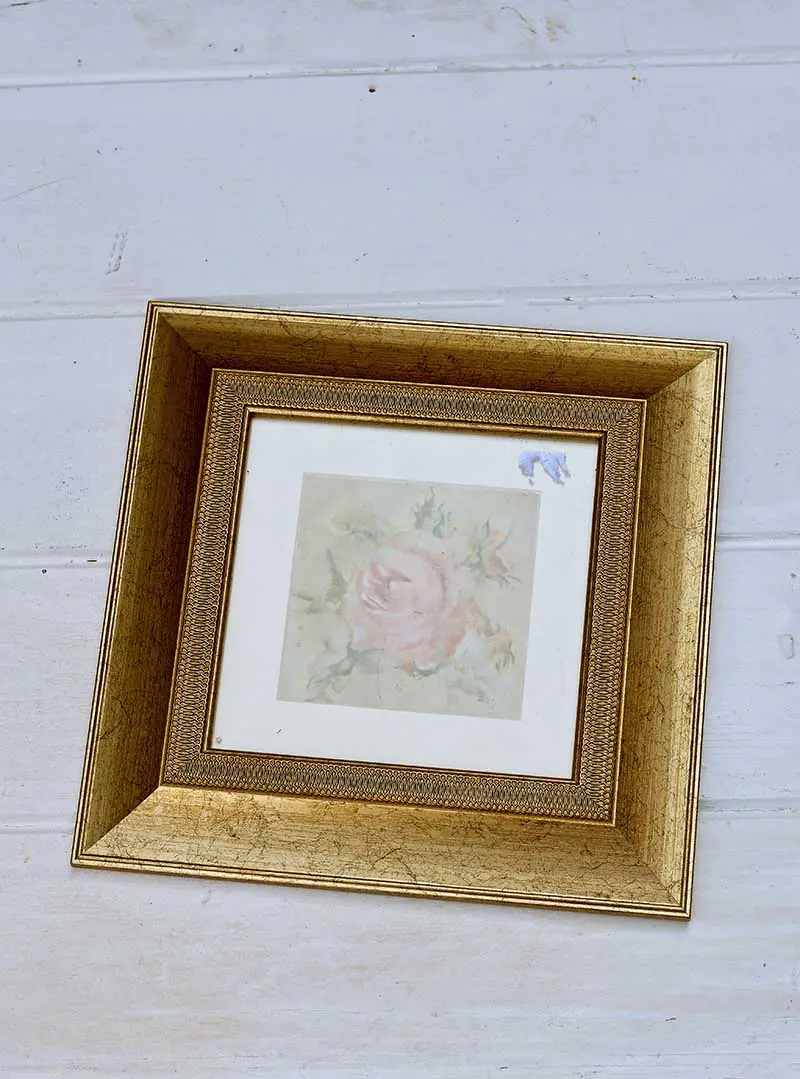 Grout if making a mosaic background – You can buy small bags of this in different colours just for crafting.
Gorilla Super Glue Precise Gel
Rotary craft tools such as tin coloure rotary.
Diamond cutting blades for the rotary tool.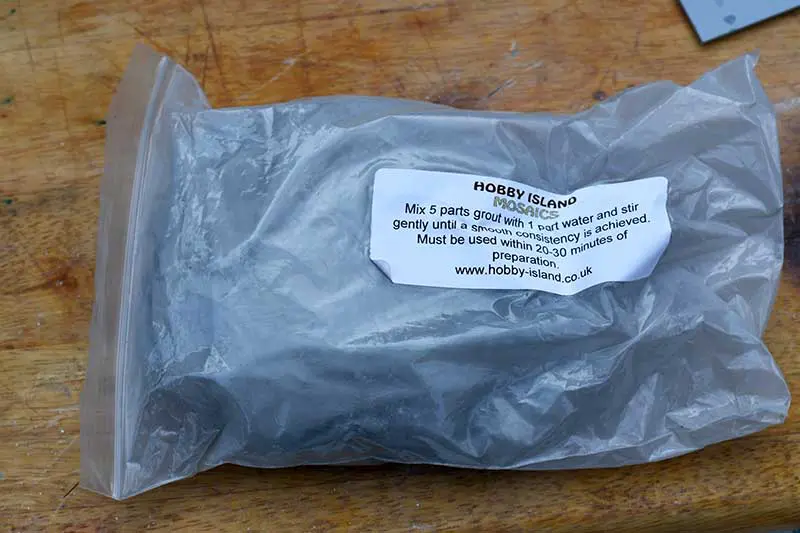 How To Make A China Teacup DIY Wall Vase
1.. The first thing to do is to remove the glass and backing board from the picture frame. Then spray paint the frame and backing board in a colour to compliment your China teacup.
Top tip: If your picture frame doesn't come with a backing board, you will need to cut one from dense mounting card or plywood.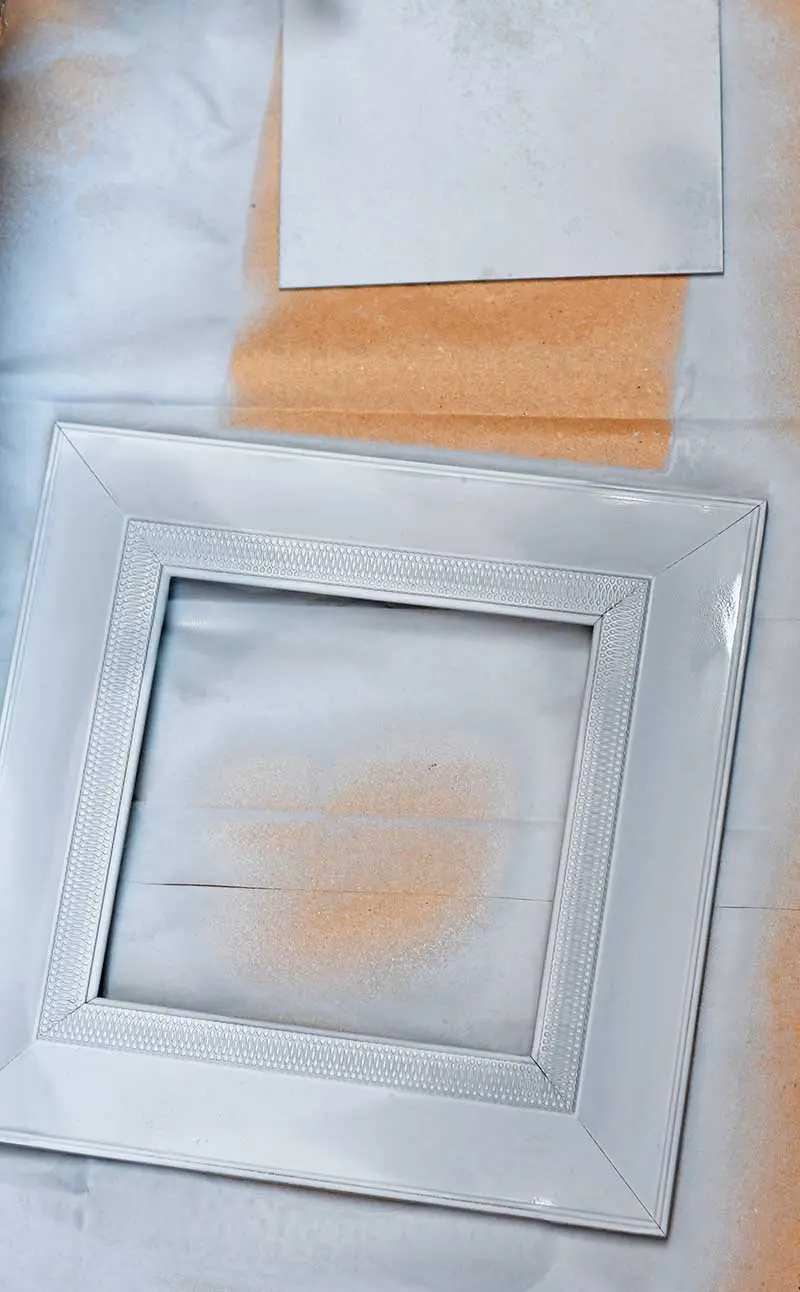 2. Next, cut the China cup in half with the rotary cutter. With a diamond blade, the porcelain should be easy to cut through. The thicker the pottery the longer it will take to cut. That is why China teacups are best as they are made from thin China porcelain.
Top tip: Whenever using a rotary cutter you should always wear safety goggles. This is even more important when sawing through ceramics as tiny little bits will fly off. You won't want to get any of the bits in your eyes.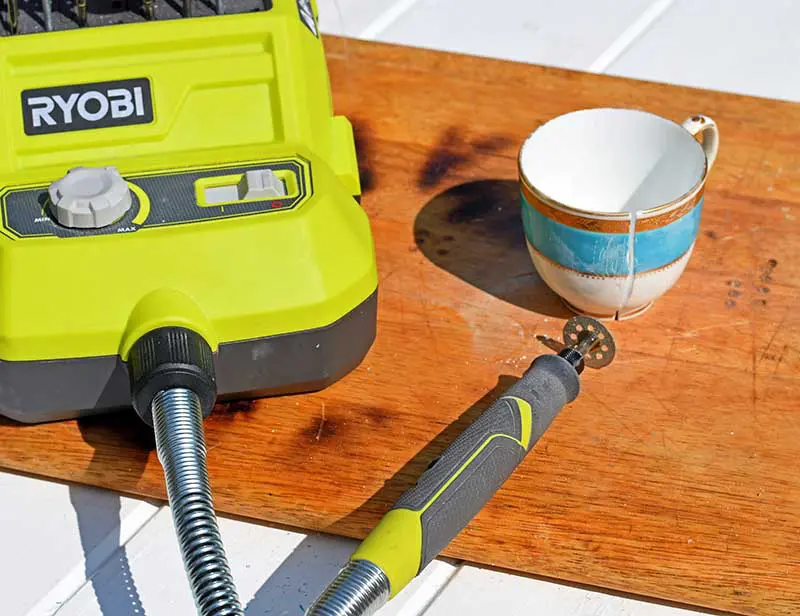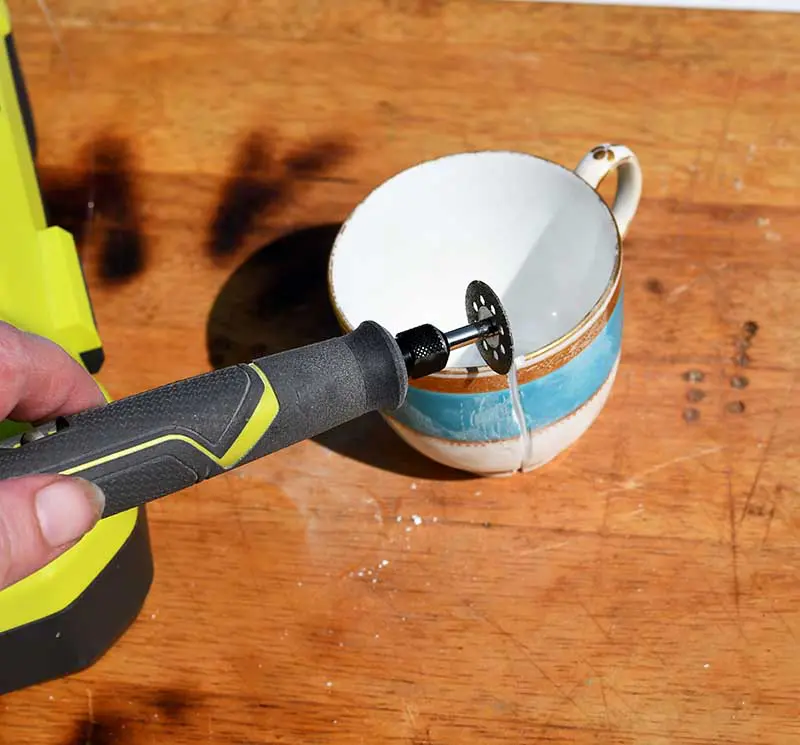 Ideally, the cup should be cut straight down the middle into 2 halves.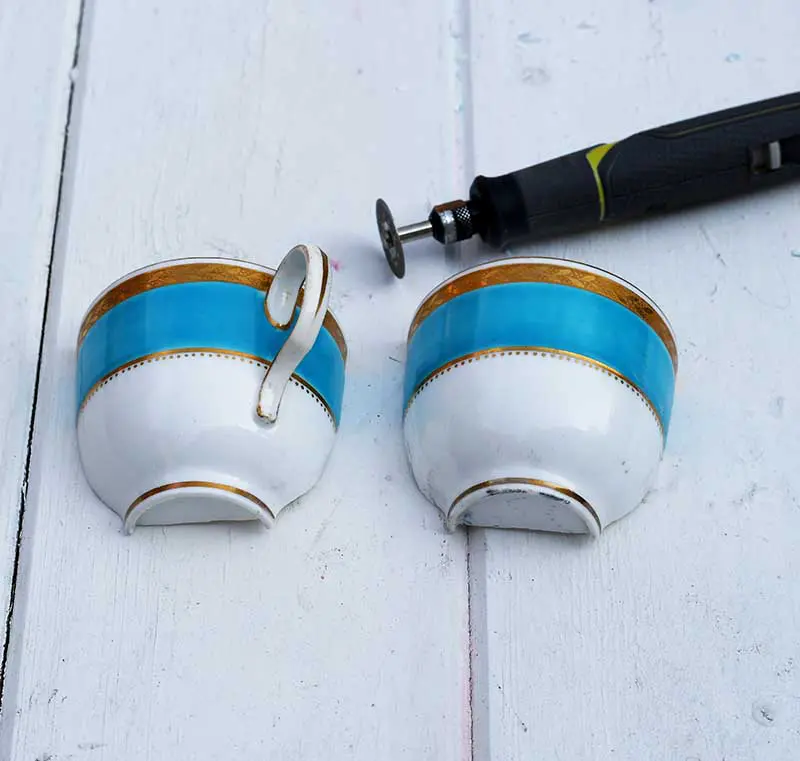 3. Next, if you are going to make a mosaic background for the DIY wall vase, then break up the saucer. You can do this either with a hammer or by using tile nippers.
Tile nippers are a bit more controlled and can be used to snap pieces of broken China from the plate, one bit at a time.
Top tip: If breaking China with a hammer do it inside a cardboard box to stop the bits flying off everywhere. Also, make sure you wear safety goggles when working with broken China.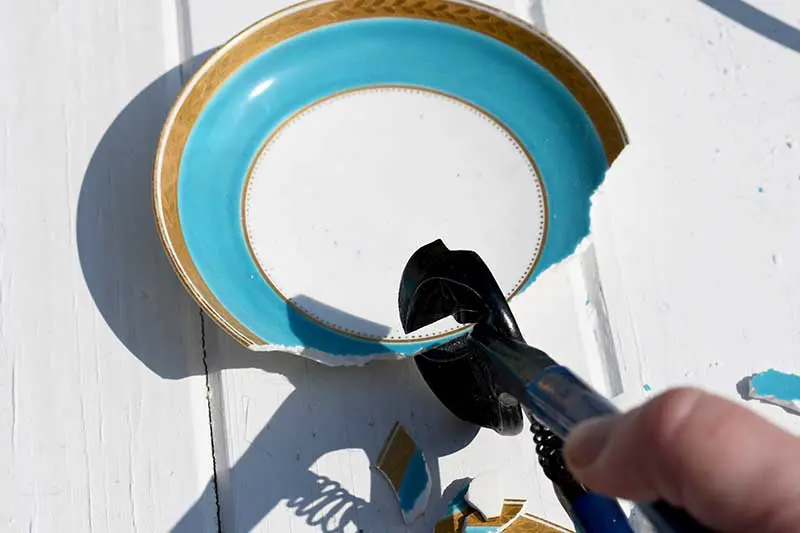 4. Next, stick a half cup to the picture frame backing board using super glue. Try to centre the broken China teacup in the frame.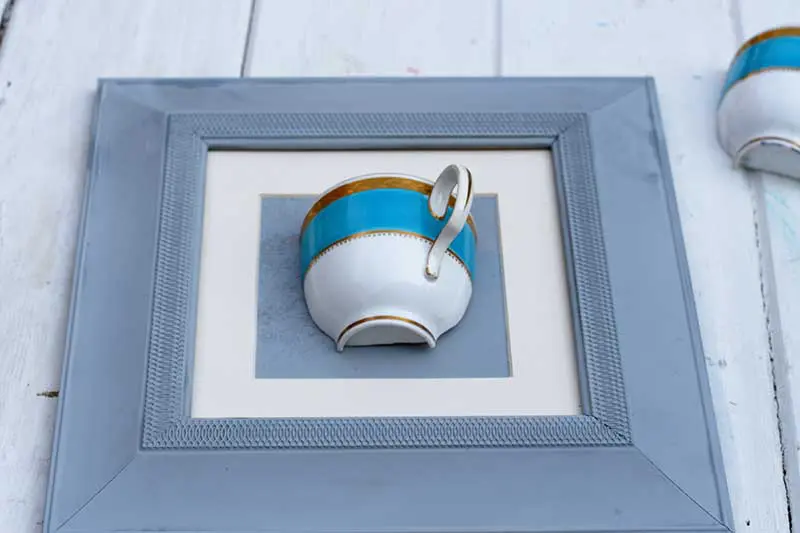 5. Next, create a mosaic background with the broken saucer pieces. Glueing the China pieces one by one to the background surrounding the China teacup.
If you don't have a matching saucer you can leave out this stage, and just have the DIY wall vase with a plain background.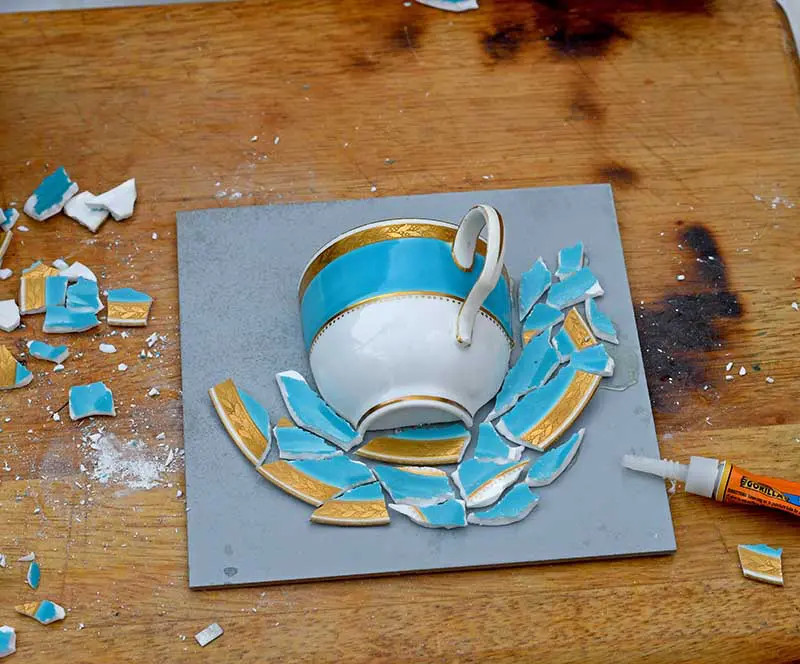 6. Once all the broken China pieces have been stuck down, mix up the grout. Follow the instructions on the packaging. Then apply the grout to the mosaic. Use a cloth to wipe away any excess and leave it to dry.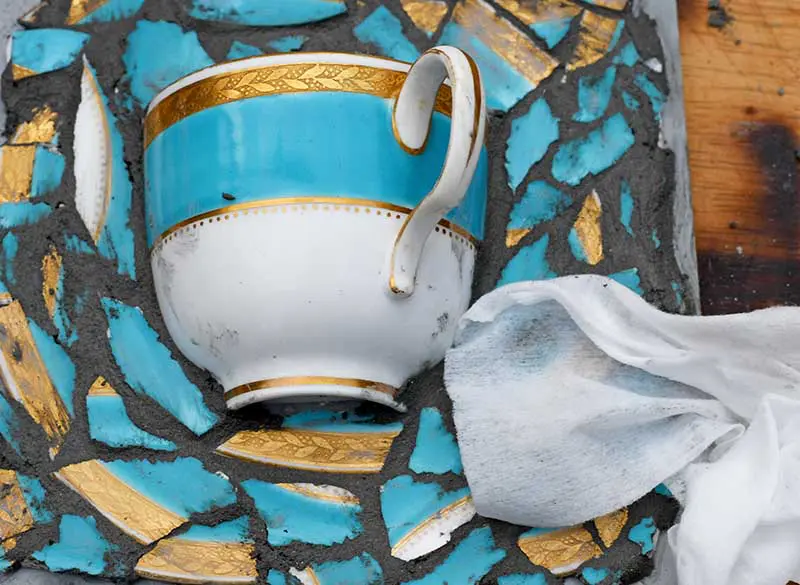 Finishing Off
7. To finish off the DIY wall vase, place the mosaic back into the frame and fill it with flowers of your choice.
For this vase, I made crepe paper morning glory flowers kind of following the ABCTV Youtube tutorial. I do have a tutorial for crepe paper daisies with my hanging denim mason jars which I think would also work well with this vase.
If tropical plants are more your vibe then I have a tutorial here for a DIY tropical leaf plant specifically for one of these wall vases.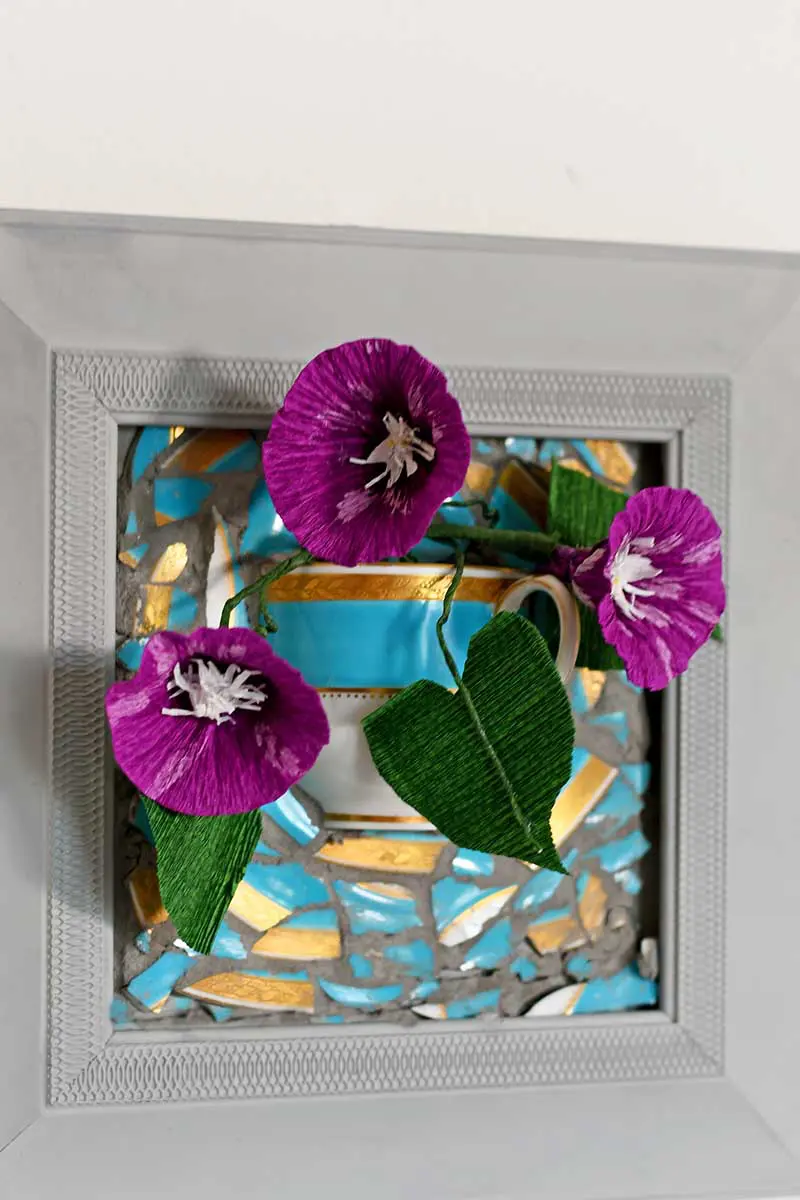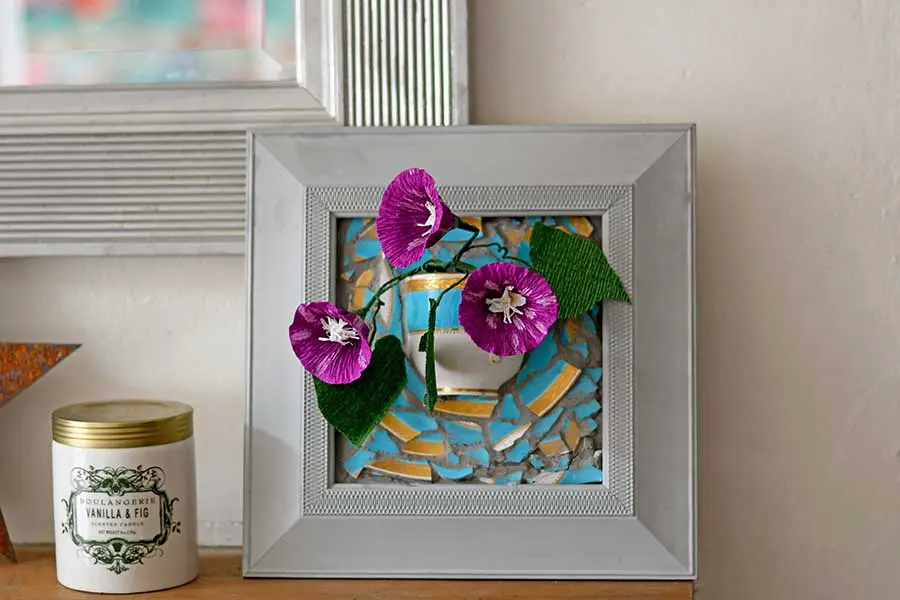 These DIY wall vases would make a lovely gift. Don't go smashing up the family's best China but if there is a chipped cup or 2 then perhaps you could use one of them.
I think they are a great idea for Mother's day or even a birthday. Especially if you make their favourite flowers out of crepe paper.
I loved this craft so much that I went on the hunt for another China teacup to use. I found this old pink one lurking all lonely at the back of a cupboard. So I rescued it and gave it a starring role as a double China wall vase.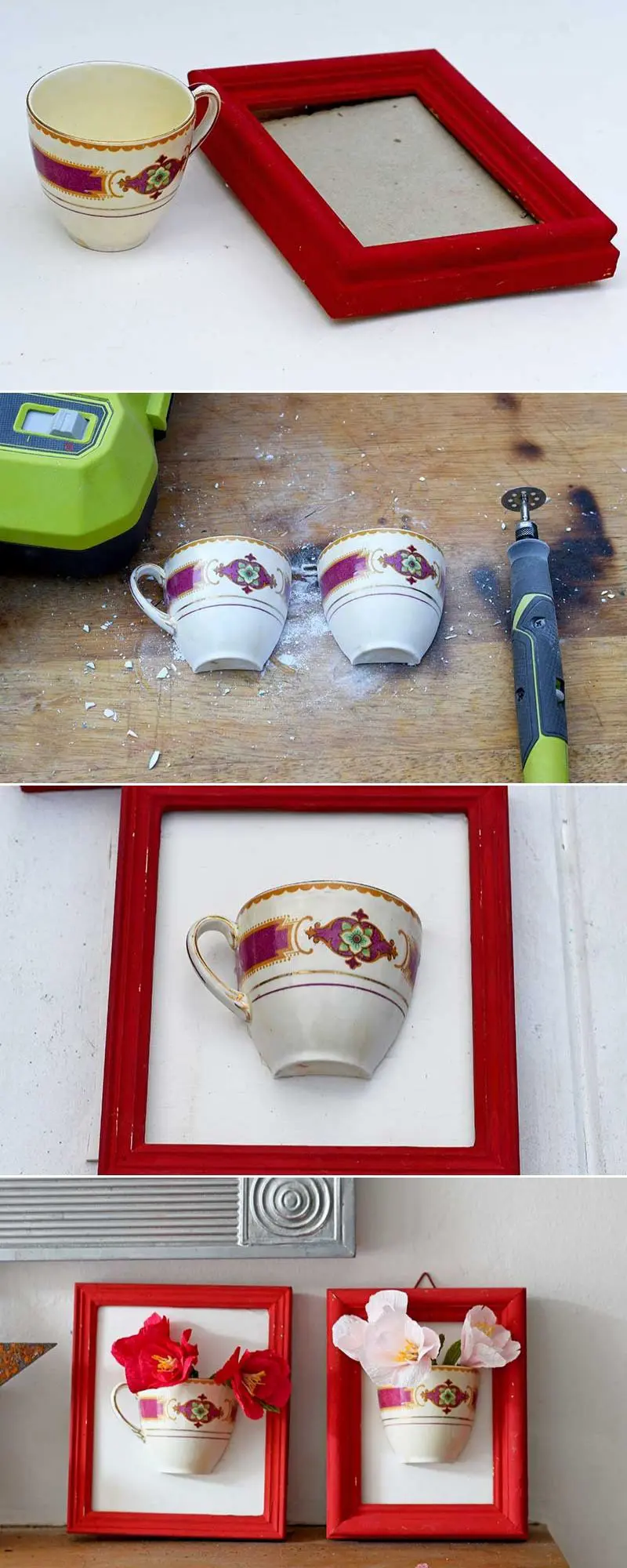 This time I made small blossom crepe paper flowers in complementary colours. I made up the blossom flowers by adapting some of the flower tutorials from my pineapple flower wall decor. A good site for crepe paper flower tutorials is Lia Griffith.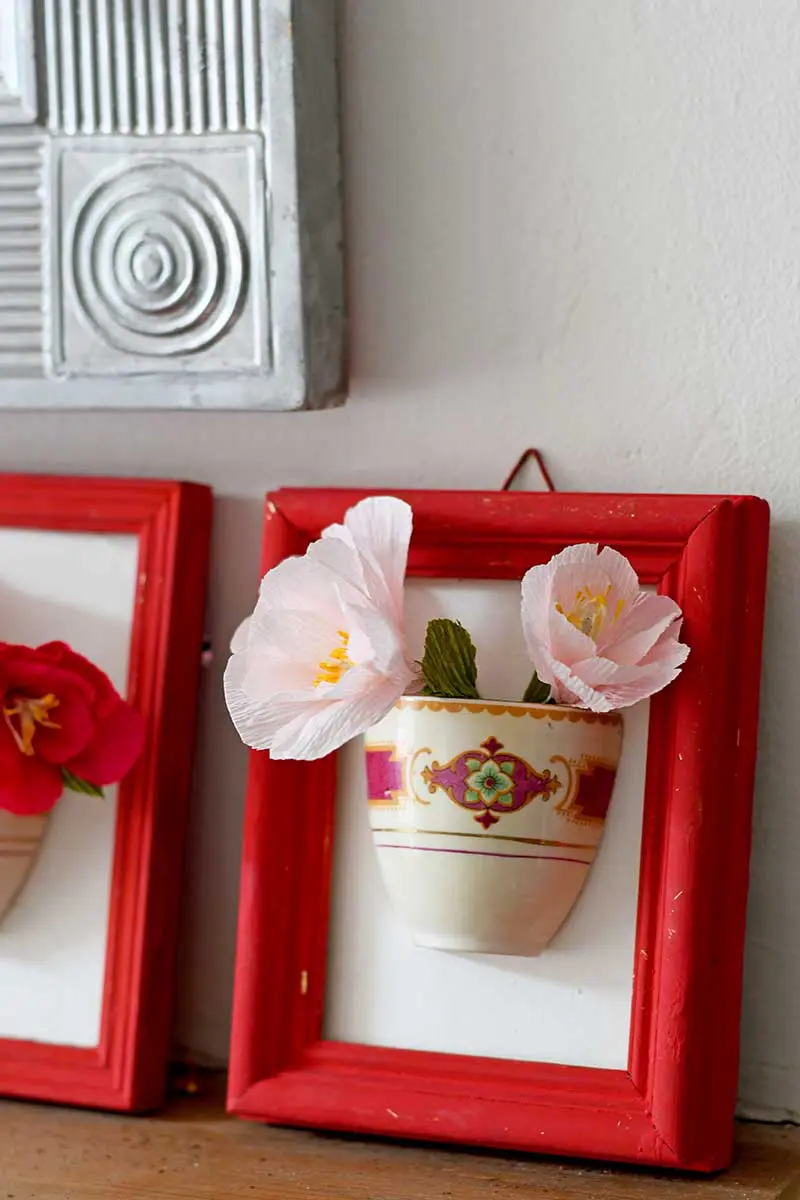 As well as crepe paper, I make upcycled fabric faux flowers and upcycled plastic bottle faux succulents.
My denim flower bouquet would look great in the blue wall vase. My beautiful map roses would look good in the pink/red wall vases.
For more upcycled vase ideas check out these Marimekko mini bud vases.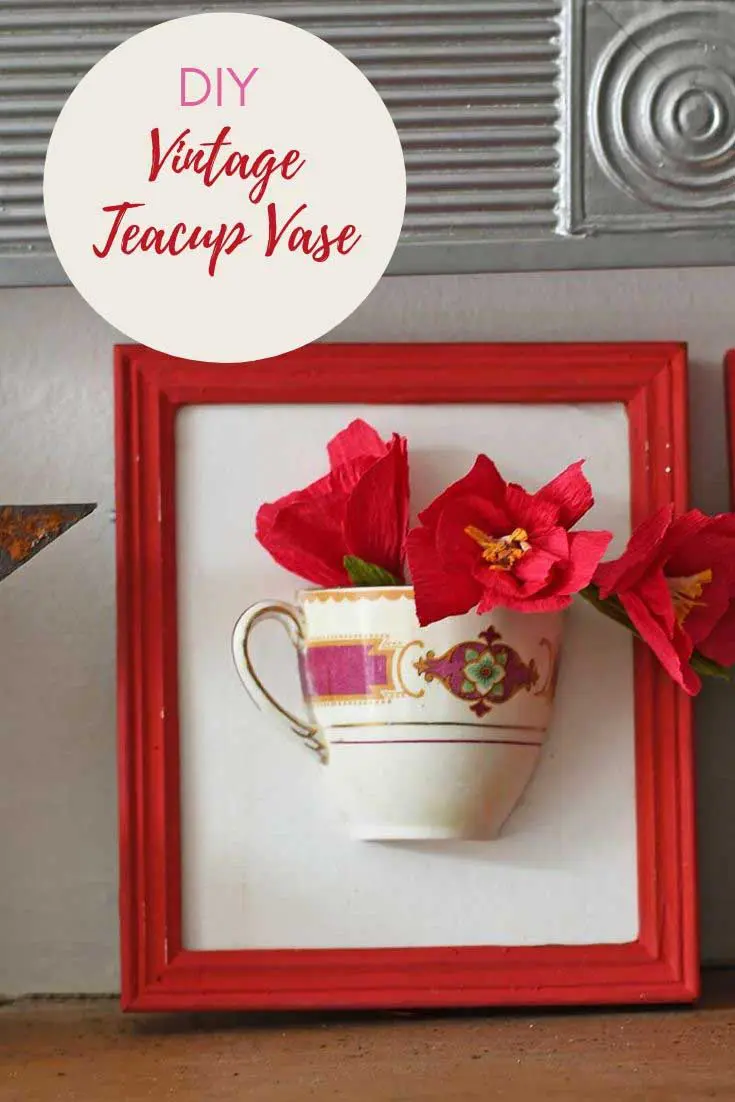 Yield: DIY Wall Vase
DIY Wall Vase From Broken China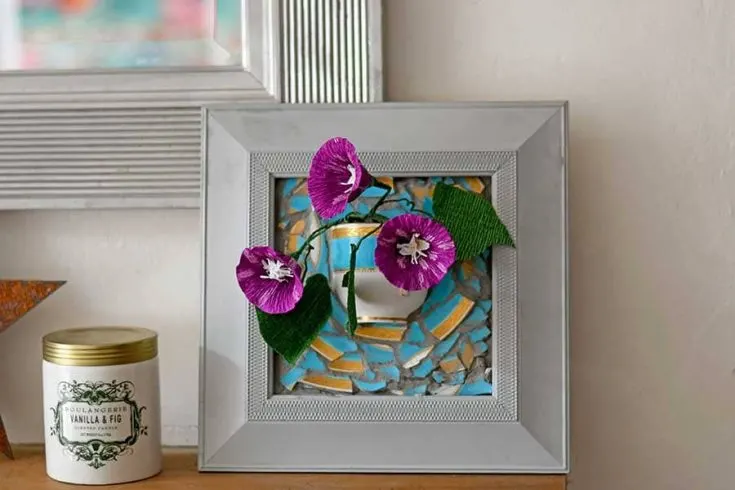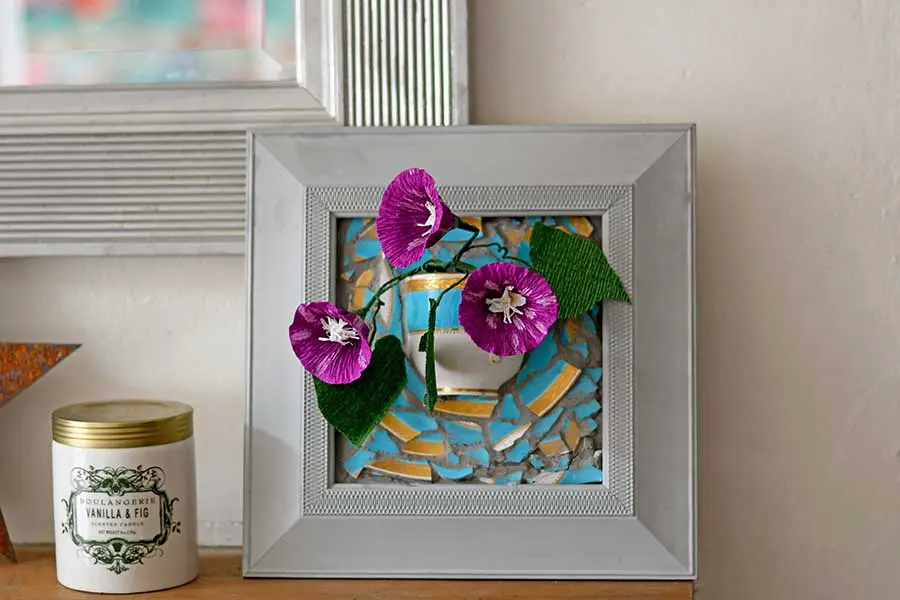 Give an old chipped vintage China teacup a new lease of life by turning it into a gorgeous wall-mounted mosaic vase. This would be a lovely homemade gift idea for any occasion but especially Mother's day.
Total Time
1 hour
30 minutes
Materials
Vintage China tea cup and saucer
Old picture frame
Spray paint
Grout
Gorilla super glue gel
Tools
Rotary tool and diamond blades
Tile nippers
Instructions
Using a diamond blade cut the China cup in half.
Spray paint the picture frame and background to match the China teacup.
Use the tile nippers to break up the saucer into smaller pieces.
Stick the half China teacup to the frame backing using super glue. Make sure to center the cup.
Again using the superglue stick the broken saucer pieces in a random mosaic pattern around the cup.
Make up the grouting mixture, following the manufacturer's instructions.
Grout the mosaic pattern around the cup. Wipe away any excess grout and leave to dry.
Once the grout has dried place the cup and mosaic back inside the frame.
Next, decide on what paper flowers to make for the wall vase and make them. Or if you prefer use real flower buds.
Recommended Products
As an Amazon Associate and member of other affiliate programs, I earn from qualifying purchases.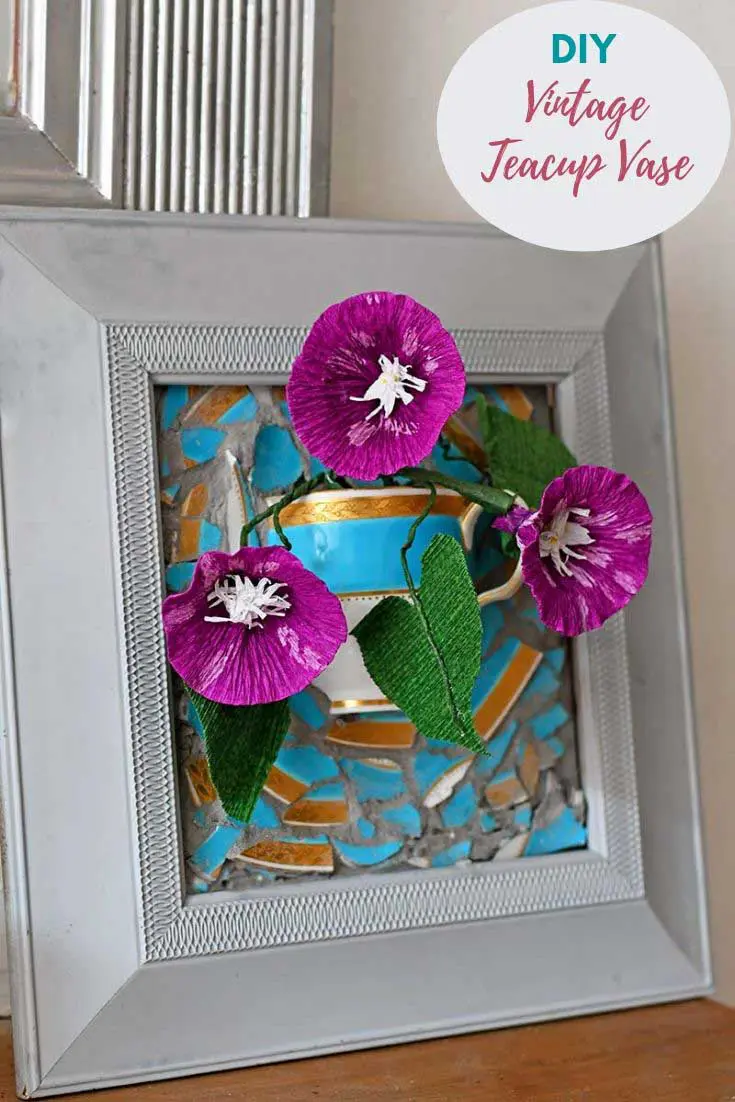 Visit here for more thrifty craft ideas.