Cinnamon Scented Christmas Tree Stamp Decorataions
I don't know what it is about Christmas tree's but they are a major theme in my crafting this season. I've made, pine cone ones, felted sweater ones, and a giant wooden one. The latest addition to the collection are these lovely Christmas tree stamp ornaments.

Nothing smells quite like Christmas, all that lovely pine, and cinnamon. I've used a cinnamon stick in these ornaments so not only do they look gorgeous but they smell gorgeous too!

I show how easy it is to make your own Christmas tree stamps for these ornaments. The stamps I made for this craft will be used again and again, to make cards and even decorate some gift wrap.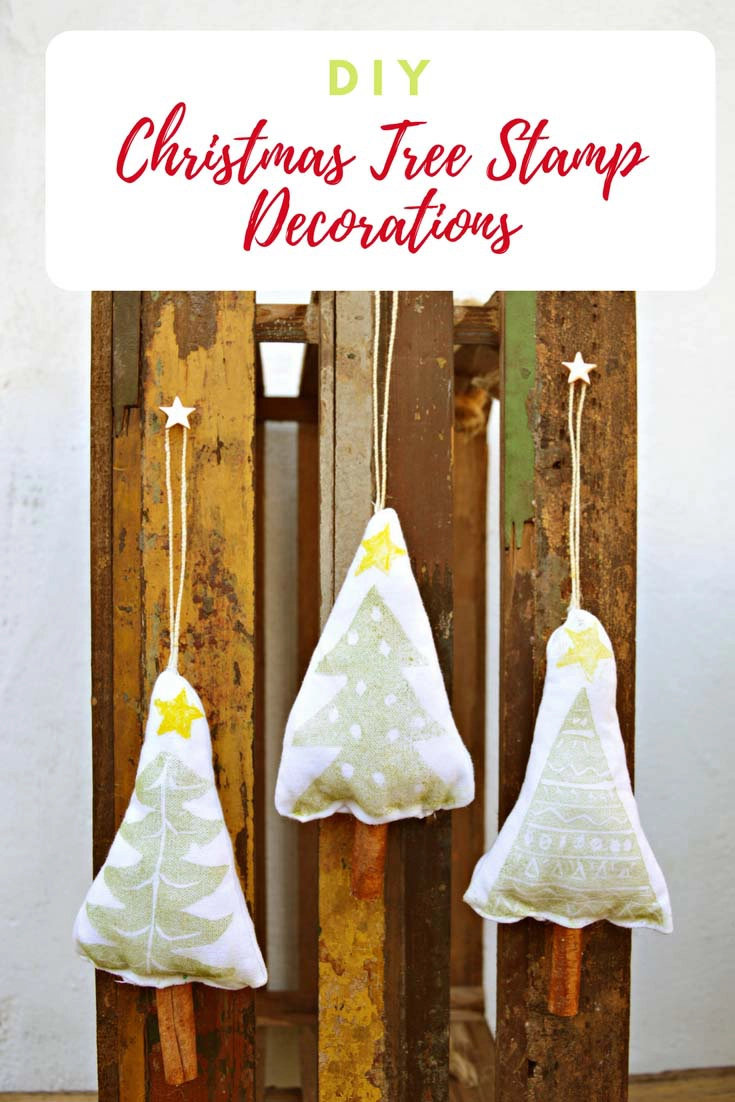 This post contains Amazon affiliate links for your convenience. Click here to see my disclosure policy.


What you need to make Christmas Tree Stamp Ornaments









Cream/White cotton fabric – I used some old cloth napkins
Needle and thread
How to Make the Christmas tree stamps
Firstly either print out my Christmas tree designs or draw your own. Using the tracing paper draw around the trees and transfer the image to craving block.

Next using the craving tool and scissors carve out the stamp. Remembering the raised parts of the carving block are the bits that hold the ink and print.

Using double sided sticky tape stick your tree stamp to an acrylic block. I use double sided tape so I can easily change the tree designs and only use one block.



How to make the Christmas tree ornaments
Load up your Christmas tree stamp with ink, by dabbing the stamp pad with ink.

Place your cloth on a surface with a little bit of give (felt on a table or foam board). Pressing down firmly stamp your image onto the fabric. It's a good idea to do a test run on paper first.

You may have noticed I also made a little star stamp for the top of my trees.

Cut around the stamped tree and a piece of backing cloth the same size.

Place the 2 pieces of cloth right sides together, pin and sew leaving the bottom edge open.

Turn the ornament right side out and stuff with fiberfill or old pillow stuffing.

Cut the cinnamon sticks so they are about 3 inches long. Dip the end in the fabric glue and stick them into the bottom of the ornaments to form a trunk

.


Finally, close up the Christmas tree ornaments either with fabric glue or stitch them. Then sew in a loop of bakers twine onto the top of the ornament for hanging.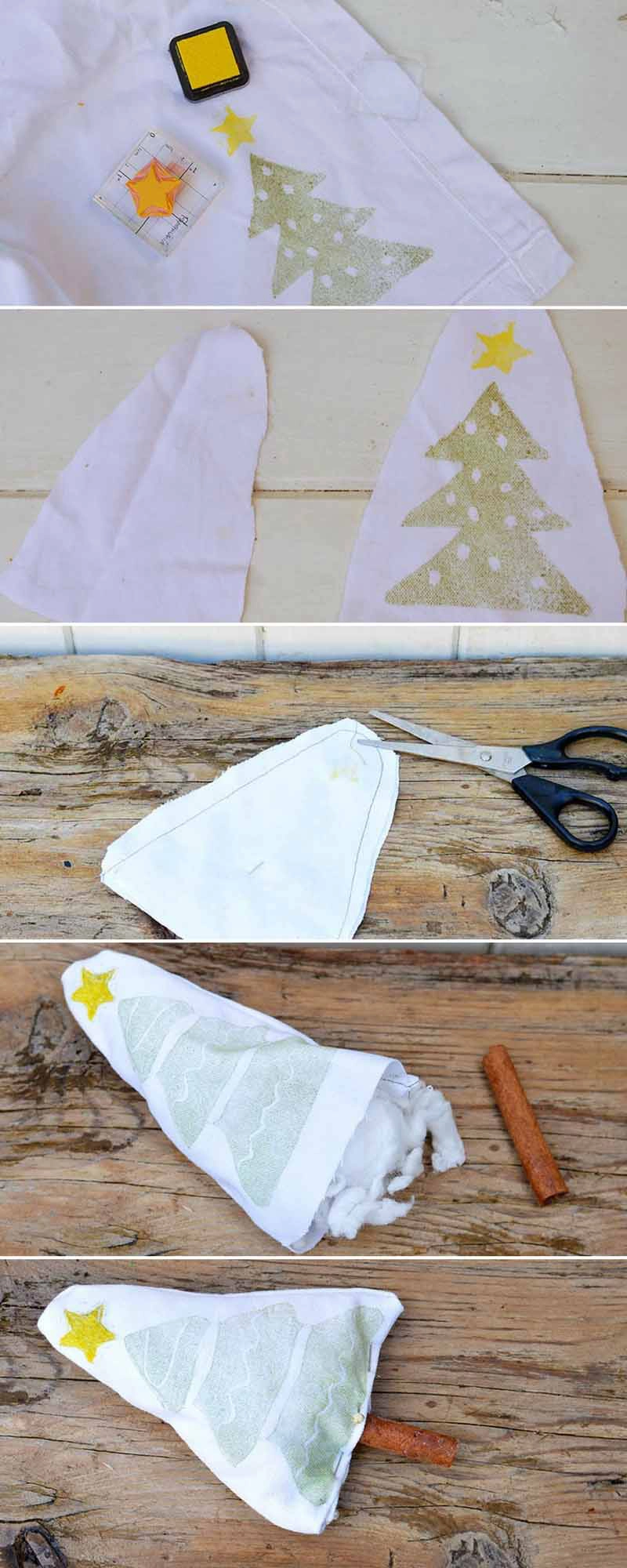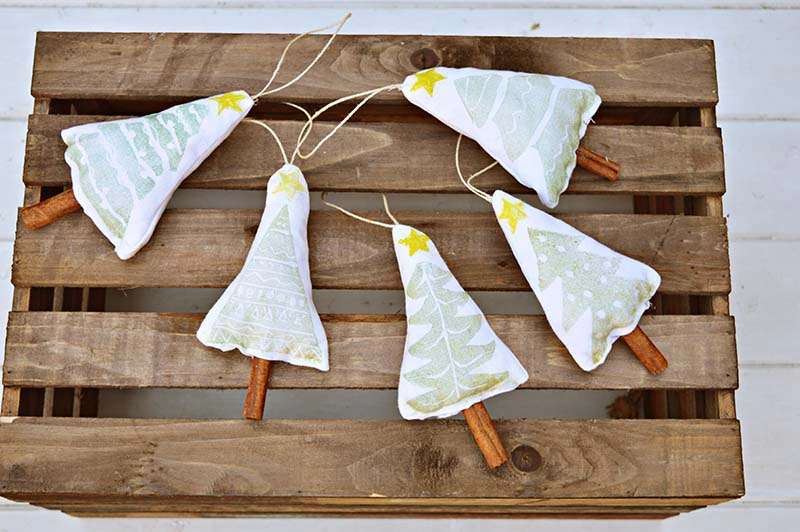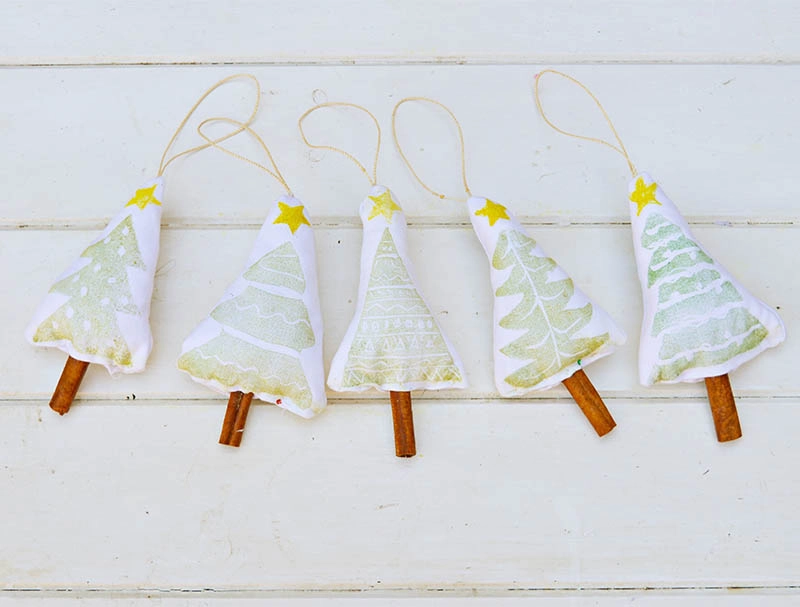 The cinnamon sticks give these trees a lovely Christmasy smell. You can make these even stronger by using some Christmas fragrance oil in the stuffing.

I think I will actually hang my Christmas tree stamp ornaments in a garland to show off the six different designs.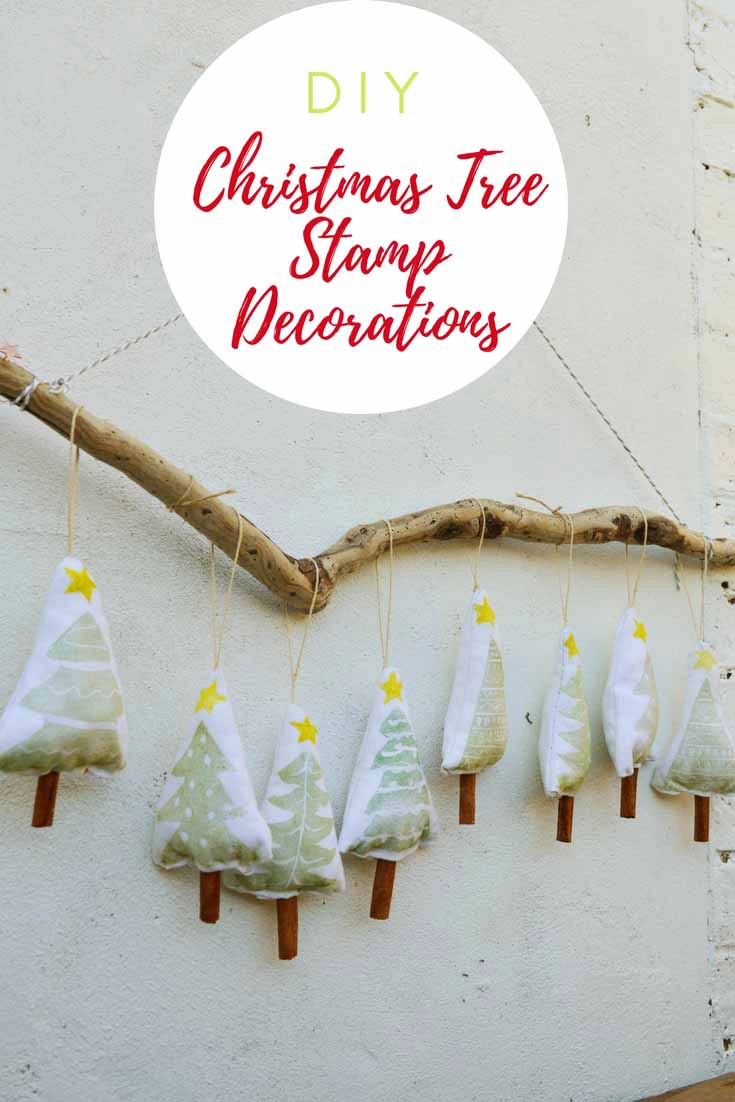 For more Christmas stamp ideas visit allfreeChristmascrafts.