I'm so easily distracted, my creative mind never seems to switch off. The other week whilst I was making my salvaged wood Christmas tree, an old wooden table hiding at the back of the garden caught my eye. I was compelled to do something with it. I wanted to turn it into some form of Christmas wall art.
So, of course, everything else fell by the wayside that afternoon. I didn't even stop to cook dinner. We ended up with a takeaway for tea. I was on a roll and had to upcycle that tabletop straight away.
My three main crafting obsessions are denim, maps, and Marimekko. Marimekko won this time!
I already had a stack of gorgeous Marimekko paper napkins in lovely Christmasy reds. The tabletop was a perfect base to decoupage with these napkins.
It really showed off all the lovely Marimekko designs. Creating a lovely piece of Christmas wall art with a mid-century modern feel at the same time.
Mid-Century Modern Christmas Wall Art Tutorial
It was fun making this Christmas decoration. I think it looks like a great big Marimekko moon.
It is certainly a striking piece of Christmas wall art. I could even use it as a Christmas notice board to pin my Christmas cards on. Or I could add hairpin legs and have my very own Marimekko Christmas coffee table.
What I do know is that I absolutely love it. And will be hanging it on my wall as a unique piece of Christmas wall art. It looks fabulous in my dining room with my red chalk paint cupboard.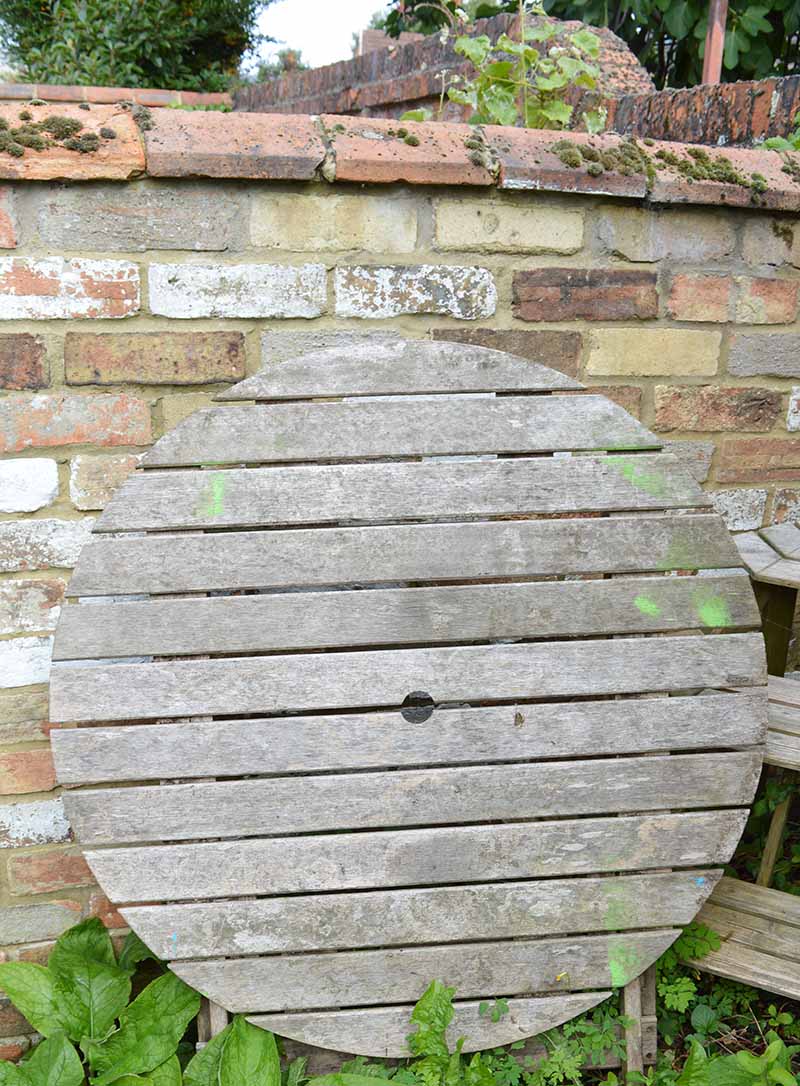 We're a participant in the Amazon Services LLC Associates Program, an affiliate advertising program designed to provide a means for us to earn fees by linking to Amazon.com and affiliated sites. As an Amazon Associate, I earn from qualifying purchases.
What you need to make Mid-Century Modern Christmas Art
A large round piece of wood- I used an old garden tabletop, but you can use any piece of round wood. Like the top of a cable spool.
Orbital Sander – you can sand by hand of course but I'm too impatient for that! (Personally, an orbital sander is one of the best investments I've made for my upcycling toolbox.)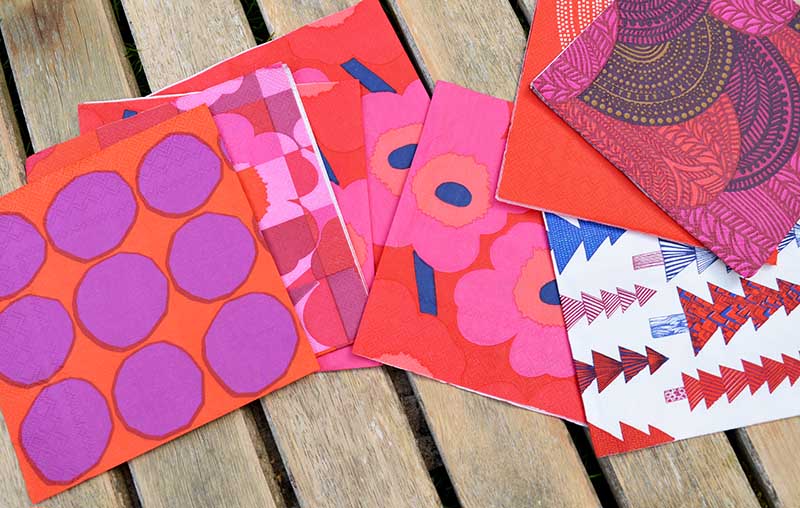 How to Make Mid-Century Christmas wall art
1.. Firstly, sand the tabletop with an orbital sander. Once the table has been sanded and wiped down, it is ready to decoupage.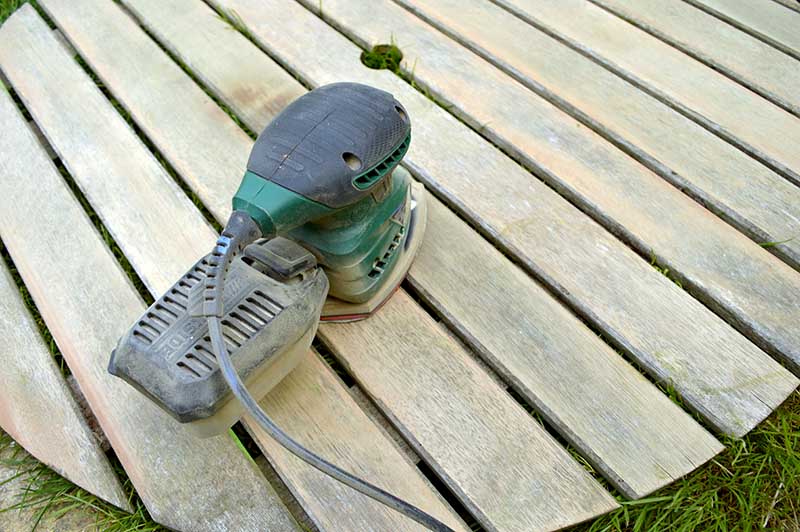 2. Secondly, prepare the napkins for the decoupage. Most paper napkins are 3 ply. Separate out the ply's, as only the top ply is used.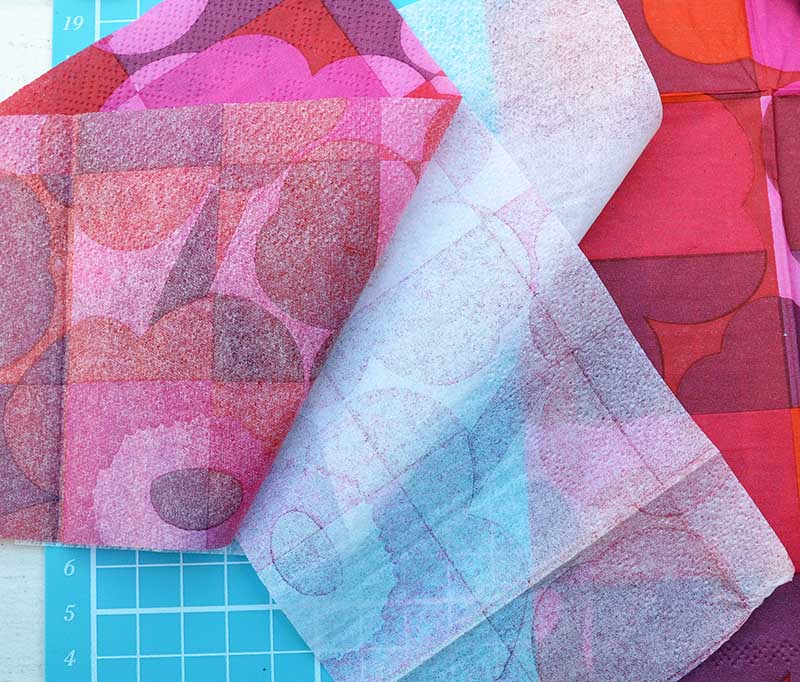 3. Next, cut the napkins into manageable pieces. For this tabletop, I cut the napkins into strips the same width as each wood plank. Apply the Mod Podge to the wood and not to the paper napkins. Carefully lay the napkins down onto the wood face up.
Top Tip: to smooth out the napkins, screw up the unused ply's of the paper napkin into a ball and cover with clingfilm. Use this clingfilm ball to smooth out the napkins by pressing down on them with it.
The clingfilm doesn't stick to the paper napkins so reduces the chances of it tearing.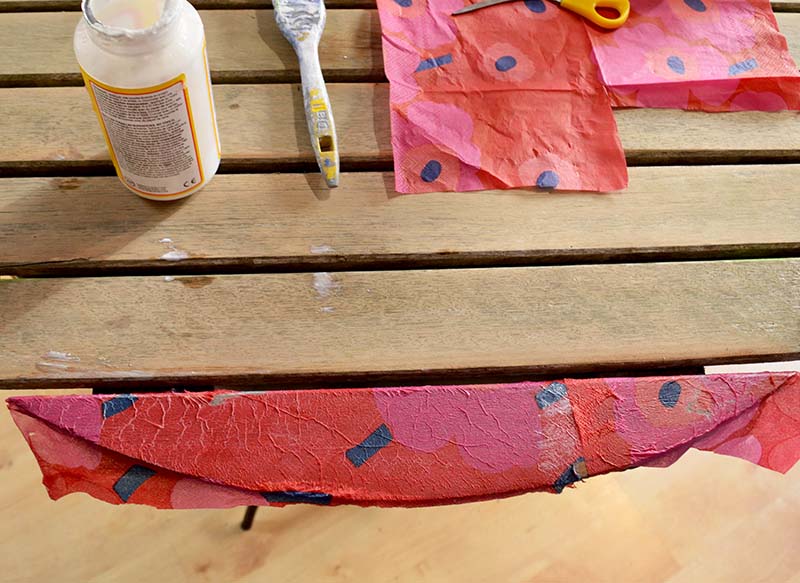 4. Next, carefully apply a layer of Mod Podge onto the top of decoupage napkins, this will provide a protective layer.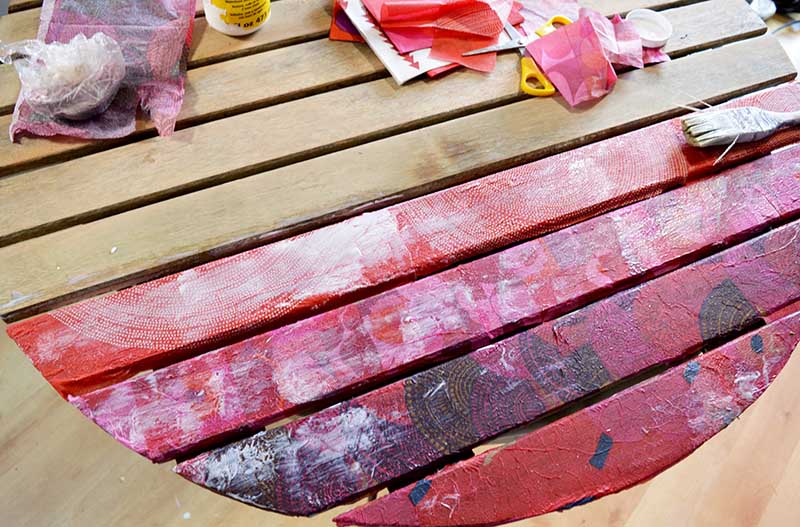 5. Once all the paper napkins have thoroughly dried, using a sanding block, sand off the excess paper from the edges.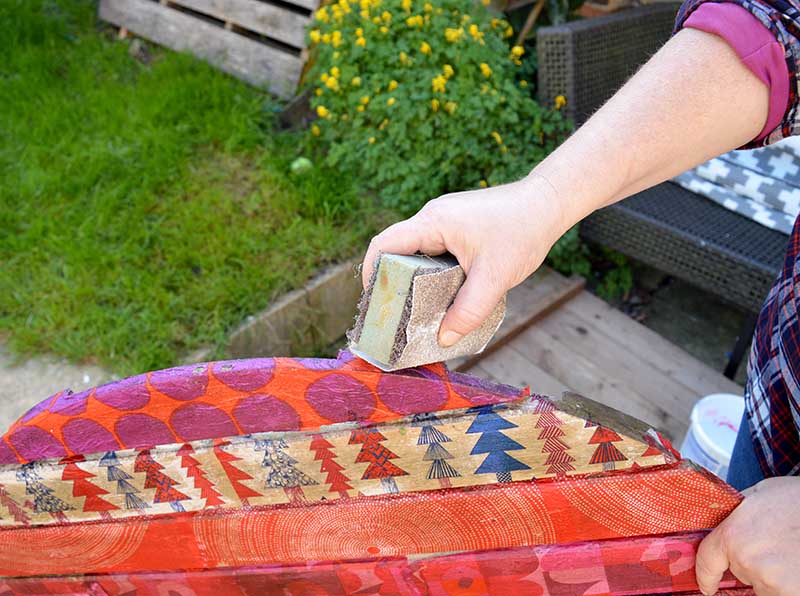 6. Apply a final coat of Mod Podge to the top of the table to act as a protective varnish.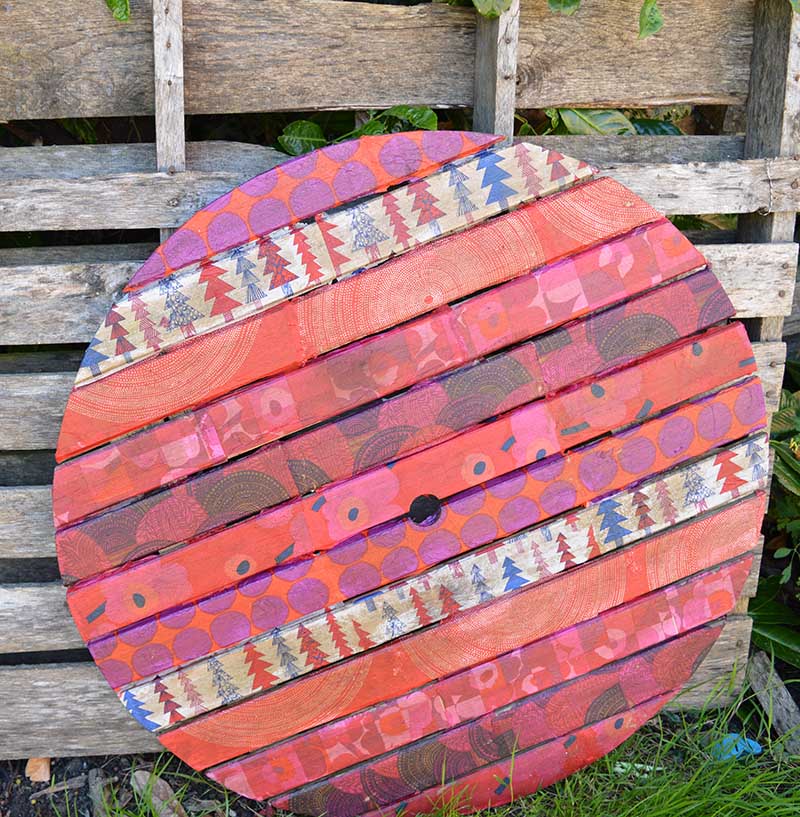 It is really easy to hang this piece of upcycled Mid-Century modern style Christmas wall art. I just rested it, on 2 strong wall hooks.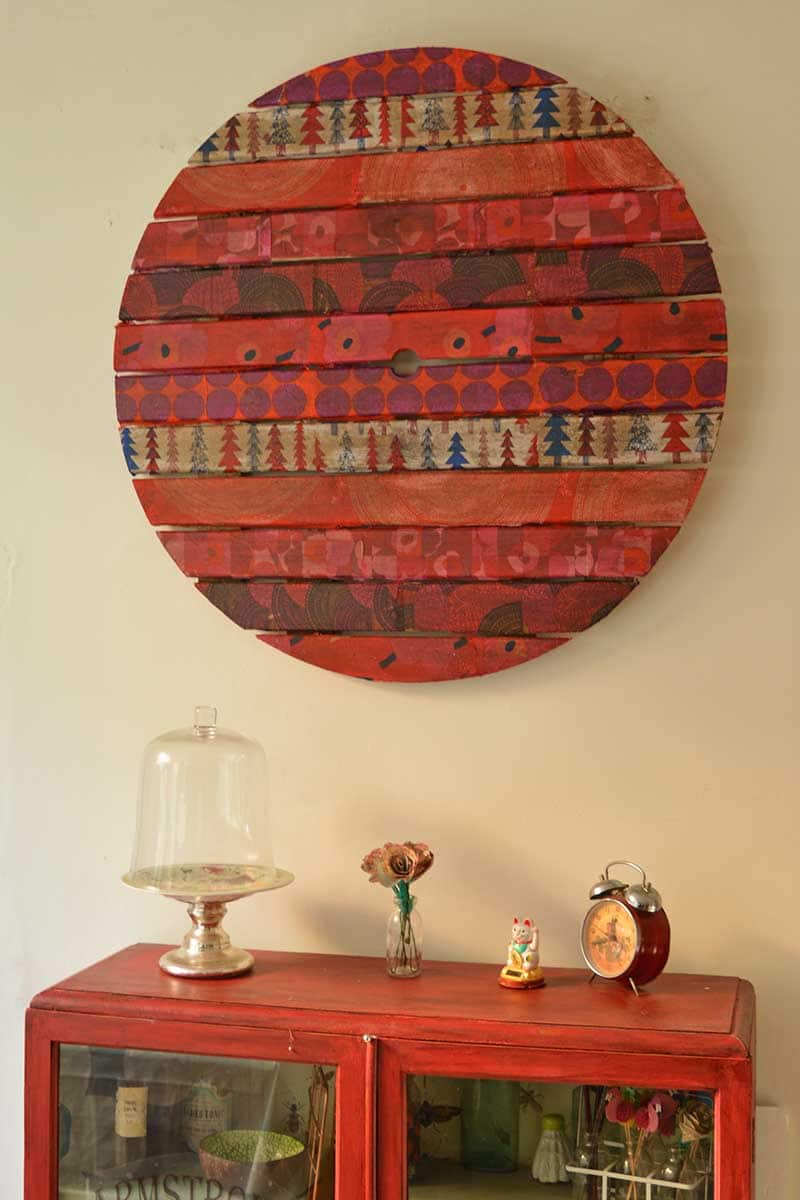 The Christmas wall art also doubles up as a handy pin board for Christmas cards.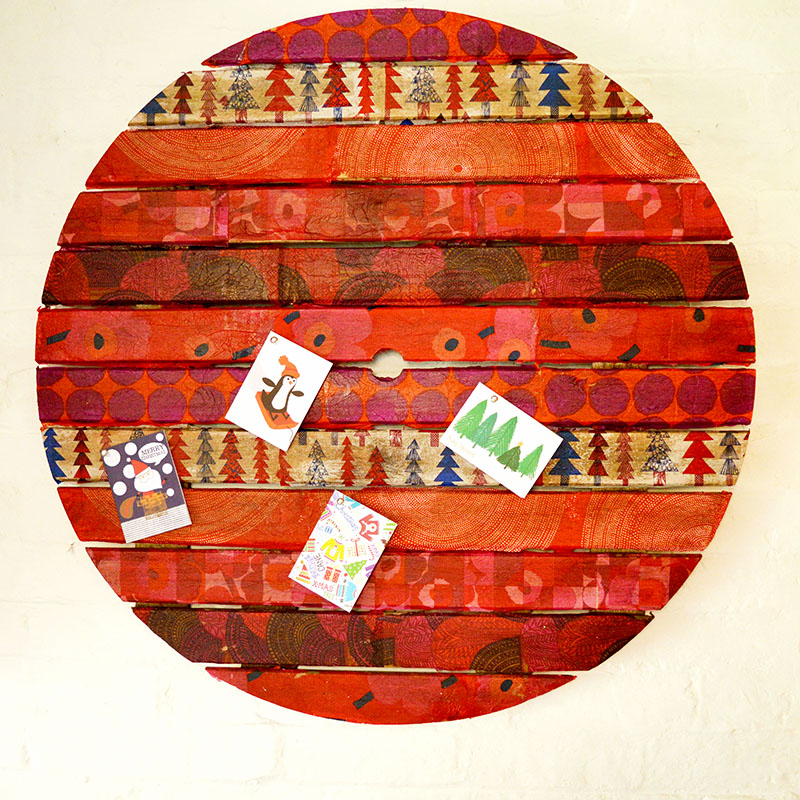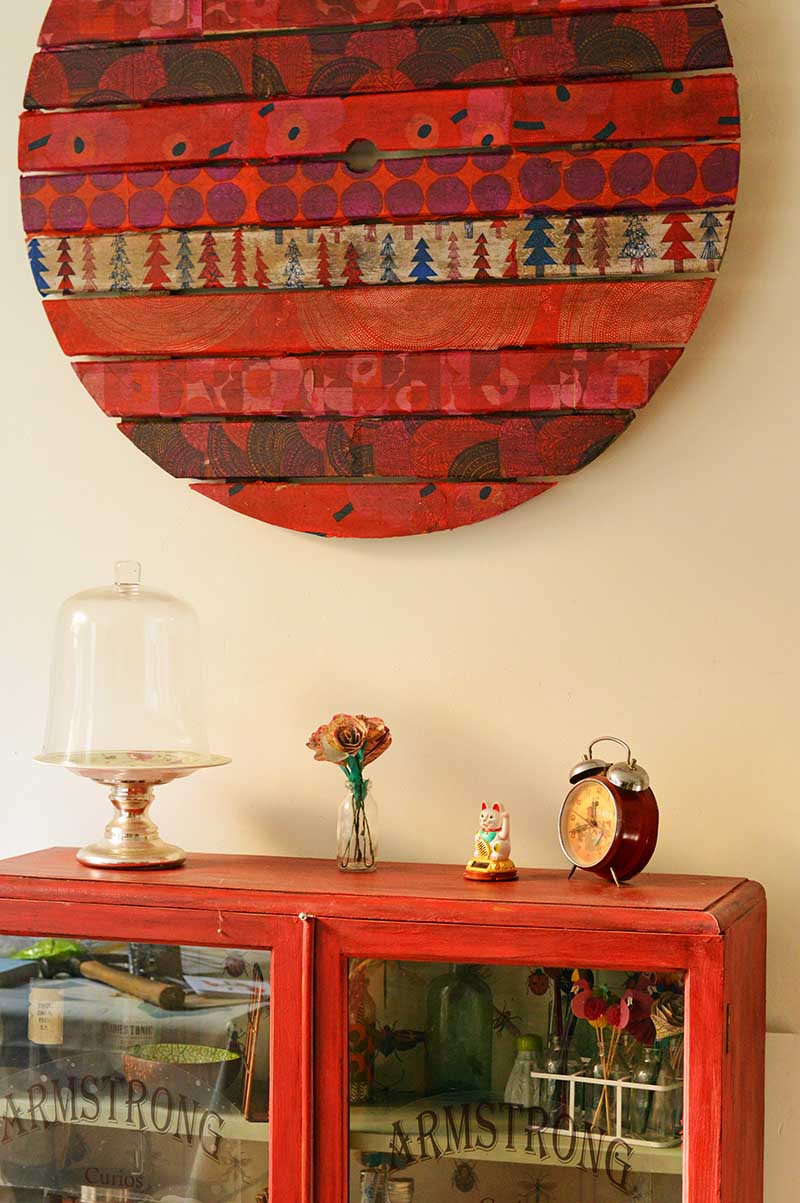 I liked this upcycled tabletop decorations so much that it hangs on my wall all year round. I have also made giant cardboard ornaments too that has a mid-century modern feel too.
Do you ever get distracted when crafting and end up making something you had no idea you wanted to make?
As you may have gathered this is not my only Marimekko upcycle, you may want to check out these ones too:
Unique Marimekko bench
Red Cupboard upcycle with a hint of Marimekko
DIY Marimekko Shoes
Marimekko wallpapered stairs