I can't walk past a skip (dumpster) without having a good look in. I especially love odd bits of wood with exciting mouldings or hooks and knobs on them. Over the last year, I gathered quite a collection of this Architectural salvage. I needed to do something with it, and that's when I got the idea for a DIY wooden Christmas tree.
I love a flat Christmas tree; last year, I made a stylish branch DIY Christmas tree. This looked great in my front room and didn't take up half as much space as a real Christmas tree. I've even painted a large flat Christmas tree on my wall.
I love a real Christmas tree, but we don't have room for one. Flat Christmas trees don't take up as much space.
DIY Wooden Christmas Tree Made From Architectural Salvage
I still have my branch Christmas tree, but I thought it would be fun to have another flat alternative Christmas tree in the dining room. This DIY wooden Christmas tree is very different as it has knobs and hooks and is made from architectural salvage.
I think the knobs look like Christmas ornaments, especially the coloured ones. The tree can be hung on the wall, or you can make a stand for it and have it free-standing.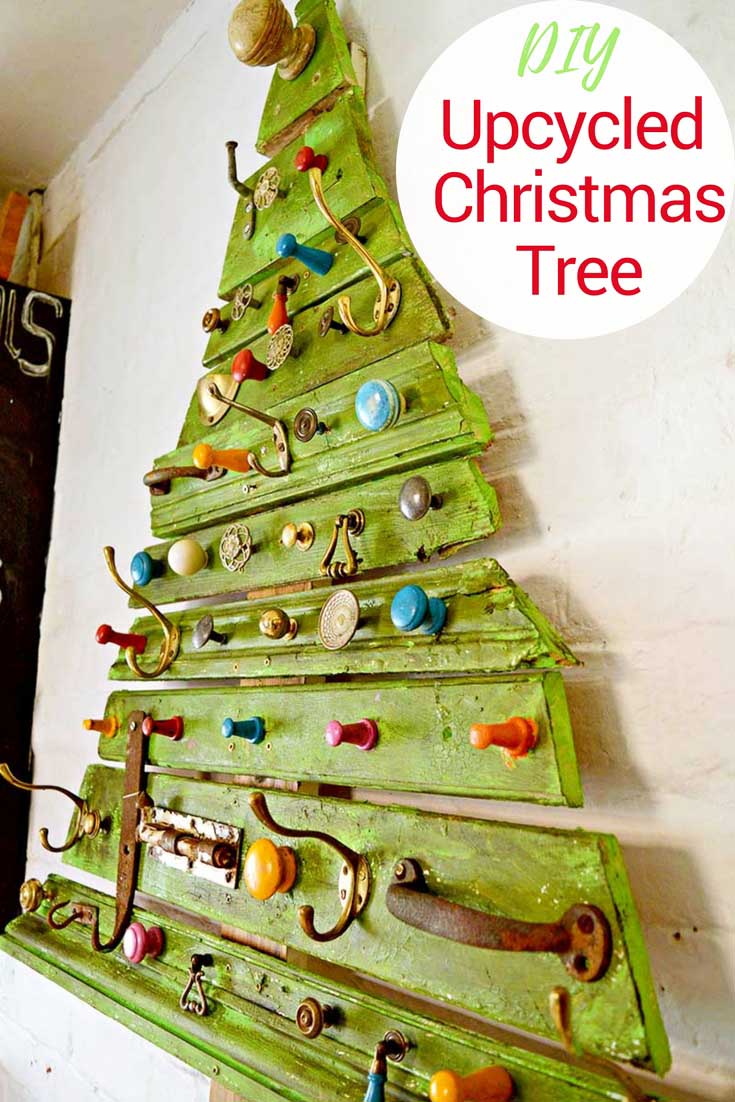 We're a participant in the Amazon Services LLC Associates Program, an affiliate advertising program designed to provide a means for us to earn fees by linking to Amazon.com and affiliated sites. As an Amazon Associate, I earn from qualifying purchases.
What you need to make a DIY wooden Christmas tree
Scraps of wood – I used bits of skirting board and architrave because of their attractive mouldings. I also used some old wooden coat racks and pallet wood scraps. Use whatever you can find. The longest branch was approximately 3ft.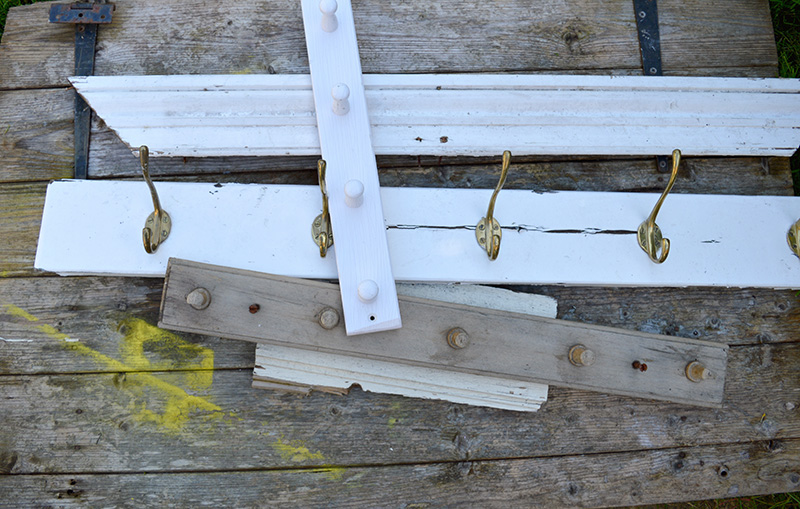 A collection of old knobs, hooks and general ironmongery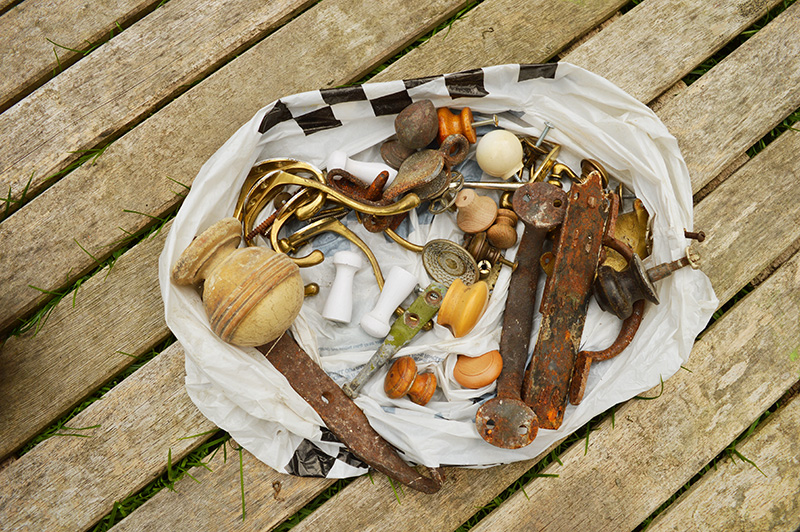 A piece of wood for the tree trunk approx 4″(10cm) by 4ft(120cm)
Spray paint in various colours – or any leftover paint in various colours
Reciprocating Saw (or handsaw)
Woodscrews
Screwdrivers
How to make a DIY wooden Christmas tree
Step 1: The first thing to do is gather up all your wood scraps and lay them on the ground to determine how the Christmas tree will look. Put the smaller pieces of wood at the top.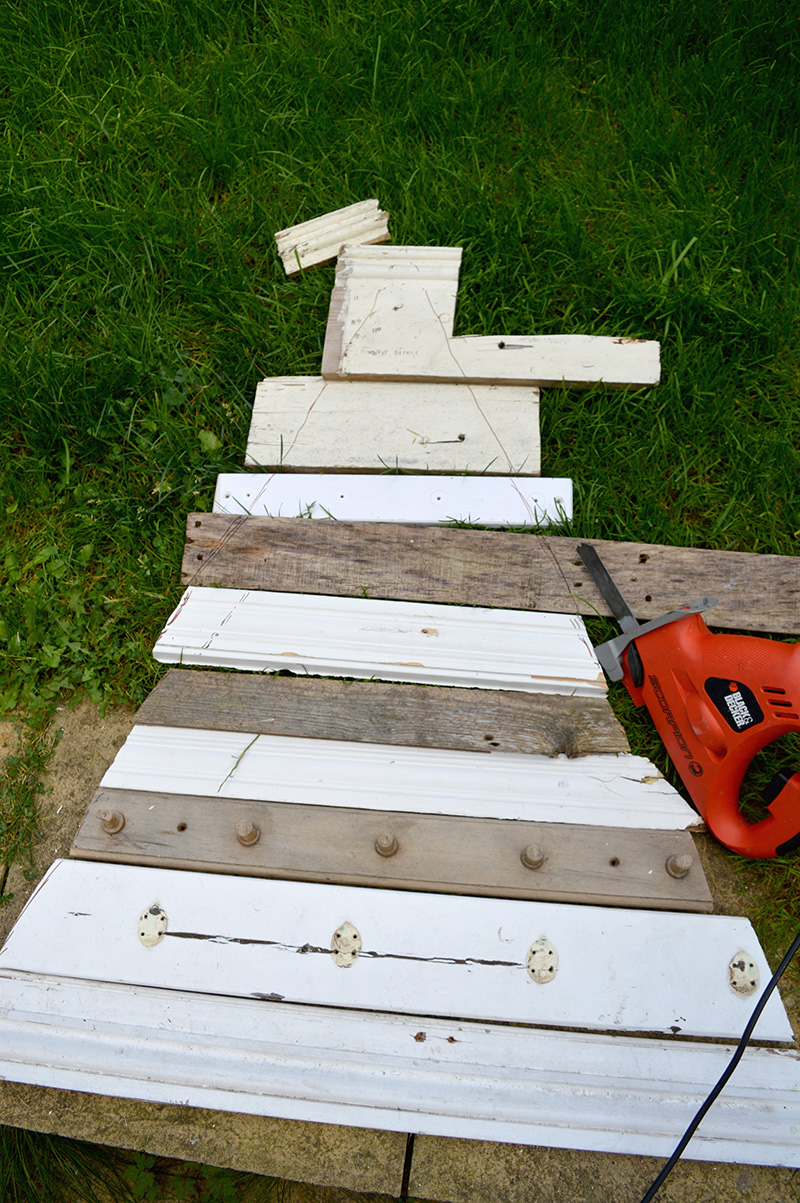 Step 2: To get a typical Christmas tree shape using a sharpie, mark where you need to see your wood planks. Make sure that the ends of the tree shape slope. Use a reciprocating saw if you have one; saw along the sharpie lines.
Don't worry if you don't have an electric saw; you can always do this bit by hand, but it will just take a little longer.
Step 3: Before screwing your Christmas tree together, paint the wood. However, before painting, you can brush a Crackle Medium onto the wood to give a more rustic finish look to the wood.
For the paint, I used Annie Sloan chalk paint in Antibes green. I finished it with a coating of Annie Sloan dark wax to add to the aged wood effect. Stain the wooden trunk dark brown using dark wax.
Step 4: Then prepare the knobs and hooks for the tree. First, scrape away any rust from the metal and paint the wooden ones.
I just used the spray paints I had in my craft cupboard to paint the wooden knobs, but you can use any leftover paint you have.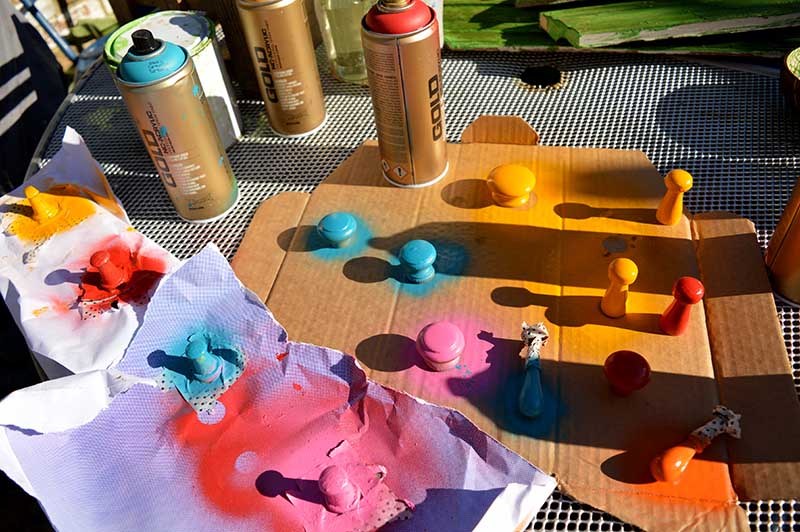 Step 5: Next, the placement of the knobs and hooks on my DIY wooden Christmas tree may look random, but they weren't quite.
Lay the painted wood branches down on the ground. Then, place the knobs and hooks where you think they look best. Taking one branch at a time, screw the knobs and hooks into place.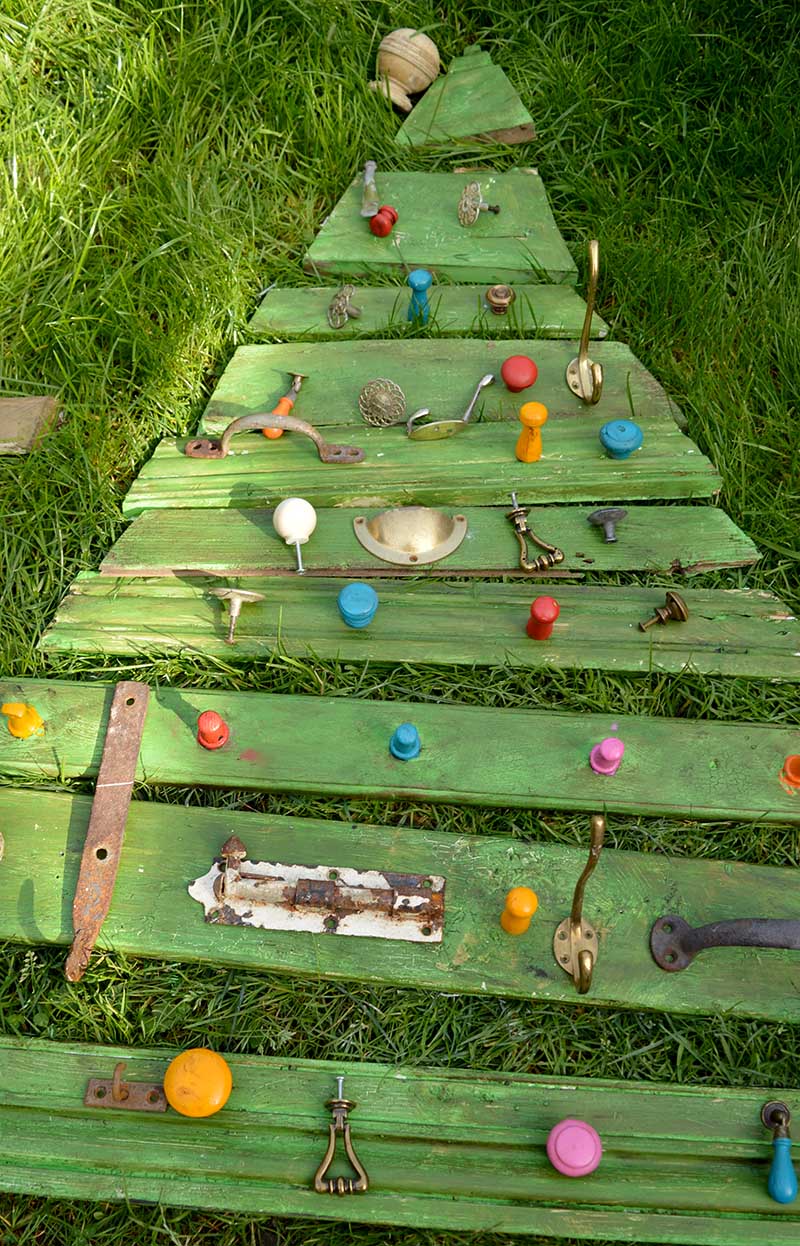 Step 6: Finally, lay the trunk flat on the ground and starting with the top, one by one, screw the branches of the Christmas tree to the trunk. I used two screws per branch.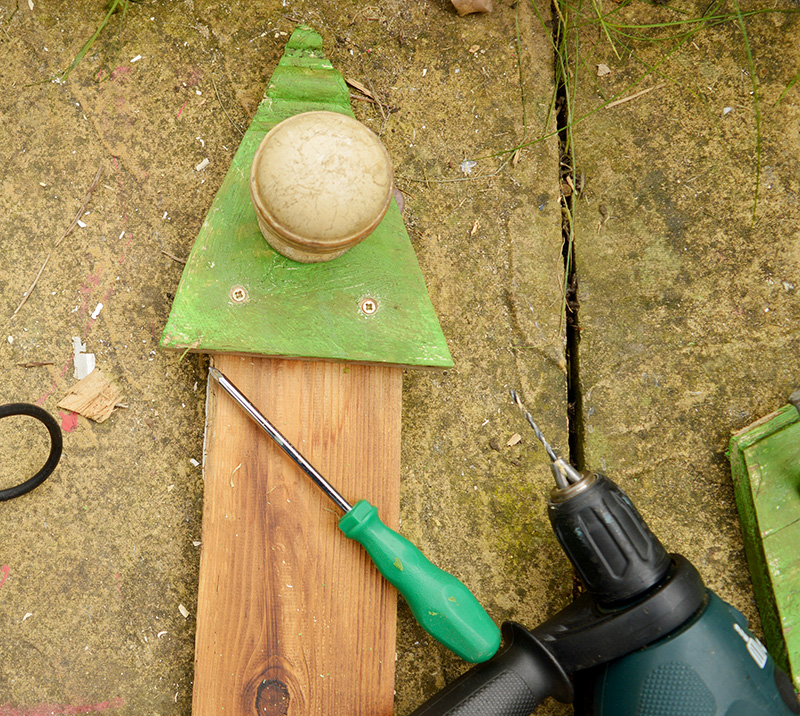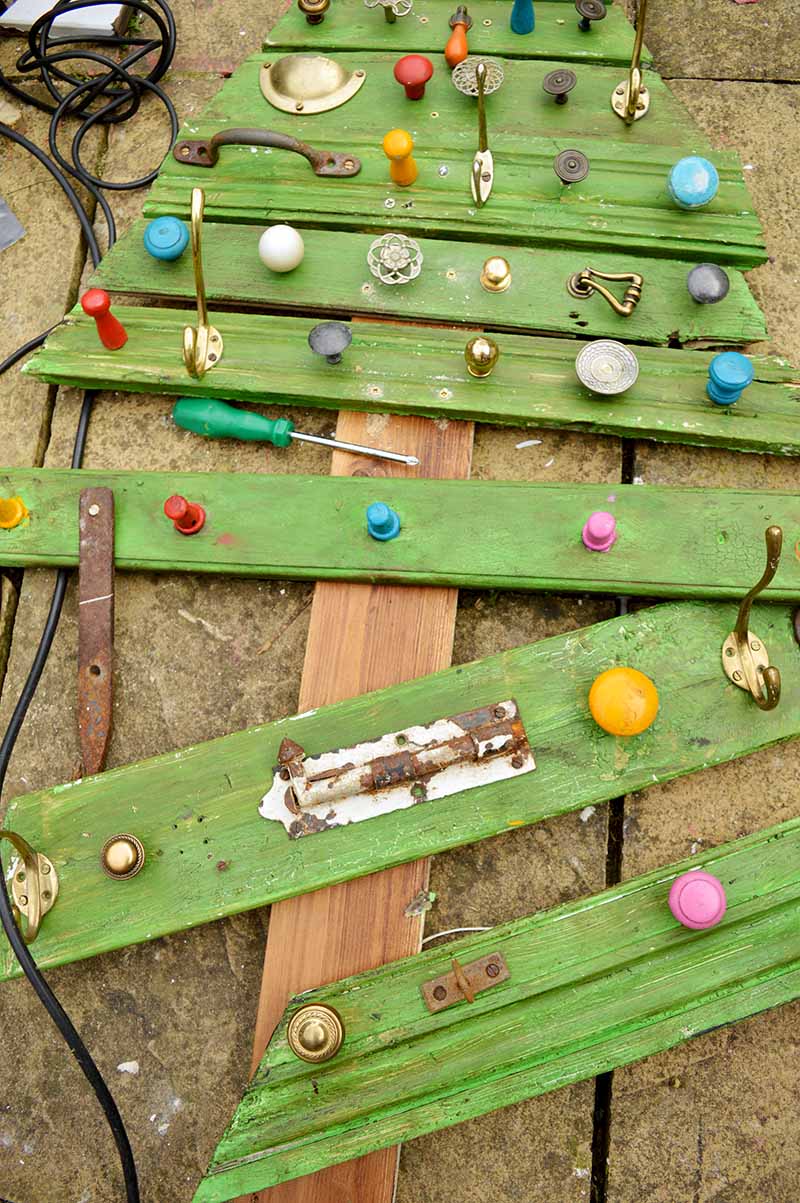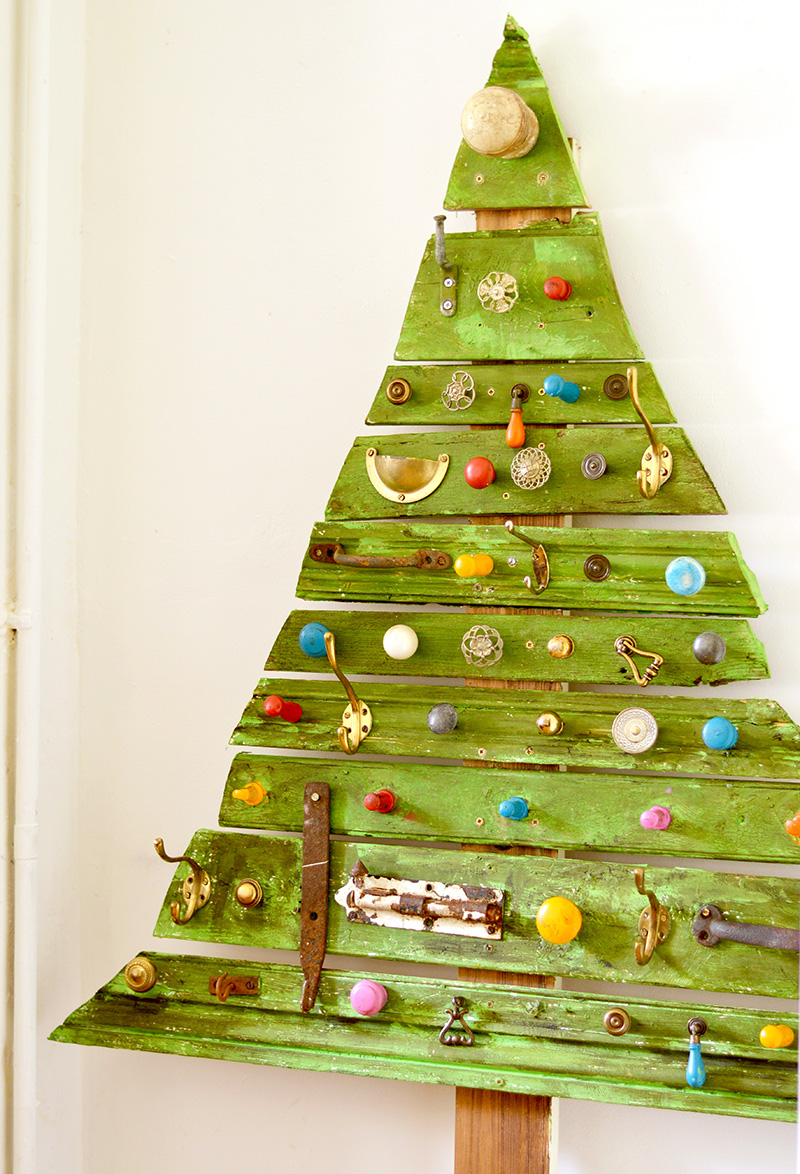 The DIY wooden Christmas tree hangs on the wall in my kitchen. I just used hooks on the wall to hang it from. The way the tree is designed, it can simply lean against the wall if you want. Just make sure you lean it somewhere it won't accidentally get knocked.
Another way to secure the Christmas tree is to make a stand for it.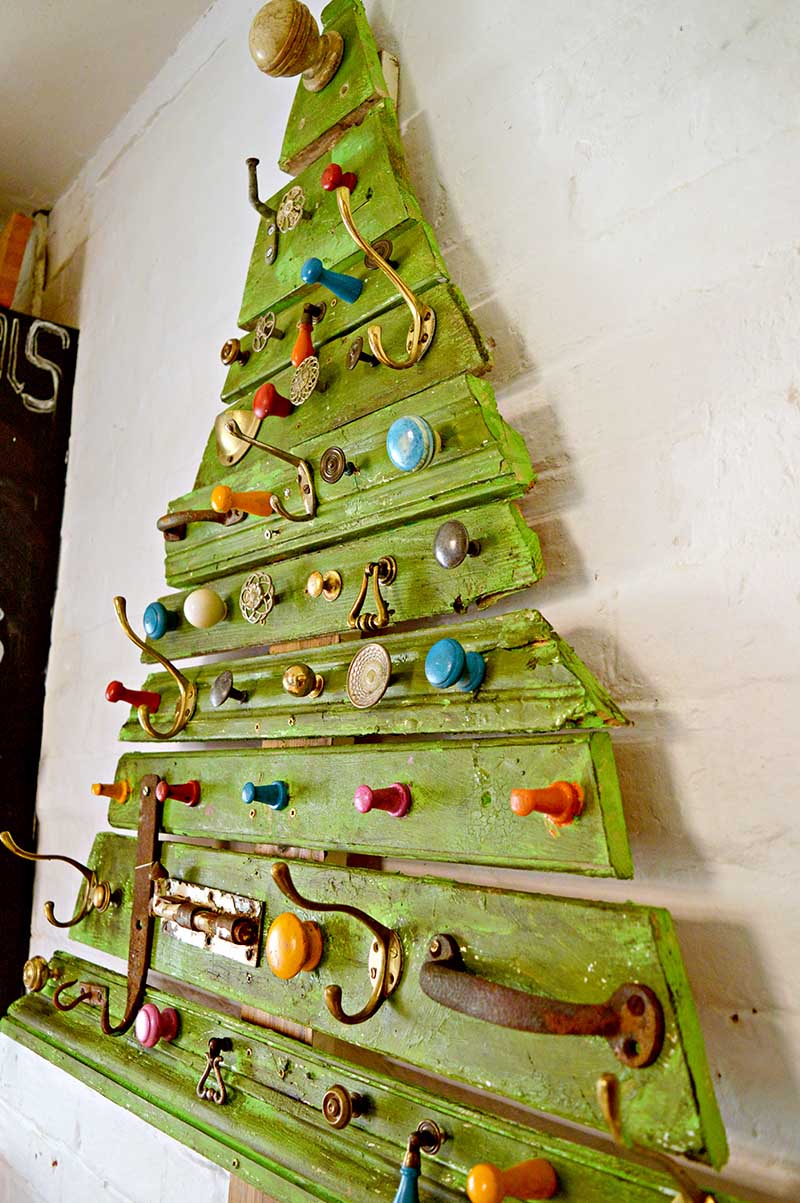 The original plan was to hang decorations from all the knobs and hooks of my flat DIY wood Christmas tree. However, the knobs and hooks are like Christmas ornaments, so I think I might leave the tree and hang my decorations elsewhere.
Mind you, as the tree lives in the kitchen during the festive season, the knobs have been handy for hanging tea towels and oven mitts.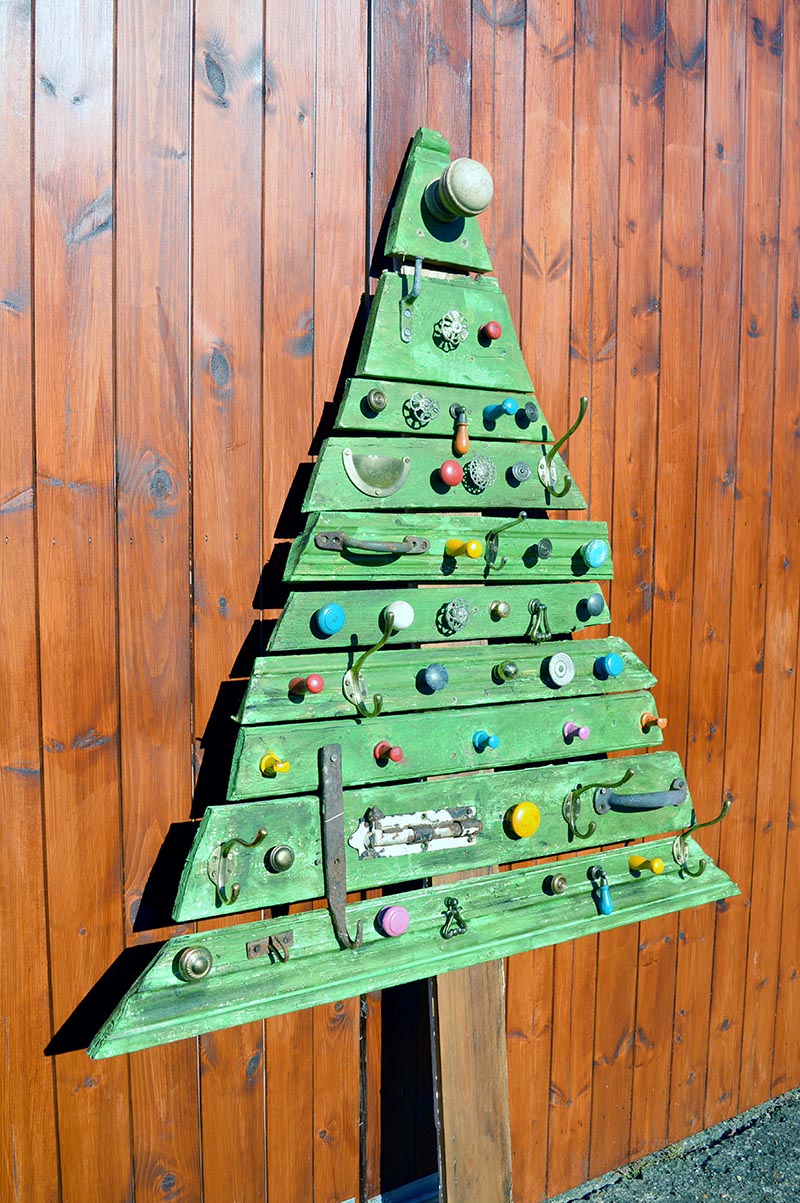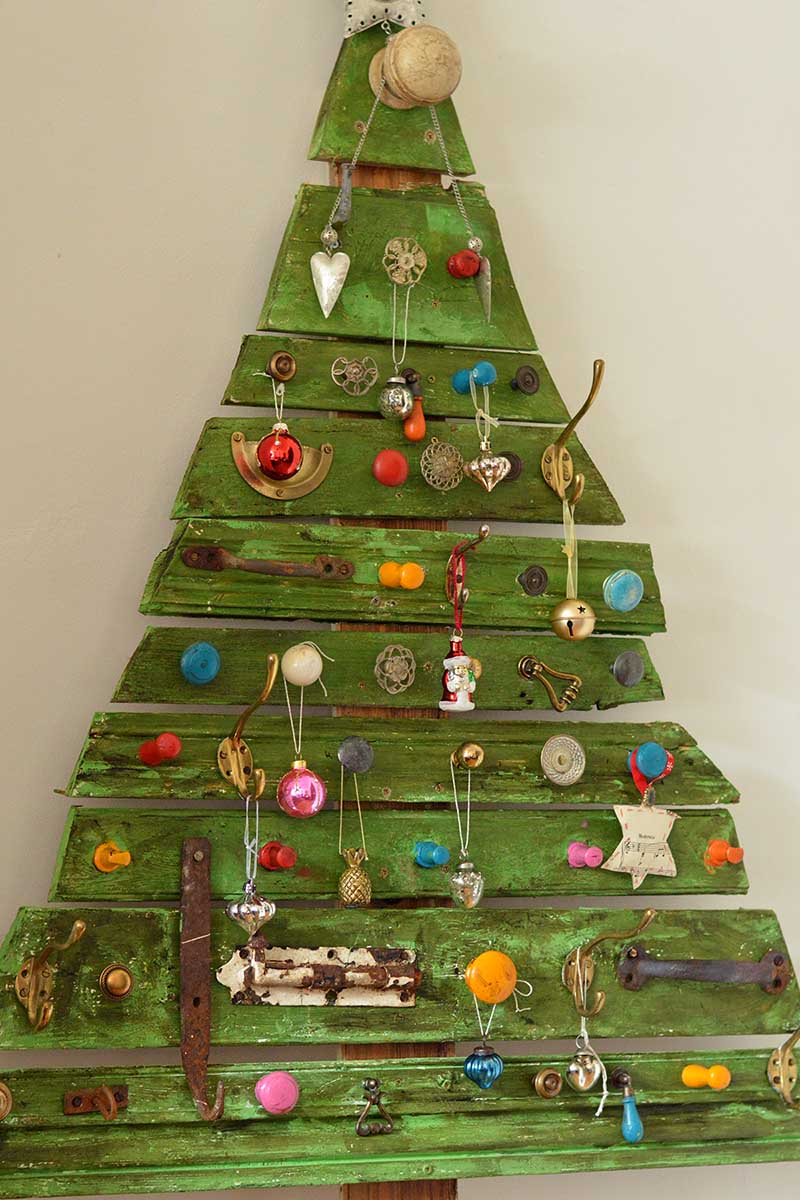 I love my flat Christmas trees as you can hang them or lean them against the wall, taking up very little space. You might want to check out the stylish branch Christmas tree I made last year.
Or, if you like simple Christmas trees that are great for showing off ornaments, check out these other DIY trees.
DIY Lampshade Rustic Christmas Tree
Stylish Scandinavian Christmas Tree
Check out these cone Christmas trees made from cardboard and denim for small tabletop Christmas trees.
I've also used scrap skirting boards like the one I used for this tree to make some cute wooden key holders that would make a fabulous Christmas gift.
For more Boho Christmas decorations, check out these DIY wooden ornaments made from curtain finals and rings.
How many Christmas trees do you have in your home?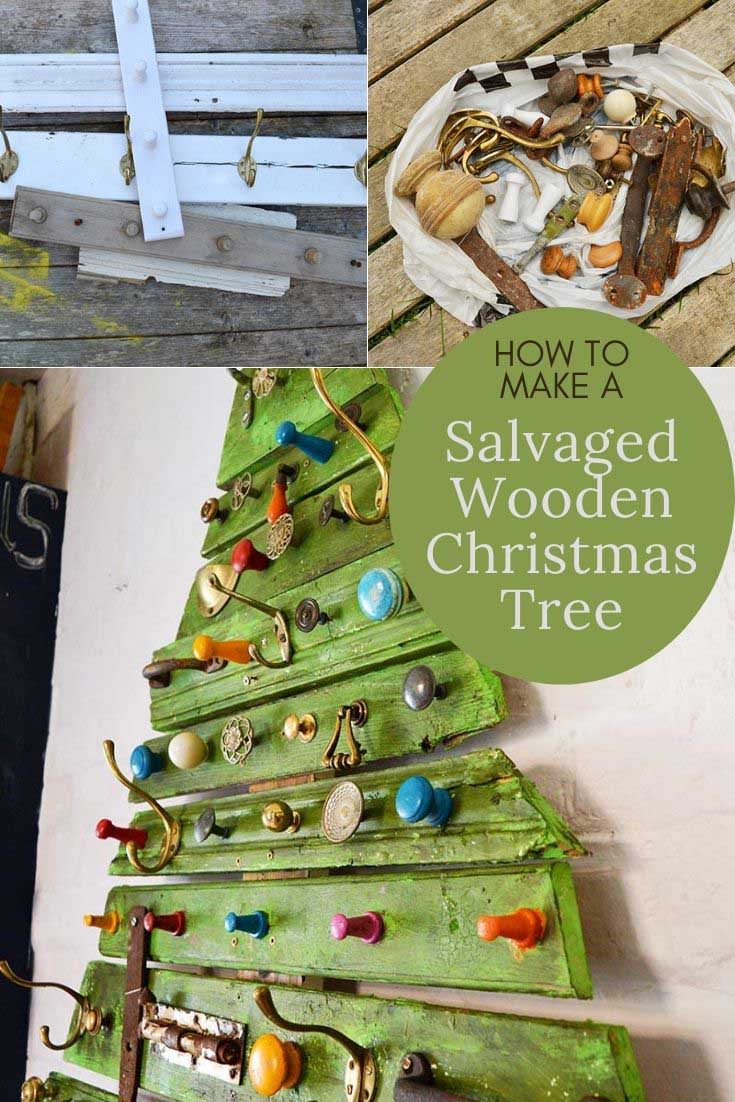 For more repurposed and DIY wood projects, visit the DIYideacentre.