I have compiled a list of craft essentials and basics for any craft cupboard or craft room if you are lucky enough to have one.
After experiencing lockdown last year when we couldn't go out to the craft shops, I was very grateful for the crafting supplies I had in my cupboard. I still managed to make many crafts whilst stuck at home.
With the right crafting tools and a few essential materials, you can make many beautiful things by repurposing and upcycling the stuff around you. Just check out these crafts from garbage and these cardboard craft ideas.
To help keep down costs and save on waste, my friends and I often pool and share our more expensive crafting tools, such as electric staple guns and sanders, which are handy but used infrequently. It makes more sense to share them.
The craft essentials list below is suitable for many different crafts you may want to try at home.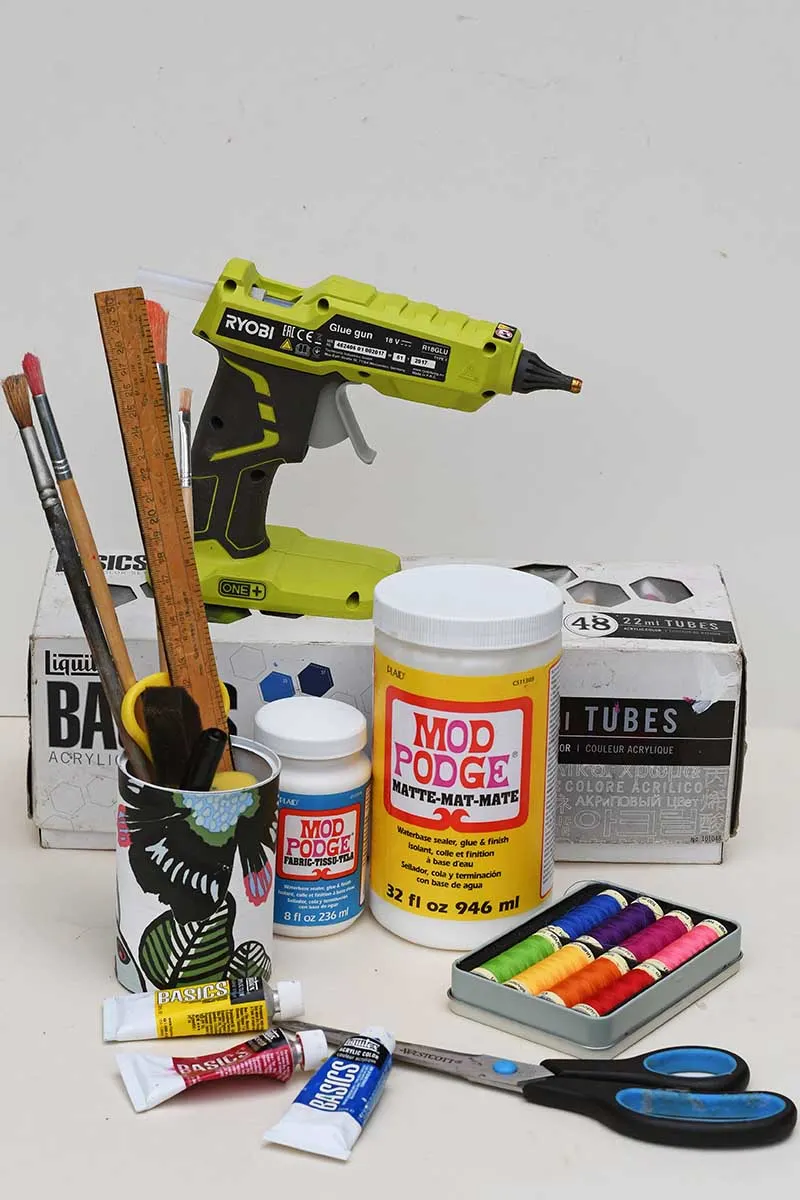 We're a participant in the Amazon Services LLC Associates Program, an affiliate advertising program designed to provide a means for us to earn fees by linking to Amazon.com and affiliated sites. As an Amazon Associate, I earn from qualifying purchases.
1. Craft Essentials – Adhesives
Most of my crafts involve adhesive, from glue to tape. To stick materials such as paper, fabric, ceramics and wood. These are the ones I would recommend in any craft cupboard.
A hot glue gun – I use a cordless Ryobi glue gun as a professional crafter. However, cheaper corded glue guns work just as well.
Mod Podge – I buy large tubs as I use this with many crafts, from decoupage to paper mache. Mod Podge can also be purchased in many different formulas from Matte to gloss, dishwasher-proof to outdoor.
Superglue is excellent when a stronger adhesive is needed, like with these tile planters, such as when fixing ceramics together. I like the Gorilla brush & nozzle super glue as it is easy to apply.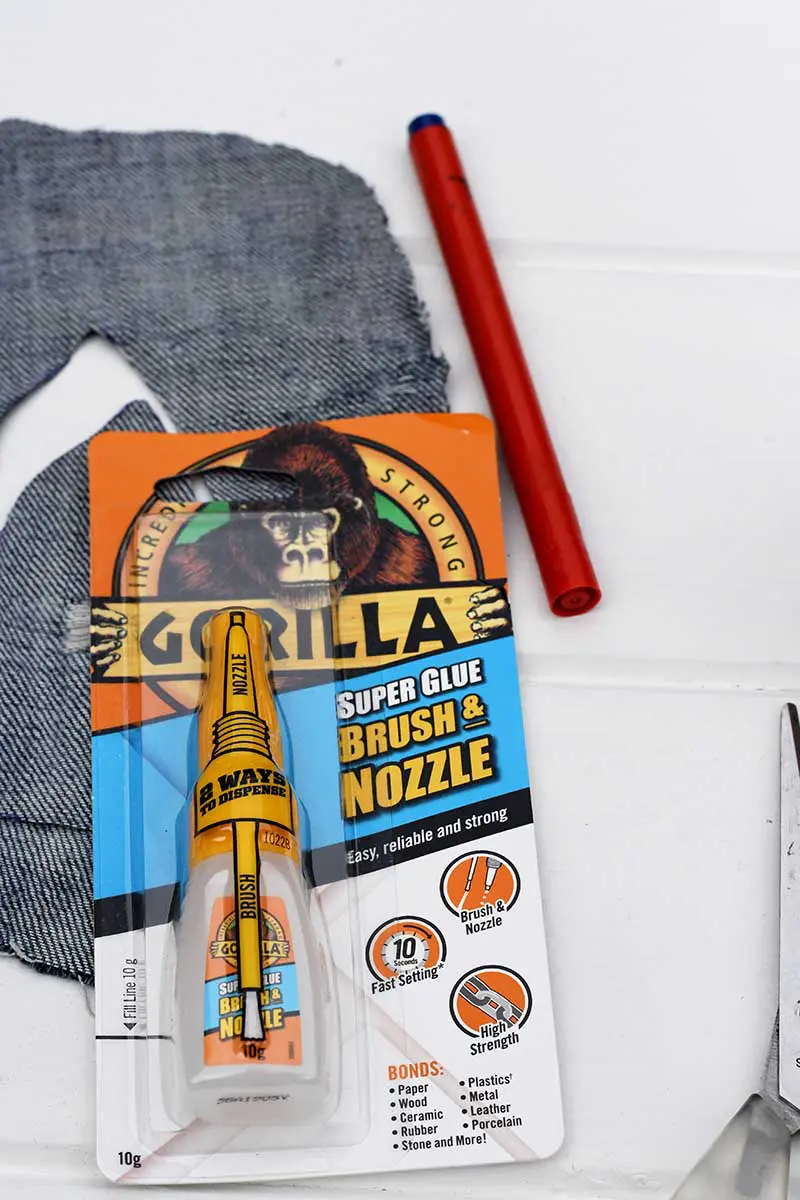 2. Cutting Tools
As well as sticking things together with crafting, you often need to cut things apart.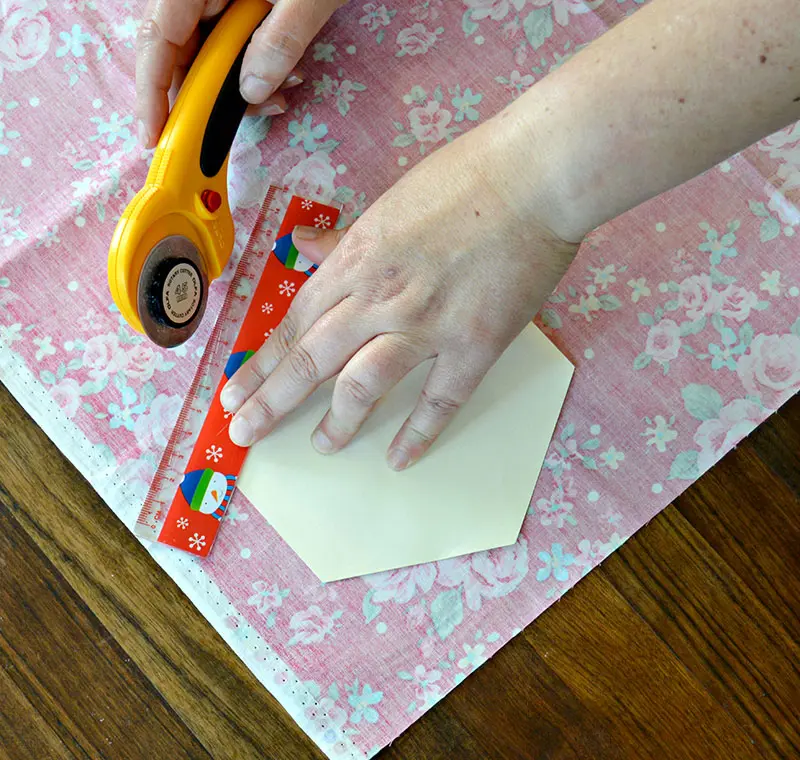 3. Basic Sewing Essentials
Sewing Machine
A sewing machine is a beautiful craft tool but expensive for something you may not use often. If you think you will only need a sewing machine infrequently, I recommend borrowing one from family or friends.
Also, you can often pick up decent second-hand sewing machines from garage sales and thrift shops. My sewing machine was passed to me by my mother and is Bernina Record 730. It is over 50 years old and weighs a ton but handles heavy fabrics like denim well. You can still buy these brilliant Berninas second-hand on eBay.
I don't just use a sewing machine for stitching fabric, but I also use it for sewing on paper.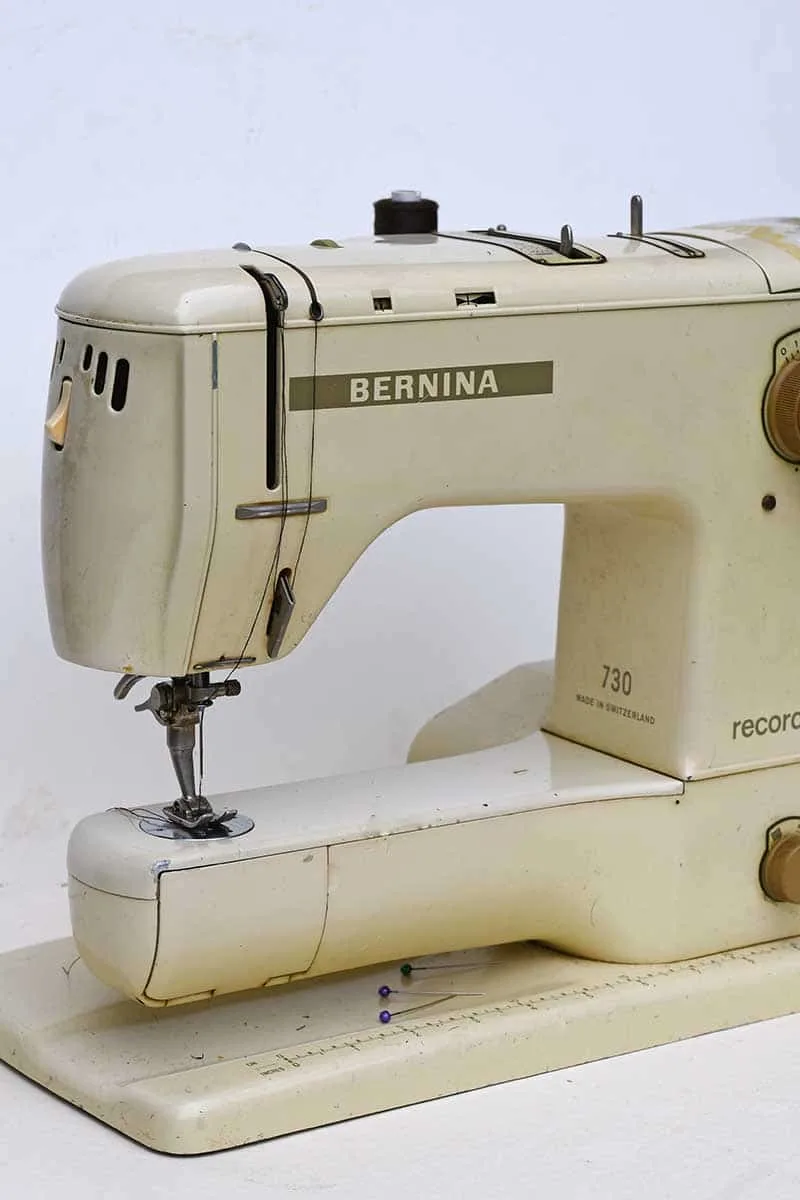 Hand sewing Essentials
You might want to check out these hand sewing craft ideas.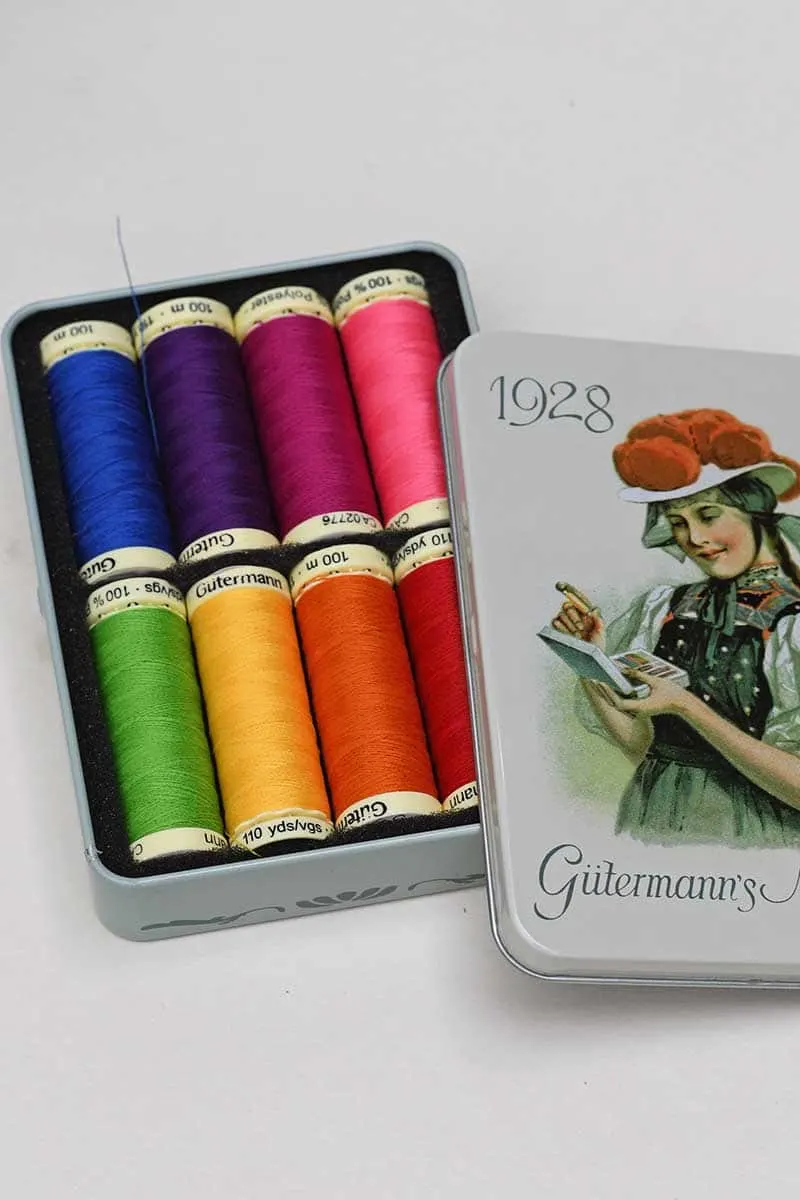 4. Craft Cupboard Essentials – Pens, Paint & brushes
There are so many paints to choose from when crafting. I use leftover household paints for crafting and my usual supply of acrylic art paints. I particularly like to use test pots from the DIY/home stores; these often work out cheaper than expensive branded craft paints.
Selection of brushes for applying paint, glue and varnishes. Foam brushes are particularly good for decoupage.
4. Varnishes and finishes
Finished craft projects can be protected with various varnishes and finishes. With some projects, such as paper mache, a final coat of Mod Podge would provide enough protection. Other times, such as when making DIY tile coasters, a more waterproof varnish is needed.
5. Other Tools
Other essential crafting tools that are in my craft cupboard:
Rulers/tape measure
Rotary tool – I love the Ryobi rotary crafting tool. This versatile tool can cut, sand, buff, drill and engrave with the proper attachment. It can even drill holes into the glass and cut China plates with the appropriate attachment.
Circle paper punches – A set of circle paper punches is excellent for many paper crafts, from making garlands to paper pine cones.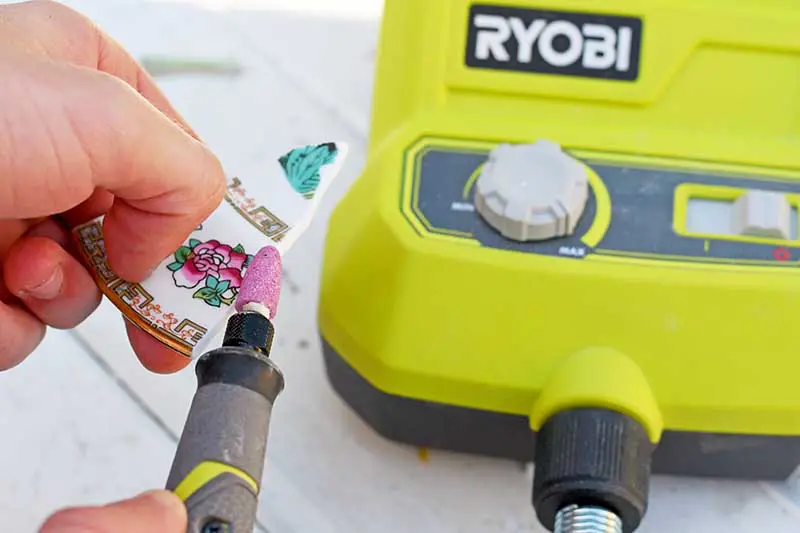 6. Craft Essentials – Materials
Paper
Most of the paper and cardboard I use for my crafts is repurposed. Paper crafts are great for home decor.
Newspapers – for paper mache
Old road maps – very affordable and fun paper to craft with. Many old maps are printed on linen paper, making them sturdy and robust.
Paper napkins – printed napkins are great for decoupage. You can even print your paper napkins at home.
Cardboard – I repurpose cardboard packaging from cereal boxes to Amazon packaging, such as with this gingerbread house garland.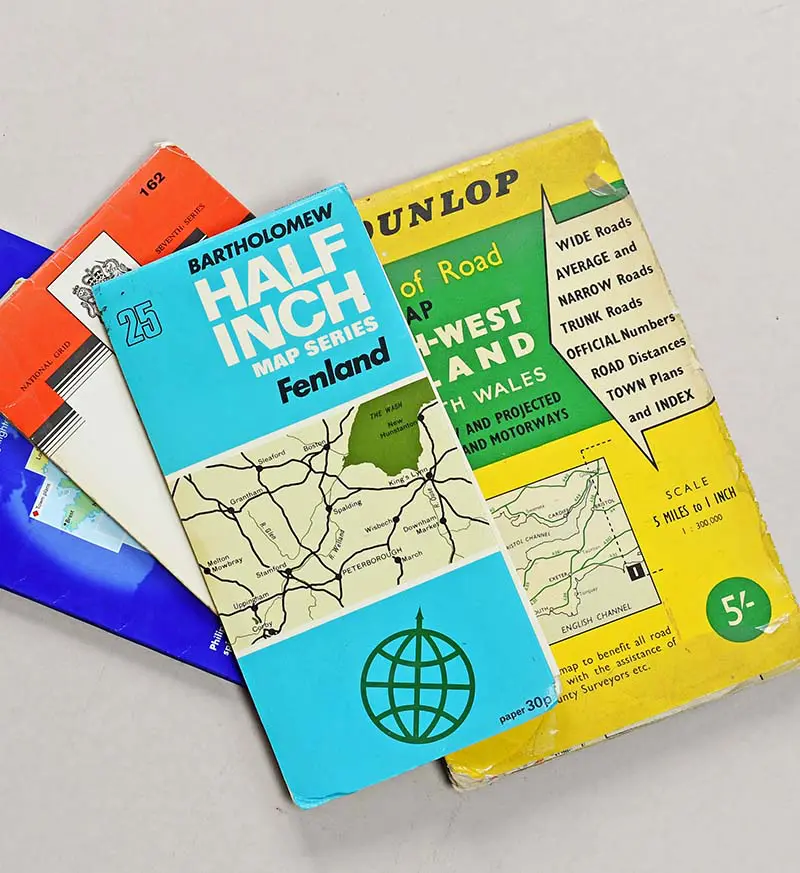 Fabrics
My favourite fabrics to use are upcycled fabrics.
Other Materials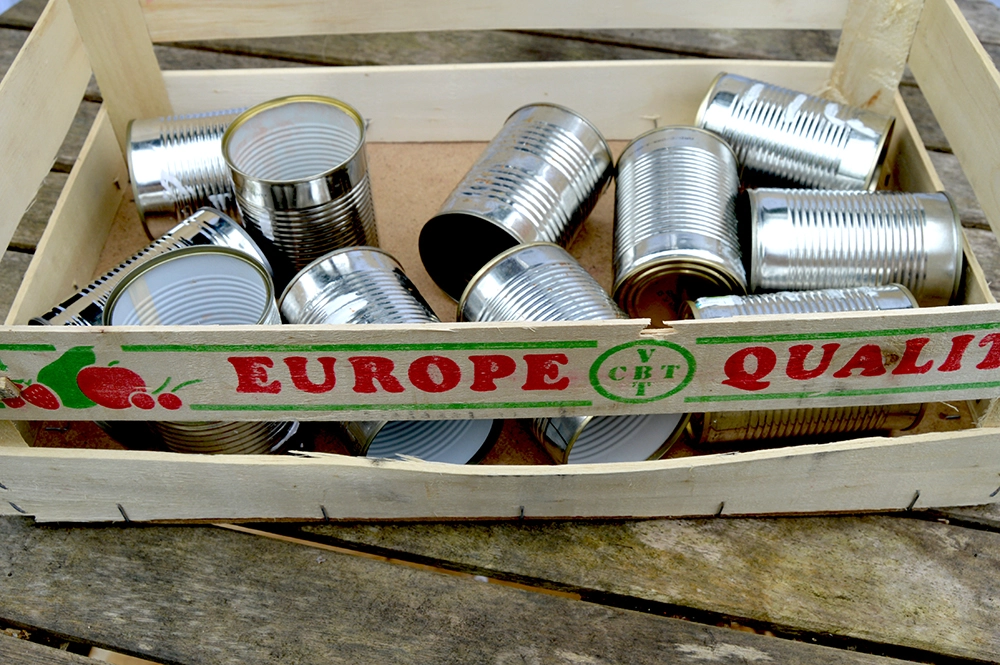 There are many more things in my craft cupboard besides the essentials. It's easy to get carried away when buying crafting supplies and end up with too much stuff.
Much of the storage solutions I use to organise my crafting essentials have been craft projects and upcycles.
From my washi tape holder to tin can craft caddy, repurposed cookie tins and hanging denim pockets for my pinboard, and not forgetting my Marimekko hanging bucket storage.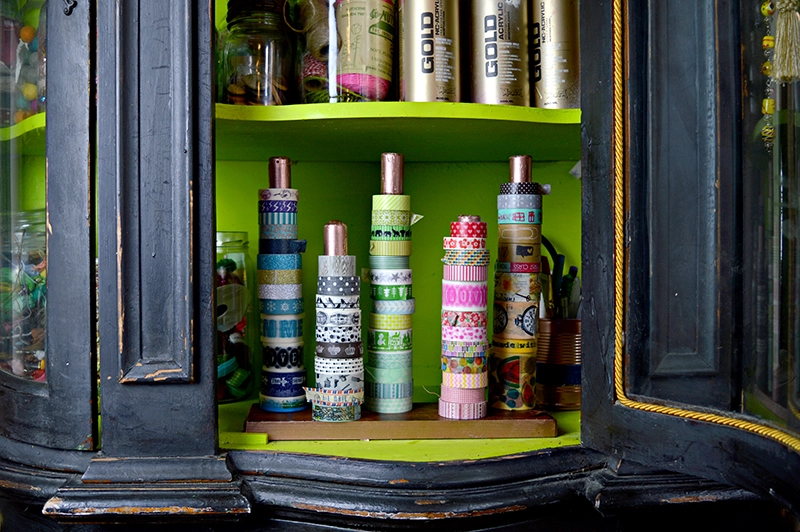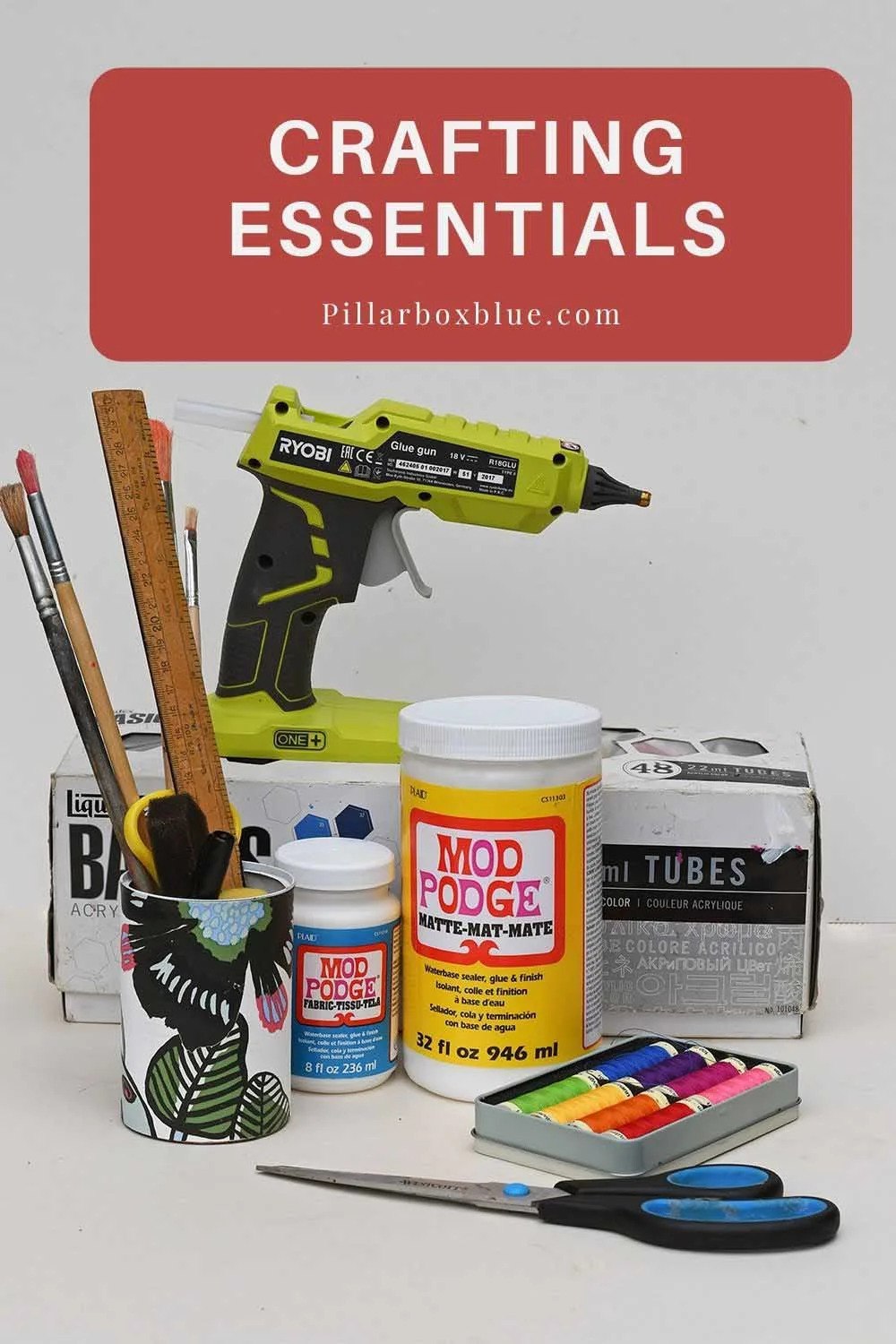 Once your craft cupboard is stocked with essentials, you might want to check out these craft round-ups for inspiration.