I always keep the used postage stamps of envelopes, especially the interesting ones. It's normally in the run-up to Christmas that you get the best postage stamps with the most fun images. That gave me the idea to make these postage stamp Christmas tags.
Every year I love to make my gift tags as they also add to the present and make them more personal. Sometimes they are even a gift in themselves, like with the upcycled denim tags and the monogrammed personalized tags.
DIY Postage Stamp Christmas Tags
These postage stamp Christmas tags are really easy to make and can be personalized to the recipient. By choosing images on the stamps that have significance to the gift recipient. For example, my father is an ornithologist, so I always use stamps with pictures of birds on them for his postage stamp Christmas tags.
These Christmas tags also cost very little and are a great way of repurposing old stamps. There are more great postage stamp craft ideas here.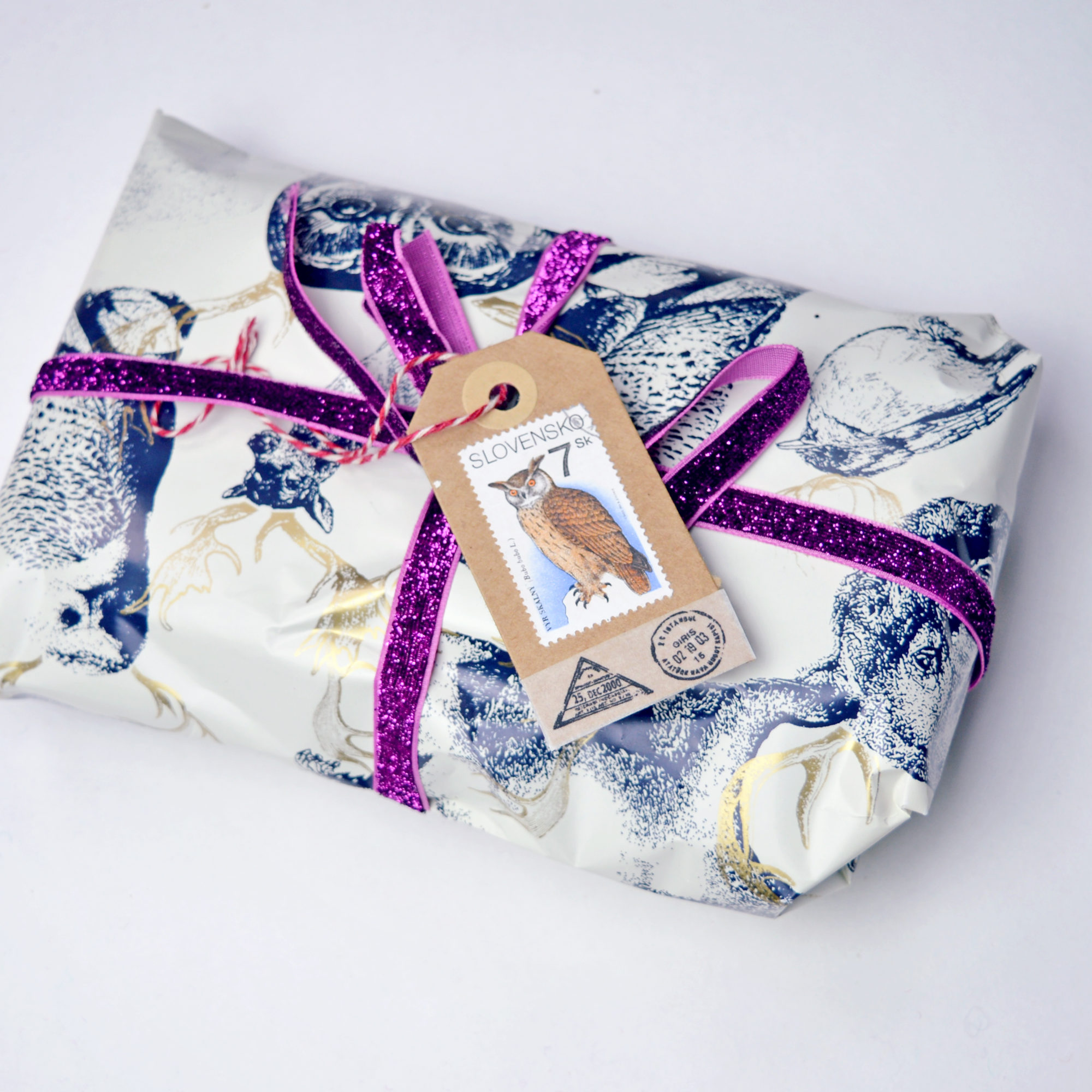 We're a participant in the Amazon Services LLC Associates Program, an affiliate advertising program designed to provide a means for us to earn fees by linking to Amazon.com and affiliated sites. As an Amazon Associate, I earn from qualifying purchases.
What You Need To Make Postage Stamp Tags
You need old used postage stamps for this; I already had a big pile of stamps at home in my craft cupboard.
Used postage stamps can be bought very cheaply online (try eBay or Amazon) or even in Charity shops in big bundles.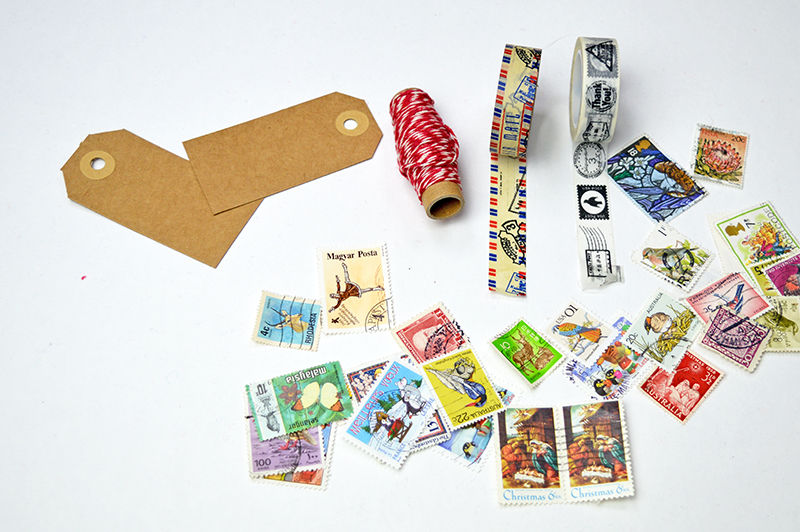 How To Make Postage Stamp Christmas Tags
1.. First, sort through the stamps. I found many Christmas-themed stamps in my stamp stash, which I kept to one side.
I also picked out stamps that would be suited for the gift recipient. My father writes Wildlife books, so I picked out stamps with pictures of birds and animals for his gift tags.
My husband loves skiing, so I used a stamp with a picture of a skier for his tag.
The great thing about stamps is that there are loads of different pictures, so it is easy to find something that will relate to the person you're making the gift tag for.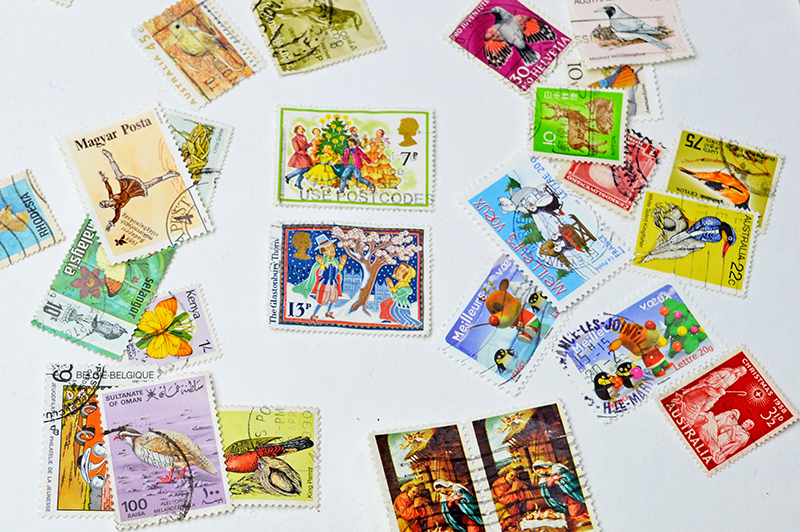 2. Next, decide which stamp you will use for each postage stamp Christmas tag.
Glue it to the Kraft tag with the glue stick. Then add a little Christmas trim to the tag with washi tape. Then, finish off the tag by adding festive Bakers twine in a red and white stripe.
The hardest thing is deciding on what stamp to use.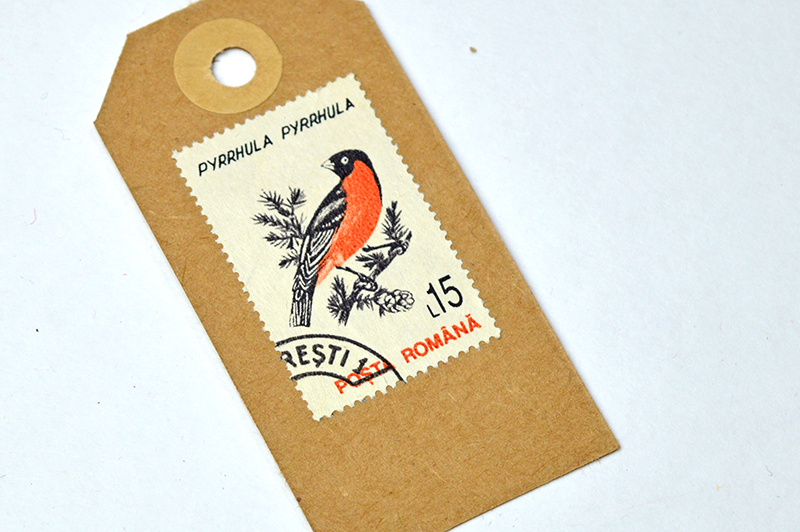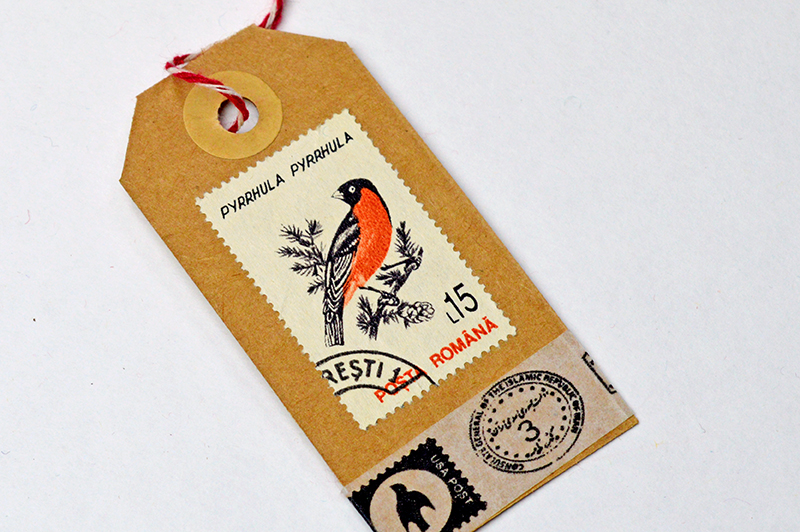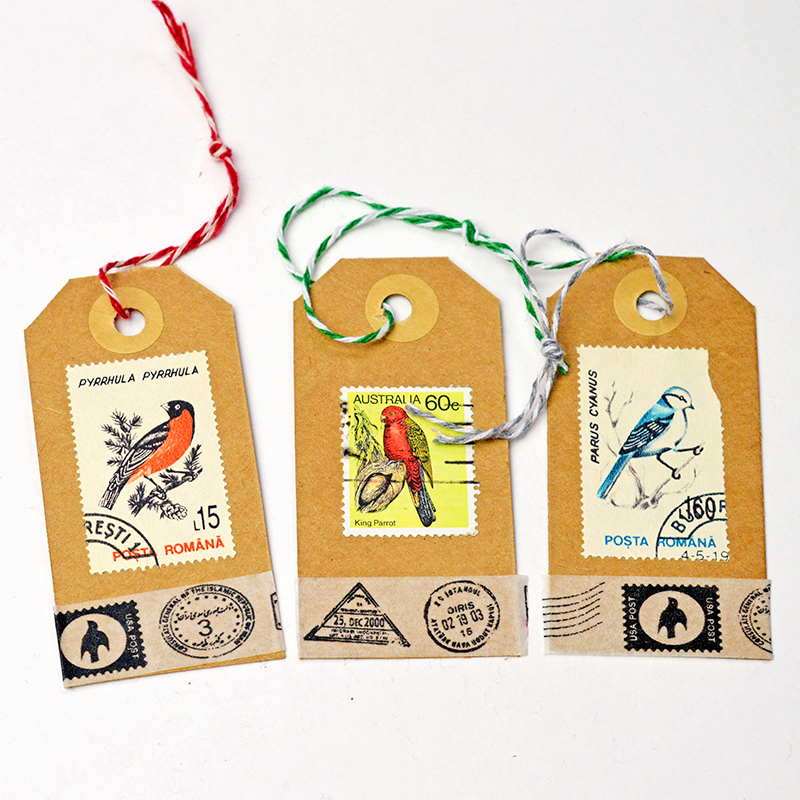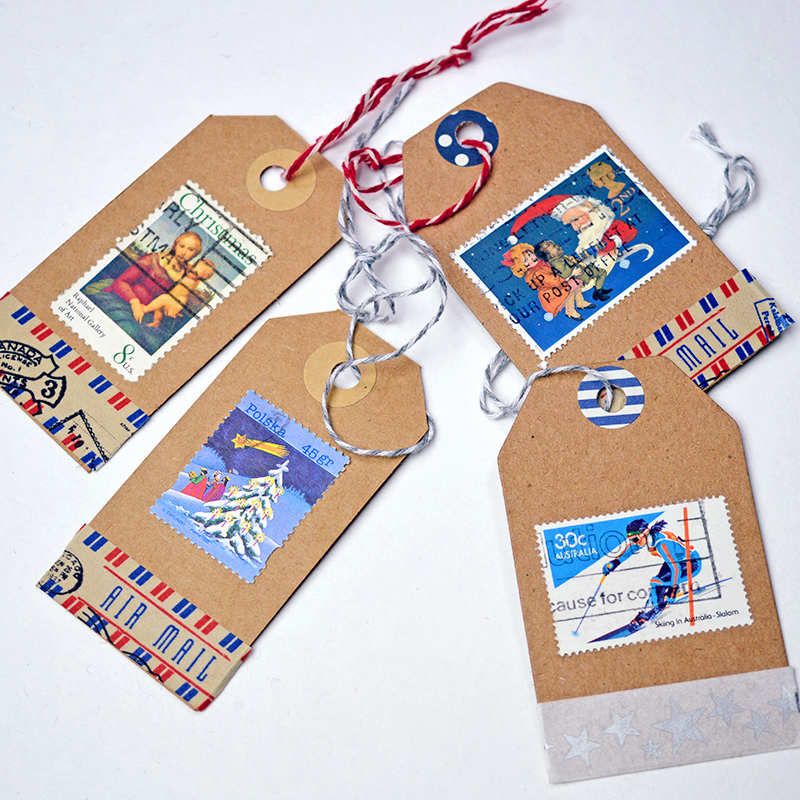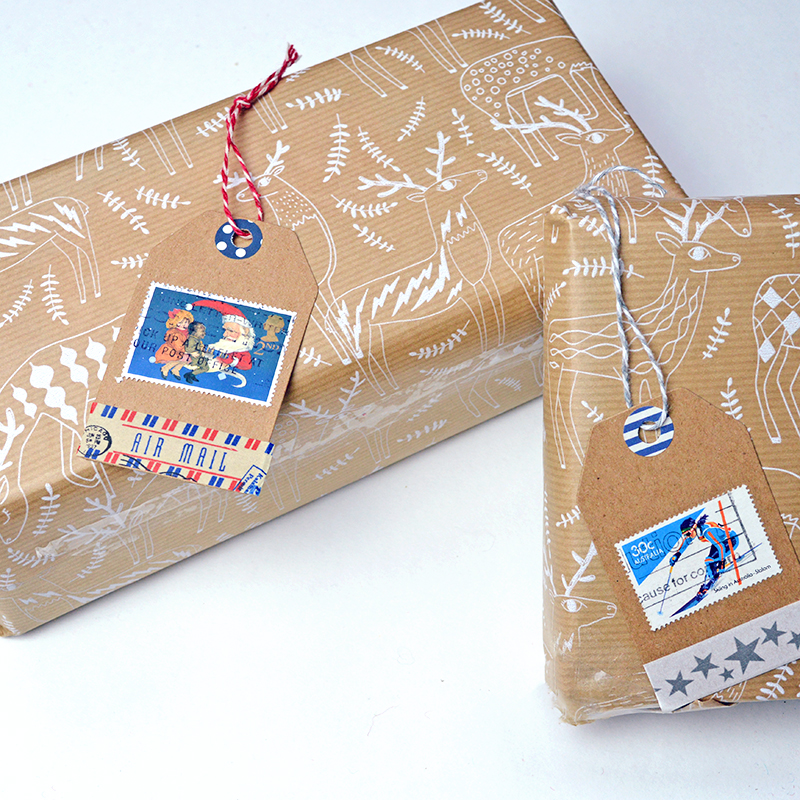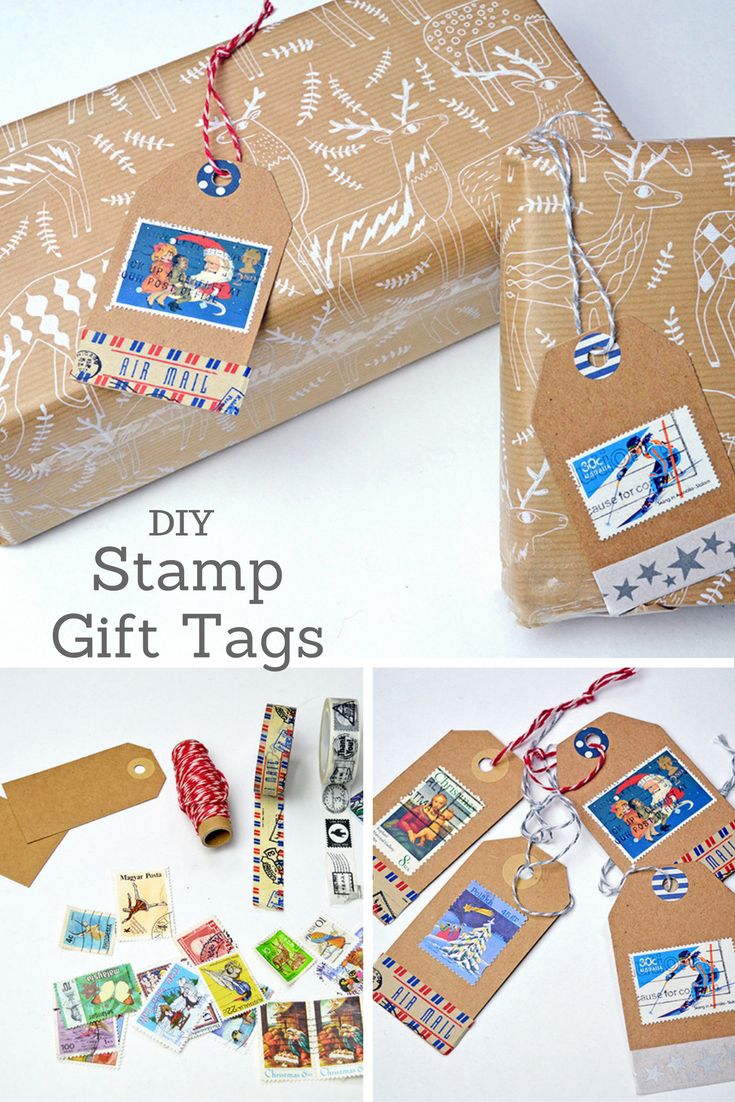 I love these tags as they have a vintage vibe, and it's fun picking the right stamp for the right person. They are, of course, not just for Christmas; you could use the same idea to make Birthday gift tags.
As well as loving all the pictures on the stamps and all the colours they come in too. I sorted some of my postage stamps into colours to make some gorgeous rainbow postage stamp jar decoupage tea lights.
Other Christmas gift tag ideas on Pillarboxblue include felt monogram gift tags, luxury handmade gift tags and map heart gift tags.
I think these vintage snowflake drawings would look fabulous as gift tags.